San Diego gym sued for banning trans woman from locker room
El Cajon Crunch Fitness failed "to follow the law and educate its employees about respect for transgender people"
An El Cajon Crunch Fitness gym in San Diego county has been sued after Christynne Wood, a 61-year old transgender woman, Navy veteran and SEIU union employee, was denied use of the gym's women's bathrooms and locker rooms. She is being represented by the ACLU Foundation of San Diego and Imperial Counties, along with the law firm of Nixon Peabody LLP.
Amanda Goad, a senior staff attorney with the ACLU of Southern California stated, "California law makes clear that every person has the right to use facilities appropriate to their gender identity. No one should have to endure the discrimination, harassment, and humiliation that Christynne experienced because of Crunch's failure to follow the law and educate its employees about respect for transgender people."
The California Department of Fair Employment and Housing, which enforces the state's civil rights laws, filed the suit against the gym on April 17 in San Diego Superior Court after receiving her complaint.
The suit, which the ACLU affiliates and Nixon Peabody moved to join, charges that the Crunch Fitness gym and its owner, John Romeo, discriminated against Wood on the basis of her gender identity and gender expression, and failed to properly supervise and train employees in anti-discrimination laws. Also, the gym failed to adequately protect Wood from harassment.
The suit asks the court to order Crunch Fitness gym in El Cajon to provide all current and prospective members access to the locker rooms and bathrooms appropriate to their gender identities. It also asks that the gym be required to provide appropriate training to all managers and employees on obligations under the Unruh Act, with special emphasis on gender identity and the prevention of harassment.
The suit also asks that monetary damages be paid to Wood, including those provided by the Unruh Civil Rights Act.
Wood, who lives in Lakeside in San Diego County, has been a dues-paying member of the Crunch Fitness gym in El Cajon for about 11 years. Health-wise, it changed her life. She joined shortly after undergoing angioplasty surgery and receiving medical advice that she urgently needed to lose weight.
Due to her diligent adherence to exercise programs at the gym-most especially in water aerobics sessions – Wood lost more than 100 pounds. She also made friendships at the gym with both gym members and some fitness instructors.
Early in life, Wood realized that her gender identity was female, but she didn't feel comfortable expressing that publicly. Only after becoming more acquainted with the LGBTQI community did she gain confidence about identifying as a transgender woman. In 2016, she began transitioning to female with the support of health care providers.
Wood told the instructor and other participants in the water aerobics classes about her transition. She continued to use the men's locker room, but in September 2016 she began to get harassed there. One man approached her in the locker room, smiled, and grabbed his genitals. Feeling threatened and humiliated, she fled the locker room and reported the incident to a gym manager. But as near as Wood could tell, no action was taken to address the situation.
Wood asked to use the women's facilities and was told she could do that if she obtained a doctor's verification of her transitioning. On Sept. 30, 2016, she presented the letter that not only confirmed her treatments, but also stated it was "very important" she be able to use the women's facilities at the gym.
Still, Wood was denied use of the women's locker rooms and bathrooms, even after obtaining a Superior Court order legally changing her name and gender. It was only after another harassment incident – a man in the locker room referred to her as a "fucking faggot" – that Wood was finally allowed access to the women's facilities. This was on Sept. 15, 2017, almost an entire year after she presented the doctor's letter.
The refusals to give Wood access to the women's facilities were clear violations of California's Unruh Civil Rights Act that bans discrimination based on "a person's gender identity and gender expression." It goes on to define gender expression as "a person's gender-related appearance and behavior whether or not stereotypically associated with the person's assigned sex at birth."
"The discrimination and harassment Christynne experienced is unacceptable," said Erin Holyoke, attorney at Nixon Peabody LLP. "We hope this lawsuit furthers the message that discrimination of any kind should not be tolerated."
Padilla, local leaders celebrate passage of Respect for Marriage Act
"There's no better place than San Francisco to celebrate passage of the Respect for Marriage Act & affirm lives of millions of LGBTQ people"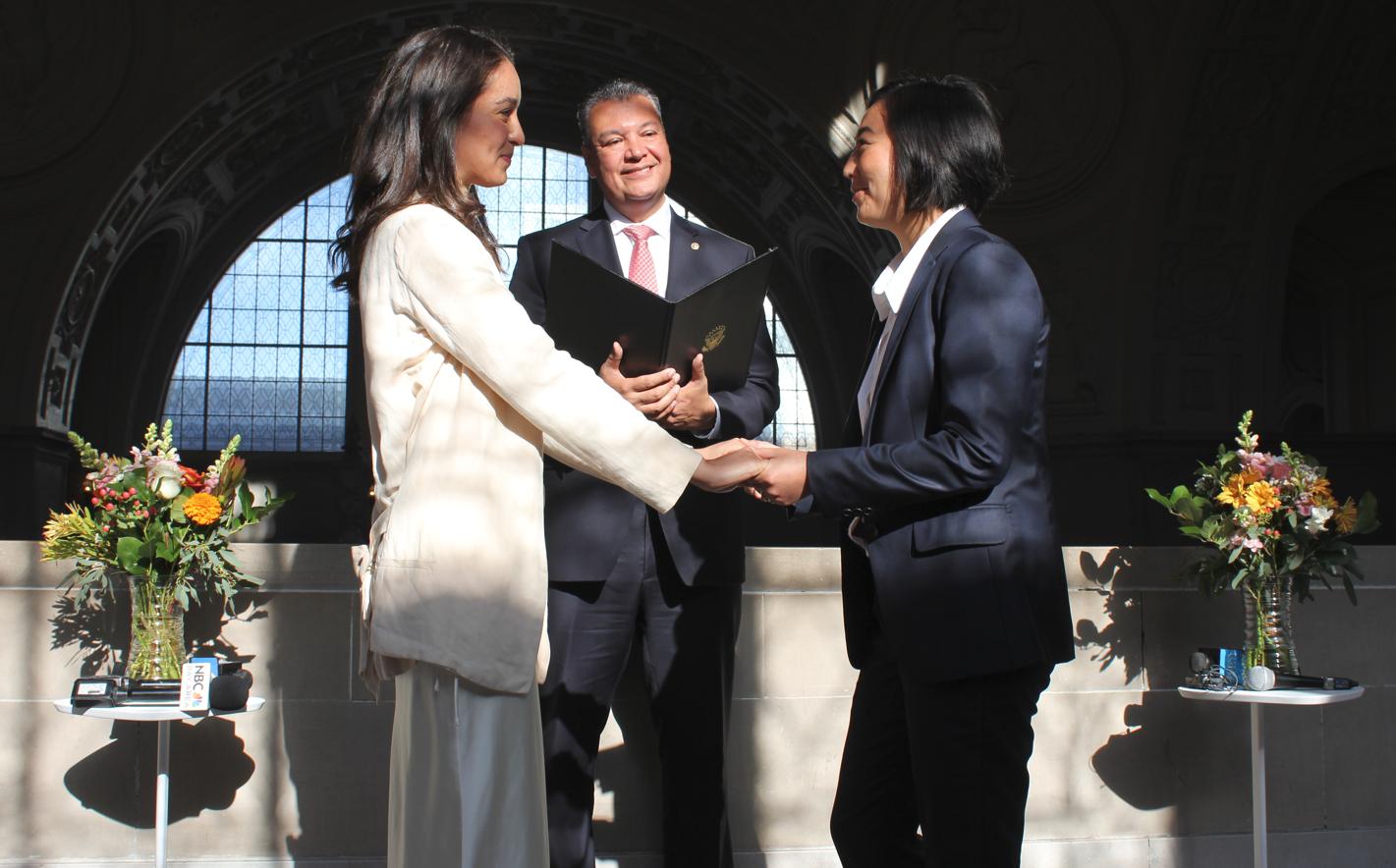 SAN FRANCISCO —  U.S. Senator Alex Padilla (D-Calif.) on Friday hosted a press conference with San Francisco Mayor London Breed, State Senator Scott Wiener, Equality California Executive Director Tony Hoang, and local leaders following the Senate passage of the Respect for Marriage Act.
Senator Padilla also officiated a vows renewal ceremony of Cyn Wang and Tessa Chavez, a local lesbian couple, at San Francisco City Hall to mark the historic occasion.
The Respect for Marriage Act requires the federal government to recognize a marriage between two individuals if the marriage was valid in the state where it was performed and guarantee that valid marriages between two individuals are given full faith and credit, regardless of the couple's sex, race, ethnicity, or national origin. The legislation passed the Senate by a vote of 61-36.
"There is no better place than San Francisco to celebrate the passage of the Respect for Marriage Act and unequivocally affirm the lives of millions of LGBTQ people and interracial couples across our country," said Senator Padilla. "We celebrate the progress that we have made today, but recognize the work still left undone to fully protect the rights of LGBTQ Americans. I'll continue working to build on our efforts until we ensure that every American is treated equally under the law, free from discrimination."
"I was proud to introduce the Respect for Marriage Act over the summer, and I'm even more pleased that the bill passed the Senate this week with strong bipartisan support," said Senator Dianne Feinstein. "The Respect for Marriage Act will guarantee legal protections for millions of marriages in the United States. Simply put, Americans should be free to marry the person they love, regardless of sexual orientation or race, without fear of discrimination or fear that their marriages will be invalidated. This was a historic vote and one that every proponent of equality can be proud of."
"The Respect for Marriage Act is an important step forward in the continued fight for LGBTQ and racial equality in America," said State Senator Scott Wiener. "Today, we celebrate this victory for our civil rights, and tomorrow we recommit to fight even harder against the right-wing Supreme Court's efforts to legalize discrimination in this country."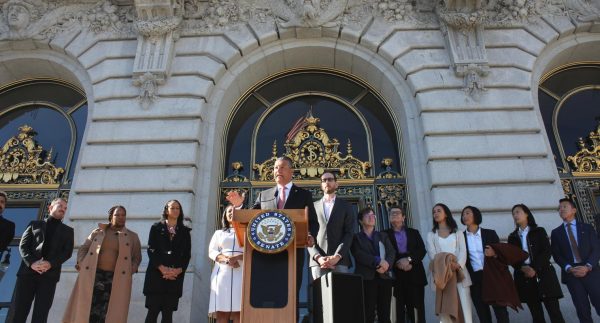 "San Francisco's history is inseparable from the history of the LGBTQ community and the movement for marriage equality locally, at the state level, and nationally," said Mayor Breed. "As we celebrate the passage of the Respect for Marriage Act, we honor those who have endured discrimination and hate, and the many who lost their lives in the quest for equality. We recommit ourselves to protect the fundamental rights of all people regardless of who they are or whom they love. Thank you to Congressional leaders, especially Senators Dianne Feinstein and Alex Padilla, and Speaker Pelosi for their leadership to pass this historical legislation."
"Equality California applauds this historic vote and the critical leadership of Senators Baldwin, Feinstein and Padilla, in getting this bill across the finish line," said Equality California Executive Director Tony Hoang. "While this is an important step in affirming the dignity of the LGBTQ+ community, it will not end all discrimination against LGBTQ+ people or erase the hateful rhetoric of anti-LGBTQ+ politicians and extremists. Equality California will continue to fight for full, lived equality for all LGBTQ+ people until the work is done."
"The Respect for Marriage Act removes an ugly, discriminatory stain on our federal law books – the 1996 so-called "Defense of Marriage Act" – and replaces DOMA with a rule requiring government at all levels to treat all married couples equally nationwide," said Jenny Pizer, Chief Legal Officer, Lambda Legal. "We hope we never need it.  But if the U.S. Supreme Court were, outrageously, to erase the constitutional protection for the freedom to marry, this law will substantially reduce the harms. Yet, even if the Respect for Marriage Act were to become necessary, it would not be sufficient. We still urgently need the Equality Act to become law, to protect LGBTQ people from the widespread discrimination that persists in the commercial marketplace and in public services with harsh, unacceptable consequences."
"It is a historic moment for the advancement and preservation of basic civil rights for all Americans, but by no means is our work done," said Kris Perry, Prop 8 Plaintiff & Nonprofit Director. "Our family and thousands of families like ours can breathe easier tonight knowing our fundamental rights are protected."
"After the Supreme Court overturned a woman's right to choice, we feared same-sex marriages were next," said Cyn Wang and Tessa Chavez. "The Respect for Marriage Act gives our family clarity and a sense of relief that our marriage, and those of all married couples regardless of sexual orientation or race, will be protected in this country."
The Respect for Marriage Act now goes to the House of Representatives for passage and then to the President's desk to be signed into law.
Senator Padilla is committed to pursuing equality for the LGBTQ community, including in employment, housing, and credit lending.
Earlier this year, Padilla introduced the LGBTQ Business Equal Credit Enforcement and Investment Act, legislation that would protect the 1.4 million LGBTQ-owned businesses in the nation from lending discrimination to ensure equal access to economic opportunities. Padilla also joined Senate Democrats in introducing a resolution recognizing June as LGBTQ Pride Month to highlight the work of the LGBTQ community in fighting to achieve full equality, including for marriage.