California Voters Guide promotes anti-trans candidate
Vote-by-mail for June 5 primary starts Monday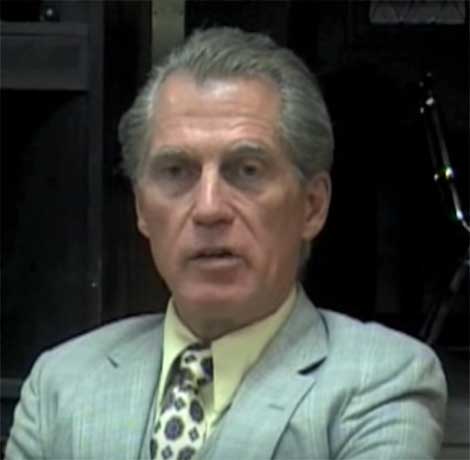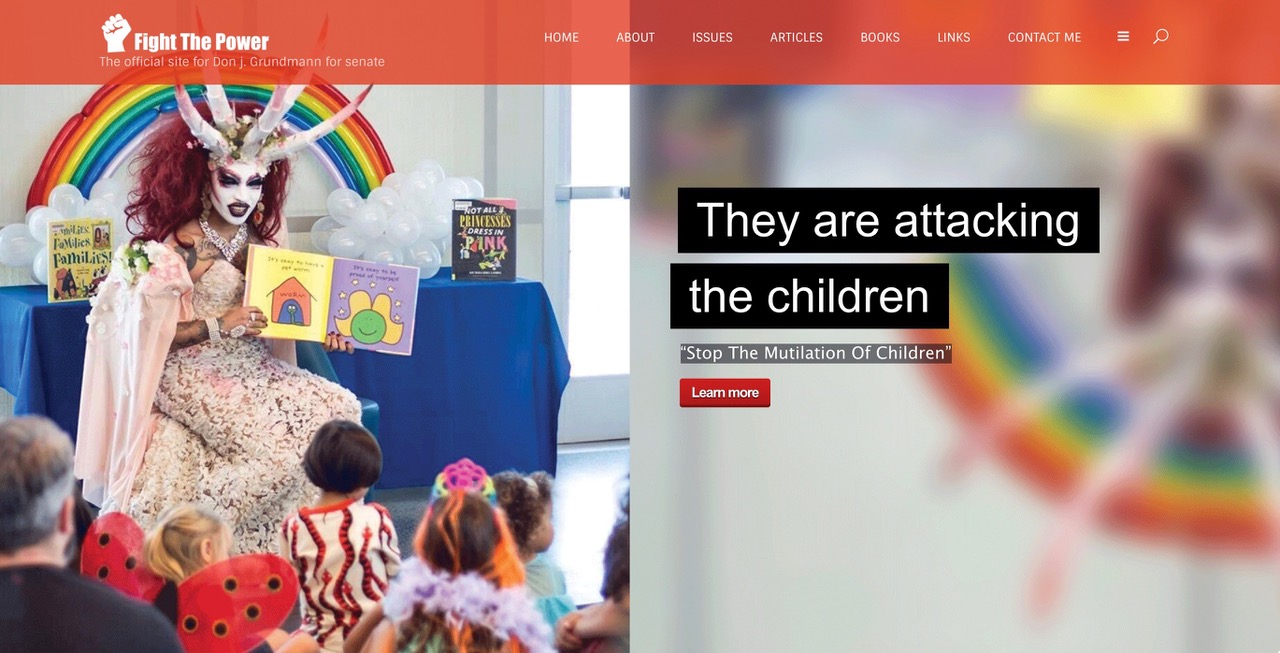 NOTE:  some of the images in this article are disturbing.
California Republicans ejected U.S. Senate candidate Patrick Little from their state convention in San Diego on Saturday. The self-described "white advocate"—whose campaign slogan is "Liberate the U.S. from the Jewish oligarchy"—calls Hitler "one of the greatest leaders in history." The GOP condemns "anti-Semitism and any other form of religious bigotry," GOP spokesperson Matt Fleming told CBS News.
However, explicitly expressed bigotry against the transgender community, as well as the promotion of white supremacy in the Official Voter Information Guide distributed by the California Sec. of State's (SOS) office is protected as free speech.
"Candidates running for the United States Senate may purchase space for a 250-word candidate statement in the state Voter Information Guide. The statement may not make any reference to any opponent of the candidate. (Elections Code sections 9084(i) and 13308.)," the SOS website says, presumably allowing less well-funded candidates to get their message out.
Candidates' statements can thus also serve as cheap publicity for hate, with roughly 19 million voters reviewing the official SOS Voters Guide for the June 5 primary. Lest LGBT Californians forget, the now-blue progressive state was once home to a slew of white supremacist groups such as the KKK and Tom Metzger's White Aryan Resistance (which in the late 1980s tried to burn down the Orange County-based law firm of John Duran and Joel Loquvam). The Orange County Register reported last February that in its annual Hate and Extremism Report, the Southern Poverty Law Center counted 954 hate groups nationally — including 75 in California, with 38 identified in Southern California.
Vote-by-mail starts Monday, May 7, and while Grundmann may not have a real chance to go up against Sen. Dianne Feinstein in November—this message and the promotion of his hate website will no doubt be read by millions of Californians: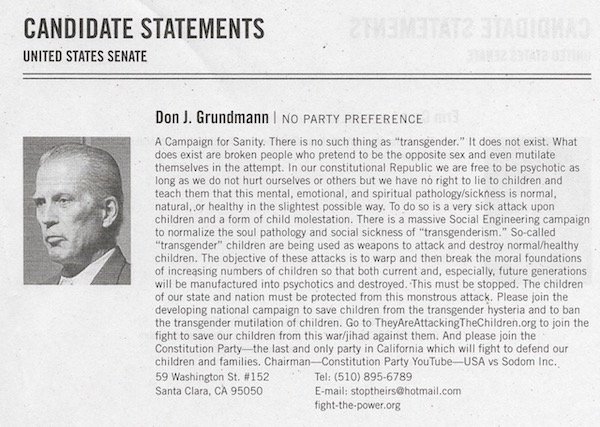 The candidate's website leads to images espousing hate toward trans people, African Americans, and even calls out gay columnist Dan Savage by name. Here's a sampling of what's on Grundmann's official campaign website: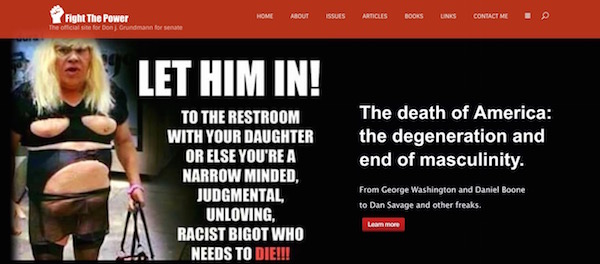 Jesse Melgar, the out Deputy Secretary of State and Chief Communications Officer for LGBT ally SOS Alex Padilla's office, says the SOS finds the statements "offensive" but bigoted statements are covered by the First Amendment and that the SOS is ministerial when it comes to elections. Additionally, no one came forward during the public comment period to challenge the statements.
"Thank you for sharing your concerns about the candidate statement of Don J. Grundman printed in the California Voter Information Guide (VIG) for the June 5, 2018, Statewide Direct Primary Election," Melgar wrote the Los Angeles Blade in an email Monday.
"The candidate statements provided in the VIG are voluntarily submitted and paid for by the candidates in accordance with Elections Code Section 9080 and Government CodeSection 85601. The Secretary of State's role in the production of the VIG is ministerial. Pursuant to statute, a candidate has the opportunity to purchase a statement of up to 250 words if they have accepted voluntary campaign finance spending limits. The only statutory restriction regarding the text of the statement is that they may not reference any opposing candidate and the Secretary of State does not otherwise have the authority to reject or edit candidate statements."
However, Melgar continues, "pursuant to Elections Code Section 9092, the Secretary of State is required to make all contents of the guide available for public examination for a period of 20 days prior to printing the VIG. During this public examination period, any elector may seek a writ of mandate in the Sacramento Superior Court requiring information in the VIG be amended or deleted, if the copy in question is proven to be false, misleading, or inconsistent with the requirements of the Elections Code or specified sections of the Government Code. No such writ was sought or issued during this public display period which occurred February 20 through March 12, 2018.
"While our office finds the content of this submission offensive," Melgar says, "the United States Supreme Court has found on different occasions that political speech is a protected form of speech and my office does not have the constitutional ability to alter, deny, or remove candidate statements submitted in accordance with law nor the ability to change the law. You may wish to contact your State Senator or Assembly member to determine if changes to the law may be warranted and allowable."
Out Assembly member Evan Low tells the LA Blade: "As chair of the California Legislative LGBT Caucus, I am deeply saddened to see that views like these are still held by members of our society. However, it is Mr. Grundmann's first amendment right to express these views, no matter how hateful or bigoted they may be."
"Mr. Grundmann's transphobic, racist statement and website prove that opponents of equality are alive and well here in California," said Equality California Executive Director Rick Zbur. "The best way to send a message that we don't accept his vile bigotry is for LGBTQ Californians and our allies to get out and vote for pro-equality champions who will fight for our community. We look forward to that happening — and to the end of Mr. Grundmann's sad, irrelevant campaign."
The missed opportunity to challenge the bigotry in the candidate's statement raises another question: how can the public comment period provided by the Sec. of State be useful or effective if no one knows about It?
Marjorie Taylor Greene tweets homophobic attack on Sen. Wiener
"Greene is a toxic person & embodies why the MAGA movement is dangerous, a threat to our democracy & to the personal safety of LGBTQ people"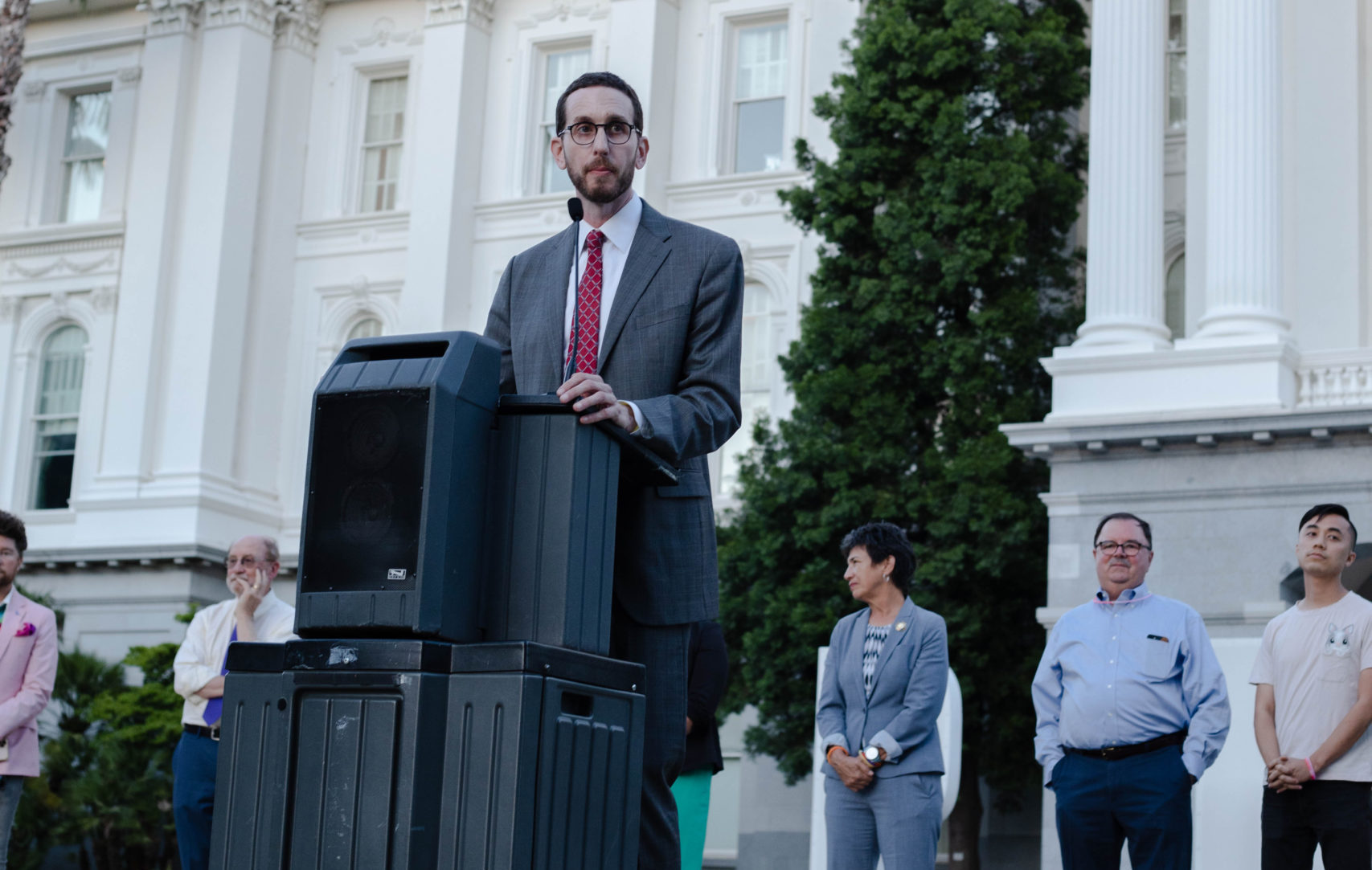 LOS ANGELES – Far-right Republican U.S. Rep. Marjorie Taylor Greene attacked Calif. State Sen. Scott Wiener, (D-San Francisco) on Tuesday after Wiener made a point of calling out use of the word "groomer," as the abusive reaction and fallout from right-wing sources regarding the mass-shooting at Club Q in Colorado Springs, continues to ratchet up against the LGBTQ+ community.
"The word "groomer" is categorically an anti-LGBTQ hate word. It's super homophobic/transphobic. It plays into the slander that LGBTQ people are pedophiles. It's no different than calling someone a fagg*t. If you call someone groomer, you're inciting violence against LGBTQ people," Wiener stated in his tweet.
Quoting Wiener's tweet the far-right MAGA Georgia congresswoman called the Senator a "communist" questioning Wiener's loyalty and service to both the State of California and the U.S. she then went on to accuse Wiener of being a "groomer" implying that the Senator was a predator of minors for sexual purposes:
"Pass my Protect Children's Innocence Act to stop communist groomers like this from using state government power to take children away from their parents to allow a for-profit medical industry to chop off these confused children's genitals before they are even old enough to vote."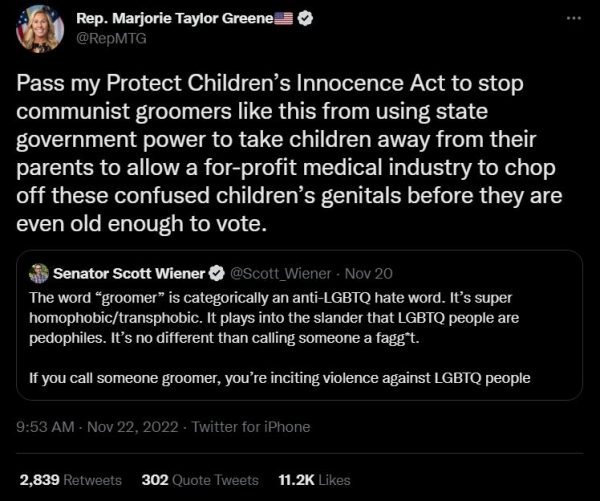 In an emailed statement, Senator Wiener responded to the homophobic attack by the Georgia Republican:
"The same day Elon Musk reinstated QAnon extremist Marjorie Taylor Greene, she launched a vile homophobic attack on me because of my vocal advocacy in response to the Club Q slaughter. When Greene has attacked me in the past, threats against me have typically increased. She is a toxic person and embodies why the MAGA movement is so dangerous. Green is a threat to our democracy and to the personal safety of LGBTQ people."
The term 'groomer' is considered highly offensive as it broadly brushstroke paints LGBTQ+ people as child molesters.
The definition according to the Urban online dictionary:
1 (the crime definition): An adult that builds a sense of trust with a minor to exploit and/or abuse them, typically (but not always) in a sexual manner. This is a crime, and it also causes harm to the minor.
2 (in US politics): What republican politicians and supporters refer to LGBTQIA+ people and their allies as, to manipulate their audience to pass anti-LGBTQIA+ legislation. This is targeting and harming LGBTQIA+ people and the people using the word in this manner typically are (or have connections with those who are) actual groomers.
National Public Radio, (NPR) reported this past May the Movement Advancement Project's executive director, Ineke Mushovic, pointed out:
"What the far right often does is they engage people's reptilian brains, the fight-or-flight instinct," says Mushovic. "And so it behooves far-right conservatives to put people in a state of fear, because then they're reactive. They don't support change."
The "grooming" narrative, Mushovic added, "taps into this primal sense of fear and this kind of parental protective instinct. But we know it's a completely false narrative."
The "grooming" narrative has been actively promoted by conservative activist Christopher Rufo, and Daily Wire pundit and transphobe Matt Walsh who have both attacked gender affirming care in their assaults on the LGBTQ+ community.
It took three days after the mass shooting at Club Q for the Daily Wire's Matt Walsh to blame the victims for the massacre. pic.twitter.com/08kitTdpMt

— Ari Drennen (@AriDrennen) November 22, 2022
Green's H.R.8731 – Protect Children's Innocence Act, was introduced this past August 19 and has forty-nine Republican members listed as co-sponsors. The language as introduced stated targets primarily Trans youth healthcare and targets colleges and universities from "offering instruction in gender affirming care:"
This bill places restrictions on the provision of gender affirming care. Gender affirming care includes performing surgery, administering medication, or performing other procedures for the purpose of changing the body of an individual to correspond to a sex that differs from the individual's biological sex.
Specifically, the bill makes it a felony to perform any gender affirming care on a minor and it permits a minor on whom such care is performed to bring a civil action against each individual who provided the care.
Additionally, the bill prohibits the use of federal funds for gender affirming care or for health insurance that covers such care. Such care may not be provided in a federal health care facility or by a federal employee. The bill also prohibits qualified health plans from including coverage for gender affirming care. Further, plans that include coverage for such care are not eligible for federal subsidies. […]