Mariela Castro to push for marriage, LGBT rights in Cuba
Former president's daughter did not provide specific details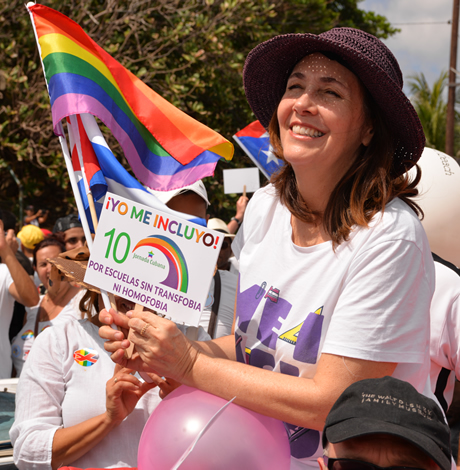 Hatzel Vela, a Havana-based reporter for the South Florida television station WPLG, reported National Center for Sexual Education (CENESEX) Director Mariela Castro made the comments during a press conference in the Cuban capital.
During Q&A, @CastroEspinM talks #gay marriage in #Cuba; says there will be several proposals to National Assembly regarding that issue and others. @WPLGLocal10 pic.twitter.com/KUXZSZpQTo

— Hatzel Vela (@hatzelvela) May 4, 2018
On Cuba, a Miami-based magazine that covers the Communist island, reported Mariela Castro said CENESEX in July will propose amending the Cuban constitution and changing the country's family and penal codes when the National Assembly meets again. Media reports indicate Mariela Castro did not provide specific details when she spoke to reporters.
Mariela Castro, who is a member of the National Assembly, spoke to reporters ahead of CENESEX-organized events in Havana and in the city of Pinar del Río that will commemorate the International Day Against Homophobia and Transphobia. The press conference also took place less than a month after the National Assembly chose Miguel Díaz-Canel succeeded Raúl Castro as the country's president.
Lesbian granted custody of daughter's children in 2017
More than 25,000 gay men and others deemed unfit for military services were sent to labor camps known by the Spanish acronym UMAP in the years after the 1959 Cuban revolution that brought Raúl Castro's brother, Fidel Castro, to power. The Cuban government until 1993 forcibly quarantined people with HIV/AIDS in state-run sanitaria.
Cuba in 1979 repealed its sodomy law. Fidel Castro nearly three decades later apologized for the work camps during an interview with a Mexican newspaper.
The Cuban constitution currently defines marriage as between a man and a woman.
Mariela Castro has previously said she supports marriage rights for same-sex couples. LGBT activists who work independently of Mariela Castro and CENESEX in recent years have launched a campaign that urges Cuban lawmakers to debate the issue.
Puerto Rico, Colombia, Argentina, Uruguay and Mexico City are among the jurisdictions in Latin America in which same-sex couples can legally marry.
Cuba since 2008 has offered free sex-reassignment surgeries through its national health care system, although Mariela Castro has previously said less than 40 people have been able to receive them. Mariela Castro voted against a 2013 proposal that sought to add sexual orientation to Cuba's labor law because it did not include gender identity.
Díaz-Canel defended Mariela Castro's recent doctoral thesis that focused on the "social integration" of transgender people. Díaz-Canel also supported El Mejunje, an LGBT cultural center in the city of Santa Clara, when he was secretary of the Communist Party in Villa Clara Province.
The Inter-American Court of Human Rights in January
issued a landmark ruling
that recognizes same-sex marriage and transgender rights. The decision is not legally binding in Cuba because it is not party to the American Convention on Human Rights.
A three-judge panel in Havana last October granted a woman custody of her late daughter's three children who she is raising with her same-sex partner. Acepto, a group that advocates for marriage rights for same-sex couples in Cuba, in January noted the ruling is potentially the first time the Cuban government has legally recognized the "legitimacy of a non-heteronormative family."
"We will see what happens," Acepto told the Washington Blade on Friday after Mariela Castro's press conference.
Mariela Castro promoverá matrimonio igualitario, derechos LGBT en Cuba
La hija del expresidente cubano Raúl Castro el viernes dijo que su organización presentará propuestas en la Asamblea Nacional de país que extenderían el matrimonio y otros derechos a la comunidad LGBT.
Hatzel Vela, un reportero basado en La Habana por WPLG, una estación de televisión del sur de Florida, reportó Mariela Castro, la directora del Centro Nacional de Educación Sexual (CENESEX), hizo los comentarios durante una conferencia de prensa en la capital cubana.
On Cuba, una revista basada en Miami que reporta sobre la isla comunista, reportó Mariela Castro dijo que el CENESEX en julio propondrá enmendar la constitución cubana y cambiar los códigos penales y familiares cuando la Asamblea Nacional se reúne otra vez. Los informes de los medios indican que Mariela Castro no dio detalles específicos cuando habló a los reporteros.
Mariela Castro, quien es parlamentaria, habló a los reporteros antes de los eventos organizados por el CENESEX en La Habana y en la ciudad de Pinar del Río que conmemorarán el Día Internacional contra la Homofobia y la Transfobia. La conferencia de prensa también se realizó menos de un mes después de la selección de Miguel Díaz-Canel para suceder a Raúl Castro como presidente del país.
Más de 25,000 hombres gay y otros considerados no aptos para los servicios militares fueron enviados a las UMAPs, campos de trabajo, en los años después de la revolución cubana que llevó al poder al hermano de Raúl Castro, Fidel Castro, en 1959. El gobierno cubano hasta 1993 puso en cuarentena a personas con VIH/SIDA en sanitarias estatales.
Cuba en 1979 derogó su ley de sodomía. Fidel Castro casi tres décadas más tarde se disculpó por los campos de trabajo durante una entrevista con un periódico mexicano.
La constitución cubana define el matrimonio como entre un hombre y una mujer.
Mariela Castro ha dicho anteriormente que ella apoya el matrimonio igualitario. Los activistas LGBT quien trabajan independientemente de Mariela Castro y el CENESEX en los últimos años han lanzado una campaña que instan a los legisladores cubanos de debatir el tema.
Las parejas del mismo sexo pueden casarse en Puerto Rico, Colombia, Argentina, Uruguay, la Ciudad de México y otras jurisdicciones en América Latina.
Cuba desde 2008 ha ofrecido las cirugías de asignación de sexo por gratis por su sistema de salud pública, aunque Mariela Castro ha dicho anteriormente que menos de 40 personas han podido recibirlas. Mariela Castro en 2013 votó en contra de una propuesta que buscaba añadir la orientación sexual a la ley de labor de Cuba porque no incluyó la identidad de género.
Díaz-Canel defendió la reciente tesis doctoral de Mariela Castro que enfocó sobre la "integración social" de personas trans. Díaz-Canel también apoyó El Mejunje, un centro cultural LGBT en la ciudad de Santa Clara, cuando era secretario del Partido Comunista en la provincia de Villa Clara.
La Corte Interamericana de Derechos Humanos en enero emitió un fallo histórico que reconoce el matrimonio igualitario y los derechos de la comunidad trans. La decisión no es jurídicamente vinculante en Cuba porque el país no es parte de la Convención Americana sobre Derechos Humanos.
Un panel de tres jueces en La Habana el pasado octubre dio a una mujer la custodia de los tres hijos de su hija fallecida quien está criando con su pareja del mismo sexo. Acepto, un grupo que promueve el matrimonio igualitario en Cuba, en enero notó que el fallo es potencialmente la primera vez el gobierno cubano ha reconocido legalmente la "legitimidad de una familia no heteronormativa."
"Veremos que pasa," Acepto dijo al Washington Blade el viernes después de la conferencia de prensa de Mariela Castro.
The daughter of former Cuban President Raúl Castro on Friday said her organization plans to submit proposals to the country's National Assembly that would extend marriage and other rights to LGBT Cubans.
Padilla, local leaders celebrate passage of Respect for Marriage Act
"There's no better place than San Francisco to celebrate passage of the Respect for Marriage Act & affirm lives of millions of LGBTQ people"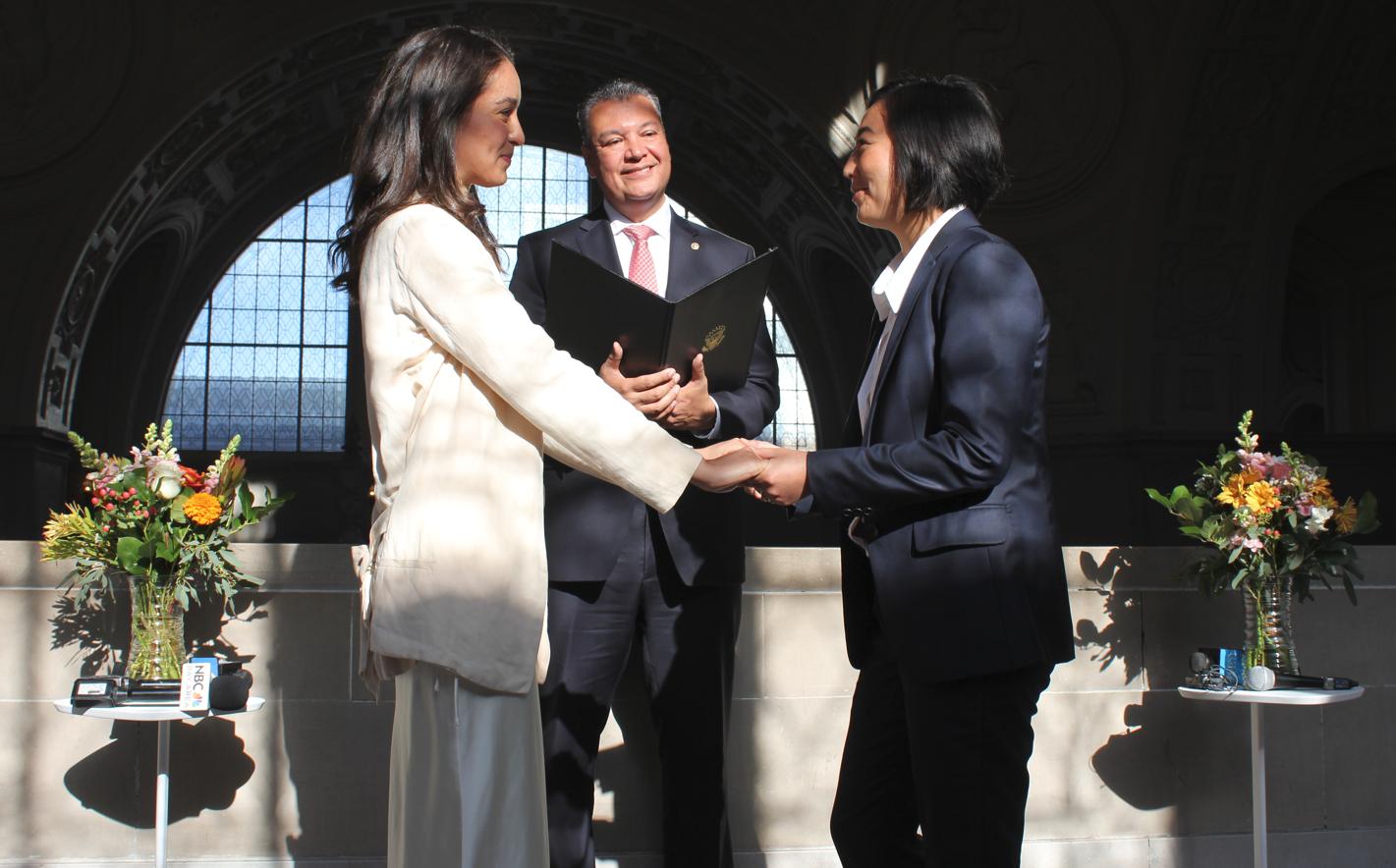 SAN FRANCISCO —  U.S. Senator Alex Padilla (D-Calif.) on Friday hosted a press conference with San Francisco Mayor London Breed, State Senator Scott Wiener, Equality California Executive Director Tony Hoang, and local leaders following the Senate passage of the Respect for Marriage Act.
Senator Padilla also officiated a vows renewal ceremony of Cyn Wang and Tessa Chavez, a local lesbian couple, at San Francisco City Hall to mark the historic occasion.
The Respect for Marriage Act requires the federal government to recognize a marriage between two individuals if the marriage was valid in the state where it was performed and guarantee that valid marriages between two individuals are given full faith and credit, regardless of the couple's sex, race, ethnicity, or national origin. The legislation passed the Senate by a vote of 61-36.
"There is no better place than San Francisco to celebrate the passage of the Respect for Marriage Act and unequivocally affirm the lives of millions of LGBTQ people and interracial couples across our country," said Senator Padilla. "We celebrate the progress that we have made today, but recognize the work still left undone to fully protect the rights of LGBTQ Americans. I'll continue working to build on our efforts until we ensure that every American is treated equally under the law, free from discrimination."
"I was proud to introduce the Respect for Marriage Act over the summer, and I'm even more pleased that the bill passed the Senate this week with strong bipartisan support," said Senator Dianne Feinstein. "The Respect for Marriage Act will guarantee legal protections for millions of marriages in the United States. Simply put, Americans should be free to marry the person they love, regardless of sexual orientation or race, without fear of discrimination or fear that their marriages will be invalidated. This was a historic vote and one that every proponent of equality can be proud of."
"The Respect for Marriage Act is an important step forward in the continued fight for LGBTQ and racial equality in America," said State Senator Scott Wiener. "Today, we celebrate this victory for our civil rights, and tomorrow we recommit to fight even harder against the right-wing Supreme Court's efforts to legalize discrimination in this country."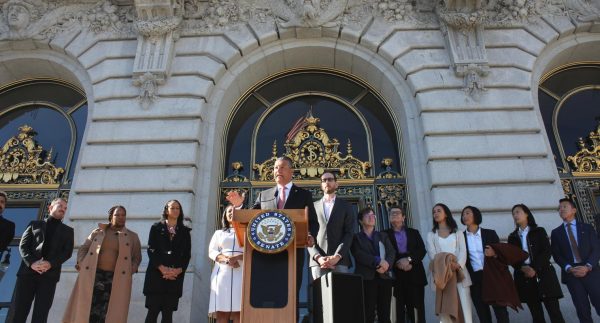 "San Francisco's history is inseparable from the history of the LGBTQ community and the movement for marriage equality locally, at the state level, and nationally," said Mayor Breed. "As we celebrate the passage of the Respect for Marriage Act, we honor those who have endured discrimination and hate, and the many who lost their lives in the quest for equality. We recommit ourselves to protect the fundamental rights of all people regardless of who they are or whom they love. Thank you to Congressional leaders, especially Senators Dianne Feinstein and Alex Padilla, and Speaker Pelosi for their leadership to pass this historical legislation."
"Equality California applauds this historic vote and the critical leadership of Senators Baldwin, Feinstein and Padilla, in getting this bill across the finish line," said Equality California Executive Director Tony Hoang. "While this is an important step in affirming the dignity of the LGBTQ+ community, it will not end all discrimination against LGBTQ+ people or erase the hateful rhetoric of anti-LGBTQ+ politicians and extremists. Equality California will continue to fight for full, lived equality for all LGBTQ+ people until the work is done."
"The Respect for Marriage Act removes an ugly, discriminatory stain on our federal law books – the 1996 so-called "Defense of Marriage Act" – and replaces DOMA with a rule requiring government at all levels to treat all married couples equally nationwide," said Jenny Pizer, Chief Legal Officer, Lambda Legal. "We hope we never need it.  But if the U.S. Supreme Court were, outrageously, to erase the constitutional protection for the freedom to marry, this law will substantially reduce the harms. Yet, even if the Respect for Marriage Act were to become necessary, it would not be sufficient. We still urgently need the Equality Act to become law, to protect LGBTQ people from the widespread discrimination that persists in the commercial marketplace and in public services with harsh, unacceptable consequences."
"It is a historic moment for the advancement and preservation of basic civil rights for all Americans, but by no means is our work done," said Kris Perry, Prop 8 Plaintiff & Nonprofit Director. "Our family and thousands of families like ours can breathe easier tonight knowing our fundamental rights are protected."
"After the Supreme Court overturned a woman's right to choice, we feared same-sex marriages were next," said Cyn Wang and Tessa Chavez. "The Respect for Marriage Act gives our family clarity and a sense of relief that our marriage, and those of all married couples regardless of sexual orientation or race, will be protected in this country."
The Respect for Marriage Act now goes to the House of Representatives for passage and then to the President's desk to be signed into law.
Senator Padilla is committed to pursuing equality for the LGBTQ community, including in employment, housing, and credit lending.
Earlier this year, Padilla introduced the LGBTQ Business Equal Credit Enforcement and Investment Act, legislation that would protect the 1.4 million LGBTQ-owned businesses in the nation from lending discrimination to ensure equal access to economic opportunities. Padilla also joined Senate Democrats in introducing a resolution recognizing June as LGBTQ Pride Month to highlight the work of the LGBTQ community in fighting to achieve full equality, including for marriage.