Lupe Valdez's campaign for the 'everyday Texan' could make LGBT history
Democratic victor in May 22 run-off will take on anti-LGBT Gov. Abbott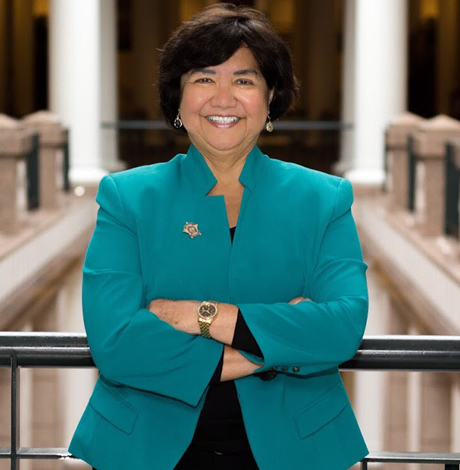 You can count many ways in which former Dallas County Sheriff Lupe Valdez's election as the next governor of Texas would be a milestone victory.
She could become the first openly gay person elected governor in the United States. She could be the second Latina governor. Her victory as a Democrat would unseat an anti-LGBT incumbent and represent a change for the Republican stronghold state.
But in an exclusive interview Monday with the Washington Blade, Valdez wasn't focused on those milestones and said the focus of her bid for the Democratic nomination to unseat Texas Gov. Greg Abbott was on the "everyday Texan."
"The everyday Texan is finding it harder and harder to make ends meet, to get ahead and stay ahead, and our current governor has more interest in his special issue than the everyday Texan," Valdez said. "I'm committed to making the everyday Texan and, of course, the other folks, the LGBT, the minority actually have a say in the everyday Texas."
Despite that focus, Valdez, who served four terms as Dallas County sheriff from 2005 to 2017 until she resigned to kick off her campaign, acknowledged being the first openly gay person elected governor in the United States would be significant.
"It would definitely say that Texas is what we actually believe it is — an inclusive state that welcomes all the people," Valdez said. "And so therefore, I think my election would actually come out and stand strong in saying that this is not the old Texas, this is not the Texas of the past. This is a new Texas that is welcoming and will accept everybody."
Valdez has competition for the distinction of being the first openly gay person elected governor. Other gay candidates seeking to become governor are Rep. Jared Polis (D-Colo.) in Colorado and state Sen. Rich Madaleno (D-Montgomery County) in Maryland. Bisexual Gov. Kate Brown is seeking re-election in Oregon and bisexual actress Cynthia Nixon is challenging Gov. Andrew Cuomo in New York. In Vermont, transgender businessperson Christine Hallquist is running for governor.
A win for Valdez would be a win for the LGBT community not just because she could be the first openly gay person elected governor, but also because she'd be taking out one of the most anti-LGBT governors in the country.
Among other things, Abbott has signed an anti-LGBT "religious freedom" adoption bill into law, urged the Texas Supreme Court to undermine the 2015 ruling for marriage equality nationwide, and called a special session of the state legislature for the sole purpose of passing anti-transgender bathroom legislation, which lawmakers ultimately rejected.
Valdez said Abbott's tenure has "been harmful to everything, not just the LGBT," including Texans as a whole and other minorities, such as Muslims and immigrants.
"I don't believe that's the Texas brand, and I want to show him," Valdez said. "Discrimination is not acceptable in any shape, so we need to continue to fight against the bathroom bill. I'm trying to find a decent way to say this madness that is 'show me your papers' bills and discrimination bills. They're unpopular with the majority of Texas. Yes, there's a small percentage that is in favor, but the majority of Texas is not, so we need to start governing for the majority of Texas."
If elected governor, Valdez said she'd take Texas in the opposite direction and seek to pass pro-LGBT bills, including legislation enacting a statewide prohibition on anti-LGBT discrimination.
"I'm going to fight for everybody, including the LGBTQ community," Valdez said. "We have to have a comprehensive non-discrimination protections bill. We have to have a hate crimes protections bill, and we have to find some way of having health care that is culturally competent. Say that in a mouthful, but it's true that we need to be sensitive to the HIV folks and transgender folks."
With studies showing 40 percent of homeless youth are LGBT, Valdez also said making changes to assist the LGBT homeless population is an important task.
"You have the homeless youth that are kicked out, and there's still old Texas attitudes, and they're kicked out of the homes because they're LGBTQ," Valdez said. "In a homeless situation, the parents have to sign for the child to be able to go into a shelter. If he's LGBTQ, the parent doesn't even want to talk to them. How are they going to sign for it? We have to make arrangements for that."
The potential of Valdez to become the first openly gay governor and unseat an anti-LGBT incumbent won her the endorsement of the Gay & Lesbian Victory Fund, which declared its support for Valdez in March. The Human Rights Campaign hasn't yet made an endorsement in the race.
Annise Parker, who's CEO of the Victory Fund and won historic elections herself to become an openly gay mayor of Houston, said having a lesbian Latina defeat an anti-LGBT governor would "have enormous consequences for Texas and the entire country."
"With a primary win this month, Lupe will set up a general election battle that puts positive solutions against the divisive politics Gov. Abbott thrives on – and in a deep red state with a legislature hostile to LGBTQ equality," Parker said. "Electing a Democratic governor in Texas will be tough, but a victory would be transformational. With Lupe in the governor's mansion, we know hateful legislation is dead on arrival, and legislators will be forced to focus on policies to improve people's lives, not make them more difficult."
But Valdez has to overcome an additional step before she wins the Democratic nomination to take on Abbott. Although Valdez won a plurality of the vote in the March 6 Democratic primary, the race now proceeds to a run-off with businessperson Andrew White, who was the runner-up. The run-off is set for May 22.
White has his own faction of support, including an endorsement from the Houston GLBT Political Caucus, but Valdez said her experience makes her the clear choice to become the Democratic nominee.
"I'm going to laugh here," Valdez said. "I'm an Army veteran, I was a federal agent for over 20 years, I was the sheriff of Dallas County for the last 13 years. By the way, Dallas County is the ninth largest county in the United States, the sheriff's department is the seventh largest department in the United States. I oversaw over 2,500 employees and I had a budget of over $160 million. The experience is what already talks."
Valdez faces an uphill challenge in her bid to unseat Abbott in a traditionally Republican state. A Quinnipiac poll in April found she trails him by nine points, with Abbott leading 49-40 percent. Meanwhile, White has a similar standing and trails the incumbent by seven points, with Abbott leading 48-41 percent.
But Valdez said that poll is a good sign because Democrats in Texas in recent years have never had anything close to those numbers.
"Excuse me? Ten points is the closest we've been in over 10 years," Valdez said. "The prior people that have run against have not gotten that close, and we haven't even started running against him. We're not even calling him out or going to him on anything. We're just fighting right now in the Democratic primary. If we're within 10 points, that's the best any candidate has done in quite a while, and we haven't even started with him."
Valdez also said she isn't afraid of a challenge, citing her beginnings in San Antonio as one of eight children of parents who were migrant farm workers.
"My favorite phrase on that, people keep saying, 'This is an uphill challenge,'" Valdez said. "Excuse me? What kind of other challenges do we have? As an LGBTQ Latina from very humble beginnings, I don't know if you know my story…I grew up in the poorest zip code and the highest crime in San Antonio. What other challenge have I had except uphill? That's all we know is an uphill battle. So, I'm getting pretty good at these."
With President Trump having occupied the White House for more than a year, Valdez also reflected on his presidency. In the aftermath of a transgender military ban, revocation of bathroom protections for transgender students and "religious freedom" executive actions, Valdez said Trump betrayed his campaign promise to be a friend to LGBT people.
"He started out his campaign saying that he was going to have LGBTQ rights, and he started out with that, but then he turned around and pulled some of the stuff he's been pulling," Valdez said. "All that says is — how do you politely say two-faced? I don't know how you can politely say he said something for the campaign just to get people on your side, and then you turn around and do something else."
Asked whether she'd seek to shield the Texas National Guard from the transgender military ban, Valdez said she'd "fight to stop some of his actions," recalling her own experience being a lesbian in the military under an anti-gay ban at the time of the Vietnam War.
"Back then, there was no protection," Valdez said. "I know what it feels like to be left out there with no protection. I know what it feels like to not have people support you. So, of course, I'm going to fight to put these protections [in]. The transgender people are of value to the National Guard, to the military, they're of value. They wouldn't have been accepted in the first place if they weren't of value."
Pressed on how she'd fight the transgender military ban, Valdez talked about statewide LGBT non-discrimination protections and the recent fight against the bathroom bill.
"We're going to go back to the same thing, the comprehensive non-discrimination protections, the hate crimes protections and there is already a strong push in Texas for transgender protections," Valdez said. "The bathroom bill was totally against transgender, and there were so many middle-class families who came up and fought and said, 'Look at my child. My child is transgender and they're causing no harm to your school.' So there's already a strong fight in Texas and we will build on that so we can pass laws to stop the discrimination against the transgender."
On whether sexual orientation has emerged as an issue in her campaign, Valdez said it hasn't come up and that marks a significant change from when she first ran for sheriff in 2004.
"I'm going to tell you a little story and that sometimes causes me pain. When I ran for sheriff 13 years ago, I went to the Latino Police Officers' Association. I went to their leadership, and I said, 'I would appreciate your endorsement,'" Valdez said. "One member literally said to me, 'We are not going to endorse an f-ing lesbian. You will embarrass us and you will cause us nothing but embarrassment to our association.' I mean, I can literally remember walking out of there with literally my heart in my feet because it was so painful."
But Valdez said her victory as sheriff in the 2004 election proved that anti-gay member's predictions were incorrect and "a majority of Dallas did not feel that way."
"I was an out lesbian when I won," Valdez said. "So, the majority of Dallas did not feel that. Are there people that still feel that way? Yes. But I don't believe that is the majority of Texas. I do believe there are some loud, very loud voices against it. But I do believe they're in the minority. As you become less positive, less powerful, you yell harder. And these people are yelling very hard because they're not going to be the majority."
Although Valdez said she hasn't yet encountered opposition based on her sexual orientation in her gubernatorial campaign, she expects that to change when she secures the Democratic nomination and challenges Abbott head on.
"Remember we're in the Democratic primary," Valdez said. "I don't think those will come until we get in the general. Most of the Democrats in Texas are pretty progressive and the state party has taken a stand for non-discrimination protections against LGBTQ…So, I don't think I'll run into those issues in the primary. Where those issues will come up, I'm sure, is in the general."
Valdez's race isn't the only statewide contest in Texas attracting national attention. Another high-profile race is Rep. Beto O'Rourke's (D) bid to unseat Sen. Ted Cruz (R), who's up for re-election this year and has a strong anti-LGBT record that includes introducing a constitutional amendment that would have blocked the U.S. Supreme Court's ruling for same-sex marriage.
A recent Quinnipiac poll put O'Rourke within striking distance of Cruz in November. Although the poll found 47 percent of Texas residents support Cruz, 44 percent back O'Rourke.
Valdez was initially reluctant to comment on the U.S. Senate race, saying she's focused on her own, but conceded having both herself and O'Rourke on the Democratic ticket in November would have significant potential advantages.
"Of course, I want him to win," Valdez said. "Of course, I would work with him and together both our campaigns would bring in some strong votes. He's weak on the Hispanic vote. I'm very strong on the Hispanic vote, so a combination of both of us would more than likely bring out more voters."
With Valdez and O'Rourke mounting strong challenges in Texas, the state could soon shift from being a "red" state to "purple" state, and a "blue" if demographics keep shifting to more a diverse population.
But Valdez said the change for a difference in election outcomes is already present because "Texas is not a red state, it's a non-voting state" and her effort is focused on getting to the polls voters who haven't cast ballots before.
"We're going to go the grassroots and pull out these folks that have not been voting," Valdez said. "And the fact is that happened with Hillary, all these people just assumed that Hillary was going to win, so we're not going to go vote. I think Trump has been the best thing that happened to the Democrats because they're all excited and they don't want to see this happen again, so you have more people coming out to vote."
Valdez said the victories of Democrats in recent special elections throughout the country and the strong Democratic turnout in the March 6 primary in Texas demonstrates Democrats are ready to head to the polls to make change.
"Something is happening, something is awakening our voters," Valdez said. "I don't know if it's new voters, or the old voters just deciding maybe they better get out and vote, but we're going to push for both of those, we're going to push for new voters and we're going to push for the voters that haven't voted before. If you don't vote, this is what we get. You need to vote to change it. You want stuff like Trump to continue, stay home, but none of us want that, so we're going to push and get our message out and get folks to get out and vote."
Out U.S. Rep. introduces bill to create U.S. LGBTQ history museum
"It is vital to remember our collective past when certain states seek to constrain & repeal existing rights by passing laws that harm LGBTQ+"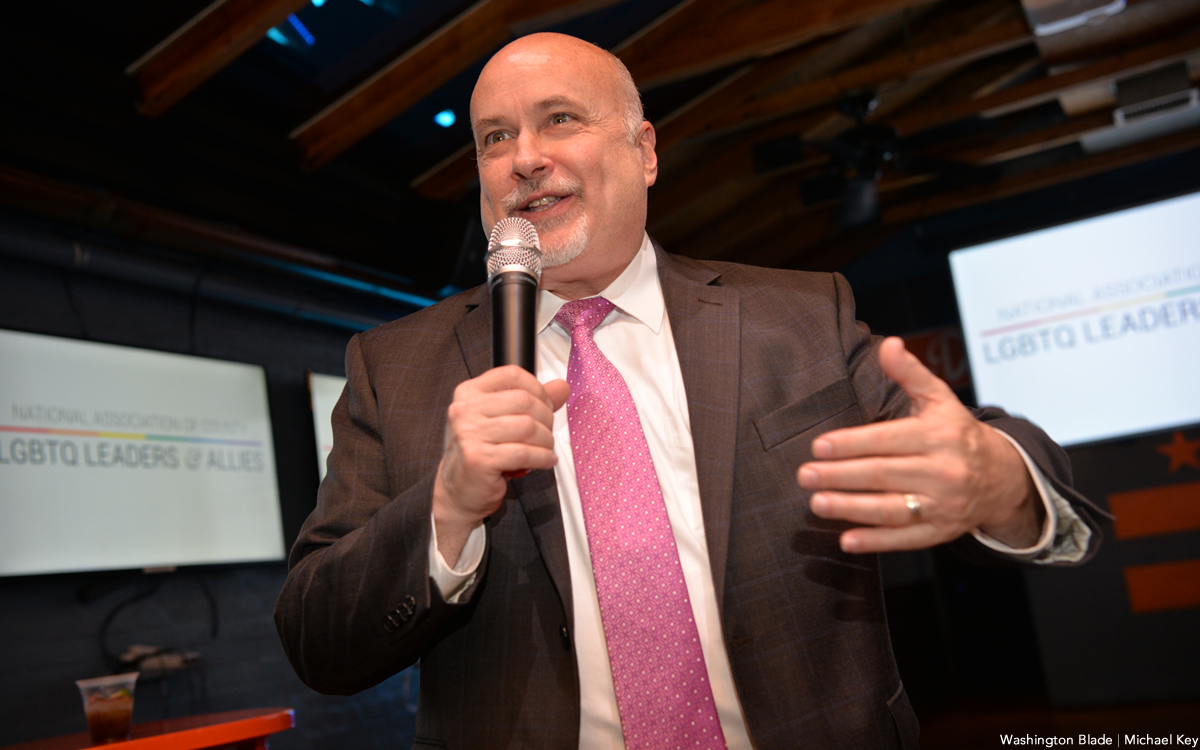 WASHINGTON – U.S. Rep. Mark Pocan (D-Wis.) has introduced legislation that would set up the process to create a National Museum of American LGBTQ+ History & Culture, potentially as an official site within the Smithsonian Institution in Washington, D.C.
Pocan, one of nine openly gay members of the U.S. House and co-chair of the LGBTQ+ Equality Caucus, said in a statement Thursday the measures would are effort to preserve LGBTQ history "as our community faces unprecedented attacks and attempts to erase our history." The pair of bills is H.R.9070 and H.R.9071.
"It is vital to remember our collective past – particularly when certain states seek to constrain and repeal existing rights by passing bills that harm LGBTQ+ youth and our community at large," Pocan said. "Let's tell these stories, and honor the many contributions the LGBTQ+ community has made to this nation with a museum in Washington, D.C."
The first bill, according to a news statement, would creates an eight-member commission of individuals with expertise in museum planning or LGBTQ+ research and culture "to look into the viability of establishing such a facility in the nation's Capital."
Among other things, the commission would be charged with recommending a plan on action for museum, including fundraising for the museum, and submitting to Congress a plan for construction of the museum, the statement says.
The bill would also instruct the commission to address whether the museum should be part of the Smithsonian Institution, based in the nation's capital and the world's largest museum and research complex, per the news statement. The full study, the statement says, would have to be completed in 18 months.
If the Smithsonian were to adopt the a museum on LGBTQ history and culture, it would be similar to other museums under its jurisdiction focused on minority populations in the United States, including the National Museum of African American History & Culture and the National Museum of the American Indian.
The second bill, according to a news statement, would be eligible for consideration by Congress after the commission completes its work and issues its recommendations and allow for formal creation of the museum. More than 50 lawmakers, including all nine openly gay members of the U.S. House, co-sponsor the legislation.
New survey shows 72% of Utah residents back same-sex marriage
Troy Williams, executive director of Equality Utah said he's not surprised to see that a majority of Utahns now support marriage equality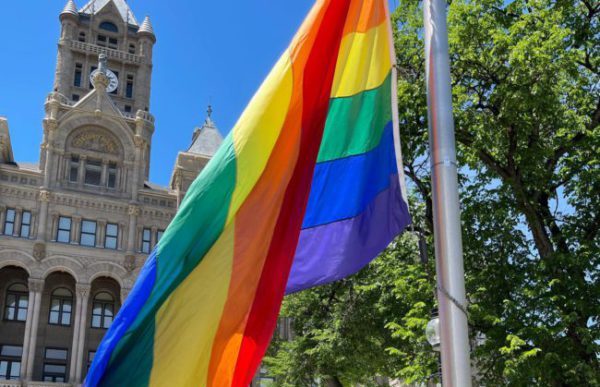 SALT LAKE CITY – The results of a poll run by the Hinckley Institute of Politics and the Desert News found 72% of Utah's residents agree that marriages between same-sex couples should be recognized by law as valid, with the same rights as cis-gender marriages.
"For a state that less than 20 years ago passed laws and a constitutional amendment prohibiting same-sex marriage, there has been a seismic shift in opinion," said Jason Perry, director of the Hinckley Institute of Politics at the University of Utah.
The Deseret News/Hinckley Institute of Politics survey also found that 23% of those surveyed disagreed, while 5% expressed that they don't know.
The poll shows Utahns are aligned with the nation as a whole on the issue. A Gallup poll in May found 71% of Americans say they support legal same-sex marriage, a new high.
Troy Williams, executive director of Equality Utah, told the Desert News that he's not surprised to see that a majority of Utahns now support marriage equality.
"Utah is a pro-family state, and we recognize that families come in all shapes and sizes. When we see loving, committed couples joining in matrimony, our natural impulse is to support and encourage that love. This gives me great hope for the future," he said.
A new poll shows nearly three-fourths of Utahns support legal same-sex marriage. | By @dennisromboy #utpolhttps://t.co/DBJHHNgmnJ

— Deseret News (@Deseret) September 30, 2022
Art spotlights people of color lost to AIDS in the South
The conference was attended by LGBTQ activists from the South, featured 100 quilt panels. Attendees participated in quilt-making workshops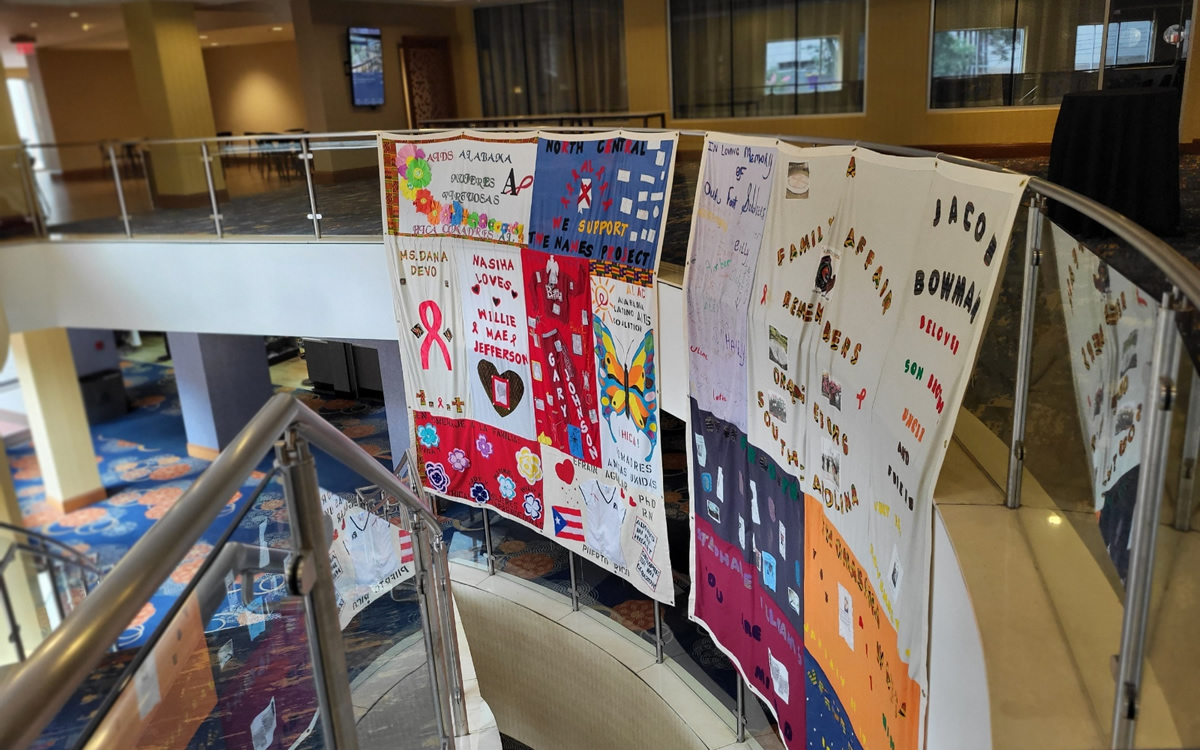 JACKSON – The National AIDS Memorial has joined forces with the Southern AIDS Coalition to stage a series of art exhibitions and educational forums to honor Black and Brown people in the South who have been lost to HIV/AIDS.
The initiative, titled Change the Pattern, began in Jackson, Miss., on Wednesday with curated quilt exhibitions, displays, educational forums, advocacy, storytelling and quilt-making, according to a press release from the National AIDS Memorial. A $2.4 million grant from the biopharmaceutical company Gilead Sciences, Inc., funded Change the Pattern.
More than 500 hand-stitched quilt panels from the area were featured in what the National AIDS Memorial says is "the largest display of the AIDS Memorial Quilt ever" in Mississippi.
"By creating an empowering message and safe spaces for conversation, we can uplift, inspire and make progress toward ending the HIV epidemic, challenge cultural stigmas and continue the legacy of advocacy that the quilt represents," said National AIDS Memorial CEO John Cunningham in the release.
Change the Pattern was announced in honor of Southern HIV/AIDS Awareness Day during the Southern AIDS Coalition's annual Saving Ourselves Symposium that took place in August.
The conference, which was heavily attended by LGBTQ activists from the South, featured 100 quilt panels, and attendees participated in quilt-making workshops to make new quilt panels representing their loved ones.
Interested LGBTQ advocacy organizations in the South were invited to apply for funding to support local quilt-making workshops in their communities so as to ensure that the legacies of Black and Brown people are captured through newly-sewn panels on the quilt through the Memorial's Call My Name program, according to the National AIDS Memorial press release.
The application process opened on Sept. 15 with up to 35 eligible organizations receiving as much as $5,000 to support hosting local workshops.
The first major Change the Pattern Quilt was founded 35 years ago as a visual representation of the need to end stigma and provide equitable resources to communities most impacted by HIV/AIDS, according to Southern AIDS Coalition Executive Director Dafina Ward.
"Change the Pattern is a call to action and change in the South," said Ward. "Quilt-making has such a deep cultural connection in the Black community and in the South. The sharing and telling of these powerful stories through the quilt, coupled with advocacy and open dialogue, can help end HIV-related stigma and bring the stories of those we've lost to light."
As the Change the Pattern initiative occurs, conversations about how to handle health epidemics within LGBTQ communities of color have become national topics, especially with the prevalence of monkeypox cases amongst Black gay men.
Despite earlier panic about the disease, the Centers for Diseases Control and Prevention in a report released on Wednesday said that individuals who were vaccinated against the disease were less likely to be affected over the summer compared to those who weren't.
The effectiveness and duration of immunity after a single dose, however, is not known, and few individuals in the current outbreak have completed the recommended two-dose series, according to the report.
The most recent CDC data reports that 25,509 monkeypox cases have thus far been confirmed in the U.S. Only one death has been reported.