No mention of LGBT issues during Calif. gubernatorial debate
Is Republican Cox anti-LGBT or has he 'evolved?'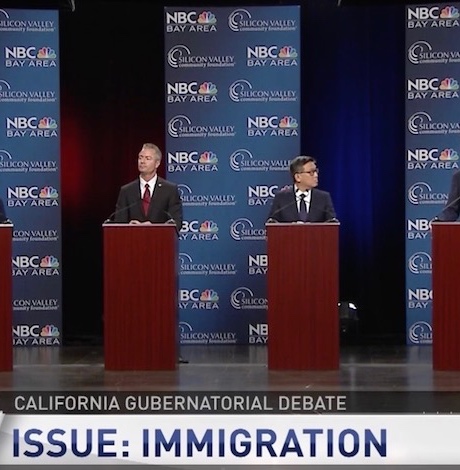 In a preview of the May 8 California gubernatorial debate, the Los Angeles Times predicted that Lt. Gov. Gavin Newsom would tout his history-making stand in favor of marriage equality, the subject of his moving first TV campaign ads. He didn't. In fact, none of the six candidates—four Democrats and two Republicans— mentioned the LGBT community once during the 90-minute debate that included praising the state's diversity.
However, in an ironic twist, a gay man was invoked as the final arbiter of a lively dispute between Trumpian populist Republican Assemblymember Travis Allen and GOP businessman John Cox. The two Republicans fought over credit for leading the effort to scuttle the gas tax, endorsed by all the Democrats as necessary for infrastructure repairs. Cox told Allen to ask gay former San Diego city council member and radio talk show host Carl DeMaio, organizer of the Gas Tax Repeal, which gubernatorial candidate helped put the initiative on the June 5 primary ballot.
Much has been made of recent polls showing Newsom well ahead of the pack with Cox edging ahead of former Los Angeles Mayor Antonio Villaraigosa, who most pundits expect to wind up as Newsom's challenger after the top-two primary. State Treasurer John Chiang and former Superintendent of Public Instruction Delaine Eastin both had moments during the debate, but nothing to ignite a surge.
Of California's almost 19 million registered voters, 8,471,371 (44.6%) are Democrats, 4,827,973 (25.4%) are Republican and 4,734,847 (25%) are No Party Preference as of January. The stakes are extremely high with so many Democrats in "jungle primary" down-ballot races that the 25 percent No Party Preference vote could make a critical difference—which is why Cox's candidacy cannot be taken lightly.
Neither Cox nor Allen won the nomination of the California Republican Party. Their angry spat continued on the gubernatorial debate stage with Allen playing the bombastic populist fully embracing Trump, while Cox trying to reach out as an outside businessman who now regrets that he didn't originally vote for Trump. Cox heralded his recent visits to the White House as proof he is now onboard—but he also claimed to be a "Jack Kemp Republican."
Problem is—which Jack Kemp? Kemp favored expanding immigration, including granting amnesty to undocumented workers, and in 1989, when he was Secretary of Housing and Urban Development, Kemp said: "I want to be known as a civil rights Republican; somebody who is promoting what President Bush calls ''an equal opportunity society.'"
Kemp didn't mind homosexuals in the late 1980s but didn't want gays teaching in schools. Many of his positions changed dramatically in the early 1990s, before he became Sen. Bob Dole's vice presidential running mate. It is hard to fathom that Jack Kemp, a Republican Establishment gentleman who also worked across the aisle in congress, would have tolerated the crude incivility and outright racism of Donald Trump.
After the Mercury-News reported last February about Cox's anti-LGBT comments during a 2007 Values Voter Summit, Cox told the Los Angeles Times that his views have changed.
"Like many Californians, my views have evolved over the last decade. I concluded that it was inconsistent with my support for individual liberty, limited government and the right to privacy," Cox said. "The focus of my campaign is economic growth and freedom and I'm looking forward to engaging the LGBTQ community and all Californians to revive the California Dream."
But Cox has not retracted his 2007 comments: "We also have this problem with transvestites who want to be school teachers," Cox said then, adding: "We certainly need to stand up for the proper behavior, we absolutely need to do that, but we need to use common sense, and talk about the fact that we can't open the floodgates to polygamy and bestiality and all kinds of other things."
While issues of character and decades-old sexual affairs were raised during the gubernatorial debate—Cox was not asked about his evolution. None of the candidates were asked nor did they volunteer their views, past or present, about LGBT issues, despite clear evidence that Trump and his administration are intent on rolling back protections for LGBT people. California has the most military bases in the country, and the most transgender service members at risk of being banned from their military jobs and serving their country, for instance—which is why Attorney General Becerra on behalf of the state of California joined the Equality California lawsuit as a plaintiff fighting the Trump ban. LGBT DREAMers and LGBT people seeking asylum are among the immigrants about whom the candidates spoke as well, with many facing certain death if returned to the country from with they escaped or never knew. No one thought to mention them.
Interesting, too, is new research showing LGBT people are embedded and leaders in the very social justice causes about which the candidates do speak.
"Lesbians, gays, and bisexuals were more than twice as likely as heterosexuals to join anti-war, environmental, and anti-corporate movements," writes Eric Swank of Arizona State University in his new study published in the journal Social Science Research. This may reflect the fact that they are "more aware, and less accepting, of social inequalities than heterosexuals. Additionally, "Approximately one out of five gays, lesbians, and bisexuals have joined the LGB rights movement," he reports, "while less than one out of 100 heterosexuals have done the same thing."
Most likely, the gubernatorial race will come down to voters' judgment of character—which is what the Los Angeles Blade discussed with Newsom and Villaraigosa in this issue.
The Abbey raises $10,000 for Elizabeth Taylor AIDS Foundation
Schukraft took the opportunity to reassure the crowd that he intends to uphold The Abbey's central place in the West Hollywood community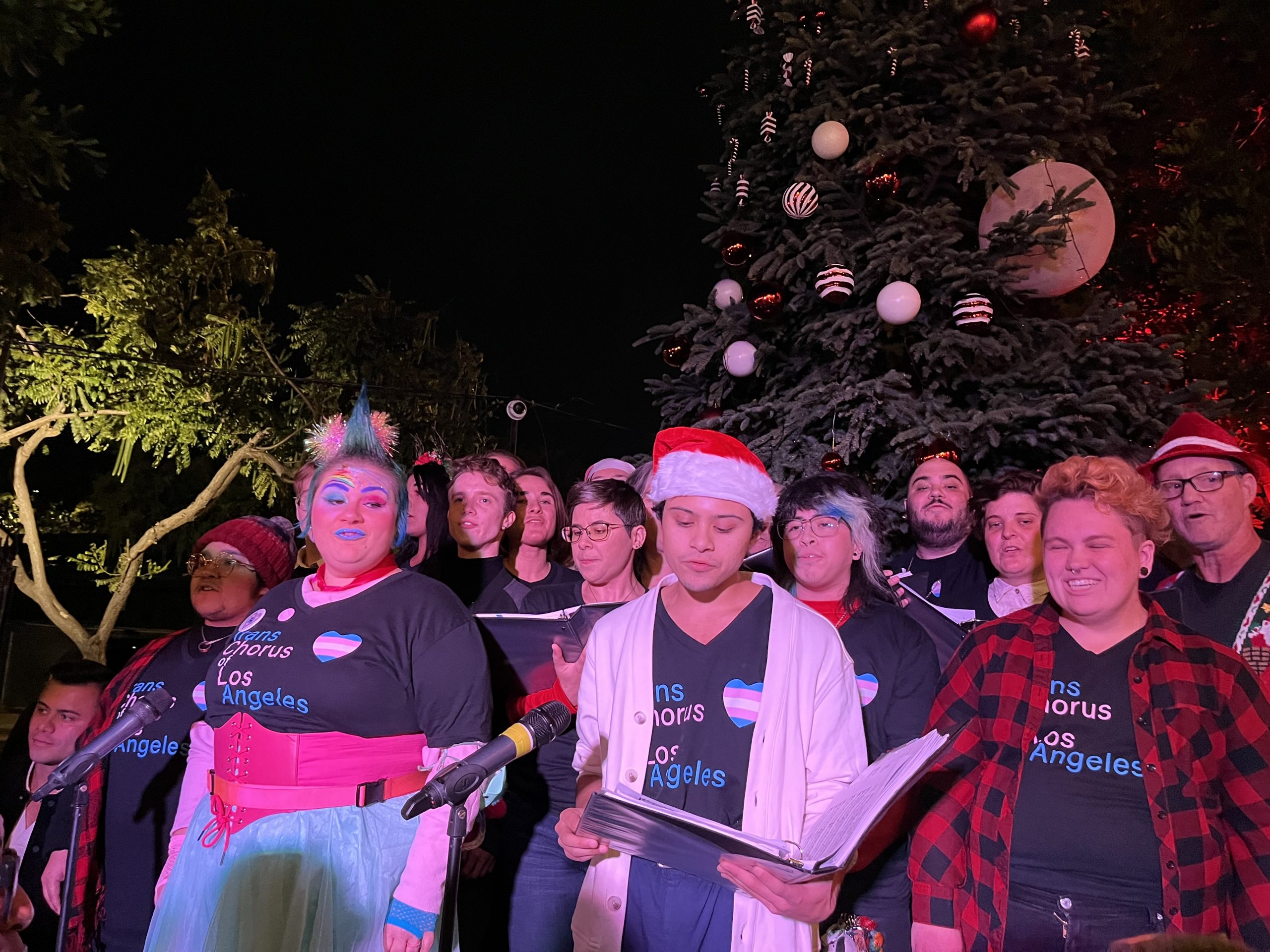 By Rob Salerno | WEST HOLLYWOOD – The Abbey raised more than $10,000 for the Elizabeth Taylor AIDS Foundation at its annual World AIDS Day tree-lighting ceremony Friday evening, an event that featured Sutton Stracke of The Real Housewives of Beverley Hills and the Trans Chorus of Los Angeles.
The ceremony was the last to be hosted by David Cooley, the founder of The Abbey who recently sold his business to Mistr CEO Tristan Schukraft. Cooley was visibly emotional when he told the crowd how his friendship with Elizabeth Taylor – struck up over drinks at the Abbey – inspired him to start the annual tradition.
"What this woman has done for our community and continues to do for our community – she wouldn't even mention how many people she has taken care of and continues to take care of," Cooley said. "It means a lot that we do this in her honor, for the Elizabeth Taylor AIDS Foundation."
The Elizabeth Taylor AIDS Foundation works to fight the ongoing HIV epidemic through direct care, prevention, advocacy, and education.
The moment clearly felt bittersweet for Cooley as he went off-script to talk about how he'd founded The Abbey 33 years ago.
"I had a dream coming from college that I wanted to open a gay bar in southern California and be open and proud and not behind closed doors. I started across the street there as a coffee house and expanded into this," he said. "When we give donations, it's not the Abbey, it's not David Cooley – it's all of us here. You have supported The Abbey and David Cooley for thirty years. Thank you very much."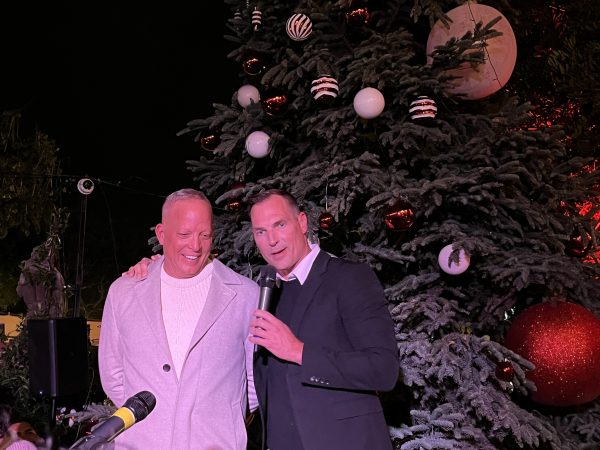 Cooley then became wry and wistful as he described his decision to walk away from the bar he built.
"It was a decision that was hard to make. I decided that maybe I should take a little time for myself. I've been very selfish with the business. I took time for the business always, and maybe not my friends, my family, building a relationship – that never worked out," he said to laughs from the crowd.
"I went back and forth seeing the offers and opportunities I had. I made a clear decision and the right decision on who I decided to pass the torch on to. He's part of our community," Cooley said of Schukraft. "It was a very tough decision but a very easy decision at the very end."
Schukraft took the opportunity to reassure the crowd that he intends to uphold The Abbey's central place in the West Hollywood community.
"I'm very excited. I know I have some big shoes to fill to continue your legacy, making sure that the Abbey and Chapel continue to be the cornerstone of the gay community here and beyond. These events make it even more special," Schukraft said.
"David's not going anywhere. He's going to be here. The only thing is he's not going to be asking for free drinks," Schukraft said to laughs from the crowd, and joking protests from Cooley that there's language about that in their contract.
When Sutton Stracke took the stage, she spoke about the toll that AIDS has continued to take on the community.
"AIDS does still exist. I know I have lost many friends to AIDS, as I know many of you have to, so this is very special to me," she said.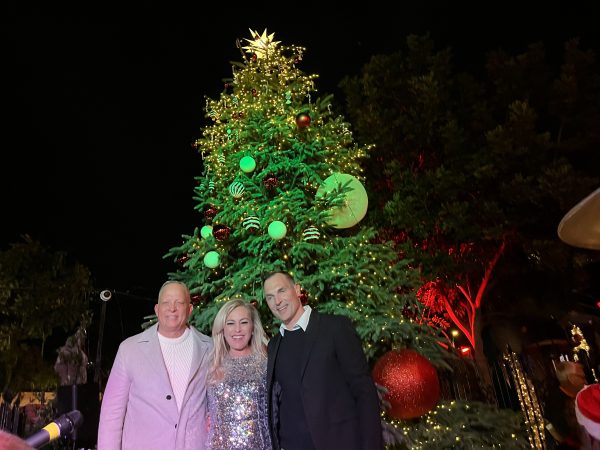 The crowd was then treated to a performance by the Trans Choir of Los Angeles, who sang "I'll Be Home For Christmas," as a reminder to the crowd that many in our community – especially the trans community – do not have families that welcome them home for the holidays.
A $10,000 check was then presented to the Elizabeth Taylor Foundation by Tito's Vodka, which was sponsoring the event, on behalf of the Abbey.
Stracke then announced she would write a check to the foundation herself after the ceremony, then began the countdown to the lighting of the enormous tree on the Abbey's front patio.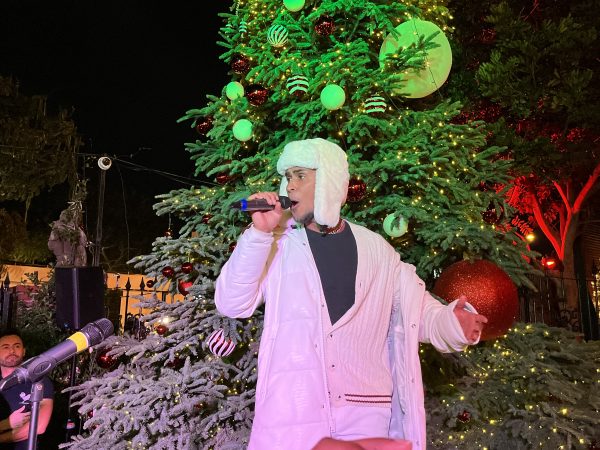 The event closed out with a performance by South African pop singer Lyle Anthony.