Newsom on marriage, politics and growing up in San Francisco
The front-runner for governor reflects on his unique role in LGBT history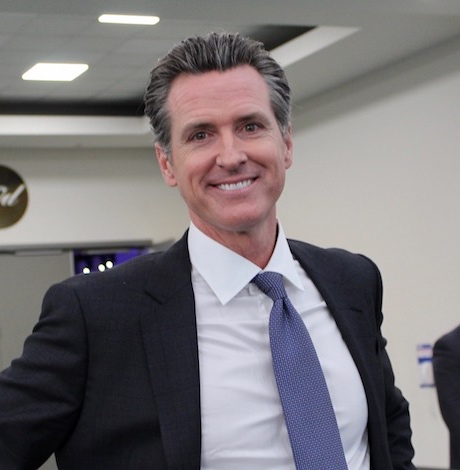 All the protocol and formality of speaking with California's lieutenant governor falls quickly away the minute Gavin Newsom says hello. The former mayor of San Francisco is well ahead in his race to replace Gov. Jerry Brown, but seems eager to talk with a reporter for the LGBT community—for whom he put his career on the line in support of marriage equality.
Newsom's decision to provide marriage licenses to same-sex couples in 2004 launched him into the national political stratosphere and disrupted relationships with the Democratic Party establishment who wanted to take a slower pace on gay marriage, lest President George W. Bush and his brain trust Karl Rove score points during Bush's reelection.
And that's what happened. But Newsom knew he was on the right side of history and his decision resulted in a lawsuit, joined with another simultaneous lawsuit out of Los Angeles, that eventually yielded a California Supreme Court ruling granting the freedom to marry for same-sex couples in May 2008.
That history is the subject of Newsom's first campaign ad for governor, featuring photos of him officiating at the wedding of lesbian icons Del Martin and Phyllis Lyon and showing the celebration of the marriage of LA-based couple Robin Tyler and Diane Olson. There are other ads featuring Lyon, including one of Newsom visiting with her in the San Francisco hilltop apartment she and Martin shared for over 50 years.
But unlike his expected toughest gubernatorial opponent, former LA Mayor Antonio Villaraigosa, Newsom seemed to just arrive in 2004 and explode LGBT history. Since the governor's race will likely turn on character, who Newsom was before his launch informs his positions on issues.
"I care deeply about the community and I care deeply about the ongoing struggles," Newsom said during a recent 45-minute phone interview with the Los Angeles Blade. "I care deeply about people that are still discriminated against—about what's happening in the trans community. I care deeply about the homophobia that's still prevalent in our society and I want to right that wrong and show the sense of obligation and responsibility, not just in my life, but to do that much more broadly as a member of the larger community."
But why? "When I was a kid I struggled with a learning disability," he says. "I don't like seeing people hurt. I don't like seeing people struggle."
And Newsom has not forgotten that struggle. "People who are bullied don't necessarily always think of themselves as victims. They just don't know what to do," he says. "I don't want to over-dramatize but it was a struggle for decades to be in the back of the classroom. Speech therapy for years after school three days a week, getting supplemental support."
Though his father, a judge, came from a politically well-connected family in San Francisco and was close with rich San Franciscan Gordon Getty, his mother wound up working as waitress, bookkeeper and secretary after his parents divorced.
Newsom was 14 when what was later identified as HIV/AIDS started devastating San Francisco. "I grew up with a number of people with HIV and AIDS," he says. "I saw that firsthand."
San Francisco, Newsom says, "is hardly perfect. My gosh, when I was growing up there was tremendous backlash against the LGBT community," especially on Polk Street. "I remember listening to older folks talk about how the city had gone to hell [because] people were holding hands….before Castro became the Castro we know it."
The indelible memories helped shape him. "The old Italian neighborhoods getting upset by the gay community," he says, and then came out Supervisor Harvey Milk and his father's friend, Mayor George Moscone, both assassinated in 1978. One of his closest friends is Eileen Getty, Elizabeth Taylor's daughter-in-law, whose struggles with HIV/AIDS he's watched.
"I was removed and yet observed it," Newsom says. "And it just grounded me in a way that I felt an obligation to do something. I will never forget."
Now seemingly the walking personification of white straight male privilege, Newsom's character may actually be rooted in his difficulties growing up. He went to Santa Clara University on a partial baseball scholarship, graduating with a political science degree in 1989. After a starter job in a real estate office, Newsom and friend Billy Getty started a wine business, PlumpJack Wine Shop, funded through family connections. That led to a successful empire, through which he met mayoral candidate Willie Brown in 1995. When Brown won, he appointed Newsom to the traffic commission. Two years later, Brown appointed him to fill a vacancy on the San Francisco Board of Supervisors, which Newsom won outright in 1998.
Newsom found himself in the middle of the domestic partnership debate with the Salvation Army on the other side and United Airlines threatening to leave the city. One day, Brown called Newsom to come to City Hall to marry people, that is, performing domestic partnership ceremonies.
At another point, Supervisor Mark Leno asked him to be the swing vote on a measure promoting gender reassignment surgery to be paid for by the city.
"It was a very tough vote," he says. "My entire Catholic base was outraged that I voted with Mark supporting that effort. We were the first big city to do that. People said 'people will fly in from all over the world to get operations' and the city will go bankrupt.' I know that's a ludicrous argument. But it was made at the time. Those are some of the events that shaped my early years that led me to that fateful week in February of 2004 with marriage licenses."
One of Newsom's fiercest public critics at the time was Sen. Dianne Feinstein who said the marriage movement was moving too fast. Feinstein is running for reelection, with a primary challenge from former State Senate pro tem, Kevin de Leon, another stalwart LGBT ally.
Newsom chuckled when asked if he and Feinstein had made up. "The irony of those comments is that I went to lunch with her that Election Day," he says, "and so I never took them personally." He adds that when he was mayor, the two worked closely on environmental justice issues, on housing issues and structural issues.
"[Feinstein] was extraordinary during those years and I value the leadership in this state," Newsom says about the primary challenge to the longtime senator. "But I think it's profoundly important at this critical moment—his is not like any other moment—that seniority is not something you can take for granted. And I think she's too important, too influential at this moment in our nation's history."
Newsom says he's endorsed Feinstein but she has not endorsed him.
Newsom's voice hints of weariness when asked about the decades-old affair with his best friend's wife—a point delightfully highlighted by one of his Republican opponents at the May 8 gubernatorial debate. Newsom has repeatedly apologized and the woman with whom he had the affair has publicly said that what happened in this instance does not fit in with the #MeToo movement, which focuses on sexual harassment.
"I acknowledged it, I apologize for it. I learned an enormous amount from it. We were very open," he says.
He also expresses concerns about "systemically and culturally" addressing the real issues underlying domestic violence, violent crime, school dropouts, suicides, opioid overdoses, which he identifies as "toxic masculinity." Society devalues the feminized.
"Too often we see young boys being told to 'man up,' 'be a man,' 'don't be a sissy,' 'don't be like your sister'—and young boys put a mask on their face," Newsom says, "because our society expects them to behave in a 'masculine' way. And what happens is that they are less communicative, less engaged." So "how we do raise our voice to be empathetic?"
Newsom is aware that such stories are particularly endemic for young gay and bisexual men. And he is moved by their stories.
"I can't tell you how impactful those stories have been to me—of friends of mine that talk about being in the closet, talk about their struggles of coming out—and I don't want to live in that society," Newsom says. "I want them to live in a very different world and that's why I continue to be a champion."
Governor Newsom announces new gun safety legislation
In 2021, Calif. was ranked as the #1 state for gun safety by the Giffords Law Center, seeing a 37% lower gun death rate than national average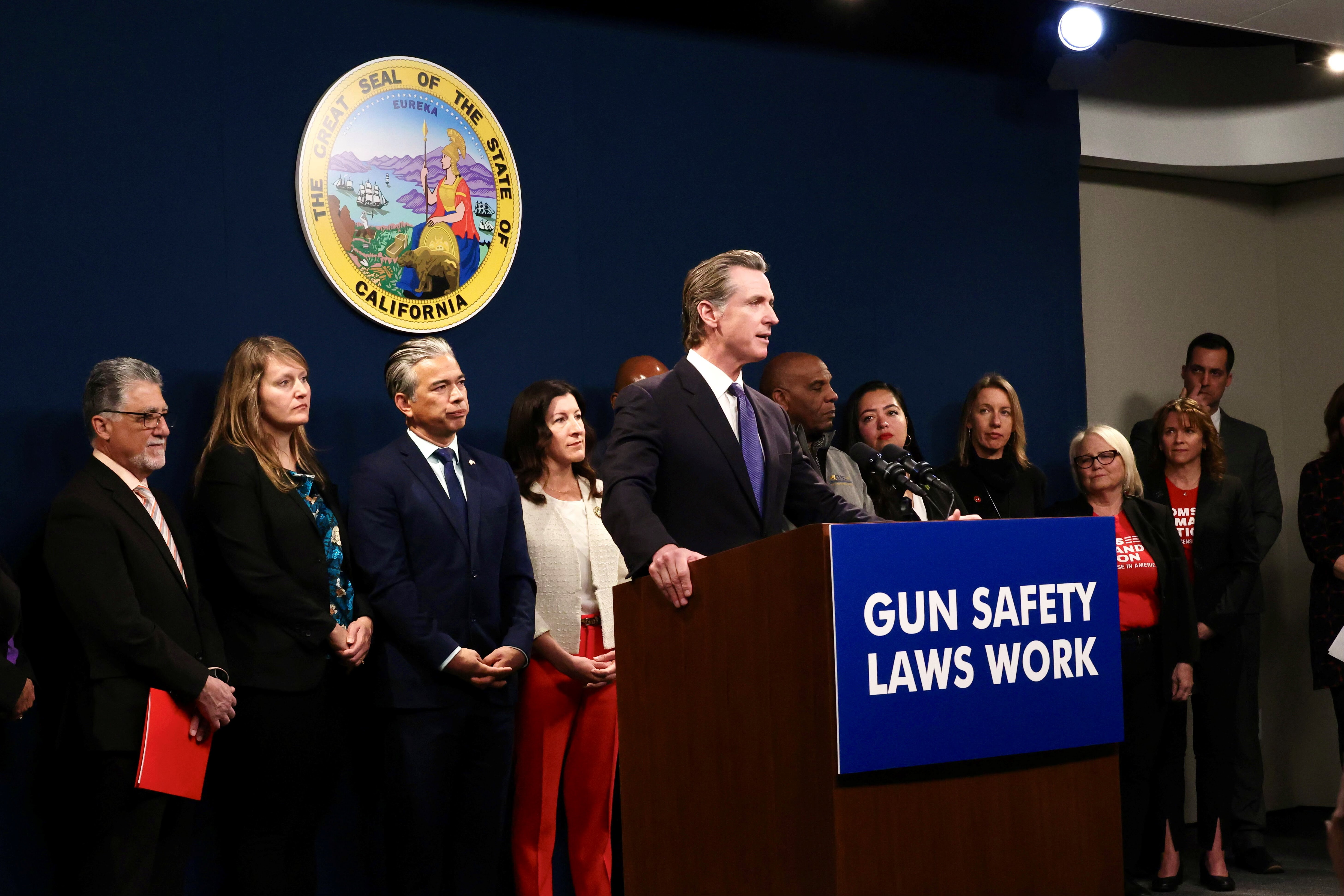 SACRAMENTO – In the wake of multiple mass shootings that took the lives of 19 Californians in just 72 hours last week, Governor Gavin Newsom, Attorney General Rob Bonta, and Senator Anthony Portantino (D-Burbank) announced new gun safety legislation to modernize and strengthen California's public carry laws.
"Only in America do we see the kind of carnage and chaos of gun violence that destroys our communities and our sense of safety and belonging," said Newsom. "America is number 1 in gun ownership and we far surpass every developed nation on Earth in gun deaths – it's not complicated. In California, we've passed common sense gun safety laws and they work: we have a 37% lower gun death rate than the national average. We're doubling down on gun safety and strengthening our public carry law to protect it from radical Republican attacks."
According to the Center for American Progress, efforts to weaken concealed carry laws across the country have increased violent crimes – with studies showing gun homicides increased by 22% in states that passed permitless carry laws and violent crimes with a firearm went up 29%.
Newsom signed a package of gun safety laws last year, making it easier for Californians to sue manufacturers of illegal assault weapons and those spreading them, allowing lawsuits against irresponsible gun industry members, strengthening prohibitions on ghost guns, as well as restricting marketing to minors. 
"The mass shooting incidents we have seen over recent weeks bring to light the need for stronger protections for our communities. The fact is, individuals who are not law-abiding, responsible citizens simply shouldn't possess firearms — and they especially shouldn't be allowed to carry a concealed weapon in public. When a gun is placed in the wrong hands, it is deadly," said California Attorney General Rob Bonta. "The Second Amendment is not a regulatory straightjacket — we must protect our communities. The time for thoughts and prayers has long passed, we need brave and immediate action by our leaders – here in California and beyond. We owe our community stronger protections. I urge our state leaders to quickly adopt SB 2. We can't afford to wait even one minute more."
Last June, the U.S. Supreme Court struck down a New York law, aspects of which mirrored California's public carry laws, and the legislation announced today – Senate Bill 2 by Senator Portantino – would make fixes necessary to update the standards and processes for obtaining a public carry permit in California.
Senate Bill 2 strengthens California's restrictions regarding public carry laws by:
Enhancing the existing licensing system – ensuring those permitted to carry firearms in public are responsible and law-abiding individuals;
Protecting children – setting a minimum age requirement of 21 years of age to obtain a CCW license;
Advancing stronger training requirements – ensuring proper handling, loading, unloading, and storage of firearms; and
Identifying certain sensitive public places – establishing safe community places where people should expect freedom from gun violence.
"In the wake of the recent tragedies in Monterey Park and Half Moon Bay and the continued threat of mass shootings, it's critical that California leads on the issue of gun safety and reform. I am proud to be working with Governor Newsom, Attorney General Bonta and activists on SB 2 to strengthen our existing public carry laws and ensure every Californian is safe from gun violence.  We must be diligent in addressing the gun violence epidemic in our country and public carry laws are a key component of this," said Senator Anthony Portantino.
California launched an 18-month campaign to promote gun violence restraining orders – "red flag laws" – that allow law enforcement, family, coworkers or friends to petition a court to temporarily remove weapons from people deemed dangerous to themselves or others. A study from the Violence Prevention Research Program at the University of California, Davis found that California's red flag law was used to stop 58 threatened mass shootings since 2016.
California's gun safety laws work. In 2021, California was ranked as the #1 state for gun safety by the Giffords Law Center, and the state saw a 37% lower gun death rate than the national average.
According to the CDC, California's gun death rate was the 44th lowest in the nation, with 8.5 gun deaths per 100,000 people – compared to 13.7 deaths per 100,000 nationally, 28.6 in Mississippi, 20.7 in Oklahoma, and 14.2 in Texas.
Moms Demand Action Founder Shannon Watts noted: "The Supreme Court's reckless Bruen decision opened up the floodgates for more guns in more places — but with this bill California once again renewed its commitment to being a national leader in the fight against gun violence. While the gun industry celebrated the ruling that put their profits over our safety, our grassroots army is proud to stand with our Gun Sense Champions in California to pass this critical bill and make our communities safer."
"Following the Supreme Court's egregious decision in the Bruen case, it is vital that the Golden State takes meaningful action to protect all Californians from the threat of gun violence. SB2 would do just this by updating and improving the state's already strong concealed carry license system, and ensure that loaded and concealed weapons are not allowed in certain sensitive places. With SB2, leaders in California are continuing their leadership in prioritizing the public health and safety of all its citizens," said Brady Campaign President Kris Brown, adding "Brady applauds Senator Portantino for introducing this important bill, and thanks Governor Newsom and Attorney General Bonta for their continued leadership on this issue, and urges the California legislature to pass it without delay."
Giffords State Policy Director Ari Freilich stated: "In the face of tragedy, California's leaders act. They've led the nation on gun safety reform and made California a much safer state than most. But today, grieving communities know all too well how much more work there is to do. California achieved an all-time record low gun fatality rate in 2019. But like the rest of the country, we have faced record spikes in gun sales and violence since the start of the pandemic and a flood of new weapons in public spaces as a result of the US Supreme Court's dangerous Second Amendment ruling last year. Passing SB (2) will strengthen communities' ability to respond to these threats by requiring stronger vetting and safety training to carry weapons in public and by designating vital community spaces like parks and playgrounds as off-limits to weapons throughout the state. We thank leaders like Governor Newsom, Attorney General Bonta, and Senator Portantino for their work and commitment to make all Californians safer and freer from violence."