Breaking: CSW board chair Chris Classen steps down
Move follows revelations of potentially unethical practice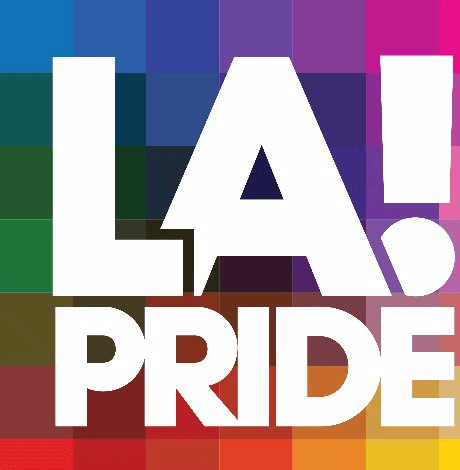 Today (05/10/18), the Board of Directors of Christopher Street West (CSW) announced Chris Classen will step down from his role as board president. By unanimous vote and effective immediately, the unpaid position will be filled by CSW Board Member Estevan Montemayor.
The leadership change comes amid revelations from Wehoville.com this week regarding a commissioned fundraising contract between CSW and Classen's longtime business partner Craig Bowers that appears to violate California state law.
The three-year contract entitles Bowers, a CSW Emeritus Board member, to collect 20 percent commission from all sponsorship revenue he raises to support the annual LA Pride parade and festival, which is produced by CSW. Bowers and Classen are partners in an event and marketing firm called Incluence, which is the sole contractor used by CSW to procure sponsors and talent for the event.
State law prohibits self-dealing transactions, or those in which nonprofit director(s) have a vested financial interest. And all commission-based charity fundraising is considered unethical per the standards set by the Association of Fundraising Professionals and Council of Nonprofits.
It is not clear if the board changes confirm the organization's belief that a legal and ethical violation has occurred or if an intervention was taken to avoid the appearance of impropriety.
A source told the Los Angeles Blade the city's manager confirmed that no money from the city is used for commission payments to people enlisted in fundraising activities for the LA Pride parade/festival.
On the reasons behind Classen's replacement by Montemayor as board president, the Board's statement explained only that "Chris felt it was the right time to transition out of the President role, allowing a fresh start for both the Executive Director and CSW as a whole." It is unclear whether and to what extent the stories this week concerning CSW's contract with Bowers influenced the organization's change in leadership.
Also a mystery is whether the contract between CSW and Bowers will continue.
The website for Incluence, the company owned by Bowers and Classen that retains the exclusive contract to fundraise for CSW, is now password-protected. The Wayback Machine Internet archive, however, reveals the site was publicly accessible as recently as April 24, 2018.
Classen will remain on the Board, CSW says, at least until his term ends in Oct. 2018. He will "transition his duties and share institutional knowledge" with Montemayor and incoming CSW Executive Director Madonna Cacciatore, whose tenure will begin July 1, 2018. The Board has not indicated whether Bowers will remain an Emeritus Board Member, but did praise, in a statement, his performance raising money to support this year's event.
New CSW Board President Estevan Montemayor first joined CSW's Board in Oct. 2017.
In his 'day job,' he is Director of Communications and External Affairs for Los Angeles City Councilmember David Ryu.
Montemayor has served in senior management positions for numerous political and advocacy campaigns and started his political career as a legislative asstant to LA Mayor Antonio R. Villaraigosa. From 2015-2017, he served as a member of the Public Safety Commission in the City of West Hollywood, where he's lived over the past six years. He also managed the most reelection campaigns for West Hollywood City Council members Lindsey Horvath (November 2014 to April 2015)  and John Heilman (April to June, 2015).
The Los Angles Blade is a media sponsor of LA Pride
The pleasures of Palm Springs Pride are many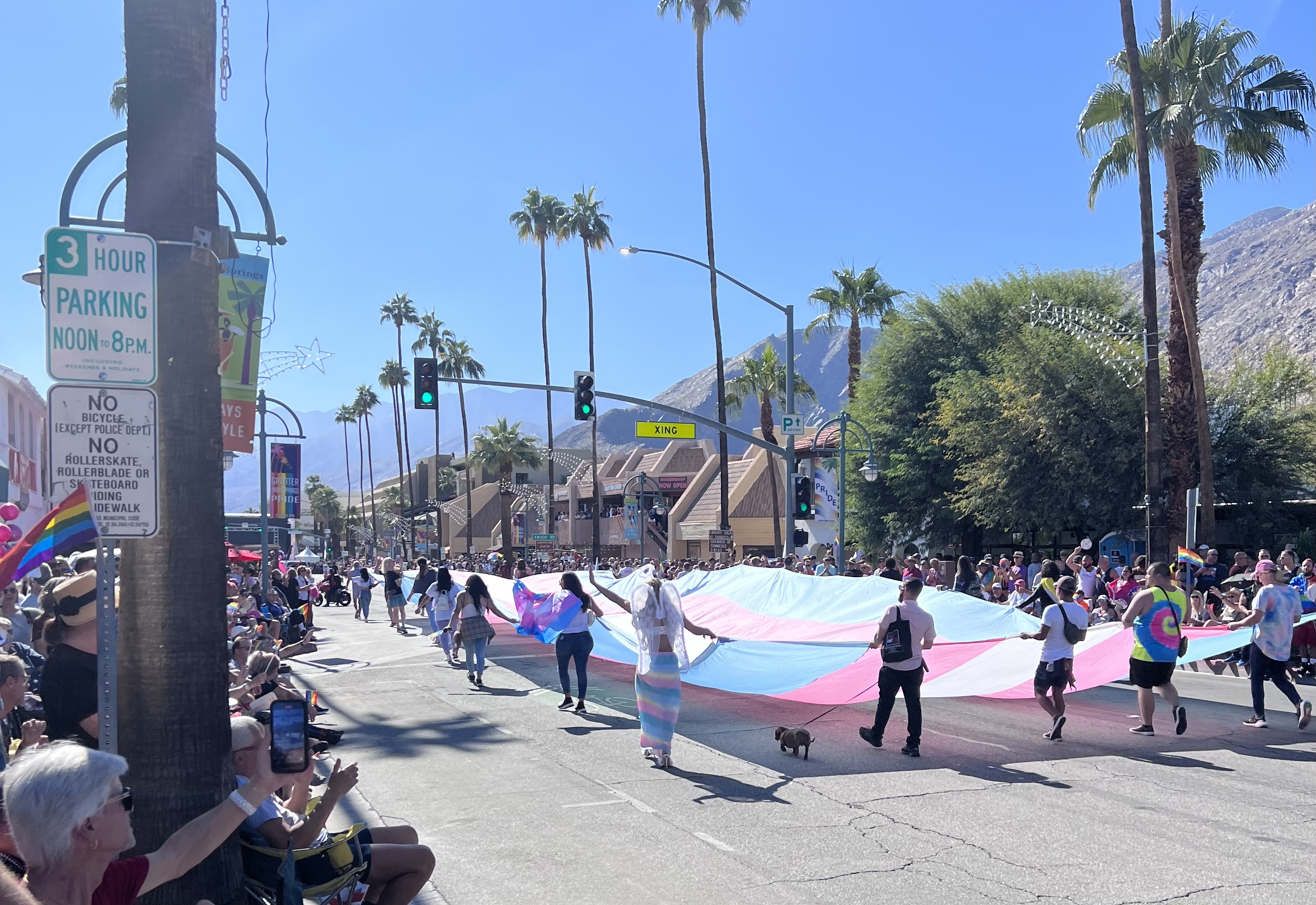 PALM SPRINGS – There is, of course, the obvious element – a strong sense of shared community with hundreds of fellow LGBTQ+ people, living our lives and taking a moment to celebrate all the things that make us both unique and essential within the totality of American culture – that marks any Pride event across the globe; but there's something special, dare we even say "magical", about the vibe in this desert city's timelessly elegant approach to the occasion.
It's difficult, in fact, to describe the blend of progressive modern sensibility and aspirational small-town idealism that defines the experience. Though Palm Springs is a long-established oasis for Angelenos seeking an escape from the big-city intensity that governs their daily lives, it's also a comparatively modest municipality in which queer culture interacts with quotidian practicality on a regular basis. That means, for the purposes of Pride, that the city comes together as a unified voice to assert not only the validity of queer experience, but the inextricable part it plays in the daily life of the community – a welcome and valued part of the diverse and inclusive environment in one of Southern California's most iconic destinations.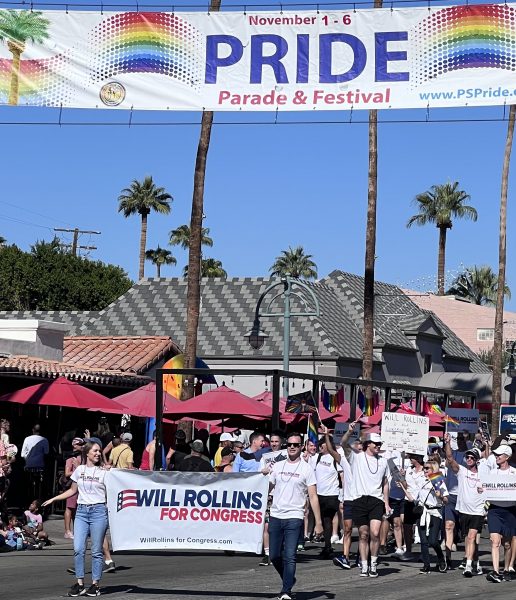 This year's festivities were no exception. Whether it's because, coming on the cusp of a crucial midterm election, Palm Springs Pride represents an eleventh-hour throw-down against the Trump-ist forces that threaten to undermine most of the hard-won freedoms we've come to take for granted, or because it reminds us of the deep well of allied support that exists around our struggle to break free of the stigma and repression of the past, the vibe at this year's 36th annual festival was a heartening dose of positivism – an unequivocally welcome counterpoint to the worst-case scenarios and doom-laden prognostications dominating our current cultural discourse.
The sense of enthusiastic solidarity that permeated the event can be attributed, at least in part, to the heavy participation of local merchants and organizations – something that is part of any Pride celebration, perhaps, but here taken to a level which made a smalltown festival feel as if it were happening in a major metropolitan hub.
With over 150 exhibitors, there was much to do, see, and sample from the vendors, artists and craftspeople, non-profits, and food and beverage providers on hand; deployed in booths, outdoor lounges, and food trucks across several blocks of the city's classic downtown corridor on Palm Canyon Drive, these representatives of the community ensured there was no shortage of activity to keep visitors entertained between the weekend's plethora of musical performances and other scheduled events.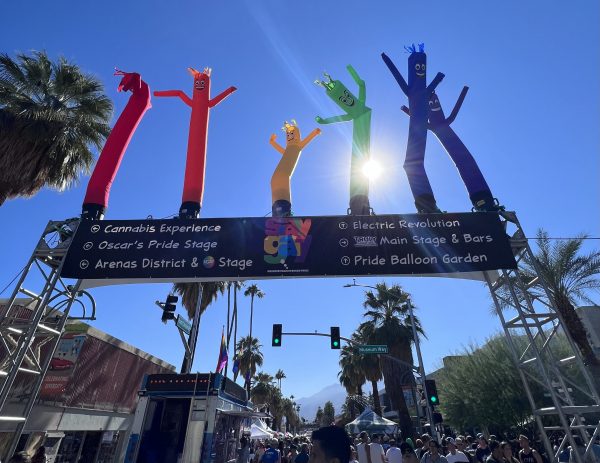 Pride flags, buttons, gear, and other queer-affirming merchandise were available everywhere; opportunities to interact with local organizations – from nudist recreation clubs to live theatre companies to anti-bullying advocacy and support groups – were plentiful; if you were in search of a monkeypox or flu vaccination, those services were available, too, along with plentiful information and resources around other LGBTQ+ health and wellness concerns.
In addition, the location allowed for numerous stores and restaurants lining the streets of the Pride venue – many of them on the Palm Springs "must do" list for tourists and locals alike – to remain open for business, offering full access without even having to leave the festival's "Event Zone."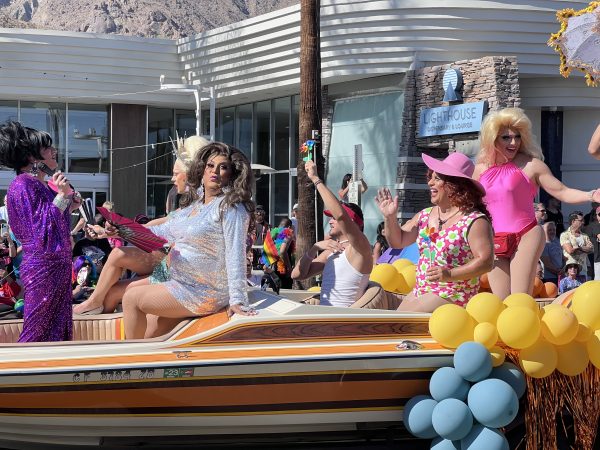 All of this helped to create a vibrant, diverse, and welcoming atmosphere in which all the colors, sights, and sounds of Pride were on full and constant display – an environment where everyone could feel seen, supported, and appreciated, from out and proud members of the LGBTQ+ community to allies and family, or anywhere in between.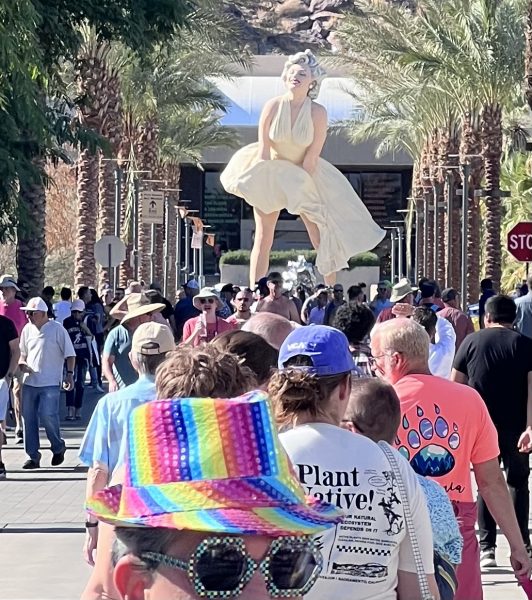 That's not to say there wasn't a keen awareness at Palm Springs Pride of the precarious edge on which our queer future teeters. Though the atmosphere within the festival was focused on celebration, there was an aura of grim-but-determined battle-readiness that became most evident, perhaps, in the cheers of support bestowed on openly gay US Congressional candidate Will Rollins by the tightly-packed crowd of spectators as he marched in Sunday morning's parade.
Alan Uphold, a relative newcomer to Palm Springs who relocated from Los Angeles with husband Jeff Olde just before the pandemic, told the Blade he believed the sense of political urgency was sparked by the recent redistricting process that made the city part of a very "red" political region. "Because of redistricting," he observed, "Palm Springs was lumped in with the more conservative areas to the west of us that are currently represented by one of the most corrupt, anti-LGBTQ, anti-reproductive freedom, January 6th-denying members in Congress. There's a real sense of stress here, mixed with cautious optimism that Palm Springs voters could help Will Rollins win, because we CAN NOT be represented by a radical MAGA extremist like Calvert."
Eva L, a festival attendee from Coachella who told the Blade she came to march with Rollins, also expressed frustration over the redistricting. "I can't believe residents and politicians in Palm Springs just rolled over and didn't object to it. Being represented by Calvert is a setback to the peaceful haven that is our community. I think we should demand to be reincorporated. So, I'm here in part just to support Will and hope for the best on Tuesday."
There were voices in the crowd, too, that served as reminders that – even at Pride – not everyone is on board with progressive ideas about LGBTQ+ acceptance. Roberta C, who was wearing a Bianco for Sheriff campaign badge, told us she doesn't understand why people need Pride in Palm Springs. "You guys have it easy now – and I realize that can change – but I'm here to be with my nephew who thinks he might be transgender. I'm confused because he's going to become a woman and says he's a lesbian. He insists on being called 'they'." The Blade offered to provide contact information for Trevor Project as she walked away, wiping a tear from her face as she said with cracking voice, "It's all too much for me."
Still, the overall mood of the crowd was festive throughout the weekend, with many people overheard saying it was the best Pride they've seen in recent memory. One attendee, Carlos Hernandez, who was visiting Palm Springs and happened upon the event by accident, told us "I can't believe my luck! Be always wanted to attend Pride in the states and it's just hard to believe how joyous this day has been so far."
"Joyous" is, in fact, the word we would also use to describe the occasion, which was ultimately a triumphant declaration of how far we've come as a queer community coupled with a fierce recognition of how far we have still to go. It's that heady mix of emotions that made Palm Springs Pride less remarkable, perhaps, for its party atmosphere and high-voltage entertainment – though those were undeniably part of the event's success – than for the thousands of little moments, powerful and personal, experienced by those who were there.
Uphold perhaps encapsulated the resonant magic of this phenomenon.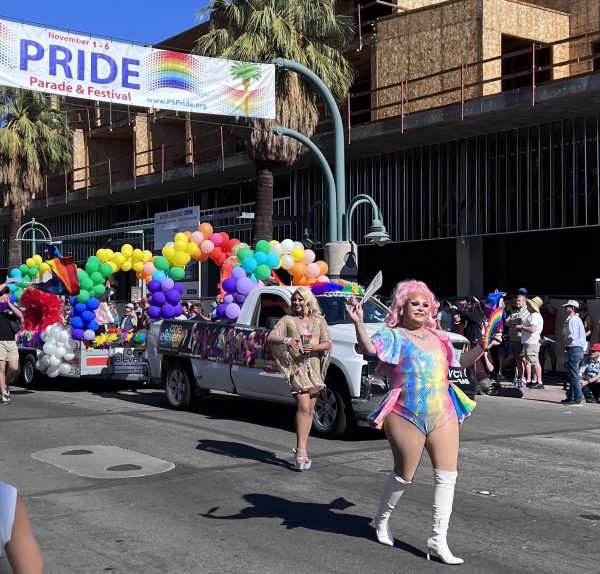 "The thing that Jeff and I love about Palm Springs Pride is that even though the event attracts more than 125,000, it still feels like a smalltown festival," he told us. "I especially like that the parade features local high school bands and students from local high school students all across the Coachella Valley."
"When we attended Pride celebrations 25 years ago in WeHo, it was practically an act of subversion and defiance just to show up. That's why, every year, I get really emotional just seeing these high school kids marching in a Pride parade," he added.