Tammy Baldwin under vicious attack in re-election bid
Movingly 'comes out' about her late mother's opioid addiction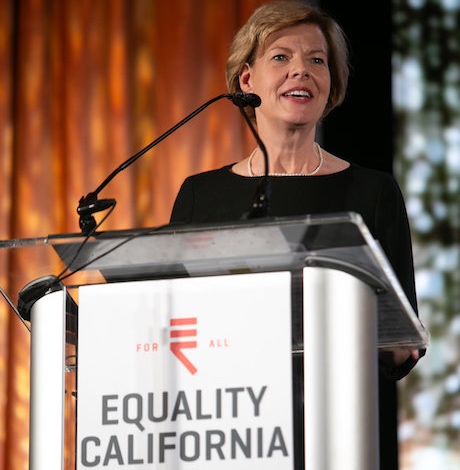 "I had a lovely visit to Northern California. It's sunny and it was a welcome weekend away from the mess that is Washington, D.C. right now," says out Wisconsin Sen. Tammy Baldwin, casually tossing off the understatement of the year.
Baldwin was in San Francisco on May 12 accepting Equality California's Equality Leadership Award as the nation's capital was roiled in yet another controversy over the crumbling fate of decency.
The White House aide Kelly Sadler refuses to publicly apologize for her comment about Republican Sen. John McCain, a Vietnam War hero who endured years of torture as a POW. McCain, who is fighting brain cancer, opposes the confirmation of Gina Haspel—who oversaw an "enhanced interrogation" program—as CIA director. Sadler said McCain's opinion didn't matter because "he's dying anyway."
Baldwin didn't want to weigh in on the controversy, but noted that she and McCain have partnered on three major bills, including one to reduce prescription drug prices and another "to confront the high rate of veteran suicides, focusing on the intersection with the opioid epidemic.
"I sometimes agree and sometimes disagree with John McCain but I feel that he has been such a fierce and independent member of the United States Senate and where I have had an opportunity to partner with him on important efforts, it has been a joy to work with him," Baldwin told the Los Angeles Blade on her way to the airport.
Baldwin's bipartisanship is not reserved for McCain. "I am a strong supporter of Buy America policies. I've been working on them since I came into the House of Representatives in 1998," she said. "Frankly, it's so important to my Wisconsin workers that I've called on the president to help me strengthen our Buy America provisions. So far, no action."
But Wisconsin is a 2018 battleground state and Baldwin's record of working across the aisle is obscured by the avalanche of ugly negativity funded by the GOP, the billionaire Koch brothers and hard-right industrialist Richard Uihlein spending up to $5 million as two conservative Republicans vie for votes in the Aug. 14 primary.
Last July, for instance, a Milwaukee radio station ran an ad saying: "Did you know one out of three babies aborted in America are black? One out of three. And Tammy Baldwin is a big reason why. That could be the next Frederick Douglass or Rosa Parks or Martin Luther King they're aborting."
More recently, state Sen. Leah Vukmir, who overwhelmingly won the party nomination on May 14, issued a news release featuring photos of herself with Haspel as members of "Team America" and Baldwin with 9/11 mastermind as Khalid Sheikh Mohammed as "Team Terrorists."
Baldwin's focus is on healthcare, as well as the economy, with personal stories to back her policies. At age nine, for instance, she was diagnosed with a childhood illness that put her in the hospital for three months. She recovered but now has a pre-existing condition.
But it's Wisconsin's opioid crisis that is building bridges. Baldwin just revealed that her late mother was an addict.
"I remember what it was like to come home from school and not be able to get into the house. I'd pound on the door, but my mother wouldn't answer. She'd be passed out inside. My mother had a drug abuse problem. She struggled with addiction to prescription drugs her whole life. I had to grow up fast. Very fast. So when I see the opioid crisis that is wrecking so many Wisconsin families, all I can tell you is—I've been there. I know how hard this fight is. I know the stigma that comes with drug abuse and mental illness," Baldwin says movingly in a new video.
The statistics are overwhelming. "Fifteen people a week are overdosing in Wisconsin. This is a crisis for our country and far too many Wisconsin families," Baldwin says.
Baldwin has been a public figure since 1986 when she was first elected to the Dane County Board of Supervisors at age 24. But this is the first time she's talked about her mother's addiction.
"I lost my mother last August and I know that throughout her life she was ashamed, frankly, of the fact that she wasn't able to raise me for most of her life. My maternal grandparents raised me," Baldwin tells the Blade. "I live a very public life. But, like my mother, I'm a fairly private person. And it was very important for me, as best I could while telling my true story, to protect her privacy. But I also believe, as somebody who—my mother was in and out of treatment throughout her life and was also, by the way, and employee assistance counselor at one point in her life—that she would definitely want her experience to help others."
Baldwin says she decided to tell her own story because "the power of telling stories is what I see as leading to change. And I wanted to honor the courageous people who've been telling their stories and fighting the stigma and the shame by being willing to tell my own."
The response has been "unbelievable," enabling others to open up about their own experience, including at the Equality California Awards. A man sitting at the table next to her leaned over and teared up, saying "that's my dad."
"I've been calling this a 'second coming out' because I think of it in terms of how we bring about change politically," Baldwin says. "For the LGBT community, it's always been 'come out, come out wherever you are.' Our visibility, our stories make a difference. And I think the same is absolutely true with this—that the more we fight the stigma, fight the shame and tell our stories, the more we lead to political change."
Governor Newsom announces new gun safety legislation
In 2021, Calif. was ranked as the #1 state for gun safety by the Giffords Law Center, seeing a 37% lower gun death rate than national average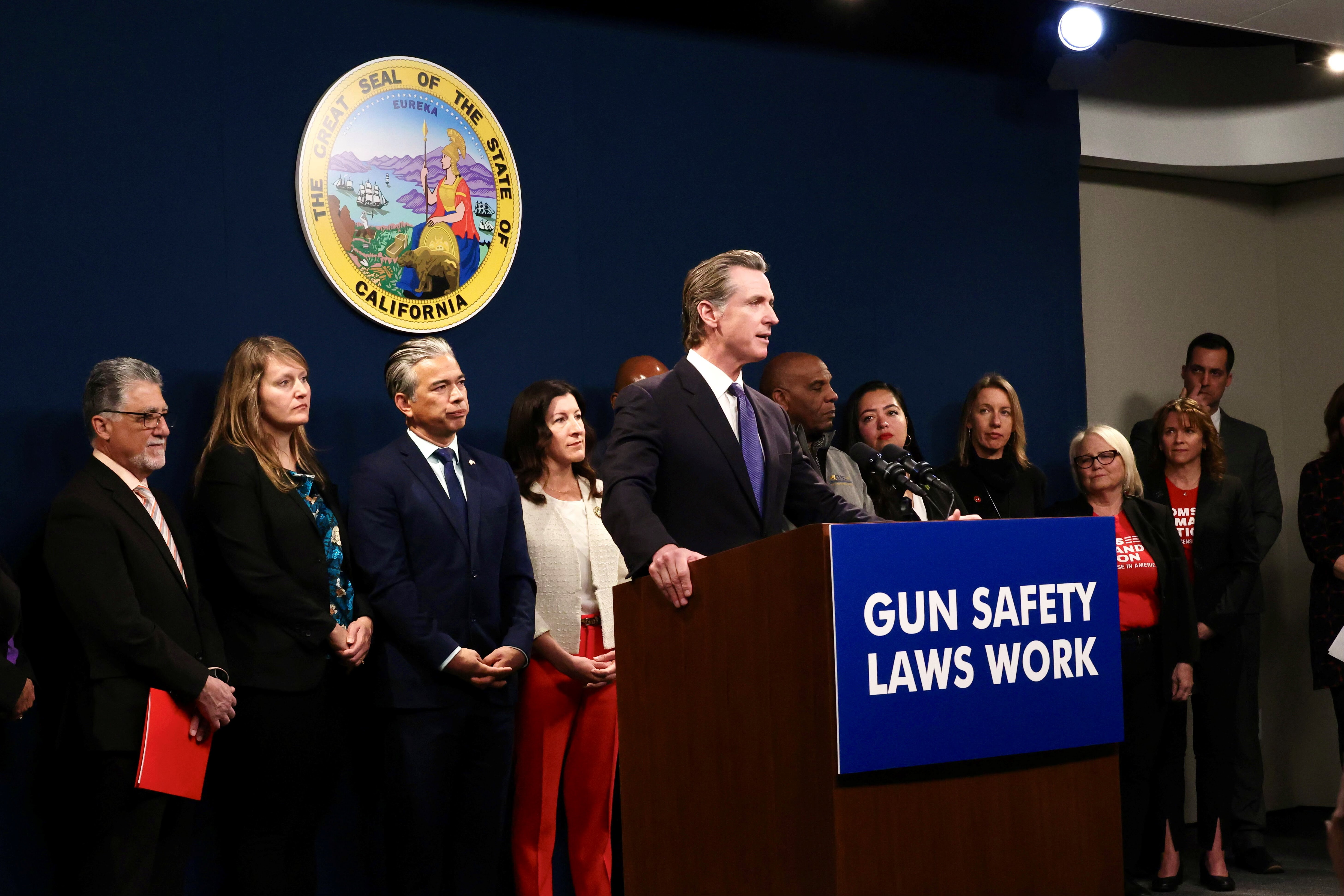 SACRAMENTO – In the wake of multiple mass shootings that took the lives of 19 Californians in just 72 hours last week, Governor Gavin Newsom, Attorney General Rob Bonta, and Senator Anthony Portantino (D-Burbank) announced new gun safety legislation to modernize and strengthen California's public carry laws.
"Only in America do we see the kind of carnage and chaos of gun violence that destroys our communities and our sense of safety and belonging," said Newsom. "America is number 1 in gun ownership and we far surpass every developed nation on Earth in gun deaths – it's not complicated. In California, we've passed common sense gun safety laws and they work: we have a 37% lower gun death rate than the national average. We're doubling down on gun safety and strengthening our public carry law to protect it from radical Republican attacks."
According to the Center for American Progress, efforts to weaken concealed carry laws across the country have increased violent crimes – with studies showing gun homicides increased by 22% in states that passed permitless carry laws and violent crimes with a firearm went up 29%.
Newsom signed a package of gun safety laws last year, making it easier for Californians to sue manufacturers of illegal assault weapons and those spreading them, allowing lawsuits against irresponsible gun industry members, strengthening prohibitions on ghost guns, as well as restricting marketing to minors. 
"The mass shooting incidents we have seen over recent weeks bring to light the need for stronger protections for our communities. The fact is, individuals who are not law-abiding, responsible citizens simply shouldn't possess firearms — and they especially shouldn't be allowed to carry a concealed weapon in public. When a gun is placed in the wrong hands, it is deadly," said California Attorney General Rob Bonta. "The Second Amendment is not a regulatory straightjacket — we must protect our communities. The time for thoughts and prayers has long passed, we need brave and immediate action by our leaders – here in California and beyond. We owe our community stronger protections. I urge our state leaders to quickly adopt SB 2. We can't afford to wait even one minute more."
Last June, the U.S. Supreme Court struck down a New York law, aspects of which mirrored California's public carry laws, and the legislation announced today – Senate Bill 2 by Senator Portantino – would make fixes necessary to update the standards and processes for obtaining a public carry permit in California.
Senate Bill 2 strengthens California's restrictions regarding public carry laws by:
Enhancing the existing licensing system – ensuring those permitted to carry firearms in public are responsible and law-abiding individuals;
Protecting children – setting a minimum age requirement of 21 years of age to obtain a CCW license;
Advancing stronger training requirements – ensuring proper handling, loading, unloading, and storage of firearms; and
Identifying certain sensitive public places – establishing safe community places where people should expect freedom from gun violence.
"In the wake of the recent tragedies in Monterey Park and Half Moon Bay and the continued threat of mass shootings, it's critical that California leads on the issue of gun safety and reform. I am proud to be working with Governor Newsom, Attorney General Bonta and activists on SB 2 to strengthen our existing public carry laws and ensure every Californian is safe from gun violence.  We must be diligent in addressing the gun violence epidemic in our country and public carry laws are a key component of this," said Senator Anthony Portantino.
California launched an 18-month campaign to promote gun violence restraining orders – "red flag laws" – that allow law enforcement, family, coworkers or friends to petition a court to temporarily remove weapons from people deemed dangerous to themselves or others. A study from the Violence Prevention Research Program at the University of California, Davis found that California's red flag law was used to stop 58 threatened mass shootings since 2016.
California's gun safety laws work. In 2021, California was ranked as the #1 state for gun safety by the Giffords Law Center, and the state saw a 37% lower gun death rate than the national average.
According to the CDC, California's gun death rate was the 44th lowest in the nation, with 8.5 gun deaths per 100,000 people – compared to 13.7 deaths per 100,000 nationally, 28.6 in Mississippi, 20.7 in Oklahoma, and 14.2 in Texas.
Moms Demand Action Founder Shannon Watts noted: "The Supreme Court's reckless Bruen decision opened up the floodgates for more guns in more places — but with this bill California once again renewed its commitment to being a national leader in the fight against gun violence. While the gun industry celebrated the ruling that put their profits over our safety, our grassroots army is proud to stand with our Gun Sense Champions in California to pass this critical bill and make our communities safer."
"Following the Supreme Court's egregious decision in the Bruen case, it is vital that the Golden State takes meaningful action to protect all Californians from the threat of gun violence. SB2 would do just this by updating and improving the state's already strong concealed carry license system, and ensure that loaded and concealed weapons are not allowed in certain sensitive places. With SB2, leaders in California are continuing their leadership in prioritizing the public health and safety of all its citizens," said Brady Campaign President Kris Brown, adding "Brady applauds Senator Portantino for introducing this important bill, and thanks Governor Newsom and Attorney General Bonta for their continued leadership on this issue, and urges the California legislature to pass it without delay."
Giffords State Policy Director Ari Freilich stated: "In the face of tragedy, California's leaders act. They've led the nation on gun safety reform and made California a much safer state than most. But today, grieving communities know all too well how much more work there is to do. California achieved an all-time record low gun fatality rate in 2019. But like the rest of the country, we have faced record spikes in gun sales and violence since the start of the pandemic and a flood of new weapons in public spaces as a result of the US Supreme Court's dangerous Second Amendment ruling last year. Passing SB (2) will strengthen communities' ability to respond to these threats by requiring stronger vetting and safety training to carry weapons in public and by designating vital community spaces like parks and playgrounds as off-limits to weapons throughout the state. We thank leaders like Governor Newsom, Attorney General Bonta, and Senator Portantino for their work and commitment to make all Californians safer and freer from violence."