May 21, 2018 at 10:38 am PDT | by Mariah Cooper
Janet Jackson stands up for women's equality at Billboard Music Awards
Janet Jackson accepted the Icon Award at the 2018 Billboard Music Awards on Sunday night making her the first black woman to receive the honor.
Bruno Mars introduced Jackson who performed a medley of "Nasty," "If" and "Throb" for her first televised performance in 10 years. Afterward, Mars presented Jackson with the Icon Award and the pop star took the stage to screams of "Janet" from the crowd. Her family members, including her mother Katherine and nephew Prince Michael, were also seated in the audience.
"I'm deeply humbled and grateful for this award. I believe that for all of our challenges, we live at a glorious moment in history," Jackson began. "It's a moment when at long last women have made it clear that we will no longer be controlled, manipulated, or abused."
Jackson went on to say she hopes faith in God can ease the issues of the world.
"Our public discourse is loud and harsh. My prayer is that weary of such noise, we will turn back to the source of all calmness, that source is God. Everything we lack, God has in abundance: compassion, sensitivity, patience and boundless love. Again I want to thank all of you for this honor and I thank God for giving me the precious energy that lets me live my life as an artist who every day seeks to expand my capacity to love," Jackson said.
After rocking the stage with her incredible performance, @JanetJackson accepts the 2018 #BBMAs Icon Award! #ICON_JANET pic.twitter.com/S7nDbrGJQI

— Billboard Music Awards (@BBMAs) May 21, 2018
Jackson is currently on her State of the World Tour which wraps in August.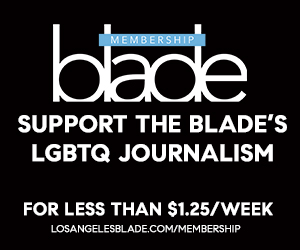 Sign Up for Blade eBlasts