Janet Jackson doc premieres this weekend
Remembering 10 times iconic singer was there for LGBTQ community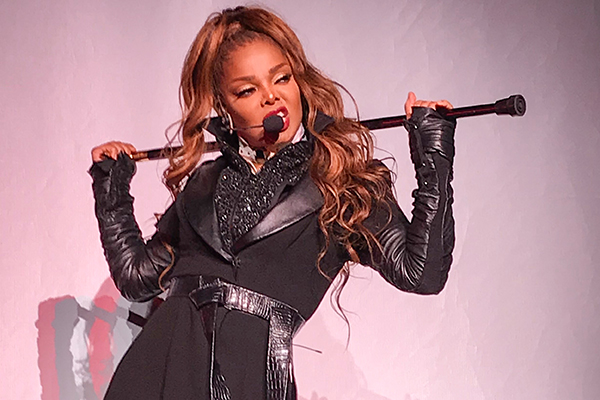 LOS ANGELES – Iconic singer Janet Jackson, a longtime LGBTQ ally, unveils her long-awaited documentary simply titled "Janet" on Friday, Jan. 28. It concludes the following night; each installment is two hours long. 
Jackson has said she spent five years compiling footage and creating the documentary, which airs at 8 p.m. both nights on A&E and Lifetime networks. It was produced by Jackson and her brother Randy Jackson and it's timed to commemorate the 40th anniversary of her 1982 debut album.
An extended trailer for the film reveals Jackson will talk candidly about her brother Michael and the 2004 Super Bowl incident, including the news that Justin Timberlake reached out and asked her to join him during his widely panned 2018 Super Bowl return performance.
Prior to the pandemic, Jackson announced a new studio album and tour titled "Black Diamond," but both were postponed due to COVID. No official word about the status of either, but speculation is rampant that she will finally release the new album once the documentary airs.
"Musically, what I've done, like doing 'Rhythm Nation' or doing 'New Agenda' or doing 'Skin Game,' creating those bodies of work with Jimmy and Terry, I feel like I've laid a certain foundation," Jackson tells Allure magazine in a new cover story this month. "I would hope that I'd be able to continue if I choose to. You know what I mean? But only time will tell."
As Jackson's legion of queer fans awaits this weekend's premiere, the Blade takes a look back at 10 times Janet was there for the LGBTQ community.
1. "The Velvet Rope" project. In 1997, Jackson released her critically acclaimed sixth studio album "The Velvet Rope," an introspective and deeply personal collection of songs that touched on her depression, but also tackled LGBTQ issues. On the track "Free Xone," she spoke out forcefully against anti-LGBT bias. She also covered Rod Stewart's "Tonight's the Night," without changing the pronouns in the love song, prompting speculation about her sexual orientation. But it was her international No. 1 hit "Together Again" that continues to resonate with LGBTQ fans. An upbeat, joyful dance song, it was conceived as a tribute to Jackson's friends who died of AIDS.
2. GLAAD award. In 2008, Ellen DeGeneres presented Jackson with the Vanguard Award at the 19th annual GLAAD Media Awards. GLAAD's president said, "We are delighted to honor Janet Jackson at the 19th annual GLAAD Media Awards in Los Angeles as such a visible, welcoming and inclusive ally of the lesbian, gay, bisexual and transgender community. Ms. Jackson has a tremendous following inside the LGBT community and out, and having her stand with us against the defamation that LGBT people still face in our country is extremely significant."
3. Ebony magazine interview about her sexuality. In 2001, Jackson gave an interview to Ebony magazine in which she was asked about her sexual orientation. "I don't mind people thinking that I'm gay or calling me gay," she said. "People are going to believe whatever they want. Yes, I hang out at gay clubs … I go where the music is good. I love people regardless of sexual preference, regardless of race. No, I am not bisexual. I have been linked with dancers in our group because we are so close. I grew up in a big family. I love being affectionate. I love intimacy and I am not afraid to show it."
4. Video support for It Gets Better, Trevor Project. In 2010, Jackson recorded a video for the Trevor Project and later appeared on CNN's "Larry King Live" to promote awareness of youth suicide. "If you're LGBT you're probably thinking you're all alone, but you're not," she said in the video. "I can relate because I was one of those kids who internalized everything."
5. "State of the World Tour." Jackson's LGBTQ support continued in 2017. Her tour's opening sequence highlighted a range of problems facing the world, from famine and war to police brutality and included a call for justice and for LGBTQ rights.
6. "The Kids." Jackson has always employed a diverse crew of professional dancers for her videos and tours. Some of her closest friends and collaborators over the years have been prominent out gay and lesbian choreographers, singers, dancers, makeup artists and designers. She lovingly refers to her backup dancers as "the Kids."
7. NYC Pride performance. In 2004, Jackson performed for a packed audience at Pride Dance NYC at Pier 54.
8. "Will & Grace" cameo. In 2004, Jackson made a memorable cameo on "Will & Grace," judging a dance-off between Jack and another dancer.
9. HRC, AIDS Project Los Angeles awards. In 2005, Jackson was honored by both the Human Rights Campaign and AIDS Project Los Angeles for her work raising money for AIDS charities.
10. Janet's Blade interview. In 2006, Jackson granted an exclusive interview to the Washington Blade. It was one of the rare times she touched on the Super Bowl controversy and her brother Michael's acquittal on child molestation charges, telling Blade Editor Kevin Naff, "I got all of that out of my system, that's not what I'm feeling right now. I wrote about [those controversies] but I didn't choose to put it out there on the album." In the interview, Jackson also reiterated her support for marriage equality, said she'd never had a sexual relationship with a woman and revealed that she'd never met Madonna.
Introducing Estelle Fox, but don't call her the next Billie Eilish
She is unique, haunting, empathetic and artistically human. Her debut EP is currently being made available one song at a time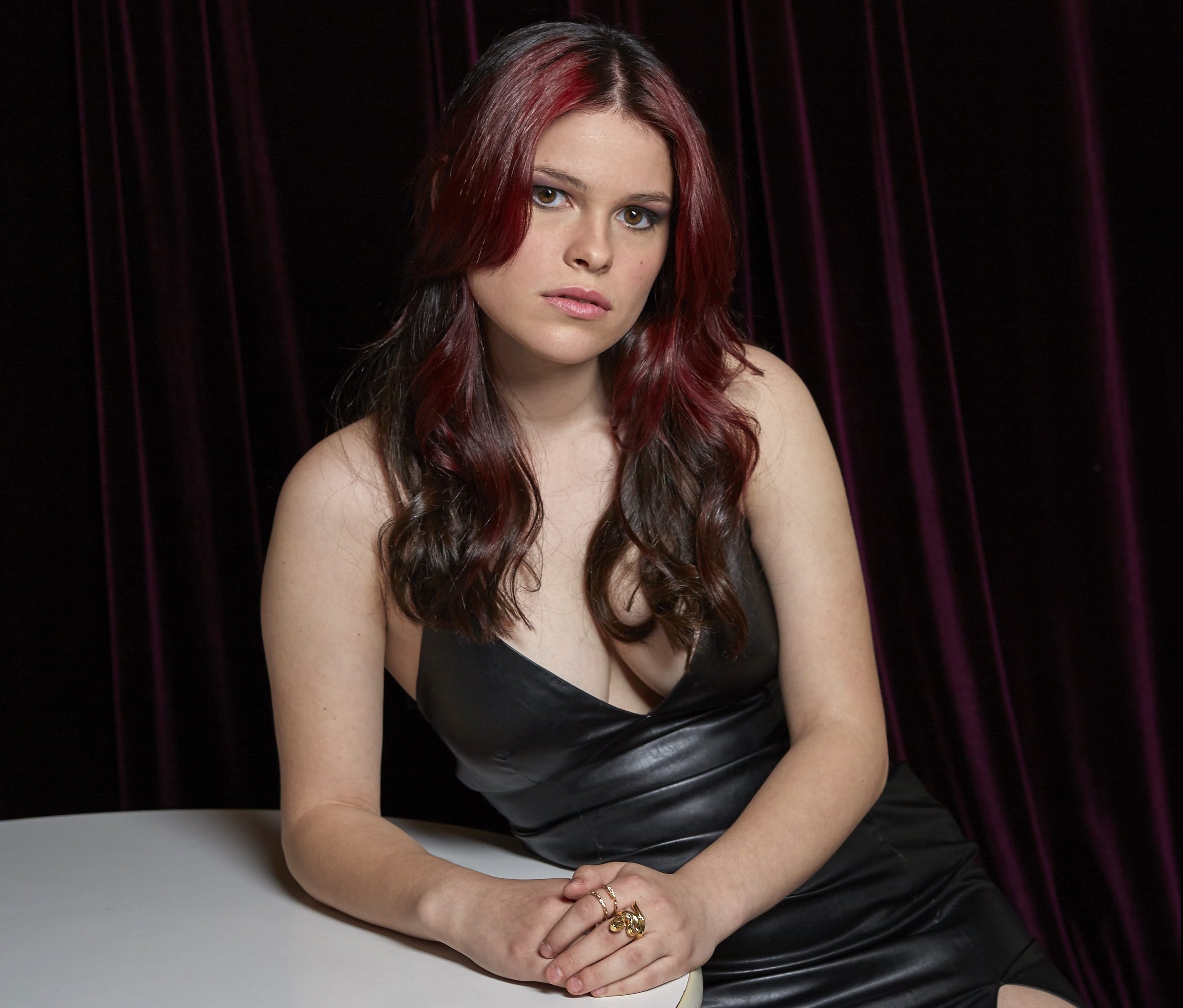 HOLLYWOOD – Blame it on Billie Eilish. Certainly, we adults have been telling young girls to believe in themselves, to express themselves and to strive for greatness.
At age 14, Billie Eilish, with the help of her brother had the gall to actually go and do it, from their bedroom studios no less.
Her success, of course, is huge and amazing. Besides her musical talent accomplishment, she has laid the gauntlet for other ambitious teen singer songwriters to sail into her wake.
Now, one has. I won't call her the "new Billie Eilish" because she is not the "new" anyone else.
She is Estelle Fox. She is unique, haunting, empathetic and artistically human. Her debut EP is currently being made available one song at a time. The EP's title Prettiest Parts of Me is ironic. The two songs that have been released so far, Crazy and I Always Do This, are self-effacing and at times brutally honest self-portrayals of insecurity and obsession. Fox's voice is lovely and alluring, while delivering a confessional that most people save for their therapist.
Her next single, Losing a Friend, drops at the end of September, and I can't wait.
I sat down with Estelle on the podcast RATED LGBT RADIO. We talked about her influences that includes musical artists Clairo and Beach Bunny. "Clairo is one of my all-time favorite artists. Her older stuff is soft pop and I was drawn to the queer music and women voice aspect of her work. My generation has had it easier growing up than those before us, but even we are built to have internalized homophobia. She gave us great representation in music, which I really enjoyed obviously. She has this incredible and really really beautiful sound. She has a soft calming voice and her instrumentals are so moving. She is very connected to lyrics which is what I like to look for in songs," she tells me.
It is clear how her appreciation of Clairo is a clear path to her own work. "I always knew music was what I was going to do, particularly writing… I'm always looking to connect with new people and tons of people. So, being able to write songs that people can relate to, and listen to, and be seen by, it's just been so good to have that opportunity now and be able to reach people with my music, definitely always something that I've wanted to do since I was very little."
The song Crazy , and the accompanying video, shows the internal emotions behind a dysfunctional relationship. It reflects a truth Estelle does not attempt to hide. "When the people you are involved with are incapable of feeling the same amount of love that you can, because obviously that's your own perception…it's hard to comprehend. My songs deal with the fact that I feel so deeply. Some people, some people just don't. That crazy goes through you. There's a calm-like verse where I'm talking about my feelings in a chaotic and intense chorus where I am having a full on break down," she says.
Being emotionally real is part of Estelle's true mission. She is driven by the need to empower young women in a world of excessive social media, stereotyping, and unrealistic expectations stamped upon them in teen culture. "A lot of my songs are about women. Some of them are about non-binary people and some of them are about trans men. It just comes down to love and loving people. Whether it's platonic or romantic, we should never be ashamed of it," she states.
Estelle has the attention of the industry's top creatives. She took her songs to the top 5 Billboard chart-topping and Platinum record producer Barb Morrison (Blondie, Rufus Wainwright, Franz Ferdinand). Morrison fell in love with the voice immediately and got her into the studio. There, they gave Estelle's songs "the love and attention" that her songs so rightly commanded.  
While Estelle's songs are deeply personal, her message behind them is not, it is a message in which she wants to speak for her entire generation. When she looks at the public oppression that teens are under from intolerance, to gun violence, to anti-lgbtq animus , she says her generation is "heartbroken."
"The younger generation has always had so much more influence and impact than people could imagine. And I think that that's going to be true for our generation. Definitely, I think that we have we have a new perspective and we're able to see beyond the binaries… our generation is definitely one that's going to be more unified, and more loving, and more accepting…I think that we're going to be able to step in and make our messages known and be able to change things for the better. We still need to keep fighting and we can't just wait it out. Kids growing up, being told that gay is a bad thing. Being trans is a bad thing or something that we can't speak about. Those identities are a very real reality of so many people and they need to be celebrated because we can't be going backwards," she asserts.
So that is what happens when you let teen girls follow their passion, They not only make incredible cutting edge music, they also dream big about changing the world.
We need to let them.
**********************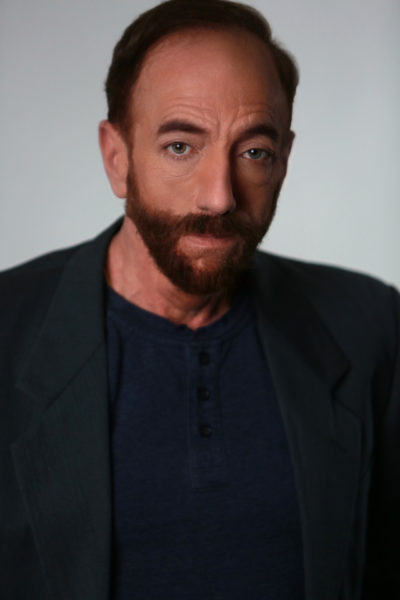 Rob Watson is the host of the popular Hollywood-based radio/podcast show RATED LGBT RADIO.
He is an established LGBTQ columnist and blogger having written for many top online publications including Parents Magazine, the Huffington Post, LGBTQ Nation, Gay Star News, the New Civil Rights Movement, and more. He served as Executive Editor for The Good Man Project, has appeared on MSNBC and been quoted in Business Week and Forbes Magazine. He is CEO of Watson Writes, a marketing communications agency, and can be reached at [email protected] .
**********************
RATED LGBT RADIO with Rob Watson:
Trail-Blazing trans artist Gio Bravo, brings hot fun erotic masculinity
"I didn't start doing music officially until I started transitioning, realizing these changes in my voice, my face- it was something"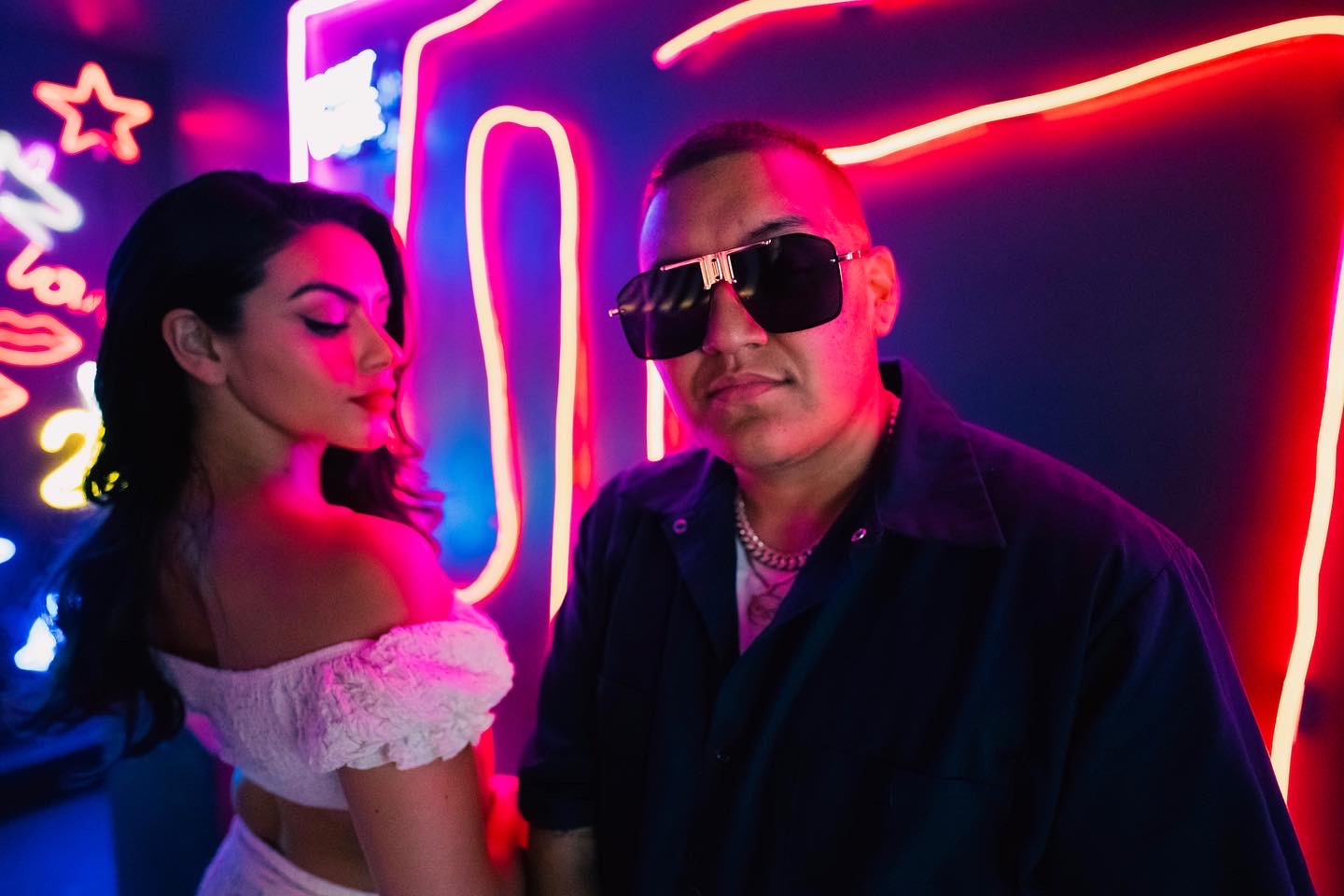 HOLLYWOOD – There are four new great reggaeton anthems in the world, and dance floors have just gotten more erotically rhythmic than ever. Reggaeton is best when it is loud, fun, infectious, sexy as hell and free-spirited, weaving its strong Latin America and hip hop influences. 
For those who groove into its sensual hip moving poses, recording artist Gio Bravo has released a hot four-some of songs with which to move, grind, love and sweat with in the most steamily stimulating way. At the beginning of August 2022, Gio dropped the first single titled "Esta Noche," followed by three additional tracks: "Tiene Ganas," "Lo Que Ella Quiere" and "Eres Fuego."
The music is infectious, the lyrics are blatantly sexual and the arousal to dance them out is overwhelming.
The boldness of the music is representative of the man behind it. Its in-your-face masculinity is emblematic of the masculinity that Gio bravo has had to fight to embrace for himself. He was the first transgender artist to break barriers in the regional Mexican music genre.
Self-discovery was a long path. Gio kissed a girl in kindergarten, and everyone laughed. A small red flag went up in his mind, but it wasn't until middle school that he realized he was very different than his friends. The girls around him were crushing on boys, and not only did he have no interest, he instead was crushing on them. People would ask him if he wanted to get married when he grew up. He would say "yes", but in his mind he could never see himself as a bride. Today, he wishes he could have seen a role model in his world, but there was no transgender men visible at all. "It would have helped me have a little bit more direction on what my path was," he told me in our conversation on the podcast Rated LGBT Radio. 
Had he known of the science behind transitioning, he would have transitioned much sooner than he did. There are no regrets however. He states, "In my journey, I feel that when I started transitioning, it was the right time for me with everything I had lived up to, or I had lived through up to that moment. It really helped build that backbone that is truly needed to do something like transitioning. When you transition, it's not just you, it's your family, your friends. You have to know, that they're going through this transition with you. You definitely have to have a lot of backbone to be the man you are and carry those around you with you on the journey."
Gio dove into music as a safe haven from two traumatic events, the divorce of his parents, and the death of a close friend. It was through his music artistry that the true vision of his authentic self emerged in the most pronounced way. "When I started my journey of really exploring my sexuality, who I was, I always found solace and my music. When I wrote music again there was no trans visibility out there. I always felt like I didn't want to be a female artist singing songs directed at men, which is kind of the standard For Mexican music. When you're a guy you think heartbreak or romantic feelings for women and vice versa, the women to the men. I didn't want to be that artist, all my songs that I wrote, they were always like in the perspective of a man singing into a woman."
"I didn't actually start doing music officially until I started transitioning. When I began my hormone replacement therapy, I started realizing like these changes in my voice, in my face and it was something. Something about seeing myself, becoming the person that I always wished. It made me remember when I was a kid, five or six years old, people would always tell me  'you are like the spitting image of your dad.' I would feel so flattered. I liked the idea of looking like a boy and I looking like my dad. When I started seeing these changes with my hormone replacement therapy, it's just like triggered the me from inside. It gave me a confidence that went through the roof. Without my transition I would have never taken the step to becoming a recording artist and go after that dream."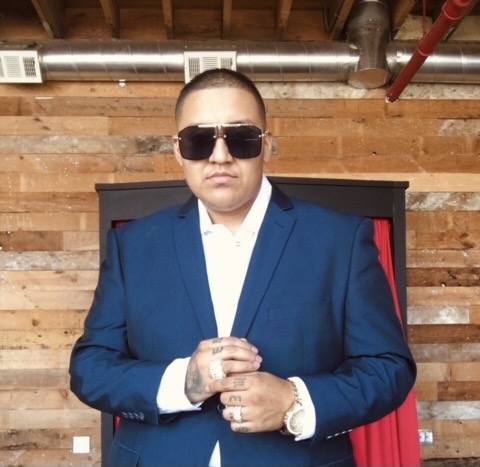 Now Gio is transitioning again. This time within the genres of Mexican music. Just in time for some end-of-summer dance vibes, Gio announced this new transition. Following the launch of his musical career in 2017 with Regional Mexican album "El Comienzo," a Banda Sierreño style that was very personal to him reflecting memories with his dad, he is now ready to take on a new music genre with tracks penned by himself and produced by renowned Urban Latin Venezuelan music producer Rayyen.
Gio describes his artistic transition this way: "I've always been a Reggaeton fan, in fact, one of my all-time favorite albums is Daddy Yankee's 'Barrio Fino.' My very first Project in this music genre was a very cool collaboration I did with the talented and well-known Mexican singer Helen Ochoa with the song "Diabla." I think it was spot on because it was well received by my fans and at the same time, I truly felt this was the genre that resonated well with me. Reggaeton is a genre that allows me to express myself in a more authentic way and it allows me to be who I really am. I love Reggaeton music. It's less judgmental, more open to accept new concepts. Now, I can honestly say that I feel like I can live my truth. These new tracks are a bit more erotic and sensual, and they make me feel more comfortable in my own skin."
When listening to these new power-pumping tracks his fans can hear Gio embracing a higher level of raw confidence. He says the new songs are "very kind of sexually driven, which is another thing, you know. Now that I'm in this point of my life and in my transition, I feel very comfortable in my sexuality to make songs in reference to sexuality. It is the perfect timing. My life comes full circle. I'm pretty excited. Honestly, I'm really happy with where I'm at with my music right now."
Gio bravo is about renewal. He grew out of trauma and tragedy into a discovery of musical passion. That passion acted as a mirror into his soul and allowed him to address a self-knowledge he had hidden away.
With his music, he has renewed his passion and creativity to new levels for himself. He has refreshed his public persona for the world. He has created a role model that he himself never saw: the first trail blazing transgender recording artist of Regional and Reggaeton Mexican music.
 He is, as Norma Desmond, from a whole other cultural time and place, might say, ready for his close up.
**********************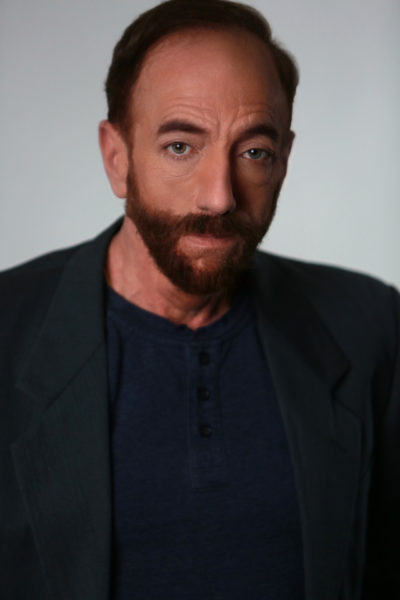 Rob Watson is the host of the popular Hollywood-based radio/podcast show RATED LGBT RADIO.
He is an established LGBTQ columnist and blogger having written for many top online publications including Parents Magazine, the Huffington Post, LGBTQ Nation, Gay Star News, the New Civil Rights Movement, and more. He served as Executive Editor for The Good Man Project, has appeared on MSNBC and been quoted in Business Week and Forbes Magazine. He is CEO of Watson Writes, a marketing communications agency, and can be reached at [email protected] .
**********************
"I know it can be hard to wake up to something so unreal-" Raue rocks LA
Feeling as though the venue was the Whisky a Go Go of the punk rock scene, the nostalgia found within Raue's performance permeated the room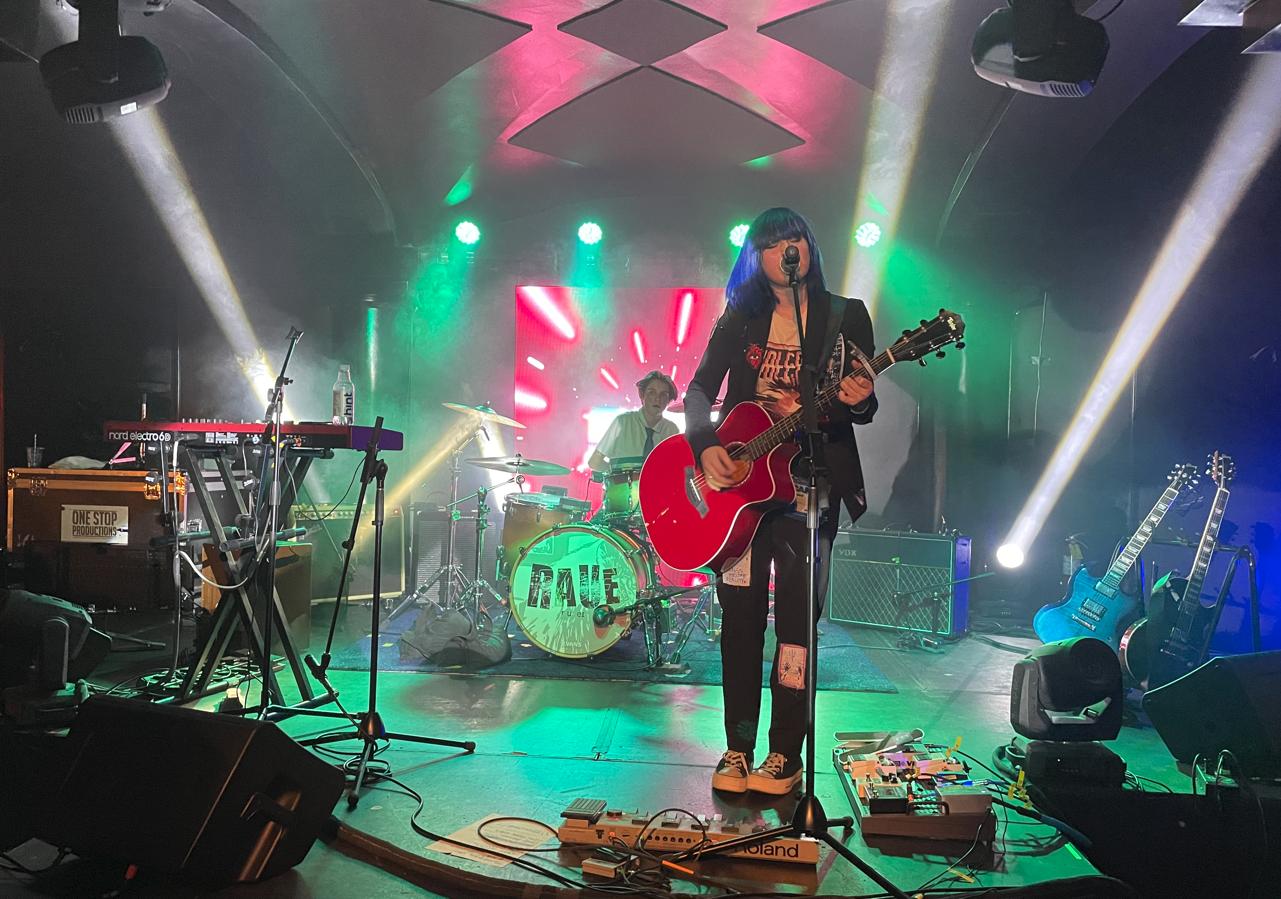 LOS ANGELES – The phenomenon of teenage angst is one met with general discomfort and chaos: the phase that 'isn't just a phase', the transition to adulthood, and worst of all… growing pains.
Yet, as the sound traveled through LA's BlackRose, audience members embraced the feeling and passion of teenagedom as the two musicians on stage performed. In a culture where the space between childhood and adulthood is dissipating, the feeling of Raue's sound is nostalgic.
The Urban Dictionary defines Raue as a German colloquialism referring to strength of character, which this dynamic duo of teenaged musicians clearly display in their music and performance.
Raue (pronounced roo-ay), a band based in Santa Cruz, California is composed of two members: singer/guitarist Paige Raue Kalenian and drummer Jax Huckle – both of whom differ from the conventional teen we see today.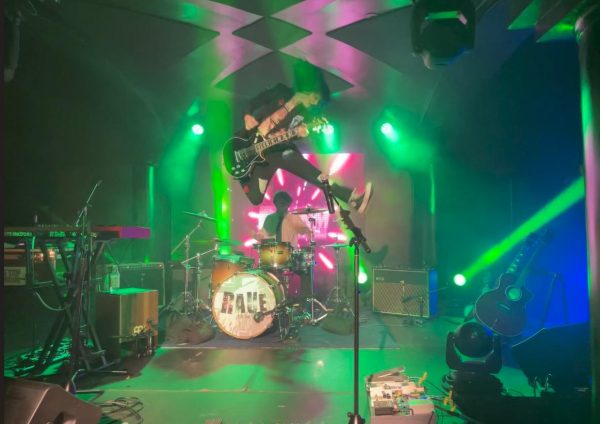 Kalenian released her first highly anticipated eponymous album titled Raue in 2021. The album contained themes of somberness, loneliness, and deja vu. Huckle joined the band a few months later where they collectively released the band's first EP titled Erase and Rewind this year; the EP contained similar themes as the first album (albeit with more maturity and experimentation).
The BlackRose's stated mission to provide a platform for all artists to perform their craft, highlighting all art forms including music, dance, visual arts, musical theater, burlesque, and beyond – well suited the performance.
Feeling as though the venue was the Whisky a Go Go of the punk rock scene, the nostalgia found within Raue's performance permeated the room through the various aesthetics: Black sport coats riddled with pins in patches, floppy dyed hair, and skinny ties hung loose. Unlike typical teenage style today, the members of Raue dress as if they are a punk rock band in the 90's.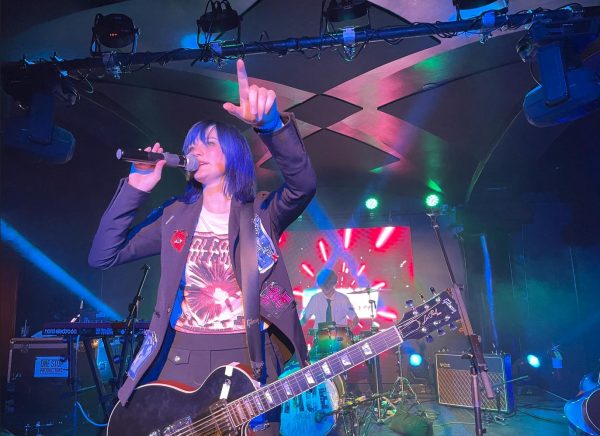 In a cathartic homage to the sound of Nirvana, Green Day, and Alanis Morsette, audience members saw energy unlike any other performance. Kalenian defines Raue's sound as "90's grunge punk rock."
It was obvious from the start what this band was, but when they covered My Hero by the Foo Fighters, it was clear that these teens had a rich music upbringing. Yet, it was difficult to truly label this band. Kalenian calls it a "Paradox of Ineffability" – a language that comes close to defining a sound, but not quite encapsulating all of what the sound has to offer.
The LA Blade had the pleasure to interview Raue after their performance. The band members took the Blade into a quiet, dimly lit patio in the back of the BlackRose. Quite the opposite space in comparison to where the performance took place.
After a discussion about the perks of touring from place to place to perform music, Kelenian described what Raue's purpose is in the music industry.
"Our message is to spread love unconditionally," Kalenian explained. It would be an understatement to call this band inclusive as inclusivity feels all too general. In fact, Raue's sound queers the space that its in – not queer solely in the aspect of sexuality, gender, or identity, but in the sense of transformation. A true political praxis that manifests a radical queerness that seeks to envelop spaces with kindness, love, and difference.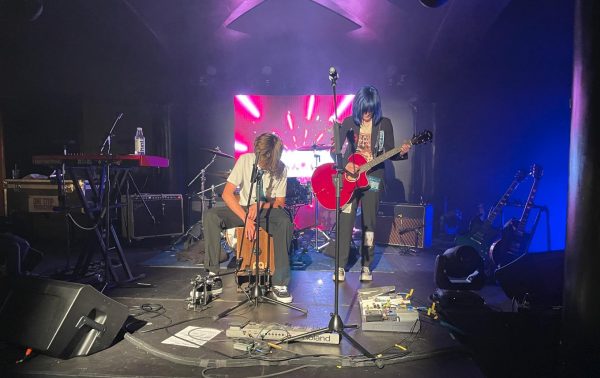 Kalenian isn't the only member of Raue who feels this way – Huckle also opened up with his discussion of the pertinent aspects of vulnerability both on and off stage. "I feel like it's a matter of showing the crowd that you're vulnerable," he says, "that's the first step to having the crowd open up." He's not wrong. In the beginning, the crowd was stiff. At a usual concert venue, audience participation is always optional. But, when Kalenian jumps off stage with her guitar, just feet away from the audience, it's impossible to not move with the music. "She's all around," Huckle says, "She likes meeting everybody."
With deep messages in the music, there is a sense of closeness between the band and the audience. As Kalenian instructs the audience members to sing the chorus to a song with themes of loneliness, people have a sense of relationality to the music. I mean, who can't relate to these lyrics: "Sitting here by myself and I feel lonely / Does that mean anything to you?"
Although the singer gets a lot of attention naturally, there is no doubt that the eclectic personality was shown through the drummer's performance. With the waving of drumsticks like a magical baton constructing the audience that is the orchestra, the character of Huckle was brought to life among the loud drum licks. When asked about the meaning of punk rock, Huckle responded by saying, "All punk rock has a deep message. Even if it's loud and messy – it's human expression."
When the show was coming to an end, Kalenian turned around to show the crowd what was on the back of her coat: the words "I LOVE YOU!" with a picture of a screaming cat underneath the letters.
As Raue makes their way to release more music and continue to perform across the states, it is no question that this band mixes the ubiquitous flare of teenage angst into their sound – not something to be criticized, but to be embraced.