Fringe Fest celebrates Pride in Hollywood
A round-up of emerging LGBT artists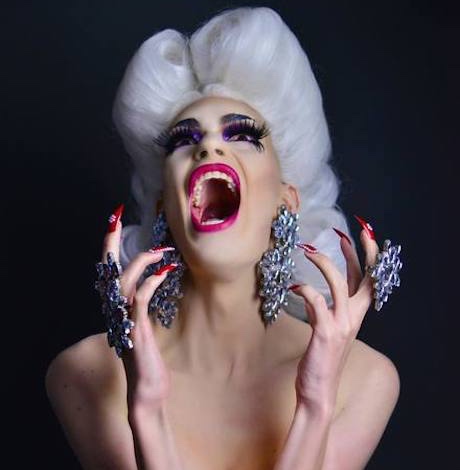 Next month is Pride Month, as most everyone in the LGBTQ community is well-aware – but for fans of live theater, it's a big month for another reason as well.  That's because the annual Hollywood Fringe Festival takes place June 7-24, and it's a fantastic opportunity to see the kind of small, edgy stage performances you won't be getting with your season subscription to the Ahmanson.

If you're not familiar, Fringe Festivals exist throughout the world as havens for underground and emerging arts scenes. The concept was hatched in Edinburgh, Scotland, in 1947, when eight performance groups appeared uninvited on the "fringes" of the exclusive Edinburgh International Festival. The Edinburgh Fringe Festival has since grown into the largest arts festival in the world; with an annual gross of over $100 million (benefiting the local economy), it stands as the biggest tourist draw in the U.K.

Fringe Festivals have since sprung up in dozens of cities across the world. The Hollywood edition is an annual, open-access, community-derived event celebrating freedom of expression and collaboration in the performing arts community. Participation is completely open and uncensored, underlining the festival's mission to be a platform for artists without the barrier of a curative body. 

It's also completely non-profit. The festival gives 100% of box office revenue back to participating artists and venues – over 1.8 million dollars since the inaugural festival in 2010.

This year's festival, like those before, features an enormous slate of productions. We've singled out a selection of specifically LGBTQ-themed plays here – but a complete list of shows, along with schedule and ticket information, is available at the Fringe website. 
"Lady Parts" (by Maria Wilson and Bethany Vee): An exploration of two women's journeys from childhood to a non-conforming adulthood as slightly awkward, mostly outrageous "ladies."  Covering everything from sexuality to religion, it addresses the expectations today's society imposes on women about what they should be.
"The Book That I'm Going to Write, by Judy Garland" (by Jason Powell): A solo performance featuring Powell as Judy Garland.  Tasked with dictating her memoirs alone to a tape recorder, the legend's life story quickly gives way to the searing inner-rage and personal revenge fantasies of a woman left broken by decades of abuse in Hollywood.
"Blind Spots" (by Colette Freedman):  Politics become personal when the homophobic, reactionary president of a small New England college tries to quiet her sister's poison pen by blackmailing her, leading to a showdown in which dark family secrets are exposed.
"The Importance of Being Oscar" (by Brandie June):  An ensemble piece that follows Oscar Wilde at the end of his life. Released from prison, he discusses love, loss, morality and lack thereof. Laced with Wilde's own words, it's a whimsical and heartbreaking tribute to the gay literary icon.
"Amanda the Barbarian" (by Scott Langer): A love-letter to theater, following Amanda – a superstar in her own head – who hijacks a play-within-the-play and pushes her director and co-stars (one of whom is also her girlfriend) to the end of their ropes.
"Bloodbound" (by Michael Kearns): Reviewed by the Blade in its somewhat rough premiere production, this promising play from one of LA theater's legendary voices is likely to get more polished treatment this time around.  A fictionalized memoir of secrets and shame between two brothers, it's a transformation of the forbidden into something beautiful.
"Converted" (by William Tolan Lawrence): A one-act comedy in which Matt and Zeke get caught having sex at a gay conversion therapy camp in southern Ohio.  As punishment for their sins, Brother Mike and Sister Constance devise a plot to cure them of their illness – and exorcise a few homosexual demons along the way.
"F#@k I Love U: Alive!" (by Lucky Mor): An inclusive cast tells stories delving into race, gender, sexuality, abuse and acceptance.  No issue is unexplored in this dramedy having audiences laughing and crying using controversial issues of our current times.
"Just One Moment" (by David Evan Stolworthy): A dark ensemble comedy set at the Afterlife Assistance Center, where those who have not yet been processed take the calls from both the living and the departed while awaiting their own results.  Anna, a recent accidental arrival, and Ryan, an abused teen hellbent on reincarnation, find forgiveness and compassion in the unlikeliest of places when everything they once believed in turns out to be not what they expected.
"Crunch" (by Katie Eiler):  Three best friends from high school, run aground on lousy jobs and instability in their early twenties, try to keep their adolescent love for each other alive while caring for a fourth friend who has become a powerful, ravenous, cave-dwelling entity. Even worse, the neighborhood gay bar is a total ghost town and the Target is closed.
"A Life Behind Bars" (by Dan Ruth): A solo performance of dark comic monologues, interwoven with characters encountered while working and drinking in the bars and dives of pre-gentrified NYC.  A hilarious and seedy tour-de-force roller coaster ride of after-hour whiskey shots, horror films and rock & roll.
"Lorelei: I'm Coming Out!" (by Cooper Reynolds): This raunchy "one queen musical" tells the story of Lorelei's ascent from humble origins to the heights of drag mediocrity, all set to a toe-tapping original score! Grab yourself a drink and buckle up for an outrageous and intimate performance like no other.
"My Life in 3 Easy Payments" (by Dale Guy Madison): A one-man show, based on the author's memoir. An award-winning educator, LGBTQ activist, playwright, author, filmmaker, performance artist, doll collector,and former QVC host, he begs the questions: What are the real costs of fame?  Being the skilled salesman that he is, Madison peddles his message to the audience like a sweet deal of the day with three easy payments.
"Baby Boy" (by Adrian Eli): Another solo performance, this one following Adrian, the youngest of five in an old school Texican family, as he goes from childhood to a stunted adulthood hiding his true identity – before finally being dragged out of the closet (kicking and screaming) at 30.
R.K. Russell's life, sport & bisexual awakening 
This Black queer former NFL player says he's fighting "for us all to be seen, whether it be in the pages or on the screen"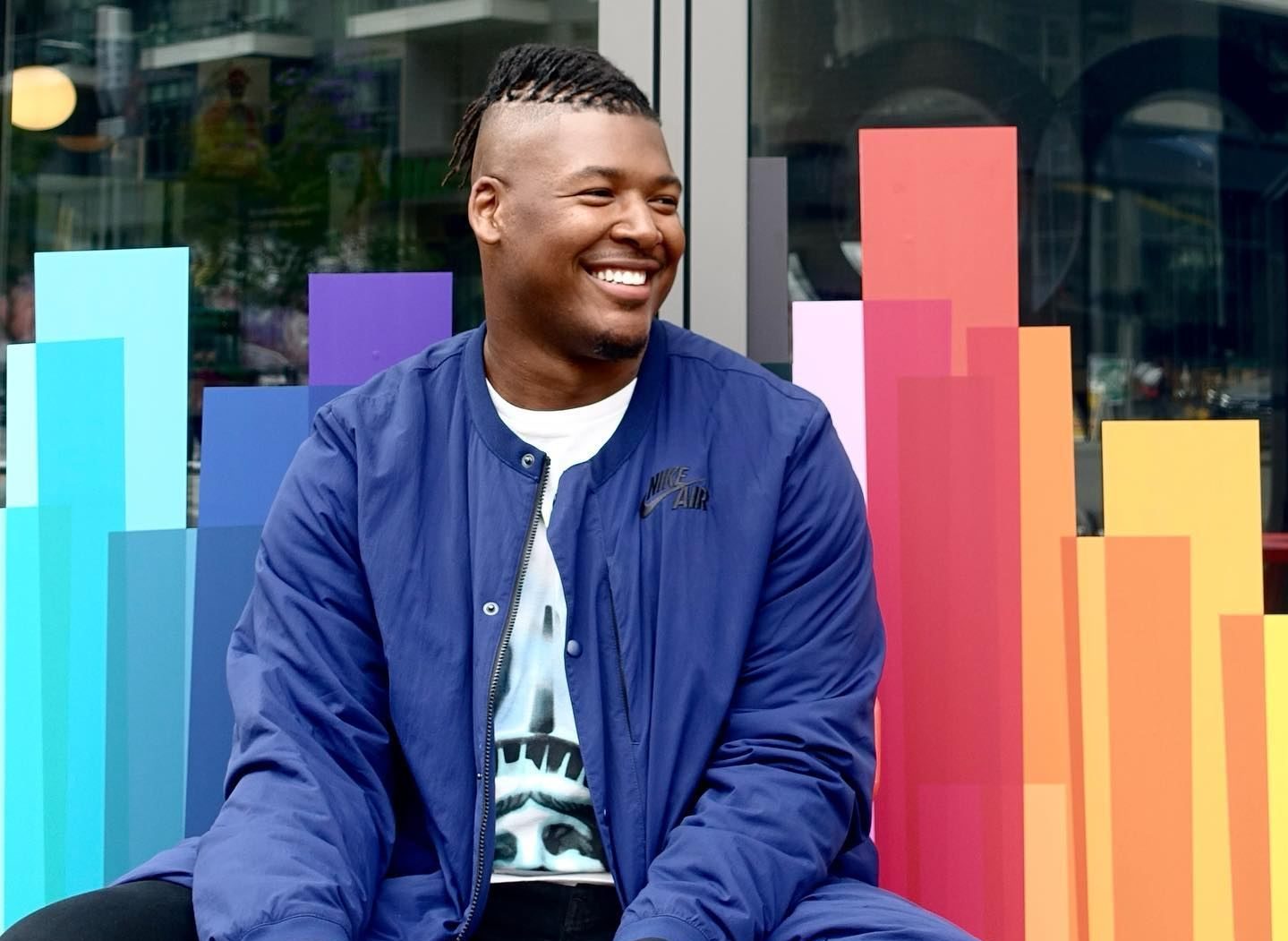 WEST HARTFORD, Conn. – He's tackled opponents on the gridiron, paved a path for out LGBTQ+ athletes and shared his unique voice in words and prose. Now R.K. Russell is celebrating the release of his long-awaited memoir, The Yards Between Us, as well as a Hollywood deal to bring his story to television viewers. 
It's something Russell told the Los Angeles Blade he never dreamed would be possible, even as a child.
"Grown me could barely imagine the book, let alone, little me," Russell said. "It is something I have not seen before, and something that doesn't really exist. Something that is so shocking even to me, this being my life. I think the reason that I continue to take these opportunities that come to use my platform and my voice and my talents, my gift, to not just tell these stories, but to hopefully champion other people in their story. To just fight for us all to be seen, whether it be in the pages or on the screen, everywhere people exist. We exist."
As the Blade reported in August 2019, Russell came out as bisexual in a feature for ESPN. The NFL defensive end was drafted by the Dallas Cowboys in 2015 and played a few seasons for the Tampa Bay Buccaneers and Buffalo Bills. After coming out as a free agent, Russell wasn't able to fulfill one of his dreams — to play professional football as an out and proud bisexual man. But at that time, he said all he was focused on was living his truth.
"It was a powerful time in my life," Russell told the Blade. "It was the first time I really felt that I was taking all this control and I wasn't just at the mercy of the NFL or waiting for that phone call, or at the mercy of friends, family, lovers. It was my decision and my moment and my truth. And I got to express it in a form that felt very genuine to me."
The Buffalo native called the experience "freeing."
"I didn't think I'd realize how much I had been proverbially holding my breath until that moment. And then it just felt like such an exhale. It's such a freeing thing, and the weight of the burden of that secret, of that shroud, or that shame," he said. "I just realized how heavy what I had been carrying for so long. So, definitely a powerful and freeing moment."
Having already told part of his story to ESPN, The New York Times and other news outlets over the years, there was a reason Russell felt it was important to write the rest of his story.
"That was just a very specific part of my life, and it showed me that maybe by sharing my whole story, my life and my journey and my truth and other parts could be just as impactful, if not more impactful," he said. As he set out to write the memoir, he said he first experienced imposter syndrome, until he came to a realization.
"The point that got me through was, 'What would little R.K. read that would have helped him? What was a book that didn't exist when he was young, and that he could have picked up and seen himself, or that people like him can pick up and see themselves? Or even people unlike him, to get a human connection to someone that does not look like them or doesn't play sports?' So, I think the huge, final push was, 'What would I have liked to have read as a child?' And hopefully that will help other people."
The Yards Between Us traces not only Russell's football career and his love for the game, for both men and for women, but also what it was like for him to keep his bisexuality secret and the tension between his private and public lives. As his weighs upon him, he's dealt a devastating loss, an event that leads to an all-enveloping darkness, until finally he recognizes, it's time to make a change.
Since coming out, he's found love with his boyfriend, Corey, grown closer to his mother and this September he'll mark four years sober.
Russell's memoir has won him accolades from LGBTQ+ readers, but not just them.
"I've also gotten a lot of support from people who aren't LGBTQ+ who see the value in the story, but also see the value in the intersections of it all. Because I don't just talk about being a bisexual, I talk about being a Black man. I talk about being a football player, defining masculinity and redefining masculinity. There's a lot of intersections that my story crosses. And I think for people to see all of these layers also coexisting in one person, that's important to see the bridges between these communities that at times can be put against each other, or it can be divided, to see them all exist within one person."
While all that sounds very serious, Sony Pictures Television sees comedy gold in exploring Russell's intersectionality of sports, race, sexuality and masculinity. His memoir is being adapted into a half-hour comedy series, as Deadline reported. Russell is co-writing and executive producing a half hour comedy series with Saeed Crumpler of "Flatbush Misdemeanors," alongside Gabrielle Union, who is a producer in her own right as well as wife to Dwyane Wade and stepmother to their 15-year-old trans daughter, Zaya Wade. As the Blade reported last month, the Wades left Florida because of its anti-trans policies and laws.
"She's fantastic. Amazing," said Russell. "If anyone wants to know what allyship looks like, Gabrielle Union and Dwyane Wade and their whole family, they're so amazing. "
Union, he said, recognizes the importance of representation. "It's important to have genuine representation, whether it be during Pride Month with companies and campaigns or in shows and books that our stories are coming from, that there are Black queer writers writing Black queer stories hopefully also in part started or acted by Black queer artists."
Long before he wrote a word of his memoir, Russell has been publishing his own poems, which he told the Blade was his "way to express life with words." He said he started writing poetry following the death of his stepfather.
"It was a way for me to kind of name grief, without naming it. I didn't have that vocabulary, that word at that time, but I was feeling it so intensely," he said.
One of Russell's poems, Tributes, was an effort at explaining bisexuality and his experiences. "'Bisexuality,' the word, means something slightly different to you, to me, or to someone else. I can talk about the experience in a way that is so varied and so broad and to me, so true and genuine." Below, an excerpt from that poem:
Love is freedom
and the freedom to love is a birthright,
or at least it should be.
These years fill my canvas
and I know too much of life to expect
only one color to leave its strokes across my heart.
Paint is intended to mix no matter the artist. —Tributes, by R.K. Russell