Could Democrats screw up the primaries?
Welcome to the jungle, the new electoral Wild West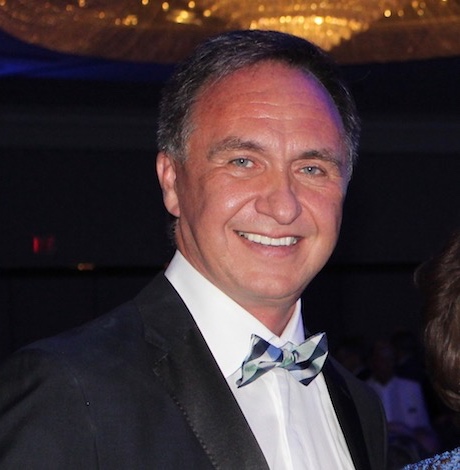 The California Democratic Party convention logo was clever—a brightly lit lighthouse about to be hit by a big wave in the darkest of night. "California: The Big Blue Beacon of Hope," the banner said, a sentiment anticipating the predicted giant blue Democratic wave curling up in the distance, about to hit the country in a midterm electoral response to Donald Trump's 2016 election and the chaos that has since ensued. 
The prediction has merit. Democrats have been winning special elections and two unabashed progressives won primaries in the South on May 22. Out lesbian former Sheriff Lupe Valdez made history winning the Democratic nomination for Texas governor and the opportunity to go up against anti-LGBT Republican Gov. Greg Abbott in November.
And history was also made in Georgia where Stacey Abrams became the first woman to win the Democratic nomination and could become America's first black female governor, if she defeats whichever white candidate the Republicans choose in a July 24 runoff.
"We are writing the next chapter of Georgia's future, where no one is unseen, no one is unheard and no one is uninspired," LGBT ally Abrams said on election night.
But while politicos are excited about the prospect of the midterms becoming another "Year of the Woman," there's a hitch in the California Dream in which Democrats flip seven of the 23 GOP seats needed to retake the House. The state's non-partisan June 5 primary—with the top two winners facing off in November—too many viable enthusiastic Democratic candidates are vying to catch the wave as Republicans strategize ways into the top two slots.
"It's the Wild West at its best with the jungle primary," Republican Bob Huff, one of 17 candidates hoping to replace retiring Rep. Ed Royce, told CalMatters. It "gives political operatives with money an opportunity to choose who they want to run against."

In fact, in some races, California Democratic Party-endorsed candidates are competing with different candidates endorsed by the Democratic Congressional Campaign Committee while SuperPACs posit GOP candidates as liberal Democrats to Trump voters to scuttle their campaigns.

In Orange County, for instance, rock red Republican Rep. Dana Rohrabacher's seat is a toss-up—in which the Democratic Party has endorsed stem cell researcher Hans Keirstead and the DCCC is backing Keirstead's rival, Harley Rouda, an Orange County real estate investor.

In the race for retiring Ed Royce's congressional seat, out California Democratic Party Chair Eric Bauman had to intervene in the public contretemps between Democrats Gil Cisneros and Andy Thorburn."The opportunity to win this seat is too important for the two leading Democrats to squander it by focusing our fire on each other," the two candidates finally said in a joint statement declaring a truce. "In order to flip the 39th District, it is essential that at least one of us make it through the June primary."

Equality California executive director Rick Zbur tells the Los Angeles Blade, "our goal really has been to replace all the sitting [anti-LGBT] incumbents." But it's not a breeze. Trump colluder Devin Nunes in Congressional District 22 or Rep. Duncan Hunter in CD 50, who is under federal investigation, remain popular in their districts.

Zbur says progressive groups having been trying to dislodge some of the weaker Democrats to avoid the risk of two Republicans getting in the run off. "Most of us ended up going our ways and just picking our best candidate," he says, "narrowing it down to one or two candidates that we thought were the strongest." For instance, Equality California picked Harley Rouda in the Rohrabacher race.

In the contest to fill retiring anti-LGBT Rep. Darrell Issa's seat, Equality California believes Sara Jacobs is the strongest of the four good Democratic candidates running. Jacobs, who formerly worked for Hillary Clinton, "has both a transgender brother and a gender non- conforming sibling and so her understanding of the LGBTQ social justice and civil rights issues is unique, really stronger than what we've seen from any ally candidates," Zbur says. "So this is a pretty important race for us," adding "this is one of the races where we're worried that two Republicans could get in."

Another race that has been generating angst among progressives is between Dave Min and Katie Porter hoping to boot Republican Rep. Mimi Walters. Porter has TV ads featuring endorsements from progressive Sens. Kamala Harris and Elizabeth Warren. But Min has the endorsements of the CDP, Equality California and a number of progressive groups.

"We think he is going to be the stronger general election candidate," says Zbur. "Katie Porter is great. Obviously, a strong progressive. They both were amazingly strong on LGBTQ issues—but ultimately we went with Min," who has outraised Porter in money. Zbur notes that polling in the largely Asian Pacific Islander district indicates he performs well with Democrats, "but is also stronger in the Decline to State, which you need to pick up that seat."

One seat that Equality California really wants to win is the CD 25 seat held by Steve Knight, son of anti-LGBT hater Pete Knight of Prop 22 "Knight Initiative" infamy. "We've got three candidates in that primary, two of which are LGBTQ candidates. We have endorsed Katie Hill, who is bisexual. She's the top fundraiser in the district," Zbur says. "Her closest competitor is the nominee from last year, Bryan Caforio, who is also very good on our issues but an ally." The third candidate is self-described "grassroots scientist" Jess Phoenix, who's in third place.

If Hill wins the primary, Zbur says, "that's going to set up an interesting dynamic where we've got an LGBTQ candidate running against someone from the Knight family with that whole anti-LGBTQ history."

Will the June 5 jungle primary generate enough Democratic voter enthusiasm to win back the House or will Republicans win their Trumpian crapshoot?
Newsom highlights $15 billion to tackle wildfire & drought challenges
"California is doubling down on our nation-leading policies to confront the climate crisis while protecting the hardest-hit communities"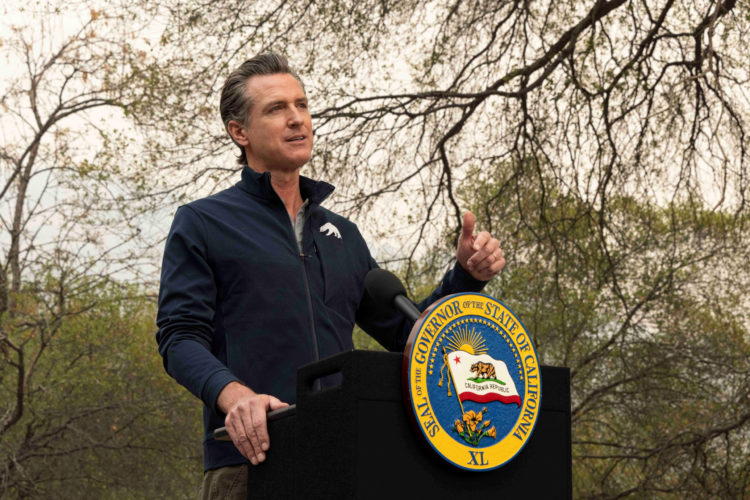 THREE RIVERS, Ca. – At the site of the KNP Complex in Sequoia National Park, Governor Gavin Newsom today highlighted the California Comeback Plan's over $15 billion climate package – the largest such investment in state history – tackling a wide array of climate impacts facing the state.
The Governor today signed legislation outlining investments in the package to build wildfire and forest resilience, support immediate drought response and long-term water resilience and directly protect communities across the state from multi-faceted climate risks, including extreme heat and sea level rise.
"California is doubling down on our nation-leading policies to confront the climate crisis head-on while protecting the hardest-hit communities," said Newsom. "We're deploying a comprehensive approach to meet the sobering challenges of the extreme weather patterns that imperil our way of life and the Golden State as we know it, including the largest investment in state history to bolster wildfire resilience, funding to tackle the drought emergency while building long-term water resilience, and strategic investments across the spectrum to protect communities from extreme heat, sea level rise and other climate risks that endanger the most vulnerable among us."
When the Governor signed the state budget and related legislation in July, he and legislative leaders agreed to additional discussions during the summer to further refine steps to advance their shared and funded priorities, including natural resources investments. The legislation signed today details some of the most important investments funded in the over $15 billion climate package, which includes:
$1.5 Billion Wildfire and Forest Resilience Package
The $1.5 billion package supporting a comprehensive forest and wildfire resilience strategy statewide is the largest such investment in California history. Building on a $536 million early action package in April ahead of peak fire season, an additional $988 million in 2021-22 will fund projects to reduce wildfire risk and improve the health of forests and wildlands. This includes investments for community hardening in fire-vulnerable areas, strategic fuel breaks and fuel reduction projects, approaches to restore landscapes and create resilient wildlands and a framework to expand the wood products market, supporting sustainable local economies.
This investment helps implement the Governor's Wildfire and Forest Resilience Action Plan published in January, and builds on previous budget investments for emergency management, including funding for additional fire crews and equipment, and executive actions to help combat catastrophic wildfires. Governor Newsom bolstered CAL FIRE's firefighting ranks in March by authorizing the early hire of 1,399 additional firefighters and in July supplemented the department's capacities with 12 additional aircraft. The Governor earlier this year launched an expanded and refocused Wildfire and Forest Resilience Task Force to deliver on key commitments in his Wildfire and Forest Resilience Action Plan. Last year, the Newsom Administration and the U.S. Forest Service announced a shared stewardship agreement under which they are working to treat one million acres of forest and wildland annually to reduce the risk of catastrophic wildfire.
$5.2 Billion Water and Drought Resilience Package
Climate change is making droughts more common and more severe. The California Comeback Plan invests $5.2 billion over three years to support immediate drought response and long-term water resilience, including funding for emergency drought relief projects to secure and expand water supplies; support for drinking water and wastewater infrastructure, with a focus on small and disadvantaged communities; Sustainable Groundwater Management Act implementation to improve water supply security and quality; and projects to support wildlife and habitat restoration efforts, among other nature-based solutions.
$3.7 Billion Climate Resilience Package
Focusing on vulnerable front-line communities, the package includes $3.7 billion over three years to build resilience against the state's multi-faceted climate risks, including extreme heat and sea level rise. Investments to address the impacts of extreme heat include urban greening projects, grants to support community resilience centers and projects that reduce the urban heat island effect, and funding to advance the Extreme Heat Framework as part of the state's Climate Adaptation Strategy. The package also supports coastal protection and adaptation measures, efforts to protect and conserve California's diverse ecosystems, and community-based investments to build resilience, such as grants to support environmental justice-focused initiatives and funding for the California Climate Action Corps, which supports local climate action projects in disadvantaged communities.
$1.1 Billion to Support Climate Smart Agriculture
Amid climate-driven drought and extreme heat challenges, California is committing $1.1 billion over two years to support sustainable agriculture practices and create a resilient and equitable food system. These efforts include investments to promote healthy soil management, support for livestock methane reduction efforts, funding for the replacement of agricultural equipment to reduce emissions and technical assistance and incentives for the development of farm conservation management plans. The package also supports programs to expand healthy food access for seniors and in schools, other public institutions and non-profit organizations.
$3.9 Billion Zero-Emission Vehicle Package
The California Comeback Plan supports California's nation-leading climate agenda with a $3.9 billion investment to hit fast forward on the state's Zero-Emission Vehicle goals and lead the transition to ZEVs on a global scale. The package includes funding to put 1,000 zero-emission drayage trucks, 1,000 zero-emission school buses and 1,000 transit buses, and the necessary infrastructure, on California roads – prioritizing projects that benefit disadvantaged communities. Helping drive consumer adoption, the package funds consumer rebates for new ZEV purchases and incentives for low-income Californians to replace their old car with a new or used advanced technology car.
Additional Investments
The package also includes $270 million to support a circular economy that advances sustainability and helps reduce short-lived climate pollutants from the waste sector, and $150 million that will support urban waterfront parks, with a focus on underserved communities.
More information on the over $15 billion climate package can be found in the Department of Finance's addendum to its enacted budget summary. Click here for the budget addendum.
Newsom today also signed a raft of new climate measures to protect communities and advance the state's climate and clean energy efforts.
Legislation to boost drought and wildfire resilience includes SB 552 by Senator Robert Hertzberg (D-Van Nuys) to ensure small and rural water suppliers develop drought and water shortage contingency plans and implement drought resiliency measures to prevent and prepare for future water shortages; SB 403 by Senator Lena Gonzalez (D-Long Beach) to allow the State Water Resources Control Board to order consolidation of an at-risk water system or domestic well in a disadvantaged community; SB 109 by Senator Bill Dodd (D-Napa) to create the Office of Wildfire Technology Research and Development at CAL FIRE to evaluate emerging firefighting technology; and AB 697 by Assemblymember Ed Chau (D-Arcadia), which enables the state to plan, manage and implement forest restoration projects on national forest lands through an expanded Good Neighbor Authority Program.
The legislation signed today also includes SB 1 by Senate President pro Tempore Toni G. Atkins (D-San Diego), which establishes the California Sea Level Rise Mitigation and Adaptation Act to help coordinate and fund state efforts to prepare for sea level rise; AB 525 by Assemblymember David Chiu (D-San Francisco), which directs state agencies to develop a strategic plan for offshore wind resources in California following the state's historic agreement earlier this year with federal partners; SB 47 by Senator Monique Limόn (D-Santa Barbara), which increases the amount of money the state can collect annually to plug abandoned wells, utilizing funds from fees on the oil and gas industry; and AB 39 by Assemblymember Ed Chau (D-Arcadia), which enables the University of California to establish the California-China Climate Institute to advance joint policy research and foster high-level dialogue in order to accelerate climate action.
West Hollywood's new mayor & mayor pro tempore take office
In their speeches after they took their oaths, both women laid out their visions looking towards the future of the City

WEST HOLLYWOOD – In a ceremony conducted virtually due to the ongoing coronavirus pandemic in the greater Southland, just prior to the nitty gritty of the city's business being conducted, the city council installed its new mayor and mayor pro tempore this past Monday.
Swearing in WeHo's new Mayor Lauren Meister, was former West Hollywood City Councilmember John Heilman, and administering the oath of office to newly designated Mayor pro tempore Sepi Shyne, was Melahat Rafiei the principal and founder of Progressive Solutions Consulting, a premier political consulting and fundraising firm based in Long Beach, California and also the Secretary of the California Democratic Party.
Meister, was first elected to the City Council on March 3, 2015 and re-elected for her second term on March 5, 2019.
Shyne, elected to her first term on the City Council November 2020, also managed to set a mark in history as the first openly lesbian Iranian woman to serve and with her election giving the city Council a female-led majority.
In their speeches after they took their oaths, both women laid out their visions looking towards the future of the City.
Mayor Meister in her remarks noted;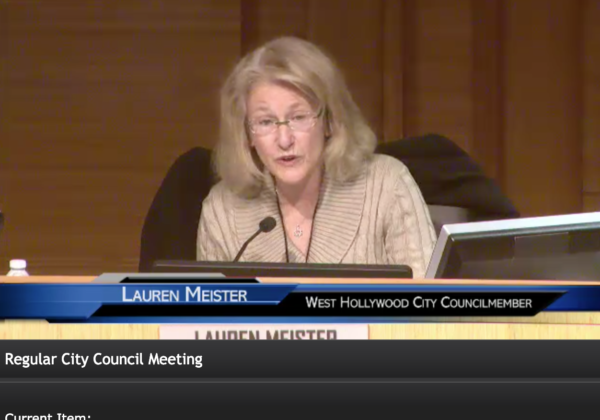 Today is kind of bittersweet. It is the second anniversary of Spike's passing but it is also the beginning of the Jewish holiday, Sukkot, the season of rejoicing. According to Chabad, "it's a festival — laden with unique mitzvahs, quality time with our community and family, all with an extra-large serving of joy." I'm hopeful that my swearing in on this festive day is a good omen!
I want to thank everyone for their well wishes and support. I want to thank my family for their love, encouragement, and unlimited patience. Thank you to my colleagues for your vote of confidence as I take on the role of Mayor for the second time.
I also want to thank my former Council colleague, John Heilman, for swearing me in as your mayor tonight. It means a lot to me.
When I was installed as Mayor back in April 2016, I spoke about renewing the community spirit that helped form this great city nearly 37 years ago, which John and others were a big part of.
As a community, we gathered as one after 9/11, we mourned the tragedy of the Pulse Nightclub mass murder, we celebrated marriage equality, and we marched, stood up to, and survived a challenging national political climate.
I have lived in this city over 30 years, and over the years, I have witnessed many stages in our city's maturity – I have seen issues divide our city. I have seen the east side pitted against the west side, businesses pitted against residents, tenants pitted against landlords.
But I have to say, that after being elected to Council, the drama that seemed to plague every Council meeting with a controversial topic… the theatre – and a lot of it was theatre – seemed to dissipate.
Now, however, we're seeing a divisiveness that I haven't seen in a while, and it's disturbing. It's disturbing because we are still one small city and one community – a community comprised of people from all walks of life, a community with young people and older people; a community with businesses and workers. All must be valued; none should be discounted. A rainbow flag is not just six colors or 10 colors – if it truly represents our community, then it is an infinite number of colors. Putting people into categories, labeling them, disparaging them, does not serve this community.
I'd like to say, today, that my goal as Mayor is to solve our three biggest issues: homelessness, housing affordability, and making our city safer.
As Mayor, I'd like to strengthen our neighborhoods, encourage economic diversity, and further initiatives to protect our renters and our small businesses. I'd like to make West Hollywood a premier green city by increasing our urban forest and embracing biodiversity. I'd like to find a companion care center close to home for our lost, found, and abandoned animals.
And, importantly, I'd like for West Hollywood to be the most prepared and resilient city in the country – for whatever emergency or disaster strikes – whether it be earthquake, drought, pandemic, or recession.
But none of this can happen if we don't work together and focus on the city's recovery from this pandemic. None of this can happen, if we don't focus on keeping people healthy and getting people vaccinated. And none of this can happen if we, as a council, don't make recovery our number one priority.
So, in the coming weeks, I will be bringing forward a proposal requesting that the city manager arrange several team-building workshops for council, designed to help foster communications among council members, to clarify council's role, and to identify priorities and common goals. The objective of the workshops will be to transform our new council and our new city manager into an effective, problem-solving team.
Now, I come full circle to why I asked my former colleague, John Heilman, to swear me in today as Mayor. As many of you know, John and I did not agree on every issue, and in fact, before I was on Council, I was probably one of Council's most vocal critics. But, once we were colleagues, we learned to work together, respect each other, and most importantly, acknowledge that we both cared about the best interests of the city, even when we didn't agree.
So, I appreciate that John was a part of my swearing in today because, to me, it symbolizes hope… that there's hope that people with different perspectives can work together effectively for the city they love. And, as your mayor, I'm confident this is something that we – Council, residents, businesses, and other community members – can achieve in the months to come
Then mayor pro tempore Shyne spoke;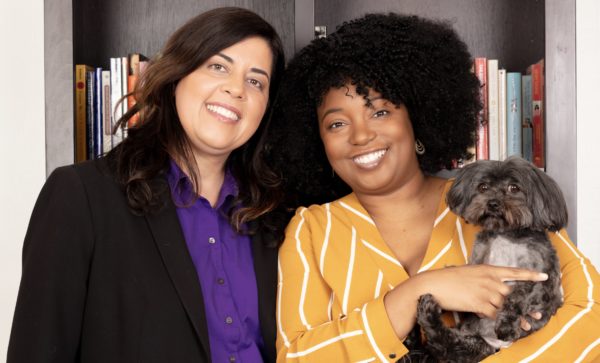 Thank you to my colleagues for electing me to serve as Mayor Pro Tem. Thank you to all of our residents, community members, colleagues and staff and my wife, family and friends who have been so supportive over the past 9 months that I have served in office. Thank you to my dear friend Melahat Rafiei for swearing me in and for your support. Thank you to outgoing Mayor Horvath for your leadership and taking up the reigns when we asked you to serve a much longer term during the pandemic as Mayor and thank you to our new Mayor Meister for your leadership. I am honored to serve in this new leadership position with you.
Serving on this Council these past 9 months has been the honor of my life and serving as your Mayor Pro Tem is a responsibility I take very seriously. West Hollywood has always been on the forefront of making history and we did it once again this evening.
When my parents and I fled Iran when I was 5 to escape the oppressive Islamic regime and the war between Iran and Iraq, I never imagined that one day I would be sworn in as the first Iranian, first woman of color and first Lesbian to serve as Mayor Pro Tem of West Hollywood.
When kids in kindergarten bullied me throwing things and using anti-middle eastern slurs, I never ever imagined that one day, I would be sworn in as Mayor Pro tem of West Hollywood.
When fellow high school students verbally gay bashed and stalked me for being a lesbian, I never imagined that one day, I would be sworn in as Mayor Pro Tem of West Hollywood.
In college, when my girlfriend and I were thrown out of a coffee shop by a police officer and the coffee shop manager for holding hands, I made up my mind to go to law school, learn the law and stop that from ever happening to others and that is what I did. But, even then, I never imagined that one day, I would be sworn in as Mayor Pro Tem of West Hollywood.
The reason I never imagined serving in elected office is because growing up, I truly did not see anyone that looked like me, grew up like me and loved like me in elected office. But since November 2020 and especially now, I know that another little Middle Eastern, Brown, immigrant girl who may be queer can now imagine herself in elected office because now she does see herself. And that is one of the most powerful reasons why representation truly matters.
I wanted to serve on the City Council to represent the people of our amazing city and to bring your voices and more equity to City Hall. The people wanted progressive change.
In the past 9 months, I have delivered on that mandate. I have had countless conversations and virtual and in person meetings with residents, workers and stakeholders to discuss how we can make West Hollywood better. I have had the honor to serve on our Laurel House, Homelessness, Event and Pride Subcommittees with my colleagues as well as now representing West Hollywood as the Chair on the Westside Cities Council of Governments.
I have initiated, co-sponsored and passed 34 council items which I am so proud to say have nearly all had unanimous council support. Some of the ones I want to highlight tonight are:
The creation of the Social Justice Task Force that is now successfully appointed and working on policy recommendation for us to help address systemic racism;
The creation of business roundtables, grants for the most vulnerable small businesses, and the creation of the Business Recovery Task Force;
Incentives for LGBTQ people, BIPOC, women and local residents to start small businesses in our city;
An ordinance strengthening our Tenant Harassment Ordinance and providing further protections for our renters;
The Multi Stall Gender Neutral Bathroom Ordinance which will ensure our Transgender and Non-Binary family, same sex parents of opposite sex children and people with disabilities that have an opposite sex caretaker have equal and safe access to bathrooms;
The development of a Citywide Behavioral Health Crisis Response Unit that will reduce law enforcement response to homelessness and in other areas the unit serves in order to provide solutions from experts that work;
Several items that direct staff to study or update our zoning code related to affordable housing and capacity, bring our codes up to date with newer type housing developments being proposed so there are standards in place rather than loopholes;
An Initiative to highlight Pet-Friendly businesses and develop "Pet Week" in West Hollywood, which includes a special day dedicated to our beloved Felines; and
Making sure that Recovery includes Everyone by expanding Protections and Wage Equity for Hotel Workers, including panic buttons, the Right of Recall and Retention, overtime consent, Public Housekeeping training and excessive workload compensation.
For the next year and four months, I look forward to working with Mayor Meister to ensure efficiency and continued good leadership. I look forward to continue being accessible to constituents. I am excited about the Business Recovery Task Force, which will soon be formed to ensure we have a 5 year blueprint for business success, recovery and diversification. I look forward to continuing to pass items that help our residents, small businesses and workers. Items that create more affordable housing, bring more equity to all, bring more transparency and ethics to our government, create a more healthy environment to combat our climate crisis, have more community-based solutions to strengthen our community safety, help get our unhoused neighbors the housing and services they need as well as focusing on our City's recovery.
West Hollywood is truly one of the best cities to live, work and play in and I am so grateful to be your new Mayor Pro Tem.
LGBTQ+ ally City Councilman Kevin de León announces run for mayor
De León currently represents Council District 14 that takes in the predominantly Latino neighborhoods of Boyle Heights and El Sereno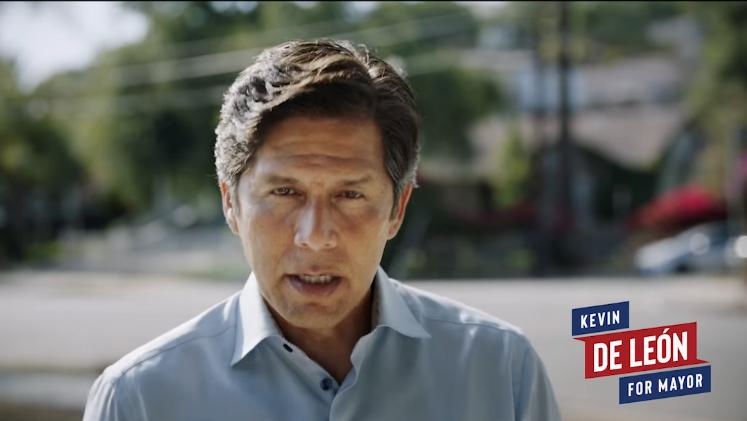 LOS ANGELES – Standing in front of a group of enthusiastic supporters Tuesday at the El Pueblo de Los Angeles Historical Monument, Los Angeles City Councilman Kevin de León announced that he was joining the mayor's race for next year's city elections.
Councilman de León, a Democrat, is the third city elected official to announce his intention to seek the mayor's chair after current Mayor Eric Garcetti, who was elected for a four-year term in 2013 and again in 2017- who's limited to serving no more than two terms, was picked by President Joe Biden to serve as the U.S. ambassador to India on July 9, 2021.
Born in Los Angeles of Guatemalan and Mexican descent, raised by a loving, hard-working single mother, de León, 51, got an education and spent 12 years in Sacramento, rising to become the President Pro Tem of the California Senate, authoring and passing legislation and making history. It was his bill that then Governor jerry Brown signed into law making California a "sanctuary state"—a law that was upheld by a federal appeals court.
In an August 2018 interview with former Los Angeles Blade Editor Karen Ocamb, he reflected on his relationship with the LGBTQ+ community.
"I've always been very close to the LGBTQIA (lesbian, gay, bisexual, transgender, queer, intersex, asexual) community even before I even knew all the initials that keep growing," de León says with a laugh during an extensive phone interview with the Los Angeles Blade. "It's always been my core set of values that every human being deserves a real opportunity to succeed, regardless of who they love and regardless of the hue of their skin and regardless of their legal status. That is embedded in my DNA."
De León learned to care about LGBT people as a child from his mother and aunt around the kitchen table.
"My mother got a third grade education and my aunt even less," he says. "I was very young and they were talking about a gay friend, a colleague of theirs. I didn't understand. Obviously, they didn't understand themselves. But they spoke with such affection, such tenderness. And here were two immigrant women with limited formal education and the way they spoke so lovingly, tenderly, beautifully about their gay friend. I could deduce the person they were talking about was gay—they kind of spoke in code around me when I was just sitting there listening to them at the kitchen table. And it transcended ethnicity and legal status and poverty—that we're all human beings and we deserve dignity and respect. That had an 'Ah Ha' impact."
De León's LGBT education continued as he picked his mother up from her work as a housekeeper at convalescent homes. "She had quite a few gay colleagues with her and I just remember they were just so beautifully nice with my mother and my mother with them and that had a huge impression on me of the universal values of treating everybody with dignity and with respect. So when there is a discriminatory blow against anyone in the LGBTQIA community, I feel that blow equally."
De León, 54, is by far the most prominent Latino running. Fluent in Spanish, he represents a district that takes in the predominantly Latino neighborhoods of Boyle Heights and El Sereno, as well as much of downtown, where a development boom has fueled huge growth over the past decade, KTLA reported.
Two other candidates — Councilman Joe Buscaino and City Atty. Mike Feuer — have been campaigning for several months. The race also features two business leaders: Jessica Lall, who heads the downtown-based Central City Assn., and real estate broker Mel Wilson, who has been involved with several San Fernando Valley business groups.