Rep. Rohrabacher to realtors: It's OK to say 'No' to gays
Primary opponent Harley Rouda says 'discrimination is discrimination'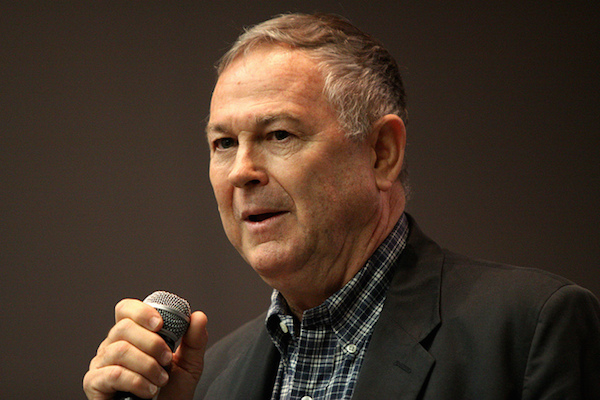 There's a very good reason LGBT people in California can't wait for the backward thinking Orange County Republican Rep. Dana Rohrabacher to be defeated—he's stuck in an era where the right to discriminate was blithe assumption.
"We've drawn a line on racism, but I don't think we should extend that line," Rohrabacher told the Orange County Register on Thursday.  "A homeowner should not be required to be in business with someone they think is doing something that is immoral."
The comment came after the Register asked for confirmation of a report that on May 16 the OC Republican told a delegation of Orange County Association of Realtors at a meeting in Washington, D.C. that homeowners should have the right to refuse to sell their property to LGBT individuals.
"Every homeowner should be able to make a decision not to sell their home to someone (if) they don't agree with their lifestyle," said Rohrabacher, according to former Orange County Realtor president Wayne Woodyard.
Rohrabacher later added to the Register that homeowners should have the right to "choose who they do business with."
After a Realtor gay-rights group protested, the National Association of Realtors (NAR) withdrew its recommendation that members financially support Rohrabacher's re-election campaign.
"It was determined that Rep. Rohrabacher will no longer receive support from NAR's President's Circle," an association statement said, referring to its list of endorsed candidates. The 1.3-million-member trade group said Rohrabacher's position violates NAR's code of ethics, which bans discrimination on the basis of "sexual orientation or gender identity."
"We certainly hope that Congress will … support the elimination of housing discrimination based on sexual orientation or gender identity," the statement said.
"It certainly can't do me any good to have people take me off their endorsement list," said Rohrabacher of California's 48th District. "It's sad to see (the association's) priority is standing in solidarity with making sure a stamp of approval is put on somebody's private lifestyle."
Democrat Harley Rouda, a strong primary challenger to the vulnerable OC Republican, called Rohrabacher's comments "outlandish and unacceptable," reiterating the right of every person to buy and sell a home.
"What Dana Rohrabacher fails to understand is discrimination is discrimination," Rouda said. "It shows how backward his thinking is."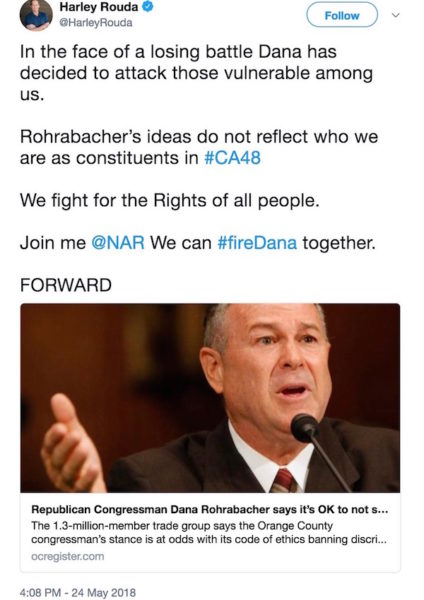 Rohrabacher said his stance would likely "alienate a certain number of gays who think I'm anti-gay, which isn't the case." But, he added, he vehemently opposes housing discrimination based on race, religion or a person's sex.
The protest erupted after Rohrabacher met with Orange County Realtors who asked him to support H.R. 1447, a bill that expands the 1968 Fair Housing Act to add anti-discrimination protections based on a person's sexual orientation and gender identity to an existing law prohibiting home sellers, landlords and lenders from discrimination based on a person's race, color, religion, sex or national origin.
"When a supposed champion of the Realtor Party outright states that housing discrimination should be lawful, I hope you agree there should be cause for concern," wrote Florida agent Jeff Berger, founder of the National Association of Gay & Lesbian Real Estate Professionals. "Ignoring the congressman's comments belies the decades of serious work and progress NAR has made in the area of fair housing."
It has been decades of work for the LGBT community to shine a spotlight on Rohrabacher years of anti-LGBT bias.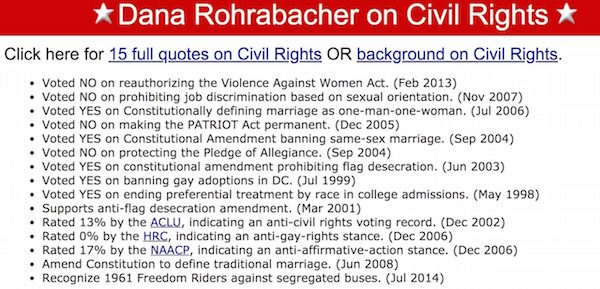 "Californians decided years ago that we don't support housing discrimination — not based on race, not based on religion and not based on sexual orientation or gender identity," said Equality California executive director Rick Zbur. "And while Dana Rohrabacher may think it's okay to discriminate against people because of who they are or whom they love, Orange County families don't. His full-throated endorsement of discrimination is just one more reason that Rohrabacher doesn't deserve to represent Orange County in Congress."
WeHo hosts public hearing on PrEP & PEP February 23 at City Hall
Access to PrEP & PEP & adherence to recommended treatment are just 2 necessary steps in the efforts to reducing community transmission of HIV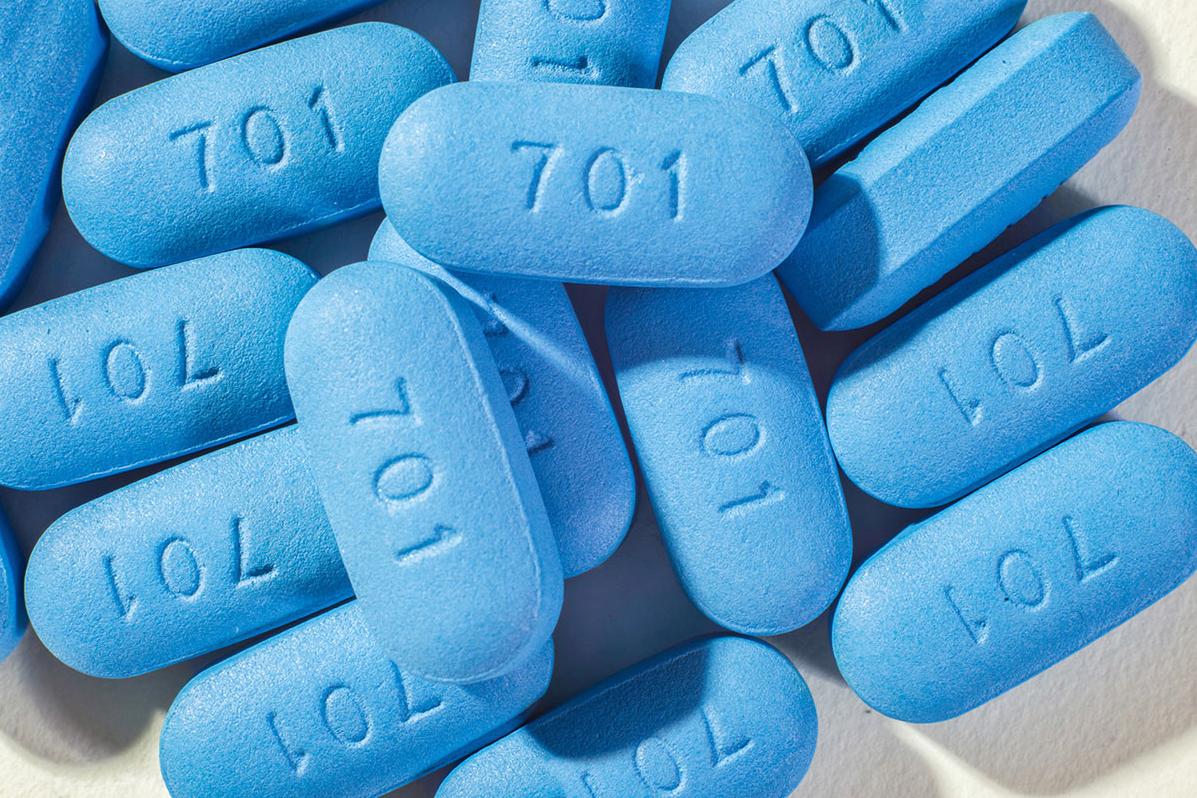 WEST HOLLYWOOD – The City of West Hollywood will host a public hearing to gather input from community members about whether individuals at high risk for HIV transmission are able to effectively access medications approved as part of FDA-approved protocols for Pre-Exposure Prophylaxis(PrEP) and Post-Exposure Prophylaxis (PEP).
City staff and officials have become aware from anecdotal information in the community that there may be barriers to easily accessing PrEP and PEP at pharmacies in Los Angeles County and other regions of the state.
While statewide legislation, SB 159, authorizes pharmacists to furnish PrEP and PEP without a physician prescription and prohibits insurance companies from requiring prior authorizations to obtain PrEP coverage, there is concern that national pharmacy chains and local pharmacies may not be participating in ways the legislation intended.
City outreach to local pharmacists indicates that many local pharmacists have not taken the California State Board of Pharmacy (CSBP) training to dispense PrEP and PEP, and may not have been aware of the training at all.
The City's aim in hosting a public hearing is to gather input from impacted residents and community stakeholders; findings will then be relayed to legislators and other key decision makers.
The public hearing is open to the public and will take place on Thursday, February 23, 2023 at 6:30 p.m. at the West Hollywood City Council Chambers/Public Meeting Room, located at 625 N. San Vicente Boulevard. Limited validated parking will be available in the adjacent West Hollywood Park five-Story structure.
Community members may view the public hearing live on WeHoTV on Spectrum Channel 10 within West Hollywood; by clicking on the 'Watch Live' link on the City's WeHoTV website page www.weho.org/wehotv; or through City's WeHo YouTube channel at www.youtube.com/wehotv.
It will also be live-streamed on streaming services such as AndroidTV, AppleTV, FireTV, and Roku. Digital streaming platform viewers can find programming by searching for "WeHoTV."
Individuals who would like to provide comments but are unable to attend the hearing, or who would prefer to share their experience directly, can send their comments by email to Hernán Molina, the City of West Hollywood's Governmental Affairs Liaison, at [email protected].
In January 2019, Senator Scott Wiener, D-San Francisco introduced SB 159 HIV: preexposure and postexposure prophylaxis. The bill, which was signed by Governor Newsom into law on October 7, 2019, seeks to make PrEP and PEP more readily available to HIV negative individuals who are at high risk of HIV infection. SB 159 does so, among other things, by:
Authorizing a pharmacist to furnish PrEP and PEP in specified amounts and requires a pharmacist to furnish those drugs if certain conditions are met, including that the pharmacist determines the patient meets the clinical criteria for PrEP and PEP consistent with federal guidelines; and
Requiring a pharmacist, before furnishing PrEP and PEP, to complete a training program approved by the California State Board of Pharmacy.
Having easy access to PrEP and PEP and proper adherence to the recommended treatment are just two necessary steps in the efforts to reducing community transmission of HIV. PrEP is a key prevention strategy for ending the HIV epidemic in the U.S.
The Centers for Disease Control and Prevention (CDC) reports fewer than 25% of the approximately 1-million Americans who could benefit from PrEP are using this preventative medication. One of the goals of the federal Ending the HIV Epidemic in the U.S. (EHE) initiative is to have 50% of people who could benefit from PrEP using it by 2025.
The HIV/AIDS epidemic has had a significant impact on the City of West Hollywood. The disease's elevated infection rate among gay men caused a devastatingly high number of deaths in the City in the era following the City's founding in 1984.
The City of West Hollywood was one of the first government entities to provide social services grants to local AIDS and HIV organizations. The City sponsored one of the first AIDS awareness campaigns in the country in October 1985 and the City's response to the AIDS crisis has been recognized as a model for other cities, nationally and globally.
In 2015, the City of West Hollywood City Council adopted the HIV Zero Strategic Plan. The City Council directed staff to work with social service providers, community clinics, the Los Angeles County Department of Public Health, and other governmental agencies to develop a strategic plan aimed at reducing the rates of transmission and slowing disease progression.
The City's HIV Zero Initiative embraces a vision to "Get to Zero" on many fronts: Zero new infections. Zero progression of HIV to AIDS. Zero discrimination. Zero stigma. The City currently contracts with APLA Health, Healthcare in Action, the Los Angeles LGBT Center, Men's Health Foundation, and Planned Parenthood to provide biomedical interventions, such as PrEP and PEP to community members at risk of acquiring HIV.
For more information, please contact Hernán Molina, the City of West Hollywood's Governmental Affairs Liaison, at (323) 848-6364 or at [email protected].
For people who are Deaf or hard of hearing, please call TTY (323) 848-6496.