May 24, 2018 at 8:50 pm PST | by Karen Ocamb
Rep. Rohrabacher to realtors: It's OK to say 'No' to gays
There's a very good reason LGBT people in California can't wait for the backward thinking Orange County Republican Rep. Dana Rohrabacher to be defeated—he's stuck in an era where the right to discriminate was blithe assumption.
"We've drawn a line on racism, but I don't think we should extend that line," Rohrabacher told the Orange County Register on Thursday.  "A homeowner should not be required to be in business with someone they think is doing something that is immoral."
The comment came after the Register asked for confirmation of a report that on May 16 the OC Republican told a delegation of Orange County Association of Realtors at a meeting in Washington, D.C. that homeowners should have the right to refuse to sell their property to LGBT individuals.
"Every homeowner should be able to make a decision not to sell their home to someone (if) they don't agree with their lifestyle," said Rohrabacher, according to former Orange County Realtor president Wayne Woodyard.
Rohrabacher later added to the Register that homeowners should have the right to "choose who they do business with."
After a Realtor gay-rights group protested, the National Association of Realtors (NAR) withdrew its recommendation that members financially support Rohrabacher's re-election campaign.
"It was determined that Rep. Rohrabacher will no longer receive support from NAR's President's Circle," an association statement said, referring to its list of endorsed candidates. The 1.3-million-member trade group said Rohrabacher's position violates NAR's code of ethics, which bans discrimination on the basis of "sexual orientation or gender identity."
"We certainly hope that Congress will … support the elimination of housing discrimination based on sexual orientation or gender identity," the statement said.
"It certainly can't do me any good to have people take me off their endorsement list," said Rohrabacher of California's 48th District. "It's sad to see (the association's) priority is standing in solidarity with making sure a stamp of approval is put on somebody's private lifestyle."
Democrat Harley Rouda, a strong primary challenger to the vulnerable OC Republican, called Rohrabacher's comments "outlandish and unacceptable," reiterating the right of every person to buy and sell a home.
"What Dana Rohrabacher fails to understand is discrimination is discrimination," Rouda said. "It shows how backward his thinking is."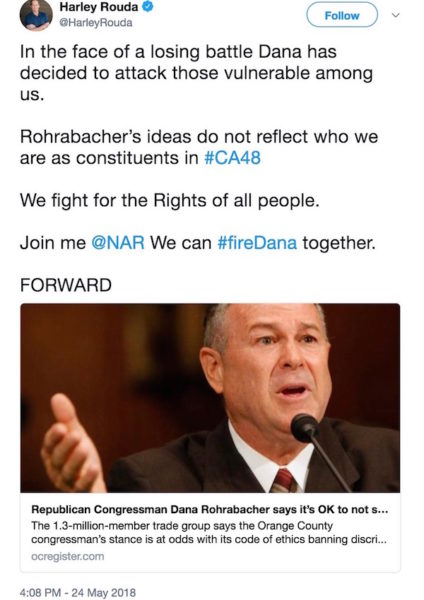 Rohrabacher said his stance would likely "alienate a certain number of gays who think I'm anti-gay, which isn't the case." But, he added, he vehemently opposes housing discrimination based on race, religion or a person's sex.
The protest erupted after Rohrabacher met with Orange County Realtors who asked him to support H.R. 1447, a bill that expands the 1968 Fair Housing Act to add anti-discrimination protections based on a person's sexual orientation and gender identity to an existing law prohibiting home sellers, landlords and lenders from discrimination based on a person's race, color, religion, sex or national origin.
"When a supposed champion of the Realtor Party outright states that housing discrimination should be lawful, I hope you agree there should be cause for concern," wrote Florida agent Jeff Berger, founder of the National Association of Gay & Lesbian Real Estate Professionals. "Ignoring the congressman's comments belies the decades of serious work and progress NAR has made in the area of fair housing."
It has been decades of work for the LGBT community to shine a spotlight on Rohrabacher years of anti-LGBT bias.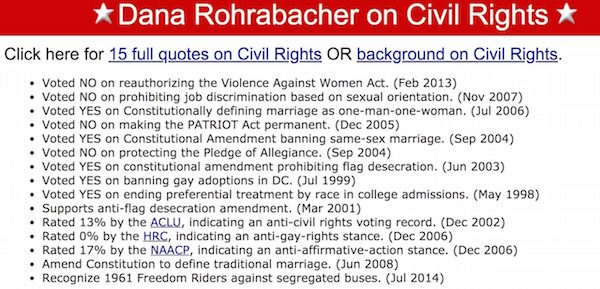 "Californians decided years ago that we don't support housing discrimination — not based on race, not based on religion and not based on sexual orientation or gender identity," said Equality California executive director Rick Zbur. "And while Dana Rohrabacher may think it's okay to discriminate against people because of who they are or whom they love, Orange County families don't. His full-throated endorsement of discrimination is just one more reason that Rohrabacher doesn't deserve to represent Orange County in Congress."