Harvey Weinstein gets arrested and Morgan Freeman apologizes
Latest revelations show the power of the #MeToo movement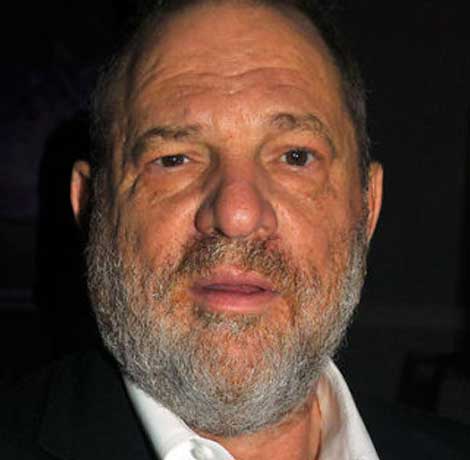 A week of major developments in the ongoing Hollywood sexual harassment scandals culminated on Friday morning in New York City, where former movie mogul Harvey Weinstein was arrested and arraigned after turning himself in to Manhattan authorities. He has been charged with first- and third-degree rape and with committing a criminal sexual act in the first degree.
Weinstein walked uncuffed into a New York police precinct through a crowd of media, who called out questions such as, "Is this an admission of guilt?" and "Why did it take you so long?"
Weinstein made no comment, but his attorney, Benjamin Brafman, later told reporters outside the courthouse that the disgraced film executive plans to plead "not guilty" to the criminal charges.
Weinstein left the precinct in handcuffs but free on bail, thanks to an agreement between Brafman and the District Attorney's office stipulating that the ex-mogul's bond be set at $10 million, he required to wear a GPS monitoring system and could only travel between and New York and Connecticut.
The arrest comes after months of investigation by New York prosecutors into multiple allegations of sexual assault dating back to 2004. The charges filed Friday stem from incidents involving two separate women that allegedly took place in 2004 and 2013, according to a statement from the district attorney's office.
A source told CNN that the criminal sex act charge stems from a case involving Lucia Evans, a once-aspiring actress who claims that Weinstein forced him to perform oral sex on him in his Tribeca office.
Evans spoke out about the alleged incident in New Yorker magazine in fall of 2017.
The alleged victim in the rape case remains anonymous, and further details of that investigation are unknown.
A grand jury continues to hear testimony in the state's case and more charges are expected.
Weinstein's arraignment comes after dozens of women came forward following 2017 reports in the New York Times and New Yorker. Those women – and Bill Cosby's accusers — gave courage to numerous others to come forward alleging sexual harassment and abuse, including men alleging harassment by other men, including actor Kevin Spacey.
Many of the accusations against Weinstein have come from high-profile actresses with whom he worked, including Rose McGowan, one of the first to come forward.
"I, and so many of Harvey Weinstein's survivors, had given up hope that our rapist would be held accountable by law. McGowan said in a statement to the Hollywood Reporter. "Twenty years ago, I swore that I would right this wrong. Today we are one step closer to justice."
Weinstein is also under investigation for alleged sex crimes in Los Angeles and London, and the Wall Street Journal has reported that Federal prosecutors in New York have also begun a sex crimes investigation involving the former studio head, who has been accused of rape, assault and other sexual misconduct.
Weinstein has said through a representative that he sought treatment after the accusations, and that he "unequivocally denies" any allegations of non-consensual sex.
Developments in the Weinstein case come on the heels of allegations by eight women of sexual misconduct by actor Morgan Freeman that took place on movie sets, during film promotions and at Revelations Entertainment, the actor's production company.
These accusations include stories that the 80-year-old Freeman looked at them in a sexual way and made comments with "sexual undertones" about their bodies or clothing.
One of the allegations comes from a woman who said the actor had "repeatedly tried to lift her skirt," and stopped only because a costar had said for him to "knock it off." Another accuser claims she was the victim of "repeated unwanted touching" while working with Freeman on a recent film.
The eight women's stories are supported by eight witnesses who have also come forward; however, due to fears of repercussions in their work, only one of these accusers – CNN reporter Chloe Melas – was willing to go public with their identity.
Melas says her encounter with Freeman took place during a press junket last year for the film "Going in Style." She claims that he continued to hold her hand after shaking it, looked at her in an obviously sexual way and made various sexually provocative comments. She was pregnant at the time, and the actor repeatedly said that he "wished he was there" when it had happened, she said. Melas later reported the encounter to her supervisor at CNN.
In a statement released Thursday, Freeman apologized for his behavior, saying, "Anyone who knows me or has worked with me knows I am not someone who would intentionally offend or knowingly make anyone feel uneasy. I apologize to anyone who felt uncomfortable or disrespected — that was never my intent."
In the wake of these revelations, SAG-AFTRA said on Thursday that it is reviewing the possibility of "corrective actions" in relation Freeman's lifetime achievement award, which was presented to the Oscar-winning actor at the SAG Awards ceremony in January.
The actor's union statement reads: "These are compelling and devastating allegations which are absolutely contrary to all the steps that we are taking to [ensure] a safe work environment for the professionals in this industry. Any accused person has the right to due process, but it is our starting point to believe the courageous voices who come forward to report incidents of harassment."
In February, the union adopted a new code of conduct, which prohibits "unwelcome verbal, visual or physical conduct of a sexual nature that is severe or pervasive and which creates a hostile, offensive or intimidating work environment." They have also created guidelines for locations in which industry meetings should take place, meant to avoid "high-risk locations" such as hotel rooms. Many of the allegations that have emerged from the #MeToo movement stem from incidents that took place in these environments.
The actions of SAG-AFTRA, along with today's arrest of Weinstein, can be seen as a victory for the #MeToo movement, which has spurred a heightened awareness of sexual misconduct not only behind the scenes in Hollywood, but within other workplaces as well. The movement has given voice to hundreds of women and men who have been victims of harassment and worse at the hands of employers and others who have abused their positions of power to engage in inappropriate sexual behavior. The resulting scrutiny has led to the downfall of dozens of powerful figures within the entertainment industry, from executives like Weinstein to news personalities like Matt Lauer and actors like Kevin Spacey and Jeffrey Tambor.
Last year's wave of sexual misconduct stories brought viral attention to the decade-old #MeToo movement – which began (without the hashtag) in 2006, when social activist Tarana Burke used the phrase in support of a grassroots campaign to promote "empowerment through empathy" among women of color who have experienced sexual abuse. This awareness reached its height during the early 2018 awards season – when many ceremonies, including the SAG presentation, actively sought to project solidarity with the movement.
This week's events show that it remains relevant. The movement continues to empower women and men to come forward with their stories of unwanted sexual treatment from people who hold power over them in their work places; its prominence in the public eye has resulted in growing pressure on industry and law enforcement to take actions against those who perpetrate such behavior, and to eliminate the culture of silence that allows it to exist.
Friday's arrest is evidence that it's working, and the revelations about Freeman show that the #MeToo story is not going away.
Senator Wiener's No Tax Exemption for Insurrection Act, passes Senate
Senate Bill SB 834 strips state tax-exempt status from organizations that engage in or incite insurrection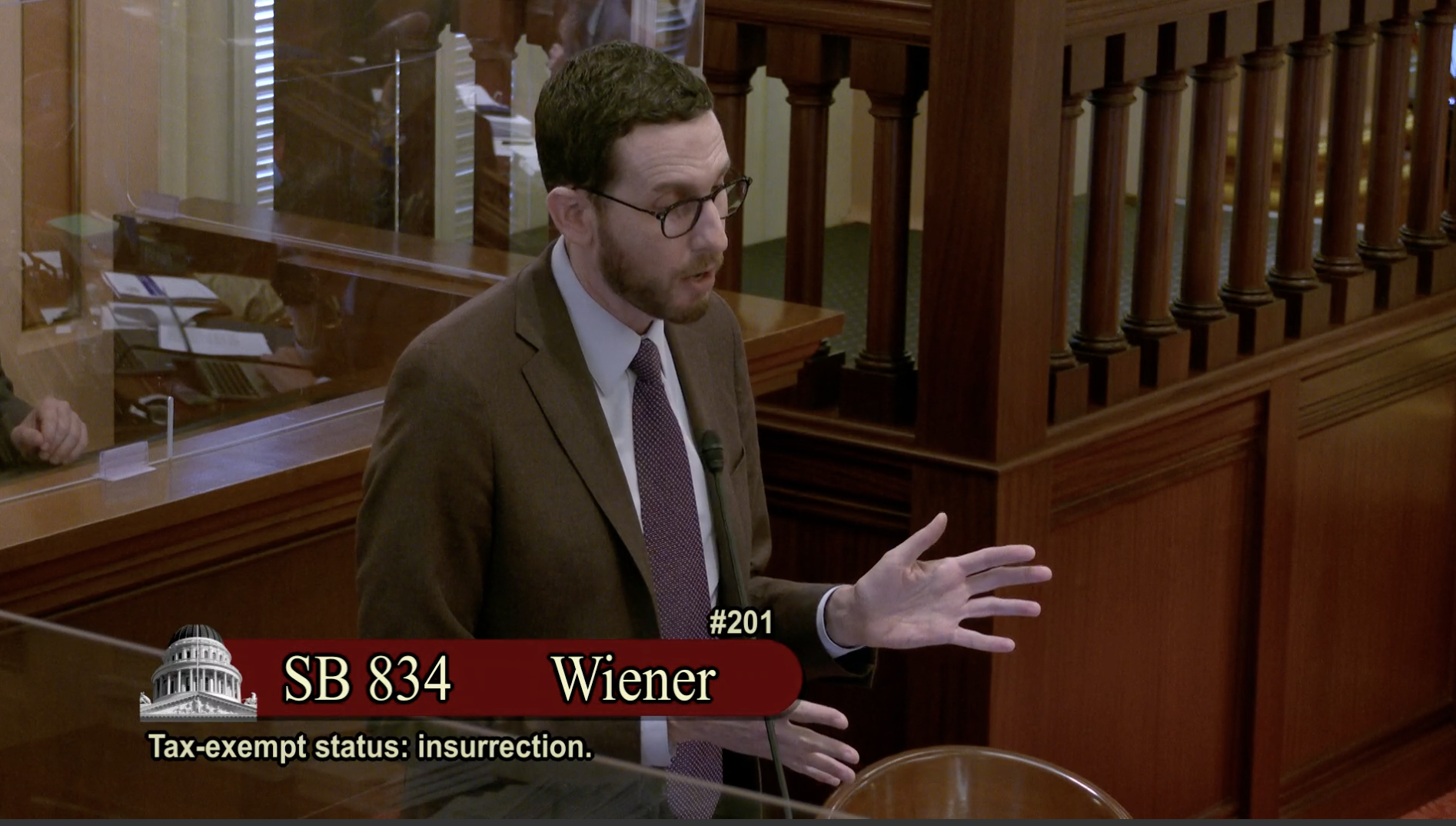 SACRAMENTO – Senator Scott Wiener (D-San Francisco)'s Senate Bill 834, the No Tax Exemption for Insurrection Act, passed the Senate by a vote of 28-0 Monday. It will now head to the Assembly for policy committee hearings.
SB 834 is a first-in-the-nation bill that will revoke the California tax-exempt status of nonprofit organizations that participate in or incite efforts to overthrow the United States government or any state government. Nonprofit organizations have used the "Big Lie" – the fraudulent notion that the 2020 election was stolen – to fundraise for and funnel money to extremist and anti-democratic initiatives like the January 6 insurrection.
Tax-exempt status is a privilege, not a right, and organizations that engage in or incite insurrection or conspiracy to commit insurrection – both of which are illegal – should not be given this special status to help them fundraise. Moreover, non-California nonprofits should not be able to register to raise money in California if they are engaging in or inciting insurrection.
"On January 6, 2021, the peaceful transfer of power in our democracy was threatened," said Wiener. "And for the first time since the Civil War, people died as a result. We cannot and will not let organizations that aid and abet insurrection – that break the law by trying to overthrow the U.S. government – operate with tax-exempt status. The people of California should not be subsidizing insurrection."
The January 6, 2021 insurrection took place, when pro-Trump extremists – in response to the false narrative that the Democrats "stole" the 2020 election and incited by then-President Donald Trump – breached the United States Capitol. Five people were killed as a result of this insurrection, and hundreds were injured.
Vice President Pence and Speaker Pelosi were specific targets of this violent attack on the nation's democracy. Many nonprofits that supported the insurrection and continue to perpetuate lies about the 2020 election in hopes of overturning the results still operate with tax-exempt status, both at the federal and state level.
SB 834 clarifies the Franchise Tax Board's authority to revoke the California tax-exempt status of a nonprofit organization if the California Attorney General determines that the nonprofit has actively engaged in, or incited: treason, misprision of treason, insurrection, seditious conspiracy, advocating overthrow of the government or the government of any State, or advocating mutiny by members of the military or naval forces of the United States (1.)
Under SB 834, if the Attorney General finds that a nonprofit organization has incited, or actively engaged in actions that are directed to or likely to imminently violate one or more of these crimes, they will notify the FTB, which then will have the ability to revoke the nonprofit's tax-exempt status.
For out-of-state nonprofits that engage in or incite insurrection, they will be prohibited from registering to raise money in California.
The United States Supreme Court has ruled that the purpose of charitable organizations claiming tax-exempt status "may not be illegal or contrary to public policy." Trying to overturn elections and violently attacking our legislators fits the bill. SB 834 will ensure that these organizations no longer claim this financial advantage.
Tax-exempt nonprofits are not required to pay corporate income taxes and may be exempt from other taxes as well. Additionally, donations to many nonprofits are deductible from income taxes, and private foundations and donor-advised funds can only donate to tax-exempt nonprofits. Private foundations and donor-advised funds represent a major funding source for many nonprofits.
Authoritarian and anti-democratic organizations have increasingly used the "Big Lie" to fundraise, and this narrative has driven millions of dollars in tax-exempt donations. And many new organizations have cropped up in the past year, hoping to ride the coattails of the insurrection and cash in.
These include California nonprofits and nonprofits registered in other states that fundraise in California. These organizations, which are fundamentally undermining our democracy and cheering for the destruction of free and fair elections in America, should not be allowed to operate with advantages like tax-exempt status.
For example, the leader of the "Oath Keepers," a national militia movement, was charged with seditious conspiracy. While the Oath Keepers does not have California tax-exempt status, it has an "educational foundation" with federal exempt status and tax-exempt branches in several states. In the words of one expert, "It can only be presumed that [funds contributed to the Oath Keepers], which [donors were] able to deduct from their federal taxes, went to transporting and lodging members of the group slated to participate in the ensuing riots." (2.) These organizations should not be allowed, under any circumstances, to use tax write-offs to help fund illegal activities.
There is precedent for making this distinction in California's tax code. Under federal and California law, for instance, if a nonprofit organization supports terrorism, its tax-exempt status is suspended. The nonprofit organizations that support insurrection should receive the same treatment.
Citations:
1. USC §§ 2381-2385, 2387
2. "Dollars against Democracy: Domestic Terrorist Financing in the Aftermath of Insurrection," Virtual Hearing before the Subcommittee on National Security, International Development and Monetary Policy of the Committee on Financial Services, U.S. House of Representatives, Feb 25, 2021.
Senators Josh Becker (D-Peninsula), Dave Min (D-Irvine), Josh Newman (D-Fullerton), Anthony Portantino (D-La Cañada Flintridge), Tom Umberg (D-Orange County), and Bob Hertzberg (D-Van Nuys) are co-authors of this bill. Assemblymembers Buffy Wicks (D-Oakland), Phil Ting (D-San Francisco), Cristina Garcia (D-Bell Gardens) and Marc Berman (D-Menlo Park) are also co-authors of SB 836. Assemblymember Kevin Mullin (D-San Mateo) is principal co-author.
Assembly passes bill protects patients & providers from anti-choice states
AB 1666 protects patients and providers in California from civil liability judgments for providing reproductive health care to patients

SACRAMENTO — In a two-thirds vote Monday, the Assembly passed AB 1666, sponsored by Assemblymember Rebecca Bauer-Kahan (D – Orinda) which creates a legal shield up for California patients and providers from extremist anti-abortion laws from anti-choice states.
The language of the measure reads: "This bill would declare another state's law authorizing a civil action against a person or entity that receives or seeks, performs or induces, or aids or abets the performance of an abortion, or who attempts or intends to engage in those actions, to be contrary to the public policy of this state. The bill would prohibit the application of that law to a case or controversy heard in state court, and would prohibit the enforcement or satisfaction of a civil judgment received under that law."
We're out! #AB1666 just passed the Assembly floor with a 2/3rds vote. This bill puts a legal shield up for CA patients and providers from extremist anti-abortion laws from anti-choice states. #ABORTIONISHEALTHCARE @PPActionCA @acog @AAUW @eqca

— Asm Rebecca Bauer-Kahan (@BauerKahan) May 23, 2022
Planned Parenthood Affiliates of California Legislative Director Molly Robson told the Blade in an emailed statement Monday;
"AB 1666 will allow California providers to continue to provide essential and timely health care, like abortion, with decreased risks of potential liability when helping people forced to seek care here in California rather than in their home state due to hostile, extreme, and dangerous restrictions or outright bans. These precautions and protections are necessary given the increased hostility and frequency of abortion bans in other states seeking to target patients and providers. Taking this action now is crucial as we prepare for the U.S. Supreme Court to overturn Roe v Wade and unleash a flood of hostile bans in more than half the states."
Planned Parenthood Affiliates of California also noted that AB 1666 protects patients and providers in California from civil liability judgments for providing reproductive health care to patients when the claims are based on laws in other states that are hostile to abortion rights and are contrary to the public policy of California.
AB 1666 builds on a recommendation put forth by the California Future of Abortion Council recommendations released in a December report, in which Planned Parenthood Affiliates of California is a member of its "Steering Committee."
A spokesperson for Equality California, Jorge Reyes Salinas, told the Blade Monday afternoon;
"LGBTQ+ people are directly impacted by laws that undermine abortion care. The LGBTQ+ community overall often lacks access to inclusive and affirming health care, and in particular transgender men and nonbinary people who become pregnant face significant challenges when seeking reproductive care.  In addition, many of the clinics that provide abortions also provide hormones and reduced-cost reproductive care for transgender and nonbinary people, efforts to undermine these clinics directly harm the LGBTQ+ community.
AB 1666 is a critical safeguard against the wave of proposals that will harm the health and well-being of vulnerable populations across the country. To the extent that California can provide a refuge for people seeking critical care, we have a duty to do so."
White House blocked from ending Title 42
Advocacy groups say policy further endangered LGBTQ+ asylum seekers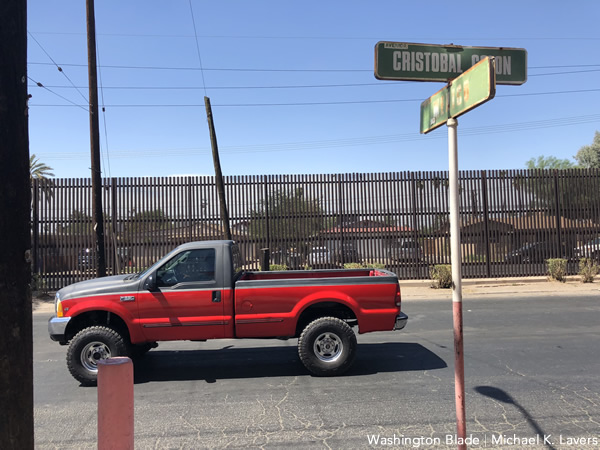 LAFAYETTE, La. — A Centers for Disease Control and Prevention rule that closed the Southern border to most asylum seekers and migrants because of the pandemic was to have ended Monday, but it remains in place after a federal judge blocked the Biden administration's plans to end it.
The White House last month announced it would terminate Title 42, a policy the previous administration implemented in March 2020.
U.S. District Judge Robert Summerhays in Louisiana on May 20 issued a ruling that prevented the Biden administration from terminating the Trump-era policy. White House Press Secretary Karine Jean-Pierre in a statement announced the Justice Department will appeal the decision, while adding the administration "will continue to enforce the CDC's 2020 Title 42 public health authority pending the appeal."
"This means that migrants who attempt to enter the United States unlawfully will be subject to expulsion under Title 42, as well as immigration consequences such as removal under Title 8 (of the U.S. Code)," said Jean-Pierre.
Advocacy groups and members of Congress with whom the Washington Blade has spoken since Title 42 took effect say it continues to place LGBTQ asylum seekers and other vulnerable groups who seek refuge in the U.S. at even more risk.
Oluchi Omeoga, co-director of the Black LGBTQIA+ Migrant Project, last month described Title 42 as a "racist and harmful policy." ORAM (Organization of Refuge, Asylum and Migration) Executive Director Steve Roth said Title 42 "put asylum seekers in harm's way in border towns and prevented them from seeking safety in the United States."
Title 42 was to have ended less than a month after five members of Congress from California visited two LGBTQ+ shelters for asylum seekers in Tijuana.
The Council for Global Equality, which organized the trip, in a tweet after Summerhays issued his ruling described Title 42 as a "catastrophe."
"The Biden administration cannot breathe a sign of relief until it's a matter of the past," said the Council for Global Equality on Saturday. "We remain committed to end Title 42."
#Title42 is a catastrophe — and the Biden administration cannot breathe a sigh of relief until it's a matter of the past. We remain committed to #EndTitle42. https://t.co/9EKJTiJzoV

— The Council for Global Equality (@Global_Equality) May 20, 2022