For Heather Matarazzo, 'Equal' is still a cause worth fighting for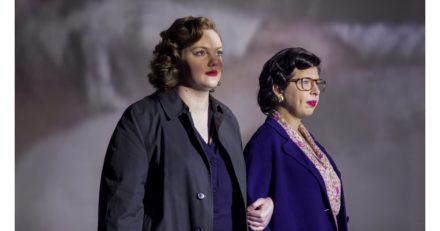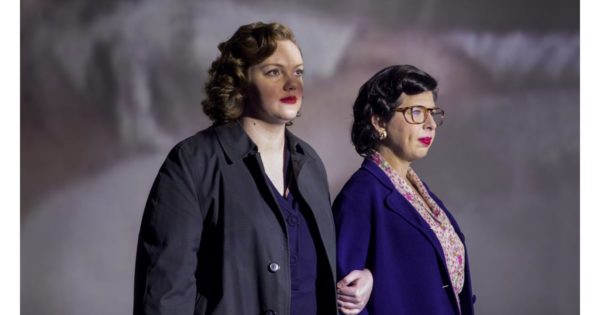 NEW YORK – The HBO Max docuseries, "Equal," which debuts this week, is designed to shore up our education by profiling various pioneers in a movement for LGBTQ equality that might never have happened if not for their refusal to stay invisible. It's "infotainment" in the best sense of that term, blending real-life archival footage with newly filmed "re-enactments" to deliver a concise overview of pre-Stonewall history.
That means in addition to giving us a queer history lesson, "Equal" also gives us a host of queer actors paying homage to their forebears by standing in for them in the newly filmed sequences. There's a long list: Cheyenne Jackson and Anthony Rapp (Dale Jennings and Harry Hay), Jamie Clayton (Christine Jorgensen), Samira Wiley (Lorraine Hansberry), and Hailie Sahar of "Pose" (Sylvia Rivera) are some of the better known – but among these familiar faces is also someone who is something of an icon in her own right.
Heather Matarazzo's breakthrough performance at 13 as middle school outcast Dawn Weiner in Todd Solondz's 1995 counter-culture classic, "Welcome to the Dollhouse," made her a touchstone for a whole generation of traumatized teenagers. Later, she won a new flock of fans as BFF Lilly in "The Princess Diaries" movies, as well.
Now, she is appearing in "Equal" as Phyllis Lyon – who with partner Del Martin (played by Shannon Purser) co-founded the Daughters of Bilitis in 1955. The pair went on to become the first LGBTQ couple married in San Francisco in 2008.
Playing Lyon seems a natural fit for Matarazzo, given her own history as a vocal advocate for feminist and LGBTQ social justice issues, which were still very much on her mind as she spoke with the Blade last week about her participation in "Equal."
Our conversation is below.
BLADE: How did you feel about playing Phyllis? Was there a sense of personal connection?

HEATHER MATARAZZO: It's such an interesting question, right? Because history is history is history and so on, and so it goes. I got to feel safe enough to come out thanks to those who came before me, and put their bodies and their reputations on the line, in order for me to say, "Yes, I'm a lesbian," and be able to say that publicly. I mean, really, I came out because I clearly didn't have any other choice. It was so spontaneous, and it was so honest, and it was in the moment – and yet, within that, I get to look at those that came before me, in one way or another, and I get to see how their bravery allows me to be brave, too.
BLADE: And now you get to be that for others.

MATARAZZO: I do my best to receive any praise that I'm given, especially by those who say that my coming out helped enable them to come out – especially people that are younger than me, that knew me from "Princess Diaries" and whatnot, and then were like, "Oh my god, Lilly's a LESBIAN?" I receive it as best as I can, because at the end of the day – and I say this in the most grounded of ways – we really, truly are all lights for each other.
BLADE: Like links in a chain.

MATARAZZO: Yeah, exactly. It's a collective.
BLADE: What was your takeaway from playing Phyllis?

MATARAZZO: I think both she and Del were wonderful women who really stuck their necks out in order to build a safe community of lesbians. I was just talking about this with my wife the other night, about pre-Stonewall, and the risks that were continually taken in order for us, as members of the LGBTQ community, to be able to organize and meet with each other, in order to have a semblance of "normalcy."
That's what I love about Phyllis and Del, their ability, seemingly, to exhibit defiant joy. There's a lot of joy that I see in their interviews together, about their story, how they met, the sneaking around… it almost becomes like a "Great Muppet Caper." You know? Where it's "We're gonna do whatever it is we have to do to get to wherever it is we desire to be." And I'm grateful that they both got to have that full experience before they passed, unlike so many that didn't get it, or haven't gotten it yet.
BLADE: Do you think it's important to tell their stories for a generation that maybe doesn't have it as hard?

MATARAZZO: The older I've gotten, on one hand it doesn't seem like being out is that big of a deal anymore – and yet, even as I say that, we are looking at the fucking clown show that is this Supreme Court nomination process.
Let's be clear, the United States is abysmal in its human rights practices. That's not something that went away when we got marriage equality. I mean, look at all of the Black trans women that have been murdered here, this year alone? And I don't think that we can talk about sexual orientation without also talking about race, without also talking about gender – there are so many different intersections, because when you talk about one, you can't NOT talk about the other.
We all desire to be seen, and held, in our humanity. And we shouldn't have to spend so much time fighting for our humanity and our fucking right to exist. Every single person deserves to feel safe, and not fear for their lives simply based upon one's sexual orientation, or the color of one's skin, or one's religion, or one's gender identity, or one's – there are so many things. So, for me, it's all so connected, it's a microcosmic experience of something much larger.
BLADE: That ties in with your first-hand experience with sexism in Hollywood. You spoke up in support of Rose Byrne when she helped bring #MeToo and the Harvey Weinstein scandal into the spotlight. What would you say about that subject now?

MATARAZZO: I'm glad Weinstein's in jail. I hope he stays there, and I hope he rots. 
Here's the thing, we still have a long way to go. Because again, MeToo was pretty much cis-gender, hetero white ladies speaking out about it, and so, you know, it's synonymous now with cis-gender, hetero fucking white ladies – when the movement was founded by fucking Tarana Burke. And when you have 63 percent of white women voting for a fucking person who literally said, "I grab women by their pussies?" I mean, I think that white women just need to shut the fuck up, and finally listen to black women, for once.
Right now, the truth is that we are living in precarious times – we always have been, to one degree or another, depending on where you are in the disparity that is this American caste system.
BLADE: Do you hope that the current resurgence of the equality movement will help bring about change in those who oppose it?

MATARAZZO: Sure. Or, we could just leave them by the wayside.
Broadway gathers to honor Sondheim in Times Square
They were gathered to pay homage to legendary Tony, Academy Award, and Grammy Award-winning composer and lyricist Stephen Sondheim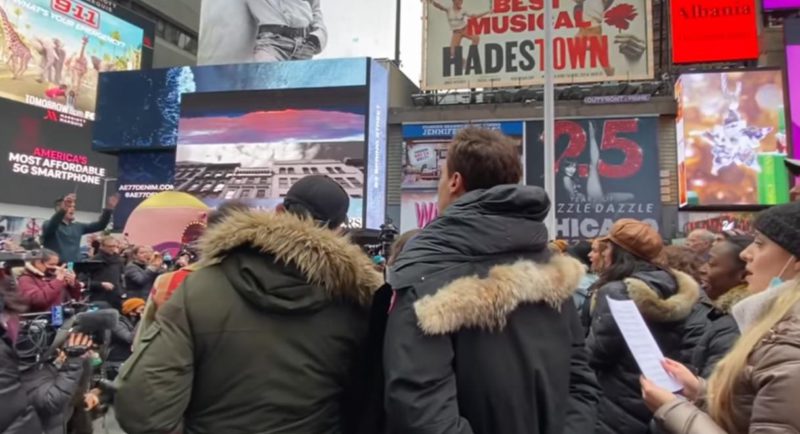 NEW YORK – Light snow flurries swirled around the stars of theatre and stage of New York City's 'Great White Way' as they gathered Sunday in Times Square- members of every Broadway company assembled singing in a powerful chorus "Sunday," the powerfully emotional act one finale to "Sunday in the Park with George."
They were gathered to pay homage to legendary Tony, Academy Award, and Grammy Award-winning composer and lyricist Stephen Sondheim. That piece being performed had garnered Sondheim a Pulitzer Prize for Drama in 1985.
Broadway's best were joined by Lin-Manuel Miranda, Sara Bareilles, Josh Groban, Kathryn Gallagher and Lauren Patton at 'Sunday' Performance in Times Square.
The man who was heralded as Broadway and theater's most revered and influential composer-lyricist of the last half of the 20th century died at 91 Friday at his home in Roxbury, Connecticut.
"This felt like church," Bareilles told Variety after the performance on Sunday. "In his remembrance, we did what theater does best. We sang and raised our voices and came together in community."
Variety also noted that during the celebration, Miranda offered a sermon of sorts. Foregoing a speech, he opened Sondheim's "Look I Made A Hat," an annotated anthology of the composer's lyrics, and read from a few passages before the crowd.
Lin-Manuel Miranda, Josh Groban and Sara Bareilles Honor Stephen Sondheim at 'Sunday' Performance in Times Square https://t.co/LgrYPyMnv0

— Variety (@Variety) November 28, 2021
"Sunday" from Sunday in the Park with George memorial for Stephen Sondheim
'Tick, tick… BOOM!' explodes with the love of Broadway
A perfect film for fans of musical theater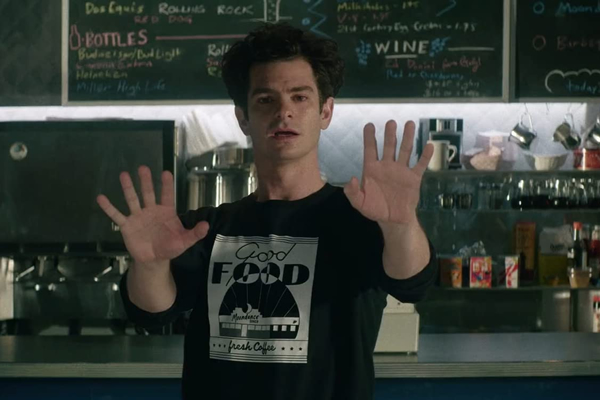 If you are a person who love musical theater – or if you know someone who does – then you know there is something about this particular art form that inspires a strong and driving passion in those who enjoy it, often to the point of obsession. For this reason, perhaps it's no surprise that those who work in musical theater – the creators, performers, and all the other people who make it happen – are often the biggest musical theater lovers of all.
Because of this, "tick, tick… BOOM!" (the new film directed by Lin-Manuel "Hamilton" Miranda and written by Steven "Dear Evan Hansen" Levenson) might be the most perfect movie ever made for such fans. Adapted from an autobiographical "rock monologue" by Jonathan Larson, it follows the future "Rent" composer (Andrew Garfield) for a week in the early 1990s, when he was still an unknown young Broadway hopeful waiting tables in a New York diner. He's on the cusp of turning 30, a milestone that weighs on his mind as he prepares for a showcase of a musical that he hasn't quite finished – even though he's been writing it for eight years. With limited time left to compose the show's most crucial number, his race against the clock is complicated by major changes in his personal life; his lifelong best friend Michael (Robin de Jesús) has quit acting in favor of a five-figure career in advertising, and his girlfriend Susan (Alexandra Shipp) is moving away from the city to accept a teaching job and wants him to come with her. With reminders everywhere of the ongoing AIDS epidemic still raging in the community around him, and with his own youth ticking away, he is inevitably forced to wonder if it's time to trade in his own Broadway dreams for a more secure future – before it's too late.
As every musical theater fan knows, the young composer's obsession with time (hence the title) is laced with bittersweet irony in the context of what eventually happened in his real life: the day before "Rent" opened on Broadway and became a smash hit that reshaped and expanded the boundaries of what musical theater could be, Larson died of an aortic aneurysm at the age of 35. He never lived to see the full fruition of all those years of hard work, and that tragic turn of events is precisely what makes "tick, tick… BOOM!" relevant and provides its considerable emotional power. In that light, it's essentially a musical "memento mori," a reminder that the clock eventually runs out for all of us.
That doesn't mean, however, that it's not also a celebration of life in the theater, and Miranda is probably better suited than anyone to make us see that side of the coin. Now unquestionably in the highest echelon of status as a Broadway icon, he came of age in the era of "Rent," and he takes pains to make his depiction of Manhattan in the '90s as authentic as possible.
Capturing the era with touches like Keith Haring-inspired murals and the use of "Love Shack" as a party anthem, his movie keeps Larson's story within the context of his time while drawing clear connections to our own. His reverence for Larson – whom he cites as a seminal inspiration for his own future work – manifests itself palpably throughout. Yet despite that (or perhaps because of it), so does an infectiously cheery tone. Yes, things get heavy; there are hardships and heartbreaks at every turn, because that's what a life in the theater means. But at the same time, there's just so much fun to be had. The camaraderie, the energy, and the joy of simply living in that world comes leaping off the screen (often thanks to the enthusiastic choreography of Ryan Heffington) with the kind of giddy, effortless ease that might almost make us jealous if it didn't lift our spirits so much. No matter that the lead character spends most of the movie second-guessing his path; we never doubt for a moment that, for him, the rewards of following his passion outweigh the sacrifices a thousand times over.
That's something Miranda also understands. His movie drives home the point that the joy of doing theater is its own reward, and he's willing to prove it by turning up in a bit part just for the sake of being a part of the show. And he's not the only one. The screen is littered with living legends; in one memorable sequence alone, a who's-who of Broadway's brightest stars – Chita Rivera, Bernadette Peters, Brian Stokes Mitchell, Andre DeShield, Bebe Neuwirth, Joel Grey, and at least a dozen more – serve as a high-profile backup chorus of extras for a song at the diner, but there are blink-and-you'll-miss-them cameos in almost every scene. It almost feels like a gimmick, or an effort to turn the movie into a "spot the star" trivia game for hardcore fans – until you realize that these are the best and brightest people in their field, who have willingly chosen to show up and participate even though they did not have to. They are there purely for love, and you can see it in their faces.
Miranda scores big across the board as a director – this is his feature film directorial debut, which confirms the standing assumption the man can do anything. But "tick, tick… BOOM!" is a star turn for its leading player, and full credit must also go – and emphatically so – to Garfield, who surpasses expectations as Larson. The one-time "Spiderman" actor trained extensively to be able to master the demands of singing the role, and it shows; he comes off as a true musical theater trouper, worthy beyond doubt of sharing the screen with so many giants. Even better, he integrates that challenge into the whole of a flamboyantly joyful performance that makes Larson endearingly, compellingly three-dimensional. It's a career-topping piece of work.
The rest of the principal cast – a refreshingly inclusive ensemble that reminds us that Larson was instrumental in making Broadway a much more diverse place – are equally fine. De Jesús gets a long-deserved chance to shine as Michael, and Shipp brings a quiet calm to the easily-could-have-been-overshadowed Susan that makes her the perfect balance to Garfield's high-octane energy.
Joshua Henry and Vanessa Hudgens contribute much more than their stellar vocal talents to their pair of roles as Larson friends and collaborators, and there are delicious supporting turns by Judith Light and Bradley Whitford – who gives an affectionately amusing and dead-on accurate screen impersonation of Broadway legend-of-legends Stephen Sondheim, one of Larson's (and Miranda's) biggest influences and inspirations, who accordingly looms large in the story despite his relatively short amount of screen time.
It should be obvious by now that "tick, tick… BOOM!" is a delight for people who love musical theater. But what if you're not one of those people? The good news is that there is so much to enjoy here, so much real enjoyment, so much talent, so much hard work on display that nobody will have any reason to be bored.
Even people who DON'T love musical theater.
James Ivory on movies, beauty — and a love of penises
If you enjoy film and wit you'll love 'Solid Ivory'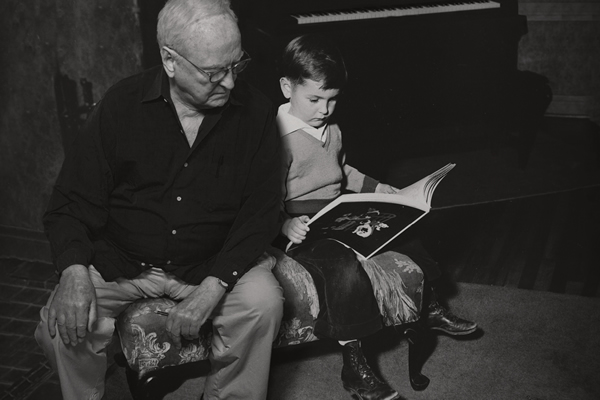 'Solid Ivory: Memoirs'
By James Ivory
C.2021, Farrar, Straus & Giroux
$30/399 pages
Few things have been more pleasurable to me during the pandemic than Merchant/Ivory films. COVID becomes a dim memory as I ogle the costumes, beautiful vistas from Italy to India, music and spot-on dialogue of "A Room with a View," "Maurice," "Remains of the Day" and other Merchant/Ivory movies.
For decades, fans from gay men to grandmas have enjoyed these films, directed by James Ivory and produced by Ismail Merchant in partnership with the writer Ruth Prawer Jhabvala.
In "Solid Ivory," Ivory, 93, gives us his memories of movie making, growing up gay, his decades-long romantic and professional partnership with Merchant and (you're reading this correctly) the penises he has known.
If you believe that elders don't enjoy sex, Ivory's memoir will blow your ageism to smithereens.
From watching the movies he's directed and knowing his age, you might think (as I did) that Ivory would be shy about talking of his sexuality. Wow, was I wrong!
Ivory appreciates penises as a sommelier savors fine wine.
Ivory knew that he liked boys early on. Ivory recalls playing at age seven with a boy named Eddy. He and Eddy were "putting our penises into each other's mouths," Ivory writes, "…I made it clear that Eddy's dick must not touch my lips or tongue, nor the inside of my mouth. I had learned all about germs at school by then."
Though Ivory and Merchant were devoted partners, they each had other lovers. Bruce Chatwin, the travel writer who died from AIDS, was Ivory's friend, and sometimes, lover.
Chatwin's penis was "Uncut, rosy, schoolboy-looking," Ivory writes.
Ivory's memoir isn't prurient. His sexuality doesn't overpower the narrative. It runs through "Solid Ivory" like a flavorful spice.
The book is more an impressionistic mosaic than a chronological memoir. Ivory, often, tells the stories of his life through letters he's written and received (from lovers, friends and professional contacts) as well as from diary entries.
Many of the chapters in the memoir were previously published in other publications such as The New Yorker.
"Solid Ivory" was originally published in a limited edition by Shrinking Violet Press. The Press is a small press run by Peter Cameron, a novelist, and editor of "Solid Ivory." Ivory grew up in Klamath Falls, Ore. He was originally named Richard Jerome Hazen. His parents changed his name when they adopted him.
Some of the most engaging moments of the memoir are when Ivory writes about what life was like for a child during the Depression.
Ivory's father lost his savings when the stock market crashed, and his mother frequently gave food to "tramps" who came to the door.
His "eating tastes were definitely formed during the Depression," Ivory writes.
Since that time, Ivory has lived everywhere from England to Italy. "But although I consider myself an advanced expert in the more sophisticated forms of cuisine," Ivory writes, "My gastronomical roots remain dug deep in the impoverished soil of the American Depression."Ivory became smitten with movies when he saw his first picture when he was five.
He and Merchant, a Muslim from India who died in 2005, fell in love when they met on the steps of the Indian consulate in New York in 1961. I wish Ivory had written more about the 30+ movies that he made (mostly with Merchant and Jhabvala, who died in 2013).
Yet, he provides tantalizing recollections of filmmaking, actors and celebs.
The chapters on "Difficult Women like Raquel Welch and Vanessa Redgrave" are fun to read.
Welch, a bombshell brat, doesn't want to play a love scene in "The Wild Party." During the filming of "The Bostonians," Boston is captivated by the drama of Redgrave's off-screen politics.
Ivory isn't that impressed when in 2018, at age 89, he becomes the oldest Academy Award winner when he receives the Best Adapted Screenplay Oscar for "Call Me By Your Name." "Its fame eclipses even Michelangelo's David and the Statue of Liberty," Ivory says, with irony, of the Oscar statue.
If you enjoy the movies, beauty and wit, you'll love "Solid Ivory."