October 22, 2020 at 12:44 pm PDT | by John Paul King
Drag Queen roll call vid aims to remind you: 'We're Here. We're Queer. #WeVote'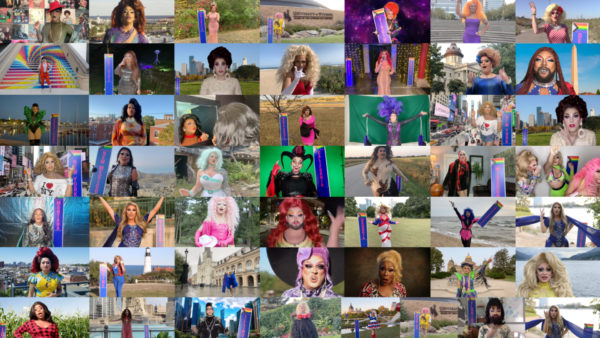 In the middle of this pandemic-twisted electoral process, it's good to know that the Drag Queens have our backs.
The hosts and producers of the Emmy-nominated HBO docuseries "We're Here" on Wednesday premiered "We're Here. We're Queer. #WeVote," a roll call video featuring drag talent from all across the USA – that's all 50 states and DC too – reminding LGBTQ people and their allies about the urgency to vote in the upcoming election.
The video, which stars the HBO show's hosts and consulting producers Shangela, Bob the Drag Queen, and Eureka O'Hara, is based on the 2020 virtual roll call from the Democratic National Convention, in which someone representing each state cast votes for a candidate from a beautiful location in their home state, and it aims to motivate LGBTQ voters to the polls by letting them know their votes matter – because they are everywhere.
Shangela explains, "It's imperative that we as an LGBTQIA community stand together and make our voices heard loud and clear during this election. There is a great deal at stake for us and those who love like us, and if we don't win, the conservative agenda will push back any progress on equality that we've achieved in the last decade."
Eureka O'Hara points out, "The importance of LGBTQ people using their voice has always been important but now more than ever! We have to stand together to maintain what growth we have received in our equal rights, and especially to keep them moving forward. It's no longer a suburban family ruled America! We have to prove that! We're Here and We Vote!"
Bob the Drag Queen adds, "Voting is the cornerstone of democracy and when you are underrepresented in congress this is the best way to make your voice heard."
"We're Here. We're Queer. #WeVote" directs viewers to GLAAD's Voting Action Center (http://glaad.org/vote), where they can check registration, request mail-in ballots, and become a digital door knocker to spread the word about what is at stake for LGBTQ people this election.
GLAAD's Chief Communications Officer Rich Ferraro comments, "This first-of-its-kind drag roll call features beautifully diverse LGBTQ talent from each and every state and we hope it especially inspires the millions of LGTBQ voters outside of major cities to use their voices and vote. The LGBTQ community and our allies in states across the South and heartland will be the deciding votes of this election. If our community and our allies bring our power to the polls, we will see a landslide of equality at a critically important time in our community's, and our nation's, history."
The video premiered on GLAAD's Facebook, Instagram, Twitter, and YouTube pages on Wednesday, October 21, as well as on the social media pages of Shangela, Bob the Drag Queen, Eureka O'Hara and other featured talent.
You can watch "We're Here. We're Queer. #WeVote" below.