Los Angeles LGBT Center making more history visually
The new Anita May Rosenstein Campus is scheduled to open on the Center's 50th anniversary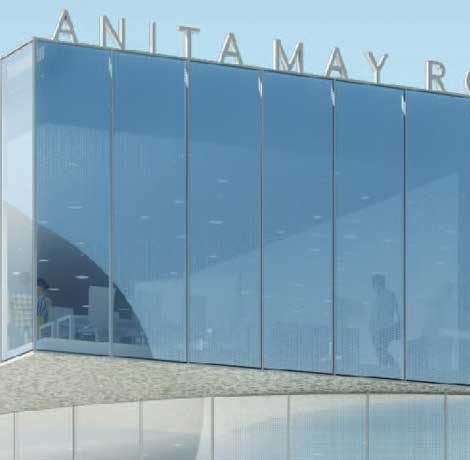 You can't raise the roof over LGBT equality without first having a firm foundation. There is perhaps no greater visual symbol for that than the progress the Los Angeles LGBT Center has made from it's first headquarters on Wilshire Boulevard in 1973 to the wide city block it has taken over in Hollywood today.
On May 24, the Center took a moment for a sort of secular blessing as the final steel beam was positioned in the grand building of the Anita May Rosenstein Campus, a first-of-its-kind complex with comprehensive multi-generational services, including 100 beds for homeless youth and 99 units of affordable housing for low-income seniors, for whom there are already several programs, including an oral history project. The new two-acre Campus across the street from the Center's arts, cultural and educational facility—The Village at Ed Gould Plaza—is expected to open in early 2019.
The audacious project is a prime example of how oppressed and stigmatized minorities must often take care of themselves when shunned, ignored or diminished by the more powerful majority. That's especially true for LGBT people, who have only recognized themselves as a distinct minority since Harry Hay's "third gender" theories in the 1950s.
"One of the interesting things about our LGBTQ minority is that where many minorities grow up with people who look like them, who sound like them, who have the same experience and life experience as they do, for the most part, we don't. It's very isolating. A lot of us are runaways, many more are throwaways," out LA County Supervisor Sheila Kuehl told The Chronicle of Social Change last January after the Board voted unanimously to direct the county's child welfare, probation, and health agencies to better serve LGBT youth.
A  2014 report from the Williams Institute found that LGBT youth are "overrepresented" in the county's child welfare system and experience significantly worse harm than straight foster care youth.
But homelessness for LGBT youth can be overshadowed by the massive homeless problem daunting LA. "A humanitarian tragedy is unfolding in plain sight in virtually every corner of Los Angeles County: Nearly 58,000 men, women and children are homeless on any given night. Homelessness knows no boundaries and affects people of all walks of life," says an LA County website devoted to the Homeless Initiative.
The Center's Campus is expected to better serve an estimated 6,000 youth experiencing homelessness—of which 40% in LA County identify as LGBTQ. And on the other end of the age spectrum, while Gov. Jerry Brown signed a "bill of rights" for LGBT seniors in long-term care, many seniors still face the indignity of possibly having to go back in the closet if they move into a homophobic low-income complex.
While the Center cannot serve all LGBT youth and seniors in need, its new Campus is at least offering some respite from the cold reality of the Trump era. Additionally, when the new facility is completed, the Center intends to officially move its administrative headquarters to the new complex, turning the McDonald/Wright Building into a health and medical center. Over all, the Center expects to serve about 65,000 LGBT people in LA County.
The timing is ironic. The new modern complex is due to open on the Center's 50th anniversary—and it's providing services and fighting now as it did then.
The Gay Community Services Center (GCSC) was founded in 1969 by Don Kilhefner and Morris Kight and other lesbian and gay activists, some of whom were also part of the LA Chapter of the Gay Liberation Front (GLF). They rented a rambling Victorian building on Wilshire Boulevard where they espoused a post-Stonewall resistance movement and provided legal help for anti-Vietnam War protesters. They also provided peer rap groups, and testing and shots at the STD clinic.
At a time when homosexuality was a crime, the founders posted a huge sign announcing the facility as a "Gay" community services center.  And according to co-founder Don Kilhefner, it was precisely the word "gay" that allowed them to incorporate as a non-profit in 1971. Government officials asked if their mission was to promote homosexuality. Tongue firmly in cheek, Kilhefner said they eschewed homosexuality (a government definition) and instead intended to raise gay awareness.
The GCSC social service mission also extended to housing gay homeless in four bungalows they called "Liberation" houses, and in 1973, they facilitated the founding of the Van Ness Recovery House and the Alcoholism Center for Women.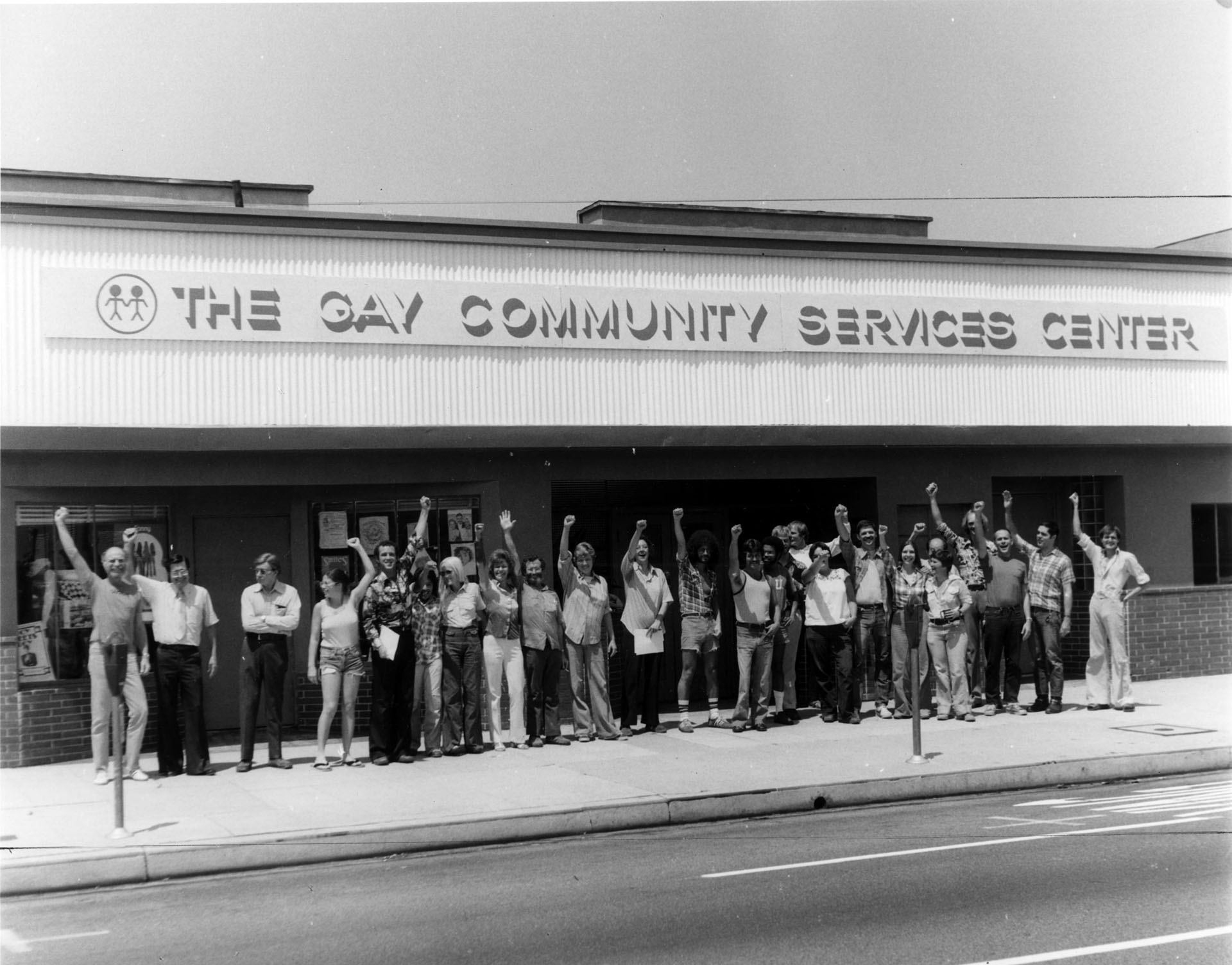 The Center moved to 1220 North Highland Avenue in Hollywood and in 1979, became one of the first organizations to recognize what became the AIDS crisis when regular visitors to the STD Clinic appeared with strange Kaposi Sarcoma spots or lingering flu, then disappeared, then died. Rep. Henry Waxman held the first federal hearing on AIDS in that building.  Just as the Highland building became synonymous with the painful and hard fight against AIDS, the building at 1625 N. Schrader Boulevard—ironically, a former IRS headquarters—signaled new political and financial power, as did the cultural complex at The Village at Ed Gould Plaza.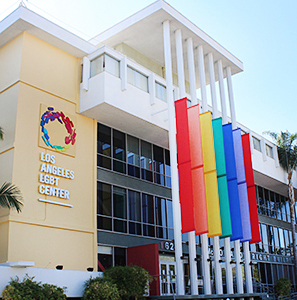 The significance of the arc of history is not lost on LA LGBT Center CEO Lorri L. Jean.
"As I stood in the midst of the construction site, surrounded by towering steel girders and watching donors sign the beam with such excitement, I realized that a number of us were on the verge of tears," Jean tells the Los Angeles Blade. "We knew our Center was achieving another pioneering 'first' for our worldwide movement.  It was as if the span of nearly 50 years of organizational history was condensed into that moment.  For centuries, our people hid in the shadows.  Then in 1971, the Center founders rented the first headquarters–an old clapboard house on Wilshire. They refused to hide, boldly putting our uncloseted name on the front for all to see (which some LGBTQ centers today are still afraid to do!). Now we're in the final stretch of constructing the Anita May Rosenstein Campus which, combined with the Village, will occupy more than a city block.  Moreover, it sits visibly and proudly along of our nation's most iconic boulevards: the famed Route 66. We were teary-eyed because we knew not only that we were witnessing history being made, but that we were a part of it making it possible."
Nebraska to force "non-affirming therapy" on trans kids
In guidelines released by the state, trans youth will have many requirements to start care, including one likened to conversion therapy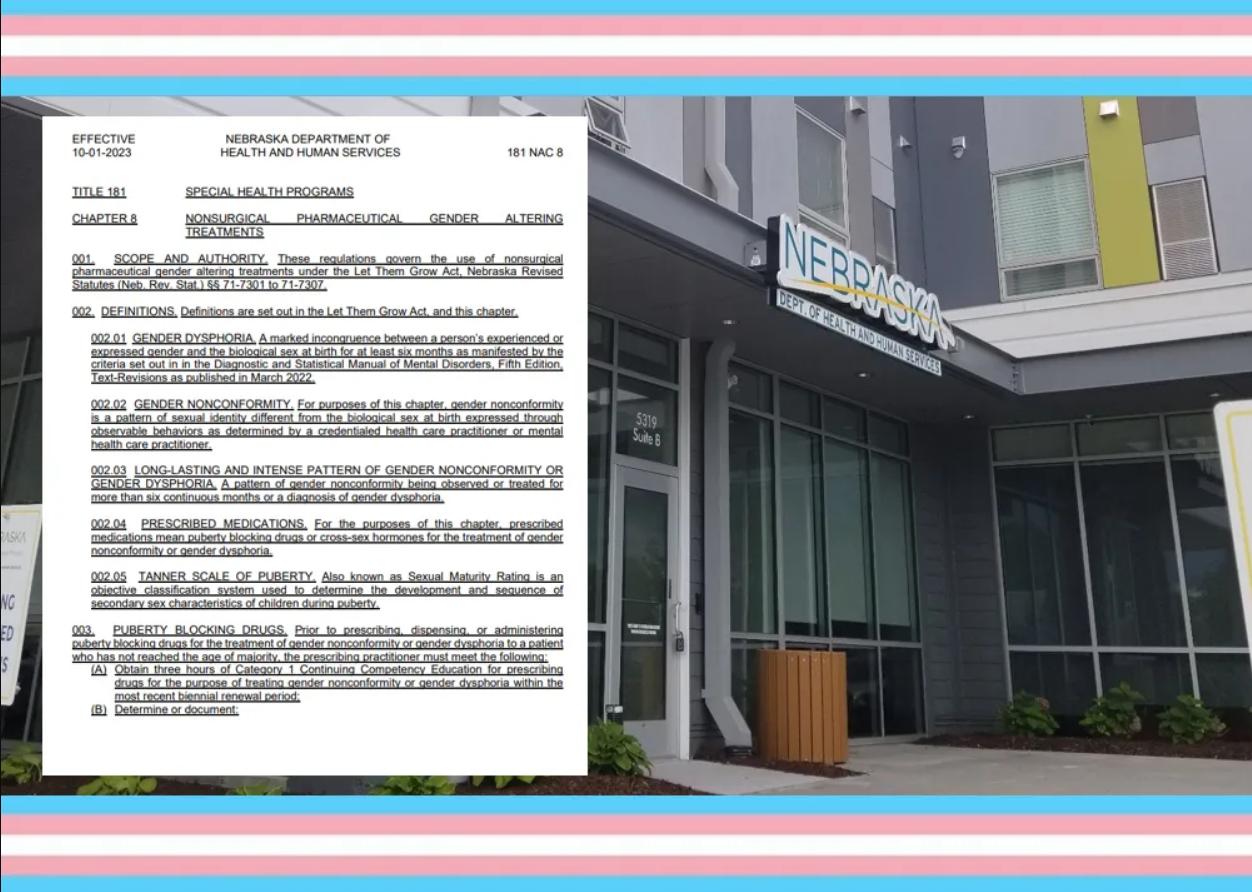 Editor's note: Important update- The regulations have been removed from the website but can be found in an archive here.
By Erin Reed | LINCOLN, Neb. – A new set of regulations released on Monday morning by the Nebraska Department of Health and Human Services spells out several new restriction on transgender youth in the state.
The restrictions, allowed under a new law passed by the Nebraska legislature this year, would curtail gender affirming care for those under the age of 19, the age of majority in the state. While several restrictions are poised to create hurdles for those seeking care, one in particular stands out as especially troubling: a mandate that all trans youth seeking treatment undergo five months of therapy that is "not in a gender affirming context," a nod to a novel form of conversion therapy championed by those opposed to gender-affirming care.
The new regulations delineate a series of hurdles that transgender youth must navigate to access care. One rule, for instance, mandates that trans youth must have been fully out and living as their gender identity for six months prior to treatment, a throwback to an archaic and decades-old standard of care. This standard was discarded following criticisms that requiring transgender individuals to present as their gender identity, before hormones could facilitate such presentation, was psychologically painful and not linked to improved outcomes. Another stipulation demands that only a trans youth's parents may collect their prescription, which must be labeled for gender dysphoria. Additionally, these youth must be handed obligatory medical misinformation forms, proclaiming the medication to be risky and promoting "alternatives" to care.
Most troublesome, however, is a particular regulation on the mental healthcare of transgender youth. The document states that transgender youth must obtain 40 hours of therapy, with a maximum of two such hours per week, that is "not in a gender affirming context." Read literally, this could involve forcing transgender youth to be misgendered and their old names used for months before obtaining care. Such a regulation may put therapists and providers in legal jeopardy merely for practicing the basic respect and dignity of their patients. The guidelines also state that the therapy has to probe for other "mental and physical health conditions" that the guidelines claim may be "driving the patients distress."
You can see the guidelines around therapy here:
Collectively, these guidelines champion a new form of conversion therapy dubbed "Gender Exploratory Therapy." Despite its innocuous name, this therapy seeks to explore all possible causes for a transgender person to experience gender dysphoria other than genuine transness.
It's important to highlight that the patient being transgender is never deemed an acceptable conclusion. Treatments are perpetually dangled just beyond reach until the trans youth believes they are not actually transgender, that too much time has elapsed and puberty has induced too many changes for a successful transition, or they turn 18 and age out of care.
Mirroring crisis pregnancy centers, these tactics are deployed under the pretense of "alternative care" and "neutral treatment," despite the deception inherent in the care provided. The duplicity surrounding gender exploratory therapy is evident in its founders, its practitioners, and on the Gender Exploratory Therapy Association's (GETA) own website.
One of GETA's co-founders, Lisa Marchiano, was implicated in leaked emails of a working group seeking to ban gender-affirming care nationwide. In these correspondences, she employs the far-right doxxing website Kiwifarms to relay information about a transgender activist to Fox News.
Although the GETA website presents the practice as "care without pushing a political agenda," it conspicuously displays a brief aimed at blocking Title IX anti-discrimination protections for transgender youth. Evidently, "value neutral, non-ideological care" is a misnomer for this form of therapy.
Many accounts of patients going through gender exploratory therapy can be found in a widely-viewed thread soliciting patients experiences, and the practice of delaying transition through the associated practice of "watchful waiting" is is explicitly condemned by the American Academy of Pediatrics. Because of widespread harm caused by this kind of therapy, the practice has been recognized as unethical in medical ethics journals.
Collectively, these new guidelines were put in place after the passage of LB547, the "Let Them grow Act." Fittingly with the comparisons to the way these kinds of practices are levied at those seeking abortions, the bill was a combination bill banning abortion up to 12 weeks as well while also containing the provisions allowing for these kinds of restrictions on trans youth. It passed the Nebraska legislature by a narrow supermajority after Democrats filibustered the law for three months.
These new policies were developed under the guidance of the state chief medical officer, Dr. Timothy Tesmer, an appointee by Governor Jim Pillen, who called gender affirming care "Lucifer at its finest." These policies were released on an emergency basis pending the adoption of permanent regulations and will go into effect immediately. A hearing is planned on November 28th on the permanent rules for gender affirming care under the new law.
****************************************************************************
Erin Reed is a transgender woman (she/her pronouns) and researcher who tracks anti-LGBTQ+ legislation around the world and helps people become better advocates for their queer family, friends, colleagues, and community. Reed also is a social media consultant and public speaker.
Follow her on Twitter (Link)
Website here: https://www.erininthemorning.com/
******************************************************************************************
The preceding article was first published at Erin In The Morning and is republished with permission.