May 29, 2018 at 5:24 pm PST | by Karen Ocamb
Los Angeles LGBT Center making more history visually
You can't raise the roof over LGBT equality without first having a firm foundation. There is perhaps no greater visual symbol for that than the progress the Los Angeles LGBT Center has made from it's first headquarters on Wilshire Boulevard in 1973 to the wide city block it has taken over in Hollywood today.
On May 24, the Center took a moment for a sort of secular blessing as the final steel beam was positioned in the grand building of the Anita May Rosenstein Campus, a first-of-its-kind complex with comprehensive multi-generational services, including 100 beds for homeless youth and 99 units of affordable housing for low-income seniors, for whom there are already several programs, including an oral history project. The new two-acre Campus across the street from the Center's arts, cultural and educational facility—The Village at Ed Gould Plaza—is expected to open in early 2019.
The audacious project is a prime example of how oppressed and stigmatized minorities must often take care of themselves when shunned, ignored or diminished by the more powerful majority. That's especially true for LGBT people, who have only recognized themselves as a distinct minority since Harry Hay's "third gender" theories in the 1950s.
"One of the interesting things about our LGBTQ minority is that where many minorities grow up with people who look like them, who sound like them, who have the same experience and life experience as they do, for the most part, we don't. It's very isolating. A lot of us are runaways, many more are throwaways," out LA County Supervisor Sheila Kuehl told The Chronicle of Social Change last January after the Board voted unanimously to direct the county's child welfare, probation, and health agencies to better serve LGBT youth.
A  2014 report from the Williams Institute found that LGBT youth are "overrepresented" in the county's child welfare system and experience significantly worse harm than straight foster care youth.
But homelessness for LGBT youth can be overshadowed by the massive homeless problem daunting LA. "A humanitarian tragedy is unfolding in plain sight in virtually every corner of Los Angeles County: Nearly 58,000 men, women and children are homeless on any given night. Homelessness knows no boundaries and affects people of all walks of life," says an LA County website devoted to the Homeless Initiative.
The Center's Campus is expected to better serve an estimated 6,000 youth experiencing homelessness—of which 40% in LA County identify as LGBTQ. And on the other end of the age spectrum, while Gov. Jerry Brown signed a "bill of rights" for LGBT seniors in long-term care, many seniors still face the indignity of possibly having to go back in the closet if they move into a homophobic low-income complex.
While the Center cannot serve all LGBT youth and seniors in need, its new Campus is at least offering some respite from the cold reality of the Trump era. Additionally, when the new facility is completed, the Center intends to officially move its administrative headquarters to the new complex, turning the McDonald/Wright Building into a health and medical center. Over all, the Center expects to serve about 65,000 LGBT people in LA County.
The timing is ironic. The new modern complex is due to open on the Center's 50th anniversary—and it's providing services and fighting now as it did then.
The Gay Community Services Center (GCSC) was founded in 1969 by Don Kilhefner and Morris Kight and other lesbian and gay activists, some of whom were also part of the LA Chapter of the Gay Liberation Front (GLF). They rented a rambling Victorian building on Wilshire Boulevard where they espoused a post-Stonewall resistance movement and provided legal help for anti-Vietnam War protesters. They also provided peer rap groups, and testing and shots at the STD clinic.
At a time when homosexuality was a crime, the founders posted a huge sign announcing the facility as a "Gay" community services center.  And according to co-founder Don Kilhefner, it was precisely the word "gay" that allowed them to incorporate as a non-profit in 1971. Government officials asked if their mission was to promote homosexuality. Tongue firmly in cheek, Kilhefner said they eschewed homosexuality (a government definition) and instead intended to raise gay awareness.
The GCSC social service mission also extended to housing gay homeless in four bungalows they called "Liberation" houses, and in 1973, they facilitated the founding of the Van Ness Recovery House and the Alcoholism Center for Women.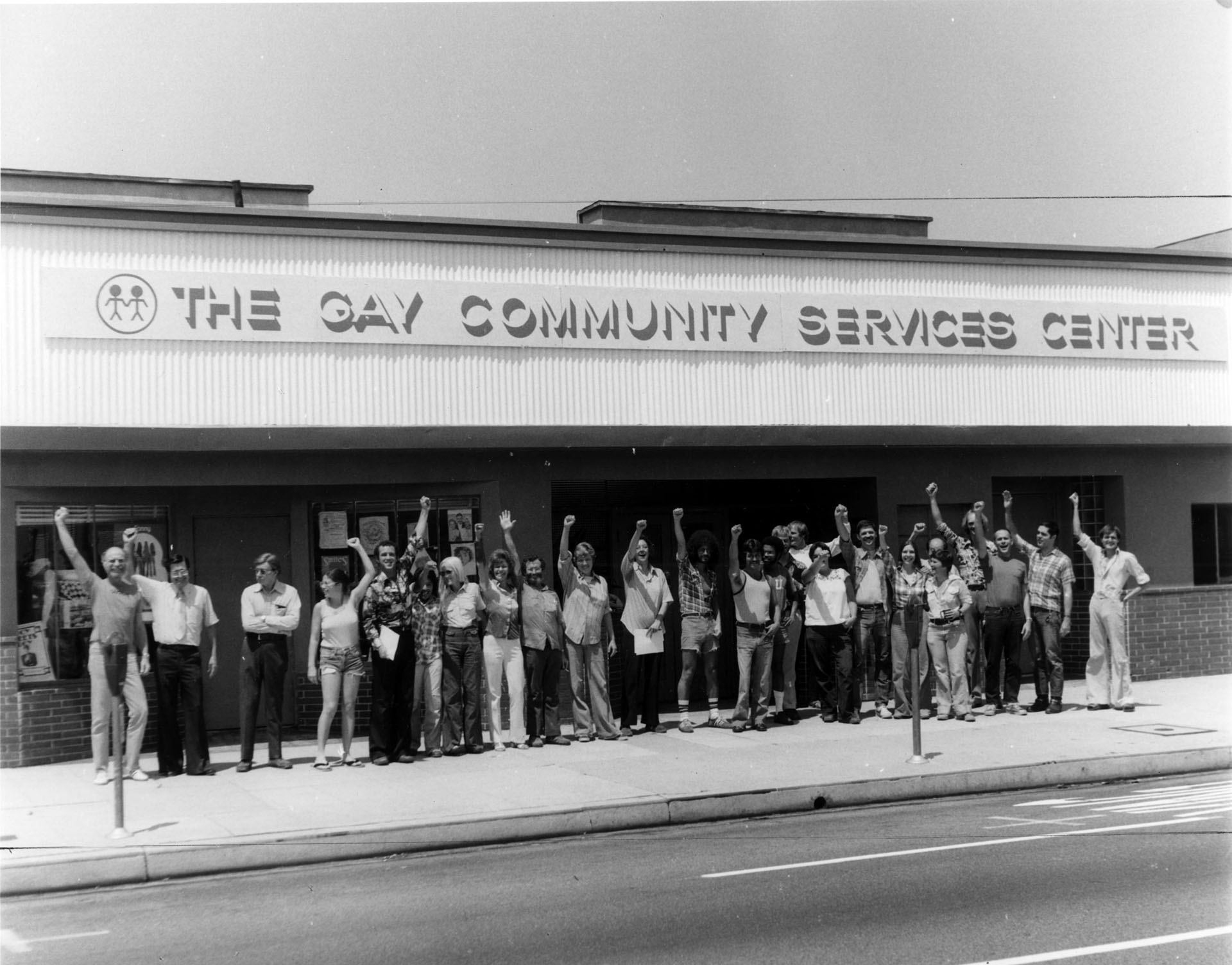 The Center moved to 1220 North Highland Avenue in Hollywood and in 1979, became one of the first organizations to recognize what became the AIDS crisis when regular visitors to the STD Clinic appeared with strange Kaposi Sarcoma spots or lingering flu, then disappeared, then died. Rep. Henry Waxman held the first federal hearing on AIDS in that building.  Just as the Highland building became synonymous with the painful and hard fight against AIDS, the building at 1625 N. Schrader Boulevard—ironically, a former IRS headquarters—signaled new political and financial power, as did the cultural complex at The Village at Ed Gould Plaza.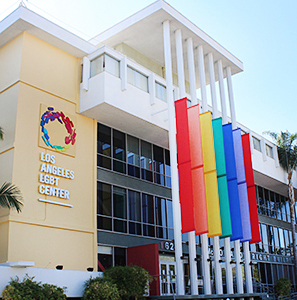 The significance of the arc of history is not lost on LA LGBT Center CEO Lorri L. Jean.
"As I stood in the midst of the construction site, surrounded by towering steel girders and watching donors sign the beam with such excitement, I realized that a number of us were on the verge of tears," Jean tells the Los Angeles Blade. "We knew our Center was achieving another pioneering 'first' for our worldwide movement.  It was as if the span of nearly 50 years of organizational history was condensed into that moment.  For centuries, our people hid in the shadows.  Then in 1971, the Center founders rented the first headquarters–an old clapboard house on Wilshire. They refused to hide, boldly putting our uncloseted name on the front for all to see (which some LGBTQ centers today are still afraid to do!). Now we're in the final stretch of constructing the Anita May Rosenstein Campus which, combined with the Village, will occupy more than a city block.  Moreover, it sits visibly and proudly along of our nation's most iconic boulevards: the famed Route 66. We were teary-eyed because we knew not only that we were witnessing history being made, but that we were a part of it making it possible."