California adds Oklahoma to travel ban over LGBT discrimination
State discrimination is anti-family, anti-child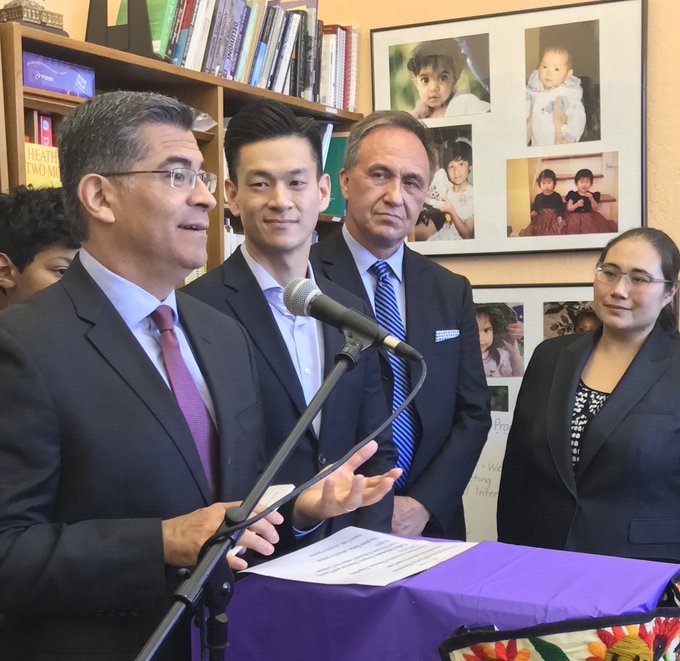 Red states like Oklahoma and Kansas might not care that California is calling them out for their explicit LGBT discrimination, but the state's taxpayers do, Attorney General Xavier Becerra said at a news conference Friday.
As of June 22, state-funded and state-sponsored travel will be prohibit to Oklahoma in response to Gov. Mary Fallin signing a "religious freedom" law on May 11 allowing taxpayer-funded adoption agencies to deny child placement services to same-sex parents and to refuse to place LGBT foster children in homes based on religious or moral grounds related to sexual orientation, gender identity or gender expression.
Kansas Gov. Jeff Colyer also signed an anti-LGBT bill the next day, on May 12, but that state is already on the California travel ban list. Kansas' previous governor, Sam Brownback, had a long history of anti-LGBT attitudes and actions, including signing an anti-LGBT student bill  in 2016.
Oklahoma's law, Senate Bill 1140, is scheduled to go into effect on November 1. At the news conference, Becerra said he wanted to give fair warning to Californians and others who might be planning conferences in Oklahoma with significant California participation.
"California law requires that my office identify and maintain a list of states which are off-limits for state-funded or state-sponsored travel," Becerra said. "California will not use state resources to support states that pass discriminatory laws. The law enacted in Oklahoma allows discrimination against LGBTQ children and aspiring LGBTQ parents who must navigate the adoption process. California taxpayers are taking a stand against bigotry and in support of those who would be harmed by this prejudiced policy."
Diversity and inclusiveness is also good for everyone, including the state's business. ""It's so important that we understand what it means to celebrate Pride month," says Becerra, "having pride in being part of a forward leaning state that believes in diversity, in inclusion, in welcoming people. We are proud of that because it has made us a very successful place. You don't become the fifth largest economy in the world unless you're doing something right. So we take great pride in conveying to everyone in our state that we respect you, we welcome you and we wish you to thrive here in California. Not just here – but anywhere in America you go, that we've got your back. "
"AB 1887 was enacted to ensure our taxpayer dollars do not fund bigotry – no exceptions. California is a state of inclusion and has long stood up against discrimination in any form, within our borders and beyond," said Assemblymember Evan Low (D-Silicon Valley), Chair of the California Legislative LGBT Caucus and author of the travel ban bill. "I stand with Attorney General Becerra as he holds our values high and ensures we do not put any state money behind other states' discriminatory policies."
"Every child deserves a loving, supportive family, and it's neither pro-child, nor pro-family, for Oklahoma to deny them one," said Equality California Executive Director Rick Zbur, who choked up talking about his own three children and the harms done by such laws against children. "California taxpayers won't subsidize Oklahoma's — or any state's — discriminatory policies, and we're grateful to Attorney General Becerra for taking this decisive action today in support of equality for all."
"We applaud the Attorney General for ensuring that California taxpayer dollars are used to support our state's values of inclusion and equality," said Cathy Sakimura, National Center for Lesbian Rights Family Law Director. "Oklahoma's law allows adoption agencies to deny children safe and stable homes merely because their adoptive parents are LGBT, denying our families equal dignity and harming children."
Becerra says his office has heard from companies and organizations in different states wanting to know if California would exempt them from the ban. While he may sympathize, "we don't do that," – grant individual exemptions. Low noted that it's still a relatively new law so there is no real tracking of the consequences yet, though the reach is long from tourism companies to Fortune 500 companies are aware of California's ban.
States Subject to AB 1887's Travel Prohibition
The following states are currently subject to California's ban on state-funded and state-sponsored travel:
Alabama
Kansas
Kentucky
Mississippi
North Carolina
South Dakota
Tennessee
Texas
And as of June 22—Oklahoma.
Behind the scenes: LGBTQ staff working on Biden's re-election
"We who work in politics feel like this is a choice between, most likely, Donald Trump & President Biden and Vice President Harris"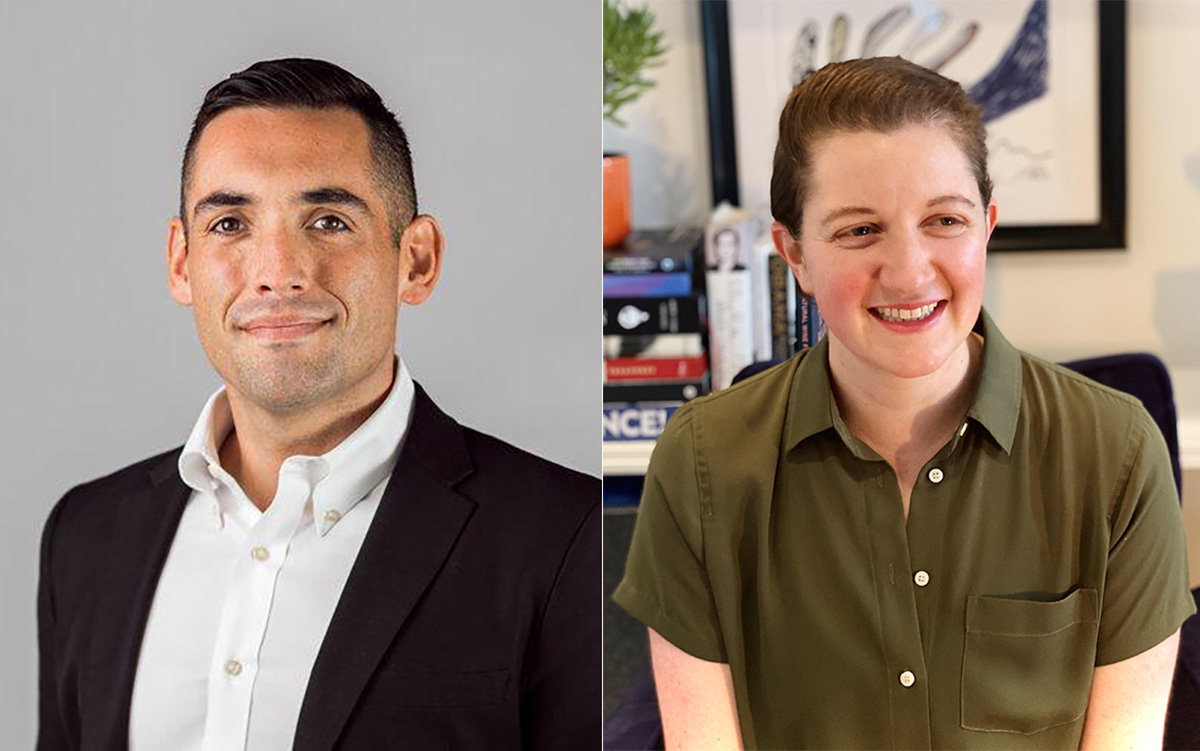 (Editor's note: This is the third in a three-part series profiling senior LGBTQ staff working on President Biden's re-election campaign. Part one was published on Nov. 21 and part two was published on Nov. 29.)

WILMINGTON, Del. — Last month from campaign headquarters, the Washington Blade spoke with Sergio Gonzales, senior adviser to Vice President Kamala Harris and the Biden-Harris reelection campaign, along with senior campaign adviser Becca Siegel.
On the importance of LGBTQ representation in the presidential campaign, Gonzales said, "When it comes to policies that affect the lives of millions of people in our communities across the country, having people who have that experience and that background really does matter."
Moving into next year, he said, the team is working "to ensure that we have people from across the spectrum of America who are able to both bring their own personal experiences and lives into these roles, but also bring a lot of relationships across the country and being able to engage with the community, talk to the community, persuade the community, turn out the community."
Gonzales has worked for Harris since she was elected to represent California in the U.S. Senate, and he said her record supporting and defending the LGBTQ community throughout her career was one of the major factors leading to his decision to join the campaign.
"Especially when it comes to issues related to LGBTQ rights and freedoms, this is something [Harris] has such a long history on," he said. "She has always — both in her office and externally — formed these strong relationships with people in the LGBTQ community and those relationships have always been very, I think, important in not only ensuring her office and the work that she has done reflects the various things that we as a community need, but also just in the way she supports people of color and LGBTQ folks who have worked for her."
In an election where, as the vice president says, so much is at stake for our fundamental freedoms and rights," Gonzales said, "that is especially true for LGBTQ Americans. If you look at the number of attacks by GOP leaders at the local, state, and federal level across the country, so much is on the line in this election."
On the right, Gonzales said, "We have a lot of leaders and a party in this country who are doing their best to try to attack fundamental rights and freedoms of a lot of different folks, including people in the LGBTQ community — and, in some ways, who are trying to turn back the clock on a lot of the progress we've made."
Voters are aware of the fact that, for instance, Republicans elected "a new Speaker of the House who has a very, very alarming and disturbing record of attacking people in our community, including trying to outlaw you know, being gay," he said.
"Both as senior adviser and personally as a very openly and proud gay man," Gonzales said, next year's election "is one of the most important if not the most important election of our lifetime," because "I see what sits on the other side; I see all of these different states who are trying to attack our rights, who are banning books, who are passing 'Don't Say Gay' laws, who are attacking trans people and trying to undo gay marriage, who are — both through policy and through rhetoric — making the country more dangerous for people like me and our community."
"I'm glad and proud to work for a principal and work for a campaign that is about continuing the progress and ensuring we don't turn back the clock and we don't go back on these things," he said.
Gonzales noted the Biden-Harris administration's appointment of record-breaking numbers of LGBTQ folks in senior positions in the White House and across the federal government, but stressed that the commitment to equality runs deeper.
"This administration is an administration that has ensured that not only is there representation for the LGBTQ community, but also has actually driven multiple policy wins, both through the executive level and through Congress, that ensure and afford greater rights and freedoms for people in our community," he said.
Helping voters see the contrast between this and what Republicans — like the party's frontrunner, former President Donald Trump — would do if elected will be an important part of the campaign's work moving into next year, Gonzales said. "As things become much more clear and what we are up against, and Donald Trump comes more into focus, I truly believe that we're going to see a lot of different parts of the country start to engage in this election," he said.
Voters will also remember "the specific things that [Trump] did in his last administration," Gonzales said. "They tried to erase LGBTQ people from the census. They imposed a ban on transgender individuals in our military, which this administration undid. They undid protections for LGBTQ Americans, including transgender individuals, in the workplace, and more broadly," so, "this is not just bluster."
And the Biden-Harris administration "has so much to run on" with respect to LGBTQ matters, Gonzales said, "whether we're talking about health care, whether we're talking about the Respect for Marriage Act, whether we're talking about, you know, some of the ways that we've addressed bullying in schools — these are very real policy wins for our community."
Like Gonzales, Siegel has "worked on many presidential campaigns."
"Your whole life is here when you're working on a campaign," she said. "This is your work, but also your social life and your friends," so "if you are not bringing your whole self to this community, you're not bringing it anywhere in your life."
Our job is to persuade and engage with voters," Siegel said, "and we have to have a campaign that reflects the voters we are trying to engage with."
"Core to my approach to this work is respect and empathy for voters," she said. "That's what we should think about every day. I think we are much better prepared to do that when we have a staff that looks like those voters."
Siegel added, "It's not just so that you walk into the office and it looks like it is a diverse place to work. That's important, too. But it's actually about the work."
With respect to her individual role within the campaign, she said, it comes down to "let's take that strategy" of using data to find a pathway to victory "and then make sure we are executing a campaign that reflects it." When it comes to "travel, comms, which radio stations we're on, what our TV ads say, where we're allocating our money, where we're hiring staff — do those things align with the strategy to get us to 270 electoral votes?"
The importance of representation, LGBTQ and otherwise, may not seem self-evident in data-centric roles, but Siegel noted, for instance, the persistent challenge of combatting bias within datasets.
Like Gonzales, Siegel stressed the contrast between the Biden-Harris administration and campaign and those run by the Republican opposition. "LGBTQ rights feel more under attack now than they have in the past," she said, "and so that rises to the top of concerns for voters — and our policy and position on this is really far away from the Republicans'."
"That's a clear contrast between us and the opposition," she said, adding, "It's at the top of people's minds. It's something they care about, and we have a pretty unimpeachable record on it compared to the opposition."
It is not necessarily so simple, however.
"We who work in politics feel like, of course, this is a choice between, most likely, Donald Trump and President Biden and Vice President Harris," Siegel said, "but voters, especially the voters who are most persuadable, don't feel that way right now, necessarily."
The choice voters will face will crystalize and the contrast between the campaigns will deepen moving into next year, she said.
On lots of LGBTQ issues, Americans are on our side. And when it becomes a choice between, 'there's this version of America and then there's Trump's version of America,' — then, that is really clear," Siegel said.
The campaign is working to reelect the president and vice president to represent the people, the voters, who "have day-to-day things that prevent them from, like, reading Politico," she said. "They have kids, they have to pay their bills, they have to worry about all kinds of things."
Siegel added, "I have a lot of faith in voters. They care about their families. They want a good life. They care about people who are different than them. I think most people care about other people."
For those working on the campaign, she said, "it's really on us" to make sure to "explain and show and demonstrate to them what you are getting from this administration, from these candidates."
"We get to run on issues that help people and are popular," Siegel said. "That's a great place to start from."