Rally held for gay Nigerian asylum seeker caged by ICE since 2016
If deported, Nweke could face imprisonment or the death penalty in Nigeria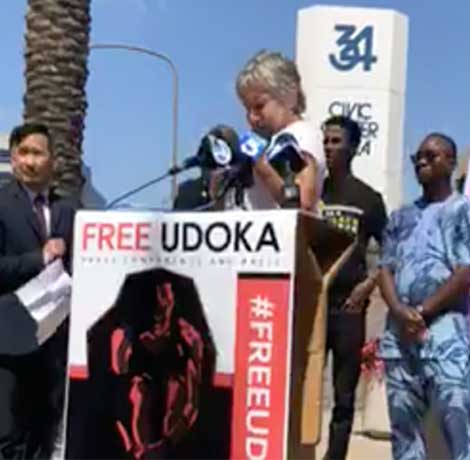 A group of representatives from human, civil, immigration, and LGBTQ rights organizations gathered this morning at the steps of Santa Ana's Immigration and Customs Enforcement (ICE) office for a press conference and rally to support a gay Nigerian asylum seeker, Udoka Nweke, who since 2016 has been caged in the Adelanto immigrant detention facility about two hour's drive north.
Nweke fled his native country because he was a victim of anti-gay mob violence.
He survived a harrowing journey through South and Central America and was apprehended for crossing the US border at the San Ysidro port of entry. After his asylum request was denied, Nweke attempted to hang himself and was diagnosed with paranoid schizophrenia and depression.
Today's press conference and rally were organized by Ola Osaze, who leads the Black LGBTQ Migrant Project of the Transgender Law Center, Luis Gomez, immigration resources specialist at the Orange County LGBT Center, and Jorge-Mario Cabrera, director of communications at the Coalition for Humane Immigrant Rights. Their goal: to put pressure on ICE to release Nweke on parole. The advocates fear his continued detention in Adelanto–without access to mental healthcare–could be life-threatening.
Gomez read a letter written by Nweke and addressed to attendees: "I have not been able to get help from psychiatrists here in detention", he wrote. "I want you to know that i truly appreciate your help and the emotional support you've given me, and I must say it goes a long way toward making me feel better."
Osaze is a queer trans Nigerian asylee. Nweke's plight, he said, reflects experiences that have become more routine for black LGBTQ asylum seekers. "In detention centers like Adelanto", he said, "we are re-traumatized, as Udoka was. Our health is jeopardized, as Udoka's has been, and we are detained indefinitely and in many cases deported back to the unsafe and life threatening situations that we escaped in the first place."
Josie Roberto, an immigration attorney with the Public Law Center who has worked on Nweke's case, filed an appellate brief with the Board of Immigration Appeals, and said the case till be heard in early August. However, unless ICE decides to release him, she explained he will be detained until his court date.
If he is deported, Nweke could face imprisonment or the death penalty in Nigeria, where homosexuality is illegal. Osaze explained the punitive codes aimed at LGBTQ Nigerians are part of the reason the Black LGBTQ Migrant Project was founded. He lives in constant fear of this outcome and yearns for freedom from Adelanto, where he says staff have threatened him with solitary confinement, shackles, and of other forms of punishment. For these reasons, Nweke's mental health has worsened.
Nweke's attorneys are appealing the denial of his asylum case. But because his bond and parole requests were also turned down, Osaze and his fellow rally attendees hope media attention and awareness-building will yield a favorable outcome that, so far, has not been reached through traditional channels.
The rally concluded with a chant that was borrowed from Assata Shakur, a major figure in the black liberation movement who was widely regarded as a political prisoner prior to her escape from a New Jersey correctional facility. (She now lives in Cuba, where she won asylum.) "Make Adelanto hear you", the group was instructed: "It is our duty to fight for our freedom. It is our duty to win. We must love and protect each other. We have nothing to lose but our chains."
Instagram lets Gays against Groomers spread harmful rhetoric
Many of the group's posts violate Instagram's policies against hate speech, harassment, and misinformation, but has gone largely unchecked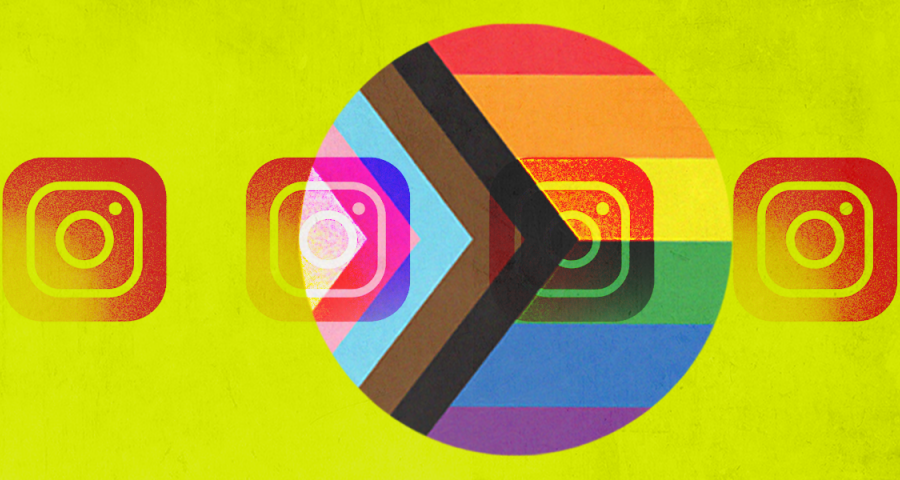 By Camden Carter | WASHINGTON – Meta has allowed anti-LGBTQ group Gays Against Groomers — which falsely frames itself as a grassroots coalition that wants to protect children, but is actually composed of experienced right-wing grifters — to push false narratives about LGBTQ people on its platforms, particularly Instagram. 
Facebook, Instagram, and Threads are some of the few mainstream platforms that have not banned Gays Against Groomers, even though the group seems to have repeatedly violated the platforms' policies, including by repeatedly promoting the anti-LGBTQ "groomer" slur, claiming trans people have mental and moral deficiencies, and spreading misinformation that's been debunked by third-party fact-checkers.
Instagram, in particular, has a history of failing to moderate harmful accounts despite Meta's anti-hate speech and harassment policies. Attacks have often targeted LGBTQ people, whom Meta has repeatedly claimed it is committed to supporting.
Gays Against Groomers maintains Facebook, Instagram, and Threads accounts, but it has been banned or suspended from other platforms:
Meta's policies prohibit users from targeting LGBTQ people with hate speech (including "groomer") and harassment, and it promises to label misinformation:
Meta's policies prohibit users from targeting LGBTQ people with hate speech (including "groomer") and harassment, and it promises to label misinformation:
On Instagram, Gays Against Groomers has repeatedly referred to LGBTQ people as "groomers":
On Instagram, Gays Against Groomers has repeatedly targeted trans people with claims of mental deficiencies:
Gays Against Groomers has repeatedly spread misinformation about gender-affirming care on Instagram, including falsely claiming that it is a form of mutilation or pedophilia:
On Instagram, Gays Against Groomers has repeatedly accused LGBTQ people of having moral deficiencies, including by pushing the right-wing myth that LGBTQ people are embracing pedophilia:
Recycled claims that that LGBTQ people are embracing pedophilia have also been thoroughly debunked, yet Gays Against Groomers has repeatedly pushed this narrative on Instagram:
Gays Against Groomers has also targeted LGBTQ people on Meta's other platforms, Facebook and Threads:
Related:
Grifter Gays: How conspiracy theorists and right-wing operatives created Gays Against Groomers
Instagram is letting accounts promoting hate speech go unchecked
Right-wing LGBTQ influencers switch teams as homophobic video shared by DeSantis campaign draws widespread condemnation
************************************************************************************
The preceding article & research study was previously published by Media Matters for America and is republished with permission.