Supreme Court sidesteps major ruling in Masterpiece Cakeshop case
Justices cite hostility to religion by Colorado commission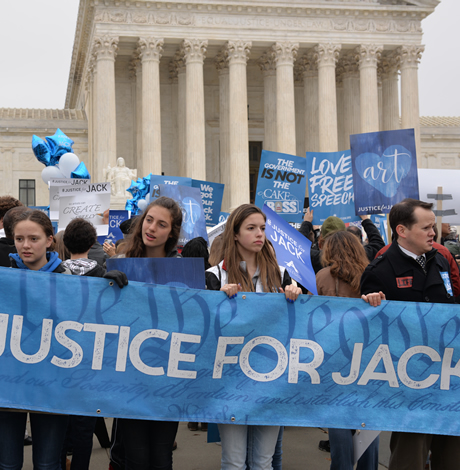 The U.S. Supreme Court sidestepped a major decision in the Masterpiece Cakeshop case, issuing a narrow decision based on the facts of the lawsuit in favor of a Colorado baker sued for refusing to make a wedding cake for a same-sex couple.
In the 7-2 decision written by U.S. Associate Justice Anthony Kennedy, the Supreme Court vacated the decision by the Colorado Court of Appeals against baker Jack Phillips on the basis the state commission handling his case displayed a religious bias against him.
"When the Colorado Civil Rights Commission considered this case, it did not do so with the religious neutrality that the Constitution requires," Kennedy writes.
Kennedy concluded his ruling by making clear it provides no precedent for cases in which individuals and businesses assert a First Amendment right to refuse service to same-sex couples, insisting that determination must come at a later time.
"The outcome of cases like this in other circumstances must await further elaboration in the courts, all in the context of recognizing that these disputes must be resolved with tolerance, without undue disrespect to sincere religious beliefs, and without subjecting gay persons to indignities when they seek goods and services in an open market," Kennedy wrote.
As evidence of the Colorado Civil Rights Commission's hostility toward Phillips' religious views, Kennedy cites language the commissioners used as they heard the case in 2014, including one commissioner's words that religious views are "one of the most despicable pieces of rhetoric that people can use."
During oral arguments in the case before the Supreme Court, Kennedy has expressed concern over these words from the commission, prompting observers to speculate the court might issue a decision punting the case and remanding it for reconsideration without hostility toward religion.
In the decision, Kennedy writes those words from the commissioner demonstrates hostility toward Phillips' religion both by describing as despicable and by characterizing it as merely rhetorical.
"This sentiment is inappropriate for a Commission charged with the solemn responsibility of fair and neutral enforcement of Colorado's anti-discrimination law — a law that protects against discrimination on the basis of religion as well as sexual orientation," Kennedy wrote.
The decision will likely mean the Colorado Civil Rights Commission will rehear the case, although there's no reason to think the outcome will be different even if the commissioners approach it differently as advised by Kennedy.
It also means the long-running case against Masterpiece Cakeshop, filed by Charlie Craig and Dave Mullins back in 2012 when Phillips refused to make them a custom-made wedding cake, hasn't reached its finish line at the Supreme Court and likely will continue to proceed.
After the couple sued six years ago, the Colorado Civil Rights Commission ruled in their favor in 2014 and the Colorado Court of Appeals upheld that decision a year later. Phillips filed a petition before the U.S. Supreme Court to review those rulings, which the Supreme Court accepted last year shortly after the confirmation of U.S. Associate Justice Neil Gorsuch.
Attorneys representing both sides in the case declared victory to some extent, with the American Civil Liberties Union, which represented the couple, insisting non-discrimination principles were upheld and Alliance Defending Freedom, which represented Phillips, calling the decision a victory for "religious freedom."
Louise Melling, deputy legal director of the ACLU, said in a statement the Supreme Court essentially punted without making a sweeping decision.
"The court reversed the Masterpiece Cakeshop decision based on concerns unique to the case but reaffirmed its longstanding rule that states can prevent the harms of discrimination in the marketplace, including against LGBT people," Melling said.
Kristen Waggoner, who argued the case for Phillips before the Supreme Court as senior counsel to Alliance Defending Freedom, said in a statement the ruling was a win for her client.
"Government hostility toward people of faith has no place in our society, yet the state of Colorado was openly antagonistic toward Jack's religious beliefs about marriage," Waggoner said. "The court was right to condemn that. Tolerance and respect for good-faith differences of opinion are essential in a society like ours. This decision makes clear that the government must respect Jack's beliefs about marriage."
Joining Kennedy in the decision was U.S. Chief Justice John Roberts as well as U.S. Associate Justices Stephen Breyer, Samuel Alito, Elena Kagan, Gorsuch and Clarence Thomas. Dissenting in the ruling was U.S. Associate Justices Ruth Bader Ginsburg, who was joined by U.S. Associate Justice Sonia Sotamayor.
In her dissent, Ginsburg wrote the long process in which the case was reviewed by the Colorado Civil Rights Commission and appealed to the Colorado Court of Appeals should abrogate any concerns about religious liberty.
"I see no reason why the comments of one or two commissioners should be taken to overcome Phillips' refusal to sell a wedding cake to Craig and Mullins," Ginsburg writes. "The proceedings involved several layers of independent decision-making, of which the commission was but one."
The decision means that a final determination from the court on whether individuals and businesses have a First Amendment right to discriminate against same-sex couples may come at a later time. That decision could result from a petition pending before the court in a similar case filed by Arlene's Flowers, a floral shop in Washington State seeking a First Amendment right to refuse service to same-sex weddings.
Many predict Kennedy will step down from the bench at the end of this Supreme Court term. If that happens, the Supreme Court could issue a decision that makes precedent on this issue with whomever President Trump appoints to replace Kennedy. That justice could be an anti-LGBT pick as opposed to Kennedy, who has authored major gay rights decisions.
Louisiana lawmakers send anti-LGBTQ bills to Governor Edwards
"I guess I've always believed in my heart of hearts that a decision should be made by a patient and a physician"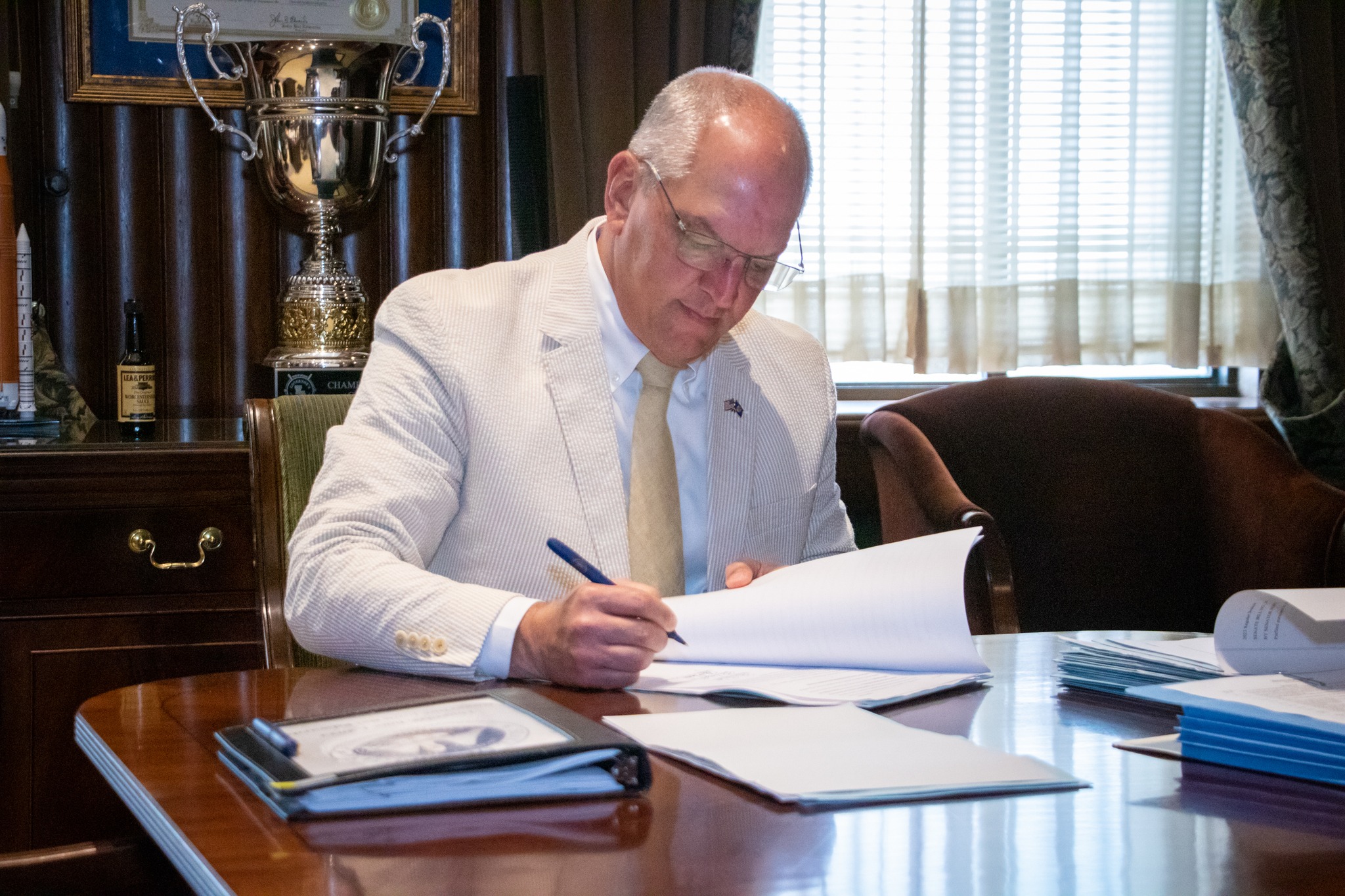 BATON ROUGE – The Louisiana state Senate on Monday, following a national conservative movement targeting LGBTQ+ youth, approved three measures that target LGBTQ+ rights. The bills now head to the state's Democratic Governor John Bel Edwards, one of which has spurred calls for the governor to veto from leading civil rights advocacy groups including the ACLU.
House Bill 648, a ban on trans youth gender-affirming health care, passed on a 29-10 vote that along party lines. HB 648 is the only bill of the three to receive a veto-proof majority vote in both House and Senate should the governor veto it, which sources say is highly likely.
"This extreme government overreach harms everyone in our state, especially transgender Louisianans, and we all deserve better," ACLU spokesperson Kari Elgin said in a statement.
The local newspaper, The Advocate reported, the Senate voted Monday for HB 466, the ban on talk of gender and sex in school classrooms, on a 29-9 vote, a two-thirds majority; and for HB Bill 81, the pronoun bill, on a 31-8 vote, also a two-thirds majority. However, the House passed each of those bills earlier in session without two-thirds majority votes.
Human Rights Campaign State Legislative Director and Senior Counsel Cathryn Oakley released the following statement:
"From doctors' offices to classrooms, Louisiana's extremist legislators show no shame in assaulting the freedoms of those different from them. Blocking teachers from providing the safe and inclusive spaces that LGBTQ+ youth so desperately need is an unconscionable act. There is absolutely nothing inappropriate about being LGBTQ+ or in acknowledging LGBTQ+ issues and people. Furthermore, denying transgender and non-binary youth access to best-practice, life-saving medical care puts their lives in very real danger.
These bills are a desperate and cruel effort by radical politicians in Louisiana to marginalize and erase the LGBTQ+ community, particularly transgender youth. The Human Rights Campaign strongly condemns these discriminatory bills and calls on Gov. Bel Edwards to veto them."
There was opposition to the trans youth healthcare ban from Senator Republican Committee Chairman Fred Mills, of Parks, joined who had joined with the Democrats in opposition. The bill killed by the Senate Health and Welfare Committee, which Mills is chair of on May 24, which was thought to have effectively killed the bill for this legislative session.
According to the Advocate after weeks of political maneuvering that saw it revived by the full Senate as political pressure mounted from conservative interest groups and then approved last week by a second Senate panel, sending it back to the full chamber.
Last month Mills, who expressed his trust in science and health care providers before joining Democrats in opposition.
"I guess I've always believed in my heart of hearts that a decision should be made by a patient and a physician," Mills said.
Speaking to the Advocate Monday, Mills said his vote was driven by his belief that decisions about medical care should remain between doctors and patients. He said Monday that blowback to his vote, which included threats from local and national conservatives, came as a surprise because he was unaware of the "cultural war" the issue was enmeshed in.
"This is probably one of the biggest blessings of my life, this controversy," he said. "I've been attacked nationwide by people with hate. But I do not hate these people. I know God blesses them."
Related: