It's Newsom (D) vs Cox (R) in November
Who will turnout more voters in vulnerable Congressional districts?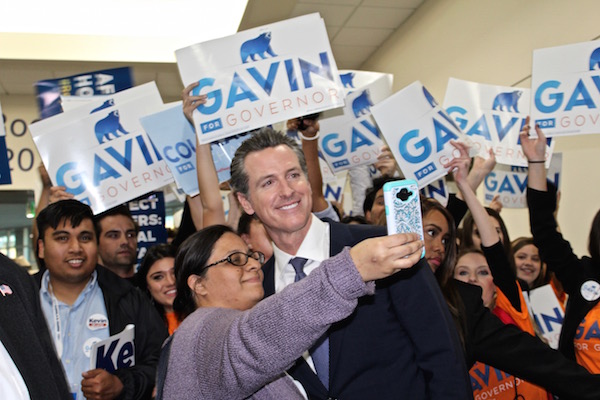 California's jungle Primary captured the wild imaginations of politicos nationwide. With so many Democrats running for Republican congressional seats in districts Hillary Clinton won in 2016, would they cancel themselves out and enable two Republicans to emerge as the top-two vote getters to run in November's midterm elections. It mattered: the road to retaking the House of Representatives runs through the Golden State.
That didn't happen. Democrats will face Democrats or Democrats will face Republicans, just like the old days of partisan primaries.
"It looks like voters are going to have a real choice this November — between a governor who is going to stand up to Donald Trump and a foot soldier in Trump's war on California," Newsom said Election Night
And while there was a breath-taking glitch in voting—out Los Angeles County Registrar of Voters Dean Logan announced that the names of more than 118,000 voters were accidentally left off the rolls at a number of polling places—Democrats appear ready to rally around their candidates. Former LA Mayor Antonio Villaraigosa, who campaign was probably most impacted by the glitch, asked elections officials to extend voting for three days but when they declined, he immediately endorsed rival Lt. Gov. Gavin Newsom.
"I'm asking you to get behind Gavin Newsom," said Villaraigosa after conceding. "I'm asking you to stand up and pressure every one of us — Democrat and Republican alike — pressure every one of us to stand up for you, to fight for you, not just for ourselves, but for all of us for an America and a California where every one of us are growing together."
Newsom, who's been running for governor since Feb. 2015, made a strategic calculation to announce his preference for running against a Republican to save money and resources for down-ticket races and to energize a base that might be too apathetic to vote knowing a Democrat would be elected governor. Newsom angered some Democrats by "attacking" Republican John Cox in ads, touting the businessman's closeness to Donald Trump, which served to raise Cox's visibility and inspire GOP voters to turn out in the vulnerable districts Democrats hoped to flip.
"We put a businessman in the White House, let's put a businessman in the governor's mansion!" Cox said upon winning.
Trump's tweeted endorsement of Cox helped also, as did Cox hitching his wagon to the Gas Tax Repeal initiative organized by conservative gay radio talk show host Carl DeMaio.
It's oddly ironic that the top two candidates for governor of California owe their initial visibility to gay people—Newsom for giving marriage licenses to same sex couples in 2004 and Cox for advocating for the gas tax repeal and the recall of Fullerton Democrat State Senator Josh Newman for being the deciding vote in passing the gas tax, intended for infrastructure repair. The recall was also initiated by DeMaio,
"I think Democrats are shaking in their boots in California," DeMaio said on MSNBC Wednesday. "Democrats lost their super majority in the State Legislature because of that recall. There is a taxpayer revolt happening in California that we haven't seen since Prop 13, claiming that support for the measure boosted Cox and Republican Diane Harkey in the 49th Congressional District to replace retiring Rep. Darrell Issa. It appears she will face Democrat Mike Levin who scored 17.1% in a field of 16 candidates, four of whom were Democrats.
"This issue will trump Trump," said DeMaio. "When the Democrats pull the Trump card out, the Republicans, if they're smart, will talk about issues that actually matter to working families such as repealing the gas tax and, of course, dealing with issues such as the sanctuary state issue, dealing with our failing public schools. Issues that really hit home with the toss-up voters in each of these districts."
Samuel Garrett-Pate, Communications Director for Equality California, is happy to have that debate.
"We now have at the top of our ticket a clear choice between someone who's leading the resistance and someone who is a pro-Trump Republican and I think California voters across the state – member of the Democratic Party and frankly, moderate Republicans – are pretty clear on where they stand on the divisive hateful politics of the Trump-Pence administration. So I think [having Cox in] could be a motivating factor to pro-equality voters," Garrett-Pate told the Los Angeles Blade. "This is now a referendum on where we stand on the Trump-Pence administration."
He has a different take on the recall of the state senator. "It is extremely unfortunate that we lost a pro-equality champion in Josh Newman," Garrett-Pate noted. "That being said, I don't think you can extrapolate one senate district to the entire state. We saw across the state pro-equality candidates and candidates who support investment in infrastructure, among many other things, do well in their primaries. I think my friend from San Diego (DeMaio) is getting a little ahead of himself."
But asserting that the gas tax hurts working families has been considered a non-partisan issue. "What also hurts working families is not being able to drive on California roads and bridges because they're falling apart," he said. "Look, the Republican Party is now in third party status in the state of California so I'm really not buying this whole argument that that there is going to be a Red Wave (created by the gas tax). And if that is the assumption that forces who vote against LGBTQ equality everyday want to make—then that's a mistake on their part but one that I'll be happy to watch them make as we continue to fight to make sure that our candidates end up in office in November."
Garrett-Pate also noted the intense Equality California get-out-the-vote effort for Harley Rouda, who has a 73-vote lead over another viable Democrat, Hans Keirstead, in the race for the second spot in the 48th CD. The victor will face a very weakened anti-LGBT Republican Rep. Dana Rohrabacher who only managed to bring in 30.3% of the votes in a district he's represented since 1989.
The June 5 primaries saw a number of LGBT candidates and allies advance. State Sen. Ricardo Lara is in the top two for California Insurance Commissioner. If elected, Lara will become California's first LGBTQ statewide elected official and the only LGBTQ person of color elected to statewide office in the nation.
Other LGBT candidates in races for the California state legislature include: Joy Silver (SD-28), Sonia Aery (AD-3), Jackie Smith (AD-6), and Sunday Gover (AD-77).
There is particular excitement around out married bisexual Katie Hill who squeaked into the second spot in CD 25 to challenge anti-LGBT Republican incumbent Steve Knight, son of notoriously anti-gay Pete Knight, author of Prop 22, known as the Knight Initiative. If elected, she will become California's first openly LGBT female member of Congress, joining Rep. Mark Takano. Clinton carried the district by six percentage points in 2016, making it a top target for both national parties this year.
"Time's up on Congressman Knight's years of fighting against equality and working to protect those who would discriminate against LGBTQ Californians," said Equality California Executive Director Rick Zbur. "Yesterday, voters embraced Katie Hill's values of inclusion and equality because they know she'll bring Democrats and Republicans together and fight for a government that's accountable to real people."
Ari Gutierrez, co-founder of Latino Equality Alliance, is not as sanguine as others about the matchup between Newsom and Cox.
"I don't look forward to a Republican challenge in the Governor's race. I think the 2016 election taught us not to be over-confident in the votes or the outcome. We have to work for every win," Gutierrez told the LA Blade.
"We are very excited that Sen. Ricardo Lara finished in the top two for Insurance Commissioner! However, like in the Governor's race, I don't look forward to the Republican challenge. We will have to work hard for a win in that race."
Gutierrez is also concerned about the election process. She was one of the 118,000 voters whose names were missing from the rolls.
"I have voted in every election in Los Angeles County for the last 30 years—yet my name was not listed on the voter rolls! It required a special 'provisional' ballot for me to vote that had to be worked out with the poll place supervisors," she said. "There were several individuals in the same situation at my polling place while I was there and I've heard similar scenarios from my family and friends. One Facebook post indicated Spanish speaking voters whose names were not on the voter rolls left without voting because the process could not be explained to them. So that is a big problem especially if it is determined that Latino voters were disproportionally affected by this snafu."
Newsom signs LGBTQ+ protections but vetoes trans youth bill
"These measures will help protect vulnerable youth, promote acceptance, & create more supportive environments in our schools and communities"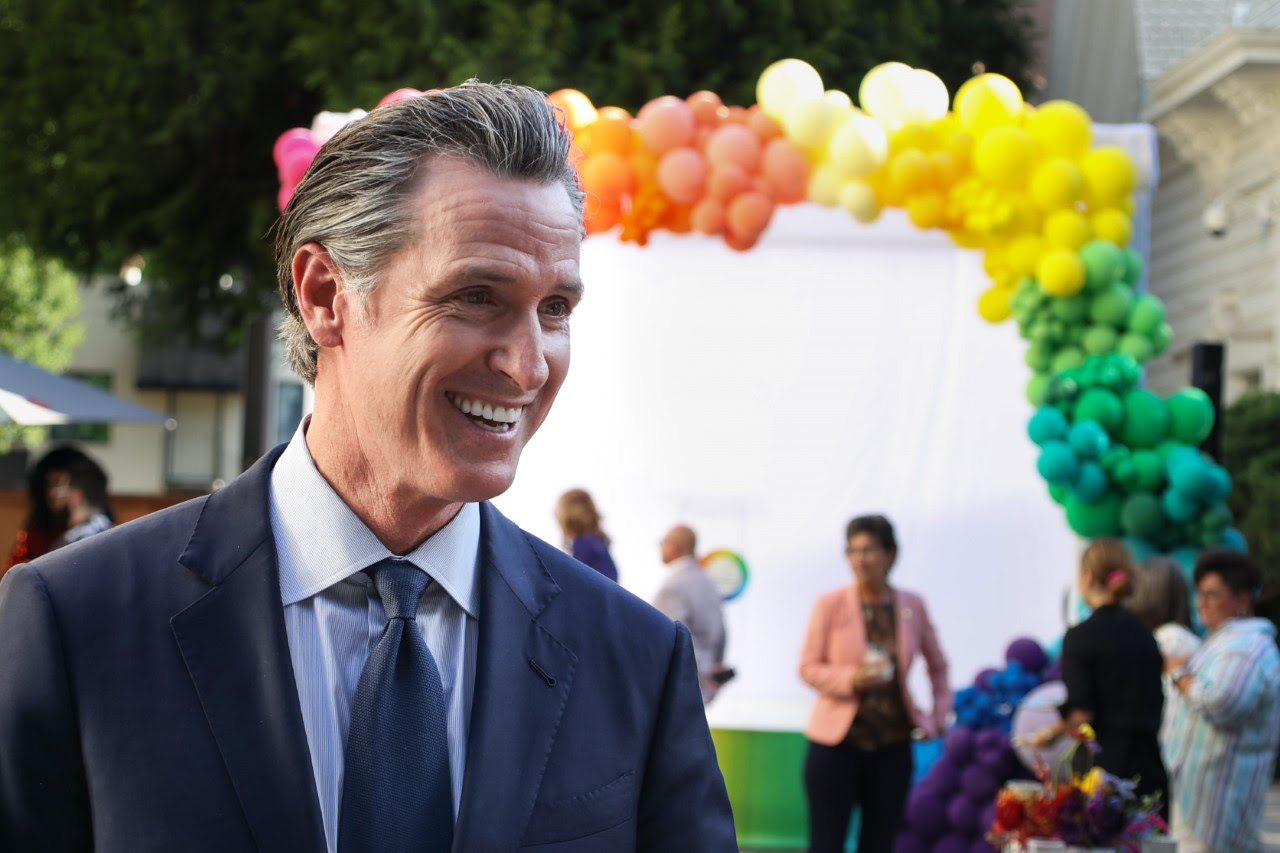 SACRAMENTO – California Governor Gavin Newsom signed several pieces of legislation on Saturday extending protection to the Golden State's LGBTQ+ community with the exception of a bill he vetoed Friday that would have required courts to consider whether a parent affirms their child's gender identity when making custody and visitation decisions.
"California is proud to have some of the most robust laws in the nation when it comes to protecting and supporting our LGBTQ+ community, and we're committed to the ongoing work to create safer, more inclusive spaces for all Californians," said Governor Newsom. "These measures will help protect vulnerable youth, promote acceptance, and create more supportive environments in our schools and communities. I thank Senator Eggman and the LGBTQ Caucus for their dedicated leadership and partnership in advancing our state's values of equality, freedom and acceptance."
Among the nine bills signed into law were:
AB 5- The Safe and Supportive Schools Act, sponsored by Assemblymember Rick Chavez Zbur (D-Los Angeles). This bill sets implementation timelines for required LGBTQ+ cultural competency training by public school teachers and staff.
AB 223- Change of gender and sex identifier, sponsored by Assemblymember Christopher Ward (D-San Diego).
Existing law authorizes a person to file a petition with the superior court seeking a judgment recognizing their change of gender to female, male, or nonbinary, including a person who is under 18 years of age. Existing law authorizes a person to file a single petition to simultaneously change the petitioner's name and recognize the change to the petitioner's gender and sex identifier, as specified.
This bill would require any petition for a change of gender and sex identifier or a petition for change of gender, sex identifier, and name filed by a person under 18 years of age, and any papers associated with the proceeding, to be kept confidential by the court. The bill would require the court to limit access to these records to specified individuals, including, among others, the minor, the minor's parents, and their attorneys.
AB 760– Public postsecondary education: affirmed name and gender identification, sponsored by Assemblymember Lori Wilson (D-Fairfield).
Commencing with the 2023–24 graduating class, existing law prohibits an institution from requiring a graduating student to provide legal documentation sufficient to demonstrate a legal name or gender change in order to have the student's chosen name listed on the student's diploma.
This bill, commencing with the 2023–24 graduating class, instead would prohibit an institution from requiring a graduating student to provide legal documentation sufficient to demonstrate a legal name or gender change in order to have the student's chosen name be the sole name listed on the student's diploma. The bill would authorize an institution to use a student's gender or legal name as indicated in a government-issued identification document only if it is necessary to meet a legally mandated obligation, but would otherwise require the institution to identify the student in accordance with the student's gender identity and affirmed name, as provided. To the extent that this requirement would impose a new duty on community colleges, the bill would impose a state-mandated local program.
AB 783– Business licenses: single-user restrooms, sponsored by Assemblymember Philip Ting (D-San Francisco). Requires cities, counties, and cities and counties to notify applicants for a business license or permit in writing of the requirement that single-user toilet facilities must be identified as all-gender toilet facilities.
AB 994– Law enforcement: social media, sponsored by Assemblymember Corey Jackson (D-Moreno Valley). With respect to an individual who has been arrested for any crime, this bill would require a police department or sheriff's office, upon posting a booking photo on social media, to use the name and pronouns given by the individual arrested. The bill would authorize a police department or sheriff's office to use other legal names or known aliases of an individual in limited specified circumstances.
This bill would also require that a police department or sheriff's office remove any booking photo shared on social media after 14 days unless specified circumstances exist. Because the bill would impose higher duties on local law enforcement, it would impose a state-mandated local program.
SB 372 – Department of Consumer Affairs: licensee and registrant records: name and gender changes, sponsored by Senator Caroline Menjivar (D-San Fernando Valley/Burbank). The bill would prohibit a board from publishing information relating to the licensee's or registrant's former name or gender online. Instead, the bill would require the board to post an online statement directing the public to contact the board for more information. For specified licensees or registrants, the board would be prohibited from posting enforcement records online, but would be required to direct post an online statement stating that the individual was previously subject to an enforcement action and directing the public to contact the board, as prescribed. The bill would provide that all records related to a request to update an individual's license or registration under these provisions are confidential and not subject to public inspection or disclosure.
SB 407 – Foster care: resource families, sponsored by Senator Scott Wiener (D-San Francisco). Existing law generally provides for the placement of foster youth in various placement settings. Existing law provides for the implementation of the resource family approval process and defines a resource family as an individual or family who has successfully met both the home environment assessment standards and permanency assessment criteria, as specified, necessary for providing care for a child placed by a public or private child placement agency by court order, or voluntarily placed by a parent or legal guardian. Under existing law, the resource family permanency standards include a family evaluation, including, but not limited to, interviews of an applicant, as specified, and a risk assessment.
This bill would require a resource family to demonstrate the capacity an ability and willingness to meet the needs of a child, regardless of the child's sexual orientation or orientation, gender identity, or gender expression, as specified.
SB 760 – School facilities: all-gender restrooms, sponsored by Senator Josh Newman (D-Fullerton). The bill would require the all-gender restroom to meet certain requirements, including, among other things, that it has signage identifying the bathroom facility as being open to all genders and is unlocked, unobstructed, and easily accessible by any pupil.
SB 857 – Advisory task force: LGBTQ+ pupil needs, sponsored by Senator John Laird (D-Santa Cruz). This bill will establish an advisory task force to identify LGBTQ+ pupil needs statewide and assist in implementing supportive initiatives.
We are thrilled that 6 of our priority bills and 2 of our endorsed bills were signed into law today! These bills protect and uplift LGBTQ+ foster youth and students in schools, as well as respect individuals' names.

We are hopeful our remaining 4 bills will be signed too! pic.twitter.com/Ch6VdQmTAo

— California Legislative LGBTQ Caucus (@calgbt) September 24, 2023
"This year the LGBTQ Caucus took up the important work of protecting our communities in the face of vile anti-LGBTQ+ rhetoric, discriminatory laws across the country, and hatred. I appreciate the Governor's partnership in signing some of our priority and endorsed legislation today, and hope we can continue to educate about the harm LGBTQ+ people will continue to face if we fail to act," said Senator Susan Talamantes Eggman, Chair of the California Legislative LGBTQ Caucus.
"While states across the nation are passing legislation that puts LGBTQ+ people and especially youth at risk, California is sending a clear message today — hate-filled attacks will not be tolerated and we will continue protecting and ensuring the safety of all members of the LGBTQ+ community," said Equality California Executive Director Tony Hoang. "We are thankful to our legislative partners for championing these important bills and to Governor Newsom for continuing to be such a strong ally in improving and protecting the wellbeing of the LGBTQ+ community as we face growing attacks from far-right extremists."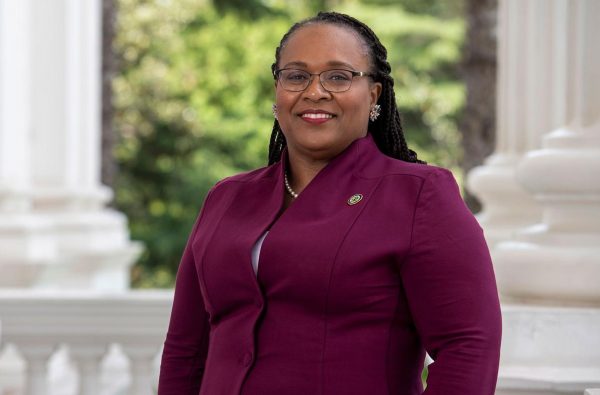 On Friday, Newsom vetoed AB 957 would have updated California law to clarify that, for the purposes of child custody and visitation decisions, a parent's affirmation of a child's gender identity or gender expression is an essential factor that must be considered in determining the best interest of the child by a judge.
That legislation had been sponsored by Assemblymember Lori Wilson, a Democrat who introduced the bill and has an adult son who came out as transgender when he was a teenager, criticized the governor's decision.
"I've been disheartened over the last few years as I watched the rising hate and heard the vitriol toward the trans community. My intent with this bill was to give them a voice, particularly in the family court system where a non-affirming parent could have a detrimental impact on the mental health and well-being of a child," Wilson said in a statement.
My Statement on Governor Newsom's Veto of AB 957 pic.twitter.com/bK1JhrW27z

— Assemblywoman Lori D. Wilson (@AsmLoriDWilson) September 23, 2023
"We are disappointed and disheartened by Governor Newsom's decision to veto AB 957, which would have helped to ensure that the unique needs of transgender and gender non-conforming youth are explicitly considered in child custody and visitation decisions," said Equality California Executive Director Tony Hoang.
"At a time where LGBTQ+ youth, specifically trans youth are facing higher rates of depression and suicide, reassurance and protection from our state is in dire need. Anti-LGBTQ+ extremists targeted this modest and straightforward legislation as part of their coordinated attacks on trans youth in California, and the failure to enact this bill bolsters their dangerous efforts. We are grateful to Assemblymember Lori Wilson for her unwavering commitment to the needs of transgender and gender non-conforming young people. Despite this setback, we will continue working with the Legislature and Governor Newsom to to protect the rights and dignity of the most vulnerable members of the LGBTQ+ community."
In his veto message, the governor explained:
"I appreciate the passion and values that led the author to introduce this bill. I share a deep commitment to advancing the rights of transgender Californians, an effort that has guided my decisions through many decades in public office.
That said, I urge caution when the Executive and Legislative branches of state government attempt to dictate – in prescriptive terms that single out one characteristic – legal standards for the Judicial branch to apply. Other-minded elected officials, in California and other states, could very well use this strategy to diminish the civil rights of vulnerable communities."