LGBT legislators and politics pleased with LGBT agenda
But Trump administration going after ACA's pre-existing conditions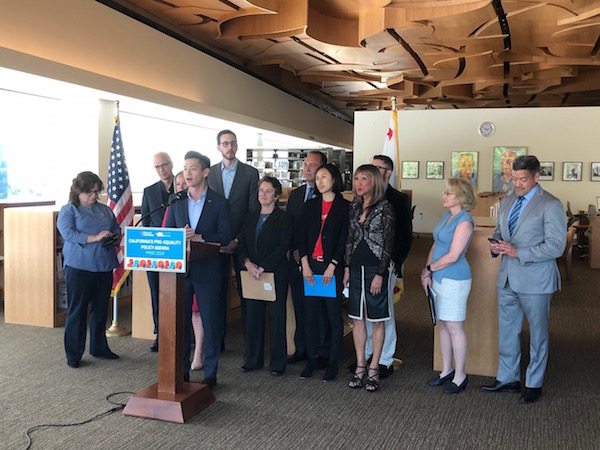 State and local LGBT leader joined leaders of the California Legislative LGBT Caucus at the West Hollywood Library ahead of this weekend's LA Pride celebration to highlight legislation to support the LGBT community in California. They were introduced by West Hollywood Mayor John Duran, who expressed his excitement at having historic numbers of out LGBT legislators in state government.
California Assemblymember Evan Low, Chair of the LGBT Caucus, highlighted two pieces of legislation. All eight LGBT Caucus legislators have co-authored AB 2943, which would qualify conversion therapy as a fraudulent practice in the state of California. "We would be the first state to qualify conversion therapy as a fraudulent practice for adults, minors and all people. This is about ensuring that we protect individuals in our community," explained Low.
Low also highlighted Joint Resolution 172, a formal apology from the State for past discriminative practices against the LGBT community. California would be the first state to pass such a resolution, and it is currently in the state Senate, having passed the Assembly.
State Sen. Scott Wiener, also of the LGBT Caucus, discussed the importance of not being content with the recent legislative progress made by the LGBT community nationally and of California "continuing to lead the way." Wiener has been instrumental in creating the package of 16 LGBT-related bills.
Weiner specifically highlighted two bills that he authored. SB 918, a bill to eliminate youth homelessness, would also help homeless LGBT youth, who comprise 40% of homeless youth and "are twice as likely to be homeless as non-LGBT kids," according to Wiener. SB 990 would require that incarcerated transgender people receive appropriate access to services and that they be addressed by their proper name and pronouns.
Aaron Fox, Director of Government Relations at the Los Angeles LGBT Center, addressed another of Wiener's bills, SB 1021. This bill, which is strongly supported by the Center, would ensure that consumer protections are in place for Californians living with chronic conditions such as HIV/AIDS by building on the Affordable Care Act. SB 1021 would place a cap on prescription co-pays, mandate that health plans have high standards for HIV treatment, and ensure that companies can't put all of the medications for one disease (like HIV) in the most expensive category of prescription drugs.
Rick Zbur, Executive Director of Equality California, highlighted the importance of enacting legislation to advance LGBT rights. Zbur said the LGBT community lags far behind on most measures of health and well-being, including health, economic status and homelessness. "As the nation's largest statewide LGBTQ civil rights organization, Equality California is committed to bringing the voices of LGBTQ people and our allies to institutions of power in California and across the United States to create a world that is healthy, just and fully equal for all LGBTQ people."
Jennifer Pizer, Law and Policy Director at Lambda Legal, agreed with Zbur on this front. Said Pizer, "It is ever more important that California is the national leader in having a vision and develop policy for inclusion, health, and appropriate treatment for our LGBT community." To this end, she addressed AB 2119, which would ensure that transgender foster youth receive adequate gender-affirming physical and mental healthcare. Pizer also emphasized the need for such legislation by citing research from the LA LGBT Center and the Williams Institute at UCLA that found that 5.6% of LA foster youth are transgender, despite transgender people making up just 0.5% of the general population.
Continuing on the theme of transgender rights was West Hollywood City Councilmember Lauren Meister. She addressed legislation already enforced in West Hollywood that has improved the historically fraught relationship between the transgender community and law enforcement through education and sensitivity training for peace officers. Meister also endorsed AB 2504, a bill authored by Low, that "requires a commission on peace officer standards and training to develop LGBTQ-specific training for peace officers and dispatchers. Improving peace officers' ability to communicate with and serve members of the LGBTQ community will assist them in responding appropriately to situations involving LGBTQ people with understanding and acceptance."
Karina Samala, Chair of the LA City Transgender Advisory Council, concurred. Samala said, "It will take more than a policy to heal the wounds that were created by the long history of systemic disrespect, discrimination, and violence suffered by transgender people at the hands of the police in the past. It will take concrete actions and changes, not only to policy but more importantly to the mindsets of government officials and law enforcement agencies on how they perceive transgender people. I can say with confidence that we are heading in the right direction."
Ari Gutierrez Arámbula, Advisory Board Chair for the Latino Equality Alliance (Photo by Austin Mendoza)
Ari Gutierrez Arámbula, Advisory Board Chair for the Latino Equality Alliance, addressed the importance of intersectionality through ensuring that LGBTQ people of color are adequately recognized and helped. "People who are LGBT live in every community….All of these state measures are a way of making sure that the protections and funding that they bring reach all of our community," said Gutierrez. To this end, the Latino Equality Alliance wants to ensure that families in the LGBT community are kept together and supported.
Addressing similar themes in the Asian Pacific community was Tracy Zhao, Executive Director at API Equality-LA, who spoke specifically on the issue of bullied youth in schools. She brought up AB 2153, a measure that would provide California teachers and school staff with the resources needed to help LGBTQ students. "We want all children, whether they're queer or straight, to have the opportunity to learn and succeed in a safe and supportive school environment," said Zhao.
Speaking on a similar theme of inclusivity were Lindsey Horvath and John Heilman, both members of the West Hollywood City Council. Each addressed the progress made in West Hollywood and the importance of making sure that all cities make similar efforts for their LGBT citizens. "LGBTQ youth all over the country dream of a place like West Hollywood that is a safe place and a refuge for them to come and feel protected and cared for and celebrated," said Horvath. Heilman emphasized the need to "make sure that every community, not just West Hollywood, is a safe place for LGBT youth in this great state of ours." Horvath and Heilman endorsed AB 2943 and SB 918, respectively.
Low also provided a sense of progress and hope at the advancement of pro-LGBT legislation in California. "Much of our legislation is supported by non-LGBT legislators who are straights allies or who are Republicans….A decade ago you'd have people running away from us, whereas now they are asking us, 'What kind of legislation can we, as LGBT allies, support?'" he said. "Both [AB 2943 and JR 172] have received bipartisan support in the legislature, so we know that love transcends partisanship."
Zbur echoed Low's sentiment of perseverance, saying, "Pride isn't just a day or weekend or month, it's a movement. A time to celebrate the progress we've made together and to continue marching down the path for full equality and social justice for all LGBTQ people. We are strong, we are loud, we are resilient, and we are the future."
After the morning news conference, new reports came out revealing that the Trump Justice Department said in a filing in federal court late Thursday night that the DOJ believes key provisions of the Affordable Care Act are unconstitutional and should be invalidated.
"In its filing the DOJ said that it agrees with Texas that the individual mandate is now unconstitutional and therefore it will not defend key provisions of the law in the suit," said Timothy Jost, of Washington and Lee University School of Law.
"The provisions DOJ says should be invalidated are central to the ACA and would gut protections for those with pre-existing conditions," CNN reported. https://www.cnn.com/2018/06/07/politics/trump-admin-aca/index.html "Guaranteed issue requires insurers to offer coverage to everyone regardless of their medical history. Prior to the ACA, insurers often rejected applicants who were ill or had pre-existing conditions or only offered them limited coverage. Under another provision, the community rating provision, insurers were not allowed to set premiums based on a person's health history."
"It is baffling that the Trump-Pence Administration is so hell-bent on undoing President Obama's legacy on healthcare, that they are willing to rip away coverage from cancer survivors, pregnant women, children with asthma and people living with HIV/AIDS just to score cheap political points," Zbur told the Los Angeles Blade. "And Equality California will continue to fight them every step of the way because we cannot afford to turn back the clock to a time when people could be denied lifesaving care simply because of a preexisting condition."
Instagram lets Gays against Groomers spread harmful rhetoric
Many of the group's posts violate Instagram's policies against hate speech, harassment, and misinformation, but has gone largely unchecked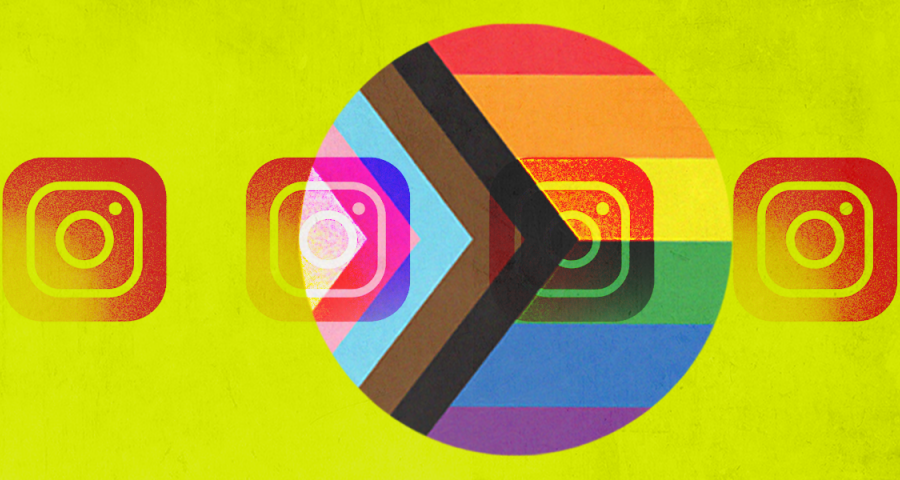 By Camden Carter | WASHINGTON – Meta has allowed anti-LGBTQ group Gays Against Groomers — which falsely frames itself as a grassroots coalition that wants to protect children, but is actually composed of experienced right-wing grifters — to push false narratives about LGBTQ people on its platforms, particularly Instagram. 
Facebook, Instagram, and Threads are some of the few mainstream platforms that have not banned Gays Against Groomers, even though the group seems to have repeatedly violated the platforms' policies, including by repeatedly promoting the anti-LGBTQ "groomer" slur, claiming trans people have mental and moral deficiencies, and spreading misinformation that's been debunked by third-party fact-checkers.
Instagram, in particular, has a history of failing to moderate harmful accounts despite Meta's anti-hate speech and harassment policies. Attacks have often targeted LGBTQ people, whom Meta has repeatedly claimed it is committed to supporting.
Gays Against Groomers maintains Facebook, Instagram, and Threads accounts, but it has been banned or suspended from other platforms:
Meta's policies prohibit users from targeting LGBTQ people with hate speech (including "groomer") and harassment, and it promises to label misinformation:
Meta's policies prohibit users from targeting LGBTQ people with hate speech (including "groomer") and harassment, and it promises to label misinformation:
On Instagram, Gays Against Groomers has repeatedly referred to LGBTQ people as "groomers":
On Instagram, Gays Against Groomers has repeatedly targeted trans people with claims of mental deficiencies:
Gays Against Groomers has repeatedly spread misinformation about gender-affirming care on Instagram, including falsely claiming that it is a form of mutilation or pedophilia:
On Instagram, Gays Against Groomers has repeatedly accused LGBTQ people of having moral deficiencies, including by pushing the right-wing myth that LGBTQ people are embracing pedophilia:
Recycled claims that that LGBTQ people are embracing pedophilia have also been thoroughly debunked, yet Gays Against Groomers has repeatedly pushed this narrative on Instagram:
Gays Against Groomers has also targeted LGBTQ people on Meta's other platforms, Facebook and Threads:
Related:
Grifter Gays: How conspiracy theorists and right-wing operatives created Gays Against Groomers
Instagram is letting accounts promoting hate speech go unchecked
Right-wing LGBTQ influencers switch teams as homophobic video shared by DeSantis campaign draws widespread condemnation
************************************************************************************
The preceding article & research study was previously published by Media Matters for America and is republished with permission.