Carl DeMaio: California's gay GOP kingmaker
Gas tax repeal effort could foil Democrats in November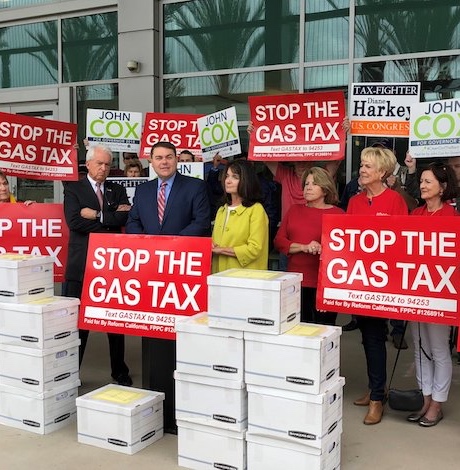 During the only debate among the top gubernatorial candidates before the June 5 primary, Republican businessman John Cox and Assembly member Travis Allen sniped at each other over who was first to call for a repeal of the gas tax. "Ask Carl DeMaio," Cox said, ending the argument.
Few knew John Cox until he hitched his political wagon to conservative talk radio host Carl DeMaio, the gay former San Diego City Council member who organized the online grassroots campaign to repeal the 12-cent per gallon tax hike and recall State Sen. Josh Newman for supporting the increase. Newman was the final vote needed by the Democrats to pass Senate Bill 1 last year to raise $5.4 billion for infrastructure repairs and transit projects.
DeMaio devised a three-part strategy: 1) recall Newman, depriving the Democrats of their super-majority in the state Legislature; 2) gather enough signatures to place a gas tax repeal initiative on the November ballot; and 3) increase the Republican voter rolls for the 2018 midterms.
Despite being heavily outspent by Democrats, DeMaio achieved all three goals—collecting nearly 940,000 signatures for the initiative, exceeding by 356,000 the number of signatures needed to qualify for the ballot. A USC Dornsife/Los Angeles Times statewide poll released in May indicates he's on to something: 51% of registered voters favor repeal.
Gov. Jerry Brown called the endeavor "devious and deceptive."
"The test of America's strength is whether we defeat this stupid repeal measure, which is nothing more than a Republican stunt to get a few of their losers returned to Congress, and we're not going to let that happen," Brown told Southern California transportation leaders at Union Station in Los Angeles last May, The Times reported.
Stunt or not, DeMaio has added 203,941 signatures to his electoral database from San Diego County alone. Overall, the USC/LA Times poll indicates that 64% of registered voters in Orange and San Diego counties and the Inland Empire support the gas tax repeal. And that is expected to dramatically impact GOP voter turnout in critical races statewide.
DeMaio's targeting of Newman was strategic, employing "the gazelle strategy," DeMaio told the Los Angeles Blade in a June 9 phone interview, referring to the Animal Planet series on the lions. "We're going to pick the weakest state senator and we're going to recall that person from office because of their vote on the gas tax. And by doing that, we end the Democrat supermajority and if we end the supermajority, they can't raise taxes without a public vote."
The third phase after recall and repeal, he says, is "replace," actually fixing the roads by earmarking the existing gas tax for roads "and make a number of other reforms that have been long overdue."
DeMaio explains that he used $250,000 from his super PAC with help from Republican State Sen. Pat Bates and a coalition that included Howard Jarvis Taxpayers Association and donor groups such as the New Majority and the Lincoln Club to place the gas tax repeal on the ballot.
"Some of our coalition members want this because in November of 2018, they need Republicans to show up," DeMaio says. "My goal is to fix California."
DeMaio credits California Democrats with "working their tails off," while California Republicans "have been very afraid to speak out. They have Stockholm syndrome. A lot of the elected officials in Sacramento are worthless," he says, giving them no credit for simply voting "no."
That failure prompted DeMaio to step up, offering alternative ideas and taking on the "fundamentals of institution and capacity building," including developing a volunteer list. He has a list of 20,000 volunteers statewide and 25,000 individual donors that have given an average contribution of $37, some monthly.
"We have raised $2.5 million from grassroots donors, no contribution more than $1,000. And the Republican Party in the last four years has only raised $200,000 from those sorts of donors," he says. "We're not going to write off any community. Jack Kemp once said 'people don't care what you know until they know that you care.'…They don't really pay attention to you unless you actually show up in their community" and share concerns such as the cost of living.
While gubernatorial candidate John Cox touts President Donald Trump's endorsement, DeMaio is more independent, comparing Trump's primary function to a plumber.
"Donald Trump is our first marriage equality-supporting president, elected," he says. "But there are certain things that we can all celebrate. Things are not all black and white here. There is a whole lot of progress that we should acknowledge."
Trump responded to "dissatisfaction" in the country.
"Yes, he's rude, crude and unattractive. His behavior at times is abhorrent and certainly not what you'd want as a role model for your kids. However, the best analogy I can offer you is he's like the plumber that you hire to unplug your toilet. I won't even describe what the toilet looks like but you can imagine. The fact that the plumber comes in with no teeth, really bad body odor and plumber's crack is irrelevant to you as long as he is honest, charges you a fair price and gets the damn toilet unplugged," DeMaio says, skirting deeper questions about Trump's record of lying.
"Our country—the issues have been festering for so long and people are so dissatisfied that they are willing to tolerate some bad parts of Donald Trump as long as the toilet gets unplugged. It's unfortunate. I wish I could have a president where I would say, 'look, this is someone who epitomizes on a personal level in their conduct the very best of our country.' But that unicorn don't exist," DeMaio says. "My job isn't to support Donald Trump or oppose him. My job is to call him out when I think he's wrong and when I think he's right, I'll support him. But I don't blindly give my allegiance to anybody. And I hope no one does….I've called him out for telling white lies and exaggerating. I've also done that with Democrats."
DeMaio, who's been with his husband Jonathan Hale since April 2009 and married since 2015, says he's had Vice President Mike Pence on his radio show.
"I invited him on, he came on. He's not had an issue on that front. So I know people continue to say how much of a homophobe he is. I know he's a man of faith," says DeMaio. "I've got a lot of people who I know have different religious views than I do and as long as they keep it out of the issue of public law, I'm fine. As soon as you start wanting to legislate morality, well we've got ourselves a problem. And this is what I'm trying to communicate to Republicans in California: if you are for freedom—as you say you are—then you need to be for all forms of freedom, not just the select few."
DeMaio says he's a "big proponent" of religious liberty. "I had a very conservative Jewish rabbi in 2014 come to me and he was considering endorsing me (in his congressional race against Democrat Rep. Scott Peters) and he was very nervous," DeMaio says. "I got a lot of Jewish support in 2014 but this rabbi said, 'Carl, you're right on these issues—economic issues, fiscal issues, government reform issues. I think what you're doing is great. You're supporting Israel. But I don't subscribe to your gay marriage point of view and I think it's a sin.'
"And I said, 'Well, Rabbi, I disagree with you on that.  However I will defend your right to be wrong.' And he looked at me and he started laughing. And I said, 'I'm never going to support a policy that says you can't preach your point of view, that you cannot profess your faith, that you cannot counsel your parishioners in a certain way. But in a matter of public law, in the eyes of the law, we must embrace freedom of individuals to be who they are, to love who they want, to say what they want, to profess what they want. The First Amendment and our freedoms are a two-way street and so we have to respect that.' So he then endorsed me, which was pretty shocking to some in the conservative Jewish community."
DeMaio is hoping the LGBT community will be similarly open.
LGBT people have aligned with Democrats because Democrats have said—"and in large part, rightfully so"—that Republicans have been bad on gay issues and they've been good. But the world has changed.
"Thank God the world has changed and we can celebrate that. With rare exception, California Republicans are committed to full equality on LGBT issues. It's a non-issue, all right? And it's something we all should be proud of and celebrate," he says.
But, DeMaio argues, Democrats have made it harder to afford to live and work in California.
"At some point, we've gotta look beyond the arguments of the past that no longer really exist and say, 'wait a minute, hold on, nobody is being persecuted at this point,'" he says. "And for people to say, 'Yes they are,' it's like, 'Wait, so are you inventing persecution stories now so that you can continue to just keep my vote? Or have we moved past that?' Thank goodness we've moved past that," leaving Democrats nothing else to offer on other issues of concern. 
"I really think that the LGBT community needs to hold the California Democratic Party accountable for more than just hysterical rhetoric on LGBT issues, because when you do fact check their claims of persecution and plots, it's just not happening anymore. It's not and thank God it's not," he says.
The California LGBT Legislative Caucus and Equality California might disagree with DeMaio. "Equality California's 2018 legislative package focuses on the most vulnerable in our community and is part of our continuing effort to address the disparities in health and well-being that LGBTQ people face as a result of longstanding discrimination and lack of acceptance," Equality California says on its website. Some of the 15 bills included in that package address the fraud of "conversion therapy," anti-bullying training in schools, LGBT older adults, and LGBT homelessness.
"Look, I can disagree with someone's point of view but they have the freedom to express that, provided that they're not taking government money," DeMaio says. "So if you are for freedom, you have to be for freedom in all aspects. And sometimes freedom is messy and frustrating. But I would rather have it that way than any other way with government telling us who we can be, who we can love, how we can operate."
DeMaio says he's trying to "reposition the Republican Party on the side of freedom, dignity and equality for all," by focusing on economics. "If I were a Democrat, if I were an LGBT member, I'd say, 'Well, hold on a second. So you've got this whole movement in California, in my backyard, where Republicans are actually doing this? Maybe I should give them a chance because if they succeed, the National Republican Party will turn around and say, 'Well, holy shit! Maybe we're wrong nationally and maybe these California Republicans are actually right!' That's what I'm hoping will happen."
California expands broadband infrastructure & internet access across state
The initial project locations based on unserved/underserved areas that don't reliably have download speeds of at least 25 Megabits per second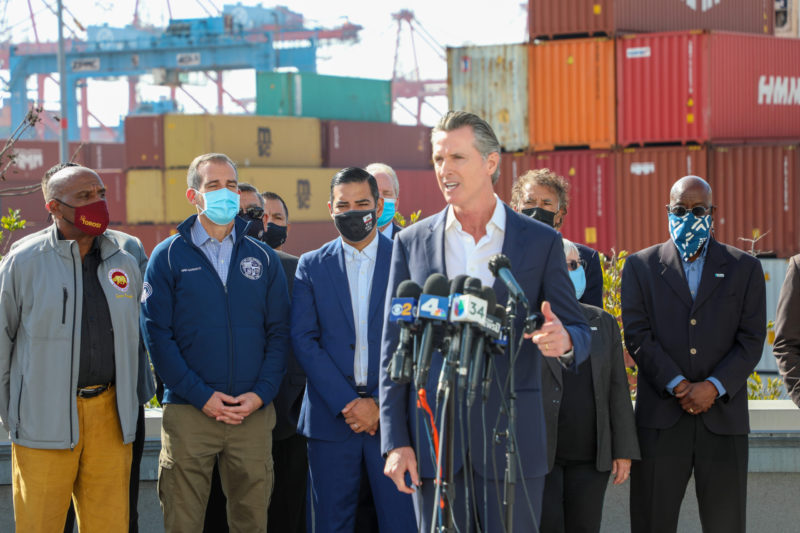 SACRAMENTO – Advancing California's commitment to bridge the digital divide, Governor Gavin Newsom announced that the state has identified 18 projects to begin work on an open-access middle-mile network that will provide missing infrastructure paths to bring broadband to all communities.
As part of the historic $6 billion broadband investment advanced in partnership with legislative leaders earlier this year, the initial project locations are based on known unserved and underserved areas across the state. The projects will connect to the core of the global internet and interconnect to last-mile infrastructure, which is the final leg that provides internet service to a customer.
"California is committed to taking on the challenges laid bare by the pandemic, including the digital divide holding back too many communities across the state," said Newsom. "These projects are the first step to delivering on our historic investment that will ensure all Californians have access to high-quality broadband internet, while also creating new jobs to support our nation-leading economic recovery."
The initial 18 projects represent a range of geographic locations and technical approaches. Projects are being initiated in the following tribal communities, counties and cities: Alpine County; Amador County; Calaveras County; Central Coast; Coachella Valley; Colusa Area; Inyo County; Kern County; Kern/San Luis Obispo Area; Lake County Area; Los Angeles and South Los Angeles; Oakland; Orange County; Plumas Area; Riverside/San Diego Area; San Bernardino County; Siskiyou Area; and West Fresno.
Evaluation of project areas included consideration of public comments, prioritization of unserved or underserved areas of the state, and inclusion of tribal communities, cities and counties. An unserved or underserved area has households that do not reliably have download speeds of at least 25 Megabits per second (Mbps) and upload of at least 3 Mbps.
"Core to our success will be the deep partnerships we've built with a diverse set of community organizations and last mile providers. Through many years of engagement with metropolitan planning organizations, CPUC-supported broadband consortia, Tribal organizations, community-based broadband advocacy groups, and organizations like the Rural County Representatives of California, the NAACP, and the California Emerging Technology Fund, we are now ready to take this historic step towards broadband equity for California," said Louis Fox, Founder and Chair of GoldenStateNet, the state's third-party administrator.
State partners implementing the middle-mile initiative include the California Department of Technology, California Public Utilities Commission (CPUC) and Caltrans. GoldenStateNet was selected as the Third-Party Administrator (TPA) to manage the development, acquisition, construction, maintenance and operation of the statewide open-access middle-mile broadband network. As the TPA, GoldenStateNet will partner with key stakeholder groups across the state to investigate the best technical, financial and operational models to meet the needs of the project sites.
A map and additional information on the initial projects can be found here.
"A reliable broadband connection makes the difference between having access to full-service health care, education and employment or sometimes going without," said State Chief Information Officer Amy Tong. "Through a historic partnership between our Governor, the Legislature, state agencies and a third-party administrator, we are taking immediate action to improve connectivity for Californians in the northern, central and southern parts of the state."
"These initial routes have been identified to accelerate projects in areas of the state that are unserved because of the lack of open middle mile infrastructure to serve them. We are accelerating the selection of a diverse set of routes — those that are ready to build and those that are not ready to build. This allows the state to partner with locals on these diverse projects and learn by doing, as we concurrently work to finalize all the needed routes in the State. There are many more communities like those in Phase I that will be included in the final map," said Martha Guzman Aceves, Commissioner at the CPUC.
Sen. Alex Padilla & Santa Monica College- Thanksgiving grocery giveaway
"As we approach Thanksgiving, it is important to support each other and our communities, and give back when we can"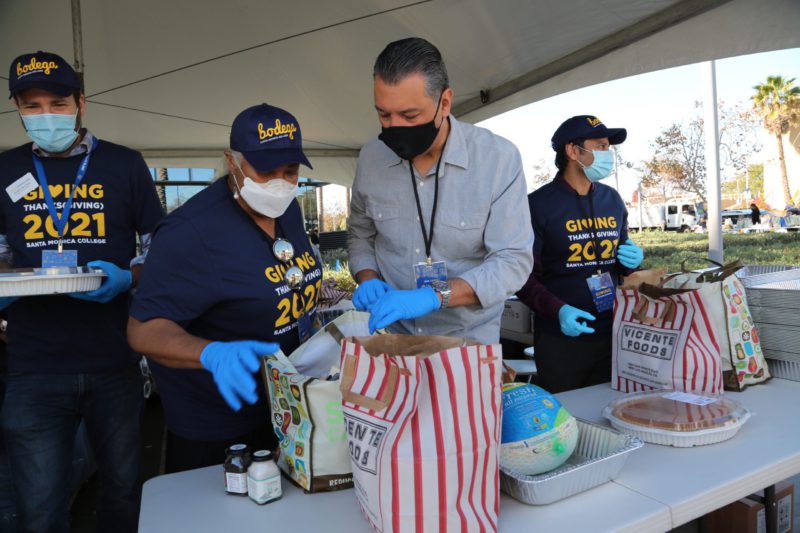 SANTA MONICA — Ahead of Thanksgiving, U.S. Senator Alex Padilla (D-Calif.) on Tuesday volunteered with Santa Monica College (SMC) for their 2nd Annual GIVING THANKS(giving) Holiday Grocery Drive-Thru Giveaway.
Padilla joined dedicated SMC volunteers, along with state and local officials to provide fresh holiday groceries to 1,500 food insecure students.
"As we approach Thanksgiving, it is important to support each other and our communities, and give back when we can," said Senator Padilla. "I was proud to join Santa Monica College and regional partners for their annual holiday food drive to make sure students have access to fresh food and groceries this holiday season. But this is also a stark reminder that there is more work to be done to address student food insecurity, an issue that existed since before the pandemic. I've introduced the BASIC Act to give students the resources they need to stay focused on their education. No student should have to worry about meeting their basic needs while pursuing their education."
"Having Senator Padilla attend today's event is so powerful because it raises the importance of giving back to our community," said Lizzy Moore, president of the Santa Monica College Foundation and Santa Monica College's dean of institutional advancement. "The Santa Monica College community is grateful for his leadership in the Senate to push for the BASIC Act and other legislative proposals to address the dramatic rates of food insecurity that exists on all college campuses including Santa Monica College."
Even before the pandemic, 50 percent of California Community College students were food insecure.
Senator Padilla has been a strong advocate for addressing food insecurity and ensuring students can meet their basic needs while pursuing a higher education. This year, Padilla introduced the Basic Assistance for Students in College (BASIC) Act, bicameral legislation to ensure college students are able to meet their basic needs while pursuing their education. Specifically, the legislation provides $1 billion for grants to ensure institutions of higher learning have the resources they need to support their students' most fundamental needs, and directs the federal government to streamline data sharing across agencies to help students qualify for aid – particularly Pell Grant recipients and attendees of community colleges and minority-serving institutions.
Senator Padilla also joined his colleagues in introducing the Student Food Security Act of 2021. This bicameral legislation helps address food insecurity on college campuses by enabling more low-income college students to access the Supplemental Nutrition Assistance Program (SNAP), improve data collection and sharing, and create a new grant program to help colleges and universities support their students.
2022 Best of LGBTQ LA Readers' Choice Award Nominations
Nominate your favorites in our 2022 Best of LGBTQ LA categories through December 5th.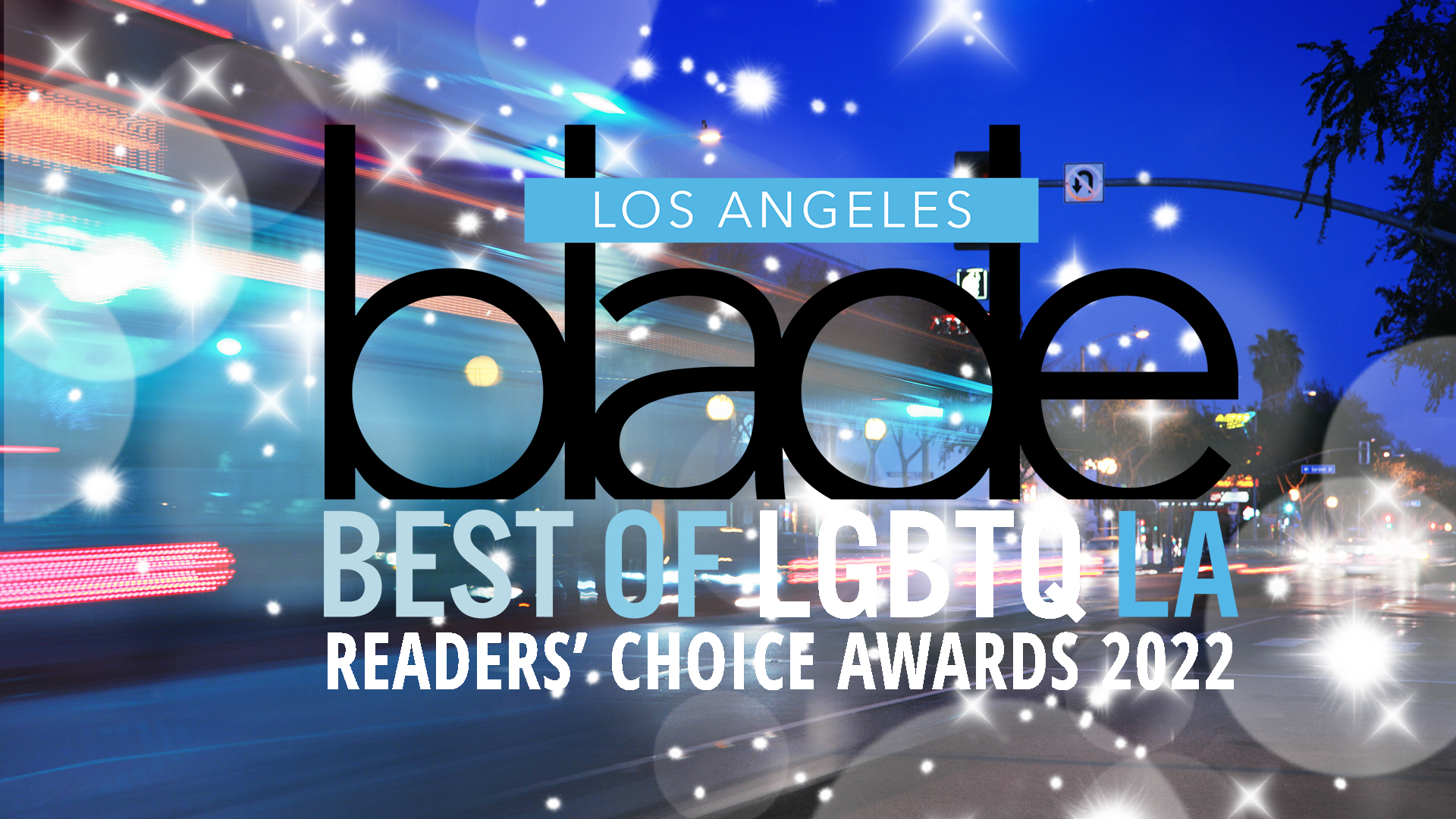 It is Decision 2022! Nominate your favorites in our 2022 Best of LGBTQ LA categories through December 5th. The top 5 nominees from each category will become a finalist with voting starting December 15th. Our 2022 Best of LGBTQ LA will be announced at the Best of LGBTQ LA Awards Party and special issue on January 28th, 2022.
Nominate below or click HERE.