Carl DeMaio: California's gay GOP kingmaker
Gas tax repeal effort could foil Democrats in November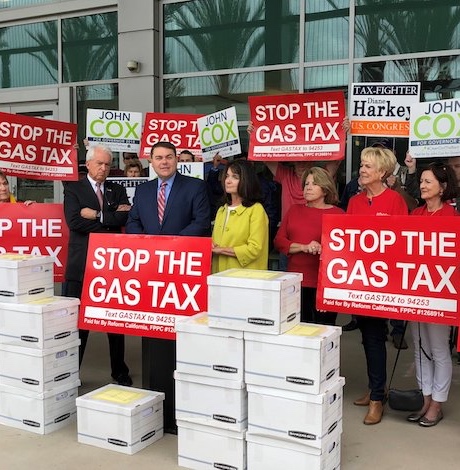 During the only debate among the top gubernatorial candidates before the June 5 primary, Republican businessman John Cox and Assembly member Travis Allen sniped at each other over who was first to call for a repeal of the gas tax. "Ask Carl DeMaio," Cox said, ending the argument.
Few knew John Cox until he hitched his political wagon to conservative talk radio host Carl DeMaio, the gay former San Diego City Council member who organized the online grassroots campaign to repeal the 12-cent per gallon tax hike and recall State Sen. Josh Newman for supporting the increase. Newman was the final vote needed by the Democrats to pass Senate Bill 1 last year to raise $5.4 billion for infrastructure repairs and transit projects.
DeMaio devised a three-part strategy: 1) recall Newman, depriving the Democrats of their super-majority in the state Legislature; 2) gather enough signatures to place a gas tax repeal initiative on the November ballot; and 3) increase the Republican voter rolls for the 2018 midterms.
Despite being heavily outspent by Democrats, DeMaio achieved all three goals—collecting nearly 940,000 signatures for the initiative, exceeding by 356,000 the number of signatures needed to qualify for the ballot. A USC Dornsife/Los Angeles Times statewide poll released in May indicates he's on to something: 51% of registered voters favor repeal.
Gov. Jerry Brown called the endeavor "devious and deceptive."
"The test of America's strength is whether we defeat this stupid repeal measure, which is nothing more than a Republican stunt to get a few of their losers returned to Congress, and we're not going to let that happen," Brown told Southern California transportation leaders at Union Station in Los Angeles last May, The Times reported.
Stunt or not, DeMaio has added 203,941 signatures to his electoral database from San Diego County alone. Overall, the USC/LA Times poll indicates that 64% of registered voters in Orange and San Diego counties and the Inland Empire support the gas tax repeal. And that is expected to dramatically impact GOP voter turnout in critical races statewide.
DeMaio's targeting of Newman was strategic, employing "the gazelle strategy," DeMaio told the Los Angeles Blade in a June 9 phone interview, referring to the Animal Planet series on the lions. "We're going to pick the weakest state senator and we're going to recall that person from office because of their vote on the gas tax. And by doing that, we end the Democrat supermajority and if we end the supermajority, they can't raise taxes without a public vote."
The third phase after recall and repeal, he says, is "replace," actually fixing the roads by earmarking the existing gas tax for roads "and make a number of other reforms that have been long overdue."
DeMaio explains that he used $250,000 from his super PAC with help from Republican State Sen. Pat Bates and a coalition that included Howard Jarvis Taxpayers Association and donor groups such as the New Majority and the Lincoln Club to place the gas tax repeal on the ballot.
"Some of our coalition members want this because in November of 2018, they need Republicans to show up," DeMaio says. "My goal is to fix California."
DeMaio credits California Democrats with "working their tails off," while California Republicans "have been very afraid to speak out. They have Stockholm syndrome. A lot of the elected officials in Sacramento are worthless," he says, giving them no credit for simply voting "no."
That failure prompted DeMaio to step up, offering alternative ideas and taking on the "fundamentals of institution and capacity building," including developing a volunteer list. He has a list of 20,000 volunteers statewide and 25,000 individual donors that have given an average contribution of $37, some monthly.
"We have raised $2.5 million from grassroots donors, no contribution more than $1,000. And the Republican Party in the last four years has only raised $200,000 from those sorts of donors," he says. "We're not going to write off any community. Jack Kemp once said 'people don't care what you know until they know that you care.'…They don't really pay attention to you unless you actually show up in their community" and share concerns such as the cost of living.
While gubernatorial candidate John Cox touts President Donald Trump's endorsement, DeMaio is more independent, comparing Trump's primary function to a plumber.
"Donald Trump is our first marriage equality-supporting president, elected," he says. "But there are certain things that we can all celebrate. Things are not all black and white here. There is a whole lot of progress that we should acknowledge."
Trump responded to "dissatisfaction" in the country.
"Yes, he's rude, crude and unattractive. His behavior at times is abhorrent and certainly not what you'd want as a role model for your kids. However, the best analogy I can offer you is he's like the plumber that you hire to unplug your toilet. I won't even describe what the toilet looks like but you can imagine. The fact that the plumber comes in with no teeth, really bad body odor and plumber's crack is irrelevant to you as long as he is honest, charges you a fair price and gets the damn toilet unplugged," DeMaio says, skirting deeper questions about Trump's record of lying.
"Our country—the issues have been festering for so long and people are so dissatisfied that they are willing to tolerate some bad parts of Donald Trump as long as the toilet gets unplugged. It's unfortunate. I wish I could have a president where I would say, 'look, this is someone who epitomizes on a personal level in their conduct the very best of our country.' But that unicorn don't exist," DeMaio says. "My job isn't to support Donald Trump or oppose him. My job is to call him out when I think he's wrong and when I think he's right, I'll support him. But I don't blindly give my allegiance to anybody. And I hope no one does….I've called him out for telling white lies and exaggerating. I've also done that with Democrats."
DeMaio, who's been with his husband Jonathan Hale since April 2009 and married since 2015, says he's had Vice President Mike Pence on his radio show.
"I invited him on, he came on. He's not had an issue on that front. So I know people continue to say how much of a homophobe he is. I know he's a man of faith," says DeMaio. "I've got a lot of people who I know have different religious views than I do and as long as they keep it out of the issue of public law, I'm fine. As soon as you start wanting to legislate morality, well we've got ourselves a problem. And this is what I'm trying to communicate to Republicans in California: if you are for freedom—as you say you are—then you need to be for all forms of freedom, not just the select few."
DeMaio says he's a "big proponent" of religious liberty. "I had a very conservative Jewish rabbi in 2014 come to me and he was considering endorsing me (in his congressional race against Democrat Rep. Scott Peters) and he was very nervous," DeMaio says. "I got a lot of Jewish support in 2014 but this rabbi said, 'Carl, you're right on these issues—economic issues, fiscal issues, government reform issues. I think what you're doing is great. You're supporting Israel. But I don't subscribe to your gay marriage point of view and I think it's a sin.'
"And I said, 'Well, Rabbi, I disagree with you on that.  However I will defend your right to be wrong.' And he looked at me and he started laughing. And I said, 'I'm never going to support a policy that says you can't preach your point of view, that you cannot profess your faith, that you cannot counsel your parishioners in a certain way. But in a matter of public law, in the eyes of the law, we must embrace freedom of individuals to be who they are, to love who they want, to say what they want, to profess what they want. The First Amendment and our freedoms are a two-way street and so we have to respect that.' So he then endorsed me, which was pretty shocking to some in the conservative Jewish community."
DeMaio is hoping the LGBT community will be similarly open.
LGBT people have aligned with Democrats because Democrats have said—"and in large part, rightfully so"—that Republicans have been bad on gay issues and they've been good. But the world has changed.
"Thank God the world has changed and we can celebrate that. With rare exception, California Republicans are committed to full equality on LGBT issues. It's a non-issue, all right? And it's something we all should be proud of and celebrate," he says.
But, DeMaio argues, Democrats have made it harder to afford to live and work in California.
"At some point, we've gotta look beyond the arguments of the past that no longer really exist and say, 'wait a minute, hold on, nobody is being persecuted at this point,'" he says. "And for people to say, 'Yes they are,' it's like, 'Wait, so are you inventing persecution stories now so that you can continue to just keep my vote? Or have we moved past that?' Thank goodness we've moved past that," leaving Democrats nothing else to offer on other issues of concern. 
"I really think that the LGBT community needs to hold the California Democratic Party accountable for more than just hysterical rhetoric on LGBT issues, because when you do fact check their claims of persecution and plots, it's just not happening anymore. It's not and thank God it's not," he says.
The California LGBT Legislative Caucus and Equality California might disagree with DeMaio. "Equality California's 2018 legislative package focuses on the most vulnerable in our community and is part of our continuing effort to address the disparities in health and well-being that LGBTQ people face as a result of longstanding discrimination and lack of acceptance," Equality California says on its website. Some of the 15 bills included in that package address the fraud of "conversion therapy," anti-bullying training in schools, LGBT older adults, and LGBT homelessness.
"Look, I can disagree with someone's point of view but they have the freedom to express that, provided that they're not taking government money," DeMaio says. "So if you are for freedom, you have to be for freedom in all aspects. And sometimes freedom is messy and frustrating. But I would rather have it that way than any other way with government telling us who we can be, who we can love, how we can operate."
DeMaio says he's trying to "reposition the Republican Party on the side of freedom, dignity and equality for all," by focusing on economics. "If I were a Democrat, if I were an LGBT member, I'd say, 'Well, hold on a second. So you've got this whole movement in California, in my backyard, where Republicans are actually doing this? Maybe I should give them a chance because if they succeed, the National Republican Party will turn around and say, 'Well, holy shit! Maybe we're wrong nationally and maybe these California Republicans are actually right!' That's what I'm hoping will happen."
West Hollywood in brief- City government in action this week
Nominations for its 2024 Rainbow Key Awards, 34th Annual Toy and Food Drive, 2024 Arts Grant Program Grant Recipients and more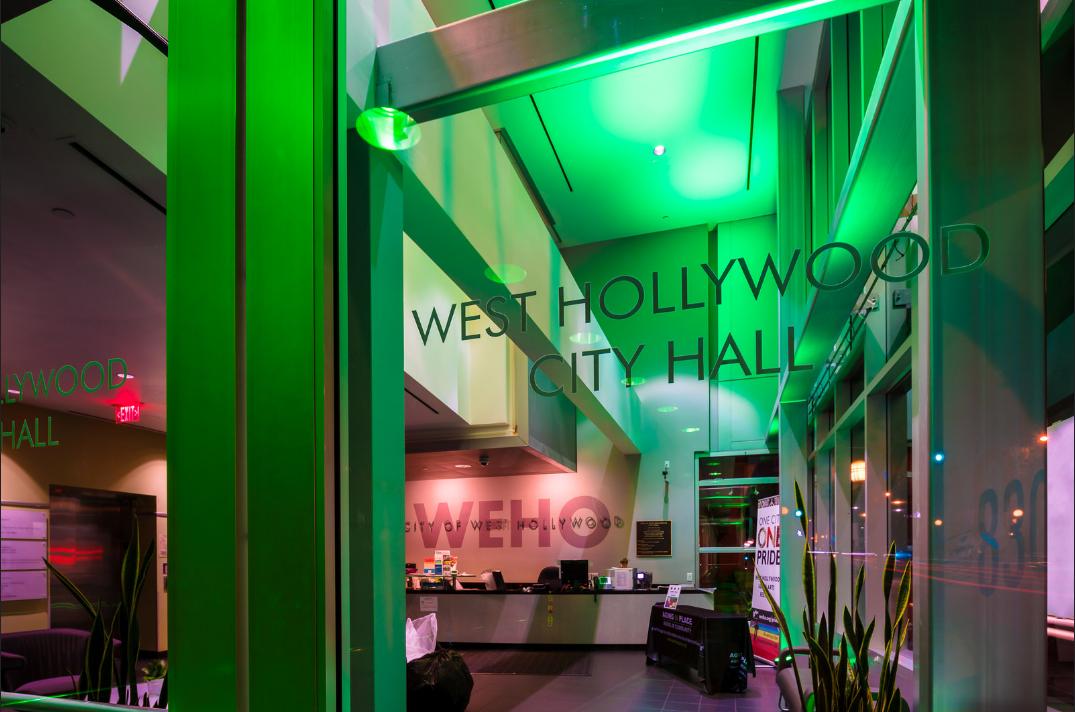 City of West Hollywood opens nominations for its 2024 Rainbow Key Awards
WEST HOLLYWOOD – The City of West Hollywood is gathering nominations for its 2024 Rainbow Key Awards. The City's Rainbow Key Awards recognize people who have made outstanding contributions to the LGBTQ+ community.
Nominations may be submitted electronically through the City's website at www.weho.org/rainbowkey. Nomination forms are due by 11:59 p.m. PST on Wednesday, January 31, 2024. The newly formed LGBTQ+ Commission will review nominations and present recommendations to the West Hollywood City Council. The awards presentations for 2024 Rainbow Key Awards nominees are anticipated to take place during the second half of 2024.
Since 1993, the City of West Hollywood has presented Rainbow Key Awards to individuals and groups that have gone above and beyond in their service to the LGBTQ+ community. Contributions have come in many forms, including the arts, community service, humanitarian action, sports, medicine, armed services, leadership potential, benefit to the global LGBTQ+ community, and more. Past honorees have included activists, artists, civic leaders, educators, community organizations, and many others.
The City of West Hollywood will be hosting an event for its 2023 Rainbow Key Awards presentation, which is anticipated to take place in early 2024. Additional details will be made available when the date is confirmed. Stay informed by visiting the City's website calendar at www.weho.org/calendar and opt-in to news updates and calendar e-notifications by signing up at www.weho.org/email. 
For more information, please contact Moya Márquez, City of West Hollywood Community Programs Coordinator, at (323) 848-6574 or at [email protected].
For people who are Deaf or hard of hearing, please call TTY (323) 848-6496.
West Hollywood is Informing Dog Owners about LA County Public Health Announcement Regarding Atypical Canine Infectious Respiratory Disease (aCIRD)
The City of West Hollywood is getting the word out about a recent announcement from the Los Angeles County Department of Public Health that it has received multiple reports of dogs experiencing a sudden respiratory illness of unknown origin. Symptoms for dogs include cough, nasal discharge, sneezing, and lethargy.
Related to this, the Vanderpump Dog Foundation cancelled its World Dog Day 2023 event, which had been scheduled to take place in West Hollywood Park on Saturday, December 2, 2023. The cancellation was made to ensure all necessary precautions are taken to safeguard the health and wellness of dogs. The event is anticipated to be rescheduled in 2024.
Currently, LA County Public Health is in case-finding mode to determine if and to what extent there is a new respiratory illness impacting dogs in Los Angeles County and is communicating with federal and state entities to ensure efforts are coordinated.
According to LA County Public Health, the respiratory illness impacting dogs is currently known as Atypical Canine Infectious Respiratory Disease (aCIRD). Cases are currently defined as having a negative canine respiratory PCR test panel, which tests for common viruses and bacteria identified in dogs with similar symptoms, plus one of the following clinical scenarios:
Chronic mild to moderate respiratory infection that lasts more than six weeks that is minimally or not responsive to antibiotics;
Chronic pneumonia that is minimally or not responsive to antibiotics; or
Acute pneumonia that rapidly becomes severe and often leads to poor outcomes in as little as 24 to 36 hours.
Given the lack of knowledge about the cause of this disease, LA County Public Health is advising dog owners to look out for symptoms such as cough, sneezing, nasal discharge, and lethargy in their dogs. If a dog is experiencing these symptoms, owners should take the following steps:
1. Contact their pet's veterinarian so the pet may be evaluated, and, if indicated, the appropriate tests and medications may be provided.
2. Isolate sick dogs at home for a minimum of 28 days past the first day of the onset of illness. Dogs exposed to the sick dog should quarantine at home and away from other dogs for 14 days to monitor them for signs and symptoms of illness.
3. Clean regularly and disinfect surfaces, doorknobs, keyboards, and animal equipment. To disinfect, use an EPA-registered disinfecting product or a stronger bleach solution.
4. Keep the dog home and away from day care, boarding kennels, grooming facilities, and dog parks.
5. If a dog becomes ill after being boarded or being in a facility, owners should take it to a veterinarian for evaluation and they should also notify the facility about the illness.
At this time, the City of West Hollywood will maintain regular operations and cleaning for William S. Hart Dog Park and Dog Parks at West Hollywood Park, keeping them open. Advisory information about Atypical Canine Infectious Respiratory Disease (aCIRD) will be posted in these park areas. The City will maintain close contact with LA County Public Health on this topic in the event that local officials deem additional steps should be taken.
For more information from the Los Angeles County Department of Public Health, please contact [email protected] or (213) 240-8144.
For people who are Deaf or hard of hearing, please call the City of West Hollywood's TTY line (323) 848-6496.
City of West Hollywood to Host Winter Wonderland at West Hollywood Park
The City of West Hollywood will host its second-annual Winter Wonderland event on Saturday, December 16, 2023 from 1 p.m. to 4 p.m. at West Hollywood Park, located at 647 N. San Vicente Boulevard.
The highlight of this event is the transformation of West Hollywood Park into a picturesque Winter Wonderland with 20 tons of snow on the Great Lawn, which is snow laughing matter! The City has doubled the size of its snow zone play area, so get ready to frolic and play in a space that's twice as grand, making this year's event truly snow-tastic!
Two snow zones will be in place, one for ages five-and-under, and another for ages six and up. Bundle up and don your gay apparel, sweaters, gloves, and boots, hop on your sleigh and point it toward West Hollywood Park for a sweet and festive adventure full of fun and cheer! Yule be sorry if you miss it!
Additional event festivities include, crafts, holiday décor, hot cocoa and snacks, performances by community groups, a DJ spinning holiday classics, plenty of opportunities to take elfies and remember, no resting Grinch face. In case of rain, the event will move to the gymnasium inside the West Hollywood Park Aquatic and Recreation Center, located at 8750 El Tovar Place, directly adjacent to the West Hollywood Park grounds. 
For more information about the City of West Hollywood's Winter Wonderland event, please contact the City's Recreation Services Division at (323) 848-6534 or at [email protected].
For people who are Deaf or hard of hearing, please call TTY (323) 848-6496.
City of West Hollywood Says Loud-and-Clear:  'Don't Drink (or Use) and Drive'
The City of West Hollywood, its City Council, and its Public Safety Commission join the West Hollywood Sheriff's Station, local Fire Stations 7 and 8, and Block by Block Security Ambassadors in reminding community members about an important safety message during the holidays: do not drink (or use) and drive. Driving under the influence of cannabis carries the same DUI designation as alcohol.
This critical message will be the theme of an upcoming community reception Celebrating 10 Years of the City of West Hollywood's free weekend trolley The PickUp. Launched in 2013, The PickUp is the City's fun, flirtatious, (and free!) trolley that runs along Santa Monica Boulevard on Friday and Saturday nights from 8 p.m. to 3 a.m., on Sundays from 2 p.m. to 10 p.m., and on certain holidays. The PickUp carries people safely to and from bars, clubs, restaurants, and entertainment venues in and around the City's Rainbow District and Center City and Eastside areas.
The PickUp Celebrating 10 Years community reception will take place on Monday, December 4, 2023 at 5:30 p.m. in the motor court adjacent to the City of West Hollywood's Council Chambers/Public Meeting Room, located at 625 N. San Vicente Boulevard. It is free and open to the public. The reception will precede the regular meeting of the West Hollywood City Council, which will begin at 6 p.m.
Irreverent and lighthearted, The PickUp provides more than 100,000 passenger trips each year and connects people to the places in West Hollywood they want to go. When it was launched a decade ago, The PickUp was illustrated with a bright yellow palette of graphic pop-art characters. It has evolved to feature photo-based images with new typefaces, logos, and designs. Everyone enjoys a ride on The PickUp. Most importantly, it reduces driving while intoxicated and eases parking and traffic congestion. Details: www.wehopickup.com.
The City's Cityline service offers an additional way to get around West Hollywood and to connect to the Hollywood/Highland station from 5 p.m. to 8 p.m. Mondays through Saturdays for Los Angeles Metro Rail B Line (red line) service. Details: www.weho.org/cityline. Visit www.weho.org/transit for additional information about City of West Hollywood transit programs.
There are sobering statistics from the Centers for Disease Control (CDC) about the dangers of DUI. Every day, 29 people in the United States die in motor vehicle crashes that involve an alcohol-impaired driver; more than one-million drivers are arrested yearly for driving under the influence of alcohol or narcotics; and, marijuana users were approximately 25 percent more likely to be involved in a crash than drivers with no evidence of marijuana use.
The City of West Hollywood works year-round to raise awareness about safe driving, distractions, and pedestrian safety. The City's Drive Mindfully campaign reminds community members to embrace a mindful approach to driving. When we Drive Mindfully, we all do our part to help encourage safety in the community whether we're driving, bicycling, or walking.
The City of West Hollywood has many bars, restaurants, lounges, nightclubs, and venues that serve alcohol. The City's Imbibe Intelligently campaign promotes safety tips and messages regarding alcohol consumption and encourages responsibility as the City works to maintain safe establishments that are free from overconsumption of alcohol.
As the holiday season approaches, the West Hollywood Station of the Los Angeles County Sheriff's Department has issued the following safety tips:
Even one drink can impair your judgment and increase the risk of getting arrested for driving drunk — or worse, the risk of having a crash while driving.
If you will be drinking or using marijuana, do not plan on driving. Plan ahead; designate a sober driver before the party begins – a designated driver is someone who hasn't had any alcohol or marijuana, not just the person who drank or smoked the least.
If you have been drinking or using marijuana, do not drive. Call a taxi, phone a sober friend or family member, use a ride share service or public transportation, or call one of your local sober ride home programs.
Be responsible. If someone you know is impaired, do not let that person get behind the wheel, and do not accept a ride with an impaired person.
If you see an impaired driver on the road, contact law enforcement. Your actions may save someone's life, and inaction could cost a life.
The West Hollywood Sheriff's Station's Community Impact Team (CIT) actively patrols bars, nightclubs, and hotels. Deputies are proactive in addressing impacts from entertainment establishments and special events. The Sheriff's Station's Entertainment Policing Team (EPT) focuses on entertainment- and alcohol-related law enforcement issues. Together, the Sheriff's Station and the City's Code Compliance Division work with the Alcoholic Beverage Control (ABC) to educate businesses and work collaboratively on alcohol-related issues.
For more information about the City of West Hollywood's efforts for community members not to drink (or use) and drive, please contact the City of West Hollywood's Community Safety Department at (323) 848-6414 or at [email protected].
For more information about The PickUp Celebrating 10 Years or about the City of West Hollywood's transit programs, please contact Douglas Bear Nguyen, City of West Hollywood Transportation Program Administrator, at (323) 848-6370 or at [email protected].
For people who are Deaf or hard of hearing, please call TTY (323) 848-6496. 
City of West Hollywood Announces 2024 Arts Grant Program Grant Recipients
The City of West Hollywood has announced the recipients for its 2024-2025 Arts Grant Program, totaling $217,800 awarded to 23 new grantees and 10 multi-year grantees who are all Los Angeles County-based non-profit arts organizations and artists. 
The City of West Hollywood, through its Arts and Cultural Affairs Commission, has maintained an Arts Grant Program since 1997. The Program provides funding support to eligible artists and nonprofit arts organizations for the production, performance, or presentation of arts projects that take place in the City of West Hollywood and that serve the West Hollywood community.
The Arts Grant Program is considered a central component to arts and cultural programs and services provided by the City of West Hollywood. Arts grants offer subsidized funding to artists and organizations so that ticket prices are free or low cost for the public. In other cases, art grants provide opportunities for artistic development, allowing space for stimulating creativity and deepening cross-cultural understanding, while contributing to the quality-of-life residents and visitors can enjoy in West Hollywood. The funding provided through the vehicle of a grant ensures a fair and equitable review process and results in the reflection of the diversity contained among our residents.
The City received a total of 53 applications representing a variety of arts disciplines and a wide array of projects. Following a peer panel review and the Arts and Cultural Affairs Commission funding recommendations, the West Hollywood City Council approved the below recommendations at its regular meeting on Monday, October 16, 2023.
The Arts Project Grant category supports the production, performance, or presentation of art projects that take place in the City of West Hollywood and that serve the West Hollywood community. It is a two-year grant. The following non-profit arts organizations are grant recipients for 2024-2025: Gay Men's Chorus of Los Angeles, Greenway Arts Alliance, Inc., Helix Collective, Kol Sephardic Choir (ROSE), No Easy Props, Inc., ONE Archives Foundation, Prism Comics, Inc., Rogue Artists Ensemble, and Vox Femina Los Angeles.
The Transgender Arts Initiative Grant category supports and enhances the presentation of artworks in West Hollywood by transgender artists, artist collectives or groups, and non-profit organizations with a history of supporting transgender artists. First initiated in 2013, this grant category is the first to support artwork by, for, and about the transgender community. The 2024 grant recipients in this category are: Celebration Theatre, Andre Keichian, Chanel Lumiere, Maddox Pennington, and Yozmit The DogStar.
The Community Arts Grant intends to support non-profit arts organizations with a history of supporting Black, Indigenous, and people of color (BIPOC) communities and/or female artists and audiences. The grant recipients in this category include: Arts Bridging the Gap, Entertainment Community Fund, Wokelicious LLC, and Women Who Submit.
In addition to these new grant awardees, the City continues to support its multi-year grantees in their second or third year of programming. The multi-year grantees are: Brockus Project Dance Company, Grand Performances, International Eye Los Angeles, MashUp Contemporary Dance Company, Oasis Players, Pieter, Pride Poets, and Saturday Night Bath Concert Fund.
The WeHo Artist Grant aims to nurture and support the long-term development of an artist's ideas by providing funds that increase the capacity for artists to realize work, advance the conditions of creation, and navigate the complexities of both making art and making a career. The West Hollywood resident artist grant recipients for 2024 are: Kat Evasco, Yvann Filipczak, Peter Fitzgerald, Caroline Nagy, Zach Oren, and Christopher Youmans.
Join the City of West Hollywood's Arts Division to celebrate the recipients of the 2023 WeHo Artist Grant – Ignacio Darnaude, Sharmin Rahman, and Steven Reigns – on Wednesday, December 13, 2023 at 6 p.m. at the City of West Hollywood's Council Chambers/Public Meeting Room, located at 625 N. San Vicente Boulevard. These accomplished artists will discuss their 2023 projects, will show short films demonstrating their work, and will answer audience questions about their creative processes. This 2023 WeHo Artist Grant event is free; RSVP is requested at https://bit.ly/2023WeHoArtists.
The City of West Hollywood is committed to providing accessible arts programming for residents and visitors. The City delivers a broad array of arts programs through its Arts Division including Art on the Outside (temporary public art), Arts Grants for Artists and Nonprofit Arts Organizations, City Poet Laureate Program, Drag Laureate Program, Free Theatre in the Parks, Human Rights Speakers Series, Library Exhibits and Programming, Summer Sounds/Winter Sounds, Urban Art Program (permanent public art), WeHo Reads, and the WeHo Pride Arts Festival.
For additional information about the City of West Hollywood's Arts Grant Program, please visit www.weho.org/arts.
For more information, please contact Eva Angeloff, Grants Coordinator in the City of West Hollywood's Arts Division, at (323) 848-6354 or at [email protected].
For people who are Deaf or hard of hearing, please call TTY (323) 848-6496.
City of West Hollywood Celebrates the Holidays with 34th Annual Toy and Food Drive
The City of West Hollywood and the West Hollywood Sheriff's Station are partnering to help give back to those in need this holiday season. The 34th Annual West Hollywood Toy and Food Drive will be accepting monetary donations until Friday, December 15, 2023, with the goal of providing as many families as possible with toys and holiday gift cards. Donations may be made online at www.weho.org/holidaydrive. New users must create an account and click on the Donations tab to contribute; existing users may simply log in to start the donation process.
The cost to help one family is $95; up to 10 families can be helped with $950. New unwrapped toys are also needed and gift cards in $25 denominations to retailers such as Pavilions, Ralphs, Trader Joe's, or Target will help families through the holiday season. Toy collection bins are now available at the West Hollywood Aquatic and Recreation Center (2nd floor lobby), Plummer Park, West Hollywood City Hall, West Hollywood Sheriff's Station, and West Hollywood Chamber of Commerce.
The following West Hollywood hotels will also have collection bins: Andaz West Hollywood, The London West Hollywood, 1 Hotel, and Ramada Plaza West Hollywood, as well as the Chateau Marmont in LA on the Sunset Strip just outside of the City's municipal border.
For more information, please contact City of West Hollywood  Recreation Leaders Natalie Mignon at [email protected] or at (323) 848-6321 or Jennifer Baram at [email protected] or at (323) 848-6534.
For people who are Deaf or hard of hearing, please call TTY (323) 848-6496. 
******************************************************************************************
For up-to-date information about City of West Hollywood news and events, follow @wehocity on social media, sign-up for news updates at www.weho.org/email, and visit the City's calendar of meetings and events at www.weho.org/calendar.
West Hollywood City Hall is open for walk-in services at public counters or by appointment by visiting www.weho.org/appointments. City Hall services are accessible by phone at (323) 848-6400 and via website at www.weho.org.
Receive text updates by texting "WeHo" to (323) 848-5000.