Carl DeMaio: California's gay GOP kingmaker
Gas tax repeal effort could foil Democrats in November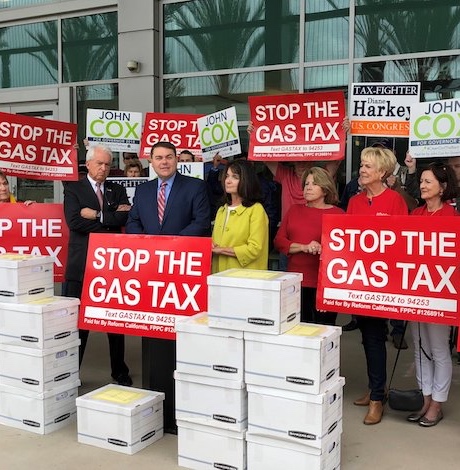 During the only debate among the top gubernatorial candidates before the June 5 primary, Republican businessman John Cox and Assembly member Travis Allen sniped at each other over who was first to call for a repeal of the gas tax. "Ask Carl DeMaio," Cox said, ending the argument.
Few knew John Cox until he hitched his political wagon to conservative talk radio host Carl DeMaio, the gay former San Diego City Council member who organized the online grassroots campaign to repeal the 12-cent per gallon tax hike and recall State Sen. Josh Newman for supporting the increase. Newman was the final vote needed by the Democrats to pass Senate Bill 1 last year to raise $5.4 billion for infrastructure repairs and transit projects.
DeMaio devised a three-part strategy: 1) recall Newman, depriving the Democrats of their super-majority in the state Legislature; 2) gather enough signatures to place a gas tax repeal initiative on the November ballot; and 3) increase the Republican voter rolls for the 2018 midterms.
Despite being heavily outspent by Democrats, DeMaio achieved all three goals—collecting nearly 940,000 signatures for the initiative, exceeding by 356,000 the number of signatures needed to qualify for the ballot. A USC Dornsife/Los Angeles Times statewide poll released in May indicates he's on to something: 51% of registered voters favor repeal.
Gov. Jerry Brown called the endeavor "devious and deceptive."
"The test of America's strength is whether we defeat this stupid repeal measure, which is nothing more than a Republican stunt to get a few of their losers returned to Congress, and we're not going to let that happen," Brown told Southern California transportation leaders at Union Station in Los Angeles last May, The Times reported.
Stunt or not, DeMaio has added 203,941 signatures to his electoral database from San Diego County alone. Overall, the USC/LA Times poll indicates that 64% of registered voters in Orange and San Diego counties and the Inland Empire support the gas tax repeal. And that is expected to dramatically impact GOP voter turnout in critical races statewide.
DeMaio's targeting of Newman was strategic, employing "the gazelle strategy," DeMaio told the Los Angeles Blade in a June 9 phone interview, referring to the Animal Planet series on the lions. "We're going to pick the weakest state senator and we're going to recall that person from office because of their vote on the gas tax. And by doing that, we end the Democrat supermajority and if we end the supermajority, they can't raise taxes without a public vote."
The third phase after recall and repeal, he says, is "replace," actually fixing the roads by earmarking the existing gas tax for roads "and make a number of other reforms that have been long overdue."
DeMaio explains that he used $250,000 from his super PAC with help from Republican State Sen. Pat Bates and a coalition that included Howard Jarvis Taxpayers Association and donor groups such as the New Majority and the Lincoln Club to place the gas tax repeal on the ballot.
"Some of our coalition members want this because in November of 2018, they need Republicans to show up," DeMaio says. "My goal is to fix California."
DeMaio credits California Democrats with "working their tails off," while California Republicans "have been very afraid to speak out. They have Stockholm syndrome. A lot of the elected officials in Sacramento are worthless," he says, giving them no credit for simply voting "no."
That failure prompted DeMaio to step up, offering alternative ideas and taking on the "fundamentals of institution and capacity building," including developing a volunteer list. He has a list of 20,000 volunteers statewide and 25,000 individual donors that have given an average contribution of $37, some monthly.
"We have raised $2.5 million from grassroots donors, no contribution more than $1,000. And the Republican Party in the last four years has only raised $200,000 from those sorts of donors," he says. "We're not going to write off any community. Jack Kemp once said 'people don't care what you know until they know that you care.'…They don't really pay attention to you unless you actually show up in their community" and share concerns such as the cost of living.
While gubernatorial candidate John Cox touts President Donald Trump's endorsement, DeMaio is more independent, comparing Trump's primary function to a plumber.
"Donald Trump is our first marriage equality-supporting president, elected," he says. "But there are certain things that we can all celebrate. Things are not all black and white here. There is a whole lot of progress that we should acknowledge."
Trump responded to "dissatisfaction" in the country.
"Yes, he's rude, crude and unattractive. His behavior at times is abhorrent and certainly not what you'd want as a role model for your kids. However, the best analogy I can offer you is he's like the plumber that you hire to unplug your toilet. I won't even describe what the toilet looks like but you can imagine. The fact that the plumber comes in with no teeth, really bad body odor and plumber's crack is irrelevant to you as long as he is honest, charges you a fair price and gets the damn toilet unplugged," DeMaio says, skirting deeper questions about Trump's record of lying.
"Our country—the issues have been festering for so long and people are so dissatisfied that they are willing to tolerate some bad parts of Donald Trump as long as the toilet gets unplugged. It's unfortunate. I wish I could have a president where I would say, 'look, this is someone who epitomizes on a personal level in their conduct the very best of our country.' But that unicorn don't exist," DeMaio says. "My job isn't to support Donald Trump or oppose him. My job is to call him out when I think he's wrong and when I think he's right, I'll support him. But I don't blindly give my allegiance to anybody. And I hope no one does….I've called him out for telling white lies and exaggerating. I've also done that with Democrats."
DeMaio, who's been with his husband Jonathan Hale since April 2009 and married since 2015, says he's had Vice President Mike Pence on his radio show.
"I invited him on, he came on. He's not had an issue on that front. So I know people continue to say how much of a homophobe he is. I know he's a man of faith," says DeMaio. "I've got a lot of people who I know have different religious views than I do and as long as they keep it out of the issue of public law, I'm fine. As soon as you start wanting to legislate morality, well we've got ourselves a problem. And this is what I'm trying to communicate to Republicans in California: if you are for freedom—as you say you are—then you need to be for all forms of freedom, not just the select few."
DeMaio says he's a "big proponent" of religious liberty. "I had a very conservative Jewish rabbi in 2014 come to me and he was considering endorsing me (in his congressional race against Democrat Rep. Scott Peters) and he was very nervous," DeMaio says. "I got a lot of Jewish support in 2014 but this rabbi said, 'Carl, you're right on these issues—economic issues, fiscal issues, government reform issues. I think what you're doing is great. You're supporting Israel. But I don't subscribe to your gay marriage point of view and I think it's a sin.'
"And I said, 'Well, Rabbi, I disagree with you on that.  However I will defend your right to be wrong.' And he looked at me and he started laughing. And I said, 'I'm never going to support a policy that says you can't preach your point of view, that you cannot profess your faith, that you cannot counsel your parishioners in a certain way. But in a matter of public law, in the eyes of the law, we must embrace freedom of individuals to be who they are, to love who they want, to say what they want, to profess what they want. The First Amendment and our freedoms are a two-way street and so we have to respect that.' So he then endorsed me, which was pretty shocking to some in the conservative Jewish community."
DeMaio is hoping the LGBT community will be similarly open.
LGBT people have aligned with Democrats because Democrats have said—"and in large part, rightfully so"—that Republicans have been bad on gay issues and they've been good. But the world has changed.
"Thank God the world has changed and we can celebrate that. With rare exception, California Republicans are committed to full equality on LGBT issues. It's a non-issue, all right? And it's something we all should be proud of and celebrate," he says.
But, DeMaio argues, Democrats have made it harder to afford to live and work in California.
"At some point, we've gotta look beyond the arguments of the past that no longer really exist and say, 'wait a minute, hold on, nobody is being persecuted at this point,'" he says. "And for people to say, 'Yes they are,' it's like, 'Wait, so are you inventing persecution stories now so that you can continue to just keep my vote? Or have we moved past that?' Thank goodness we've moved past that," leaving Democrats nothing else to offer on other issues of concern. 
"I really think that the LGBT community needs to hold the California Democratic Party accountable for more than just hysterical rhetoric on LGBT issues, because when you do fact check their claims of persecution and plots, it's just not happening anymore. It's not and thank God it's not," he says.
The California LGBT Legislative Caucus and Equality California might disagree with DeMaio. "Equality California's 2018 legislative package focuses on the most vulnerable in our community and is part of our continuing effort to address the disparities in health and well-being that LGBTQ people face as a result of longstanding discrimination and lack of acceptance," Equality California says on its website. Some of the 15 bills included in that package address the fraud of "conversion therapy," anti-bullying training in schools, LGBT older adults, and LGBT homelessness.
"Look, I can disagree with someone's point of view but they have the freedom to express that, provided that they're not taking government money," DeMaio says. "So if you are for freedom, you have to be for freedom in all aspects. And sometimes freedom is messy and frustrating. But I would rather have it that way than any other way with government telling us who we can be, who we can love, how we can operate."
DeMaio says he's trying to "reposition the Republican Party on the side of freedom, dignity and equality for all," by focusing on economics. "If I were a Democrat, if I were an LGBT member, I'd say, 'Well, hold on a second. So you've got this whole movement in California, in my backyard, where Republicans are actually doing this? Maybe I should give them a chance because if they succeed, the National Republican Party will turn around and say, 'Well, holy shit! Maybe we're wrong nationally and maybe these California Republicans are actually right!' That's what I'm hoping will happen."
LAPD: Body found on fire hanging in tree in Griffith Park likely a suicide
The person's age, identity and gender have not yet been determined, but they are believed to be a person who frequents the park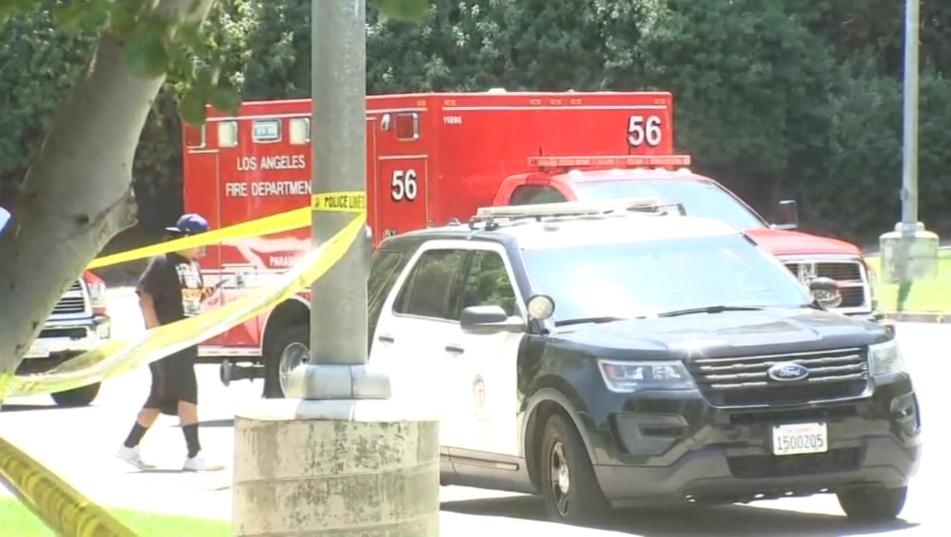 LOS ANGELES – The body of an unidentified person deceased found hanging from a tree near the Griffith Park's merry go round was likely a suicide a detective with the Los Angeles Police Department said Tuesday.
The body was discovered at around 12:30 p.m. on fire and hanging from a tree. Los Angeles City firefighters put the flames out and LAPD detectives investigated and found no signs of foul play, determining that most likely the cause of death was suicide.
"It appears to be self-immolation," said LAPD detective Michael Ventura. "This is going to be somebody who brought some gasoline, brought some lighters. We have had, they are rare, but we do have cases where people will self-immolate. Or they choose to set themselves on fire."
The person's age, identity and gender have not yet been determined, but they are believed to be a person who frequents the park on a regular basis Ventura said.
Independent freelance journalist Vishal P. Singh, who was on scene tweeted about the incident:
Firefighters from @LAFD are carefully removing things from the tree in Griffith Park. @LAPDHQ and the Park Rangers are here, too, investigating the body found hanging from a tree and on fire here. pic.twitter.com/5xBxviZRki

— Vishal P. Singh (they/he) 🏳️‍⚧️ (@VPS_Reports) August 9, 2022
KABC reported:
Editor's note: If you or someone you know is struggling with suicidal thoughts or mental health matters, please call the National Suicide Prevention Lifeline at 800-273-8255 or dial 988
LAPD respond after protestors disrupt LA City Council vote on homeless
All of City Council left except for Councilmembers Raman, Harris-Dawson, & Bonin who have previously voted against the expansion of 41.18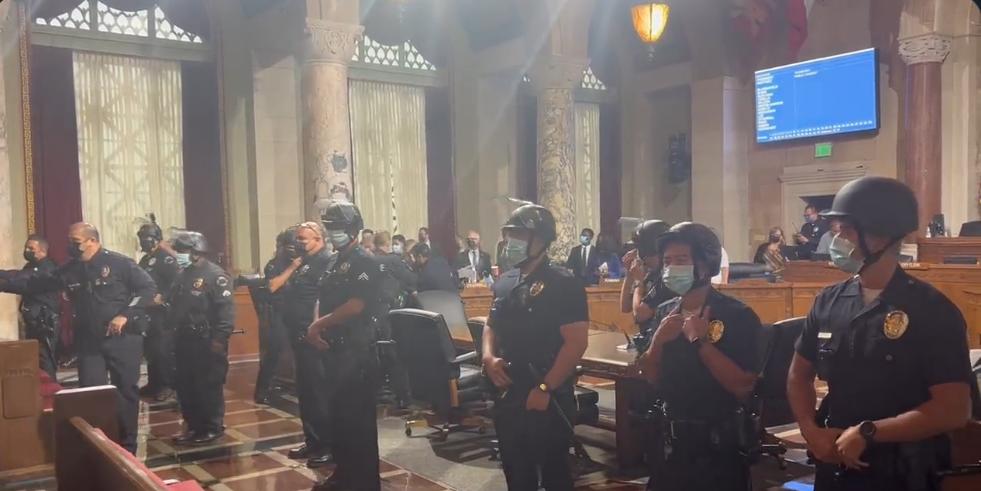 LOS ANGELES – After protestors angrily voiced opposition and one charged towards the council dais disrupting the LA City Council's impending vote Tuesday on a mass expansion of 41.18 zones, which will prohibit encampments of unhoused persons near schools and daycare centers, the Los Angeles Police Department's Riot Squad was called-in.
The meeting erupted into chaos after a member of the public who was speaking climbed over a bench and charged toward Council President Nury Martinez. Police quickly filled the council floor to apprehend the person and another member of the public. Activists screamed at police, and at least one audience member attempted to spray water on officers.
Martinez abruptly recessed the meeting as dozens of activists in the room chanted "Abolish 41.18!" – a reference to the city law prohibiting homeless encampments at libraries, freeway overpasses and other locations.
Jonny Peltz, a freelance reporter for Knock LA, a nonprofit community journalism project, live tweeted the proceedings.
Before meeting starts there are chants of "Shame on you!" pic.twitter.com/7HdnvdOQgD

— Jon peltz (@JonnyPeltz) August 9, 2022
Crowd holding up mostly 'abolish 41.18' signs. Council President told the crowd to "grow up" as they were jeering pic.twitter.com/28dVNpZF4j

— Jon peltz (@JonnyPeltz) August 9, 2022
BREAKING: Riot squad now out at City Hall. Two protesters have been arrested pic.twitter.com/gX9utGVHLj

— Jon peltz (@JonnyPeltz) August 9, 2022
Crowd is staying and chanting. All of City Council left except for Councilmembers Raman, Harris-Dawson, and Bonin (who have previously voted against the expansion of 41.18). LAPD also lining the side of City Council chambers pic.twitter.com/Whmvd9P2xf

— Jon peltz (@JonnyPeltz) August 9, 2022
KTLA reported the Council voted to ban homeless encampments within 500 feet of city schools and day care centers after protesters again rallied against the expanded motion.
The final vote on the motion 11-3 in favor of the widespread ban.
Before the updated motion passed, camps were banned within 500 feet of facilities deemed sensitive, such as schools, day care facilities, parks and libraries but only if those areas have been designated for enforcement.
Tuesday's vote means a blanket ban on encampments within 500 feet of every private school and day care centers in the city.
Placer County Sheriff's Office: Public's help in locating missing girl needed
Anyone with information about Kiely's whereabouts is asked to contact the Placer County Sheriff's Office at 530-886-5375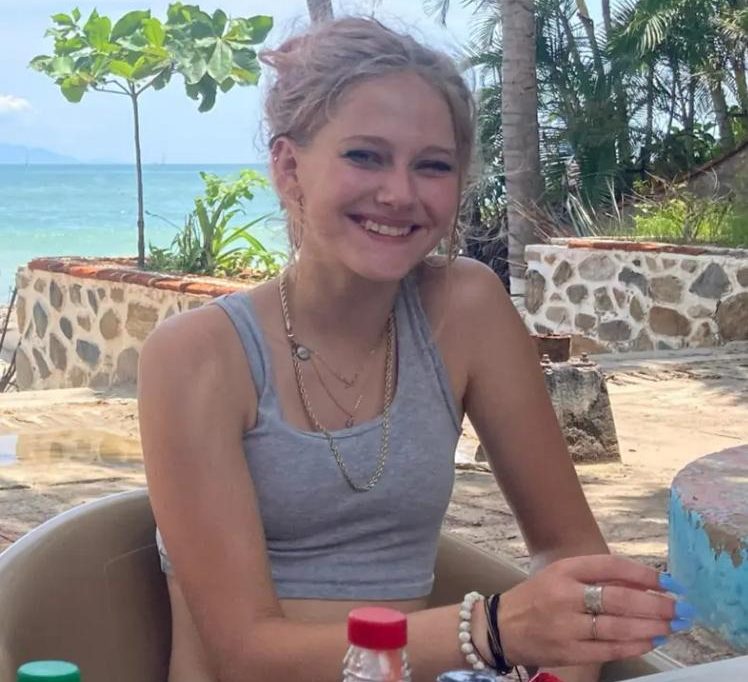 TRUCKEE, Ca. – Investigators with the Placer County Sheriff's Office are asking for the public's assistance in locating 16-year-old Kiely Rodni who disappeared in Northern California early Saturday morning. PCSD detectives say she may be the victim of an abduction.
Rodni was last seen around 12:30 a.m. Saturday near the Prosser Family Campground in the town of Truckee, according to the Placer County Sheriff's Office.
‼️MISSING PERSON – Community Help Needed‼️We need your help in locating missing 16-year-old Kiely Rodni who was last seen near the Prosser Family Campground, in Truckee on 8/6. If you have any information contact the Placer County Sheriff's Office immediately: 530-886-5375. pic.twitter.com/URhW4CGzge

— Placer Sheriff (@PlacerSheriff) August 7, 2022
We continue to search for missing 16-year-old Truckee resident, Kiely Rodni. Detectives are currently following up on leads and our Falcon 30 helicopter is assisting the Nevada County Sheriff's Office with the search for Kiely. More info: https://t.co/GnWdW7PbLf #PCSO #missing pic.twitter.com/ofEsZsLnSe

— Placer Sheriff (@PlacerSheriff) August 8, 2022
Kiely is described as 5'7 with blonde hair and hazel eyes. She was last seen wearing green Dickies pants, a black tank top and jewelry. The teen also has numerous piercings, including a nose ring.
She had attended a party with more than 100 young adults. Authorities said that her phone has been out of service since the party and that her car, a silver Honda CRV model year 2013 with California license plate "8YUR127" is also missing.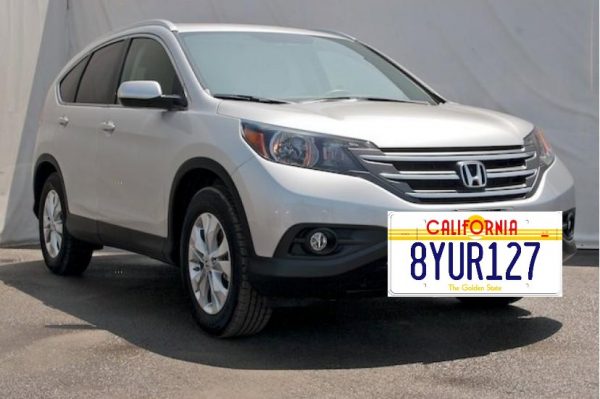 Anyone with information about Kiely's whereabouts is asked to contact the Placer County Sheriff's Office at 530-886-5375.
From KTLA sister station KTXL Sacramento: