February 14, 2020 at 8:11 am PST | by Karen Ocamb
DeMaio vs. Issa in 50th CD GOP slugfest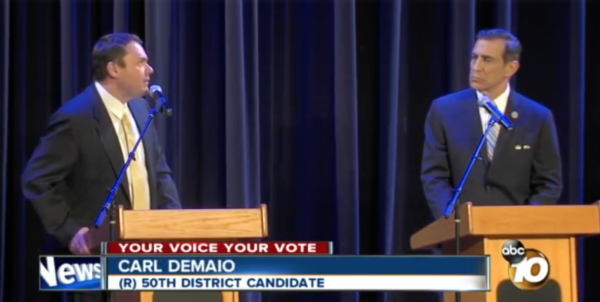 Pollsters and pundits have already determined that the 50th Congressional District is so Republican red, the winner of the March 3 open primary election to fill disgraced anti-LGBTQ Duncan Hunter Jr.'s seat will surely be one of the remaining members of California's GOP clan in the November general election.
And they may be right. Hunter eked out a reelection victory in 2018 despite being under federal indictment for campaign fraud, crimes for which he subsequently pled guilty and resigned. But Democratic businessman and former Obama administration official Ammar Campa-Najjar — who lost to Hunter by 51.7 percent to Campa-Najjar's 48.3 percent — is running again in the conservative northern San Diego district and thinks he has a shot at the seat as Trump Republicans slug it out.
And Campa-Najjar may also be right, if a recent straw poll following a forum presented by The Valley Center Business Association (VCBA) and Valley Roadrunner on Feb. 8 is any indication. The survey of local business and community leaders gave Campa-Najjar 61% of the vote, compared to gay radio talk show host and former San Diego City Councilmember Carl DeMaio, who received 22%. DeMaio's chief rival, former Rep. Darrell Issa received 8%, while Republican State Sen. Brian Jones got 9%.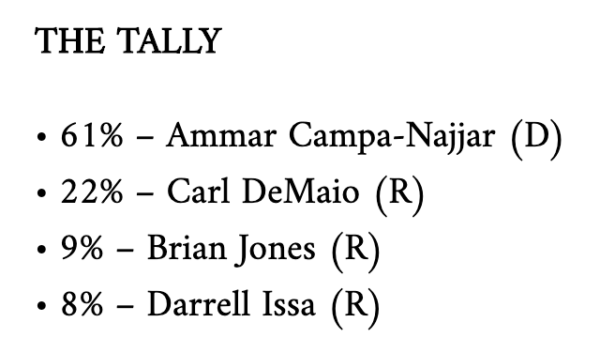 "While an unofficial poll, this victory aligns with recent polling the past few months showing Campa-Najjar's consolidation of his party base while Republicans battle it out," said the VCBA press release. "DeMaio came away with a big victory over his party rivals, but this race has one month to go with voting just starting."
And therein lies the nub of the race. For the most part, the GOP battle appears not over the issues San Diego constituents care about but who will best serve Donald Trump.
"In the reddest district in the county, you have to be the Trumpiest of Trumps to rally the most support in a divided field," Carl Luna, professor of political science at San Diego Mesa College, told the San Diego Union-Tribune.
"DeMaio is running as Trump the Populist, (an) anti-elite, anti-establishment candidate, blasting Issa for being a professional politician and part of the Washington establishment swamp," Luna said. "Issa is running as Trump the Social Conservative, stressing Issa's pro-life, pro-conservative causes (and) voting record, while dredging up any and all comments DeMaio made in the past which weren't 100% pro-life."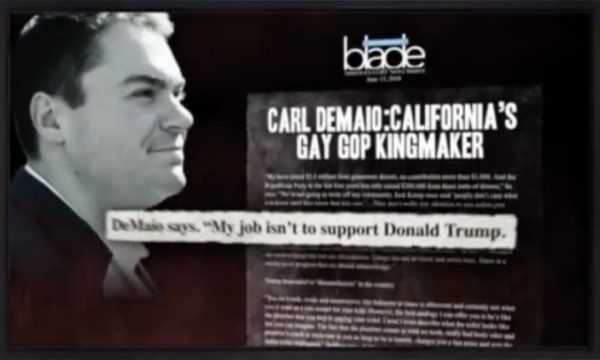 The battle has been brutal with Issa launching an anti-DeMaio campaign ad that starkly referred to the younger conservative's sexual orientation – including images and quotes from an interview DeMaio did with the Los Angeles Blade. Interestingly, the backlash was so intense, it gave DeMaio a kind of sympathy vote and forced Issa to backtrack and claim the ad was not intended to be homophobic.
Now the two are targeting each other over who's the best for Trump.
"Darrell Issa has shown himself in 18 years to be all bluster and very little result," DeMaio told San Diego Union-Tribune editorial board. "In 2018 when his party needed him — when the president needed him — to run for reelection and defend his seat, he chickened out. He choked. He quit. He let down the president."
DeMaio's referring to Issa's decision not to seek reelection in the 49th Congressional District, which was flipped blue with the handily won victory of Democrat Mike Levin of San Juan Capistrano.
Issa has gone after DeMaio by accusing him of being a "Never Trump liberal," using his comments to the Blade as evidence.
"In a 2018 interview with Los Angeles Blade, DeMaio described Trump as 'rude, crude and unattractive' and said Trump's 'behavior at times is abhorrent and certainly not what you'd want as a role model for your kids,'" the Union-Tribune reports, noting what Issa left out – that DeMaio went on to say Trump's behavior didn't matter because he's getting the job done.
"Our country — the issues have been festering for so long and people are so dissatisfied that they are willing to tolerate some bad parts of Donald Trump as long as the toilet gets unplugged," the Union-Tribune quotes DeMaio as telling the Blade. "It's unfortunate. I wish I could have a president where I would say, 'Look, this is someone who epitomizes on a personal level in their conduct the very best of our country.' But that unicorn don't exist."
The Union-Tribune also cites another comment DeMaio made to the LA Blade that – in light of Trump's current recriminations against anyone perceived to be disloyal – may be modified or walked back should the married gay conservative win.
DeMaio said his job "isn't to support Donald Trump or oppose him."
"My job is to call him out when I think he's wrong and when I think he's right, I'll support him," DeMaio told the Los Angeles Blade. "But I don't blindly give my allegiance to anybody. And I hope no one does…. I've called him out for telling white lies and exaggerating. I've also done that with Democrats."
But in this Trumpian day and age, calling Trump out has more dire consequences than the time not so long ago when DeMaio took that stance.