December 3, 2019 at 1:30 pm PST | by Karen Ocamb
50th CD candidates react to Duncan Hunter guilty plea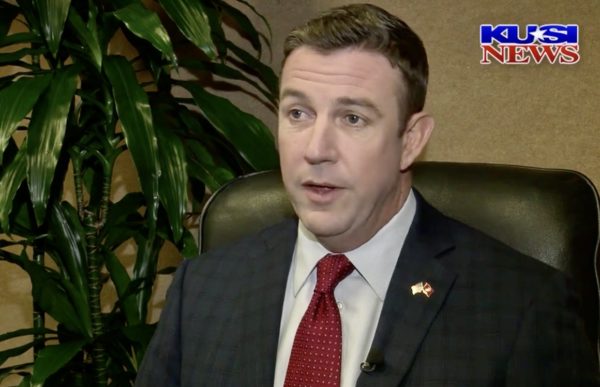 Anti-LGBTQ Republican Rep. Duncan Hunter Jr. acted as if he was contrite after formally pleading guilty Dec. 3 to one count of conspiracy to misuse campaign funds for personal expenses, including extramarital affairs, totaling more than $200,000.
"I made mistakes and that's what today was all about," Hunter told reporters after uttering "guilty" before  U.S. District Court Judge Thomas J. Whelan, in San Diego. Hunter was joined by his even more anti-LGBTQ father, Rep. Duncan L. Hunter, who served for nearly three decades, before his son assumed his seat for nine years. Three prominent Republicans and the Democrat who also beat him in 2018 have been vying for that seat.
Hunter campaigned despite the political soap opera swirling around him. Last June, Margaret Hunter pleaded guilty to conspiring with her husband, father of their three children, to "knowingly and willingly" using campaign funds for personal use. She agreed to cooperate with federal prosecutors and both were indicted in August 2018.
Hunter subsequently blamed his wife for the misuse of funds, "She was also the campaign manager, so whatever she did that'll be looked at too, I'm sure," Hunter told Fox News in August 2018. The indictment forced him from his congressional committee assignments but he squeaked out re-election in 2018.
The guilty plea, for which he could be sentenced up to five years, is expected to lead to a resignation from Congress soon. In a Dec. 2 interview with San Diego station KUSI, Hunter sounded as if he had been the victim of prosecutorial overreach and was seeking a pardon from President Trump, to whom he has been obsequiously loyal.
In fact, the Hunter used the Trump playbook in August 2018 when he claimed the federal investigation was a "witch hunt" instigated by Hunter's early support of Trump. He called news reports that led to the investigation "fake news."
Portions of the agreement were read in court, the San Diego Union reported, revealing that "Hunter began using campaign funds improperly 'no later than 2010,' meaning barely a year after he arrived in Congress. The criminality continued to at least 2016, it adds."
Despite his indictment and loss of power, Hunter was running for re-election to what would be his seventh term. His ratings, however, recently dropped to fourth behind his rivals for that 50th Congressional District seat,  including prominent Republicans – gay former San Diego Councilmember and radio talk show host Carl DeMaio, former Rep. Darrell Issa, and State Sen. Brian Jones. The Democratic contender, businessman and former Obama administration staffer, Ammar Campa-Najjar, came very close to defeating Hunter in 2018.
Campa-Najjar was gracious on Twitter, writing: "My thoughts are with Major Hunter and his family, I want to thank him for serving our country."
Campa-Najjar told KUSI that while he thought Hunter was guilty all along, he "wanted to let the courts decide." Campa-Najjar added, "honestly, I think it's a good thing that he's kind of taken responsibility, but it's also a sad day. I mean, no constituent expects, and hopes, for their congressman to be guilty of a crime and go to prison."
DeMaio issued a statement then immediately sent out a fundraising appeal.
"While this must have been a tough decision for him, Congressman Hunter's decision to plead guilty is the right one for his family and his constituents and shows that no one should be above the law — especially members of Congress," DeMaio said. "My thoughts and prayers are with the Hunter family as they go through this difficult process."
In an email to supporters, DeMaio said:
"This bombshell news comes a mere 90 days before the election (March 3) and just 60 days before voting begins – so we MUST ACT NOW to save the 50th Congressional District.

Here is what we know so far:

–The polling shows I will pick up what was left of Hunter's support base and it will add to our current lead to save the seat.

–The Democrats are maneuvering to trigger a Special Election so they can get the Democrat candidate into office before the November election. Because the Democrat has a funding advantage right now, they think they have a shot at winning in a Special Election.

We MUST make up ground in funding versus our Democrat opponent ASAP so we are prepared to compete in a Special Election.

Can you contribute anything RIGHT NOW so we can achieve equal funding status against our Democrat opponent?"
Issa also issued a statement. "As a friend and a colleague, I thank Duncan Hunter for his service to our country in the Marine Corps and in Congress, where he has always been a strong conservative voice on behalf of his constituents. Though his misuse of campaign funds was clearly wrong, I wish him and his family the best as they address the matters ahead of them," Issa said.
The 50th CD was the only targeted SoCal red seat the Democrats were unable to flip blue during the mid-terms. With a crippled GOP, Democrats are hoping to win in 2020.