February 14, 2020 at 8:47 am PST | by Karen Ocamb
Bloomberg scores Black support despite 'stop & frisk' tape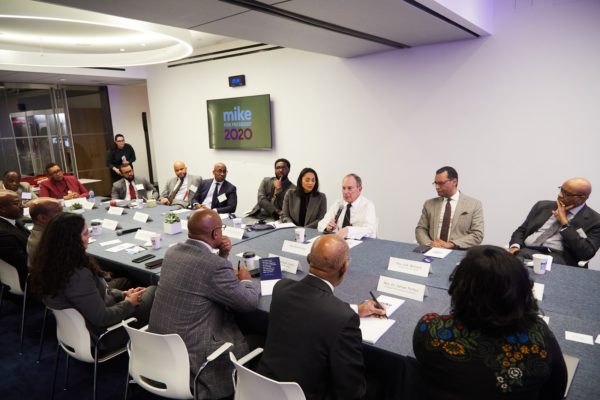 Donald Trump has a thing for Michael Bloomberg, who towers over him in the wealth department: Bloomberg is worth $61.8 billion; Trump is thought to be worth between $2-3 billion. And Trump's attempts to diminish the former three-time New York City mayor only make the president look small.
"A very bad night for Mini Mike!" Trump tweeted, using his schoolyard nickname for Bloomberg as the New Hampshire Primary exit polls came in Feb. 11. But while Bloomberg may be looming large through his millions spent on campaign ads, he was not actually on the primary ballot. He did win, however, in Dixville Notch, New Hampshire, a small town that wrote him in for three of their five votes.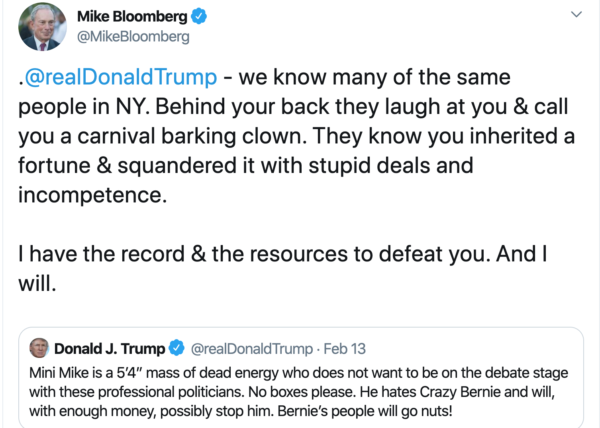 Bloomberg's absence from the first four Democratic contests as he runs a national campaign has critics complaining that he is not being scrutinized, tested and vetted like the other candidates.
But his very presence creates controversy for some who argue that he's a billionaire trying to buy the election or who loudly decry his disastrous "stop and frisk" policy that allowed NYPD officers to detain, question and search anyone for possible weapons or illegal contraband. The majority of those stopped were African Americans and Latinos.
"Put a lot of cops in the street," Bloomberg said during a Q&A at The Aspen Institute in 2015 discussing what other cities could learn from the policing policy. "Put those cops where the crime is, which means in minority neighborhoods," the Huffington Post reported Feb. 11.
"One of the unintended consequences is people say, 'Oh, my God, you are arresting kids for marijuana that are all minorities.' Yes, that's true. Why? Because we put all the cops in the minority neighborhoods. That's true. Why did we do it? Because that's where all the crime is," Bloomberg is heard saying in the audio clip posted on Twitter by podcast host Benjamin Dixon.
"95% of your murders, murderers and murder victims, fit one M.O," Bloomberg says. "You can just take the description, Xerox it and pass it out to all the cops: They are male, minorities 16 to 25. That's true in New York. It's true in virtually every city."
The policy was apparently also intended as a deterrent, without considering the trauma it might cause.
"The way you get the guns out of the kids' hands is to throw them up against the wall and frisk 'em. And then they say, 'Well, I don't want to get caught.' So they don't bring the gun. They still have a gun, but they leave it at home," Bloomberg explained.
In 2013, a federal judge ruled that stop-and-frisk was unconstitutional, a ruling Bloomberg appealed. The case was settled in 2014.
Bloomberg apologized for stop-and-frisk at a Black megachurch in Brooklyn before he entered the race.
"I was wrong and I am sorry," he said. "The fact is, far too many people were being stopped while we tried to [reduce crime] and the overwhelming majority of them were Black and Latino. That may have included, I'm sorry to say, some of you here today."
The apology was accepted by some while many were just surprised to hear Bloomberg apologize for anything.
Bloomberg quickly issued a statement after the 2015 audio was posted, saying those past comments "do not reflect my commitment to criminal justice reform and racial equity."
"I inherited the police practice of stop-and-frisk, and as part of our effort to stop gun violence it was overused," Bloomberg said. "By the time I left office, I cut it back by 95%, but I should've done it faster and sooner. I regret that and I have apologized — and I have taken responsibility for taking too long to understand the impact it had on Black and Latino communities."
Trump, who encouraged Chicago police in 2018 to implement stop-and-frisk, according to the Washington Post, shared the clip on Twitter.
"WOW, BLOOMBERG IS A TOTAL RACIST!" wrote Trump, the real estate developer/reality TV star who created the birther movement and refused to apologize for calling for the death penalty for the innocent Central Park Five, in a subsequently deleted tweet.
Trump later retweeted hashtag #BloombergIsRacist.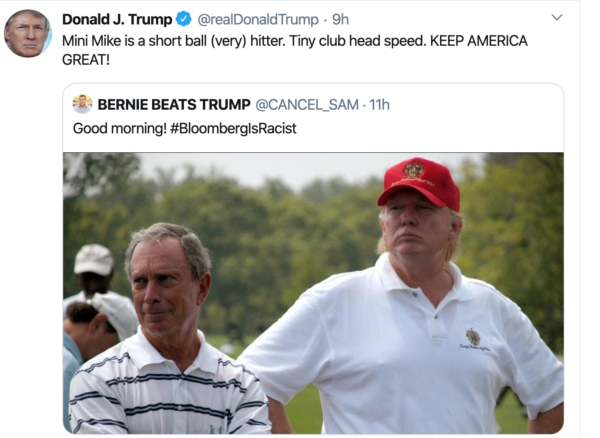 "The President's attack on me clearly reflects his fear over the growing strength of my campaign," Bloomberg said. "Make no mistake Mr. President: I am not afraid of you and I will not let you bully me or anyone else in America."
Trump's tweet hit just before a pre-scheduled meeting between Bloomberg and more than 20 faith leaders, including several from California: Rev. J. Edgar Boyd, Pastor and CEO of the First African American Episcopal Church of Los Angeles; Rev. David Isom, Pastor of the St. Stephen CME Church in Fairfield; Rev. Claybon Lea, Jr., Pastor of the Mount Calvary Baptist Church in Fairfield and Suisun City; and Rev. Shane Scott, Senior Pastor of the Macedonia Baptist Church in Los Angeles.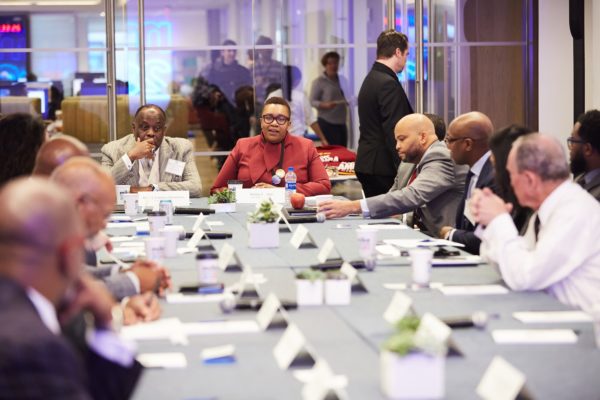 Led by Rev. Alisha Gordon, Bloomberg's faith outreach program director, the group issued a joint statement in reply:
"While Donald Trump was calling Mike Bloomberg a racist, Mike was continuing his conversation with African-American clergy from around the country. He expressed regret over his past insensitivity regarding policies like stop and frisk and showed a continued interest in restorative justice. To be clear: None of us believe that Mike Bloomberg is a racist. Actions speak louder than words, and Mike has a long record of fighting for equality, civil rights, and criminal justice reform."

Attendees at the meeting included:
Jennifer Jones Austin, CEO and Executive Director, Federation of Protestant Welfare Agencies
Reverend Dr. Alphonso R. Bernard, Pastor of the Christian Cultural Center Megachurch in Brooklyn, New York
Reverend J. Edgar Boyd, Pastor and CEO of the First African American Episcopal Church of Los Angeles, California
Bishop Darryl Brister, Second Presiding Bishop in the Full Gospel Baptist Church Fellowship International
Reverend Dr. Calvin Butts, Pastor of the Abyssinian Baptist Church in New York City, New York
Reverend Dr. William Curtis, Senior Pastor of Mt. Ararat Baptist Church in Pittsburgh, Pennsylvania
Reverend Que English, Senior Pastor of The Bronx Christian Fellowship Church in The Bronx, New York
Reverend Dr. James Forbes Jr., Senior Minister Emeritus of The Riverside Church in New York City, New York
Reverend Dr. Kevin Johnson, Founding Lead Pastor of Dare to Imagine Church, Inc. in Philadelphia, Pennsylvania
Reverend David Isom, Pastor of the St. Stephen CME Church in Fairfield, California
Reverend Claybon Lea, Jr., Pastor of the Mount Calvary Baptist Church in Fairfield and Suisun City, California
Reverend George Parks, Pastor of New Hope Baptist Church in Little Rock, Arkansas
Reverend Dr. James Perkins, Pastor of the Greater Christ Baptist Church in Detroit, Michigan
Dr. Phillip L. Pointer, Sr., Senior Pastor of the Saint Mark Baptist Church in Little Rock, Arkansas
Reverend Dr. W. Franklyn Richardson, Senior Pastor of the Grace Baptist Church in Mount Vernon, New York
Reverend Shane Scott, Senior Pastor of the Macedonia Baptist Church in Los Angeles, California
Reverend Dr. Maurice Watson, Senior Pastor of Metropolitan Baptist Church in Largo, Maryland.
Reverend Dr. Ralph West, Senior Pastor of The Church Without Walls in Houston, Texas