February 15, 2020 at 1:36 pm PST | by Staff reports
Texas sues to reverse California government travel ban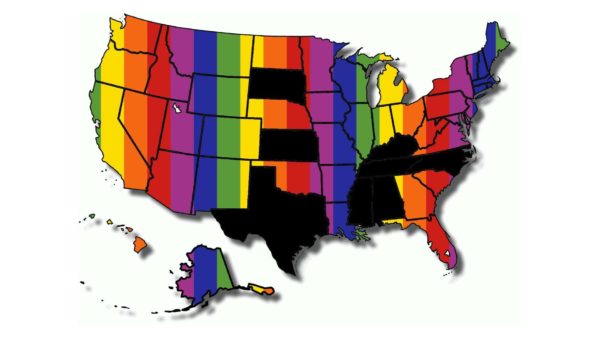 In a 'Bill of Complaint' lawsuit filed earlier this week, Texas Attorney General Ken Paxton, on behalf of his state, filed suit at the U.S. Supreme Court against the state of California, alleging that a travel ban by California's government preventing travel by its workers on state business to Texas is unconstitutional.
The suit comes nearly three years after California implemented its travel ban in June of 2017. At the time, California's Attorney General Xavier Becerra noted; "While the California DOJ works to protect the rights of all our people, discriminatory laws in any part of our country send all of us several steps back. That's why when California said we would not tolerate discrimination against LGBTQ members of our community, we meant it."
California's legislators passed its travel ban in 2016 after North Carolina enacted an anti-trans law that required people to use gender-specific bathrooms according to their sex at birth.
Texas was added after its Republican Governor Greg Abbott signed HB 3859 into law on June 15, 2017. HB 3859, allows foster care agencies to discriminate against children in foster care and potentially disqualify LGBT families from the state's foster and adoption system.
Becerra also had announced that California will prohibit state-funded and state-sponsored travel to Alabama, Kentucky, South Dakota in addition to Texas.
According to Paxton in a statement released to the media, "California added Texas to the ban on state-funded travel after the Texas Legislature implemented a law allowing faith-based foster care and adoption agencies to decline placements that violated their religious beliefs."
Paxton alleges in the thirty-five page filing that "California is attempting to punish Texans for respecting the right of conscience for foster care and adoption providers.[…]" The suit also alleges that California is openly "infringing on the policy choices of other States."
Paxton's filing asks the high court to declare that California's ban invalid because it violates the United States Constitution's Privileges and Immunities Clause, the Commerce Clause, and because the ban violates the Equal Protection Clause.
In addition, prior to a final hearing of the case and oral arguments, Paxton's suit asked the Court to issue preliminary and permanent injunctions "ordering Defendant to take down its travel ban list or remove Texas from that list."
"We're reviewing the complaint," Becerra said in a media statement. "In California, we have chosen not to use taxpayer money to support laws discriminating against the LGBTQ community."
{Graphic: Calif LGBTQ Travel Ban States Affected via ACLU}