Outfest, the LGBT film festival, is coming to a screen near you
2018 lineup and featured films announced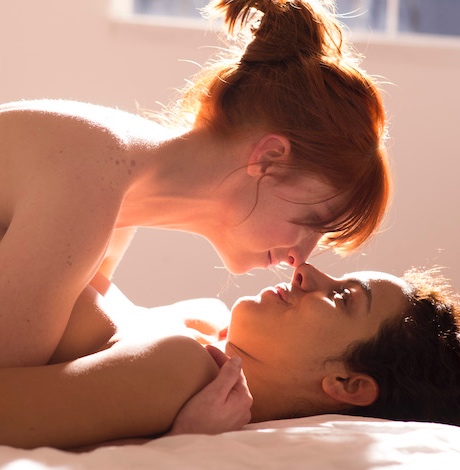 Queer film fans, get ready!  Outfest – the Los Angeles-based non-profit organization promoting equality by creating, sharing and protecting LGBTQ stories on the screen – has announced the complete lineup for its annual Los Angeles Film Festival.  Outfest 2018, presented by HBO, will be the 36th annual edition of the nation's leading LGBTQ festival and takes place July 12-22.
Founded by UCLA students in 1982, the festival builds community by connecting diverse populations to discover, discuss and celebrate stories of LGBT lives. Over the past three decades, Outfest has showcased thousands of films from around the world, educated and mentored hundreds of emerging filmmakers, and protected more than 35,000 LGBT films and videos.
The festival – featuring eleven days of world-class films, panels and parties – opens with a gala at the Orpheum Theatre (842 S Broadway, Los Angeles) featuring Kino Lorber's "Studio 54," Matt Tyrnauer's vibrantly nostalgic documentary about the iconic and infamous Manhattan nightclub; its closing night gala, taking place at The Theatre at Ace Hotel (929 S Broadway, Los Angeles) will highlight "The Miseducation of Cameron Post," Desiree Akhavan's Sundance Grand Jury Prize winner starring Chloë Grace Moretz.
Two-thirds of this year's content is directed by women, people of color and trans filmmakers.
Christopher Racster, Outfest executive director, is proud of the way Outfest Los Angeles continues to "step onto a larger stage."
He says, "This year, the Academy of Motion Pictures Arts and Sciences named Outfest as an Academy-Award qualifying film festival for their Short Film Awards. This recognition acknowledges our long history of discovering extraordinary short films, and the talented filmmakers who have used Outfest as a platform to launch their careers."
The festival features five world premieres: the deeply-felt "Bao Bao", from Taiwan; "Bright Colors and Bold Patterns," directed by Michael Urie with a hilarious performance from Drew Droege; Laura Madalinski's polyamorous romance, "Two in the Bush: A Love Story"; Jamie Patterson's "Tucked," about two drag performers connecting across generations; and "Room to Grow" a documentary looking at the lives of queer teenagers today. There are also the American and U.S. Premieres of "Eva & Candela," "Sodom," "Canary," "Cola De Mono" and "Daddy Issues."
Outfest Los Angeles' documentary section shines a light on unsung communities, including Alina Skrzesewska's "Game Girls" (following a couple as they struggle to navigate life in Los Angeles' Skid Row), and SXSW Audience Award winner "Transmilitary" (spotlighting those fighting for an equal chance to service their country.
Platinum, the proactive experimental film section, continues to highlight boundary-pushing work, such as "No Leash" (a short film by Myyki Blanco and SSION, and "Narcissister, Organ Player" (a feature documentary by performance artist Narcissister).
In addition to these, this year's Outfest is also launching its first ever dedicated episodic section.  Lucy Mukerjee, Outfest director of programming, says, "Outfest Los Angeles is marking the shift in the way that society tells and consumes stories, by launching our first dedicated episodic section. With 221 films and 13 TV series, this festival's lineup is bursting at the seams with the most anticipated queer and trans stories of the year."
Besides the opening and closing galas, Outfest will also offer several other special events.  These will include the 2nd Annual Trans Summit, with director and producer Yance Ford as the keynote speaker; the Focus On Taiwan event showcasing films such as "Bao Bao" and "Alifu, The Prince/ss"; free screenings of "Believer" (a documentary from Imagine Dragons frontman, Dan Reynolds), "They" (a family drama from director Anahita Ghazvinizadeh), and Showtime's "Beyond The Opposite Sex" (a sequel to the groundbreaking film, "The Opposite Sex").
The infamous Alchemy Party returns, this year at Navel (1611 S Hope St., Los Angeles), with 13 performers including Dorian Electra, Saturn Rising and Slather Factory's Bebe Huxley, and The Uhuruverse who will stretch your musical imagination.
Finally, there is OutSet: The Young Filmmakers Project from Los Angeles LGBT Center and Outfest, which will premiere five new shorts on Sunday, July 22.  Now in its sixth year, the OutSet program empowers youth ages 16-24 to share their stories though film.
Outfest will also be adding new venues for its programming this year, including Plaza de la Raza (3540 N Mission Rd., Los Angeles), the Academy's Samuel Goldwyn Theater (8949 Wilshire Blvd., Beverly Hills), the California African American Museum (600 State Dr., Los Angeles) and Regal Cinemas at LA Live (1000 W Olympic Blvd., Los Angeles).  According to Racster, "Providing access to content remains at the heart of what we do as an organization. This year we have worked to ensure that all of our community — and our allies — can access our programming. With that in mind, this year's festival will be in more of Los Angeles neighborhoods than ever before."
Outfest will also be returning to the newly-renovated Ford Theatres (2580 Cahuenga Blvd. E, Los Angeles).  These screenings will kick off on July 18 with a screening of "Bad Reputation," a documentary about Joan Jett; then documentary centerpiece, "When the Beat Drops," followed by "Postcards from London" and concluding with "Wild Nights with Emily" featuring Molly Shannon.
As always, Outfest will feature far too many films for anyone to see them all – many screenings are concurrent with each other and the programming is nearly continuous for the entire 11 days of the festival – so film enthusiasts will have to pick and choose the titles and events they most wish to see.  A complete listing of all the festival's offerings is available at outfest.org/fest2018/sections, so you can plan your cinematic itinerary in advance.
It's worth mentioning that Outfest members receive benefits such as free tickets, priority entrance to screenings, and all-access passes.  In addition, tickets go on sale to members beginning Thursday, June 14 – four days before they are available to the general public – and the money goes to support the festival's ongoing mission, so becoming a member won't just benefit yourself.
General admission tickets to individual films go on sale beginning Monday, June 18.  Special ticket packages are also available.  Contact the box office for membership, tickets and event information by calling 213-480-7065 or by visiting here.
Turning pain into positive & using art as therapy – Carl Hopgood
He knew he wanted to embark on a path toward a "bold, exciting life" among other "creative people" while "doing amazing things and living"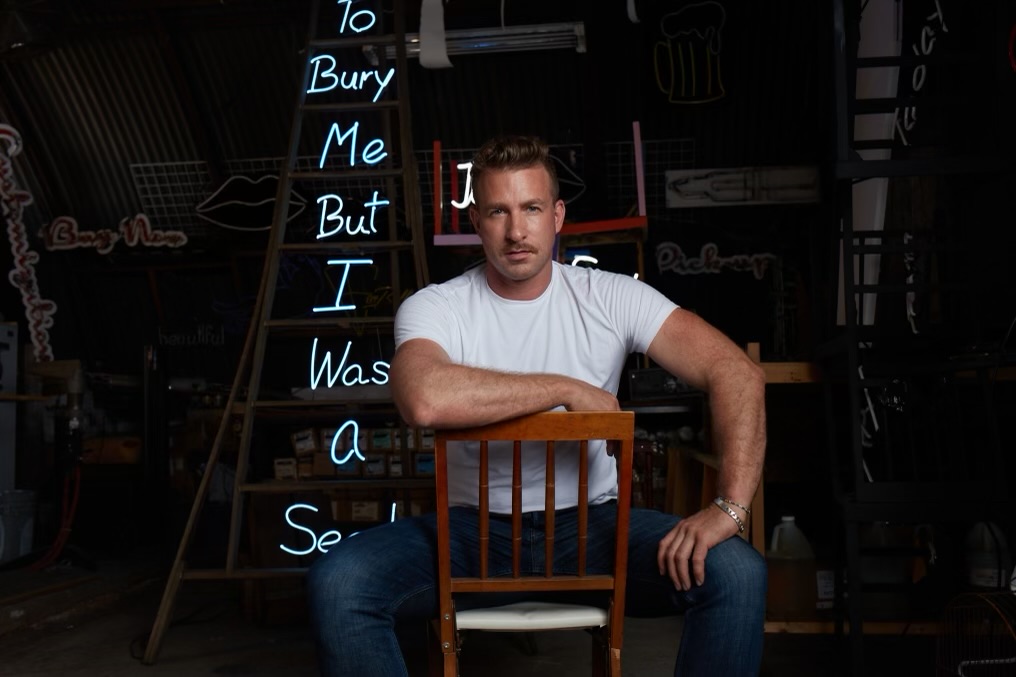 LOS ANGELES – Like many people born with an inclination toward creative expression, Carl Hopgood has known from a very young age that he wanted to be an artist.
Growing up on a small farm in rural Wales, the Cardiff-born Hopgood spent his childhood surrounded by animals and nature, letting his imagination run wild and creating worlds he envisioned with baskets, fruit boxes, flowers, stones, tabloid clippings, and other items that struck his fancy. Then, at 7, he was invited to spend an afternoon with his best friend, whose cousin was visiting; that cousin happened to be Richard Burton, and he happened to be accompanied by his even more famous wife, Elizabeth Taylor.
Hopgood was not just star-struck, he was inspired.
"My world was never the same after that day," he tells the Blade. "They told stories about Hollywood, London, glamorous parties, movies, photography… and Andy Warhol! Andy Warhol was my first artist crush. He was also born on a farm, so I felt an immediate connection."
After that experience, he knew he wanted to embark on a path toward a "bold, exciting life" among other "creative people" while "doing amazing things and living."

Four decades and one continental transplant later, it can safely be said that Hopgood has accomplished his goal.
A successfully established LA-based artist, he's created a unique body of work that includes pieces in Neon, Sculpture, Film / Video Installation, and canvas painting; his collectors include Morgan Freeman, Eugiono Lopez, The Vinik Family Foundation, The Groucho Club and Rupert Everett; and recent exhibitions of his work – like his neon art installations 'Looking For Love In All The Wrong Places', 'My Heart Is Open', and 'You Changed My Life' at the Maddox Gallery in West Hollywood, and 'Chair Therapy' at United Talent Agency's UTA Artspace LA – have garnered a flurry of enthusiasm and increasing national attention.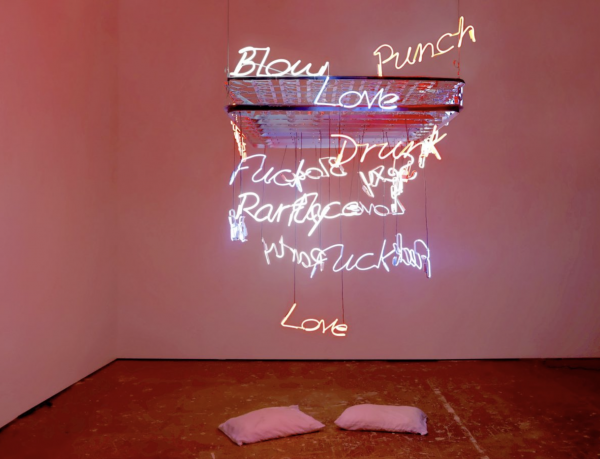 The latter installation created a particular stir with its inclusion of a controversial neon sculpture called "Just Say Gay", Hopgood's response to the draconian anti-LGBTQ legislation championed by Florida Governor Ron DeSantis; that work was acquired by prominent collector Beth Rudin DeWoody and will be on display from December 2023 at her Bunker Art Space in West Palm Beach, Florida.
When talking with the Blade, Hopgood is keen to focus the discussion on a new goal – the completion of a documentary about the creation of "Chair Therapy" – but he's certainly willing to start the conversation by talking about the sense of queer defiance behind "Just Say Gay" and many of his other works, because the two subjects go hand in hand.
"Being a gay man of Welsh and Greek heritage," he proudly proclaims, "the fight against bullying, repression, injustice and discrimination became central themes of my artistic expression."
As he explains, that fight is rooted in a traumatic childhood experience. "I was bullied by classmates," he remembers. "They would chase after me, push me to the ground and kick me in the groin. I managed to escape and found sanctuary under a stack of chairs in the school assembly hall. The school therapist helped me cope by using a technique called Empty Chair Therapy, where you would talk to an empty chair about your feelings.
"I decided turn this pain into something positive and use art as my therapy."

Much later, the young Hopgood would be inspired by the confrontational aesthetic of Damien Hirst – after reading a scathing criticism of one of his works in the paper – and follow in the controversial artist's footsteps to Goldsmiths College in London, eventually becoming part of a movement with fellow graduates like Steve McQueen, Jason Martin, Ceal Floyer, Angela De La Cruz and Alessandro Raho.
"It was an incredible moment to be a young artist in 1990s London."
Nevertheless, after 20 years in the London art scene, he decided it was time for a change.
"I had just watched a documentary featuring David Hockney," he explains. "The freedom and possibility of David's work was clearly inspired by Southern California with its beautiful palette and open, sunny skies. It was a stark contrast to the gloomy weather of the UK, and the anxiety and depression that accumulated over the years. I had heard about the growing LA art scene –LACMA, MOCA and The Broad were beginning to attract an international audience – and I decided that moving to Los Angeles would be good for both my mental health and creativity."
The choice was a fortuitous one for him – "It was the perfect time to go," he says, "and I was ready to work in new mediums and expand my repertoire." Then, like the rest of us, he had to put all his plans indefinitely up in the air.
"In early 2020, when the pandemic hit," he tells us, "I would see all the bars and restaurants shuttered in West Hollywood. It was like a ghost town. Looking through the store front windows, all I could see were chairs stacked on top of each other – and that image took me straight back to my unhappy childhood."
He decided to use it for inspiration and began work on the first sculpture in the "Chair Therapy" series ("My Heart is Open") – which as he describes, addresses "toxic masculinity, oppression and queer identity, themes I've always championed."
Those themes are doubtless also at least partly behind his desire to see the planned documentary – titled "Fragile World" – reach fruition. Filmed during the pandemic, it profiles Hopgood by charting his personal artistic journey, but centers on the development of "Chair Therapy", in which he combined found and vintage wooden chairs with neon lights shaped into positive words to provide hope, love and support for a community who were hardest hit by Covid and the shutdowns it necessitated.
"Seeing those stacked chairs and tables, in those empty establishments, I knew some would be forced to close for good. I felt so helpless, but I knew there was something I could do."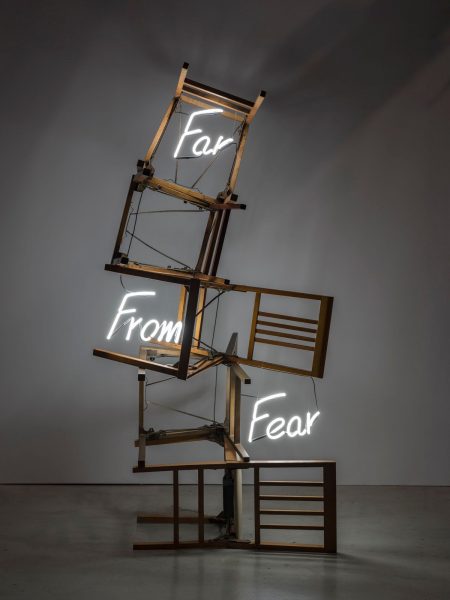 Now, with his own hard-hit community – alongside many others – facing aggressive legislative oppression from the extremist right, he's determined to see the film finished, so that the same empowering message of optimism embodied in his work can be spread to a larger audience as a reminder not to let the bullies break their spirit. To that end, the documentary's director and producer, LA-based British filmmaker Kate Rees Davies, has set up an Indiegogo campaign to raise the funding necessary to finish the project.
Another motivation, perhaps even more personal, might be found in Hopgood's revelation of a hidden influence in another work from the "Empty Chairs" series: "Twelve Steps", which explores the massive financial success of a California citrus industry made possible by the hard work of a segregated Mexican immigrant labor force. "I was also inspired in that piece by a line from Greek poet Dinos Christianopoulos," he says, "who was sidelined by the Greek literary community in the 1970s because he was gay. It's a small but powerful couplet which was included in the collection 'The Body and the Wormwood' that reads, 'What didn't you do to bury me, but you forgot that I was a seed.'"
For Hopgood, perhaps, the documentary also represents a seed, one that he himself has planted in hope of spreading its positive power into the world – and he's counting on the support of his patrons through Indiegogo for the water, light and nourishment it requires to grow.