Aguilera parties, De Niro gets profane and Griffin wins award
Another busy Pride month in the world of gossip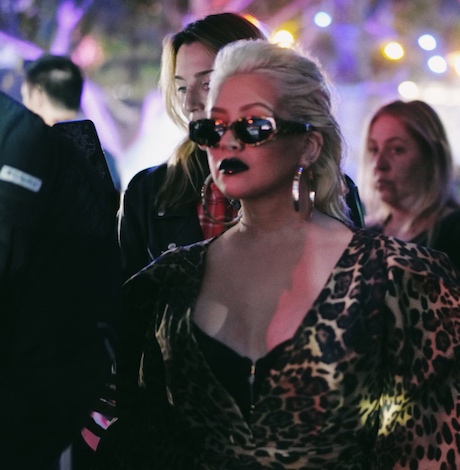 "I'm gonna say one thing – 'Fuck Trump!'  It's no longer 'Down with Trump,' it's 'Fuck Trump!'" – Robert De Niro takes the Tonys (and CBS) by surprise and gets a standing ovation at Radio City Music Hall.
Last week, I attended the 40th anniversary screening of the restored version of "Grease" on the Paramount lot. In circumstances far too convoluted to explain, I was part of a small handful of elite VIPs – primarily cast members who were guests of director Randal Kleiser. 
After the screening, scores of fans descended onto our group to get autographs and photos. Twice, people asked if I was in the film. OK, let's do the math – the film is celebrating 40 years. Exactly how old do I look? 
Eventually, I told people I was the stand-in for Cha Cha – the best dancer at Saint Bernadette's! 
Aside from that, Miss DiGregorio, how did you like the film? I loved it. The restoration work is amazing. The video has never looked so pristine or vivid, and the audio re-mastering let me hear bits of background dialogue for the first time. I wholeheartedly recommend getting the Blu-ray.
One doesn't often get to meet a childhood crush, but while I was hangin' with the T-Birds, pal Barry Pearl, who played Doody, introduced me to Kelly Ward, who played the blond Putzie.  The fact that Kelly didn't run for the hills when I confessed he was my secret love only endeared him to me more (truth be told, I spent much of the evening dancing with his wife than I did mooning over him). While watching "Grease," I was struck by how much Kelly looked like Tab Hunter. 
And that leads to our next story.
In the 2005 book "Tab Hunter Confidential" (and the subsequent documentary in 2015), the actor discusses his clandestine love affair with fellow queer actor, Anthony Perkins. That story will be the genesis of a film currently in development. "Tab & Tony" is being produced by Zachary Quinto and J.J. Abrams.
I am thrilled to report that Lisa Kudrow is returning to must see TV. Kudrow is poised to reprise one of her most popular roles, which originally aired on Thursday nights on NBC. Yes, obviously I am talking about Ursula on "Mad About You." While talks of rebooting the Paul Reiser/Helen Hunt sitcom persist, we hear that both Carol Burnett and Kudrow have expressed interest in returning to the fold. Throw in the sensational Cynthia Harris as Paul's mother and I'm in. OK, I also want Richard Kind. Thank you.
You know what Shawn Mendes wants to get his hands on? Justin Bieber's underwear.  Well, who could blame him? 
It all happened during an episode of James Corden's show. Shawn was doing "Carpool Karaoke," and he mentioned that even though he lives on his own, his mum still does his housework and laundry. 
This gave Corden the perfect opportunity to say, "You know, Justin Bieber wears a new pair of underpants every day.  I think he then sells them online." Without batting a perfectly mascaraed lash, Mendes said, "I'd buy them." In case he didn't hear right, Corden asked, "How much would you pay for Justin Bieber's underpants?"  "I'd probably cap it at like $500." James then asked Mendes how much he'd pay for a pair of his (Corden's) undies.  "I would pay to not have a pair of your underpants. I would pay for them to be as far away from me as possible."  Charming.
Meanwhile, West Hollywood continues to be a beacon to the rest of the world. And I know this for a fact because that's what they told me at the Rainbow Key Awards. At least twice during the course of the evening, people were described as shining like the Olympic torch – those are pretty big shoes to fill, especially from a buncha people most of you don't know. The most famous honoree was our very own Kathy Griffin, who was ushered in through the back door (but not before waving and saying "Hi, Billy" to me). Griffin used the opportunity to once again reiterate her support for the gay community, her resistance to the Trump presidency and her commitment to speaking out at all costs. You can see her entire acceptance speech on BillyMasters.com.
Picture it, June 1, 2004. Way back then, I married gay porn superstar Kurt Young in a ceremony that was far from legal. In fact, most of the things we did on our honeymoon are still illegal in six states, but I digress. The point is, we're married, and I defy anyone to question that – even Kurt's partner, West Hollywood mayor John Duran, who actually officiated over our ceremony. 
Anything goes in WeHo – the same city that gives out awards to Stormy Daniels and Kathy Griffin.
I'm looking to sell my undies to Shawn Mendes (Sometimes I wear undies). So, until next time, remember, one man's filth is another man's bible.
Will Alaska topple Mariah Carey's "Christmas Queen" crown?
As she graces America's stages with her newest contribution to Christmas culture, is Alaska threatening to topple Carey? Unlikely…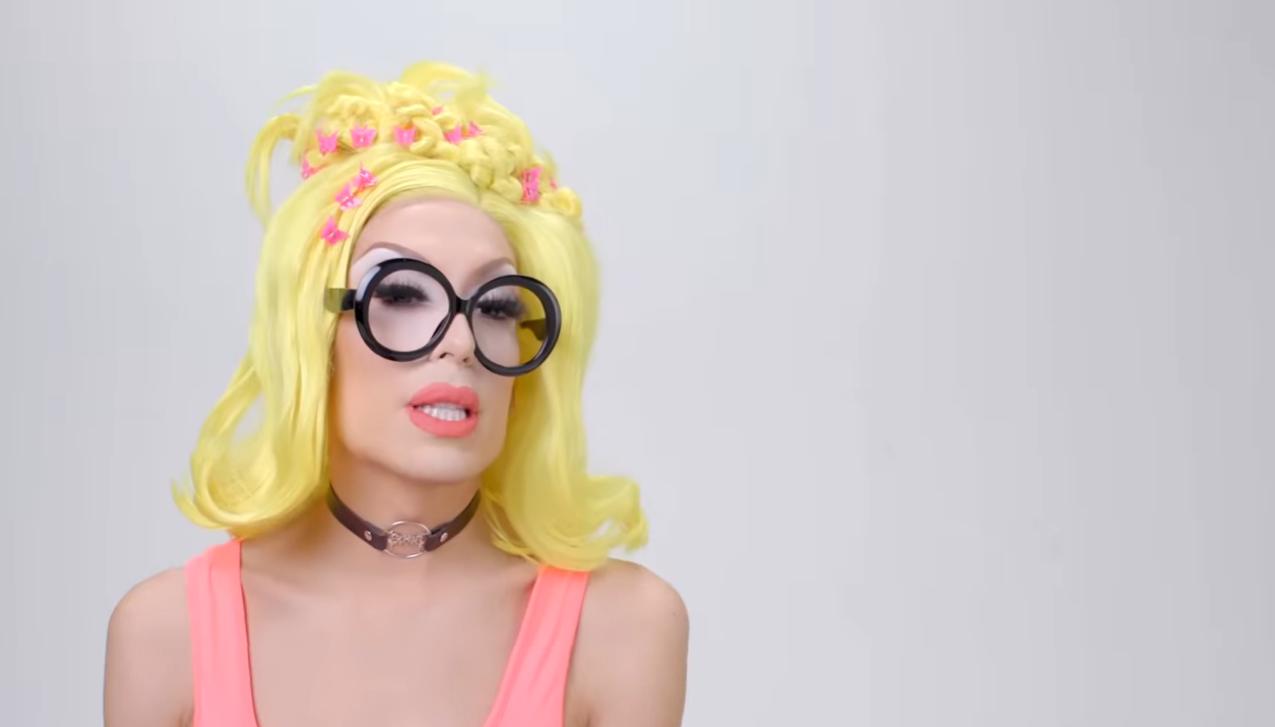 HOLLYWOOD – If RuPaul, giving out crowns the way he does across Drag Race franchises, ran Christmas — Mariah Carey would be demanding to be crowned its queen. Carey was rejected in 2022 trying to trademark the title, and other stars like Darlene Love, were all for the defeat.
One queen who did not enter the fray, but now could, is RuPaul's own classic diva and All Star crown-holder, Alaska.
Alaska launches her "It's Beginning to Look a Lot Like ALASKA" Christmas show today. Opening at the Neptune in Seattle Washington, she hits San Francisco on December 10th at Bimbo's 365. Other stops on the tour include New York (December 14th), Pittsburgh (December 17th), and delivers her to her family's doorsteps just before Christmas in Erie, PA on December 23rd.
"My mom said, 'It's not going to just be Christmas music, is it??', No. My best friend Jeremy plays the piano in the show and we have been doing Christmas cabarets for years. Our goal is to do as little Christmas music as possible in them. It's a chance to sing songs that we love and songs we have always wanted to do. There is a drop of Christmas music, just enough to call it 'a Christmas show'," she tells me on a recent episode of Rated LGBT Radio.
With many million followers across various social media platforms, Alaska is one of the top tier of famous drag queens. With the RuPaul All Stars' crown to her credit, her brand is loved and adored. The public first fell for her on the fifth season of "RuPaul's Drag Race," where she finished in the final 3 before returning and taking the aforementioned crown as winner of season two of "RuPaul's Drag Race All Stars."
She has released four chart-topping studio albums, "Anus," "Poundcake," "Vagina" and "Red 4 Filth." With several acting credits and awards, Alaska has also released a young adult novel titled "Alaska Thunderfun and the Inner Space Odyssey," plus released her memoir "My Name's Yours, What's Alaska?: A Memoir" She has toured the globe spreading her otherworldly message of love, kindness and gender non-conformity. Alaska also co-hosts the wildly popular Race Chaser podcast with Willam and co-created the Drag Queen of the Year Pageant Competition Award Contest Competition. She debuted a new live stage show in the fall of 2022 called DRAG: The Musical. She is the face of one of six featured flavors with SERV Vodka. Her latest foray finds her in the world of smells with her "Red For Filth" fragrance.
"When I started drag, it was not a viable career choice, like it is now, it was underground—this kind of strange thing that not many people knew existed, and if they did, they did not understand anything about it. There weren't many eyes on it from the mainstream culture. Now that there is, I guess we get our turn to be a distraction so the government can not do anything about important issues," she says.
When she first started dabbling in drag, her family was supportive, but not quite sure exactly they were supporting. Alaska describes her mother as being "protective", and not wanting her to be subject to ridicule. "It took my family a while to understand. That was pre-Drag Race. There was no information as to what being a drag queen even was. Now my family loves it and comes to every show."
Alaska is famous for her laissez faire stage presence, but the cover hides some anxiety. "I always get nervous when I go on stage. I am not exuding confidence; I am just doing the thing," she confesses.
Doing the thing, she is. As she graces America's stages with her newest contribution to Christmas culture, is Alaska threatening to topple Carey as the top Christmas diva? Unlikely.
But it will be a damned hoot to watch her try.
Complete tour dates:
December:
8th: Portland, OR @ Aladdin Theater
10th: San Francisco, CA @ Bimbo's 365
12th: Montreal, QC @ Le National
14th: New York, NY @ Town Hall
15th: Toronto, ON @ Phoenix Concert Hall
16th: Boston, MA @ Big Night Live
17th: Pittsburgh, PA @ Carnegie of Homestead Music Hall
21st: Chicago, IL @ House of Blues
23rd: Erie, PA @ Erie Playhouse – 2 Shows
29th: Vancouver, BC @ The Vogue
30th: Seattle, WA @ Neptune
******************************************************************************************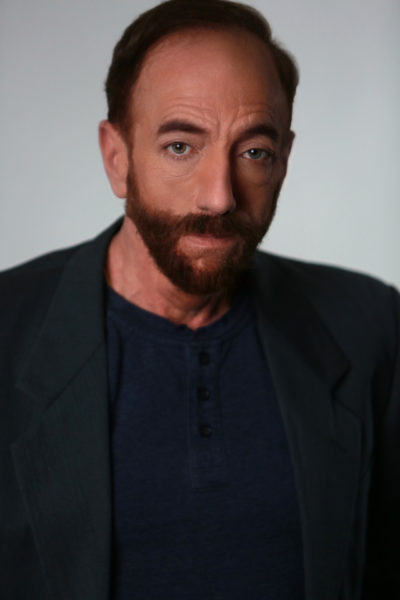 Rob Watson is the host of the popular Hollywood-based radio/podcast show RATED LGBT RADIO.
He is an established LGBTQ columnist and blogger having written for many top online publications including The Los Angeles Blade, The Washington Blade, Parents Magazine, the Huffington Post, LGBTQ Nation, Gay Star News, the New Civil Rights Movement, and more.
He served as Executive Editor for The Good Man Project, has appeared on MSNBC and been quoted in Business Week and Forbes Magazine.
He is CEO of Watson Writes, a marketing communications agency, and can be reached at [email protected]