Human Rights activist Melanie Nathan censored by government
Speaking contract canceled because of critical Trump tweets
"Those who do not remember the past are condemned to repeat it," said out philosopher George Santayana. America seems to be drowning in a tsunami of forgetfulness since Donald Trump's election and his subsequent declaration: "I'm the only one that matters." Trump was referring that Dec. 2017 to the slew of unfilled government posts—but that sentiment and the loyalty oath he required from FBI Director James Comey, whom he fired when Comey refused—have rippled through the federal government faster than the spread of McCarthyism after the Second World War.
Trump's obsession for loyalty to him, not the US Constitution, may be filtering down to nervous directors and staff members at even the most tangential of federal agencies. Here, behind the scenes, out of the glare of the public spotlight, a Trump brand of McCarthyism may be taking hold with public officials developing their own versions of black lists and enemies lists or quietly breaking or denying a contract to someone they fear might cause repercussions for them with a Trump enforcer, watchdog or snitch.
How else explain what happened to Melanie Nathan?
Nathan, who lives in San Francisco, is an internationally renowned human rights activist, speaker, executive director of the African Human Rights Coalition and South African attorney who fought for the victims of apartheid. She had been invited by a largely civilian diversity-oriented group of researchers and scientists at the Naval Air Warfare Center Weapons Division ( NAVAIR) to speak at two Pride events at China Lake base near Bakersfield and Point Mugu in Oxnard on June 26 and June 27, 2018, respectively.
Their negotiations included Nathan agreeing not to get political but to stick to LGBT education based on the theme of San Francisco Pride this year, "Generations of Strength." The group and the Division's legal department accepted her theme, her proposed outline and her fee. She even sent in her power point presentation. In the meantime, Nathan waved off other opportunities because the Navy said in writing that they accepted her proposal.
But as Nathan was filling out the security forms to get onto the two bases, she received an email informing her the contract was cancelled. "We recently became aware of several comments you've made on Twitter regarding our nation's current administration. While those comments and views are appropriate for an individual, given free speech, they are inappropriate for our agency to endorse a potential speaker of a command-sponsored event. Given our position within the Department of Defense, the President serves as our commander-in-chief. Therefore, we need to cease further discussions with you regarding our Pride Month events," wrote a Naval EEO Manager.
Nathan was shocked. She wrote back asking for re-instatement. "We actually have a binding agreement between us – and we had previously agreed the talk would be non-political and purely educational," Nathan said on a recent LGBT-Rated BlogTalk radio show. "They completely ignored me."
Nathan hired Los Angeles-based attorney Lisa Bloom, who noted that only weeks earlier a federal judge ruled that Trump violated the First Amendment by blocking citizens on Twitter who criticized him.
The judge wrote that when the government "actively restricts" an individual's right to speak and advocate freely, the impinges on the First Amendment.
"We will not stand idly by as Mr. Trump tries to turn this country into an authoritarian state and government agents follow his lead by censoring speakers who have challenged him on Twitter," Bloom wrote to NAVAIR on June 18 demanding immediate reinstatement or the possibility of legal action.
And while the NAVAIR manger cited the events as being sponsored by the Navy, neither Nathan nor the citizen employees who invited her—presumably knowing her LGBT and civil rights activist background and having vetted her sufficiently, as, presumably did the legal department before signing off on the deal—is not an active duty service member subject to UCMJ codes forbidding criticism of the President. And the agreement stipulated that Nathan would only discuss LGBT history and the LGBT movement.
"This is not 'Dear Leaders' time in North Korea, Bloom said during an appearance on MSNBC's AM Joy on June 23. "We don't all have to bend the knee to Donald Trump to hold onto our government contracts. That is the very essence of the First Amendment….This is a blatantly unconstitutional action."
"In 1985, when I immigrated from an oppressive Apartheid South Africa," Nathan told the Los Angeles Blade, "I could not have imagined that my freedoms would be oppressed in the great United States of America. The world looks up to this beacon of democracy. This is truly painful and shocking."
North Carolina Lt. Gov. Robinson rants at lawmaker over LGBTQ mention
The Senator was referencing Robinson's anti-LGBTQ+, homophobic and transphobic public statements over the past several months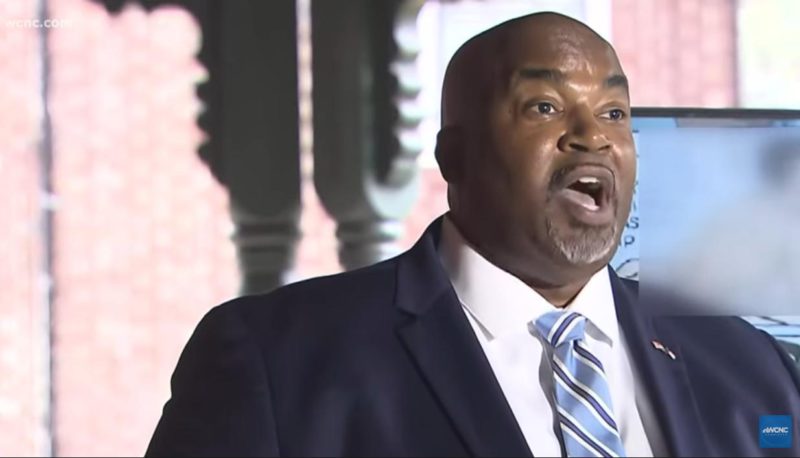 RALEIGH – In a heated tirade in the hallways of the North Carolina capitol building captured on a mobile phone Monday, Republican Lt. Gov. Mark Robinson, the state's highest elected Black official launched into an attack on Democratic State Senator Julie Mayfield.
The tirade was witnessed by a dozen people including lawmakers, staff, and visitors. State Sen. Natasha Marcus (D-Davidson), who witnessed the confrontation and caught part of the tirade on her mobile told the Charlotte News-Observer; ""It was a rant. He berated her, and he yelled as loudly as he could."
The lieutenant governor, who presides over the state Senate, approached Senator Mayfield in the hallway outside the Senate chamber after lawmakers adjourned and "wagged" his finger in her face, Marcus said.
Mayfield had addressed the Senate earlier Monday, after a vote where she highlighted the increasing deadly violence against Black people and ongoing discrimination against LGBTQ people.
In her remarks to her colleagues she said; "It is convenient fiction that we can say something in a particular forum and not expect to be held accountable for those words in another," Mayfield said. "We are elected officials. And if we can't respect our constituents rather than viciously attack some of them, then maybe we're in the wrong job."
The Senator was referencing Robinson's anti-LGBTQ+, homophobic and transphobic public statements over the past several months.
Speaking to parishioners at the Berean Baptist Church in Winston-Salem on Sunday, November 14, Robinson attacked the LGBTQ+ community, captured on the church's YouTube livestream.
Robinson said in his sermon that he questioned the "purpose" of being gay; said heterosexual couples are "superior" to gay couples; and that he didn't want to explain to his grandchildren why two men are kissing if they see that on television the Charlotte Observer reported.
The state's Republican Lt. Governor then went on to compare being gay to "what the cows leave behind" as well as maggots and flies, who he said all serve a purpose in God's creation. "If homosexuality is of God, what purpose does it serve? What does it make? What does it create? It creates nothing," Robinson said.
In a speaking engagement in June at Asbury Baptist Church in Seagrove, Robinson called LGBTQ people "filth." "There's no reason anybody anywhere in America should be telling any child about transgenderism, homosexuality, any of that filth," Robinson says. "Yes, I called it filth. And if you don't like it that I called it filth, come see me and I'll explain it to you."
In a statement released in October by Deputy White House Press Secretary Andrew Bates, the Biden Administration condemned the remarks made last June by Robinson. "These words are repugnant and offensive," said Bates, who is a native of North Carolina. "The role of a leader is to bring people together and stand up for the dignity and rights of everyone; not to spread hate and undermine their own office."
"Sen. Mayfield's remarks speak what's in the hearts of most North Carolinians, and the fact that it set the lieutenant governor off that much is shocking to me," Sen. Marcus told the News-Observer. "He said 'You know where I am and where to find me,'" Marcus said, paraphrasing. "'If you have something to say to me you should come and say it to my face.'"
My colleague @MayfieldforNC made statements in support of #LGBTQ Equality during session tonight. The Lt Gov was so mad that he berated Sen Mayfield outside the chamber. I caught the tail end of his rant on video. pic.twitter.com/8EuCPYkhwz

— Senator Natasha Marcus (@NatashaMarcusNC) November 29, 2021
For the record, Sen Mayfield's floor remarks were full of compassion for all people. She believes, as I do, that elected reps should not speak in hateful terms about our constituents. The struggle for civil rights is ongoing. Here is what she said that enraged the bully Lt Gov: pic.twitter.com/IGeXWBcTbS

— Senator Natasha Marcus (@NatashaMarcusNC) November 30, 2021
Liliana Bakhtiari wins runoff for Atlanta City Council
First LGBTQ Muslim elected in the state of Georgia and will be only Non-Binary Councilmember in a major U.S. city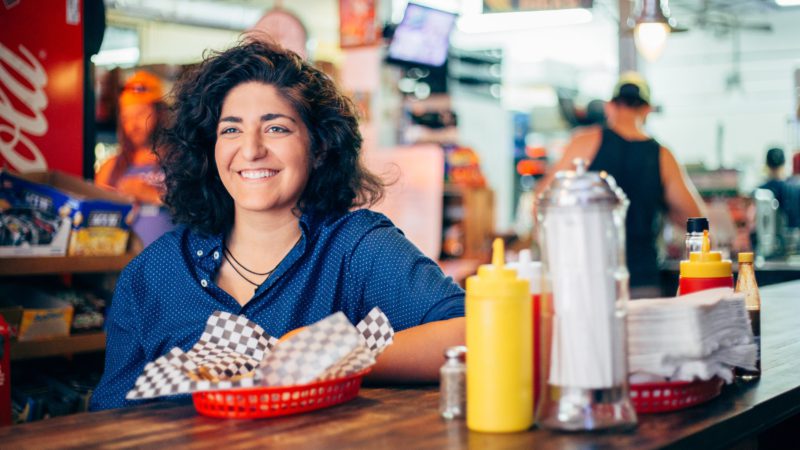 ATLANTA – Liliana Bakhtiari won her runoff election on Tuesday to represent District 5 on the Atlanta City Council, becoming the first out LGBTQ Muslim elected in the state of Georgia and one of less than five currently serving in the entire country.
Bakhtiari will also be the only non-binary person currently serving on the city council of a major U.S. city. During the general election on November 2, Bakhtiari competed in a field of five candidates and received 49.5 percent of the vote, just short of the 50 percent needed to win outright and avoid a runoff. The LGBTQ Victory Fund endorsed Bakhtiari in the race for the seat.
Bakhtiari first ran for the District 5 council seat in 2017 – losing to the incumbent by just 2.6 percent of the vote.
Bakhtiari's election comes as anti-Muslim and anti-LGBTQ political rhetoric rises in recent weeks, including state legislative attacks on trans candidates and anti-Muslim remarks targeting Minnesota Democratic U.S. Representative Ilhan Omar.
"Liliana's victory is a milestone moment for Georgia, but also for non-binary people and LGBTQ Muslims across the country who want to make positive change through public service," Mayor Annise Parker, President & CEO of LGBTQ Victory Fund said in a statement.
"When in office, Liliana will humanize our issues and be a voice for the underserved communities that are too often ignored by elected leaders. Atlanta is already a beacon of hope for LGBTQ people throughout the South, but with more representation that reflects the entire LGBTQ community, it can become a model for the entire nation," Parker added,
Also in a runoff for an At-Large Post 3 Atlanta City Council seat is LGBTQ candidate Keisha Sean Waites, a LGBTQ Victory Fund endorsed candidate and former member of the Georgia House of Representatives, whose race has not yet been called as of Tuesday.
On November 2, another LGBTQ Victory Fund endorsed candidate, former Atlanta City Councilmember Alex Wan, who successfully represented District 6 from 2010-2018, was victorious in his bid to again represent the District. Wan garnered 79 percent of the vote (7,120 votes) and won election to the District 6 seat.
There are currently just 11 non-binary elected officials serving in the entire country. View all LGBTQ elected officials currently serving at outforamerica.org.
Canadian government introduces legislation to ban conversion therapy
Prime minister says discredited practice as 'discriminatory and degrading'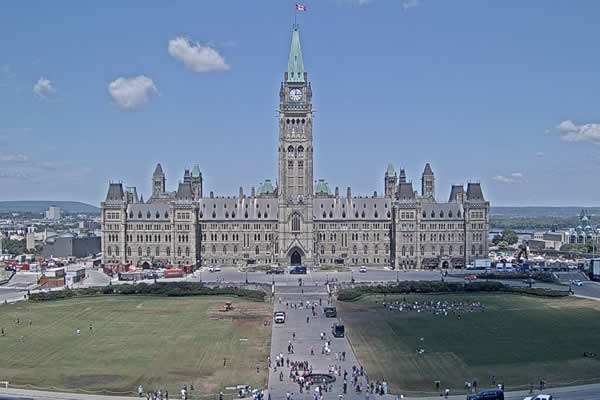 OTTAWA, Ontario — The Canadian government on Monday introduced a bill that would ban so-called conversion therapy in the country.
The bill that Attorney General David Lametti and Women and Gender Equality and Youth Minister Marci Ien introduced would amend Canada's Criminal Code to specifically ban:
Causing another person to undergo conversion therapy
Removing a minor from Canada to subject them to conversion therapy abroad
Profiting from providing conversion therapy
Advertising or promoting conversion therapy
A press release the Canadian government issued said the bill would allow courts "to order the seizure of conversion therapy advertisements or to order their removal from computer systems or the internet."
"The pain and trauma caused by conversion therapy practices continue to have a devastating impact on LGBTQ2 communities across Canada," said Ien. "Our government is focused on promoting equality rights and tackling discrimination against lesbian, gay, bisexual, transgender, queer and two-spirit people. Criminalizing this practice upholds basic human rights, while also ensuring that every Canadian is free to live their authentic lives."
Prime Minister Justin Trudeau in a tweet said conversion therapy "is discriminatory and degrading, and has had devastating impacts on LGBTQ2 Canadians."
"It has no place in our country," he said.
Conversion therapy is discriminatory and degrading, and has had devastating impacts on LGBTQ2 Canadians. It has no place in our country – and that's why, today, @DavidLametti and @MarciIen introduced legislation to ban it once and for all. More details: https://t.co/28jSblDPyR https://t.co/hLhzT1nJbD

— Justin Trudeau (@JustinTrudeau) November 30, 2021
Tourism Minister Randy Boissonnault, who previously advised Trudeau on LGBTQ issues, also applauded the bill's introduction.
"Conversion 'therapy' is akin to torture," said Boissonnault. "I encourage all of my colleagues in the House (of Commons), to support this bill that will move to criminalize conversion therapy in Canada once and for all."
I've said it before, and I will say it again. Conversion "therapy" is akin to torture. I encourage all of my colleagues in the House, to support this bill that will move to criminalize conversion therapy in Canada once and for all. 🏳️🌈 pic.twitter.com/AbCwaMf30w

— Randy Boissonnault 🏳️🌈 (@R_Boissonnault) November 29, 2021
Canada would join Malta and a handful of countries that ban conversion therapy.
Trudeau, who won re-election in September, has previously called for a prohibition of the widely discredited practice. The Canadian Senate earlier this year tabled a separate conversion therapy ban bill.