Reporter who covered Hurricane Maria in Puerto Rico comes out
David Begnaud's partner lives in Los Angeles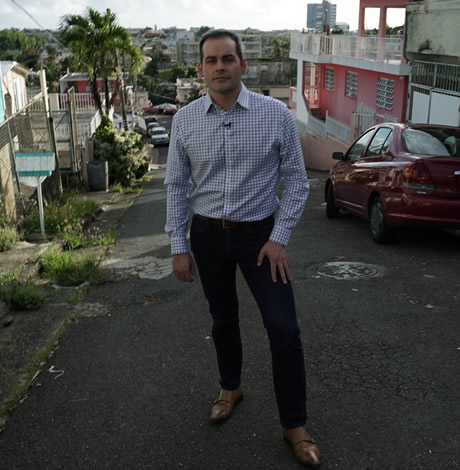 David Begnaud tweeted a picture of him at a dinner with his partner, Jeremy, and wrote, "reporting the truth includes my own." The tweet also includes the hashtag "happy Pride."
Reporting the truth includes my own #happypride ? pic.twitter.com/ABQyLhl6FT

— David Begnaud (@DavidBegnaud) June 24, 2018
"It just felt right," Begnaud told the Los Angeles Blade on Monday during a telephone interview from South Texas where he is covering the impact of President Trump's "zero tolerance" immigration policy that includes the continued separation of immigrant children from their parents. "I was inspired by what I was seeing in New York City for the Pride celebration."
Begnaud and his partner, who lives in Los Angeles, have been together for nearly seven years.
Begnaud, a Louisiana native who is currently based in Dallas, told the Blade he came out to his family a decade ago. Begnaud added "it just felt right" to share the picture of him and his partner on his Twitter page.
"It was on my heart," said Begnaud. "Jeremy, my partner, is the salt of the earth."
Begnaud told the Blade his sexual orientation "is something that is as old as I am."
"It's also not a banner headline for me," he added. "It's who I am. It's who I love."
Begnaud has 'an obligation' to Puerto Ricans
Begnaud was in Puerto Rico on Sept. 20, 2017, when Maria made landfall on the island's southeast coast with winds of 155 mph. He also covered the hurricane's immediate aftermath; which included a lack of electricity, running water and cell phone service across the island and a shortage of food and other basic supplies.
Begnaud interviewed Puerto Rico Gov. Ricardo Rosselló, San Juan Mayor Carmen Yulín Cruz and other officials in the U.S. commonwealth about Maria, its impact and the status of the relief effort. Begnaud also helped Puerto Ricans contact their relatives in the mainland U.S. after Maria.
The hurricane's official death toll remains 64, but it is likely much higher.
Researchers from the Harvard T.H. Chan School of Public Health, the University of Colorado School of Medicine and other institutions have concluded Maria may have killed upwards of 4,645 people. Other estimates place the death toll at around 1,000.
Residents of the Candelero Arriba neighborhood of Humacao, a city on Puerto Rico's southeast coast, had no electricity last month when the Blade was in the area last month. Begnaud on Monday noted residents of Utuado, a town that is located in the U.S. commonwealth's mountainous interior, have not had electricity for more than nine months.
Begnaud on June 23 tweeted 2,669 "customers still do not have power" in Puerto Rico and "it may be another months (sic) before they get it."
He retweeted an article from El Nuevo Día, a Puerto Rican newspaper, on Monday that says "at least 248 critical facilities" across the island are running on generators because they still do not have electricity. Begnaud in his tweet noted it costs $2.1 million a day to keep them running.
Begnaud told the Blade he has "an obligation to not let people forget about Puerto Ricans, our fellow Americans" even as he "moves on to other stories."
'A piece of my heart will always remain in Puerto Rico'
The organizers of New York's National Puerto Rican Day Parade earlier this month honored Begnaud. He was unable to attend Los Angeles Pride with his partner because the parade took place on the same day.
"A piece of my heart will always remain in Puerto Rico," Begnaud told the Blade. "The love they have shown towards me has just humbled me."
Pedro Julio Serrano, founder of Puerto Rico Para [email protected], a Puerto Rican LGBTI advocacy group, on Sunday applauded Begnaud.
"The award-winning journalist who has won the hearts of Puerto Ricans — because he has made Puerto Rico one of his priorities — today during this month of the LGBTT fight shared who has won his heart," tweeted Serrano. "Congratulations David Begnaud."
LGBT Puerto Rico, an LGBTI website on the island, in a tweet that congratulated Begnaud for coming out describes him as a "hero of Puerto Rico."
Begnaud conceded to the Blade he felt "a little trepidation" about coming out publicly, in part, because of the teasing he said he suffered as a child. Begnaud said he was "overwhelmed" by the positive reaction he has received.
"I thought it was so profound," he said.
Begnaud added he wants to "inspire other people to feel comfortable telling their story."
"I want to encourage them by saying: It took me 24 years to get to the place where I was ready to tell my family and another decade before I was ready to do so publicly," he said. "So, whenever you're ready there's a world of love waiting to embrace you."
David Begnaud sale del clóset públicamente
Un reportero de CBS News que ha recibido elogios generalizados por su amplio reportaje de las secuelas del huracán María en Puerto Rico salió del clóset públicamente el domingo.
David Begnaud twitteó una foto de el a una cena con su pareja, Jeremy, y escribió, "reportar la verdad incluye la mía." El tweet también incluye el hashtag "feliz Orgullo."
"Simplemente se sentía bien," Begnaud dijo al Los Angeles Blade el lunes durante una entrevista telefónica desde el Sur de Texas donde está reportando sobre el impacto de la política migratoria de "cero tolerancia" del presidente Trump que incluye la continúa separación de niños inmigrantes de sus padres. "Me inspiré en lo que estaba viendo en Nueva York para la celebración del Orgullo."
Begnaud y su pareja, quién vive en Los Ángeles, han sido juntos por casi siete años.
Begnaud, un nativo de Luisiana quién vive en Dallas, dijo al Blade que salió del clóset a sus familiares hace una década. Begnaud añadió "simplemente se sentía bien" para compartir la foto de el y su pareja en su página de Twitter.
"Estaba en mi corazón," dijo Begnaud.
Begnaud dijo al Blade que su orientación sexual "es algo que es tan viejo como yo."
"Tampoco es un gran titular para mí," añadió. "Es quién soy. Es a quién amo."
Begnaud tiene 'una obligación' a los puertorriqueños
Begnaud estaba en Puerto Rico el 20 de septiembre de 2017 cuando María tocó tierra en la costa sureste de la isla con vientos de 155 mph. También reportó sobre las secuelas inmediatas del huracán que incluye la falta de electricidad, agua potable, servicio de teléfono celular, comida y otros suministros básicos.
Begnaud entrevistó al gobernador de Puerto Rico Ricardo Rosselló, a la alcaldesa de San Juan Carmen Yulín Cruz y a otros funcionarios en el estado libre asociado estadounidense sobre María, su impacto y el estatus de los esfuerzos de ayuda. Begnaud también ayudó a los puertorriqueños de conectar con sus familiares en el continente estadounidense después de María.
El número oficial de muertos del huracán sigue siendo 64, pero es probable que sea mucho más alto.
Investigadores del Harvard T.H. Chan School of Public Health y otras instituciones han concluidos que María puede haber matado a más de 4.645 personas. Otras estimaciones situán el número de muertos en alrededor de 1.000.
Residentes del barrio de Candelero Arriba de Humacao, una ciudad en la costa sureste de Puerto Rico, no tuvieron electricidad el pasado mes cuando el Blade estaba en la zona. Begnaud el lunes dijo que hay personas en Utuado, una municipalidad en las montañas de la isla, no han tenido electricidad por más de nueve meses.
Begnaud el 23 de junio twitteó que 2.669 "clientes ya no tienen luz" en Puerto Rico y "pueden pasar otro meses (sic) antes de tenerla."
El retwitteó un artículo de El Nuevo Día, un periódico puertorriqueño, el lunes que dice "al mínimo de 248 facilidades críticas" por toda la isla están funcionando con generadores porque todavía no tienen electricidad. Begnaud en su tweet indica que cuesta $2.1 millón cada día para operarlas.
Begnaud dijo al Blade que tiene "una obligación de no dejar al público se olvide de los puertorriqueños, nuestros compatriotas estadounidenses," aunque "pasa a otros temas."
'Una parte de mi corazón siempre permanecerá en Puerto Rico'
Los organizadores del Desfile Nacional Puertorriqueño en Nueva York a principios de este mes honraron a Begnaud. No pudo asistir el Orgullo de Los Ángeles con su pareja porque se celebró el desfile el mismo día.
"Una parte de mi corazón siempre permanecerá en Puerto Rico," Begnaud dijo al Blade. "El amor que han demostrado hacía mí acaba de humillarme."
Pedro Julio, el fundador de Puerto Rico Para [email protected], un grupo LGBTI puertorriqueño, el domingo aplaudió a Begnaud.
"El galardonado periodista que se ha ganado los corazones de los boricuas — porque ha hecho de Puerto Rico una de sus prioridades — comparte hoy quien ha ganado su corazón en este mes de la lucha LGBTT," twitteó Serrano. "Gracias David Begnaud."
El galardonado periodista que se ha ganado los corazones de los boricuas – porque ha hecho de Puerto Rico una de sus prioridades – comparte hoy quien ha ganado su corazón en este mes de la lucha LGBTT. ¡Gracias @davidbegnaud! #AmorEsAmor #LoveIsLove ?️?❤️????? pic.twitter.com/ToMmVob0Zq

— Pedro Julio Serrano (@PedroJulio) June 25, 2018
LGBT Puerto Rico, un sitio web LGBTI en la isla, en un tweet que felicitó a Begnaud para salir del clóset le describe como "un héroe de Puerto Rico."
Un héroe de Puerto Rico por su encomiable labor informativa durante el Huracán María, @DavidBegnaud celebró el Orgullo #LGBT con una hermosa foto en las redes junto a su pareja y un mensaje que lee: "Reportar la verdad envuelve compartir la mía". #LoveIsLove #Pride ?❤️ pic.twitter.com/1e0lXmnVUO

— LGBT Puerto Rico (@lgbtpr) June 25, 2018
Begnaud concedió al Blade que se sentía "un poco inquieto" sobre salir del clóset públicamente, en parte, por las burlas que dijo haber sufrido como niño. Begnaud dijo que estaba "abrumado" por la reacción positiva que ha recibido.
"Pensé que era tan profundo," dijo.
Begnaud añadió que quiere "inspirar a otras personas de sentirse cómodo de decir sus historias."
"Quiero alentarlos diciendo: Me tomó 24 años llegar al lugar donde estaba listo para contarle a mi familia y otra década antes de estar listo para hacerlo públicamente," dijo. "Entonces, cuando estás listo, hay un mundo de amor esperando abrazarte."
A CBS News reporter who has received widespread praise for his extensive coverage of the aftermath of Hurricane Maria in Puerto Rico came out publicly on Sunday.
SCOTUS weighs ban on Affirmative Action, advocates sound alarm
As the Supreme Court weighs a ban on Affirmative Action, advocates say such a ruling would negatively harm campus diversity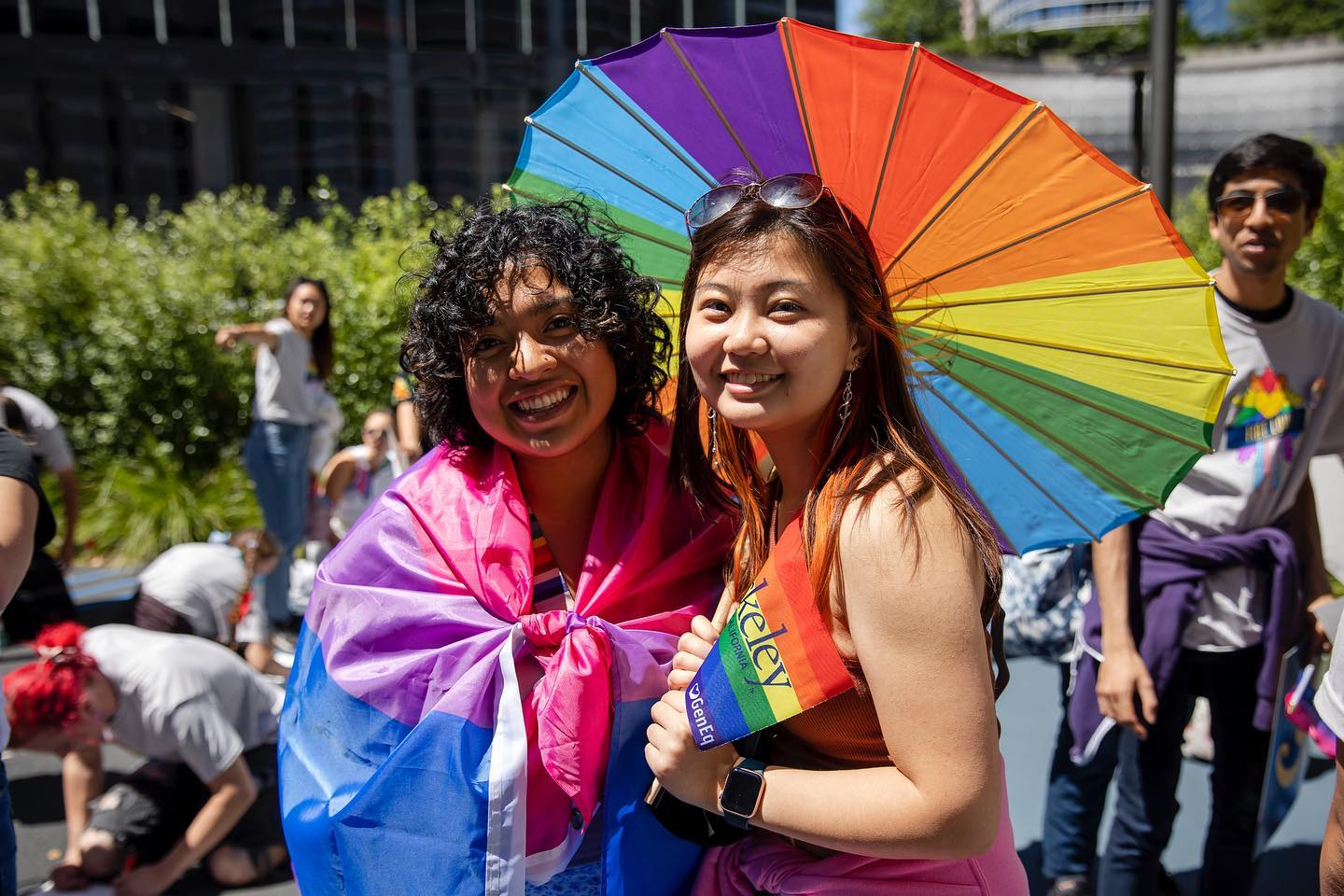 By Peter White | SAN FRANCISCO – The U.S. Supreme Court is expected to rule on two cases this month that could prohibit consideration of race in college admissions, undoing a 45-year history of Affirmative Action dating back to 1978.
Last October, conservative activist Edward Blum, president of Students for Fair Admissions, filed a lawsuit against Harvard claiming it discriminated against Asian-American applicants. Lower courts found no evidence of that claim, and no students testified against the current race-based policies at Harvard or in a separate suit involving the University of North Carolina.
Still, given the Supreme Court's conservative majority, many expect an end to the policy, which supporters say has helped boost enrollment in colleges and universities for historically underrepresented groups.
"Progressives, patriots, and free thinkers of all colors and creeds and sexual orientations need to unite in the struggle to preserve the core American principles of inclusivity and multicultural democracy," said civil rights lawyer Lisa Holder, president of the Equal Justice Society (EJS) in Oakland, California.
Holder spoke with reporters last week during a news briefing organized by Ethnic Media Services. She noted Affirmative Action is the best way to undo the historical legacy of inequality and discrimination in higher education, adding that California schools would become more segregated without it.
"We're looking at apartheid schools where children of color are not getting access to opportunity. That is un-American," she said. Holder noted the consensus among social scientists that diverse educational environments are 35% more productive than those that are more homogeneous.
Students who testified before the high court in both the Harvard case as well as a separate case involving the University of North Carolina – also filed by Blum's group – stressed the advantages of being part of a more diverse student body.
Echoes of Roe v. Wade
In its 1978 Regents of University of California v. Bakke decision, the Supreme Court ruled that schools' use of Affirmative Action policies to enhance student diversity is constitutional.
Tomas Saenz, president of the Mexican American Legal Defense and Educational Fund (MALDEF) and former member of the Los Angeles County Board of Education – where he served for two decades – worries this current court is poised to overturn that longstanding precedent.
"We don't know when it will come down," Saenz said. But given the court's stated views on race-conscious Affirmative Action policies, he expects the justices will overturn it just as they did with the Dobbs ruling last year overturning Roe v. Wade.
"I consider that to be the likely outcome," he said, noting the Supreme Court revisited the issue of race conscious Affirmative Action in higher education on three separate occasions. Each time the court majority reasserted that the Bakke precedent continued to be the law.
"So, overturning that precedent would be extraordinary and on a par with the Dobbs decision of last year," Saenz said.
He also predicted that opponents of Affirmative Action would seek to expand the court's rationale. "This case will have nothing whatsoever to say about Affirmative Action in employment or contracting. And anyone who asserts otherwise, is misleading you," Saenz said.
"You will hear folks from the right assert that somehow this Supreme Court decision also means that ethnic studies, even critical race theory, must be eliminated from schools." On the contrary, Saenz says the decision will say nothing about curriculum.
Impacts on campus diversity
\John C. Yang, president and CEO of Asian Americans Advancing Justice (AAJC) reiterated that lower courts found no evidence of discrimination against Asian-Americans in Harvard's admissions process, which is the basis of the lawsuit.
"An admissions process considering race… remains necessary to ensure that equally qualified students from communities of color have the same access as privileged white students," Yang said.
He noted 28% of the incoming Harvard class are Asian-Americans and their numbers have quadrupled since 1978 when the Bakke decision was issued.
"Any suggestion that somehow Asian-Americans are being discriminated against is just belied by these simple facts," Yang continued. If Affirmative Action is overturned, he anticipated campus diversity at Harvard would decrease from 14% to 6% for Blacks and from 14% to 9% for Latinos.
"At the end of the day, we have to recognize that we are not in a race-blind society. Our lived experiences should not be up for debate," Yang said.
What about legacy admissions?
Michele Siqueiros has been supporting greater college access for students of color since 2004, and says it hasn't been that long since women, Black, Latino, Indigenous and Asian-American students were even permitted to attend universities.
"Affirmative Action alone was never intended to be the panacea," said Siqueiros, president of The Campaign for College Opportunity, a California-based non-profit.
"We must do everything in our power to provide all students an equal opportunity to pursue a college education," she stressed, adding that with the anticipated SCOTUS ruling more will need to be done to ensure universities do not discriminate against students of color.
Siqueiros also pointed out that conservative opponents of Affirmative Action have nothing to say about legacy admissions – which can account for a quarter or more of all admissions at Ivy League schools like Harvard – or about recruiters exclusively visiting rich, wealthy, and predominantly white high schools.
"There are a lot of practices in higher education that should be challenged and removed," said Siqueiros. "It's really unfortunate that Affirmative Action is the one that's being attacked today."
******************************************************************************************
The preceding article was published as part of an ongoing partnership between Ethnic Media Services and the Los Angeles Blade. For additional information or to learn more about Ethnic Media Services click on the link embedded in the logo above.