FTM trans bodybuilders spotlighted in 'Man Made' documentary
The powerful beauty of trans bodies on full display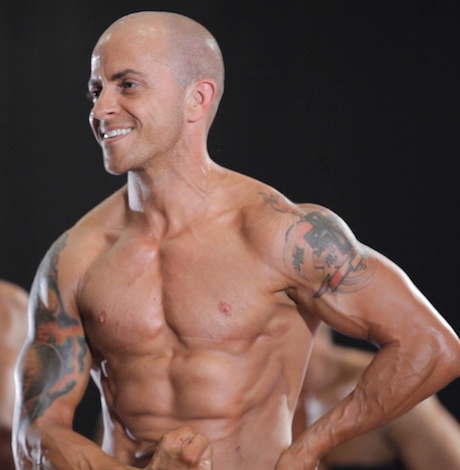 At a time when trans awareness has come front and center into the spotlight of cultural consciousness, the male-to-female trans experience is being explored in media far more than ever before.

Not so prominent – at least not yet – is the depiction of individuals who transition in the opposite direction.

A welcome addition to the public discourse on trans issues comes now in the form of "Man Made," a new documentary which profiles several female-to-male trans men as they prepare for TransFitCon – the only all-trans bodybuilding competition in the world, held annually in Atlanta.

The film devotes most of its focus to four competitors.  Dominic is a 26-year-old aspiring rapper who is undergoing the process of top surgery and seeking a reunion with his birth family.  Mason is 40, eight years into his transition, married to the love of his life, and deeply devoted to the sport of bodybuilding – which he says saved his life when depression and struggles with bipolar disorder threatened to destroy him.  Rese, 23, is a black man who struggles with homelessness after being kicked out of his house by his disapproving mother, but still strives to build a life for himself and his 5-year-old son.  Kennie, 34, is a fitness instructor who is taking the first steps towards transition, beginning testosterone therapy with the support of his lesbian partner – despite her fear that she will no longer be attracted to him as his presentation becomes more masculine.  The stories of these four men are interwoven throughout the movie, culminating in Atlanta as they join the other competitors at TransFit.

While ostensibly about the shared goal of its subjects to compete, "Man Made" uses that premise as a means to examine the various issues faced by each of them – as well as some of the other aspiring competitors and those around them – in dealing with the world as FTM trans individuals.  They are diverse in age, ethnicity and social background; each is at a different stage in their transition process, and each faces different specific obstacles; they have differing relationships with family members and significant others; and they live in different communities with different social/cultural environments and different levels of acceptance and support – or lack thereof.

This allows filmmaker T Cooper – who is himself a trans man, as well as an acclaimed and best-selling novelist, television writer, filmmaker, journalist and LGBT activist – to deal with a multiplicity of subjects related to the trans experience along the way.  Two of the film's subjects have struggled with the idea of suicide; relationships become complicated because the shift in the identity of one partner affects the identity of the other; there are expressions of regret over the decision to transition; there is bullying, bashing, and bigotry at some level for all; thinly-veiled prejudice is institutionalized by official organizations, public resources are closed off to members of the trans community, gender identity is ignored in legal documentation, and a close-to-home tragedy serves as a reminder of the disproportionate rates of violence and murder against trans people – especially of color – in a society that still seems to see such incidents as somehow justified.

It's not all bleak, of course.  There are also the moments of transcendent joy that come for each of these men.  Milestones in their transitions which bring them closer to being their authentic selves inspire flushes of unexpected emotion; the unconditional love of children and parents stand as testament to the power of strong family bonds; and the supportive camaraderie and good will among the various contestants – bound by their common struggle towards self-actualization  — is a moving contrast against the hyper-masculine posturing one might expect from athletic competitors in the so-called "gender-normative" world of sports.

What makes Cooper's movie most gratifying, perhaps, is the way that it embraces authenticity.  There is no sentimental narrative forced upon us to provide a satisfying feel-good fairy tale; the people on the screen are works-in-progress, who triumph over some obstacles but are defeated by others – and though they ultimately prevail, each in their own way, it's also clear that their journeys are the kind that take a lifetime.  In this way, they connect to us on a universal level, reminding us that even if the struggles they face are specific to the trans experience, they reflect those faced by any member of our species, regardless of how we identify.

That's not to say that "Man Made" downplays its "trans-ness" to cater to a cis- or heteronormative audience.  On the contrary, it is as proudly trans as the men on whom it devotes itself, and it makes no effort to mask its underlying social agenda.

Director Cooper says, "Protections for transgender people (and so many others) are being attacked and rolled back at alarming rates. Violence against trans people (and all people of 'difference') is surging, while a vociferous segment of the population—not to mention an entire new administration—is challenging our very right to exist as humans (i.e. use a toilet, have access to safe health care, or possess legal ID). For these reasons, I believe that this project and ones like it are more vital than ever."

While his movie, sadly, will likely not be seen by the segment of the population that most needs to be confronted by the humanity of the trans community, the fact that we still live in a world in which it can be made is cause for hope.

"Man Made" will screen as part of the Outfest LGBT Film Festival, which runs from July 12-22.  For more information and tickets, visit outfest.org.
STAGE RAW announces 2023 Theatre Awards Finalists
This year, Stage Raw is recognizing productions in venues of all sizes, rather than focusing entirely on venues of 99-seats or fewer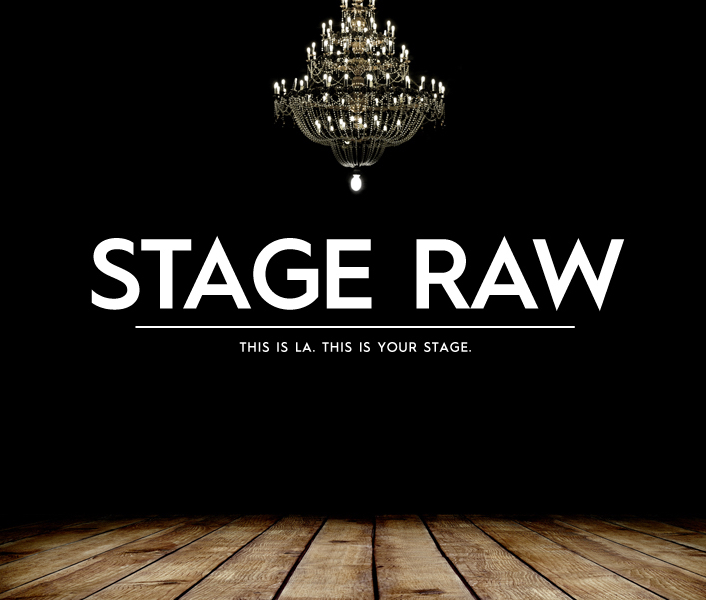 LOS ANGELES – The Stage Raw Theater Awards celebrate excellence on Los Angeles-area stages. This year's Stage Raw "I'm Still Here" Theater Awards Party will recognize productions that opened in the calendar year 2022.
Stage Raw is a community funded professional journalism website that was launched in 2014, in response to the decline of arts coverage in local mainstream and alternative media.
The Awards party will be held Monday night, April 17, 2023 at the Sassafras Saloon, 1233 N. Vine Street in Hollywood. Tickets are $20 for everybody, if purchased in advance. $25 at the door. (Capacity is limited and tickets will no longer be available once that capacity is reached.) Admission includes complimentary food, music, dancing and a cash bar.  All proceeds will be used to support the professional journalists of Stage Raw, and their ability to continue covering Los Angeles-area theater.  
Tickets can be purchased here: (Link)
Be sure to use the discount promo code "StageRaw" to bypass the $2.50 ticketing fee. (This is a service of ticketing agency onstage411.com).
CHANGES FROM PRIOR STAGE RAW AWARDS CEREMONIES:
This year, Stage Raw is recognizing productions in venues of all sizes, rather than focusing entirely on venues of 99-seats or fewer. 
Also, Stage Raw has changed its system of allocating recognition in response to the flaw in prior years of excluding excellent productions that were unable to attract a "quorum" of contributors. This year, each Stage Raw contributor has been allocated a number of votes, in proportion to the number of Stage Raw-reviewed shows they saw, and they have cast their votes to any person, production or in any category they choose.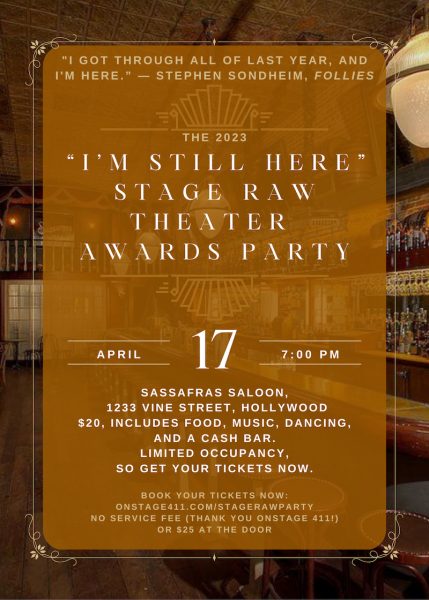 Explains Founding Editor Steven Leigh Morris: "The hoped-for effect of this system is to diversify the number of companies receiving awards by honoring the generational, ethnic, gender and aesthetic diversity of our individual contributors, who will each be selecting award winners."
And finally, the entire feel of the event will be more of a party than an awards show. The actual ceremony will be 30-45 minutes dedicated to announcements, and the presentation of the "Queen of the Angels" and "Lifetime Achievement" awards. All of the other awards recipients will be named during this ceremony and can retrieve their awards at a table.
THE 2023 STAGE RAW AWARD FINALISTS/RECIPIENTS:
FIGHT CHOREOGRAPHY
Ahmed Best, Hooded, or Being Black for Dummies, Echo Theater Company
SOUND DESIGN
Dean Harada, Tea, Hero Theatre at Inner-City Arts
LIGHTING DESIGN
Lap Chi Chu, The Search for Signs of Intelligent Life in the Universe, 
Center Theatre Group, Mark Taper Forum
VIDEO/PROJECTION DESIGN
Hsuan-Kuang Hsieh, The Great Jheri Curl Debate, East West Players
Nick Santiago, Green Day's American Idiot, Chance Theatre
SET DESIGN
Ann Beyersdorfer, Afterglow, Midnight Theatricals at the Hudson Theatre
John Iacovelli, The Brothers Paranormal, East West Players
Cindy Lin, Untitled Baby Play, IAMA Theatre Company
Rachel Myers, Power of Sail, Geffen Playhouse  
SUPPORTING PERFORMANCE
Aimee Carrero, Who's Afraid of Virginia Woolf?, Geffen Playhouse
Alexandra Hellquist, On the Other Hand We're Happy, Rogue Machine Theatre
Michael Matts, Angels in America: Perestroika, Foolish Production Company
Eileen T'Kaye, A Doll's House, Part II, International City Theatre
COMEDY PERFORMANCE
Brent Grimes, Hooded, or Being Black for Dummies, Echo Theater Company
SOLO PERFORMANCE
John Rubinstein, Eisenhower: This Piece of Ground, New Los Angeles Repertory Theatre Company, Theatre West and Hudson MainStage Theatre
SOLO WRITING-PERFORMANCE
Alex Alpharaoh, Wet: A DACAmented Journey, Greenway Court Theatre  
Colin Campbell, Grief: A One-Man Shitshow, The Broadwater
Ben Moroski, Dog, The Broadwater
Jesús I. Valles (Un)documents, Latino Theater Company

WRITING-PERFORMANCE
Judy Carter, A Death-Defying Escape!, Hudson Guild Theatre
LEAD PERFORMANCE
Hugo Armstrong, Uncle Vanya, Pasadena Playhouse
Kevin Ashworth, A Public Reading of an Unproduced Screenplay About the Death of Walt Disney, Theatre Planners at the Odyssey Theatre
Ramón de Ocampo, Hamlet, Antaeus Theatre Company
Jenny O'Hara, Little Theatre, Rogue Machine Theatre
Zachary Quinto, Who's Afraid of Virginia Woolf?, Geffen Playhouse
Jennifer Shelton, A Doll's House, Part II, International City Theatre
Michael A. Shepperd, Valley Song, International City Theatre
Kalean Ung, Macbeth, Independent Shakespeare Co.
DIRECTION
Nancy Lantis, The Sandman, Eclipse Theatre LA and Santa Clarita Shakespeare Festival
COMEDY DIRECTION
Ahmed Best, Hooded, or Being Black for Dummies, Echo Theater Company
DIRECTION/ENSEMBLE
Will Block and the ensemble of All is True or Henry VIII, The Porters of Hellsgate Theatre Company
Gregg T. Daniel and the ensemble of Radio Golf, A Noise Within
COMEDY ENSEMBLE
Can't Pay? Don't Pay!, The Actors' Gang
ENSEMBLE
Anna in The Tropics, A Noise Within
Blues for an Alabama Sky, Center Theatre Group/Mark Taper Forum
The Colored Museum, Loft Ensemble 
Freestyle Love Supreme, Pasadena Playhouse,
If Nobody Does Remarkable Things, Pandora Productions at the Garage Theatre 
The Inheritance, Geffen Playhouse
Masao and the Bronze Nightingale, CASA 0101 and the Japanese American National Museum
ADAPTATION
James Fowler, A Midsummer Night's Dream, Open Fist Theatre Company
PLAY WRITING
Carla Ching, Revenge Porn, Ammunition Theatre Company
Bernardo Cubria, The Play You Want, Road Theatre Company
Kelly McBurnette-Andronicos, The House of Final Ruin, Ophelia's Jump
Murray Mednick, Three Tables, Padua Playwrights at the Zephyr Theatre
PRODUCTION EXCELLENCE IN QUEER STORYTELLING
Interstate, East West Players
DISTINGUISHED MUSICAL REVIVAL
Oklahoma! Center Theatre Group/Ahmanson Theatre
DISTINGUISHED PRODUCTION
A Midsummer Night's Dream, Open Fist Theatre
The Penelopiad, City Garage
Roe, Fountain Theatre
Uncle Vanya, Pasadena Playhouse
DISTINGUISHED SEASON
The Road Theatre Company (The Play You Want, Beloved, Bright Half Life, According to the Chorus) 
LIFETIME ACHIEVEMENT
Maria Gobetti and Tom Ormeny (Victory Theatre Center)
Frédérique Michel and Charles Duncombe (City Garage)
QUEEN OF THE ANGELS
The SB116 Coalition (Teri Ball, Beatrice Casagran, Elina DeSantos, Emmanuel Deleage, Martha Demson, Christopher Maikish, Leo Marks, Marc Antonio Pritchett and Vanessa Stewart)
*****************************************************************************************
The 2023 Stage Raw "I'm Still Here" Theater Awards Party is supported through the generous sponsorship of the following companies and individuals: Antaeus Theatre Company, Crimson Square Theatre, Dina Morrone, DEMAND PR, The Geffen Playhouse, The Hudson Theatres, IAMA Theatre Company, Lucy Pollak Public Relations, Macha Theatre Company, Ophelia's Jump, Road Theatre Company, Sandra Kuker Public Relations, Santa Monica Playhouse, Sierra Madre Playhouse, Theatre 40, Theatre of NOTE, and The Victory Theatre Center.