June 29, 2018 at 4:48 pm PST | by Karen Ocamb
Families Belong Together demo at LA City Hall Saturday
The massive global turnout for the Women's March the day after Donald Trump's inauguration indicated that women would be at the forefront of the resistance movement. But with the enthusiasm employed by Attorney General Jeff Session's enforcement of Trump's immigration policy—using family separation as a deterrent to even asylum-seekers—the resistance now includes anyone with an ounce of heart, empathy and compassion.
Trump recently stopped the government's stripping of breast-feeding babies from the arms of young mothers from Latin America but the "zero-tolerance" policy criminalizing immigration remains in effect. In fact, Sessions announced that domestic violence and fleeing death threats from gang members would no longer be considered credible threats when applying for asylum. The cruelty with which the administration is unnecessarily treating a vulnerable minority prompted out lesbian journalist Masha Gessen, an expert in authoritarianism, to call Trump a fascist and caused highly-regarded Republican strategist to quit the complicit Republican Party and warn the country about the drift into an authoritarian state.
On Thursday, the Department of Health and Human Services announced that HHS has custody of 11,869 migrant children, about 70 more children than officials reported June 20. Of those, 2,047 children were taken from their parents; the remaining are "unaccompanied minors" who apparently crossed the border by themselves. However, the new numbers suggest that, despite a court order, not many children have been reunited with their parents.
Nonetheless, Trump thinks his "zero tolerance" immigration policy is a "winning" political issue for the midterm elections. Hundreds of Democrats and other progressives disagree. On Thursday, Rep. Pramila Jayapal of Washington state was among about 575 people arrested at a rally protesting Trump's policy, tweeting that they were "here to fight for our families to be free, to fight for the ability of our kids to be with their parents — not in cages, not in prison, but able to live their lives free, safe and secure."
On Saturday, June 30, those hundreds will grow to hundreds of thousands of protesters in more than 760 rallies during the massive national Families Belong Together coalition protests, demonstrations throughout California alone—including in Los Angeles and West Hollywood, the latter organized by WeHo Councilmember Lauren Meister at West Hollywood Park from 12:00 PM to 2:00 PM.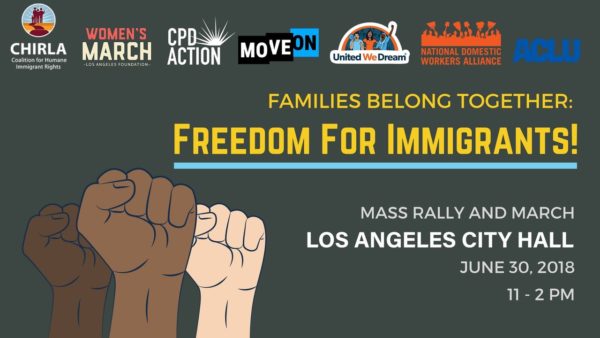 The Los Angeles coalition of Families Belong Together – Freedom for Immigrants March at LA City Hall starting at 11:00am, featuring a slew of diverse speakers and performers including Sen. Kamala Harris, Mayor Eric Garcetti, Secretary of State Alex Padilla, former Senate Pro Tem Kevin De Leon, County Supervisor Hilda Solis, Laverne Cox, Bamby Salcedo, Shaykh Omar Suleiman, Tadio Assefa, Angelica Salas, Aqui Soriano, Eugenio Derbez, Natalia Buckley-Cordova, with performances by John Legend and Taboo. (See March and rally map here.)
Some social justice activists, such as West Hollywood's Tai Sunnanon, Founder and CEO of the Strategic Insights Group, couldn't wait for the marches. He flew down to Texas on June 27 with 42 volunteers and the backing of collaborators ACLU of Texas and La Union del Pueblo Entero – LUPE and partnering with legendary activist Dolores Huerta and her foundation. He is trying to help develop a comprehensive strategy for the reunification of families. He's already created a How to Help Guide, which is available here.
Before he left, Sunnanon told the Los Angeles Blade about his plans.
"We are galvanizing support remotely from people throughout the country, primarily California and the border states, to contribute financially to several key organizations. The number one type of donation that we are asking people to give towards is for the bond release for a lot of the parents and families who are stuck in these holding detention patterns," he said. "Until they await their hearings, they can actually be reunited with their children. However, the minimum bonds are set at $1,500, which is absolutely ludicrous for families who are crossing over, seeking asylum."
Sunnanon said the donations are going to organizations like Las Americas, RAICES (Refugee and Immigrant Center for Education and Legal Services) and the ACLU of Texas, "three prominent legal aid organizations that are helping to not only post bond but provide legal aid services." Additionally, he is seeking pro bono lawyers to help the overwhelmed Texas Civil Rights Projects and the Texas Rio Grande Legal Aid.
Some of the volunteers he brought with him to Texas are translators for legal and administrative support, Spanish speakers such as his mother. Additionally, he found six southern Californians who have a conversational knowledge of four regional Latin American sub dialects. "We need Spanish speakers to just be with the families to walk them through what the process entails because many of them still have no clue what's happening," said Sunnanon who is half- Ecuadorian and fluent in Spanish, but not the dialects.
"Because we are permitted by law to do so with our U.S. Passports," Sunnanon said, "we are going to meet these families at the bridge, the bridge is the connection at the ports of entry and actually be able to bring them over so they can begin the paper work process. And in so doing, we'll discuss with them the legal process, get a sense of timeline."
There is so much to deal with, Sunnanon said part of any strategy entails figuring out how to parse out what's happening to make it manageable across many fronts. "First and foremost, I think of the safety of these individuals. How do we make sure that they're safe both physically and psychologically?
"The second is what are the support systems we can provide them on the ground," he continued. "Part of the coalition I'm building includes some psychologists and some therapists. Right now, I think we have a total of seven, which is few and far between but it's a start because we need to identify people who can offer these pro-bono psychological consulting services to this community.
"And third, we have to make sure, just like point number one with Jeff Sessions, we gotta make sure from a marketing and PR perspective that people must understand that this minority sub group is being harmed," Sunnanon said. "There are asylum seekers on our team. I have hired them because they're that good and smart. And it's a shame that they get the run-around in this asylum seeking process. They have been getting the run around now for five-plus years."
Sunnanon said his fourth goal is "making sure we empower the LGBT community— those who have been assaulted physically, emotionally and mentally with resources. Like that's the whole thing. That was the impetus of why for 48 hours I just had to put together a guide, losing sleep because people don't have access to 1) resources; 2) two, information and 3) three —they don't have access to opportunities.
"And this is why the father of two committed suicide at the border—because his wife was taken away from him and his two young kids," Sunnanon said. "It was the first reported suicide. Because the guy didn't know English, let alone what civil actions he can take. He doesn't know what's available to him….Access to resources, access to tools, access to information. This is why some of are going, not only for the reunification of the children but empowerment. We want to empower a community…. My higher calling is the American values that we must have as a society. And that's what's driving me to do this work."