Families Belong Together demo at LA City Hall Saturday
WeHo's Tai Sunnanon helping migrants in Brownsville, Texas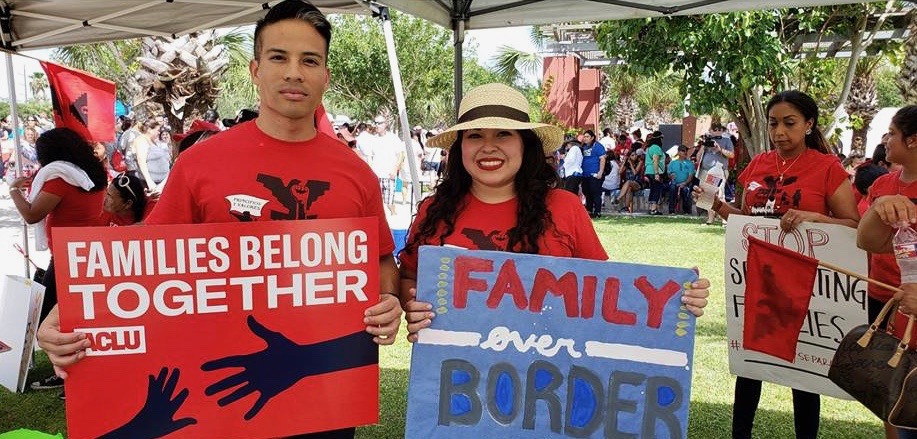 The massive global turnout for the Women's March the day after Donald Trump's inauguration indicated that women would be at the forefront of the resistance movement. But with the enthusiasm employed by Attorney General Jeff Session's enforcement of Trump's immigration policy—using family separation as a deterrent to even asylum-seekers—the resistance now includes anyone with an ounce of heart, empathy and compassion.
Trump recently stopped the government's stripping of breast-feeding babies from the arms of young mothers from Latin America but the "zero-tolerance" policy criminalizing immigration remains in effect. In fact, Sessions announced that domestic violence and fleeing death threats from gang members would no longer be considered credible threats when applying for asylum. The cruelty with which the administration is unnecessarily treating a vulnerable minority prompted out lesbian journalist Masha Gessen, an expert in authoritarianism, to call Trump a fascist and caused highly-regarded Republican strategist to quit the complicit Republican Party and warn the country about the drift into an authoritarian state.
On Thursday, the Department of Health and Human Services announced that HHS has custody of 11,869 migrant children, about 70 more children than officials reported June 20. Of those, 2,047 children were taken from their parents; the remaining are "unaccompanied minors" who apparently crossed the border by themselves. However, the new numbers suggest that, despite a court order, not many children have been reunited with their parents.
Nonetheless, Trump thinks his "zero tolerance" immigration policy is a "winning" political issue for the midterm elections. Hundreds of Democrats and other progressives disagree. On Thursday, Rep. Pramila Jayapal of Washington state was among about 575 people arrested at a rally protesting Trump's policy, tweeting that they were "here to fight for our families to be free, to fight for the ability of our kids to be with their parents — not in cages, not in prison, but able to live their lives free, safe and secure."
On Saturday, June 30, those hundreds will grow to hundreds of thousands of protesters in more than 760 rallies during the massive national Families Belong Together coalition protests, demonstrations throughout California alone—including in Los Angeles and West Hollywood, the latter organized by WeHo Councilmember Lauren Meister at West Hollywood Park from 12:00 PM to 2:00 PM.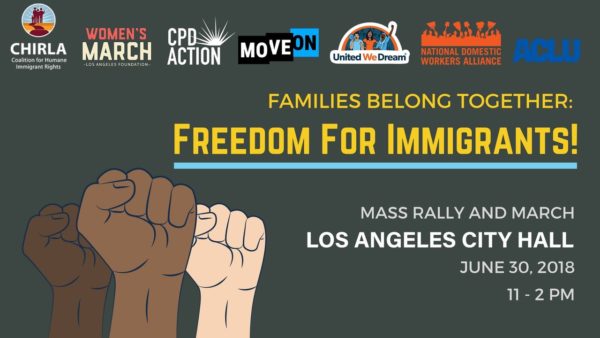 The Los Angeles coalition of Families Belong Together – Freedom for Immigrants March at LA City Hall starting at 11:00am, featuring a slew of diverse speakers and performers including Sen. Kamala Harris, Mayor Eric Garcetti, Secretary of State Alex Padilla, former Senate Pro Tem Kevin De Leon, County Supervisor Hilda Solis, Laverne Cox, Bamby Salcedo, Shaykh Omar Suleiman, Tadio Assefa, Angelica Salas, Aqui Soriano, Eugenio Derbez, Natalia Buckley-Cordova, with performances by John Legend and Taboo. (See March and rally map here.)
Some social justice activists, such as West Hollywood's Tai Sunnanon, Founder and CEO of the Strategic Insights Group, couldn't wait for the marches. He flew down to Texas on June 27 with 42 volunteers and the backing of collaborators ACLU of Texas and La Union del Pueblo Entero – LUPE and partnering with legendary activist Dolores Huerta and her foundation. He is trying to help develop a comprehensive strategy for the reunification of families. He's already created a How to Help Guide, which is available here.
Before he left, Sunnanon told the Los Angeles Blade about his plans.
"We are galvanizing support remotely from people throughout the country, primarily California and the border states, to contribute financially to several key organizations. The number one type of donation that we are asking people to give towards is for the bond release for a lot of the parents and families who are stuck in these holding detention patterns," he said. "Until they await their hearings, they can actually be reunited with their children. However, the minimum bonds are set at $1,500, which is absolutely ludicrous for families who are crossing over, seeking asylum."
Sunnanon said the donations are going to organizations like Las Americas, RAICES (Refugee and Immigrant Center for Education and Legal Services) and the ACLU of Texas, "three prominent legal aid organizations that are helping to not only post bond but provide legal aid services." Additionally, he is seeking pro bono lawyers to help the overwhelmed Texas Civil Rights Projects and the Texas Rio Grande Legal Aid.
Some of the volunteers he brought with him to Texas are translators for legal and administrative support, Spanish speakers such as his mother. Additionally, he found six southern Californians who have a conversational knowledge of four regional Latin American sub dialects. "We need Spanish speakers to just be with the families to walk them through what the process entails because many of them still have no clue what's happening," said Sunnanon who is half- Ecuadorian and fluent in Spanish, but not the dialects.
"Because we are permitted by law to do so with our U.S. Passports," Sunnanon said, "we are going to meet these families at the bridge, the bridge is the connection at the ports of entry and actually be able to bring them over so they can begin the paper work process. And in so doing, we'll discuss with them the legal process, get a sense of timeline."
There is so much to deal with, Sunnanon said part of any strategy entails figuring out how to parse out what's happening to make it manageable across many fronts. "First and foremost, I think of the safety of these individuals. How do we make sure that they're safe both physically and psychologically?
"The second is what are the support systems we can provide them on the ground," he continued. "Part of the coalition I'm building includes some psychologists and some therapists. Right now, I think we have a total of seven, which is few and far between but it's a start because we need to identify people who can offer these pro-bono psychological consulting services to this community.
"And third, we have to make sure, just like point number one with Jeff Sessions, we gotta make sure from a marketing and PR perspective that people must understand that this minority sub group is being harmed," Sunnanon said. "There are asylum seekers on our team. I have hired them because they're that good and smart. And it's a shame that they get the run-around in this asylum seeking process. They have been getting the run around now for five-plus years."
Sunnanon said his fourth goal is "making sure we empower the LGBT community— those who have been assaulted physically, emotionally and mentally with resources. Like that's the whole thing. That was the impetus of why for 48 hours I just had to put together a guide, losing sleep because people don't have access to 1) resources; 2) two, information and 3) three —they don't have access to opportunities.
"And this is why the father of two committed suicide at the border—because his wife was taken away from him and his two young kids," Sunnanon said. "It was the first reported suicide. Because the guy didn't know English, let alone what civil actions he can take. He doesn't know what's available to him….Access to resources, access to tools, access to information. This is why some of are going, not only for the reunification of the children but empowerment. We want to empower a community…. My higher calling is the American values that we must have as a society. And that's what's driving me to do this work."
The Stonewall Inn bans Anheuser-Busch during NYC Pride weekend
"We urge Anheuser-Busch and other companies doing this to publicly commit to stop donating to anti-LGBTQ politicians"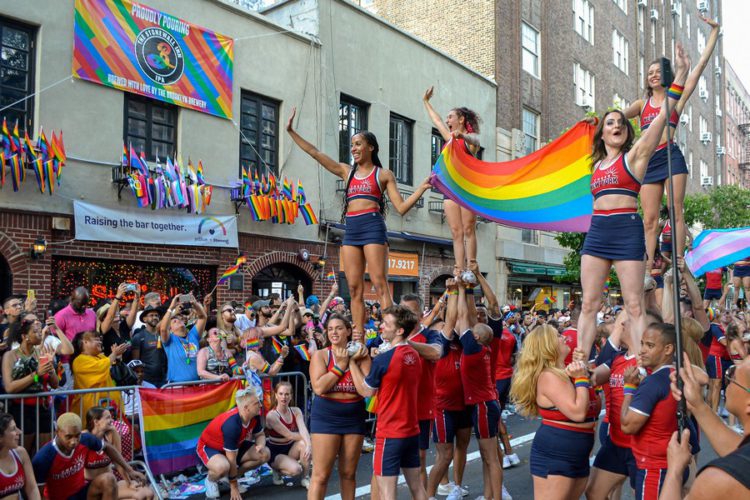 NEW YORK – In response to news that the Anheuser-Busch InBev company had made political contributions to lawmakers behind bills targeting transgender youth, the owners of the Stonewall Inn announced its ban of AB InBev products during New York City's Pride weekend.
The historic West Village pub, widely regarded as the location of one of the seminal defining events in the history of the LGBTQ rights movement, is sponsoring a public 'pour-out' of Bud Light, Michelob ULTRA, and Stella Artois in front of the bar on Wednesday, June 23, to demand that the Leuven, Belgium based AB InBev stop donating to anti-LGBTQ legislators and commit to using its lobbying efforts to advance the Equality Act.
Should the Equality Act be passed, it would afford LGBTQ people with equal nondiscrimination protections under federal law.
"You can't turn your logo rainbow on social media, call yourself an ally, and then turn around and make donations that fuel hate. There are really no excuses, and companies like Anheuser-Busch need to own up to what they've done," said Stonewall Inn co-owner Stacy Lentz. "As a business owner, it's never easy to stop selling a product that affects your bottom line — especially during the busiest weekend of the year. But I'm an activist above all else and we at The Stonewall Inn know we bear a unique responsibility to call out hypocrisy when we see it. Anheuser-Busch and other companies must do better."
According to data from the Keep Your Pride campaign, since 2015, Anheuser-Busch has made 48 donations totaling $35,350 to 29 anti-LGBTQ legislators behind recent bills attacking trans youth.
Through its nonprofit arm, The Stonewall Inn Gives Back Initiative, Stonewall recently launched the Safe Spaces program, which identifies and certifies entertainment venues, food and beverage locations, stores, businesses, and other public venues as Safe Spaces for LGBTQ people. Under its criteria for certification, businesses that donate to anti-LGBTQ lawmakers would not qualify for designation as a Safe Space.
"As one of our best-selling products, Bud Light has been a longtime staple here at The Stonewall Inn. It's deeply disappointing to learn that Anheuser-Busch has given money to lawmakers who are attacking trans kids, some of the most vulnerable people in the LGBTQ community," said Stonewall Inn co-owner Kurt Kelly.
"We're horrified to see so-called allies supporting lawmakers who would make life harder for anyone in our community. We urge Anheuser-Busch and other companies doing this to publicly commit to stop donating to anti-LGBTQ politicians and use their lobbying power to support the Equality Act," Kelly added.
SCOTUS ruling on Philadelphia case, LGBTQ groups view with some relief
Immediate reaction from some LGBTQ groups and individuals was dismay, while others viewed the decision as a relief.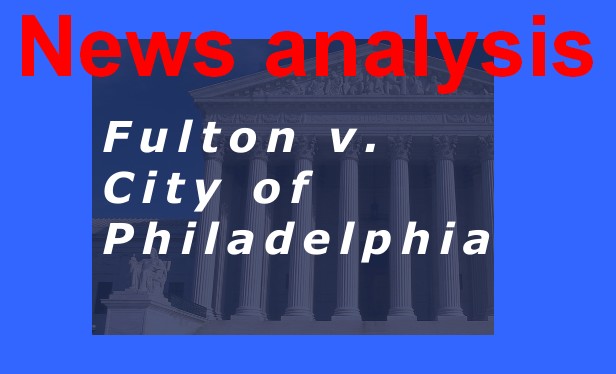 LOS ANGELES – The U.S. Supreme Court issued its decision Thursday in a unanimous 9-0 ruling that sided with Catholic Social Services (CSS), a Catholic social services organization that sued the city of Philadelphia after the city excluded it from a foster-care program due to the organization's refusal to certify same-sex couples as foster parents.
Immediate reaction from some LGBTQ groups and individuals was dismay, while others viewed the decision as a relief. Shannon Minter, Legal Director for the National Center for Lesbian Rights, told the Blade in a phone call Thursday that ruling was exceedingly narrow, aimed at a section of the contract by the City, and more importantly was not a ruling that would be citable in future litigation in terms of an anti-LGBTQ basis.
Specifically, Minter noted that with this unanimous ruling, the court avoided a situation that would overrule the 1990 SCOTUS ruling in the case of [the] Employment Division, Department of Human Resources of Oregon v. Smith. That ruling, authored by Associate U.S. Supreme Court Justice Antonin Scalia had made it more difficult for religious people and groups to secure exemptions from generally applicable laws governing anti-discrimination
Scalia in the Smith case wrote; [that] "the Court has never held that an individual's religious beliefs excuse him from compliance with an otherwise valid law prohibiting conduct that government is free to regulate. Allowing exceptions to every state law or regulation affecting religion would open the prospect of constitutionally required exemptions from civic obligations of almost every conceivable kind." Justice Scalia goes on to cite examples such as compulsory military service, payment of taxes, vaccination requirements, and child-neglect laws.
Minter opined that while there would be definite support to overturning Smith by three of the court's conservative justices Samuel Alito, Clarence Thomas and Neil Gorsuch, he was doubtful that Chief Justice John Roberts, or the court's other conservative justices Stephen Breyer, Brett Kavanaugh, and Amy Coney Barrett are that eager, given that there isn't a legal remedy or replacement for Smith that would not create chaos within the federal judiciary in future challenges.
Properly understood, today's decision is a significant victory for LGBTQ people, Minter said. The focus is on a contractual clause which is what the court focused in on. Writing in concurrence, Justice Alito noted, albeit it somewhat sarcastically, "This decision might as well be written on the dissolving paper sold in magic shops. The City has been adamant about pressuring CSS to give in, and if the City wants to get around today's decision, it can simply eliminate the never-used exemption power. If it does that, then, voilà, today's decision will vanish — and the parties will be back where they started."
Minter pointed out that the Court did not change the current constitutional framework, which permits governments to enforce antidiscrimination laws that prohibit discrimination against LGBTQ people even when doing so may have a disparate burden on those who hold certain religious beliefs.
"As a result of today's decision, those who feared the Court might create a sweeping new religious exemption to such laws can breathe a sigh of relief," he concluded.
Also weighing in was Leslie Cooper, deputy director of the ACLU's LGBTQ & HIV Project. "We are relieved that the court did not recognize a license to discriminate based on religious beliefs," she said.
"Opponents of LGBTQ equality have been seeking to undo hard-won non-discrimination protections by asking the court to establish a constitutional right to opt out of such laws when discrimination is motivated by religious beliefs. This is the second time in four years that the court has declined to do so. This is good news for LGBTQ people and for everyone who depends on the protections of non-discrimination laws," Cooper added.
Eugene Volokh, the Gary T. Schwartz Professor of Law at the University of California Los Angeles School of Law, writing in his Volokh Conspiracy blog noted;
Justice Barrett, joined by Justice Kavanaugh, concurring: The original meaning of the Free Exercise Clause is unclear on the broader question of religious exemptions from generally applicable laws, but "As a matter of text and structure, it is difficult to see why the Free Exercise Clause—lone among the First Amendment freedoms—offers nothing more than protection from discrimination." Yet Justices Barrett and Kavanaugh are "skeptical about swapping Smith's categorical antidiscrimination approach for an equally categorical strict scrutiny regime, particularly when this Court's resolution of conflicts between generally applicable laws and other First Amendment rights—like speech and assembly—has been much more nuanced." In particular,
To name a few: Should entities like Catholic Social Services—which is an arm of the Catholic Church—be treated differently than individuals? Cf. Hosanna-Tabor Evangelical Lutheran Church and School v. EEOC (2012) [providing broad protection for certain decisions by religious institutions -EV]. Should there be a distinction between indirect and direct burdens on religious exercise? Cf. Braunfeld v. Brown (1961) (plurality opinion). What forms of scrutiny should apply? Compare Sherbert v. Verner (1963) (assessing whether government's interest is "'compelling'"), with Gillette v. United States (1971) (assessing whether government's interest is "substantial"). And if the answer is strict scrutiny, would pre-Smith cases rejecting free exercise challenges to garden-variety laws come out the same way? See Smith.
M. Currey Cook, Counsel and Youth in Out-of-Home Care Project Director at Lambda Legal, issued the following statement. "Today's ruling by the Supreme Court is troubling but, importantly, it refused to give a free pass to people or agencies that want to discriminate against LGBTQ people for religious reasons and is limited to the specifics of Philadelphia's foster care system. Instead, the Court validated the City's 'weighty' interest in the equal treatment of LGBTQ prospective foster parents and foster children. The only reason those interests did not carry the day was due to the specifics of the City's contract. Because the Court decided the case on contract-specific grounds, the City can address the situation by rewriting its contracts."
"But make no mistake. Philadelphia has never refused to work with Catholic Social Services. The agency has continued to receive millions of dollars in foster care contracts from Philadelphia and the contract at issue simply applied a standard, important nondiscrimination principle to its contract agencies. Foster care is a government function, and all governments have a compelling interest in ensuring their contract agencies, including faith-based ones, treat all children and families equally. And today's ruling does mean, at least for now, that different-sex married couples have access to all city agencies, while same-sex couples do not," Cook said.
"The court's ruling today on Fulton is a narrow one, limited in both nature and scope. The most important take-away is that the Supreme Court unanimously refused to allow a religious entity to have a license to discriminate. We stand in solidarity with the community in Philadelphia that is working for the fair and equitable treatment of those who want to provide safe and loving homes to children and hold in our hearts the many children who will be impacted by this decision," Kierra Johnson, Executive Director of the National LGBTQ Task Force said.
"The work ahead for our community is clear – we must continue to advocate for local and state non-discrimination laws, apply the ones that exist and most importantly, fight for the Equality Act, which would provide long overdue Federal protections to the LGBTQ community and many others," she added.
Equality California's Executive Director Rick Chavez Zbur, a prominent civil rights attorney weighed in saying, "Today's ruling by the Court is limited in nature and scope. While the Court ruled against the City based on the specific facts of this case, we are heartened by the fact that it did not recognize or create a license to discriminate. The Court's ruling means that governments can — and must — continue to enforce neutral, generally applicable laws that protect LGBTQ+ people from discrimination both inside and out of the foster care system."
There was a note of defiance and dissent to the ruling from the SPLC listed anti-LGBTQ hate group, the Family Research Council, which released this tweet:
Religious liberty—the freedom to hold religious beliefs of one's own choosing and to live in accordance with those beliefs—is an inherent human right.

— Family Research Council (@FRCdc) June 17, 2021
LGBTQ Florida state Rep. Michele Rayner announces bid for Congress
"I am making this announcement during Pride Month – a time we recognize how far LGBTQ folks have come and how far we have to go"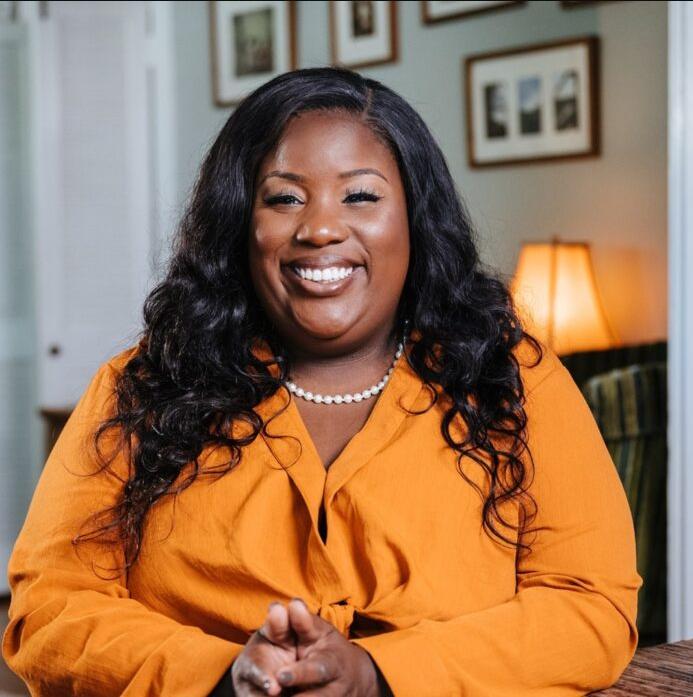 LARGO, FL. – The race to replace Democrat Charles Joseph (Charlie) Crist Jr. in Florida's 13th Congressional District seat was joined by civil rights attorney and state Representative Michele Rayner (D-District 70) Monday.
In a small gathering at her church, the Lighthouse Church of Jesus in Largo, which is the third largest city in Pinellas County, she announced her bid for the seat occupied by Charlie Crist who is leaving Congress in 2022 after serving three terms to make a run for Governor challenging Republican Governor Ron DeSantis.
Rayner who was elected to the Florida House in 2020, was the first openly Black LGBTQ woman to be elected to the Florida Legislature. If she is elected to the U.S. House, she will be one of the first openly queer Black women to serve on the Hill. Speaking to supporters on Monday she acknowledged her announcement to run for Congress was made during Pride Month. However, she noted that issues such as access to quality education, affordable health care, environment issues, systemic racism and more are of paramount concern to her.
"These are serious problems that require serious public servants working to address them," Rayner said. "It's not lost on me that I am making this announcement during Pride Month – a time we recognize how far LGBTQ folks have come and how far we have to go."
"And I understand, if elected, that I will be one of the first openly queer Black women to serve in Congress. I say that because I want to go ahead and say that that is not why I am running- because I am running to continue to serve my community with the same determination, tenacity, selflessness and commitment to public service that I have employed throughout my whole time here in Florida," she added.
Raynor briefly mentioned the death of her father in December of 2020 and then shifted her emphasis to the purpose to her run for the U.S. House characterizing her campaign [as] "about bringing all of our communities together to create positive change in this society."
"It's about public service…this campaign is very personal for me," she said. "My vision is for my community and this state – and indeed – I believe the whole United States to be governed by representatives and people who truly serve their constituents – not themselves."
In addition to Raynor, other Democrats who have announced their intent to run are Eric Lynn, former foreign policy adviser to former President Barack Obama, and Benjamin Frank Diamond, an attorney also a member of the Florida House of Representatives from the 68th district.
The only Republican candidate who has declared for the seat, U.S. Air Force veteran Anna Paulina Luna, who ran against and lost to Crist in last year's November elections.
Rayner lives in St. Petersburg with her wife Bianca Goolsby.