July 4, 2018 at 9:58 pm PDT | by Troy Masters
LGBTQIA group takes over Statue of Liberty in immigration protest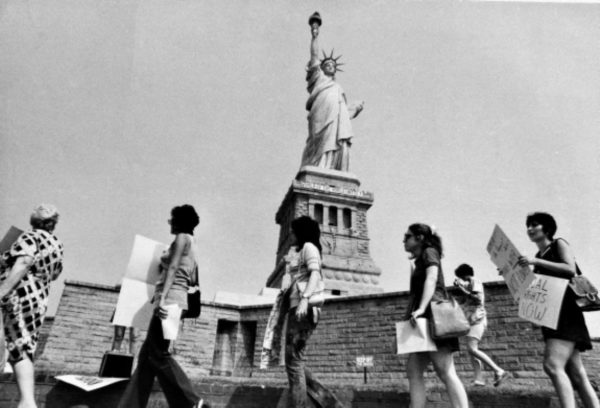 History can repeat itself in good ways sometimes, like it did today, the Fourth of July, at the Statue of Liberty in New York. You may have heard about it.
An LGBTQIA group of more than 30 activists occupied the base of the Statue of liberty today and unfurled a banner for the whole world to see: ABOLISH ICE, the banner read, a statement of protest against enforcement of the Trump administration's erratic and inhumane immigration policy.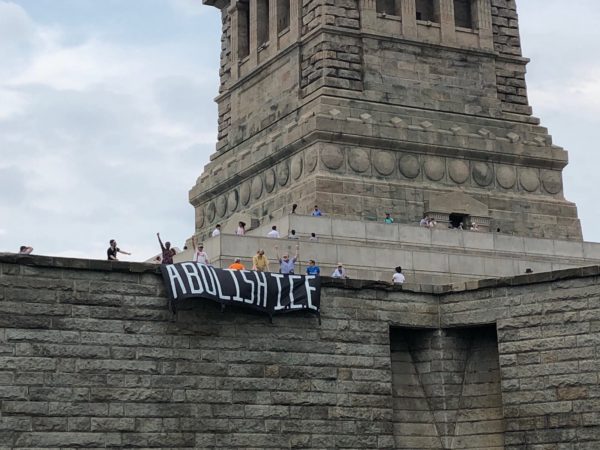 The event was reminiscent of an Aug. 26, 1970 action, the largest demonstration for women's rights the United States had ever seen, held to highlight Women's inequality on the 50th anniversary of the 19th Amendment, which granted women the right to vote. The National Organization for Women gained worldwide attention when it scaled the Statue of Liberty and unfurled its banner: "Women of the World Unite."
The action was the brainchild of newly out lesbian and NOW NYC founder Ivy Bottini, then 44 and now 92 years old, and it is now widely recognized as an iconic moment in the women's movement for equality.
On Sunday June 30, 2018, the last day of Pride month, in a speech at a West Hollywood demonstration protesting Trump's immigration policies and family separations, Bottini exhorted the rise of a new generation of LGBT activism and the return of ACT UP. "At 92 it feels like this is where I am supposed to be. I am saying this — GET OFF YOUR ASSES — and bring back ACT UP. Bring it back. Bring it back. ACT UP, fight back!"
It was poetic then that the scene of Bottini's greatest activist moment was so eerily repeated today, this time in protest of the Trump administration's immigration policy and the continued separations of thousands of refugees crossing the nation's southern border but this time the banner read ABOLISH ICE.
One of the members of the activist group, 44 year old Patricia Okoumu, an immigrant from the Democratic Republic of the Congo who lives in Staten Island, climbed the statue after protesters from Rise and Resist New York unfurled the banner there; she made it to the Statue's base. Liberty Island, crowded with visitors on the July 4th holiday, was evacuated as police responded and attempted to coax her down.
For more than three hours she lingered at the foot of the statue, pacing around, lying down and casually kicking her legs as if watching TV while police attempted to reach her. When they finally did she politely explained her protest — the children in Texas — and was arrested for trespassing, interference with National park regulations, and disorderly conduct.
Det. Brian Glacken of the NYPD Emergency Services Unit remarked that she was "a little combative" at first, but eventually she "apologized" that officers had to climb up to get her. It took a squad of officers, about 16, to put a safety harness on her and get her down.
CBS News reports that Sgt. David Somma of the U.S. Park Police says she was not considered a direct threat, but said her climbing the statue was a "threat to public safety."
In addition to Okoumu, at least six people were taken into custody after unfurling the banner. Federal regulations prohibit hanging banners from the monument.
(
(Video by Ken Kidd)
Rise and Resist, a New York based group that engages in Queer Nation and ACT UP style street theater organized today's action. Many of the group's members are also members of Gays Against Guns.
"ICE has proved to be a threat to our liberty and way of life, and should be abolished," said Leon Kirschner, Rise and Resist member. "They go after the most vulnerable among us, acting without due process to detain people. For-profit companies are making money off family separation. This has to stop now."
Jay W. Walker, an organizer, told The Los Angeles Blade that "Patricia is a powerful, committed, and passionate activist. She has become an integral member if Rise and Resist over the course of the last several months. We are so incredibly relieved that she was brought down safely and without injury. We are now doing everything we can to ensure that she gets the best possible legal representation."
Check back for more reporting.