Your Daily Guide to Outfest 2018: July 14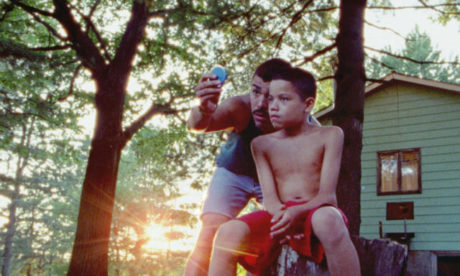 Outfest is a great experience for LA film fans, but it can be a little intimidating.  With so many films and events to choose from, it can be difficult to even know where to start.  That's why the Los Angeles Blade is here to break it all down for you, on a daily basis.
For the duration of the festival, we'll be posting a daily roundup here with a brief look at the selections of the day.  Whether you're a hard-core movie buff who plans to see as many screenings as possible, or a casual moviegoer looking for a date night treat, we've got you covered!
Just take a look at the offerings of the day and then head on over to www.outfest.org for ticket information.
SATURDAY, JUNE 14:
The venues for today are:
DGA 1 and DGA 2, at Director's Guild of America, 7920 Sunset Blvd., L.A., 90046
Harmony Gold Theatre, 7655 W. Sunset Blvd., L.A., 90046
REDCAT: Roy and Edna Disney/CalArts Theatre at Walt Disney Concert Hall, 631 W. 2nd St., Downtown L.A., 90012
THE SCREENINGS:
Boys' Shorts (DGA 1, 11am):  There's no denying the heart and soul in this year's stunning showcase of boys' shorts — across genre, borders, and walks of life, from Puerto Rico to Israel. Between breaking out of your shell and back into the dating pool to coming out after social media stardom, falling in love with a very famous corpse to stalking your father's lover, these unforgettable films capture the laughter, melancholy, and hope that bind us together.  Curated by Andrew Ahn. Sam (Dir: Stephanie Camacho Casillas, 11 min.), Share (Dir: Barna Szász & Ellie Wen, 13 min.), Sam Did It (Dir: Dominic Burgess, 11 min.), Heritage (Dir: Yuval Aharoni, 25 min.), The Things You Think I'm Thinking (Dir: Sherren Lee, 15 min.), We Forgot To Break Up (Dir: Chandler Levack, 16 min.).
Call Her Ganda (Harmony Gold, 11:30am):  In this documentary, a journalist, a lawyer working pro bono, and the mother of the victim unite to stand up to U.S. imperialism and demand justice in the name of Jennifer Laude, a 26-year-old trans woman murdered by a U.S. Marine in the Philippines. In the face of the gruesome facts of the case and transphobic reactions worldwide, these three women do not waiver, knowing that what is at stake is Filipino sovereignty and an end to gender-based violence.  Directed by P.J. Raval, an award‐winning filmmaker and cinematographer whose work explores the overlooked subcultures and identities within the already marginalized LGBTQ+ community, this is a visually daring and profoundly humanistic geopolitical exposé.
Scotty and the Secret History of Hollywood (DGA 1, 1:45pm):  n Hollywood's Golden Age, studio publicists presented movie stars as paragons of heterosexual domesticity, but behind the curtain, some beloved actors and actresses had very different proclivities. Many of these celebrity sexcapades first came to light in Scotty Bowers' controversial book Full Service. This fascinating documentary balances juicy gossip (bolstered by expert witnesses like Gore Vidal and Liz Smith) with a compassionate look at Bowers' life. Meet the man who pierces the veil and shines a light on the private sexual dalliances of some of cinema's biggest stars.  Directed by Matt Tyrnauer, the journalist and filmmaker also behind Outfest's opening night gala feature, "Studio 54," this one is likely to be a sell-out.  Preceded by Everything Must Go, My Love (Dir: Jocelyn Roy, 10 min.).
Cuernavaca (DGA 2, 2pm):  A Mexican narrative feature by director Alejandro Andrade Pease.  After his mother dies unexpectedly, Andy moves into the palatial residence of his strict, no-nonsense grandmother (played by frequent Almodóvar collaborator Carmen Maura) in the Mexican suburb of Cuernavaca. He finds comfort and refuge in Charly, the estate's young gardener, who introduces him to an exciting world of danger, risk, and temptation. In this epic coming-of-age story, Andy will navigate the pain and joy that comes with grief, growing up, and finding your identity.  Preceded By Two Fish (Dir: Antoine Dupont-Guerra, 11 min.).
The Gospel of Eureka (Harmony Gold, 2pm):  In this documentary, fierce drag queens and evangelical Christians put on the performances of their lives in the secluded southern town of Eureka Springs, Arkansas. Poised between stereotypes and the fight for civil rights, filmmakers Michael Palmieri and Donal Mosher weave an eye-opening, optimistic portrayal of the deep American tensions between religion and the LGBTQ identity. A crowd-pleasing cinematic meditation on intense dedication and faith, the film shows that the symbiosis of the two worlds is closer than you ever imagined.  Preceded by Mama Dragons: A Great Big Story (Dir: Andria May-Corsini & Adam Wolffbrand, 13 min.).
The Man-Woman Case & Other Animated Tales (REDCAT, 2pm):  Beautifully illustrating the complexity of the queer experience in both its exhilarations and travails, this compilation of sometimes absurd, sometimes moving, but always intimate stories is a feast for the eyes and the soul. The fluidity and ethereal nature of animation are used to explore parent-son relationships, bask in a bawdy feminist fairy tale, reminisce on young summer love, and follow the noir epic of Eugene Falleni, the true story of a 1920s trans man running from the law.  Manivald (Dir: Chintis Lundgren, 12 min.), Venus – Filly, The Little Lesbian Fairy (Vênus – Filó, A Fadinha Lésbica) (Dir: Sávio Leite, 6 min.), Contact (Dir: Léa Bancelin, 6 min.), The Fish Curry (Maacher Jhol), (Dir: Abhishek Verma, 12 min.), Flash Flood (Dir. Alli MacKay, 6 min.), The Man-Woman Case (Dir: Anaïs Caura, 45 min.).
Daddy Issues (DGA 1, 4:30pm):  The US premiere of a film by director Amara Cash, this is an intoxicating invitation into the lives of two young women, one a fearless charmer, the other a talented but shy artist. When the pair meets, their lips and their lives collide, and the chemistry is electric. Combining their skills to design a clothing line, the girls spend every waking moment together, until the unthinkable happens. This candy-colored glimpse into first love is not only gorgeously shot, but it's also driven by slick editing and an empowering soundtrack, immersing the viewer — or voyeur — into a world laced with potent sexuality.  Preceded by Mendhi (Dir: Sudeshna Sen, 2017, 4 min.).
Conversations With Gay Elders (DGA 2, 4:30pm):  In this illuminating and heartfelt new documentary, the director of We Were Here and The Cockettes sits down with Kerby Lauderdale, who looks back on life before and after Stonewall, from marriage to a woman (he's the father of Pink Martini lead singer Thomas Lauderdale) to queer activism. Part of a series of documentaries in which David Weissman, 62, will interview a diverse cross-section of elder members of the LGBTQ community.  Preceded by Gavin Grimm VS. (Dir: Nadia Hallgren, 19 min.).
TransMilitary (Harmony Gold, 4:30pm):  At the risk of being discharged and losing their livelihoods, trans service members come out to top brass at the Pentagon to challenge the transgender military ban. From 2015 to the present day, this documentary by directors Gabriel Silverman and Fiona Dawson follows four trans service members—Senior Airman Logan Ireland, Corporal Laila Villanueva, Captain Jennifer Peace, and First Lieutenant El Cook—as they fight to defend their equal right to serve their country. A 2018 SXSW Audience Award winner.  Preceded by Pre-Drink (Dir: Marc-Antoine Lemire, 23 min.).
The Wild Boys (Les Garçons Sauvages) (REDCAT, 4:30pm):  Director Bertrand Mandico's genre- and gender-bending surrealist work zigzags through a perverse, hyper-stylized world of transgressions. In this nightmarish adventure, well-bred teenage boys, played by women, commit a heinous crime and are sent to sea with the barbaric Captain. Landing on a magical island with bizarre animals and lascivious plants, the teens metamorphize. Outrageous vulgarity blends with refinement as machismo's cruelty and the glory of sexual freedom are exposed in this phantasmagorical visual feast and erotic fantasia.
We The Animals (DGA 1, 6:45pm):  Lovely and lyrical, this film received well-earned comparisons to "Moonlight" when it premiered at the Sundance Film Festival. Acclaimed documentary filmmaker Jeremiah Zagar makes his narrative debut with this adaptation of the novel by Justin Torres about three boys navigating their parents' volatile relationship and the aftermath of their breakup. Two of the sons clearly follow in the footsteps of their macho, anger-prone father (Raúl Castillo, "Looking"), while the sensitive youngest, Jonah (Evan Rosado), remains close to their mother ("Sheila Vand," "Women Who Kill").  Exquisitely photographed by Zak Mulligan, the film captures both the beauty and terror of childhood, guiding us through the wonders of the world and the pain and confusion of marital dysfunction.  Subtle and haunting, bursting with empathy and energy, this achingly crafted coming-of-age tale heralds a new chapter for a brilliant and essential storytelling talent.
Queeroes (Harmony Gold, 7:30pm):  Discover the Queeroes short film series, part of an innovative new mentorship from 5050by2020 (an initiative of Time's Up) and them (a queer non-binary digital platform of Conde Nast) that elevates queer, trans, and POC storytelling. Curated by Emmy-award winner Jill Soloway, participating mentors include Emmy-award winning writer Lena Waithe ("The Chi") and playwright and TV writer Tanya Saracho ("Vida"). The films include a re-imagining of the classic Broadway movie musical with a Black butch lesbian dancer in the starring role, a sassy post-gender Hollywood landscape set in the near future, and a rowdy high school comedy through a genderfluid Latinx lens.  Followed by an extended discussion with the cast and crew of each film.  Central & Broadway (Dir: Chelsea Woods, 8 min.), Mother Comes To Venus (Dir: Zackary Drucker, 8 min.), Kiki & The Mxfits (Dir: Natalia Leite, 8 min.).
Platinum Shorts Showcase (REDCAT, 7:30pm): Desire, danger, obsession, loneliness, love lost, found, and twisted are all part of the tales told in this year's showcase. The Sermon (Dir: Dean Pukett, 2018, UK, 12 min.), Hibernaculum (Dir: Tyler Lumm, 2018, USA, 7 min.), Only Trumpets (Dir: Tristan Scott, 2018, USA, 10 min.), How To Make A Ghost (Dir: Gabriela Escovar, 2018, USA, 2 min.), Landline (Dir: Matt Houghton, 2018, UK, 12 min.), Grooming Men Under The Falstaff Sign (Dir: Jory Lee Cordy, 2018, USA, 3 min.), Wait (Dir: Sarah Prinz, 2018, USA, 7 min.), Exhumation (Dir: Daniel McIntyre, 2018, Canada, 8 min.), No Leash (Dir: SSION, 2017, USA, 12 min.), Dressed For Pleasure (Je Fais Où Tu Me Dis)  (Dir: Marie de Maricourt, 2018, USA, 17 min.), Tea Bag (Dir: Jacquie Ray, 2018, USA, 3 min.), Crashing Waves (Dir: Emma Gilbertson, 2018, UK, 4 min.), Drag Me In Place (Dir: Michael Zarowny (Mood Killer), 2018, USA, 3 min.).
Mr. Gay Syria (DGA 2, 9pm): Hussein is a Syrian refugee who lives in Istanbul and works as a hairstylist. At gay support group "Tea and Talk," Hussein and his friends discuss the issues they face in their homeland. Hoping to bring their cause international media visibility, they decide to participate in the Mr. Gay Syria competition. Writer-director Ayse Toprak's riveting documentary shines a compassionate light on the ordeals encountered by these brave men as they face possible persecution and physical violence on a day-to-day basis.  Preceded by Margo & May (Dir: Meredith Koch, 5 min.).
Hard Paint (Tinta Bruta) (DGA 1, 9:30pm):  Online, Pedro smears neon paint across his body for pay-per-view voyeurs hungry for his webcam erotica. IRL, he rarely sees the sun or speaks to another soul in Porto Alegre. After catching word of a rival ripping off his rainbow-colored act, he ventures from the shadows to settle their score — but finds an unlikely new friend in the process. This Berlinale Teddy Award winner conjures a dark, sensual atmosphere of alienation and discovery, and marks the return of young Brazilian filmmaking duo Filipe Matzembacher and Marcio Reolon back to Outfest for the third time after their previous feature "Seaside" and miniseries "O Ninho (The Nest)."
All About My Mother (Harmony Gold, 9:30pm):  From "Mommie Dearest" to mom of the year, there will always be myriad ways to define motherhood in the movies. And whether you are one, have one, or know one, we all have our own unique experiences around how these ladies fit into our lives. Between mama bears a bit too woke for their own good to those sleeping on their children's talents, new mothers facing discrimination or those struggling to understand their queer children, these films capture maternity in motion. Curated by Albert Payano.  Are We Good Parents? (Dir: Bola Ogun, 9 min.), Rani (Dir: Hammad Rizvi, 14 min.), Dario (Dir: Manuel Kinzer, Jorge A. Trujillo Gil, 15 min.), Between Us Two (Dir: Tan Wei Keong, 5 min.), Uninvited (Dir: Seung Yeob Lee, 20 min.), Khol (Open) (Dir: Faroukh Virani, 12 min.), For Nonna Anna (Dir: Luis De Filippis, 14 min.).
PANELS:
Make Them Hear You: The Truth About Content By & For LGBTQ+ Women (DGA 2, 12pm): LGBTQ+ women have been at the forefront of many movements throughout history. However, in Hollywood queer women remain the least represented community in front of and behind the camera. This discussion will explore the past, present, and future of LGBTQ+ women in entertainment, bringing together trailblazers who are leading the charge for a more inclusive and multi- dimensional landscape. Presented by AT&T Hello Lab— a collection of inclusive original entertainment created by, for and with Millennial and Gen Z audiences. Panelists: Christine Vachon, Sara Shaw, Ashly Perez, Sidra Smith, Brooke Chaffin (moderator). Preceded by Tooth and Nail (Dir: Sara Shaw, 20 min.).
Bi In The Biz (DGA 2, 7pm):  While the L, G and T communities have made great strides toward visibility in the culture, the B's still remain relatively hidden, even in the entertainment industry. This panel will feature out bisexual actors and entertainment industry professionals discussing the specific challenges and opportunities for film, TV and online performers who identify as such. Break out of the bi closet as we explore the politics and the pragmatism of actors living out in the open.
PARTIES:
Platinum Alchemy Party (Navel, 1611 S. Hope St., Los Angeles, CA 90015):  This year's Alchemy brings magic to the dance floor with 5 non-stop hours of live music and DJ sets. Come see Outfest's wild side during our flamboyant and fantastical night of turning poptastic weirdness into gold!  Performers: Bae Bae (Dj Set), Bebe Huxley, Dorian Electra, London Jade, Lulo (Dj Set), Luna Lovebad, Miss Pvssy, Mood Killer, Narcisisster, Nebulae Cult, Saturn Rising, The Uhuruverse, Weston Allen. 
Direct entrance to the venue is located through a large black gate on Venice Blvd. Follow the posted signs to the gate and enter through the first door on the left just past the gate.  If you're arriving via Lyft/Uber (which we highly recommend) using 418 Venice Blvd. as your destination and this will drop you off right in front of the black gate.  If you're arriving via Metro, the closest station is the Pico Station on the Blue & Expo Lines.  Self Parking is available in the parking lot located directly underneath Interstate 10 (do not park in the lot attached to the building–you may be towed!). It's cash only, payable to the parking attendant or to the parking payment box, if the attendant is not present.  Street parking (or Lyft/Uber/Public Transport!) recommended.
Retired Supreme Court Justice Sandra Day O'Connor dies at 93
O'Connor was a trailblazer as the first woman nominated and then confirmed to have a seat on the High Court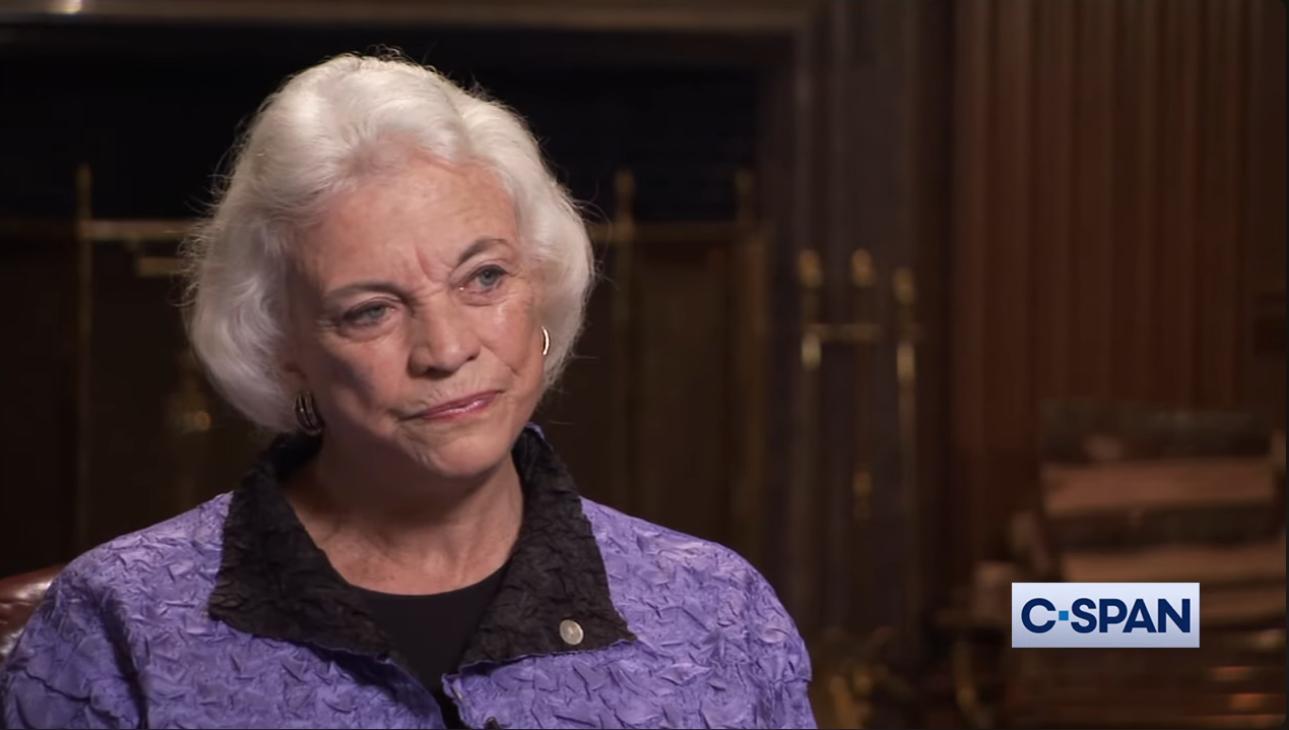 "Do the best you can in every task, no matter how unimportant it may seem at the time. No one learns more about a problem than the person at the bottom." ~ Sandra Day O'Connor
PHOENIX, Az. – Retired Associate Justice of the Supreme Court of the United States Sandra Day O'Connor died this morning in Phoenix, Arizona, of complications related to advanced dementia, probably Alzheimer's, and a respiratory illness. She was 93 years old.
Justice O'Connor was appointed to the Court by President Ronald Reagan during his first term in office in 1981 and retired in 2006, after serving more than 24 years on the nation's highest court.
A widely respected jurist, O'Connor was also a trailblazer as the first woman nominated and then confirmed by the Senate to have a seat on the Court. Her judicial record showed progressive support on issues ranging from LGBTQ+ rights, abortion, affirmative action and campaign finance.
In a statement released by the Court Friday morning, Chief Justice John Roberts said: "A daughter of the American Southwest, Sandra Day O'Connor blazed an historic trail as our Nation's first female Justice. She met that challenge with undaunted determination, indisputable ability, and engaging candor. We at the Supreme Court mourn the loss of a beloved colleague, a fiercely independent defender of the rule of law, and an eloquent advocate for civics education. And we celebrate her enduring legacy as a true public servant and patriot."
A lifelong Republican, O'Connor's early judicial record mirrored conservative values on most cultural legal issues. In 1986, O'Connor joined with Justice Byron White's five-member majority in Bowers v. Hardwick, in a case out of Georgia regarding the state's statute that criminalized sodomy.
According to court documents, Michael Hardwick was observed by a Georgia police officer while engaging in the act of consensual homosexual sodomy with another adult in the bedroom of his home. After being charged with violating a Georgia statute that criminalized sodomy, Hardwick challenged the statute's constitutionality in Federal District Court. Following a ruling that Hardwick failed to state a claim, the court dismissed. On appeal, the Court of Appeals reversed and remanded, holding that Georgia's statute was unconstitutional. Georgia's Attorney General, Michael J. Bowers, appealed to the Supreme Court and was granted certiorari.
The majority, including Chief Justice Warren Burger, Justices Lewis Powell, William Rehnquist, O'Connor with White writing the opinion, ruled that there was no particular constitutional protection against states prohibiting specific sex acts between consenting adults.
White argued that the Court has acted to protect rights not easily identifiable in the Constitution only when those rights are "implicit in the concept of ordered liberty" (Palko v. Connecticut, 1937) or when they are "deeply rooted in the Nation's history and tradition" (Griswold v. Connecticut, 1965). The Court held that the right to commit sodomy did not meet either of these standards. White feared that guaranteeing a right to sodomy would be the product of "judge-made constitutional law" and send the Court down the road of illegitimacy.
Seventeen years later however, O'Connor reversed her position in a later case, in Lawrence v. Texas, 539 U.S. 558 (2003), voting with Justices John Paul Stevens, David Souter, Ruth Bader Ginsburg, Stephen Breyer and Anthony Kennedy who wrote for the majority overturning a Texas "Homosexual Conduct" law, which criminalized sexual intimacy by same-sex couples, reversing the Court's ruling in Bowers v. Hardwick.
According to court documents, responding to a reported weapons disturbance in a private residence, Houston police entered John Lawrence's apartment and saw him and another adult man, Tyron Garner, engaging in a private, consensual sexual act. Lawrence and Garner were arrested and convicted of deviate sexual intercourse in violation of a Texas statute forbidding two persons of the same sex to engage in certain intimate sexual conduct. In affirming, the State Court of Appeals held that the statute was not unconstitutional under the Due Process Clause of the Fourteenth Amendment, with Bowers v. Hardwick, 478 U.S. 186 (1986), controlling.
Justice Kennedy wrote in the 6-3 opinion, after explaining what the Court deemed the doubtful and overstated premises of Bowers, the Court reasoned that the case turned on whether Lawrence and Garner were free as adults to engage in the private conduct in the exercise of their liberty under the Due Process Clause.
"Their right to liberty under the Due Process Clause gives them the full right to engage in their conduct without intervention of the government," wrote Justice Kennedy. "The Texas statute furthers no legitimate state interest which can justify its intrusion into the personal and private life of the individual," continued Justice Kennedy. Accordingly, the Court overruled Bowers.
Justices Clarence Thomas and Antonin Scalia, with whom Chief Justice William H. Rehnquist joined, filed dissents.
Interestingly enough though, Justice O'Connor weighed in on LGBTQ+ rights in a case prior to Lawrence v. Texas, seven years earlier when she joined with Justices Stevens, Souter, Ginsburg, Breyer and Justice Kennedy, again writing for the majority, in Romer v. Evans.
Colorado voters had adopted Amendment 2 to their State Constitution precluding any judicial, legislative, or executive action designed to protect persons from discrimination based on their "homosexual, lesbian, or bisexual orientation, conduct, practices or relationships."
Following a legal challenge by members of the state's LGBTQ community and other aggrieved parties, the state trial court entered a permanent injunction enjoining Amendment 2's enforcement. The Colorado Supreme Court affirmed on appeal.
The high court was weighing in on the question of did Amendment 2 of Colorado's State Constitution, forbidding the extension of official protections to those who suffer discrimination due to their sexual orientation, violate the Fourteenth Amendment's Equal Protection Clause?
In the ruling, the Court said Yes. In a 6-to-3 decision, the Court held that Amendment 2 of the Colorado State Constitution violated the equal protection clause. Amendment 2 singled out homosexual and bisexual persons, imposing on them a broad disability by denying them the right to seek and receive specific legal protection from discrimination.
In his opinion for the Court, Justice Kennedy noted that oftentimes a law will be sustained under the equal protection clause, even if it seems to disadvantage a specific group, so long as it can be shown to "advance a legitimate government interest." Amendment 2, by depriving persons of equal protection under the law due to their sexual orientation failed to advance such a legitimate interest.
He concluded: "If the constitutional conception of 'equal protection of the laws' means anything, it must at the very least mean that a bare desire to harm a politically unpopular group cannot constitute a legitimate governmental interest."
In 2006, she retired from the bench. In its 2019 eleven part profile of O'Connor, the Arizona Republic highlighted her record writing:
Sandra Day O'Connor disliked the term "swing vote" because "it suggests something that's not thoughtful," according to Ruth McGregor, a former Arizona Supreme Court chief justice and a longtime friend to O'Connor.
And because O'Connor saw herself as an old-school conservative, the opinions she wrote on controversial matters — such as abortion and gay rights — didn't come out of liberal leanings, but rather out of a firm belief in the rights of individuals to decide crucial issues in their own lives, free of government interference," the Republic noted.
On other issues such as women's reproductive rights, in the landmark ruling Roe v. Wade, which arose during her confirmation hearings before the Senate Judiciary Committee in 1981, because as the Republic noted, O'Connor was a woman who had presided over the Arizona Senate when it decriminalized abortion in that state, she was suspect, even though she declared her personal abhorrence for abortion.
However during the course of that confirmation hearing, she maintained that she had respect for opinions handed down by the Supreme Court, and she believed there needed to be good reason to overturn them.
In the 1992 case of Planned Parenthood v. Casey, then Justice O'Connor joined with fellow Justices Blackmun, Stevens, Kennedy and Souter, in upholding Roe v. Wade.
In a bitter 5-to-4 decision, the Court again reaffirmed Roe, but it upheld most of the Pennsylvania provisions. For the first time, the justices imposed a new standard to determine the validity of laws restricting abortions. The new standard asks whether a state abortion regulation has the purpose or effect of imposing an "undue burden," which is defined as a "substantial obstacle in the path of a woman seeking an abortion before the fetus attains viability." Under this standard, the only provision to fail the undue-burden test was the husband notification requirement.
In a rare step, the opinion for the Court was crafted and authored by three justices: O'Connor, Kennedy, and Souter.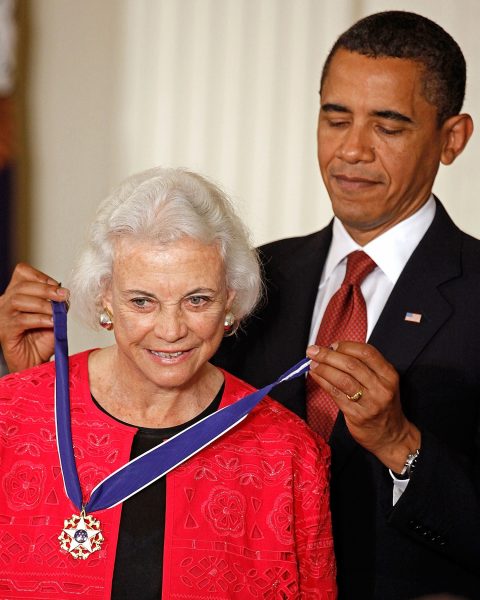 Washington D.C. based lawyer, journalist, and LGBTQ+ rights activist Mark Joseph Stern writing in a Slate magazine article dated Oct. 30, 2013, about O'Connor's stance on same-sex marriages noted:
"On Tuesday, retired Supreme Court Justice Sandra Day O'Connor officiated a same-sex marriage at the Supreme Court, the first gay wedding to take place in the court's halls. (It wasn't the first officiated by a justice, though; Ruth Bader Ginsburg beat O'Connor to that honor.) The event serves as a heartwarming confirmation that O'Connor's shift to the left has continued through retirement—but it's also a poignant reminder that the justice's early retirement cut short what might have been an evolution from Reagan conservative to gay-rights luminary."
California Governor Gavin Newsom issued a statement on the passing of O'Connor Friday:
"Jennifer and I are saddened by the passing of Justice O'Connor, an American icon who left a profound mark on history as the first woman to serve on our nation's highest court.

"Surmounting countless barriers, Justice O'Connor graduated from Stanford Law School near the top of her class, rose to prominence in the Arizona statehouse as the first woman in the nation to serve as a majority leader, and served on the bench in Arizona before being nominated to the Supreme Court by President Reagan – with widespread support on both sides of the aisle.
"A strong voice for judicial independence and the rule of law, Justice O'Connor was known for her discerning and fair-minded approach and served a pivotal role at the center of the Court, including key votes reaffirming the right to abortion and upholding affirmative action in higher education.
"With deep Arizona roots, Justice O'Connor was also an important voice on the Court for the entire American West, championing states' freedom to craft solutions that meet local needs across our diverse country.
      
"Justice O'Connor opened doors for generations of women in politics and public service, and her enduring legacy is an inspiration to all of us. Our thoughts are with her family, colleagues and friends during this time of loss."
O'Connor was born in El Paso, Texas, on March 26, 1930. She married John Jay O'Connor III in 1952. She received her B.A. and LL.B. from Stanford University. She served as Deputy County Attorney of San Mateo County, California, from 1952 to 1953 and as a civilian attorney for Quartermaster Market Center, Frankfurt, Germany, from 1954 to 1957.
From 1958 to 1960, she practiced law in Maryvale, Arizona, before serving as Assistant Attorney General of Arizona from 1965 to 1969. She was appointed to the Arizona State Senate in 1969 and was subsequently reelected to two two-year terms, during which she was selected as Majority Leader. In 1975 she was elected Judge of the Maricopa County Superior Court and served until 1979, when she was appointed to the Arizona Court of Appeals.
O'Connor authored five books: Lazy B: Growing Up on a Cattle Ranch in the American Southwest (2002); The Majesty of the Law: Reflections of a Supreme Court Justice (2002); Chico (2005); Finding Susie (2009); and Out of Order: Stories from the History of the Supreme Court (2013).
Following her tenure on the Supreme Court, she founded and led iCivics, the Nation's leading civics education platform.
She is survived by her three sons, Scott (Joanie) O'Connor, Brian (Shawn) O'Connor, and Jay (Heather) O'Connor, six grandchildren: Courtney, Adam, Keely, Weston, Dylan and Luke, and her beloved brother and co-author, Alan Day, Sr. Her husband, John O'Connor, preceded her in death in 2009.
Additional research and legal records material provided by Oyez, the free law project from Cornell's Legal Information Institute (LII), Justia, and Chicago-Kent College of Law.