Usan el derecho de admisión en bares cubanos para expulsar personas LGBTI+
"Yo soy el que trabajaba ese día," reveló, "pero no voy a comentar absolutamente nada, tendría que contar con la autorización del titular del bar."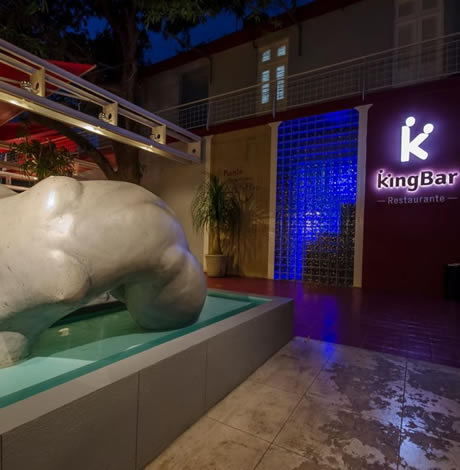 Nota del editor: Tremenda Nota es una revista electrónica independiente en Cuba que documenta las comunidades LGBTI y minoritarias del país y los jóvenes. Es una pareja de contenido del Washington Blade en América Latina.
Tremenda Nota originalmente publicó esa nota en su sitio web.
Para cerrarle la puerta a personas LGBTI+ algunos bares privados de La Habana han usado como argumento "el derecho de admisión" en los últimos años. Incidentes recientes dejan al descubierto la falta de legislación cubana para evitar la discriminación y proteger a las víctimas.
A la medianoche de este 8 de julio, Brian Canelles y Arian Abreu tomaban unas copas en el Efe Bar, ubicado en El Vedado, La Habana. Quisieron tirarse una selfie y darse un beso. Uno de los agentes de seguridad les advirtió que no podían hacer la foto y acabó echándolos porque "el bar no quería mostrar una imagen gay." Argumentó: "no nos interesa ese público, no queremos ganarnos esa fama."
El Efe se promociona en Facebook como una discoteca, club nocturno y restaurant que quiere distinguirse por su oferta musical de conciertos en vivo. Por eso José Luis Nodarse, cubano que vive en Miami, lo escogió en mayo para reencontrarse con algunos amigos. A uno de ellos, Coco, le prohibieron la entrada. El supervisor de turno le dijo que Coco no podía entrar porque "lo conocían" y lo habían visto en "estado no aceptable." Solo con ese argumento usaban "el derecho de admisión" para negarle la entrada. "Mi amigo es conocido como gay y creo que si hay un mal comportamiento o una mala actitud solo en ese momento se debe actuar," protesta José Luis. "Me quedó claro que era homofobia."
Pidió ver al encargado del lugar y le preguntó si no dejaban entrar a su amigo porque era gay. El administrador, un poco asustado le dijo, sin explicar motivos, "no, no se trata de eso, pero nos reservamos el derecho de admisión."
Tras la denuncia publicada este lunes por Brian Canelles en su perfil de Facebook, que generó la reacción de decenas de activistas LGBTI, Efe Bar publicó que "siempre levantará la bandera contra la homofobia." Además, se defiende diciendo que su "política ha sido y será siempre respetar a los demás como personas, sin importar su sexo, raza, inclinación sexual o posición social." Según la administración, "es una pena que se esté creando una opinión falsa y dañina sobre muchas personas en base a la opinión de una sola."
Un trabajador de Efe Bar que se identificó como Roberto, "uno de los administradores," atendió el llamado al bar de Tremenda Nota pero se rehusó a ofrecer su versión del incidente que terminó con la expulsión de Brian Canelles y su novio.
"Yo soy el que trabajaba ese día," reveló, "pero no voy a comentar absolutamente nada, tendría que contar con la autorización del titular del bar."
Brian asegura que nunca pudo ver a este administrador. "Le pedí que me llamara al supervisor, pero dijo q no iba a perder su tiempo, que nos retiraramos del bar."
"Le dije que no iba a irme de ningún lugar, que ya había gastado 100 CUC [pesos cubanos equivalentes a dólares] en el local, como para que me expulsaran sin tomar siquiera la foto," agrega Brian.
Este reclamo, unido a la queja del novio y la hermana, precipitó la expulsión. "Me agarró por el brazo y me llevó a la salida," recuerda Brian. "Dijeron que tenían el derecho de admisión y decidían qué público dejaban entrar a su bar. Le rebatimos diciendo que ser un negocio privado no les daba derecho a tratarnos así, pero cerraron la puerta sin más."
Homofobia en bares privados, ¿con derecho?
KingBar se halla a menos de 300 metros de Efe Bar. Su gráfica publicitaria alude atrevidamente al sexo anal.
Al principio quiso presentarse como un espacio gay-friendly. A su inauguración asistió Mariela Castro, directora del Centro Nacional de Educación y la activista LGBT más conocida del país.
No obstante, KingBar fue reportado por activistas LGBT a causa de exclusiones que parecían inspiradas por la orientación sexual, la identidad de género y la clase social.
El 27 de junio de 2015, como tributo a los sucesos de Stonewall, el dramaturgo Norge Espinosa y una decena de gais y lesbianas fueron al KingBar con el propósito de realizar una "besada pública" y llamar la atención sobre el acceso discriminatorio a espacios públicos.
Según la crónica de Espinosa, publicada en el blog del Proyecto Arcoiris, los dueños del bar "no se sentían a gusto con demasiados gais y lesbianas dentro de sus predios" y aplicaban "una política de portero excluyente."
La visita de los activistas derivó, narra el dramaturgo, "en un cruce de argumentos acerca del 'derecho de admisión' que la casa se reserva."
KingBar recientemente fue citado por una web de turismo como una de las "siete mejores fiestas gay de La Habana."
La mayoría de las legislaciones reconocen el derecho de admisión por circunstancias declaradas y objetivas, sin comprometer el derecho a la igualdad de los clientes y la protección contra la discriminación. En Cuba no hay regulaciones legales sobre el tema. Tampoco leyes antidiscriminación que incluyan explícitamente a la comunidad LGBTI.
El Código Penal cubano, sin embargo, castiga el Delito contra el derecho de igualdad, que sanciona con multa o cárcel de hasta dos años a quien "discrimine a otra persona o promueva e incite a la discriminación."
Solo se conoce un proceso penal por este motivo en las tres décadas que lleva el código en vigor. Ocurrió el año pasado cuando la estudiante Yanay Aguirre denunció que un chofer la bajó de un taxi privado por el color de su piel. La Fiscalía General de la República declaró, en el contexto del incidente, que "Cuba no necesita leyes contra el racismo."
Lesbian couple murdered, dismembered in Mexican border city
Julissa Ramírez and Nohemí Medina Martínez killed in Ciudad Juárez
CIUDAD JUÁREZ, Mexico — Authorities in the Mexican border city of Ciudad Juárez on Sunday found the dismembered bodies of a lesbian couple along a local highway.
The dismembered body parts of Julissa Ramírez and Nohemí Medina Martínez were found in plastic bags that had been placed along the Juárez-El Porvenir Highway.
El Diario, a Mexican newspaper, reported the married women lived in El Paso, Texas, which is across the Rio Grande from Ciudad Juárez. Authorities said relatives last spoke with Ramírez and Medina on Saturday afternoon.
A source in Ciudad Juárez with whom the Washington Blade spoke on Thursday confirmed Ramírez and Medina "were lesbian women" and their murder was "very violent."
Members of Comité de la Diversidad Sexual de Chihuahua, an LGBTQ+ rights group in the state of Chihuahua in which Ciudad Juárez is located, and Chihuahua Gov. María Eugenia Campos Galván are among those who have expressed outrage over the women's murders. Comité de la Diversidad Sexual de Chihuahua on Wednesday also urged local and state authorities to investigate whether the murder was a hate crime.
"People of sexual diversity are questioned, including their existence through heteronormative discourse," said the group in a statement. "They have the right to a life free of violence in which they exercise all their rights, in addition to living without fear or fear of rejection and aggressions that can unfortunately escalate to hate crimes."
EXHORTA SECRETARÍA DE GOBERNACIÓN A @MaruCampos_G A ACABAR CON LESBOFOBIA@SEGOB_mx a través de @CONAPRED y @CONAVIM_MX pidió al Gob del Estado que esclarezca el asesinato de Yulizsa y Nohemí…#JusticiaParaYulizsaYNohemi (1/3) pic.twitter.com/kLC7UNIoV2

— Comité de la Diversidad Sexual de Chihuahua (@DiversidadChih) January 19, 2022
El Diario reported Ramírez and Medina are two of the nine women who have been reported killed in Ciudad Juárez since the beginning of the year.
Personas de las Diversidades Afectivo Sexuales, an LGBTQ+ rights group in Ciudad Juárez, and feminist organizations on Thursday organized a protest during which participants demanded local, state and federal authorities do more to end to violence against women in the city. The press release that announced the demonstration specifically cited Ramírez and Medina.
"We seek justice and clarification in the murder of Nohemí and Yulissa, a lesbian couple who was found in Juárez-Porvenir Highway," it reads.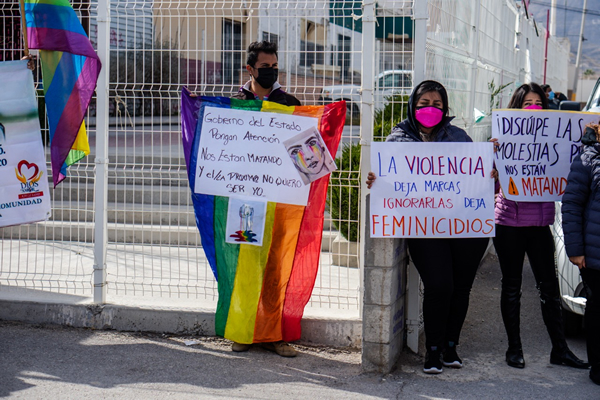 Trans Mexicans receive amended birth certificates at country's consulates
New policy announced Wednesday in Mexico City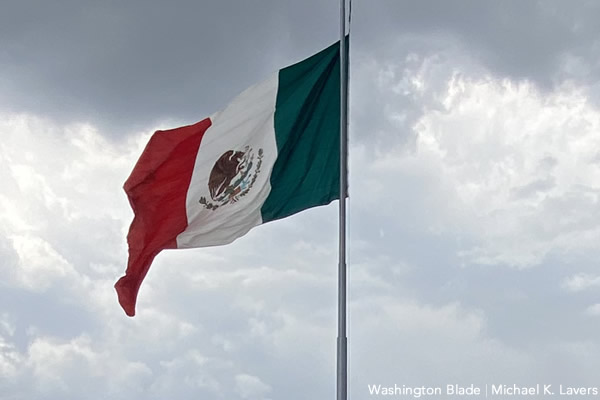 MEXICO CITY — Mexico's Foreign Affairs Ministry on Wednesday announced Transgender people who were born in Mexico can receive an amended birth certificate at any of the country's consulates.
Foreign Affairs Secretary Marcelo Ebrard is among those who spoke at a ceremony at the Foreign Affairs Ministry in Mexico City where he and other officials detailed the policy. Trans Congresswomen Salma Luévano and María Clemente García attended alongside Sen. Malú Micher, Trans activist Jessica Marjane and Amicus Director Juan Pablo Delgado are among those who attended.
Amicus, an advocacy group that is based in the state of Guanajuato, represented two Trans Mexicans who brought legal action after consulates in the U.S. denied their request for birth certificates that correspond with their gender identity.
Victory Institute International Programs Manager Mateo de la Torre in 2019 sought legal recourse, known as an "amparo" in the Mexican judicial system, after the Mexican Consulate in D.C. said it could not change the sex on his birth certificate.
Delgado earlier this week told the Washington Blade during a telephone interview from Guanajuato that one judge asked De La Torre to file his "amparo" in person in Tijuana because his signature did not correspond with the one on his Mexican ID. Delgado said a Trans woman from Guanajuato filed her own "amparo" in 2021 after the Mexican Consulate in Houston said it could not issue her an amended birth certificate.
Trans Mexicans who want to receive an amended birth certificate need to provide their original document, but Delgado told the Blade that consulates can access them through a data base. De La Torre on Wednesday received an amended birth certificate at the Mexican Consulate in D.C.
"This birth certificate comes after a decade of living in my truth as a Transgender man and after years of advocating for my right to be recognized as such," De La Torre told the Blade. "In Mexico and abroad, many Trans people face discrimination, violence and endless bureaucratic hurdles in their fight for legal recognition, and after all this time I am most grateful for the ability to vote in my country's elections."
"This new process has the possibility of being life saving for many of our most vulnerable community members, and I will continue to advocate for the day that all Trans people living in Mexico are also afforded the right to a process that is free of discrimination and based on self-attestation," added De La Torre.
Delgado described the new policy as "a great advancement towards the recognition of gender identity" in Mexico.
"It's a super important advancement," said Delgado.
Delgado noted Mexico City and 18 of Mexico's 32 states currently allow Trans people to receive birth certificates that correspond to their gender identity.
The Mexican Senate has passed a bill that would codify the Foreign Affairs Ministry policy into law. The measure is now before the Mexican Chamber of Deputies, which is the lower house of the country's Congress.
Polish House passes bill echoing Russian "gay propaganda" law
"There's no doubt, that LGBT+ ideology grew out of… the same root as Germany's Hitlerian National Socialism […]"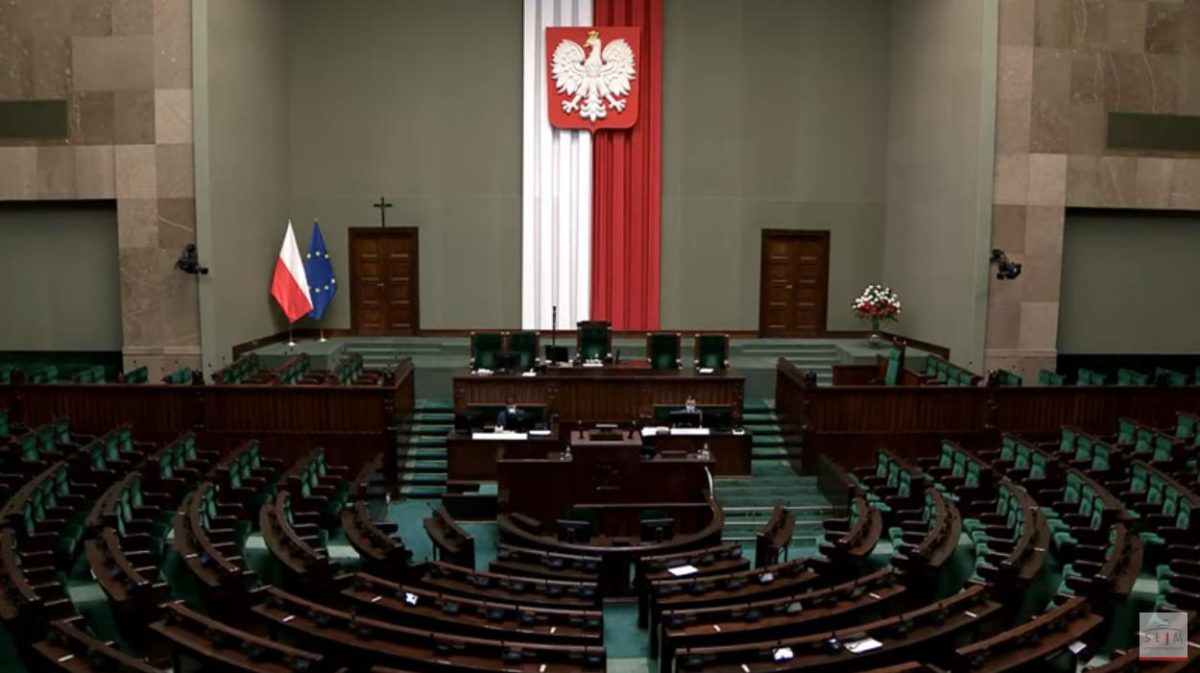 WARSZAWA – A measure that would give school administrators and superintendents the power to remove books, lessons, and ban student participation in events or clubs that are LGBTQ+ affirming passed the lower house of Poland's parliament, known as the Sejm, this past Thursday, January 13, in a 227-214 vote.
The measure, dubbed "Lex Czarnek," or "Czarnek's Law," after minister of education Przemysław Czarnek,  who has been vehemently opposed to the LGBTQ+ rights and the country's equality movement, now moves on to the upper house, the Senate where it faces opposition and likely will be rejected Polish broadcast media outlet RMF 24 reported.
According to RMF24, "The Sejm adopted the amendment to the Educational Law, prepared by the Ministry of Education and Science. The project is commonly known as "lex Czarnek". The role of school superintendents will be strengthened, and the rules governing the functioning of non-governmental organizations in schools and educational institutions will be changed."
Opposition to LGBTQ+ rights has an ally in the Education Minister whose role would determine the outcome of implementation of the measure:
"Pursuant to the amendment, the headmaster of the school or facility will be required – no later than two months before the commencement of classes conducted by associations or organizations – to obtain detailed information about the action plan in the school, the outline of classes and materials used in the offered classes, as well as obtain a positive the opinion of the education superintendent for the activities of such an organization at school or in an institution. The curator has 30 days to issue an opinion."
The law also contains a stipulation that "if the head of the school or educational institution fails to comply with the recommendations issued by the school superintendent, he will be able to summon him to explain why he did not do so . If the principal still does not follow the recommendations, the probation officer may apply to the governing body of the school or facility with a request to dismiss the principal during the school year, without notice."
A member of the Sejm, Agnieszka Dziemianowicz-Bąk, a progressive leftist politician who in addition to protesting against abortion laws, has also been active in protests for LGBTQ+ rights, tweeted her outrage; "The voice of the curator Nowak, as if it were not stupid and dangerous to health and life, is more important for PiS deputies than the voice of students, parents and teachers."
#LexCzarnek przepchnięty przez Sejm 😡

Głos kurator Nowak, jakby nie był durny i groźny dla zdrowia i życia, jest dla posłów PiS ważniejszy niż głos uczniów, rodziców, nauczycieli. pic.twitter.com/mWkxoQk1oi

— A. Dziemianowicz-Bąk (@AgaBak) January 13, 2022
The MP and Education Minister Czarnek, target of Dziemianowicz-Bąk's anger, has staked out several public vitriolic anti-LGBTQ+ positions that has included an attack on the LGBTQ+ community in West Hollywood.
Speaking with a reporter on Serwis Info Poranek with the national state-run TVP Info (TVP3 Polska) last June, the newly appointed Education Minister said- (translated from Polish):
"Let's end the discussion about these LGBT abominations, homosexuality, bisexuality, parades of equality. Let us defend the family, because failure to defend the family leads to what you see.
As he spoke these words, he was holding a phone in his hand, on the display of which he showed a picture of several people. – These are the Los Angeles guys in downtown last June. I was on a delegation there, I was passing through, there was a so-called gay pride parade there – he added. – We are at an earlier stage, there are no such things with us yet, but such chaps shamelessly (shamelessly – ed.) Walk the streets of the western city of Los Angeles – he added.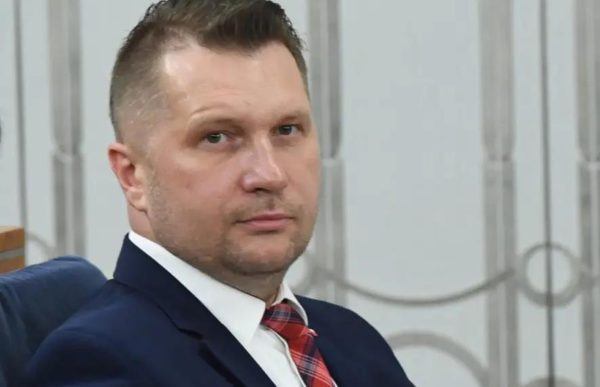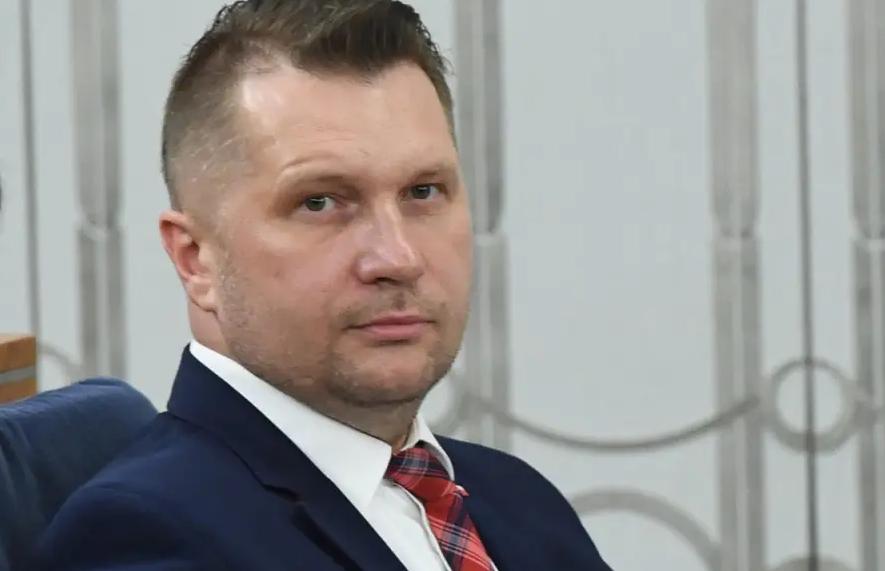 Serwis Info Poranek also noted that according to MP Czarnek, "Europe is also heading for this, Poland is heading for this- […] These people are not equal to normal people, let's end this discussion."
During the ongoing battles over the so-called LGBTQ+ 'Free Zones' with the European Commission Czarnek weighed in comparing the LGBTQ+ community to the Nazi's.
"There's no doubt, that LGBT+ ideology grew out of… the same root as Germany's Hitlerian National Socialism, which was responsible for all the evil of World War II," Czarnek said PinkNewsUK reported.
Renew Europe, the liberal, pro-European political group of the European Parliament tweeted its outrage over the actions by the Sejm:
#WolnaSzkoła: The new polish law will restrict free education & in particular make it de facto impossible to teach about sexuality in a LGBTIQ-inclusive way.

This effort to eliminate freedoms & liberal values from public life is tragic. pic.twitter.com/lib7MSNYOv

— Renew Europe (@RenewEurope) January 13, 2022
#WolnaSzkoła: "Children need education, not indoctrination. The education reform in Poland threatens to force the illiberal views of the Polish government on the young generation", says @moritzkoerner. pic.twitter.com/Y4Hxsfx0qK

— Renew Europe (@RenewEurope) January 13, 2022
Observers think that the law will be rejected by the senate although under the Polish constitution there is still a possibility it could be signed off on by the anti-LGBTQ+ Polish President Andzej Duda.
"Although it seems that Lex Czarnek is on track to becoming law, Rémy Bonny, executive director of pan-EU LGBT+ rights organisation Forbidden Colours, insists that all is not lost.
With pressure from politicians both in the EU and around the world, Poland could be forced to backtrack.
He told PinkNewsUK: "In September, after threats by the European Commission to take away funding, four out five provinces that declared themselves 'LGBT+ free zones' withdrew their anti-LGBT+ resolutions… International pressure on Poland works."