Anti-LGBT Rohrabacher in Russian spy trouble
Putin's favorite congressman tied to secret agent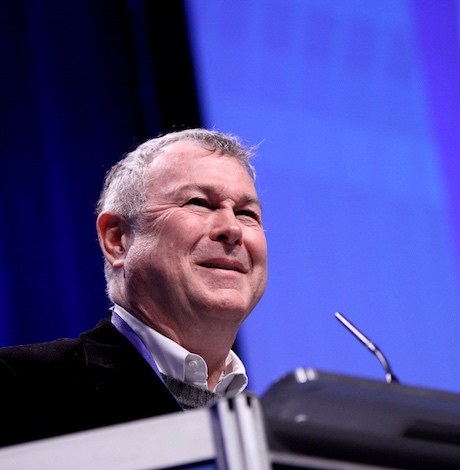 "There's two people I think Putin pays: Rohrabacher and Trump," said House Majority Leader Kevin McCarthy (R-Calif.) in a secret June 15, 2016 conversation on Capitol Hill about then-Republican presidential candidate Donald Trump and Rep. Dana Rohrabacher, the Orange County Republican long known for his ardent defense of Russian President Vladimir Putin and his knee-jerk antipathy toward LGBT people. House Speaker Paul Ryan (R-Wis.) cut McCarthy off and told those present to keep the remarks secret, according to a recording published by the Washington Post in May 2017.
No one ever accused McCarthy, the possible next Speaker, of being prescient. But Rohrabacher's name surfaced after the FBI arrested 29-year-old Maria Butina for being a Kremlin spy. The affidavit, released July 16, accuses Butina of using the National Rifle Association as a conduit to set up a back channel between Russian operatives and American congressional leaders and alludes to a meeting with a U.S. congressional delegation, now believed to be Rohrabacher and New York Democrat Gregory Meeks.
"I know I had dinner with [Butina] along with another member, along with a visiting delegation to Russia," Rohrabacher told Politico. "Is that something we should be worried about?"
Rohrabacher dismisses the indictment as "ridiculous," linked to the "deep state." But in 2012, Rohrabacher— dubbed "Putin's favorite congressman"—was warned by FBI and senior members of the House Intelligence Committee that Russian spies were trying to recruit him. Now he's linked to others being investigated by special counsel Robert Mueller, including former Trump campaign chair Paul Manafort; Russian lawyer Natalia Veselnitskaya; and WikiLeaks founder Julian Assange.
Democrat Harley Rouda, challenging Rohrabacher in California's 48th District, called the news "deeply disturbing," adding: "My campaign is not up for sale to the NRA," noting Rohrabacher's association with the NRA.
The news was also revelatory for LGBT politicos who have continuously battled with the unrepentant 30-year incumbent. Recently, during a lobbying conference with the National Association of Realtors (NAR), in Washington, the organization pressed Rohrabacher on whether he would endorse H.R. 1447, which would prevent housing discrimination on the grounds of sexual orientation and gender identity.
"Every homeowner should be able to make a decision not to sell their home to someone (if) they don't agree with their lifestyle," Rohrabacher replied, costing him NAR's support.
"What Dana Rohrabacher fails to understand," Rouda said in response, "is discrimination is discrimination. It shows how backward his thinking is."
That thinking was also exposed in the recent This is America feature for Showtime by English comedian Sacha Baron Cohen. Rohrabacher meets with Cohen, disguised as Col. Erran Morad, a former Israeli commando, who proposes a "kinderguardian" program that would guard against school shootings by arming children aged three to 16 with deadly weapons.
"Maybe having many young people trained and understand how to defend themselves and their school might actually make us safer here," Rohrabacher says.
Rohrabacher was not amused. "At no time did I endorse training toddlers in handling guns. Nor was the idea even presented to me directly. If it had been, I would have rejected it," he told the Los Angeles Times.
"In just the last few days, Dana Rohrabacher has advocated for arming toddlers with guns and been connected to a Russian spy living in the United States," Samuel Garrett-Pate, communications director for Equality California, wrote in an email to the Los Angeles Blade. "A couple months ago, he said homeowners should be able to refuse to sell or rent their houses to LGBTQ people. He has a long anti-LGBTQ record and has spent his 30 years in Congress taking taxpayer-funded trips to Moscow instead of getting results for his district. Orange County voters deserve better."
Garrett-Pate touted Rouda's performance in the state's hotly contested June primary election, as well as his success in raising money and winning over voters in the district.
Rouda and three other Democrats taking on vulnerable anti-LGBT Republican incumbents on the Democratic National Campaign Committee's target list in Southern California are out-performing their GOP rivals in fundraising, according to Politico. In the most recent numbers, Rouda beat Rohrabacher, $1.4 million to $294,000 (The Center for Responsive Politics' Open Secrets indicates Rouda has raised $2,686,620 overall to Rohrabacher's $1,746,614.)
In the must-win 25th District where bisexual Democrat Katie Hill is taking on Rep. Steve Knight, just as anti-LGBT as his infamous father Pete Knight (author of anti-gay marriage Prop 22), Hill brought in $1.3 million—more than triple the $442,000 secured by Knight; in the 39th, Democrat Gil Cisneros outraised popular Young Kim by about $3 million to $677,000 in the contest for retiring Rep. Ed Royce's seat; and in the 49th District for outgoing anti-LGBT Rep. Darrell Issa's seat, Democrat Mike Levin soared with $1 million to Republican Diane Harkey's $389,000.
"California Democrats are seizing on the unprecedented grassroots support we're seeing across the state to run competitive, well-funded campaigns," DCCC spokesperson Drew Godinich told Politico in response to the numbers.
Godinich's NRCC counterpart, Jack Pandol replied: "The more money that flows from Nancy Pelosi and wealthy Bay Area liberals to these Democratic candidates, the more we understand where their true loyalties lie." 
After the recent revelations about Russian interference in the 2016 elections and other spy infiltration efforts, asking where Rohrabacher's true loyalties lie may be a new top priority for voters in California's 48th District.  
Federal Jury convicts Ed Buck in the drug deaths of two Black men
Also convicted on charges of maintaining a drug den, distributing methamphetamine & enticement to cross state lines to engage in prostitution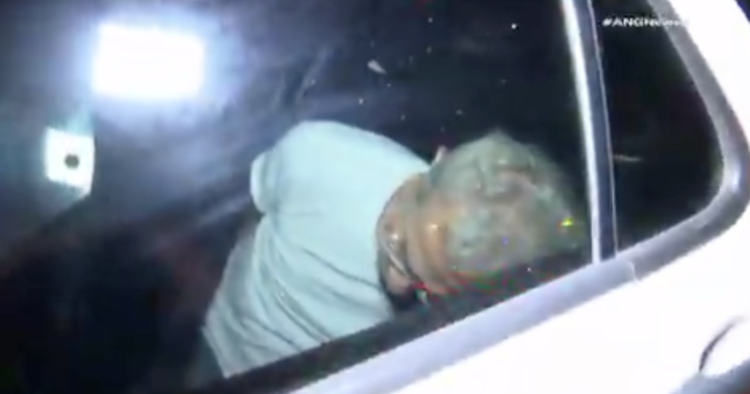 LOS ANGELES – Barely four and a half hours after being handed his case for deliberations, a federal grand jury convicted the former West Hollywood resident and Democratic political activist/donor Ed Buck on the nine-count indictment of charges he supplied the methamphetamine that killed two Black men during 'party-and-play' encounters at his flat.
Buck was also convicted on charges of maintaining a drug den, distributing methamphetamine and enticement to cross state lines to engage in prostitution.
The conviction could mean that Buck, 66, will be facing a sentence where he could spend the rest of his life in prison for his actions that killed Gemmel Moore, 26, in July 2017, and Timothy Dean, 55, in January 2019. The convictions for supplying the meth that resulted in death each carry a minimum sentence of 20 years in prison.
The verdict concluded a two-week trial that featured harrowing testimony of Buck's accusers and victims which was shocking. Prosecutor's use of Buck's seized videos offered jurors a disturbingly graphic look at the chilling indifference displayed by Buck as he victimized those unfortunate to enter his flat.
Buck would solicit his victims on social media platforms, including Grinder, and on Adam4Adam, a gay hook-up site. Buck's profile solicited men who shared his underwear fetish and wanted to "party and play." His profile also contained a 'Rose' emoji which symbolized that he was generous or in plain terms, willing to pay cash for his "party and play."
Jurors heard testimony from several of the Black men victimized that Buck's preference was to personally inject victims, and he pressured or incentivized victims to let him do so, sometimes offering large cash bonuses to coerce a victim to agree to an injection or additional injections. At other times, Buck simply injected victims while they were unconscious.
"I know this has been an arduous, lengthy and difficult process," U.S. District Judge Christine A. Snyder told jurors after she read the verdict shortly after 2 p.m. Pacific.
Christopher Darden, a lawyer for Buck, told the jury his client was on trial "for conduct that millions of people engage in." He dismissed the witnesses against Buck as manipulative escorts and drug abusers who used Buck for his money, the Los Angeles Times reported.
"The evidence is going to show that these grown men made a conscious decision to go to Ed Buck's apartment for whatever reason," Darden said in his opening statement.
Ludlow Creary II, another of Buck's attorneys, argued that his client did nothing more than enjoy party-and-play sessions involving drugs and sex with men he met online. Buck could not be held responsible for the serious medical conditions that caused the deaths of the two men at his apartment 18 months apart, Creary argued in court.
"This is a subculture, a lifestyle that may be shocking to some of us," Creary said during his summation. "Everyone involved was there voluntarily."
The Times noted that Assistant U.S. attorney Chelsea Norell called the defense's strategy "despicable victim shaming."
Buck showed no emotion as he heard the verdicts.
U.S. District Judge Christina Snyder did not set a sentencing date, but scheduled post-trial motions on Aug. 9.
"It was a tremendous honor to vindicate the rights of the victims," Norell told reporters after the verdict was read.
Arrest made in a kidnapping in West Hollywood bar & nightclub district
Detectives seek to speak with any additional witnesses or anyone who has had contact with Diaz on the night of the incident or in the past.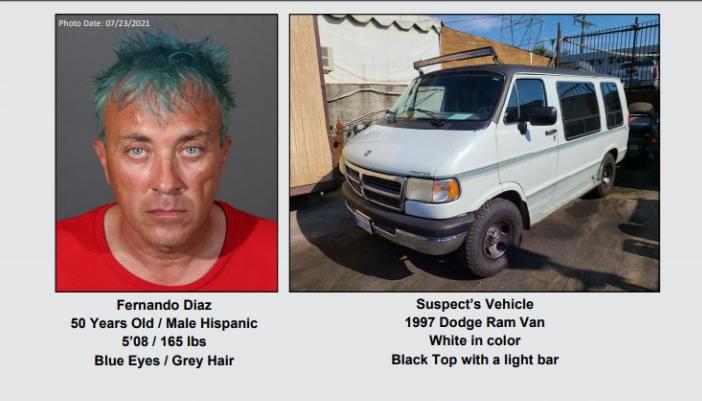 WEST HOLLYWOOD – The Los Angeles County Sheriff's department announced in a tweet that deputies had arrested Fernando Diaz, 50, at 3 a.m. Friday morning after he was seen allegedly carrying an unconscious woman to a van and then driving off. Diaz was released on bond a day later, officials confirmed Sunday.
Diaz's bail amount was set at $100,000 and he was released on Saturday after posting bond, according to the Sheriff's Department's inmate locator.
Detectives seek to speak with any additional witnesses or anyone who has had contact with Diaz on the night of the incident or in the past.
Anyone with information is asked to contact Detective Cynthia Mejia at the West Hollywood Sheriff's Station Detective Bureau by calling 310-358-4028 or [email protected]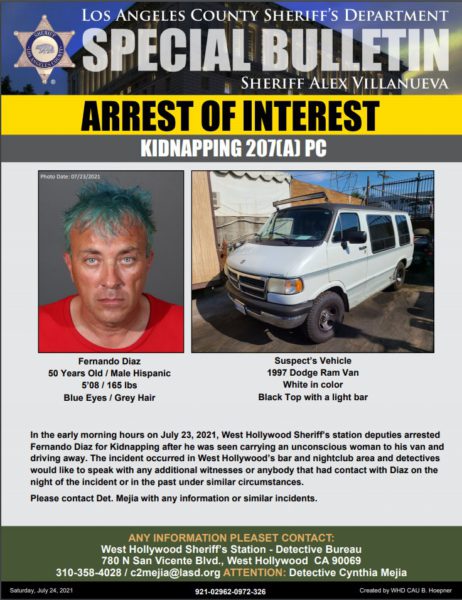 California voters give Newsom thumbs down on homelessness response
"I don't think homelessness can be solved – I know homelessness can be solved," said Newsom. "We are going all-in with innovative solutions"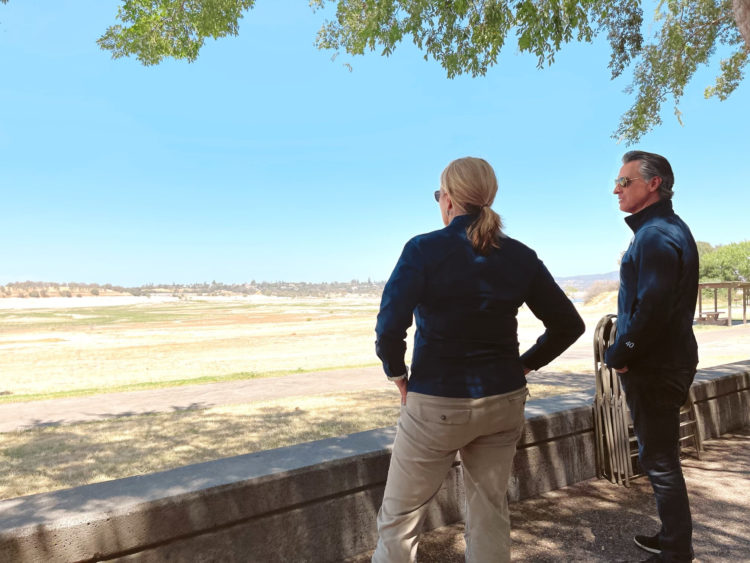 BOSTON – In a new poll released Friday conducted by Inside California Politics and Emerson College of more than 1,000 registered voters, half rated Governor Gavin Newsom's response to the homelessness crisis in California as 'poor.'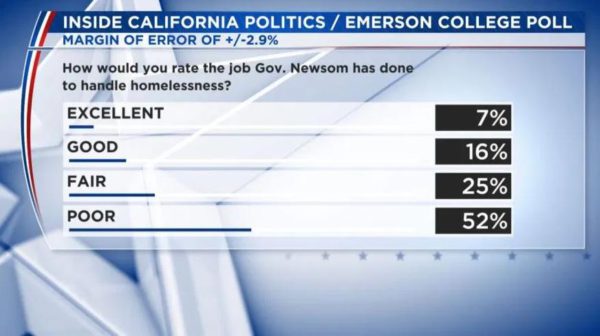 Newsom's low marks comes after an announcement earlier this week at a Project Homekey site located in Sebastopol, West of Santa Rosa, where he signed the largest funding and reform package for housing and homelessness in California history as part of the $100 billion California Comeback Plan. The package includes $10.3 billion for affordable housing and $12 billion over two years towards tackling the homelessness crisis head-on – helping tens of thousands of people off the streets while also demanding greater accountability and more urgency from local governments.
The new homelessness funding includes $5.8 billion to add 42,000 new housing units through Homekey – a national model for homeless housing. $3 billion of this investment is dedicated to housing for people with the most acute behavioral and physical health needs. This investment is the biggest expansion in decades in terms of clinically enhanced behavioral health housing in California.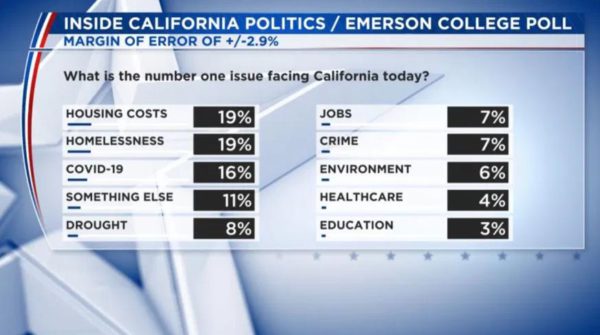 "I don't think homelessness can be solved – I know homelessness can be solved," said Newsom. "We are going all-in with innovative solutions that we know work – with a focus on creating housing to support people with severe mental health challenges, and with more money than ever to move people out of encampments and into safer situations."
California is home to more than a quarter of the nation's homeless people with an estimated 161,000 people are experiencing homelessness, according to federal government data, and it has reached crisis proportions in many cities, especially in Los Angeles.
Los Angeles Mayor Eric Garcetti announced in his annual State of the City address on April 19, 2021 that he will seek to spend nearly $1 billion on initiatives for addressing homelessness, as well as allocate $235 million for the city's Emergency Rental Assistance program, intended to help up to 100,000 households and other critical needs.
There are deep disagreements in how to solve a problem that goes beyond economics, advocates claim they can't house people quickly enough with a shortage of housing units and high rents. The issue is also further exacerbated by the complications of mental illness and addiction issues that require treatment and can make people resistant to accepting shelter.