Anti-LGBT Rohrabacher in Russian spy trouble
Putin's favorite congressman tied to secret agent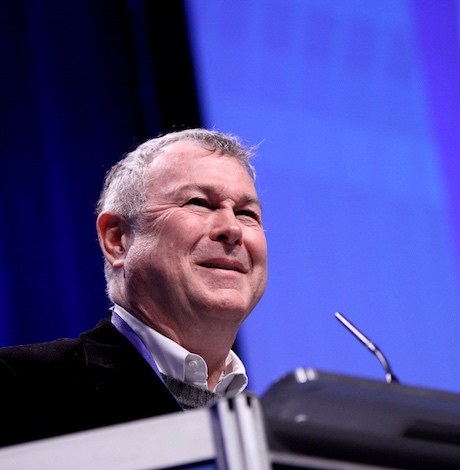 "There's two people I think Putin pays: Rohrabacher and Trump," said House Majority Leader Kevin McCarthy (R-Calif.) in a secret June 15, 2016 conversation on Capitol Hill about then-Republican presidential candidate Donald Trump and Rep. Dana Rohrabacher, the Orange County Republican long known for his ardent defense of Russian President Vladimir Putin and his knee-jerk antipathy toward LGBT people. House Speaker Paul Ryan (R-Wis.) cut McCarthy off and told those present to keep the remarks secret, according to a recording published by the Washington Post in May 2017.
No one ever accused McCarthy, the possible next Speaker, of being prescient. But Rohrabacher's name surfaced after the FBI arrested 29-year-old Maria Butina for being a Kremlin spy. The affidavit, released July 16, accuses Butina of using the National Rifle Association as a conduit to set up a back channel between Russian operatives and American congressional leaders and alludes to a meeting with a U.S. congressional delegation, now believed to be Rohrabacher and New York Democrat Gregory Meeks.
"I know I had dinner with [Butina] along with another member, along with a visiting delegation to Russia," Rohrabacher told Politico. "Is that something we should be worried about?"
Rohrabacher dismisses the indictment as "ridiculous," linked to the "deep state." But in 2012, Rohrabacher— dubbed "Putin's favorite congressman"—was warned by FBI and senior members of the House Intelligence Committee that Russian spies were trying to recruit him. Now he's linked to others being investigated by special counsel Robert Mueller, including former Trump campaign chair Paul Manafort; Russian lawyer Natalia Veselnitskaya; and WikiLeaks founder Julian Assange.
Democrat Harley Rouda, challenging Rohrabacher in California's 48th District, called the news "deeply disturbing," adding: "My campaign is not up for sale to the NRA," noting Rohrabacher's association with the NRA.
The news was also revelatory for LGBT politicos who have continuously battled with the unrepentant 30-year incumbent. Recently, during a lobbying conference with the National Association of Realtors (NAR), in Washington, the organization pressed Rohrabacher on whether he would endorse H.R. 1447, which would prevent housing discrimination on the grounds of sexual orientation and gender identity.
"Every homeowner should be able to make a decision not to sell their home to someone (if) they don't agree with their lifestyle," Rohrabacher replied, costing him NAR's support.
"What Dana Rohrabacher fails to understand," Rouda said in response, "is discrimination is discrimination. It shows how backward his thinking is."
That thinking was also exposed in the recent This is America feature for Showtime by English comedian Sacha Baron Cohen. Rohrabacher meets with Cohen, disguised as Col. Erran Morad, a former Israeli commando, who proposes a "kinderguardian" program that would guard against school shootings by arming children aged three to 16 with deadly weapons.
"Maybe having many young people trained and understand how to defend themselves and their school might actually make us safer here," Rohrabacher says.
Rohrabacher was not amused. "At no time did I endorse training toddlers in handling guns. Nor was the idea even presented to me directly. If it had been, I would have rejected it," he told the Los Angeles Times.
"In just the last few days, Dana Rohrabacher has advocated for arming toddlers with guns and been connected to a Russian spy living in the United States," Samuel Garrett-Pate, communications director for Equality California, wrote in an email to the Los Angeles Blade. "A couple months ago, he said homeowners should be able to refuse to sell or rent their houses to LGBTQ people. He has a long anti-LGBTQ record and has spent his 30 years in Congress taking taxpayer-funded trips to Moscow instead of getting results for his district. Orange County voters deserve better."
Garrett-Pate touted Rouda's performance in the state's hotly contested June primary election, as well as his success in raising money and winning over voters in the district.
Rouda and three other Democrats taking on vulnerable anti-LGBT Republican incumbents on the Democratic National Campaign Committee's target list in Southern California are out-performing their GOP rivals in fundraising, according to Politico. In the most recent numbers, Rouda beat Rohrabacher, $1.4 million to $294,000 (The Center for Responsive Politics' Open Secrets indicates Rouda has raised $2,686,620 overall to Rohrabacher's $1,746,614.)
In the must-win 25th District where bisexual Democrat Katie Hill is taking on Rep. Steve Knight, just as anti-LGBT as his infamous father Pete Knight (author of anti-gay marriage Prop 22), Hill brought in $1.3 million—more than triple the $442,000 secured by Knight; in the 39th, Democrat Gil Cisneros outraised popular Young Kim by about $3 million to $677,000 in the contest for retiring Rep. Ed Royce's seat; and in the 49th District for outgoing anti-LGBT Rep. Darrell Issa's seat, Democrat Mike Levin soared with $1 million to Republican Diane Harkey's $389,000.
"California Democrats are seizing on the unprecedented grassroots support we're seeing across the state to run competitive, well-funded campaigns," DCCC spokesperson Drew Godinich told Politico in response to the numbers.
Godinich's NRCC counterpart, Jack Pandol replied: "The more money that flows from Nancy Pelosi and wealthy Bay Area liberals to these Democratic candidates, the more we understand where their true loyalties lie." 
After the recent revelations about Russian interference in the 2016 elections and other spy infiltration efforts, asking where Rohrabacher's true loyalties lie may be a new top priority for voters in California's 48th District.  
Governor Newsom announces new gun safety legislation
In 2021, Calif. was ranked as the #1 state for gun safety by the Giffords Law Center, seeing a 37% lower gun death rate than national average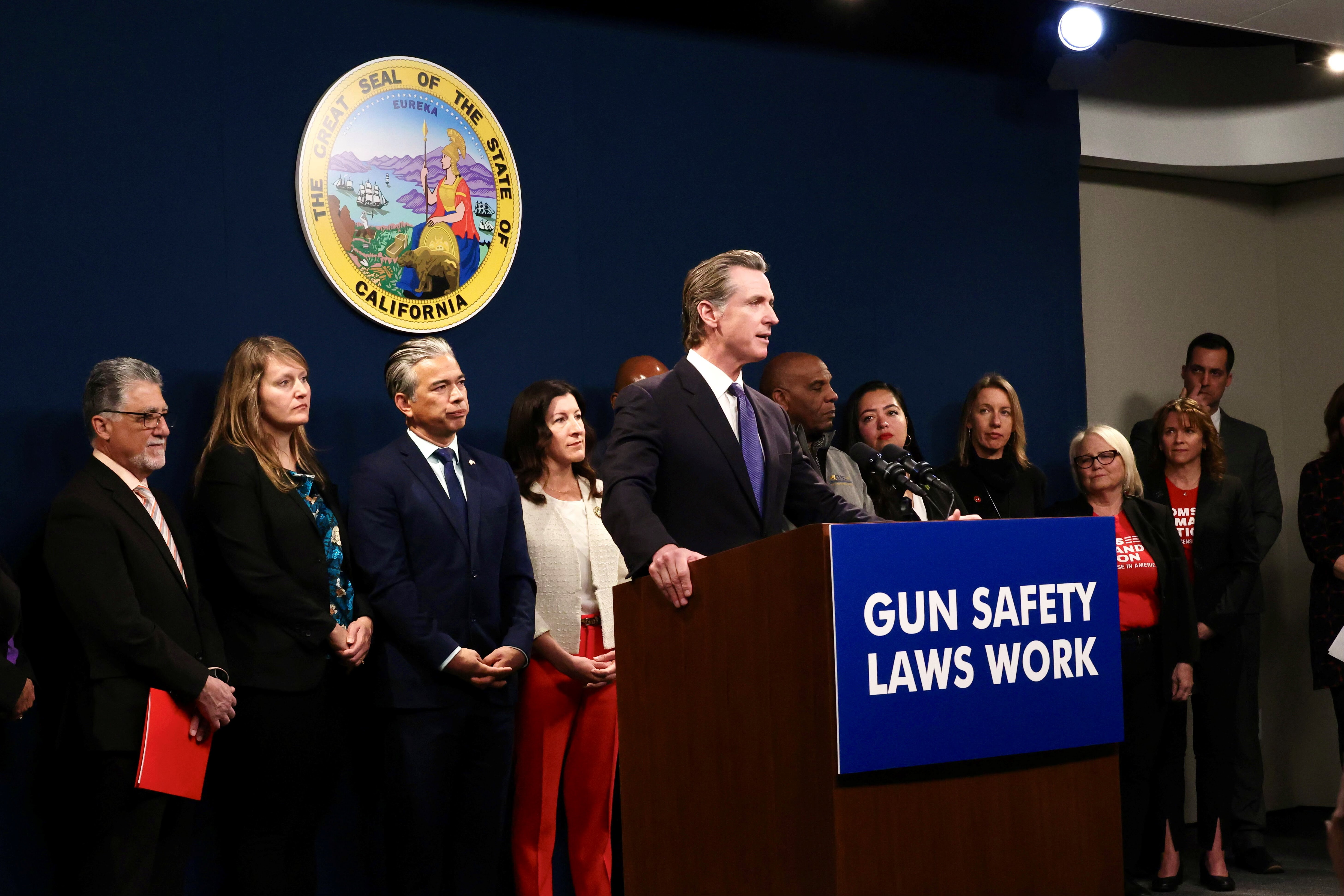 SACRAMENTO – In the wake of multiple mass shootings that took the lives of 19 Californians in just 72 hours last week, Governor Gavin Newsom, Attorney General Rob Bonta, and Senator Anthony Portantino (D-Burbank) announced new gun safety legislation to modernize and strengthen California's public carry laws.
"Only in America do we see the kind of carnage and chaos of gun violence that destroys our communities and our sense of safety and belonging," said Newsom. "America is number 1 in gun ownership and we far surpass every developed nation on Earth in gun deaths – it's not complicated. In California, we've passed common sense gun safety laws and they work: we have a 37% lower gun death rate than the national average. We're doubling down on gun safety and strengthening our public carry law to protect it from radical Republican attacks."
According to the Center for American Progress, efforts to weaken concealed carry laws across the country have increased violent crimes – with studies showing gun homicides increased by 22% in states that passed permitless carry laws and violent crimes with a firearm went up 29%.
Newsom signed a package of gun safety laws last year, making it easier for Californians to sue manufacturers of illegal assault weapons and those spreading them, allowing lawsuits against irresponsible gun industry members, strengthening prohibitions on ghost guns, as well as restricting marketing to minors. 
"The mass shooting incidents we have seen over recent weeks bring to light the need for stronger protections for our communities. The fact is, individuals who are not law-abiding, responsible citizens simply shouldn't possess firearms — and they especially shouldn't be allowed to carry a concealed weapon in public. When a gun is placed in the wrong hands, it is deadly," said California Attorney General Rob Bonta. "The Second Amendment is not a regulatory straightjacket — we must protect our communities. The time for thoughts and prayers has long passed, we need brave and immediate action by our leaders – here in California and beyond. We owe our community stronger protections. I urge our state leaders to quickly adopt SB 2. We can't afford to wait even one minute more."
Last June, the U.S. Supreme Court struck down a New York law, aspects of which mirrored California's public carry laws, and the legislation announced today – Senate Bill 2 by Senator Portantino – would make fixes necessary to update the standards and processes for obtaining a public carry permit in California.
Senate Bill 2 strengthens California's restrictions regarding public carry laws by:
Enhancing the existing licensing system – ensuring those permitted to carry firearms in public are responsible and law-abiding individuals;
Protecting children – setting a minimum age requirement of 21 years of age to obtain a CCW license;
Advancing stronger training requirements – ensuring proper handling, loading, unloading, and storage of firearms; and
Identifying certain sensitive public places – establishing safe community places where people should expect freedom from gun violence.
"In the wake of the recent tragedies in Monterey Park and Half Moon Bay and the continued threat of mass shootings, it's critical that California leads on the issue of gun safety and reform. I am proud to be working with Governor Newsom, Attorney General Bonta and activists on SB 2 to strengthen our existing public carry laws and ensure every Californian is safe from gun violence.  We must be diligent in addressing the gun violence epidemic in our country and public carry laws are a key component of this," said Senator Anthony Portantino.
California launched an 18-month campaign to promote gun violence restraining orders – "red flag laws" – that allow law enforcement, family, coworkers or friends to petition a court to temporarily remove weapons from people deemed dangerous to themselves or others. A study from the Violence Prevention Research Program at the University of California, Davis found that California's red flag law was used to stop 58 threatened mass shootings since 2016.
California's gun safety laws work. In 2021, California was ranked as the #1 state for gun safety by the Giffords Law Center, and the state saw a 37% lower gun death rate than the national average.
According to the CDC, California's gun death rate was the 44th lowest in the nation, with 8.5 gun deaths per 100,000 people – compared to 13.7 deaths per 100,000 nationally, 28.6 in Mississippi, 20.7 in Oklahoma, and 14.2 in Texas.
Moms Demand Action Founder Shannon Watts noted: "The Supreme Court's reckless Bruen decision opened up the floodgates for more guns in more places — but with this bill California once again renewed its commitment to being a national leader in the fight against gun violence. While the gun industry celebrated the ruling that put their profits over our safety, our grassroots army is proud to stand with our Gun Sense Champions in California to pass this critical bill and make our communities safer."
"Following the Supreme Court's egregious decision in the Bruen case, it is vital that the Golden State takes meaningful action to protect all Californians from the threat of gun violence. SB2 would do just this by updating and improving the state's already strong concealed carry license system, and ensure that loaded and concealed weapons are not allowed in certain sensitive places. With SB2, leaders in California are continuing their leadership in prioritizing the public health and safety of all its citizens," said Brady Campaign President Kris Brown, adding "Brady applauds Senator Portantino for introducing this important bill, and thanks Governor Newsom and Attorney General Bonta for their continued leadership on this issue, and urges the California legislature to pass it without delay."
Giffords State Policy Director Ari Freilich stated: "In the face of tragedy, California's leaders act. They've led the nation on gun safety reform and made California a much safer state than most. But today, grieving communities know all too well how much more work there is to do. California achieved an all-time record low gun fatality rate in 2019. But like the rest of the country, we have faced record spikes in gun sales and violence since the start of the pandemic and a flood of new weapons in public spaces as a result of the US Supreme Court's dangerous Second Amendment ruling last year. Passing SB (2) will strengthen communities' ability to respond to these threats by requiring stronger vetting and safety training to carry weapons in public and by designating vital community spaces like parks and playgrounds as off-limits to weapons throughout the state. We thank leaders like Governor Newsom, Attorney General Bonta, and Senator Portantino for their work and commitment to make all Californians safer and freer from violence."