July 19, 2018 at 2:45 pm PDT | by Staff reports
Extremists plan to picket Maxine Waters' LA Office
The Oath Keepers, a far-right anti-government group publicized a planned protest Thursday of California Democratic Congressmember Maxine Waters' South Los Angeles District Office on Twitter. The group said it intends to call Waters out as a "protest terrorist inciter," for her public criticism of President Donald Trump and his policies, especially on immigration issues involving the U.S. Immigration and Customs Enforcement agency. (ICE)
Via a series of tweets, the Oath Keepers stated that they intend to "stand against terrorism, stand for freedom of speech and association, in support of ICE/Border Patrol as they enforce constitutional immigration laws."
Former Southern Poverty Law Center senior fellow Mark Potok told the Los Angeles Blade that "the group espouses a number of conspiracy and legal theories associated with the sovereign citizen movement and the white supremacist posse comitatus movement." Potok described the group as "really just an anti-government group who believe in a wild set of conspiracy theories"
"The Oath Keepers would like nothing more than to inflame racial tensions and create an explosive conflict in our community." She added "It is best and preferable if no other demonstrations are scheduled on the same date and time as the Oath Keepers' planned protest," Waters said in a statement released by her Washington D.C. office Wednesday.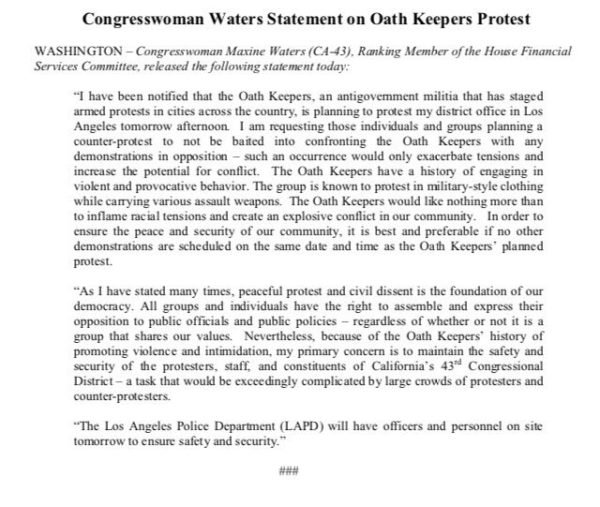 Waters also noted that the Los Angeles Police Department will be there "to ensure safety and security." LAPD Public Information Officer Rosario Herrera told the LA Blade the department was aware of the plan but no additional information on the protest.
"We have sufficient units throughout the city. So if anything arises we'll be prepared," Herrera said.
Reporting by the staff of the Los Angeles Blade and wire service reports