Rent control, housing on November ballot
California's LGBT residents often considered the invisible homeless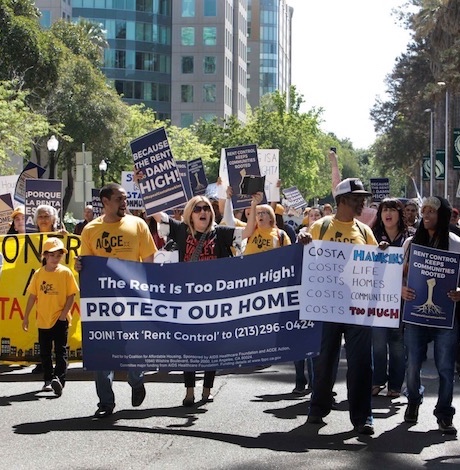 Here's a hypothetical: what if Democrats believed the polls and assumed Sen. Dianne Feinstein would easily win re-election and Lt. Gov. Gavin Newsom would easily win his gubernatorial contest against a Republican no one's ever heard of—what would motivate California Democrats to turn out to vote statewide in the November 2018 midterm elections?
What about rent control and affordable housing—voting on an initiative to repeal the Costa-Hawkins Rental Housing Act that many point to as one of the root causes of the homelessness crisis in California? It's a bread-and-butter issue that crosses partisan lines as unscrupulous developers and landlords threaten livelihoods and force individuals and families to spend half their paycheck on rent.
The demand for rent control was one of the reasons gays, seniors and renters formed a coalition to create the City of West Hollywood in 1984, to ensure that the city had a say in regulating such price gauging. The city has been lobbying against Costa-Hawkins since 1995. On July 31, the Los Angeles County Boards of Supervisors will consider a proposal for an interim ordinance to temporarily limit rent hikes to three percent annually in unincorporated LA County. The freeze would be in effect until the Board votes on a permanent rent regulation solution at the end of the year.   
California voters, meanwhile, will decide on Nov. 6 whether to approve Proposition 10, the Affordable Housing Act, which supporters say will help to address the state's growing housing crisis by allowing local communities to regulate rent control. The measure would effectively repeal the Costa-Hawkins Rental Housing Act —the 23-year-old law that prohibits cities and counties from setting limits on rent increases for buildings constructed after 1995 and, in Los Angeles, after 1978.
On July 15, 95 percent of the California Democratic Party's Executive Board members voted to endorse Prop 10, which is backed by the Alliance of Californians for Community Empowerment (AACE Action), the Eviction Defense Network (EDN), Los Angeles Mayor Eric Garcetti, and the Healthy Housing Foundation, a project of the AIDS Healthcare Foundation (AHF). Damien Goodmon, Director of the Yes on 10 campaign, and Director of AHF's Housing is a Human Right project, a subdivision of the Healthy Housing Foundation, told the Los Angeles Blade: "The time for rent gouging is over."  
Critics contend that housing problems in California will only be exacerbated by the repeal of Costa Hawkins—which, they fear, would scare away developers at a time in which new construction is sorely needed. California ranks dead last in housing affordability and its citizens spend more of their income on rents and mortgages than people anywhere else in America. At the same time, the lack of new residential projects in the state has driven up prices and worsened overcrowding in major cities like Los Angeles. 
"I am committed to building and preserving affordable housing," Garcetti told the LA Blade, "to meet growing demand in every way possible—including strengthening our rent stabilization ordinance and repealing Costa Hawkins—to protect people from being priced out of communities where they have invested so much of their lives. That is true especially of our most vulnerable Angelenos, including the LGBTQ community, who have been disproportionately affected by the housing crisis."
California's housing crisis has hit the LGBT community especially hard. LGBT youth, for instance, are 120 percent likelier to become homeless than their straight peers, according to a national survey of 26,000 young people released in November 2017 by Chapin Hall, a University of Chicago research and policy center. Additionally, according to True Colors Fund, of the nation's 1.6 million youth 18 and younger who were homeless at some point in 2017, 40 percent were LGBT, even though they represent only 7 percent of that youth population overall. 
In California, the number of homeless children in K-12 schools overall has jumped 20 percent from 2014-15 to 2016-17, according to data collected by the California Department of Education. "Based on questionnaires filed by their families, more than 200,000 young people were living on the streets, in motels, in cars, in shelters or crowded into apartments with other families due to financial hardship," EdSource reported last January.
"There's a myth of San Francisco as the 'gay mecca,'" Jodi Schwartz, executive director of Lyric, a nonprofit community center in San Francisco that serves LGBT youth, told EdSource "It can be. But just for some," who can afford it.  "Of the 600 mostly LGBT young people enrolled in Lyric's programs in San Francisco, 56 percent are homeless or have unstable housing situations and all are low-income," EdSource reported.
Additionally, research by the AIDS Medical Monitoring Project found that, in 2014, 12 percent of people in California who are living with HIV/AIDS were either homeless or unstably housed—which creates barriers to positive health outcomes, from HIV prevention to effective treatment.
Among the recommendations presented in a March 2017 paper by the Southern California HIV/AIDS Policy Research Center is the adoption of State Assembly and Senate bills that "remove certain development and zoning restrictions, boost funding for construction of affordable housing units, increase tax breaks for renters, increase rent control, and establish a richer supportive services portfolio."
Prop 10 appears to address at least some of those goals, but economists have pointed out that while rent control favors existing tenants, it raises rents on future occupants. A case study: San Francisco passed a local ballot initiative in 1994 that expanded the city's rent control policies, which in the short term saved tenants thousands of dollars per year.
"However," Stanford researchers wrote in 2017, "landlords of properties impacted by the law change respond over the long term by substituting to other types of real estate, in particular by converting to condos and redeveloping buildings so as to exempt them from rent control. This substitution toward owner occupied and high-end new construction rental housing likely fueled the gentrification of San Francisco, as these types of properties cater to higher income individuals."
The study and its findings have been criticized by AHF. "It's an article from Wall Street for Wall Street," Goodmon told the LA Blade, pointing out that two of the Stanford University professors are UBS and Goldman Sachs alumni, respectively.
"The speculators, Wall Street, the landlords," he said, "the people who are coming in, buying rent-controlled buildings, evicting [tenants], pushing them out, raising the rent, doubling it, tripling it in some cases…they don't want to see their profits cut into." 
Prop 10 is a referendum, Goodmon said, on whether these folks should have authority over decisions concerning housing policy, or whether this should instead be the domain of local communities and the representatives they elect. The Healthy Housing Foundation aims to wrest control from commercial developers and allow the democratic process to work out whether and how cities and small towns alike will enact rent control policies to address the housing crisis, he said. 
While it may seem like a departure for AHF to focus on affordable housing, Goodmon explained, it's actually a return to the organization's roots. AHF was originally founded as the AIDS Hospice Foundation and central to its mission was securing dignified housing for people who were dying of AIDS and affordable housing for those living with HIV—people who were routinely discriminated against, harassed, evicted or turned away by landlords and property owners. 
AHF aims to create 10,000 affordable housing units in the next five years through projects including the renovation of the Madison Hotel in Skid Row. "We're able to pull that off the speculative market," Goodmon said, "and make it permanently accessible to those who are homeless. We're also doing something similar on Sunset, where we bought a hotel and converted it into a facility for families who are homeless." 
"We've added another lane," AHF President Michael Weinstein said when asked about critics who say AHF should stay in its own lane. "Why is it that when a non-profit wants to help more people is that considered suspicious? AHF went from being a hospice organization to being a healthcare organization locally to being a national organization to being a global organization, from HIV and STDs, expanded into infectious disease, advocacy around Zika, Ebola and meningitis. This is a long and proud history of AHF meeting needs that no one else is addressing."
Weinstein says AHF is focused on the three "P"s—prevent, preserve and produce. "Prevention" starts with the Prop 10 initiative. "We can't have skyrocketing rents and hope to solve the housing issue in California or any other major city," he says. "Preserve" is fighting developers building luxury towers in working class communities and displacing people. And "Produce" is bringing more housing online.
"We've taken on the issue of affordable housing with gusto," says Weinstein. "I think it's one of the most critical issues we face as a society and we have very enthusiastic support from all levels in the organization from the board to the management to the staff to the clientele," noting that AHF be serving one million people sometime this year.
AHF has purchased three Single Room Occupancy hotels or motels in LA, with over 400 units in operation. "We estimate there are 5,000 empty SRO units in LA in the midst of this terrible crisis," Weinstein says. "What's been happening is that these owners feel that it's more valuable to kick the people out because they're under rent control and sell the building mostly empty. That would make it more attractive to buyers." That means there are "very valuable resources in these hotels that we have not been utilizing."
AHF is also trying to save Parker Center, the old LAPD headquarters downtown, and turn that into housing. The response, Weinstein says, "has been great, even among people at City Hall. They have to admit that spending $900 million on a city office building does not look good in the midst of this crisis."
Neither Equality California nor the Los Angeles LGBT Center has yet taken an official position on Prop 10.
L.A. County passes gun control measures after Monterey Park
"We must do absolutely everything in our power to prevent and put an end to gun violence in our community," said Supervisor Horvath
LOS ANGELES – The Los Angeles County Board of Supervisors unanimously passed a series of gun control measures in response to the mass shooting in the City of Monterey Park that took the lives of 11 people during the celebration of the Lunar New Year last month.
On Tuesday supervisors unanimously approved a series of motions authored by Board Chair Janice Hahn, Supervisor Hilda L. Solis, and Supervisor Lindsey P. Horvath to strengthen gun regulations in Los Angeles County and support gun safety legislation. This follows the Board of Supervisors' recent action to declare gun violence a public health crisis in Los Angeles County.
"We know that blame for the gun violence epidemic lies with the failure of Congressional leaders to pass even the most basic federal gun laws. Because they have not acted — we have found actions we can take at the county level to protect lives," said Chair Hahn.
"I intend to do whatever is possible to protect Los Angeles County residents, particularly following the tragedy in the First District community of Monterey Park. Gun-related violence will continue to cause mass damage, trauma, and harm if we do not take the necessary steps at all levels of government. This includes supporting key gun safety legislation like Senator Feinstein's recent action to reinstate the assault weapons and high -capacity magazine ban. Today, living in the United States of America means being at risk of becoming a victim of a mass shooting. To that end, time is of the essence," said Supervisor Solis.
"We must do absolutely everything in our power to prevent and put an end to gun violence in our community. Today's motions do exactly that," said Supervisor Horvath. "I'm proud to advance common sense gun safety guidelines and to join my Board colleagues in our continued demand to ban assault weapons and high-capacity magazines."
Item 2, authored by Chair Hahn, establishes ordinances to prohibit the sale of .50 caliber firearms and ammunition in the unincorporated areas of the County and prohibit the possession of firearms on County property, with certain exceptions. The motion also requests the Department of Regional Planning to prepare an ordinance to implement zoning regulations with a 1,000 feet buffer between firearm sellers and child-sensitive areas, as well as the Treasurer and Tax Collector to prepare the final amendments to the County code regarding business licenses to enhance the regulation of firearm and ammunition dealers in unincorporated areas of the County.
Item 8, authored by Supervisor Solis, directs the County's Chief Executive Office's Legislative Affairs and Intergovernmental Relations branch to send a five-signature letter to U.S. Senator Dianne Feinstein, with a copy to the Los Angeles County Congressional delegation, in support of S.14 and S. 25 ─ legislation to raise the minimum age to purchase assault weapons from 18 to 21 and ban the sale, transfer, manufacture, and importation of military-style assault weapons, high-capacity magazines, and other high-capacity ammunition feeding devices.
Item 15, authored by Supervisor Horvath, instructs County Counsel to draft an ordinance and report back to the Board of Supervisors on requiring all firearms in a residence be securely stored in a locked container or disabled trigger lock and draft ordinance language that would mandate liability insurance for gun owners. The motion also requests the feasibility of implementing a County gun database and asks that the Treasurer and Tax prepare an amendment to the County code requiring signs to be displayed with specific language warning customers about the risk associated with access to firearms wherever they are sold.
Item 56-A, authored by Chair Hahn, directs the County's Chief Executive Office's Legislative Affairs and Intergovernmental Relations branch to support SB 2 and SB 241 – state legislation that strengthens conceal-carry laws and requires federally licensed firearm dealers to complete annual training provided by the California Department of Justice.
According to the Gun Violence Archive, there have been 54 mass shootings in the United States since the start of the new year 38 days ago. This amounts to almost two mass shooting events a day.