July 30, 2018 at 1:58 pm PST | by Staff reports
Alaska Airlines overbooking infuriates The Abbey founder
A reservation and booking mix-up created a stir aboard a Los Angeles-bound Alaska Airlines flight at New York's Kennedy airport Sunday. David Cooley, founder and CEO of the famed West Hollywood nightspot The Abbey, says that he and his traveling companion were asked by airline personnel to switch seats "to make way for a heterosexual couple," according to a post on Cooley's personal Facebook page.
"I have never been so discriminated against while traveling before. I was removed from an Alaska Airlines flight #1407 from John F. Kennedy International Airport to LAX to give preferential treatment to a straight couple," Cooley wrote. "After my traveling companion and I had been seated in our assigned seats for a while, we were approached by the flight attendant and my companion was asked to move from his premium seat to coach, so a couple could sit together.
"I explained that we were a couple and wanted to sit together," Cooley wrote. "He was given a choice to either give up the premium seat and move to coach or get off the plane.
"We could not bear the feeling of humiliation for an entire cross-country flight and left the plane. I cannot believe that an airline in this day and age would give a straight couple preferential treatment over a gay couple and go so far as to ask us to leave."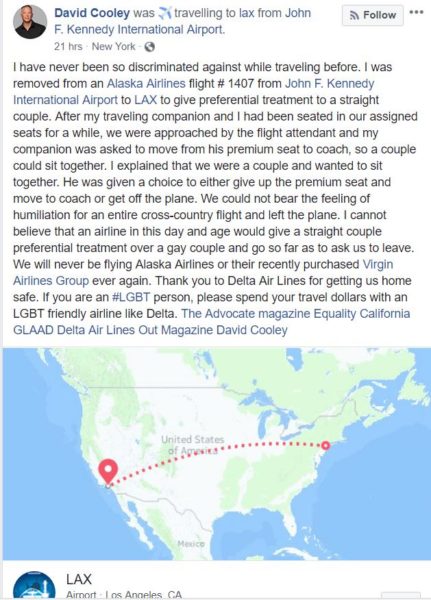 An Alaska Airlines spokesperson told the Los Angeles Blade on Monday that there had been a mix-up and an unintentional overbooking of one of the Premium, (First Class) seats on that flight.
"We mistakenly booked two people in one seat. We are deeply sorry for the situation, and are investigating the details while communicating directly with the guests involved to try and make this right," Bobbie Egan, External Communications Director for Alaska Airlines said by phone from Seattle, Washington. "Alaska Airlines has a zero-tolerance policy for discrimination of any kind, and our employees value inclusion for our guests and each other."
Egan indicated that the airline is still investigating the incident and has been in direct communication with Cooley. "We deeply regret this mistake aboard our flight."
Brian Rosman, a spokesperson for Cooley, tells the Los Angeles Blade in an email Monday afternoon: "We have not said anything beyond the original post on social media. If we do say something further, we will let you know. "
Reporting by the staff of the Los Angeles Blade and wire service reports.