'Parental rights' is back as a 'conversion therapy' talking point
Christian right links parents' right to fix child victim of sex abuse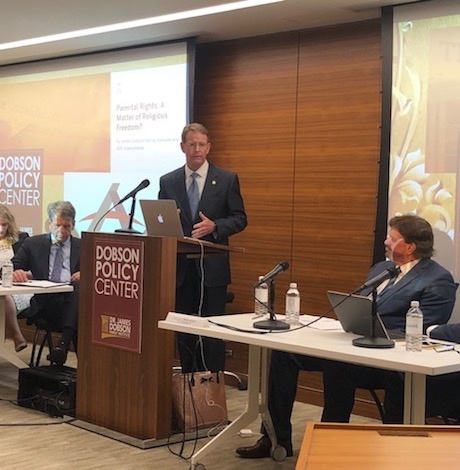 Five influential anti-LGBT Christian Right leaders presided over a symposium on the primacy of parental rights as core to religious liberty at the Museum of the Bible on July 26. The presentation was a satellite panel discussion in conjunction with the three-day International Religious Freedom Roundtable, a Ministerial to Advance Religious Freedom conference administered by the U.S. State Department in Washington, D.C. Among the dignitaries delivering remarks to the largely invitation-only main conference were Vice President Mike Pence, Secretary of State Mike Pompeo, and Ambassador-at-Large for International Religious Freedom Sam Brownback. 
"Parental Rights: A Matter of Religious Freedom?" was co-sponsored by the anti-LGBT James Dobson Family Institute (JDFI) and the Alliance Defending Freedom (ADF) International and featured Tony Perkins, head of the Family Research Council, who Senate Majority Leader Mitch McConnell nominated to serve as a commissioner on the U.S. Commission on International Religious Freedom at the State Department.
For about 90 minutes, the panel discussed "issues surrounding the fundamental human right of parents to provide care, custody, and control of their children," including regarding "questions of religious and philosophical convictions." The central question: "To what extent and at what point should a State intervene or even override parents' decisions or objections?"
"God-given parental rights" has long been a wellspring from which the Christian Right draws strength as a "natural law" that transcends the man-made laws of the state. In California, the anti-LGBT Christian lobbying group Capitol Resource Institute has often used parental rights to argue against sex education and LGBT history in schools, as well the rights of transgender students to have access to school facilities equal to other students.
Parental rights has also been used as the excuse for sending children to quack religious therapists and Christian camps for LGBT troubled teens to be "repaired," believing sexual orientation and gender identity are behavioral choices to be rectified.
California was the first to ban the practice of "reparative therapy" that had traditionally fallen under the purview of a family's religious beliefs. Then-State Sen. Ted Lieu, however, took testimony from medical and scientific experts who discredited "conversion therapy" for minors, calling it "psychological child abuse." When Gov. Jerry Brown signed Lieu's bill, SB 1172, on Sept. 29, 2012, he said: "This bill bans non-scientific 'therapies' that have driven young people to depression and suicide. These practices have no basis in science or medicine and they will now be relegated to the dustbin of quackery."
On July 24, Delaware Gov. John Carney joined California and 12 other states that have passed similar bans.
But the Christian Right is fighting back, focused now on an extension of that ban for adults and minors. California Assembly Bill 2941 by out Assemblymember Evan Low considers selling or advertising such "counseling" by state-licensed therapists as "fraudulent business practices."
The well-funded ADF submitted a legal memorandum opposing AB 2941 in March with ADF Executive Director Michael Farris bragging at the symposium about ADF's role in Masterpiece Cakeshop v. Colorado Civil Rights Commission and scores of other victories.
Panel moderator and JDFI Public Policy Director Jenna Ellis and JDFI Executive Director Dr. Tim Clinton elaborately railed against the California bill as a threat to their religious beliefs and fundamental rights as parents.
"That's been a huge issue in the United States right now," Ellis said, "and it's gotten national attention. This is a very dangerous bill and essentially, any book, any counseling, anything that discusses same sex attraction and is against that or trying to counsel away from that would be under the consumer fraud protection element of California's law. Basically, they're saying that's fraudulent, that belief, that understanding, and that counsel. That's what's at stake."
Ellis continued: "The people who are not interested in protecting religious freedom, who are not interested in protecting parental rights, they are very shrewd to not just openly say, 'We don't want you to advocate against same sex attraction. We don't want to advocate against these worldviews and moral issues that strike at the heart of traditional values and the family,' but they're willing so far as to say that this is fraud. That's what's going on in the United States and then even globally."
Clinton, a practicing psychologist, also referenced the canard that homosexuality is caused by sexual abuse during childhood and framed "conversion therapy" as a vital course of psychological treatment for victims.
"They want to take away any effort that a parent has to place that [confused] child in any type of 'counseling' or 'psychotherapy' to deal with what they're going through," Clinton said. "They're saying that you should not be able to do that….[Y]ou only can provide affirming therapy. If someone is struggling and has unwanted same-sex attraction issues or more—that you cannot pursue any kind of psychotherapeutic intervention."
Clinton then links child abuse with same-sex attraction. "Think just for a moment about Penn State University, a place where I grew up, close to," Clinton says. "Think Jerry Sandusky and think of all these young boys that he molested. Now, if you know anything about childhood sexual abuse for a moment, that when a child is abused, they can participate in this process and often get confused by it. There's an affirmation, there's sexual arousal, there's so much more that takes place in this, just for a moment."
The parent, Clinton argues, has the right to put the boy into "reparative therapy" to help him overcoming those desires, resulting from sexual abuse, that could result in him thinking he is gay.
"This is abuse. This is a violation of the law," Clinton says. "This is your son for a moment in this situation. When he comes back and if he is confused by what took place in that very process—should you or shouldn't you have the right to help him try to work his way through that particular journey in his life? That's the kind of stuff that we're dealing with" in fighting the California bill.
Controlling a child's intake of information is also critical, thus the emphasis on homeschooling.
"When you look at the issues in schools, private schools' and public schools' content," Michael Donnelly, Senior Counsel and director of global outreach at the Home School Legal Defense Association (HSLDA), asked rhetorically, "must content be religiously neutral? Must it be secular? Is secular neutral? I would say it's not. Theories of origins, creation versus evolution, marriage and life issues, requiring children to be educated in particular ideas regarding sexuality, gender ideology…Parental notification, in terms of communication, parental notification of important issues. Parental consent over certain issues."
The panelists also underscored the international nature of their mission. HSLDA's Donnelly and ADF's Farris (former head of HSLDA) traveled to Moscow in 2014 for the eighth World Congress of Families (WCF), an international Christian anti-LGBT umbrella organization. WCF is now headed by National Organization for Marriage President Brian Brown, who flew to Russia in June 2014 to support Duma member Elena Mizulina's anti-gay propaganda law and proposed anti-gay adoption ban. The WCF conference had been officially cancelled after Russia's annexation of Crimea, but went on under the auspices of local sponsors.
At a WCF panel—and again on July 26— Donnelly spoke about parental rights, the UN Convention on the Rights of the Child, and what he characterized as the dangers of government overreach—slamming European governments that took children away from their parents because the children were homeschooled instead of complying with mandatory government education laws. But Donnelly and company apparently have no problem with the Russian government separating children from their LGBT parents.   
ADF's Farris was pressed about that on Facebook. "When you publicly condemn the California law that prohibits parents [from] seeking counseling for their children to dissuade them from choosing to identify as homosexual," Farris wrote, "then I will consider amplifying my condemnation of the Russian proposal."
After the symposium, the Los Angeles Blade asked Donnelly about his trip to Russia two months ago. Did he discuss LGBT subjects such as conversion therapy or policy concerning transgender issues during the trip? "I did not have discussions about anything like that with anyone, no," Donnelly replied.
"I was wondering if this parental rights argument was created to kind of circumvent the findings from most mainstream American medical organizations that say that specifically 'conversion therapy' is ineffective and can be tantamount to abuse," the LA Blade asked.
"I don't think so. I think parental rights, as we've articulated here, are very deeply rooted in human rights law and practice, both in our country for centuries but also in international human rights documents and frameworks," Donnelly said. "So it's not been invented to cover anything. It's acknowledged in these human rights documents as being a fact."
"This was truly a Trump power-panel of evangelical policy hawks—even at a museum dedicated to the Bible," Charles Francis, president of the Mattachine Society of Washington, D.C., an LGBT history organization, emailed to the Los Angeles Blade. "Rebranded as just another 'parental rights' issue like homeschooling, harmful 'conversion therapy' was promoted as a 'liberty' or a parent's choice. No matter the new package, the powerful evangelical lawyers and advocates echoed decades of bad psychiatry and historic religious calumny that doomed generations of LGBT youth to damaged self-respect and second-class citizenship."
"As an history society dedicated to 'archive activism,' we have been researching the bad science and harmful religious practices to change peoples' sexual orientation—from electroshock and lobotomies to 'pray away the gay,'" wrote Mattachine Society's Pate Felts in an email. Felts and Shima Oliaee of New York-based production company Radiolab also attended the symposium doing research for an upcoming project. "We are committed to study this latest 'parental rights' rationale for harmful conversion therapy."
The State Department declined to comment on Commissioner Tony Perkins' participation in a symposium advocating "conversion therapy."
DeSantis education purge begins after school board takeovers
Ziegler, a co-founder of right-wing group Moms for Liberty, was one of two dozen school board candidates receiving endorsement from DeSantis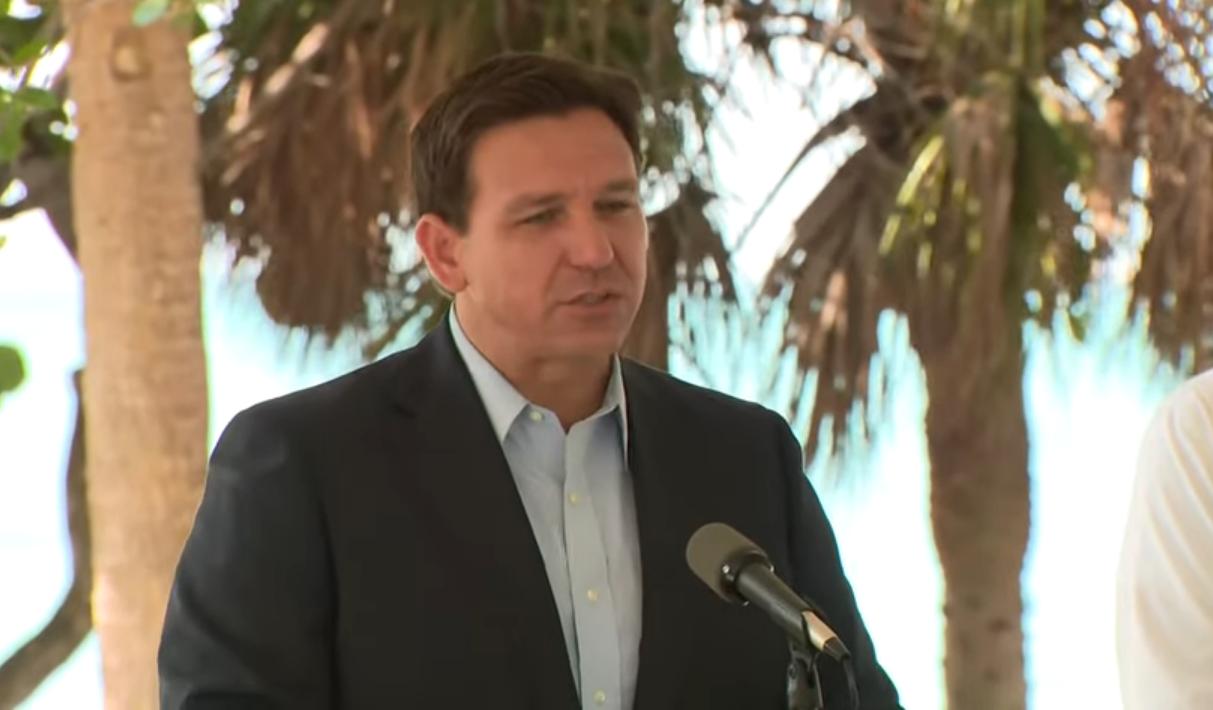 By Julia Conley | SARASOTA – Despite outcry from parents, teachers, and students, newly elected right-wing school board members in Sarasota County, Florida on Tuesday became the latest allies of Republican Gov. Ron DeSantis to oust a school superintendent over the district's adherence to public health guidance during the coronavirus pandemic.
Dozens of community members gathered at a school board meeting in Sarasota County on Tuesday evening to support Brennan Asplen, the superintendent of schools since 2020, whose contract was the subject of the meeting.
The board met the same day new members, including Chair Bridget Ziegler, were sworn in. Ziegler, a co-founder of right-wing group Moms for Liberty, was one of two dozen school board candidates who received an endorsement from DeSantis during the midterm elections. The majority of those candidates, who received $1,000 contributions from the governor, won their elections.
At the meeting, members condemned Asplen "for not pushing back on the mask mandate" that was in place for three weeks in 2021 after the school board voted 3-2 in favor of the mandate, making Sarasota County the first in the state to defy DeSantis' law blocking Covid-19 mitigation measures.
Quite a crowd gathered in front of the @sarasotaschools district building ahead of the special meeting to discuss the termination of Superintendent Brennan Asplen tonight.

Follow along for updates for the @HeraldTribune: pic.twitter.com/xcnoJ4a5ok

— Steven Walker (@swalker_7) November 29, 2022
On Tuesday the board ultimately voted 4-1 in favor of negotiating a separation agreement with Asplen, after another board member, Thomas Edwards, warned the move would be a "carbon copy" of a similar ouster in Berkeley County, South Carolina earlier this month.
In that case, new school board members who had been endorsed by Moms for Liberty voted to fire the district's superintendent and ban classroom discussions of racism in history and the present day.
Asplen is not the only school leader who has been pushed out of a superintendent position in Florida by DeSantis allies citing objections to public health protocols.
Five members of the Broward County school board this month fired Superintendent Vickie Cartwright over a grand jury report on the 2018 Parkland shooting. Like Asplen, Cartwright presided over the district during the pandemic and "faced frustration from some parents" over Covid-19 mitigation measures, which were implemented in violation of DeSantis' order.
All of the members who voted to fire Cartwright were DeSantis appointees following the removal of previous members after a school safety investigation stemming from the 2018 Parkland school shooting.
WUSF Public Media reported earlier this year that the county is undergoing "a transformational shift" with the governor's allies poised to take "a rare opportunity to advance conservative policy priorities in one of the state's most Democratic-leaning counties."
The superintendent of schools in Brevard County was also pushed out last week, hours after DeSantis-aligned school board members were sworn in.
Jonathan Friedman, director of free expression and education programs at PEN America, noted that parents from across the political spectrum have spoken out against the dismissals of school leaders in the Florida counties in recent weeks—"but to little avail."
Remarkably, local conservative parents have come out to these FL board mtgs to say they have been duped, did not vote for the ousting of their superintendents. But to little avail. The new playbook of total ideological control is in full swing. https://t.co/T9pFbL0kWA

— Jonathan Friedman 📚 (@jonfreadom) November 30, 2022
"The new playbook of total ideological control is in full swing," said Friedman.
Bill Kimler, a former candidate for state House in South Carolina, noted that a right-wing takeover of school boards like the one in Berkeley County "is happening elsewhere in the country."
"Every election cycle, we need to view school board positions with the same level of enthusiasm as we do the president of the USA," said Kimler. "Our kids' education cannot be left in the hand of extremists."
***********************************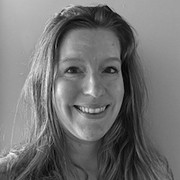 Julia Conley is a staff writer for Common Dreams.
The preceding article was previously published by Common Dreams and is republished with permission.