Kevin de León takes on Dianne Feinstein 
Says new leadership needed in the US Senate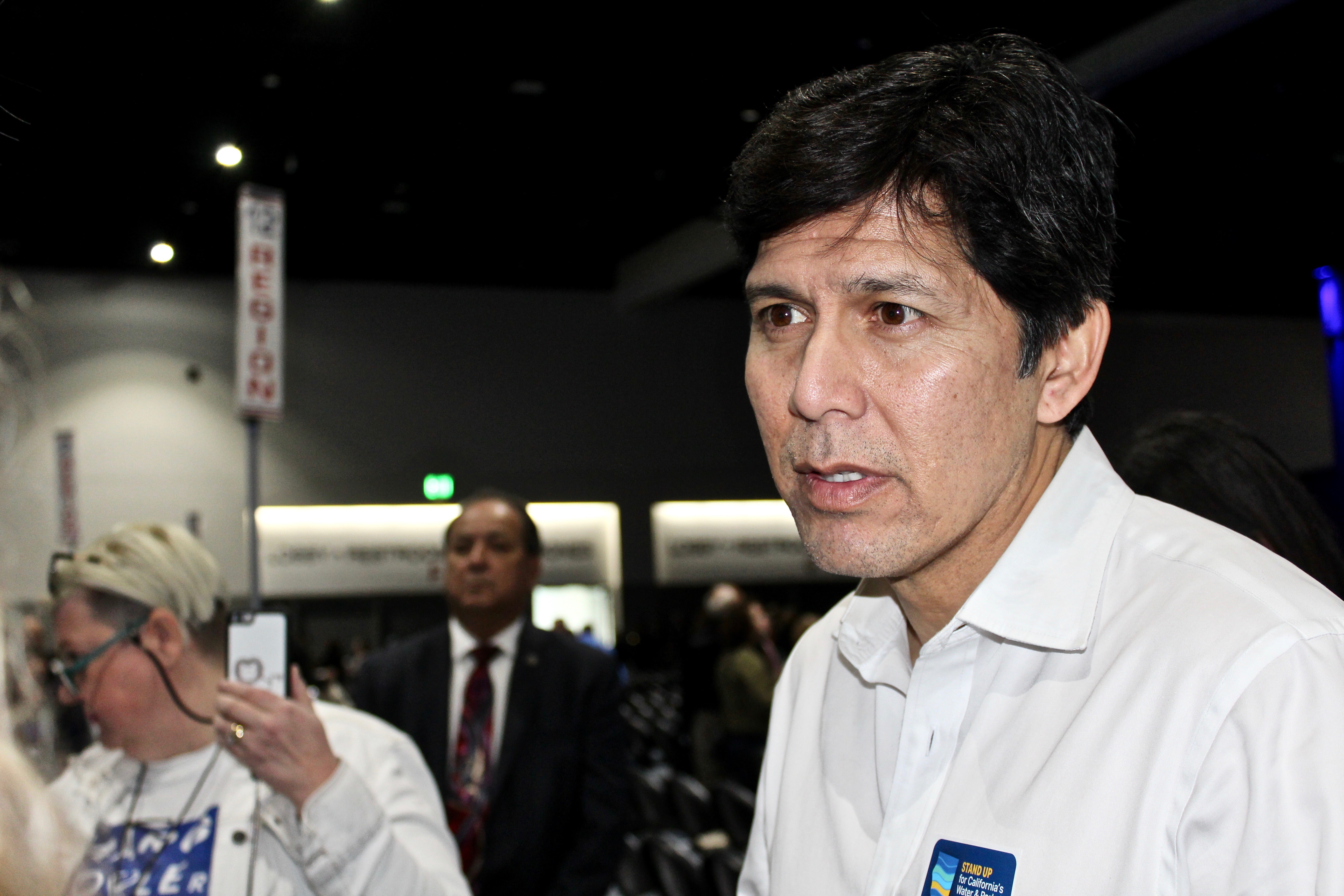 Sunday, Oct. 15, 2017. Kevin de León quells rumors and officially comes out as a candidate for the US Senate this November.  Headshaking ensues as seasoned politicos try to fathom challenging rich Democratic establishment icon Sen. Dianne Feinstein. It is disrespectful. It is divisive. Her seniority and years of deliberative, measured experience are needed now more than ever, they argue, to lead the charge against President Donald Trump and his chaotic administration.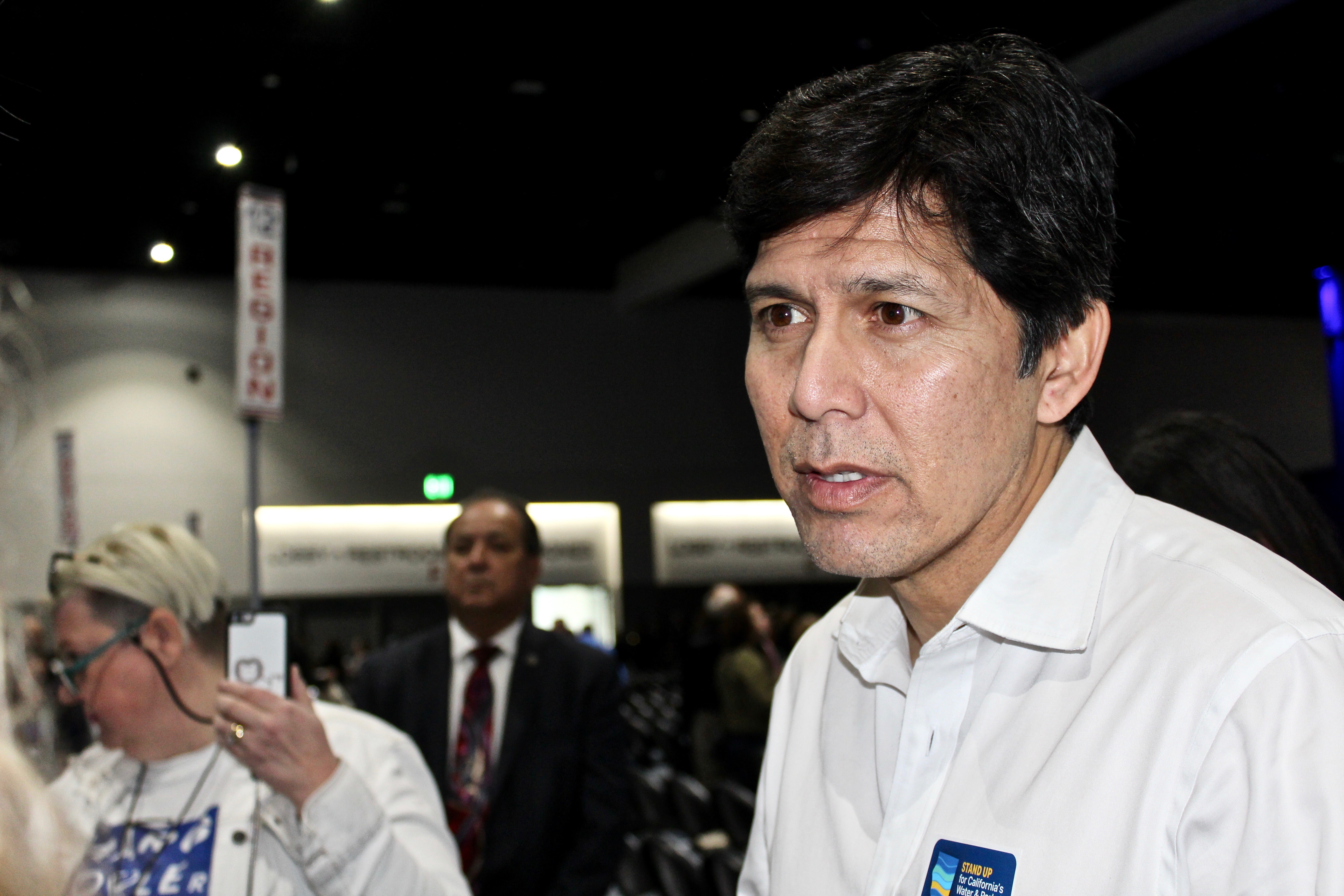 But progressive California Democrats are clamoring for bold, new energetic leadership to vigorously push back against Trump's cruel Tweet-policies on immigration, climate change, healthcare and full LGBT equality. To them, de León is a champion who stands in sharp contrast to the patrician Feinstein.
Born in Los Angeles of Guatemalan and Mexican descent, raised by a loving, hard-working single mother, de León, 51, got an education and rose to become the President Pro Tem of the California Senate, authoring and passing legislation and making history. It was his bill that Gov. Brown signed into law making California a "sanctuary state"—a law that was recently upheld by a federal appeals court.    
"Dianne Feinstein is one of the most conservative senators in the Democratic caucus," RoseAnn DeMoro, executive director of the progressive National Nurses United, told CNN. "And in the age of Trump, a state as progressive as California deserves the most progressive senators….It's not her powerful position, and she is powerful, but we need someone who reflects today's values as a leader. It's not the age thing. It's the political thing. I don't think she's in this for the long haul."
Feinstein is 85 and the age thing might matter to younger voters. An AP-NORC/MTV poll released July 30 indicates that most Americans ages 15 to 34 are looking for young leaders and think the midterm elections will give them a say in how the government is run. Jolted by a real estate developer/Reality TV star becoming president, they realize that all that progress under Barack Obama could be nullified by a stroke of Trump's magic marker.
Youthful enthusiasm exploded at the California Democratic Convention last February as giggling young delegates angled for a quick selfie with Feinstein—then yelled, waved tons of signs and voted for de León. Feinstein's missteps still rankled—rudely telling her "time's up," as she closed her remarks onstage. They appeared unforgiving of her calling for "patience" around Trump's novice presidency during an Aug. 29 appearance last year at a Commonwealth Club event in San Francisco.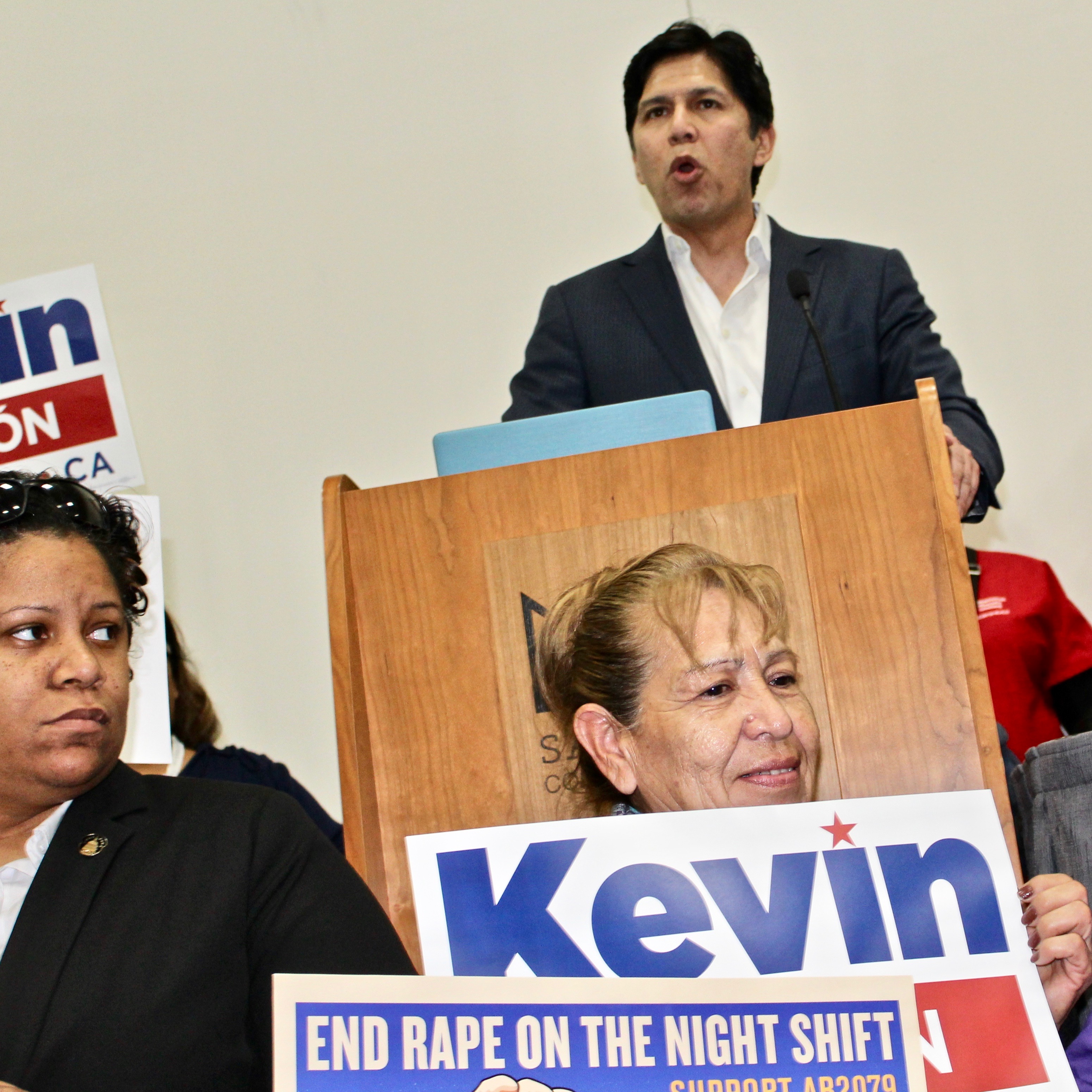 "I don't think children who breathe dirty air can afford patience," de León told CNN. "The LGBT worker or woman losing their rights by the day or the black student who could be assaulted on the street, they can't afford patience. 'Dreamers' who are unsure of their fate in this country can't afford patience."
"We don't owe Trump patience. We owe Californians resistance," he told the Los Angeles Times.
De León shocked the nation by winning 54% of the roughly 2,800 California Democratic Party activists at the convention, depriving Feinstein of the expected CDP endorsement. But Feinstein rebounded in the June primary, winning by 26 points. De León won the next round, however, securing 65% of 333 ballots cast by the party's executive board. He now gets his name and photo on official CDP door hangers, slate mailers and email blasts, among other endorsement benefits.
"Earning the endorsement of so many leaders and activists of the California Democratic Party isn't just an honor and a privilege; today's vote is a clear-eyed rejection of politics as usual in Washington, D.C. Through years of hard-won progress, we have proven to the world that California can forge a path for the rest of the nation," said de León.
Feinstein's camp brushed it off, noting her strong win in the primary and a slew of polls that suggest she's a shoe-in for re-election. But de León has been on the ground in the state for years, cultivating union and immigration organizers, gun control advocates, educators, environmentalists, and a slew of friends and leaders in the LGBT community.
"I've always been very close to the LGBTQIA (lesbian, gay, bisexual, transgender, queer, intersex, asexual) community even before I even knew all the initials that keep growing," de León says with a laugh during an extensive phone interview with the Los Angeles Blade. "It's always been my core set of values that every human being deserves a real opportunity to succeed, regardless of who they love and regardless of the hue of their skin and regardless of their legal status. That is embedded in my DNA."
De León learned to care about LGBT people as a child from his mother and aunt around the kitchen table.
"My mother got a third grade education and my aunt even less," he says. "I was very young and they were talking about a gay friend, a colleague of theirs. I didn't understand. Obviously, they didn't understand themselves. But they spoke with such affection, such tenderness. And here were two immigrant women with limited formal education and the way they spoke so lovingly, tenderly, beautifully about their gay friend. I could deduce the person they were talking about was gay—they kind of spoke in code around me when I was just sitting there listening to them at the kitchen table. And it transcended ethnicity and legal status and poverty—that we're all human beings and we deserve dignity and respect. That had an 'Ah Ha' impact."
De León's LGBT education continued as he picked his mother up from her work as a housekeeper at convalescent homes. "She had quite a few gay colleagues with her and I just remember they were just so beautifully nice with my mother and my mother with them and that had a huge impression on me of the universal values of treating everybody with dignity and with respect. So when there is a discriminatory blow against anyone in the LGBTQIA community, I feel that blow equally."  
Today, de León feels Trump administration's harmful reversal of LGBT progress.
"I feel that blow because what this president has done since day one is to use the power of the White House to defile this nation and pit one group against another and to reopen old wounds," he says. "Clearly, we still have a long way to go for full and equal rights, not just legally but in society's perceptions of our LGBTQIA community.
"But it is very clear that this president, in a very calculated way, is continuing to evoke these feelings of homophobia in our country— just exactly the way he has done with the anti-immigrant fervor that he has reawakened," de León says. "He's doing the same thing in our LGBTQIA community by eliminating any mention of LGBTQIA policies and programs that were in the previous administration from the White House website.
"That is a complete revisionism of our history," he continues. "No matter how difficult our history has been, to completely eliminate one's presence, one's pain, one's fight for equality manifested through policies that improve the human condition for all individuals—it's very clear that this is a war, this is a war to fan the flames of homophobic sentiment throughout the country."
De León notes that homophobia crosses party lines. "I moved [Assembly Resolution 15, the Uniting American Families Act] condemning the policies out of Washington, D.C.. This is pre-Trump. Men and women, particularly from south of the border, who were fleeing their home states because they were being persecuted and were victims of extreme violence, or had to witness their loved ones, their friends, their partners murdered in cold blood because of who they loved or because their identification or preference—and the federal government was grotesquely guilty in not facilitating the application asylum process for these men and women who were seeking asylum."
De León chalked it up to ignorance, insensitivity. "But this president has taken it now to a higher level," he says. "In our history books, in high school, in college, we read about Executive Order 9066, the Internment of Japanese Americans. We read about the Chinese Exclusion Act. We read about Stonewall. We read about Jim Crow laws. We read about Operation Wetback. These are things that we read about in our history books. We never would have thought that we would be witnessing it, in real time in 2018, by an American government perpetuating these awful, gross human rights violations."
De León wants to take that awareness to the US Senate. "From day one when this president was elected," he says, "I made it clear as leader of the Senate of the largest state in the nation, that I would help lead the resistance. But not lead from patience in the hope that this president could be a good president in the near future, as the senior senator from California has articulated publicly. But to do everything within my power to protect our economic prosperity, our progressive values and our people."
Trump is a "clear and present danger to Californians and to the nation—but especially our home state because by a margin of two to one, we reject the politics fueled by resentment, fueled by homophobia, fueled by bigotry, fueled by misogyny," he says. "And that's why the LGBTQIA community will have a voice on the front lines…someone who's proactive."
Current polls favoring Feinstein are not discouraging. "We're generating a lot of excitement among young people and LGBTQIA members and Latinos and African Americans and others who have been disenfranchised and marginalized in our great state," says Kevin de León. "So we're excited."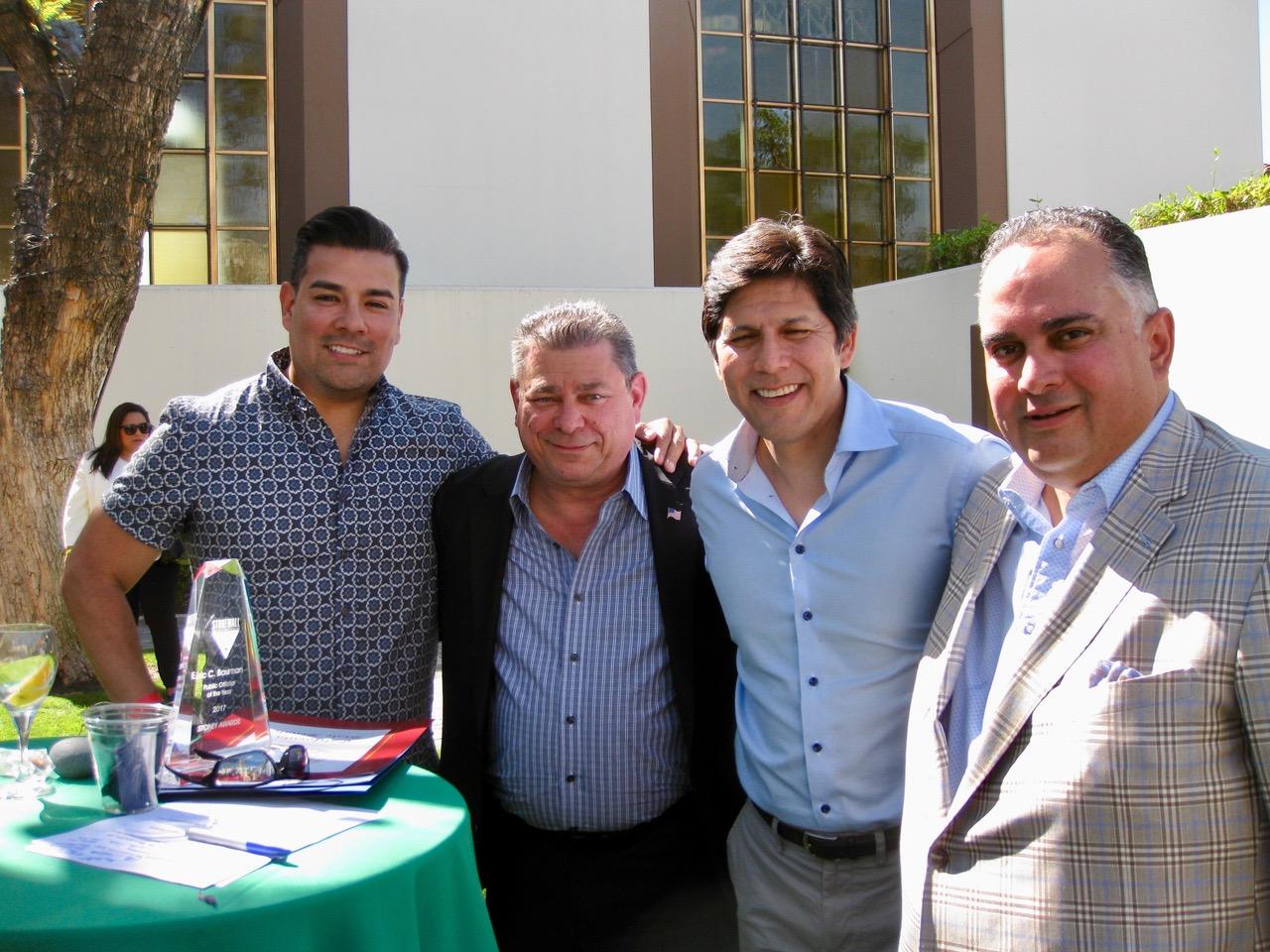 California Rep. Eric Swalwell on death threats from Tucker Carlson fans
"He does this because he knows that his followers will be inspired & radicalized & then aim their vitriol at whoever he is attacking"
WASHINGTON – Appearing on MSNBC's Deadline: White House, on Friday, U.S. Representative Eric Swalwell, (D) who represents California 15th which covers most of eastern Alameda County and part of central Contra Costa County, detailed the death and other threats he receives from fans of Fox News host Tucker Carlson.
"We receive hundreds of threats. What was specific about this was the caller identified he had just been watching Tucker Carlson. Now, we get a lot of threats that come in as Tucker Carlson attacks me, but this person identified he had just heard from Tucker Carlson. He was now calling my office and then of course dropped a number of racist, sexist, homophobic epithets in the call, and then threatened to kill my entire family," Swalwell said. "And what is so frustrating about this, Nicole, is that I have personally, eyeball to eyeball, asked Tucker Carlson not to lie about me on his show because of this effect."
"I've even in the last couple months sent a text message to him telling him when he lies about me on his show it results in death threats to me, my wife, and our family. And when he had people protesting outside his house just a couple years ago I went on Twitter despite not agreeing with almost anything he says and I said that that's wrong to go to his house and terrify his wife in the way that that happened. But he does this because he knows that his followers will be inspired and radicalized and then aim their vitriol at whoever he is attacking that day," the congressman added.
Tucker Carlson: "Biden declared biological man is now a female admiral"
"And so you have to ask yourself, how long will it be before Joe Biden appoints his horse to the Supreme Court"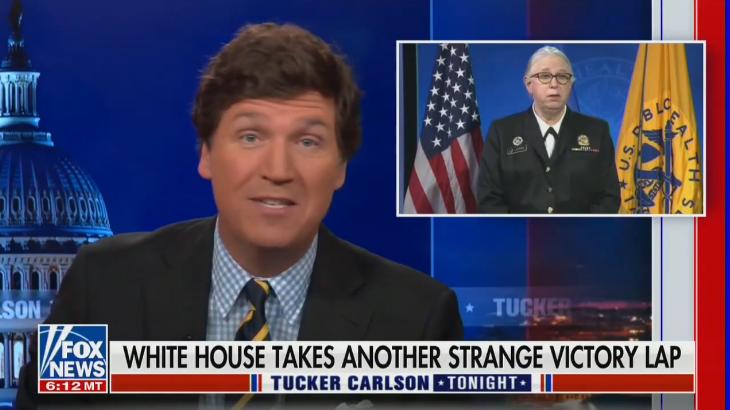 NEW YORK – In a diatribe delivered Thursday evening, Fox News and anti-LGBTQ celebrity Tucker Carlson called out the swearing in earlier this week of Admiral Dr. Rachel Levine as a commissioned officer in the uniform corps of the U.S. Public Health Service, (USPHS).
Levine, the U.S. Assistant Secretary for Health at the Department of Health and Human Services is now also in charge of the 6,000 uniformed personnel of the USPHS.
On his show last night Carlson said: "Behind the heavily guarded walls of the White House, everyone has gone crazy. Just this week the Biden administration declared that a biological man who wears a dress is now a female admiral.
"And then they sent that brave four-star female admiral out to deliver a speech that read like something out of a D-Day documentary.
"Come on. They're daring you to sit there and not say this is ridiculous. But it is, sorry. It is ridiculous. Sorry, not playing along!
"But they don't think it is. And so you have to ask yourself, how long will it be before Joe Biden appoints his horse to the Supreme Court?
"And when he inevitably does do that, you have to ask, how long will it be until CNN informs us, 'This is a watershed moment for equine rights.' Don't you dare laugh. That would be a hate crime."
Tucker Carlson Mocks Promotion of Transgender Admiral: 'How Long Will It Be Before Joe Biden Appoints His Horse to the Supreme Court?' https://t.co/Qg1Fj54thu

— Mediaite (@Mediaite) October 22, 2021
Mediate has the video here.
Trans candidate endorsed for state senate by EQ California & Victory Fund
"A victory for Lisa will shatter a long-standing political barrier in California and will be a milestone moment for the state"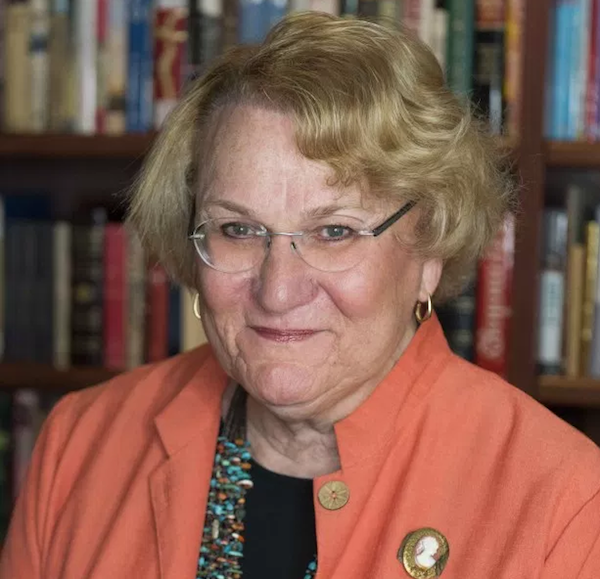 PALM SPRINGS –  Equality California and LGBTQ Victory Fund jointly announced their endorsements of Palm Springs Mayor Pro Tem Lisa Middleton in her race for California Senate District 28 Thursday.
The endorsements demonstrate an early commitment from the LGBTQ political community to elect Middleton, who would be the first out transgender state legislator in California history. In 2017, Middleton became the first out transgender person elected to a non-judicial position in California, when she won her race for Palm Springs City Council.
Only eight out transgender people have ever been elected to state legislatures in the United States. All are currently serving.
"Lisa Middleton is an accomplished leader who has made her region more inclusive, just and equitable," said Equality California Executive Director Tony Hoang. "That's why Equality California is thrilled to announce our early support for Lisa's campaign for Senate. The 28th District needs Lisa's courage, innovative thinking and unique ability to build coalitions in Sacramento, where she will be a trailblazing champion for full, lived equality while delivering critical resources to her community. We're with Lisa 100 percent and look forward to helping her make history once again as California's first transgender state legislator."
"A victory for Lisa will shatter a long-standing political barrier in California and will be a milestone moment for the state and the country," said Annise Parker, President & CEO of LGBTQ Victory Fund. "Yet Lisa is not running for state senate to be a trailblazer. She is a passionate public servant who brings solutions-oriented optimism to challenges big and small – from filling potholes to healthcare access to climate change. Her constituents' quality of life will always be the priority, but Lisa's election will also inspire a new generation of trans leaders to follow in her footsteps."
"I am deeply humbled and thrilled to receive the joint endorsements of Equality California and LGBTQ Victory Fund," said Lisa Middleton. "Since launching my bid for State Senate, the profound, extensive support I've received from the LGBTQ community has been a tremendous honor and boost to my campaign. I remain committed to being a leader who helps to unify and proudly stands for respect, inclusion and opportunity and that my campaign can also show the transgender community that nothing is out of reach, and we can win at all levels of government. I look forward to hopefully partnering with both incredible organizations in Sacramento to continue being an unrelenting advocate for our community and fighting for full, lived equality."
As Mayor Pro Tem and a member of the Palm Springs City Council, Middleton ensured PPE and vaccines were available to residents, led efforts on solar requirements for all new homes and worked to address inequities in the city – including the unique challenges LGBTQ+ seniors face.

Middleton's primary will be held on June 7, 2022.