August 8, 2018 at 8:49 am PST | by Mariah Cooper
Gay man kicked out of Las Vegas pool because of 'inappropriate' swimwear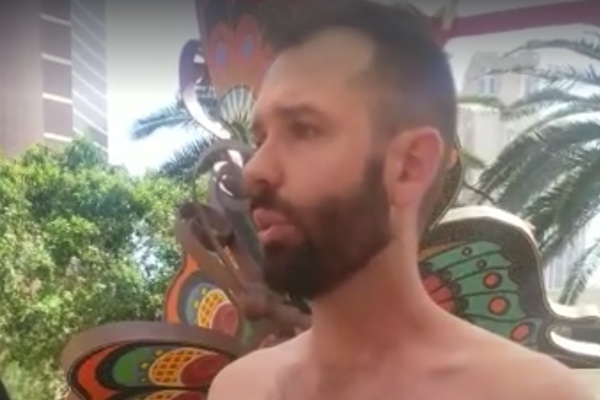 A gay man was kicked out of a Las Vegas pool party for wearing "inappropriate" swimwear.
Chris Donohoe shared a video on Facebook of him being kicked out of the Encore Beach Club at the Wynn in Las Vegas. In the video, Donohoe is told that he can't wear a speedo at the pool. Donohoe defends himself by saying that he isn't wearing a speedo. He believes he was targeted because he's a gay man.
"Yesterday I was kicked out of the Encore Beach Club for being gay. I was made to leave the pool for wearing a Mr Turk bathing suit that they said was not 'in integrity' with the brand of the pool party. In other words, I was kicked out for being a gay man wearing a bathing suit that was just a little too gay for the The Beach Club Encore Las Vegas to tolerate. Take a look at this video where I'm told that my clothing is not in 'integrity' with the pool party brand," Donohoe captioned the video.
He concluded: "This is what homophobia looks like. I was up all night because I couldn't sleep from being so upset. I've cried so much. At the end of the day it is ABUNDANTLY clear that LGBTQ+ people are not welcome at Wynn Las Vegas . Please repost and share this video. I'm going to pursue this to the fullest extent possible until LGBTQ+ people are no longer policed and discriminated against at the Wynn Las Vegas."
Encore Beach Club's dress code policy states on its website "No risqué or indecent swimwear is permitted; management reserves all rights to determine appropriate attire. Proper swim attire includes: Swimming suits."
Michael Weaver, CMO Wynn Resorts responded to the incident in a statement to Yahoo Lifestyle:
"In order to maintain a five-star experience, Wynn Las Vegas requests that guests adhere to certain dress code policies throughout the resort. In the Encore Beach Club, we had a policy, clearly posted at the entrance, which prohibited Speedos. Upon receiving a guest complaint, we reviewed the policy and have changed it. The new policy will allow Speedos, but will prohibit risqué and indecent swimwear for both men and women. We will include the new policy on entry signage, as well as the club website, in order to help guests plan appropriately and enjoy a welcoming environment. We apologize to the guest who was affected by our previous policy.
Regarding LGBTQ+ guests, our policy has been clear and consistent for years: Wynn welcomes and appreciates all of our LGBTQ+ guests. Decisions to enforce policies are solely based on guest behavior, or in this case, attire. We have always and will continue to apply attire policies equally to all of our guests, regardless of sexual orientation."
Donohoe also posted a video on Facebook shared with him by Juan Casado. Casado, who is also gay, alleges that he was discriminated against, not for being gay, but for being a man. In the video, Casado is seen dancing on a platform in the pool before he is pushed into the pool by security. According to Casado, this was because only women are allowed to dance on the platform.