August 8, 2018 at 11:02 am PDT | by Karen Ocamb
Trump moving to limit legal immigration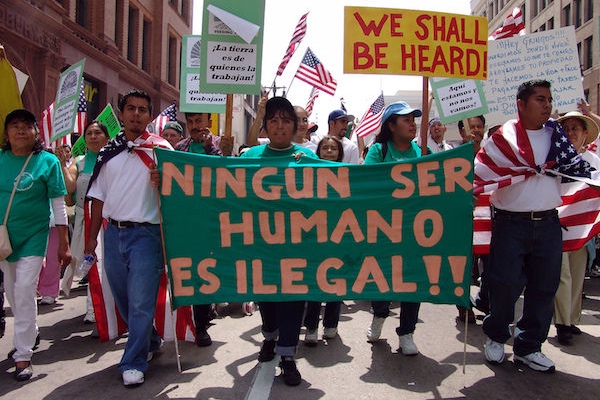 "You will not replace us! You will not replace us!" shouted hundreds of tiki-torch-carrying white supremacists and neo-Nazis marching to a Unite the Right rally in Charlottesville, Va., last Aug. 11. The violent melee that resulted in three dead the next day shocked America, exacerbated by President Trump saying there were "very fine people on both sides." That racist sentiment is becoming policy as the Trump administration moves to restrict green cards and legal immigration. 
The policy appears to be the brainchild of Trump's senior immigration adviser, Stephen Miller, who grew up in a Jewish family in Santa Monica after his grandmother's family fled anti-Jewish pogroms in the then-Russian Empire. Miller became a radical conservative while attending Santa Monica High School, telling fellow Latino students to only speak English. At Duke University, he befriended Richard Spencer, who would go on to become a national star in the white supremacist movement. Spencer called Miller a "mentor" in a 2016 interview with Mother Jones. The New York Times called Miller the 'True Believer' behind scuttling the bipartisan immigration reform bill as communications director for then-Sen. Jeff Sessions. Under Trump, he was responsible for the cruel family separation policy, which has left 572 children still in government shelters. Now, Attorney General Sessions plans to appeal a judge's order to reinstate the DACA program set up for undocumented immigrants brought to the US as children.  Meanwhile, Unite the Right plans another rally in Washington, D.C. on Aug. 12.
The LGBT Latino community in Los Angeles is mobilizing to help. "An often called for solution for the immigration conundrum is for people to follow the rules and get in line to gain legal status. Now, the Trump administration has revealed its intention to deny those who are in line for legal immigration the opportunity to do so by literally applying new meaning to the rules and effectively moving the immigration goal post on them. There is even a move to take away citizenship from already naturalized citizens!, Ari Gutierrez, co-founder of the Latino Equality Alliance, tells the Los Angeles Blade.  
"As with DACA, there is no rational explanation for these draconian policy changes that will result only in more distrust, fear and legal limbo for millions of US residents and push undocumented and now documented immigrants further into the shadows," Gutierrez says. "At the community level, we are doing what we can to support our LGBTQ immigrant community.  The Latino Equality Alliance (LEA) is working with various community partners to provide legal, financial and emotional support resources to the LGBTQ immigrant community."
On Aug. 16, LEA and Mi Centro are hosting a special free "Know Your Rights" event for Undocumented Queers in need of services, information or who want to help. Go to Latino Equality Alliance on Facebook for more information.