November 20, 2018 at 12:57 pm PST | by Karen Ocamb
Schiff takes on Trump and truth
It's come down to this: name-calling. Literally.
California Rep. Adam Schiff appeared on ABC's "This Week" Nov. 18 explaining that Democrats intend to challenge President Donald Trump's appointment of Matt Whitaker as acting attorney general. A former federal prosecutor who becomes chair of the House Intelligence Committee in January, Schiff said the appointment is unconstitutional.
Trump responded like a spoiled five year old, calling Schiff "little Adam Schitt" in a tweet. "That's a good one. Was that like your answers to Mr. Mueller's questions, or did you write this one yourself?" Schiff tweeted back, referring to special counsel Robert Mueller's investigation into Russian interference in the 2016 election.
Even Trump ally Laura Ingraham called the name-calling "an unforced error" on her Fox News show, saying it detracted from his accomplishments. But it also caused real life pain. "Just want to point out all the kids in school with the last name #Schiff getting bullied and name called #Schitt today because of the president of the US. I know because my nieces are Schiffs. "#BeBest" film producer Laurie David tweeted.

Schiff recalls the spontaneous rally at the LA LGBT Center the night after the election where people were "despondent and fearful of what this meant for the future." And in so many ways, Schiff tells the Los Angeles Blade in a phone interview, "the reality of the next two years proved every bit as bad, in some ways worse, than what we feared. It really takes your breath away."
Schiff is keenly aware of Trump's attacks on the LGBT community, including the "Twitter change in policy regarding transgender patriots serving in the military" and the proposal to redefine "transgender."
"The administration's efforts to define the transgender community out of existence is among its most pernicious acts," Schiff says. "It's just appalling. We are going to obviously fight this tooth and nail."
Trump's attacks helped create the coalition that won Democrats the House in the midterm elections. "People throughout the country recognized that an attack on the most vulnerable among us is an attack on all of us," Schiff says. "And any one of us could be among the most vulnerable at some point in their life. And so we'll fight this legislatively, we'll fight this in the courts, and we'll fight this until we succeed and we will succeed."
Schiff adds forcefully: "The transgender community is not going away. It won't be defined away. It won't be intimidated away. It won't be legislated away. And we're going to be doing everything we can in the majority to protect the community."
Schiff is "thrilled and grateful" that the House flipped convincingly to a Democratic majority "to provide a check on this president," he says. "I think that this presidency and the threat that it presents to our democracy motivated people like I've never seen to be involved."
From small group meetings in his district to fundraisers for candidates around the country, Schiff worked hard for that win. And he was impressed with the LGBT turnout."Schiff has raised nearly $5.5 million for candidates and the Democrats' House campaign arm this cycle, according to his campaign, more than any House member outside of the congressional leadership," the LA Times reported last Oct. 16. "He's stumped for candidates in 23 states this year, including Arizona, Massachusetts, Missouri and New Mexico, according to his campaign."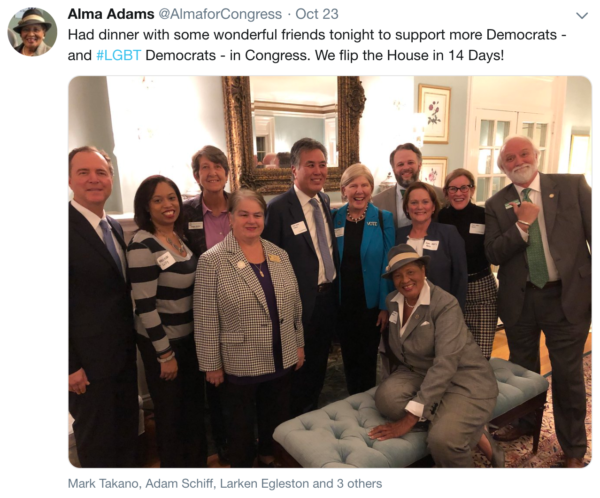 And he was impressed with the LGBT turnout.
"One of the last events I did during the campaign was an event in North Carolina with [out California Rep.] Mark Takano in the LGBT community. I think it was perhaps the first LGBT DCCC fundraising event in that city in memory," he says. "What we saw throughout the country was the extraordinary level of activism among all Americans—but particularly within the LGBT community. And I think both Chad [Griffin] and HRC [the Human Rights Campaign] and the broader community deserve a lot of credit for the results."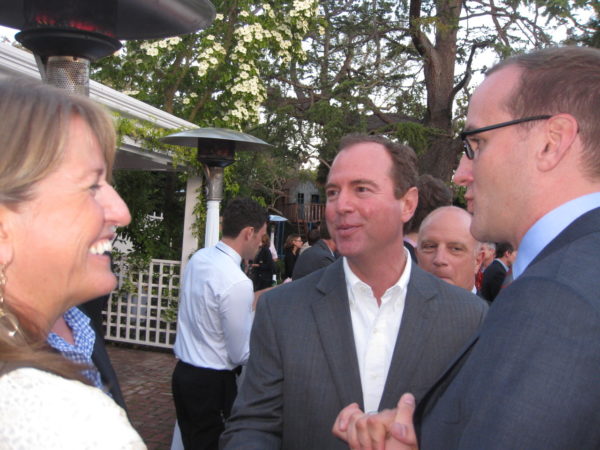 Told Griffin was leaving HRC, Schiff was complimentary, having first met him in June 2012 at the "goodbye party" thrown by his friend Rob Reiner after Griffin was named the new HRC President.
"I just want to express my gratitude for the tremendous work that he has done over the years," Schiff says about Griffin. "I think he has been a superb leader of HRC, a great organizer, a superb strategic thinker. And the contribution that HRC has made both legislatively as well as out in the precincts under his leadership was just phenomenal."
Schiff says passage of the Equality Act "is going to be a top priority for us," which he expects to be taken up early in the House of Representatives but will probably meet with "rough sledding" in the Senate.
"It's very important that we establish our positive agenda, that we show the country what we want to accomplish when they give us the responsibility of fully governing and when they give us control of the White House and the Senate," Schiff says. "And strong legislation to ensure equality is of paramount importance. So I would expect us to underscore what an important part of the Democratic agenda this is."
The Equality Act is a top priority for Leader Nancy Pelosi, who is facing a rebellion from some Democrats who do not want her to return as House Speaker, despite having passed the Affordable Care Act, which she urged Democrats to run on in the midterms. The caucus vote happens after Thanksgiving with the floor vote in January.
"I believe Nancy is going to be successful and I'm helping to whip votes," Schiff says. "I think that her policy priorities are in the right place. She's a superb organizer—she gets the disparate members of our caucus all working together on the same page. And under her leadership, I'm confident that we will pass the Equality Act."
Schiff finds the rebellion incomprehensible. "Are they prepared to have [California Republican Rep.] Kevin McCarthy be our Speaker? Because that would be the effect of [withholding support from Pelosi]. That seems to me a very perilous path they're going down."
Meanwhile, there's the lame duck period before January, during which Whitaker could shut down the Mueller probe and throw the country into chaos. "We will fight Mr. Whitaker in every way we can to protect the integrity of the Muller investigation. I think were he to initiate his own Saturday Night Massacre, and certainly the president began that process by firing [former Attorney General Jeff] Sessions, it would prompt a constitutional crisis and where that would take us is very hard to tell."
Schiff says the most powerful remedy House Democrats have to Trump "is the power to expose what the administration is doing. Exposure has a powerful impact. Exposure of Scott Pruitt's malfeasance got him fired and has gotten others fired within the administration. It has also affected policy by preventing the administration from doing things that it wanted to do."
In addition to investigating "the Russia bailiwick," Schiff— cofounder of the House Caucus on Freedom of the Press—says he's extremely concerned about Trump's war on truth. He points to Trump's secret meeting with the Postmaster General "to browbeat the Postmaster into raising postal rates on Amazon. Now I don't believe the president cares about postal rates. This looks to me like an effort to punish Jeff Bezos and the Washington Post," as well as his ongoing attacks on CNN. "Exposing wrongdoing, if indeed wrongdoing is going on, can be powerfully corrective."
Schiff is also "deeply concerned" about "whether the Russians were laundering money through the Trump organization and that is leverage the Russians are holding over the president of the United States. And looking into those allegations and if they're true, exposing it, and if they're not, telling the country that they're not, is vitally important and potentially will have great consequences on U.S. policy. It will certainly cause the Congress of the United States to push back against the president's pro-Russian policies if it is revealed that they are being driven by the president's financial interest and not the national interest."
More questions were raised Nov. 20 when Trump sided with Saudi Arabia's denials that Crown Prince Mohammed bin Salman (aka MBS) was responsible for the brutal death of journalist and Washington Post columnist Jamal Khashoggi, a resident of Virginia and critic of MBS.
"Our intelligence agencies continue to assess all information, but it could very well be that the Crown Prince had knowledge of this tragic event — maybe he did and maybe he didn't!" Trump said, positing U.S. economic and national security interests—billions of dollars in arms purchases he said the Saudis would make —over the need to investigate the brutal murder of a journalist.

NBC News Chief Foreign Correspondent Richard Engel said Trump just put all journalists, whom Trump has called "enemies of the people" at risk for similar murders.

And then there's the new New York Times story says Trump took up another authoritarian trait—wanting to harm, investigate, prosecute or imprison his personal enemies, in this case Hillary Clinton and fired FBI Director James Comey.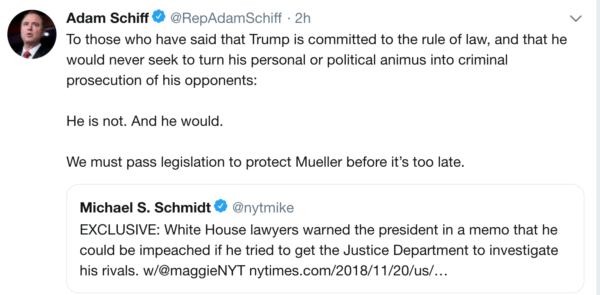 And then there's Trump's corrosive license to lie. "This is probably one of the most cross-cutting and difficult problems of all," says Schiff. Fox News, for instance, provides an "alternative universe" where "they traffic in conspiracy theories about the deep state that used to be relegated to only kooks and cranks."
It's perplexing. "We're not going to legislate what they can say on Fox News. We're not going to somehow publicly arbitrate what's true and what's not true," Schiff continues. "This is a deeply distressing problem. And it's likely to get worse before it gets better."
Already worse is the new "deep fake" technology that allows the production of fake audio or video that looks real, as recently demonstrated by director Jordan Peele who put fake words in the mouth of Barack Obama.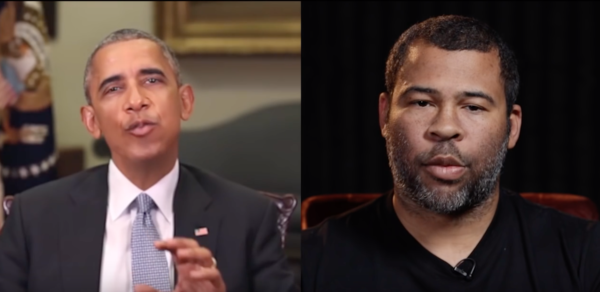 "You can imagine how much mischief the Russians could do with this technology," says Schiff. "They could put out an audio or videotape of a candidate saying something unethical or illegal or otherwise damaging. And before it was disproven, you would have half the country believing it, and even if it could be disproven technologically, would people believe the proof?"
Conversely, says Schiff, "will we be able to tell what is real if the salacious videotape that has long been alleged involving the president in a hotel room in Moscow? If those allegations turned out to be true and the tape were produced tomorrow and it was 100 percent authentic, the president would simply call it a fake."
Deep fakes are "one of the gravest threats to our democracy," says Schiff. "And what makes it so much worse is you have an administration that is pushing out the idea that there is no truth. [Rudy] Giuliani said truth isn't truth and Kellyanne Conway says we're entitled to our own alternate facts. And as Sarah Huckabee Sanders does almost everyday she goes to the microphone, she takes fiction and weaves it into her own alternate version of fact.
"That's the kind of administration the president has been running," Schiff continues. "The president spouts falsehoods at an unprecedented rate, thousands and thousands since he took office. So there is literally a full-scale assault on the truth. It's no wonder the president considers the press the enemy of the people since it's so often the press that are pointing out what is true and what is not true."
Meanwhile, childish name-calling exposes the malicious pettiness of this president.