Schiff takes on Trump and truth
New House Intelligence Committee chair poised to expose lies, corruption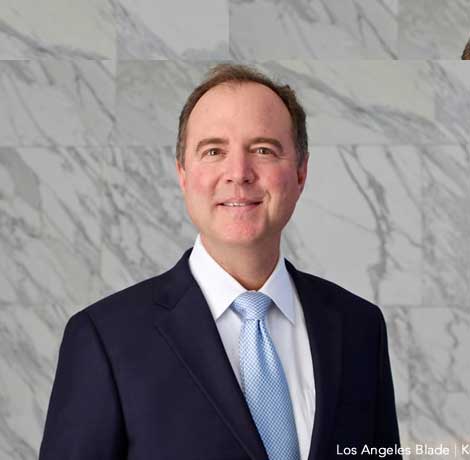 It's come down to this: name-calling. Literally.
California Rep. Adam Schiff appeared on ABC's "This Week" Nov. 18 explaining that Democrats intend to challenge President Donald Trump's appointment of Matt Whitaker as acting attorney general. A former federal prosecutor who becomes chair of the House Intelligence Committee in January, Schiff said the appointment is unconstitutional.
Trump responded like a spoiled five year old, calling Schiff "little Adam Schitt" in a tweet. "That's a good one. Was that like your answers to Mr. Mueller's questions, or did you write this one yourself?" Schiff tweeted back, referring to special counsel Robert Mueller's investigation into Russian interference in the 2016 election.
Even Trump ally Laura Ingraham called the name-calling "an unforced error" on her Fox News show, saying it detracted from his accomplishments. But it also caused real life pain. "Just want to point out all the kids in school with the last name #Schiff getting bullied and name called #Schitt today because of the president of the US. I know because my nieces are Schiffs. "#BeBest" film producer Laurie David tweeted.

Schiff recalls the spontaneous rally at the LA LGBT Center the night after the election where people were "despondent and fearful of what this meant for the future." And in so many ways, Schiff tells the Los Angeles Blade in a phone interview, "the reality of the next two years proved every bit as bad, in some ways worse, than what we feared. It really takes your breath away."
Schiff is keenly aware of Trump's attacks on the LGBT community, including the "Twitter change in policy regarding transgender patriots serving in the military" and the proposal to redefine "transgender."
"The administration's efforts to define the transgender community out of existence is among its most pernicious acts," Schiff says. "It's just appalling. We are going to obviously fight this tooth and nail."
Trump's attacks helped create the coalition that won Democrats the House in the midterm elections. "People throughout the country recognized that an attack on the most vulnerable among us is an attack on all of us," Schiff says. "And any one of us could be among the most vulnerable at some point in their life. And so we'll fight this legislatively, we'll fight this in the courts, and we'll fight this until we succeed and we will succeed."
Schiff adds forcefully: "The transgender community is not going away. It won't be defined away. It won't be intimidated away. It won't be legislated away. And we're going to be doing everything we can in the majority to protect the community."
Schiff is "thrilled and grateful" that the House flipped convincingly to a Democratic majority "to provide a check on this president," he says. "I think that this presidency and the threat that it presents to our democracy motivated people like I've never seen to be involved."
From small group meetings in his district to fundraisers for candidates around the country, Schiff worked hard for that win. And he was impressed with the LGBT turnout."Schiff has raised nearly $5.5 million for candidates and the Democrats' House campaign arm this cycle, according to his campaign, more than any House member outside of the congressional leadership," the LA Times reported last Oct. 16. "He's stumped for candidates in 23 states this year, including Arizona, Massachusetts, Missouri and New Mexico, according to his campaign."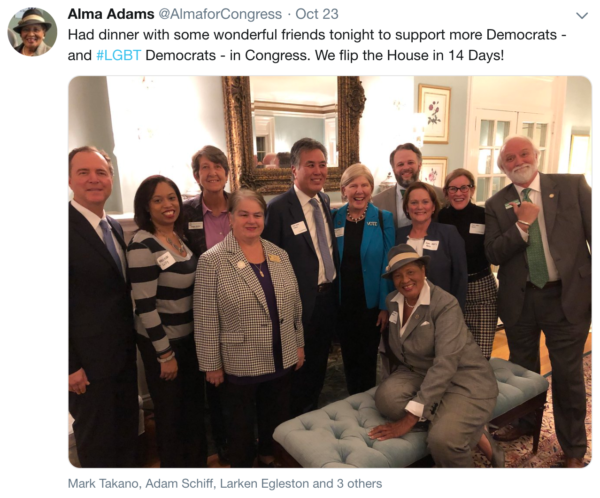 And he was impressed with the LGBT turnout.
"One of the last events I did during the campaign was an event in North Carolina with [out California Rep.] Mark Takano in the LGBT community. I think it was perhaps the first LGBT DCCC fundraising event in that city in memory," he says. "What we saw throughout the country was the extraordinary level of activism among all Americans—but particularly within the LGBT community. And I think both Chad [Griffin] and HRC [the Human Rights Campaign] and the broader community deserve a lot of credit for the results."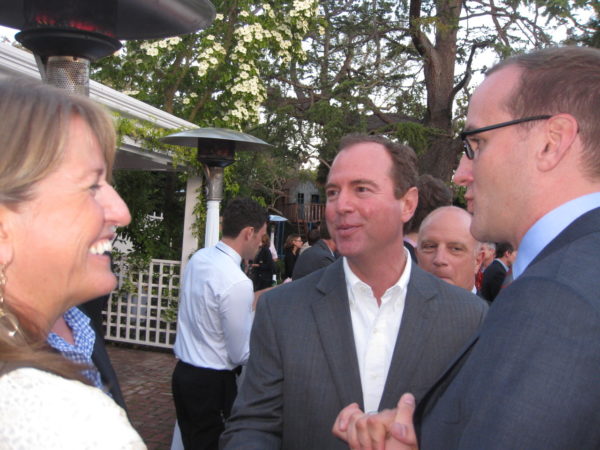 Told Griffin was leaving HRC, Schiff was complimentary, having first met him in June 2012 at the "goodbye party" thrown by his friend Rob Reiner after Griffin was named the new HRC President.
"I just want to express my gratitude for the tremendous work that he has done over the years," Schiff says about Griffin. "I think he has been a superb leader of HRC, a great organizer, a superb strategic thinker. And the contribution that HRC has made both legislatively as well as out in the precincts under his leadership was just phenomenal."
Schiff says passage of the Equality Act "is going to be a top priority for us," which he expects to be taken up early in the House of Representatives but will probably meet with "rough sledding" in the Senate.
"It's very important that we establish our positive agenda, that we show the country what we want to accomplish when they give us the responsibility of fully governing and when they give us control of the White House and the Senate," Schiff says. "And strong legislation to ensure equality is of paramount importance. So I would expect us to underscore what an important part of the Democratic agenda this is."
The Equality Act is a top priority for Leader Nancy Pelosi, who is facing a rebellion from some Democrats who do not want her to return as House Speaker, despite having passed the Affordable Care Act, which she urged Democrats to run on in the midterms. The caucus vote happens after Thanksgiving with the floor vote in January.
"I believe Nancy is going to be successful and I'm helping to whip votes," Schiff says. "I think that her policy priorities are in the right place. She's a superb organizer—she gets the disparate members of our caucus all working together on the same page. And under her leadership, I'm confident that we will pass the Equality Act."
Schiff finds the rebellion incomprehensible. "Are they prepared to have [California Republican Rep.] Kevin McCarthy be our Speaker? Because that would be the effect of [withholding support from Pelosi]. That seems to me a very perilous path they're going down."
Meanwhile, there's the lame duck period before January, during which Whitaker could shut down the Mueller probe and throw the country into chaos. "We will fight Mr. Whitaker in every way we can to protect the integrity of the Muller investigation. I think were he to initiate his own Saturday Night Massacre, and certainly the president began that process by firing [former Attorney General Jeff] Sessions, it would prompt a constitutional crisis and where that would take us is very hard to tell."
Schiff says the most powerful remedy House Democrats have to Trump "is the power to expose what the administration is doing. Exposure has a powerful impact. Exposure of Scott Pruitt's malfeasance got him fired and has gotten others fired within the administration. It has also affected policy by preventing the administration from doing things that it wanted to do."
In addition to investigating "the Russia bailiwick," Schiff— cofounder of the House Caucus on Freedom of the Press—says he's extremely concerned about Trump's war on truth. He points to Trump's secret meeting with the Postmaster General "to browbeat the Postmaster into raising postal rates on Amazon. Now I don't believe the president cares about postal rates. This looks to me like an effort to punish Jeff Bezos and the Washington Post," as well as his ongoing attacks on CNN. "Exposing wrongdoing, if indeed wrongdoing is going on, can be powerfully corrective."
Schiff is also "deeply concerned" about "whether the Russians were laundering money through the Trump organization and that is leverage the Russians are holding over the president of the United States. And looking into those allegations and if they're true, exposing it, and if they're not, telling the country that they're not, is vitally important and potentially will have great consequences on U.S. policy. It will certainly cause the Congress of the United States to push back against the president's pro-Russian policies if it is revealed that they are being driven by the president's financial interest and not the national interest."
More questions were raised Nov. 20 when Trump sided with Saudi Arabia's denials that Crown Prince Mohammed bin Salman (aka MBS) was responsible for the brutal death of journalist and Washington Post columnist Jamal Khashoggi, a resident of Virginia and critic of MBS.
"Our intelligence agencies continue to assess all information, but it could very well be that the Crown Prince had knowledge of this tragic event — maybe he did and maybe he didn't!" Trump said, positing U.S. economic and national security interests—billions of dollars in arms purchases he said the Saudis would make —over the need to investigate the brutal murder of a journalist.

NBC News Chief Foreign Correspondent Richard Engel said Trump just put all journalists, whom Trump has called "enemies of the people" at risk for similar murders.

And then there's the new New York Times story says Trump took up another authoritarian trait—wanting to harm, investigate, prosecute or imprison his personal enemies, in this case Hillary Clinton and fired FBI Director James Comey.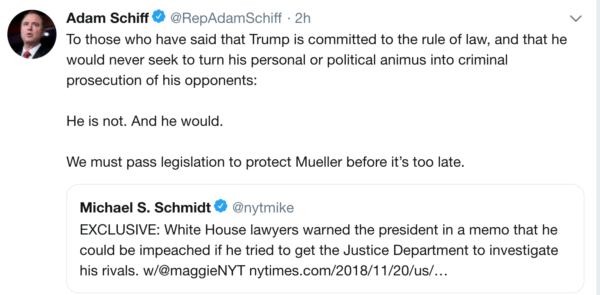 And then there's Trump's corrosive license to lie. "This is probably one of the most cross-cutting and difficult problems of all," says Schiff. Fox News, for instance, provides an "alternative universe" where "they traffic in conspiracy theories about the deep state that used to be relegated to only kooks and cranks."
It's perplexing. "We're not going to legislate what they can say on Fox News. We're not going to somehow publicly arbitrate what's true and what's not true," Schiff continues. "This is a deeply distressing problem. And it's likely to get worse before it gets better."
Already worse is the new "deep fake" technology that allows the production of fake audio or video that looks real, as recently demonstrated by director Jordan Peele who put fake words in the mouth of Barack Obama.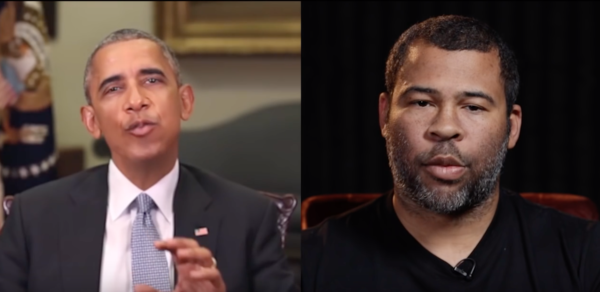 "You can imagine how much mischief the Russians could do with this technology," says Schiff. "They could put out an audio or videotape of a candidate saying something unethical or illegal or otherwise damaging. And before it was disproven, you would have half the country believing it, and even if it could be disproven technologically, would people believe the proof?"
Conversely, says Schiff, "will we be able to tell what is real if the salacious videotape that has long been alleged involving the president in a hotel room in Moscow? If those allegations turned out to be true and the tape were produced tomorrow and it was 100 percent authentic, the president would simply call it a fake."
Deep fakes are "one of the gravest threats to our democracy," says Schiff. "And what makes it so much worse is you have an administration that is pushing out the idea that there is no truth. [Rudy] Giuliani said truth isn't truth and Kellyanne Conway says we're entitled to our own alternate facts. And as Sarah Huckabee Sanders does almost everyday she goes to the microphone, she takes fiction and weaves it into her own alternate version of fact.
"That's the kind of administration the president has been running," Schiff continues. "The president spouts falsehoods at an unprecedented rate, thousands and thousands since he took office. So there is literally a full-scale assault on the truth. It's no wonder the president considers the press the enemy of the people since it's so often the press that are pointing out what is true and what is not true."
Meanwhile, childish name-calling exposes the malicious pettiness of this president.
GOP State lawmakers to hospital: Stop gender-affirming surgeries
The clinic is the only healthcare provider in Tennessee offering clinical care programs for transgender & gender-expansive children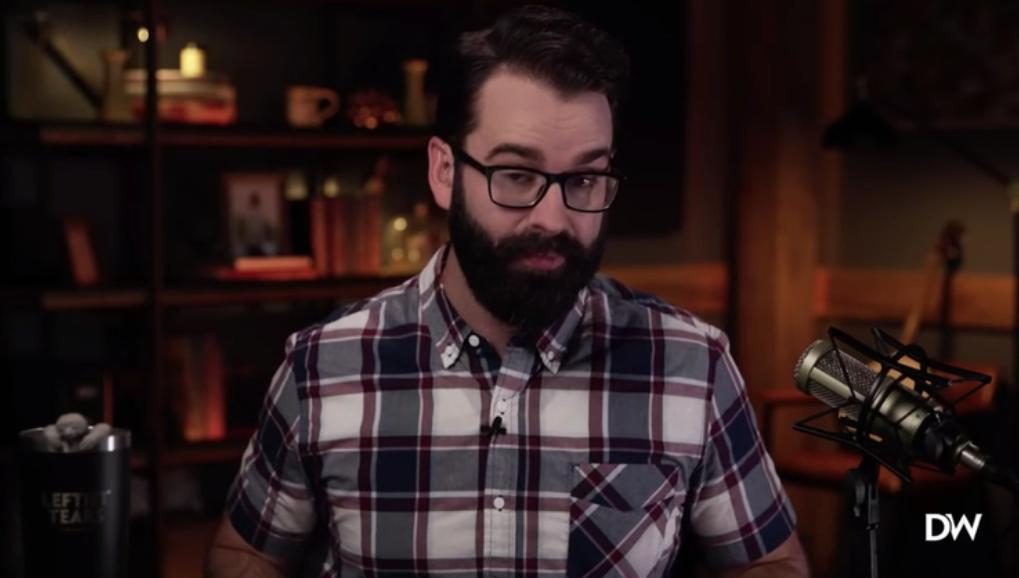 NASHVILLE – A group of Republican state lawmakers in Tennessee sent a letter to Vanderbilt University Medical Center's Pediatric Transgender Clinic demanding gender-affirming surgeries cease.
The letter came a few days after Republican Governor Bill Lee called for an investigation into the clinic at the Monroe Carell Jr. Children's Hospital at Vanderbilt in a statement after reporting by transphobic far-right pundit Matt Walsh on his Daily Wire show.
"The 'pediatric transgender clinic' at Vanderbilt University Medical Center raises serious moral, ethical and legal concerns," Governor Lee said in his statement. "We should not allow permanent, life-altering decisions that hurt children or policies that suppress religious liberties, all for the purpose of financial gain. We have to protect Tennessee children, and this warrants a thorough investigation."
State Rep. Jason Zachary and more than 60 of his Republican colleagues sent a letter to addressed to the chair of the hospital's board of directors calling on Vanderbilt to halt the Clinic's trans youth healthcare regarding gender affirming treatments.
This is a time in which elected leaders must boldly lead and speak on behalf of the people.
I've been joined by my esteemed @tnhousegop colleagues in formally requesting that Vanderbilt Medical halt all gender transition surgeries on minors.
1/ pic.twitter.com/FgiRdLHEM4

— Rep. Jason Zachary (@JasonZacharyTN) September 28, 2022
Zachary also noted the letter also requested that all conscientious and religious objections be honored.
Walsh and the far-right extremist anti-LGBTQ Twitter account Libs of TikTok, run by Brooklyn-based Chaya Raichik have previously grabbed headlines for spreading what Trans advocates and LGBTQ+ activists call anti-LGBTQ hate speech.
Raichik who has been suspended from Facebook and also Twitter for inflammatory lies and propaganda about Trans youth healthcare, pledged to redouble her attacks on hospitals providing trans people with health care, she wrote in a rant on her Substack in which she called gender-affirming care "mutilating the body." 
Libs of TikTok has reportedly been suspended multiple times on multiple platforms, including Instagram, Facebook, and Twitter. Raichik's last Twitter suspension came for accusing LGBTQ people of "grooming" children, which Twitter confirmed violates its policies against hateful conduct.
In line with the earlier attacks on Boston's Children's Hospital and Washington D.C.'s Children's with misinformation and misleading characterizations of the trans youth health care provided by those facilities, in a lengthy thread Twitter the Daily Wire's Walsh attacked Vanderbilt's clinic.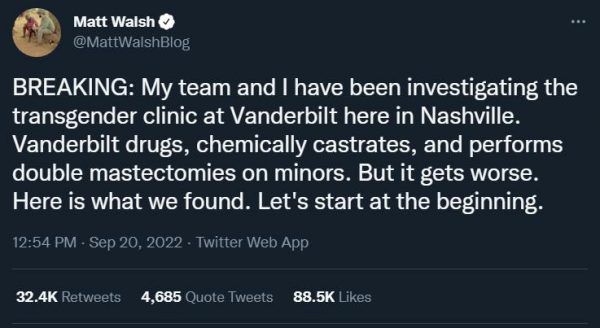 Vanderbilt opened its trans clinic in 2018. During a lecture the same year, Dr. Shayne Taylor explained how she convinced Nashville to get into the gender transition game. She emphasized that it's a "big money maker," especially because the surgeries require a lot of "follow ups" Walsh tweeted adding:
Vanderbilt was apparently concerned that not all of its staff would be on board. Dr. Ellen Clayton warned that "conscientious objections" are "problematic." Anyone who decides not to be involved in transition surgeries due to "religious beliefs" will face "consequences"
In case the objectors hadn't gotten the memo, Vanderbilt unveiled a program called "Trans Buddies." The "buddies" are trans activists from the community who attend appointments with trans patients, monitoring the doctors to guard against "unsafe" behavior such as misgendering, Walsh continued.
Vanderbilt makes their Trans Buddies available to children, too. They make lots of "services" available to children, including chemical castration. Though at some point in the last month they removed explicit admission of this fact from their site. Here's the archived screenshot:

But they must have forgot to delete a video from Vanderbilt Psychiatry's Youtube channel back in 2020 which admits explicitly that they will give and have given irreversible hormone drugs to children as young as 13, Walsh wrote in the thread.
After they have drugged and sterilized the kids, Vanderbilt — as explained in this video presentation by plastic surgeon Julien Winocour and Physician's Assistant Shalyn Vanderbloemen — will happily perform double mastectomies on adolescent girls.
So, let's review. Vanderbilt got into the gender transition game admittedly in large part because it is very financially profitable. They then threatened any staff members who objected, and enlisted a gang of trans activists to act as surveillance in order to force compliance.
They now castrate, sterilize, and mutilate minors as well as adults, while apparently taking steps to hide this activity from the public view. This is what "health care" has become in modern America, Walsh finished.
Vanderbilt responded to Walsh in a statement:
"(VUMC) is now the subject of social media posts and a video that misrepresent facts about the care the Medical Center provides to transgender patients," said the university. "VUMC began its Transgender Health Clinic because transgender individuals are a high-risk population for mental and physical health issues and have been consistently underserved by the U.S. health system."
Walsh also shared a video that featured Vanderbilt University law and genomics professor Ellen Clayton, who discouraged physicians from religious objections to transgender surgeries.
"Saying that you're not going to do something because of your … religious beliefs is not without consequences, and it should not be without consequences," she said in the undated clip. "I just want to put that out there. If you don't want to do this kind of work, don't work at Vanderbilt."
The University in its statement disputed that assertion by Clayton:
"Our policies allow employees to decline to participate in care they find morally objectionable, and do not permit discrimination against employees who choose to do so. This includes employees whose personal or religious beliefs do not support gender-affirming care for transgender persons," Vanderbilt wrote.
The Tennessee Equality Project notes that the clinic is the only healthcare provider in the state offering clinical care programs for transgender and gender-expansive children and adolescents.
Race to the Midterms Preview: Victory Fund's Annise Parker
MAGA GOP House Minority Leader Kevin McCarthy only needs five seats to take back the Speaker's gavel from fellow Californian Nancy Pelosi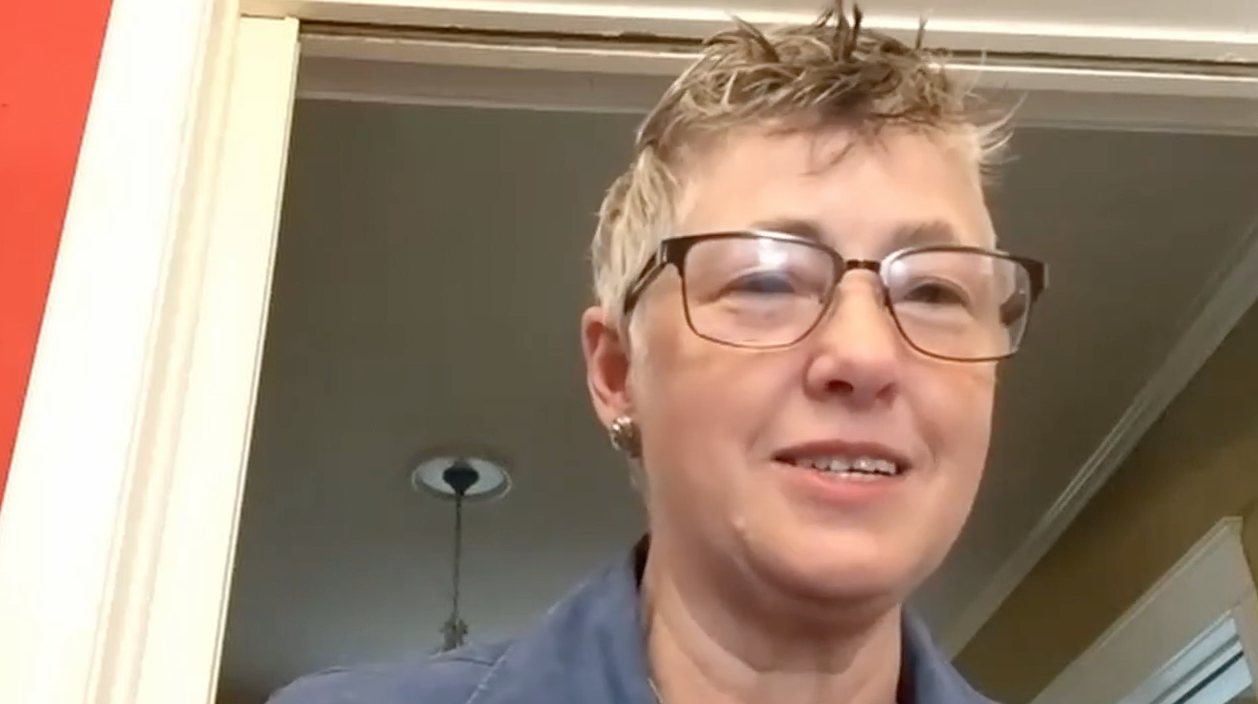 By Karen Ocamb | WEST HOLLYWOOD – The tension is nearly intolerable. Just six weeks until the Nov. 8 midterm elections and headaches abound. Will voters really stick to tradition and give Republicans, the party out of power, congressional gains over quixotic turns in the economy, despite the GOP promise to pass a federal ban on abortion? California's MAGA Republican House Minority Leader Kevin McCarthy only needs five seats to take back the Speaker's gavel from fellow Californian, Speaker Nancy Pelosi.   
And it's not just the House. "Yes, Democrats' fortunes have improved, but the most likely outcome of the midterm elections is still a shift in power to the Republicans — and bigger headaches for President Biden over the next two years," Axios reported Saturday. "Despite the streak of discouraging news, Republicans still have a clear path to retaking the Senate majority. They only need to net one seat to win back the upper chamber, and there are plenty of paths to get there even if many of their recruits fizzle out."
Why are our LGBTQ leaders not screaming from the rafters? Report after report after report warns that LGBTQ people are at risk of not only losing access to the fruits and freedoms of democracy — including the First Amendment right to free speech — but could be erased state by state by state by state without more than a flareup of protest.
"On March 28, Gov. Ron DeSantis signed legislation that effectively bans discussion of sexual orientation and gender identity in Florida's schools. The so-called 'Don't Say Gay' bill creates new restrictions on classroom speech around LGBT people and same-sex families and empowers parents to sue a school if the policy is violated, chilling any talk of LGBT themes lest schools or teachers face potentially costly litigation," the Williams Institute at UCLA School of Law recently reported. "This bill is the latest in a record-setting year of legislation targeting LGBT people: in 2022 alone, more than 200 anti-LGBT bills have been introduced in state legislatures across a range of issues, with a majority targeting transgender individuals," despite a recent PRRI poll showing that 79 percent of Americans favor laws that protect LGBT people from discrimination.
"LGBT rights are the canary in the coal mine of democratic backsliding," the report continues. "Authoritarian leaders may target LGBT people precisely because their rights are seen as less institutionalized than other groups….Even Florida's "Don't Say Gay" bill was explicitly modeled after similar efforts in Hungary. Against this backdrop, we should recognize the propagation of anti-LGBT laws in the U.S. for what it signifies: an existential threat to our inclusive democracy."
One leader traveling around the country, raising the alarm and raising the stakes for the LGBTQ community facing the midterms is former Houston, Texas Mayor Annise Parker, now President and CEO of the LGBTQ Victory Fund and the Victory Institute. Founded in 1991 with two LGBTQ candidates, the Victory Fund has now endorsed and promoted more than 450 out candidates seeking election on Nov. 8 to not only congressional seats but down-ballot state and local seats, as well. Victory's Political Team is also on the ground campaigning and getting out the vote in states such Texas, Florida, North Carolina, Minnesota, Kentucky, New York, Rhode Island, Pennsylvania, Vermont, and Connecticut.
In the upcoming special episode of Race to the Midterms, produced by Karen Ocamb and Max Huskins in conjunction with the Los Angeles Blade, we talk to Annise Parker about the state of the nation and the Out candidates running to make America better.
"Our candidates win at the same rate that any other candidates win," says Parker. "When you control for your experience and the demographics of the district and the quality of the campaign, which is a really good sign. , and the fact that more and more people are acknowledging their gender identity or their sexual orientation — for us, having been in this game for so many decades with a singular purpose, whether someone is successful, I mean, we do want to see candidates win, but whether they ultimately are successful at the ballot box — when they run as their authentic selves, they're true to themselves, they're comfortable in their own skin, it has a transformative effect. And we're excited about the possibilities this year."
Check LosAngelesBlade.com later today to see the full interview and clips of some of the candidates Parker highlights.
Newsom calls out gas companies, says they're fleecing Californians
The governor announced oil refineries could roll out winter-blend gas ahead of schedule, which could reduce price up to 25 cents per gallon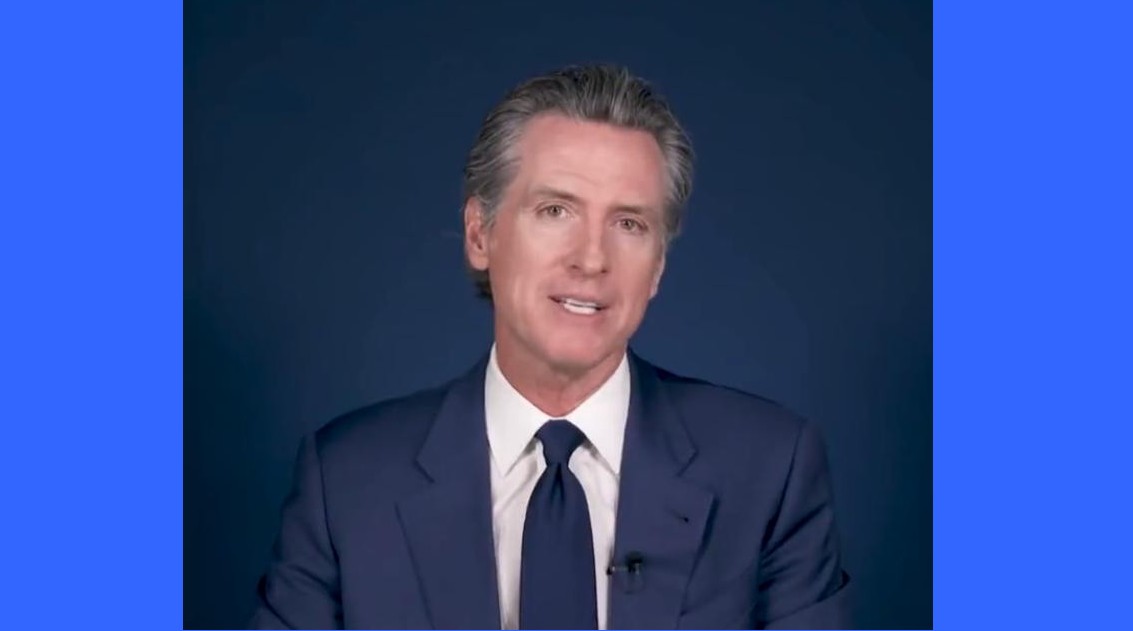 SACRAMENTO – On Friday California Governor Gavin Newsom in a scathing video on his Twitter account castigated oil and gas companies for what he termed fleecing consumers in the Golden State.
"Oil companies are ripping you off. Their record profits are coming at your expense at the pump," the Governor said. "I'm calling for a NEW windfall tax exclusively on oil companies. If they won't lower their prices we will do it for them. The money will go directly back to you."
Oil companies are ripping you off. Their record profits are coming at your expense at the pump.

I'm calling for a NEW windfall tax exclusively on oil companies. If they won't lower their prices we will do it for them.

The $$ will go directly back to you. pic.twitter.com/oDOx6jYLtK

— Gavin Newsom (@GavinNewsom) September 30, 2022
According to the Triple A Auto club of Southern California, gas prices statewide crept up yet again overnight, reaching an average of $6.36/gallon for regular unleaded Saturday.
In the Los Angeles area, gasoline hit $6.45/gallon, up 7 cents from the day before. Ongoing Southern California fuel supply issues pushed Los Angeles wholesale gasoline prices to new records this week and pump prices may also break new records soon if they keep increasing at the current pace of 10-15 cents a day.
The average price for self-serve regular gasoline in California is $6.18, which is 66 cents higher than last week. The average national price is $3.78, which is ten cents higher than a week ago.
"The degree of diversions from the national prices has never happened before, and oil companies provide no explanation," Newsom said. "We're not going to stand by while greedy oil companies fleece Californians."
The average price of self-serve regular gasoline in the Los Angeles-Long Beach area is $6.26 per gallon, which is 67 cents higher than last week, 98 cents higher than last month, and $1.85 higher than last year. In San Diego, the average price is $6.20, which is 67 cents higher than last week, 96 cents higher than last month, and $1.85 higher than last year.
California Gas Prices vs. National Average
| | |
| --- | --- |
| California | Nationwide |
| Saturday, Oct 1. = $6.358/gallon | Saturday, Oct 1. = $3.80/gallon |
| Friday = $6.293 | Friday = $3.797 |
| Week Ago = $5.682 | Week Ago = $3.700 |
| Month Ago = $5.252 | Month Ago = $3.829 |
Source: AAA
The governor also announced on Friday that oil refineries could roll out winter-blend gasoline ahead of schedule, which could reduce the price of gas up to 25 cents per gallon.
"In light of the dramatic increase in gas prices that California is experiencing, we should not wait until the end of the month to start distributing or to ramp up production of our winter-blend gasoline. Allowing refiners to make an early transition to winter-blend gasoline could quickly increase fuel supply and provide a much needed safety valve with minimal air quality impacts," Newsom said in a letter to Liane Randolph, chair of the California Air Resources Board. "Accordingly, I am directing that the Air Resources Board immediately take whatever steps are necessary to allow for an early transition to gasoline to be manufactured, imported, distributed, and sold in California."
Switching from the summer to winter blend would likely save consumers 15 to 20 cents per gallon, said Doug Shupe, a spokesman for the Southern California Automobile Club said.