LGBT issues emerge as key factor in challenge to Pelosi as speaker
Main competition has declined to sponsor Equality Act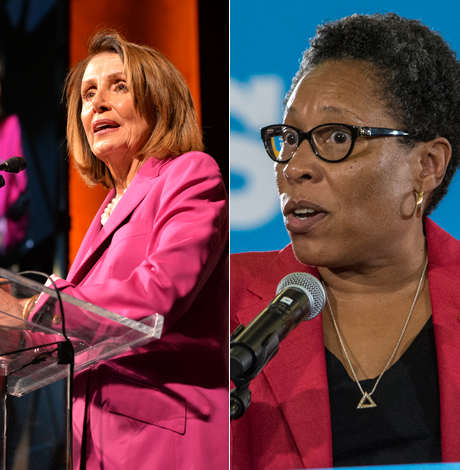 LGBT issues are emerging as a key factor in the challenge to House Minority Leader Nancy Pelosi's bid for House Speaker, becoming a major source of distinction between the California Democrat and her prime competitor, Rep. Marcia Fudge (D-Ohio).
After having once wielded the gavel under the administrations of George W. Bush and Barack Obama and helping to usher into law the Affordable Care Act, the Matthew Shepard & James Byrd Jr. Hate Crimes Prevention Act and "Don't Ask, Don't Tell" repeal, Pelosi's claim to the gavel in the 116th Congress is in question — and her competition may not be as supportive of LGBT rights.
Fudge — who has yet to declare her candidacy for speaker — has a consistent voting record in favor of LGBT rights, but has declined to support the Equality Act, a comprehensive LGBT rights bill that would amend the Civil Rights Act of 1964 to include sexual orientation and gender identity.
A former chair of the Congressional Black Caucus, Fudge has cited concerns about opening up the historic law to amendments on the House floor — a notion civil rights groups articulated when the bill was first introduced out of fear legislative activity would water down the entire statute.
"What I opposed was including the Equality Act in the current Civil Rights Act," Fudge said last week in a statement. "The Civil Rights Act is over 50 years old and isn't even adequate to protect the people currently in it. I want us to do a new and modern civil rights bill that protects the LGBTQ community and updates protections for this era. I do not believe it is appropriate to open and relitigate the current Civil Rights Act."
Along with Rep. Dan Lipinski (D-Ill.), who has a reputation for being an anti-LGBT Democrat, Fudge in the last Congress was one of two Democrats who wouldn't co-sponsor the Equality Act.
Fudge's office didn't respond to multiple requests from the Washington Blade to comment on whether she as speaker would allow the Equality Act to come up for a vote on the House floor even if she personally doesn't support the measure.
Meanwhile, Pelosi championed the Equality Act since it was introduced. Prior to Democratic wins on Election Day, Pelosi signaled advancing the Equality Act would be a personal goal and the legislation would be assigned a low bill number in the next Congress signifying its importance.
"It isn't in our 'For The People' agenda because it doesn't get that specific, but there's one more because it's personal for me that I really want to do, and it's called the Equality Act," Pelosi said last month. "The Equality Act expands ending discrimination against LGBTQ people and women and adding that to the Civil Rights Act."
Hilary Rosen, a lesbian D.C.-based Democratic activist, supports Pelosi in her bid to become speaker and drew a distinction between her and Fudge on LGBT issues.
"We don't have a better champion than Nancy Pelosi," Rosen said. "Rep. Fudge hasn't even co-sponsored the bill. Her Democratic colleagues might be surprised to know that and it would concern me about electing her leader."
Pelosi faces the challenges in her bid to become speaker despite the millions she raised for the Democratic Congressional Campaign Committee and massive wins for House Democrats on Election Day that exceeded expectations for the "blue" wave. (In contrast, Senate Minority Leader Charles Schumer (D-N.Y.), whose caucus lost in the mid-term election, faces no similar challenge.)
On Monday, a group of 16 House Democrats (who, with two exceptions, were men) went public with a letter asserting they're committed to voting against Pelosi. Other Democrats who won on Election Day, including Rep. Conor Lamb (D-Pa.) have made campaign promises about voting against her, but aren't signatories to the letter.
To keep that in perspective, Pelosi can only afford to lose 15 within her Democratic majority and still have the 218 votes necessary for her to become speaker. Keep in mind House Democrats can't replace Pelosi with nothing and it is far from certain Fudge would be able to obtain the 218 votes to win election.
Despite the challenges she faces, Pelosi has repeatedly expressed confidence she'll have the votes to become speaker in the 116th Congress.
"I intend to win the speakership with Democratic votes, if that was your question," Pelosi said. "I have overwhelming support in my caucus to be speaker of the House, and certainly we have many, many people in our caucus who could serve in this capacity. I happen to think that, at this point, I'm the best person for that."
The moment of truth will come soon. The party nominating vote within the Democratic caucus will take place on Nov. 28 and the floor vote within the entire House will take place Jan. 3.
Faced with prospects of investigations under the new House Democratic majority, President Trump has offered to help on Twitter and said he "can get Nancy Pelosi as many votes as she wants in order for her to be speaker of the House." If Republicans during the vote for speaker on Jan. 3 vote "present," that would lower the threshold needed for her to win election.
But asked if she'd accept Republican support to win the gavel, Pelosi replied, "Oh, please, no, never, never, never."
Drawing on her major achievements for the LGBT community in her role as Speaker of the House during part of the Bush and Obama administrations, a group of 102 LGBT leaders have signed a statement "enthusiastically endorsing" Pelosi as speaker.
Cited in the statement are the landmark laws in favor of LGBT rights Pelosi ushered through Congress as speaker, such as the Matthew Shepard & James Byrd Jr. Hate Crimes Prevention Act and "Don't Ask, Don't Tell" repeal. For the time when Democrats were in the minority, the statement enumerates Pelosi's call for support for marriage equality in the 2016 Democratic Party platform and support for Rep. Ted Lieu's (D-Calif.) proposal to ban widely discredited conversion therapy.
Lane Hudson, a gay D.C.-based Democratic activist, signed the statement and said Pelosi has "been our most vocal and reliable ally from her first days in Congress to now."
"That's why so many LGBT folks are fighting very hard to ensure she wins election as speaker," Pelosi said. "So far, potential contenders are more conservative than she is and far less reliable on our issues. Only Pelosi has signaled that the Equality Act will be introduced very early and voted on, which will be historic."
What are LGBT groups doing to help Pelosi? Human Rights President Chad Griffin has publicly declared his support for Pelosi as speaker and staffers for the nation's largest LGBT group — Sarah McBride, David Stacy and JoDee Winterhof — have along with him signed the LGBT letter in support of her becoming speaker, but the organization didn't respond to multiple requests from the Blade to comment on whether it's lobbying the Democratic caucus on Pelosi's behalf.
Drew Hammill, a Pelosi spokesperson, said he doesn't having anything to say in response to a Blade inquiry on whether HRC or any other LGBT groups are lobbying members in the speaker's race for Pelosi or anyone else.
For her part, Pelosi is making efforts to renew her connections with the LGBT community. On Friday during the annual dinner in D.C. for the National LGBT Chamber of Commerce, Pelosi made a surprise appearance and celebrated the election of LGBT candidates to the U.S. House.
"We are proud that so many new LGBTQ members…represent every corner of our country," Pelosi said. "LGBTQ members look like America: They're mothers, business owners, people of color and members of the native nations."
Jonathan Lovitz, senior vice president of the National LGBT Chamber of Commerce, also signed the statement and said Pelosi "absolutely deserves" to become the next speaker to continue advancing LGBT rights.
"A Democratic majority can resist the ongoing attempts to harm the LGBT community by passing the Equality Act, promoting LGBT-inclusive economic opportunities, and ensuring we are never erased," Lovitz said. "Now is not the time for an untested Speaker. We need someone like Pelosi who affirms that protecting the livelihood of LGBT Americans is not some bargaining chip to pass legislation, but a nonnegotiable mandate that affirms who we are as an inclusive nation."
The Blade is unaware of any prominent members of the LGBT community who are calling for new leadership in the Democratic caucus or who would back Fudge in a challenge to Pelosi.
Padilla, local leaders celebrate passage of Respect for Marriage Act
"There's no better place than San Francisco to celebrate passage of the Respect for Marriage Act & affirm lives of millions of LGBTQ people"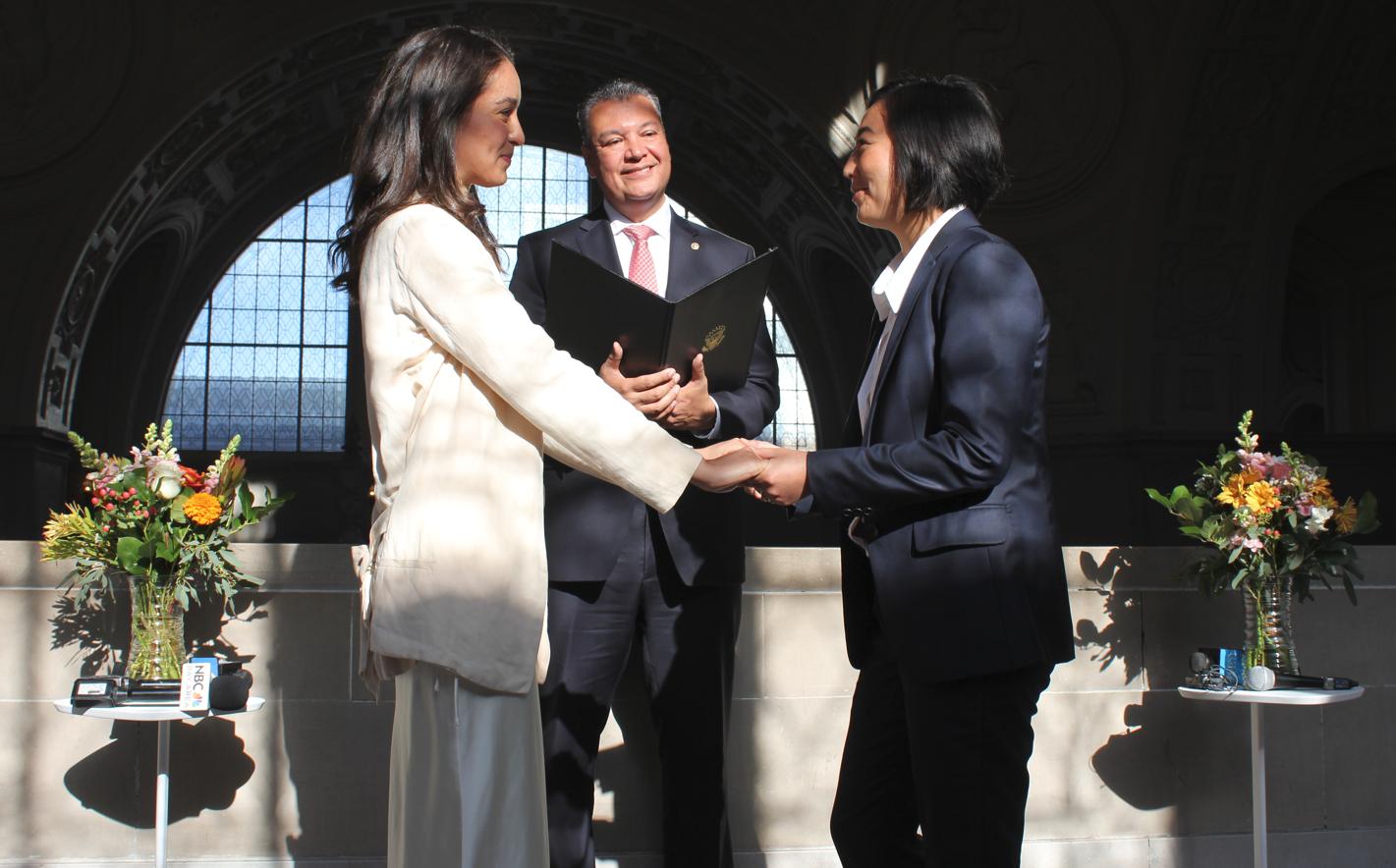 SAN FRANCISCO —  U.S. Senator Alex Padilla (D-Calif.) on Friday hosted a press conference with San Francisco Mayor London Breed, State Senator Scott Wiener, Equality California Executive Director Tony Hoang, and local leaders following the Senate passage of the Respect for Marriage Act.
Senator Padilla also officiated a vows renewal ceremony of Cyn Wang and Tessa Chavez, a local lesbian couple, at San Francisco City Hall to mark the historic occasion.
The Respect for Marriage Act requires the federal government to recognize a marriage between two individuals if the marriage was valid in the state where it was performed and guarantee that valid marriages between two individuals are given full faith and credit, regardless of the couple's sex, race, ethnicity, or national origin. The legislation passed the Senate by a vote of 61-36.
"There is no better place than San Francisco to celebrate the passage of the Respect for Marriage Act and unequivocally affirm the lives of millions of LGBTQ people and interracial couples across our country," said Senator Padilla. "We celebrate the progress that we have made today, but recognize the work still left undone to fully protect the rights of LGBTQ Americans. I'll continue working to build on our efforts until we ensure that every American is treated equally under the law, free from discrimination."
"I was proud to introduce the Respect for Marriage Act over the summer, and I'm even more pleased that the bill passed the Senate this week with strong bipartisan support," said Senator Dianne Feinstein. "The Respect for Marriage Act will guarantee legal protections for millions of marriages in the United States. Simply put, Americans should be free to marry the person they love, regardless of sexual orientation or race, without fear of discrimination or fear that their marriages will be invalidated. This was a historic vote and one that every proponent of equality can be proud of."
"The Respect for Marriage Act is an important step forward in the continued fight for LGBTQ and racial equality in America," said State Senator Scott Wiener. "Today, we celebrate this victory for our civil rights, and tomorrow we recommit to fight even harder against the right-wing Supreme Court's efforts to legalize discrimination in this country."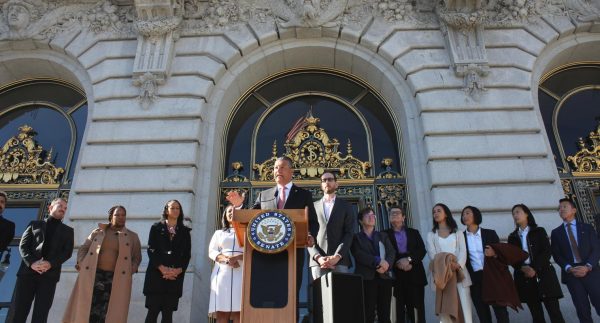 "San Francisco's history is inseparable from the history of the LGBTQ community and the movement for marriage equality locally, at the state level, and nationally," said Mayor Breed. "As we celebrate the passage of the Respect for Marriage Act, we honor those who have endured discrimination and hate, and the many who lost their lives in the quest for equality. We recommit ourselves to protect the fundamental rights of all people regardless of who they are or whom they love. Thank you to Congressional leaders, especially Senators Dianne Feinstein and Alex Padilla, and Speaker Pelosi for their leadership to pass this historical legislation."
"Equality California applauds this historic vote and the critical leadership of Senators Baldwin, Feinstein and Padilla, in getting this bill across the finish line," said Equality California Executive Director Tony Hoang. "While this is an important step in affirming the dignity of the LGBTQ+ community, it will not end all discrimination against LGBTQ+ people or erase the hateful rhetoric of anti-LGBTQ+ politicians and extremists. Equality California will continue to fight for full, lived equality for all LGBTQ+ people until the work is done."
"The Respect for Marriage Act removes an ugly, discriminatory stain on our federal law books – the 1996 so-called "Defense of Marriage Act" – and replaces DOMA with a rule requiring government at all levels to treat all married couples equally nationwide," said Jenny Pizer, Chief Legal Officer, Lambda Legal. "We hope we never need it.  But if the U.S. Supreme Court were, outrageously, to erase the constitutional protection for the freedom to marry, this law will substantially reduce the harms. Yet, even if the Respect for Marriage Act were to become necessary, it would not be sufficient. We still urgently need the Equality Act to become law, to protect LGBTQ people from the widespread discrimination that persists in the commercial marketplace and in public services with harsh, unacceptable consequences."
"It is a historic moment for the advancement and preservation of basic civil rights for all Americans, but by no means is our work done," said Kris Perry, Prop 8 Plaintiff & Nonprofit Director. "Our family and thousands of families like ours can breathe easier tonight knowing our fundamental rights are protected."
"After the Supreme Court overturned a woman's right to choice, we feared same-sex marriages were next," said Cyn Wang and Tessa Chavez. "The Respect for Marriage Act gives our family clarity and a sense of relief that our marriage, and those of all married couples regardless of sexual orientation or race, will be protected in this country."
The Respect for Marriage Act now goes to the House of Representatives for passage and then to the President's desk to be signed into law.
Senator Padilla is committed to pursuing equality for the LGBTQ community, including in employment, housing, and credit lending.
Earlier this year, Padilla introduced the LGBTQ Business Equal Credit Enforcement and Investment Act, legislation that would protect the 1.4 million LGBTQ-owned businesses in the nation from lending discrimination to ensure equal access to economic opportunities. Padilla also joined Senate Democrats in introducing a resolution recognizing June as LGBTQ Pride Month to highlight the work of the LGBTQ community in fighting to achieve full equality, including for marriage.