August 9, 2018 at 12:30 pm PDT | by Karen Ocamb
Sex, lies, and YouTube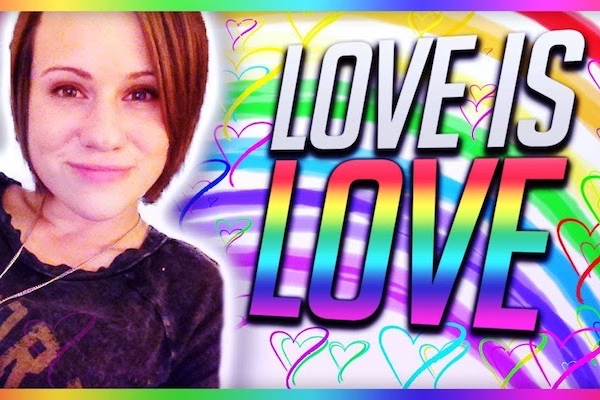 Love is love. The world is bright, colorful, full of joy and dancing. And for about two minutes, the Anchor North video on YouTube celebrates the love between two young girls, as told through the story of Emily Thomes who was 15 when she first started dating the girl down the street.
"I was pretty pumped," Thomes says, brimming with authenticity. When her father got livid after seeing a hickey, the teenager faced a reckoning. "I love her. It's a girl. And I'm going to be with her. And this is how it is.
And then "it went terribly" after her girlfriend told other people who then asked Thomes if they were gay together. "I can either cower away or I can own it so I'm going to own it. So I said, 'yeah – what about it?'" Thomes says with images of happy young people dancing at a rooftop party. "Love is not necessarily between a man and a woman. The problem was backwoods thinking. And if you were truly a Christian, you were on my side. And if not…you needed to reread what God was really about. Judge not. God being love meant God being nice and God was chill with what you were cool with."
That's the first minute of what seems like a pretty-cool pro-LGBT video, flipping the script of the theme for the "It Gets Better" project. It seems, as advertised, a "Powerful coming out story!!!"
But then the worm starts to turn. Thomes becomes "super wild and in serial relationships with women," until she goes to nursing school, meets a girl to whom she becomes engaged, and slows down because her fiancé has two kids. Her tone hints that there is something shady about this normal maturation process. Then, at 22, she agrees to go to a Bible study, expecting them to bring up her "lifestyle," which will enable her to refuse to go back.
But when Thomes hears other women share their stories, she has a revelation. "I have nothing like that and it bugged me. I could not stop thinking: what if all of it's true? Are you sure this is who you are? I couldn't stop questioning. I need to feel OK because I don't feel OK anymore."
Half way through the 4:32 video, Thomes says she googled bible verses on homosexuality and suddenly her world turns dark as she wanders alone in an abandoned warehouse, as if in hell. "Those who practice homosexuality – which was me—and also drunkards and a bunch of other things I would have been, I realized I will not enter the Kingdom of God," Thomes says. "It scared me really, really bad." By the end of the video, she is happy again, in the arms of a happy young man.
"People say to me all the time 'I was born this way.' I say, OK, yeah, me too," Thomes says. "You're not born with right affections. That's why Jesus had to come. You feeling a desire for sin just proves you need grace, like me. It's not gay to straight. It's lost to saved."
This deceptively seductive video has been seen by tens of thousands of viewers on YouTube and 6 million on Facebook, fulfilling the mission of the video's creators, the Upland, California-based Anchor North, to evangelize and "reach the lost" through social media.

"Right now in our current generation, there's this massive problem and it boils down to a misconstrued view of two things: what is good and what is true. Millennials between the ages of 18 and 34 are leaving the church at an alarming rate – 70% to be exact," says co-founder Greg Sukert, an award-winning marketing writer and producer. "If they're not going to be in churches, we have to reach them where they're at and where they're at is on the Internet consuming media….They're being lied to left and right….And they're just being torn apart by darkness, by sin, by evil."
Their mission is to "reach people with truth via video. The Internet and the media gives us the ability to throw the seeds of God's work out like wildfire," with online stories "for 1.6 billion to see at all times."
"The Internet is a mission field," says co-founder David Reynosa, who notes that "time is short…and there's people that are going to hell. That's a sad reality. We want to reach them as fast as possible."

The tax-exempt Anchor North has been the subject of outraged criticism since the videos were posted last January. Several news outlets have pressed YouTube and Facebook about their ad policies since the group's ads for their videos seem to violate the social media Terms of Agreement to not target specific groups. The ads have since been taken down but Anchor North has found a way around the ads violation by posting affirming, authentic-looking stories that slip through the cracks.
Sukert explained to Sophie Hemery for her Aug. 1 investigative report for Open Democracy/50.50 that social media users often watch only the first 30 seconds of a video, then share it.
"I'll tell you a really fun story," Sukert said about "Love is Love." "Seeing this video autoplay in their feed, with the language 'love is love', celebrating love and acceptance, sharing it before they saw the end…actually serving as our advocates to get the gospel out."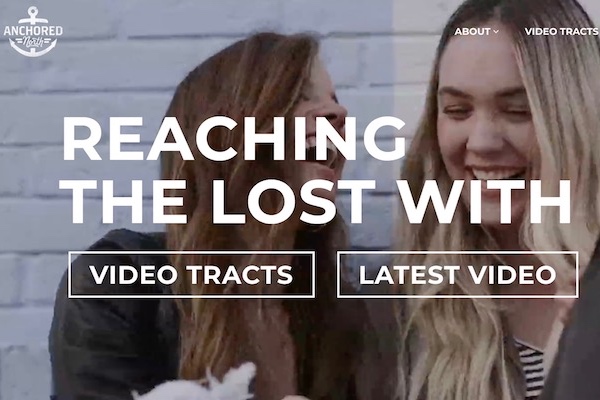 Sukert explained their "relentless"  promotion. "Like when you go to Amazon and you see a spatula and then that spatula starts following you across Facebook ads, across Google display ads, and everywhere you go, you're seeing that spatula," Sukert told Open Democracy. "It really allows us to be missionaries—not just in the United States but all over the world—so that's what we do, we hone into people's interests."
Right now the media world is debating the limits of free speech after Facebook and YouTube took down conspiracy theorist Alex Jones for his harmful content. But other fanatics and Religious Rights groups are sliding by on stories. Anchor North insists that they are not promoting "conversion therapy," for instance since that practice involves licensed therapists, not people telling their own stories.
"The proliferation of outlandish lies and dangerously false information about LGBTQ people is something that GLAAD has been tracking and responding to for a long time, however, it appears to be escalating under the most anti-LGBTQ administration in history," Sue Yacka-Bible, Communications Director at GLAAD, tells the Los Angeles Blade. "Embodied by vile figures like Alex Jones, who uses his varied platforms to push countless false and hateful anti-LGBTQ myths, including that the Pulse Nightclub massacre was the LGBTQ community's fault, we all must be vigilant in calling out these bad actors and correcting the record at every step."
With the start of the school year, new lies are hitting the Internet or resurfacing, such as the claims by anti-LGBT parental-rights groups claiming that California Governor Jerry Brown is forcing schools to show kids gay sex in class. Pictured alongside a photo of Brown is the warning: '"SODOM AND GOMORRAH: CALIFORNIA GOV. JERRY BROWN TO FORCE SCHOOLS TO SHOW KIDS 'GAY SEX' AS PART OF INCLUSIVE LGBT CURRICULUM."
A spokesperson for newly-appointed LAUSD superintendent, Austin Beutner, told the LA Blade that officials are following California's State Board of Education (SBE) approved instructional materials for grades K–8, that align with California's groundbreaking History/Social-Science curriculum framework. The new materials follow guidelines established by the FAIR Education Act, which the Legislature approved in 2011 to require including the contributions of various groups in the history of California and the United States.
The Annenberg Public Policy Center of the University of Pennsylvania's FactCheck. org project reported last week that the claim started out on the notoriously unreliable website YourNewsWire with a post in December 2017. Since then, it has been shared on 20 different Facebook pages and reached a social media audience of 2.8 million in total, according to data from Crowd Tangle. A month after it first went up, the story was copied with the offensive headline now making the rounds on Facebook. Although that version of the storydoesn't appear to have been shared widely, the photo and headline that were taken from it have been shared more than 32,000 times since being posted on Facebook on July 9.
"It's not surprising that far-right anti-LGBTQ groups continue to peddle outrageous conspiracy theories and propaganda in order to whip up a frenzy of fear among their relatively small but vocal group of supporters," Equality California Communications Director Samuel Garrett- Pate tells the LA Blade. "Ultimately, we're confident that Californians support teaching fair and accurate curriculum in our schools, providing students with comprehensive age- appropriate sex education and protecting LGBTQ Californians from the dangers and abuse of so-called 'conversion therapy.'"
But, he adds, "we cannot take anything for granted. Hate groups are alive and well in California, and it's up to all of us to combat their offensive conspiracy theories by arming ourselves with the truth." – Staff also contributed to this story.