Pro-equality voters are showing up — so are SoCal haters
HRC stumps for Harley Rouda as Rise Above Movement gains influence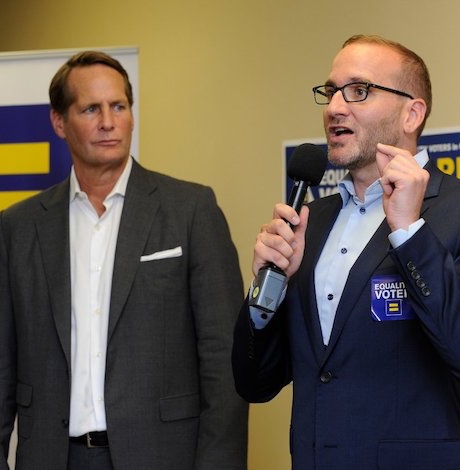 For several hours edging late into the night of Aug. 7, politicos fixated on the ticker at the bottom of cable news channels watching the results of Ohio's 12th congressional district election roll in. Popping up behind network reporters at Democrat Danny O'Connor's election party were blue posters with yellow equal signs emblazoned with the words Equality Voter. The same signs bobbed up and down when Democrat Doug Jones won Alabama's Special Election for U.S. Senate over accused pedophile Republican Judge Roy Moore on Dec. 12, 2017. By now, most Americans with a hint of political acumen know that "equality" is code for LGBT and LGBT politicos recognize that sign as the brilliant branding of the Human Rights Campaign.
But Democrats were denied their surge of euphoria when reports indicated that Republican Troy Balderson—for whom President Trump and a slew of high-profile GOP loyalists stumped—appeared to eek out a victory in what had heretofore had been solid red territory for 32 years. But with 8,500 provisional ballots still to be counted, HRC and others hold out hope that the bellwether district would still ring in for the young Democrat.
HRC identified "more than 1.8 million equality voters" in Ohio, "voters who support LGBTQ-inclusive policies including marriage equality, equitable family law, and laws that would prohibit discrimination on the basis of sexual orientation or gender identity," HRC says. With an expected Balderson and O'Connor rematch in November, HRC's get out the vote effort may be even more significant, especially if the GOP fails to pour in more millions and fly in GOP honchos. 
Last February, HRC released a report — "A Path To Victory In 2018: The Power Of The Equality Voter" — explaining the new and growing political power of the LGBT movement and their allies, which HRC dubbed "Equality Voters." Then last July, HRC launched a proactive grassroots political initiative to work in coalition with other progressive and civil rights groups and organizing efforts on the ground to counter the Trump-Pence agenda and elect "pro-equality" candidates across the country.

Their new HRC Rising initiative builds on the historic defeat of North Carolina Gov. Pat McCrory—the only incumbent governor of either party to lose re-election in 2016 and the only incumbent governor to lose re-election in North Carolina's history—due in large part to his signing the discriminatory, anti-LGBTQ HB2 law.  It was during this period that HRC started refining a "Equality Voter Model" they'd been working on with data and analytics firm Catalist to determine which voters were more likely to be supportive of LGBT policies. The model allows for direct outreach to millions of equality voters in crucial battleground states, "moving them to action in support of pro-equality issues and legislation, as well as our endorsed candidates."

"It is clear that LGBTQ voters — and their allies — are one of the most reliable and highly engaged voting blocs in the United States," said HRC President Chad Griffin. "From North Carolina to Virginia to Alabama to a wave of historic victories for transgender candidates across the nation this past fall, equality voters are making their voices heard at the ballot box. These victories are a model for our battles nationwide. And in 2018, HRC is mobilizing like never before to pull the emergency brake on the Trump-Pence administration's hate-fueled agenda and send a loud and clear message that if you come for our community, we're coming for you on Election Day."

This year, HRC Rising is focused on Arizona, Michigan, Nevada, Ohio, Pennsylvania, and Wisconsin. But HRC is not forgetting the imperative of flipping at least six congressional seats in Southern California needed to win back the House—and has identified over 9 million voters as likely "Equality Voters." On Aug. 4, Griffin flew to Huntington Beach to endorse attorney and businessman Harley Rouda in his race against longtime anti-LGBT Republican Rep. Dana Rohrabacher.

"While Dana Rohrabacher has sought to undermine the rights of LGBTQ people at every turn," said HRC President Chad Griffin, "Harley Rouda has spoken out for the equal dignity of all members of our community. Harley Rouda is the pro-equality leader the people of California deserve, and we look forward to working with him in Congress to pass the Equality Act and secure full federal equality for all Americans."

"Our campaign is honored to receive the endorsement of HRC. This is a great moment for a campaign dedicated to the pure and powerful principal that too many LGBTQ Americans lack basic legal protections in states across the country. That's why the first piece of legislation I will sign my name to as a member of Congress will be the Equality Act," Rouda said. "Sadly, the same cannot be said for my opponent Dana Rohrabacher, who has never met a policy intended to roll back LGBTQ rights that he does not support. The CA-48 LGBTQ community – our entire community – deserves much, much better. As an equality candidate, as an equality voter, I applaud HRC's effort to turn out millions of equality voters this election. This can be a watershed election for LGBTQ rights in America and I look forward to working with HRC to make that happen."

Rouda has been getting a lot of attention lately, with his square-jawed Republican looks. "If Democrats suddenly have a shot in Orange County, it's because Trump has made basic decency a partisan position," New York Times columnist Michelle Goldberg writes in "Will the Birthplace of the Modern Right Turn Blue?"

Yahoo News reporter Andrew Romano tells of a Q&A Rouda had at University Synagogue in Irvine, saying the "biggest issue" of 2018 is that "institutions of our government and culture — the foundations of democracy — are now under attack." Rouda then paused, recounting a recent visit to the German Historical Museum in Berlin.

"[T]he rise of Hitler was all based on nationalism….Hitler said, 'Our country is getting screwed … [but] stand with me and we can take our country back,'" Rouda continued. "That process then evolved into the denigration of minorities as a rallying point for his base," warning that America could become like Nazi Germany if Trump is left unchecked.

"What's going on right now is we've got a president who's trying to divide us," Rouda said. "If we allow him to be successful, then our country's going to go down a path that none of us wants to see."

Those unfamiliar with Orange County's past may not know that the ultra-conservative region spawned such Religious Right activists as Rev. Lou Sheldon and enforcers such as the White Aryan Resistance (WAR), the KKK and pockets of swastika-tattooed Neo-Nazis. In the early 1990s, WAR tried to burn down the law firm of young attorney John Duran who was simply trying to secure a parade permit from the Santa Ana City Council for the first Gay Pride in Orange County.

With the changing times and an influx of Latino and Asian immigrants, many politicos believe the bad old days are gone. Not so, says ProPublica journalist A.C. Thompson, whose documentary "Documenting Hate: 48 Hours in Charlottesville" aired on PBS Frontline Aug. 7.

After seeing the unleashed racist violence in Charlottesville last year, Thompson set out to track the new white supremacists. He viewed videos of numerous rallies that led up to Charlottesville, in Anaheim, Sacramento, Huntington Beach and Berkley, and spotted one fighter who was particularly violent—Robert Rundo, a Neo-Nazi who settled in San Clemente, Orange County after being released from prison. He interviewed retired probation officer Lowell Smith whose 30-year career was spent dealing with white supremacists. Now the movement is emboldened by Trump, a whole new generation pushing politics into the mainstream. "I'm really concerned," he said. "I'm afraid Charlottesville could happen again and be a lot worse."

"Rob Rundo is part of that trend," Thompson said. "His group's first public appearance wasn't at a torch march—it was at Huntington Beach at a pro-Trump rally behind a banner that read 'Defend America.' When antifascists showed up, Rundo and his crew attacked them. He pinned one of them on the ground and pummeled him." Rundo became famous, a leader after that MAGA rally.

"This is more than a couple of random people. There's something much more organized," Gustavo Arellano, former editor of the OC Weekly told Thompson. His team found the name of Rundo's gang: The Rise Above Movement. RAM. "Patriotic nationalists" who celebrate Hitler and train with Neo-Nazis in an area off the 405 freeway in Irvine.

But, notes Thompson, these "defenders of traditional white culture-traditional masculinity" do not stand out like their tattooed elders. They find ways to blend in. Thompson matched images of one violent RAM member with another violent hater from Charlottesville—and found Michael Miselis, UCLA Ph.d candidate who held a government-issued security clearance for his job at Northrop Gruumman. Miselis was fired the day after Thompson's story appeared in ProPublica.

Rouda is right to be concerned, especially since these RAM haters are the ones President Trump called "very fine people."
New on the LA County Channel
You can watch on Channel 92 or 94 on most cable systems, or anytime here. Catch up on LA County Close-Up here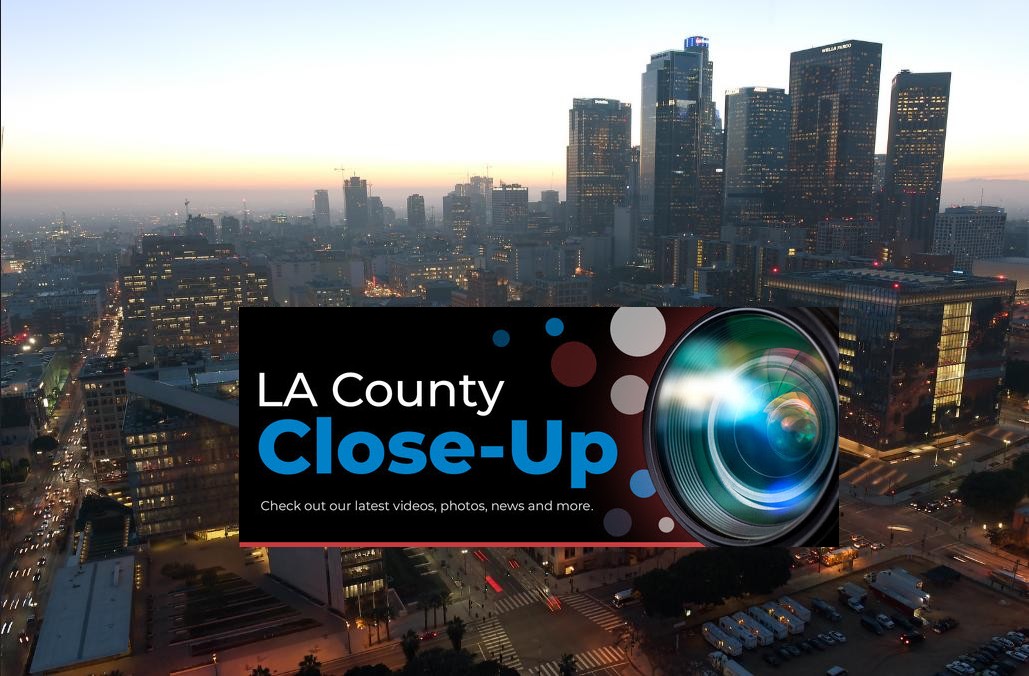 New on the County Channel
Go behind the scenes at the moving new exhibit at the Holocaust Museum.
You can watch more stories like this on Channel 92 or 94 on most cable systems, or anytime here. Catch up on LA County Close-Up here.
In Case You Missed It
Return Your Vote by Mail Ballot Early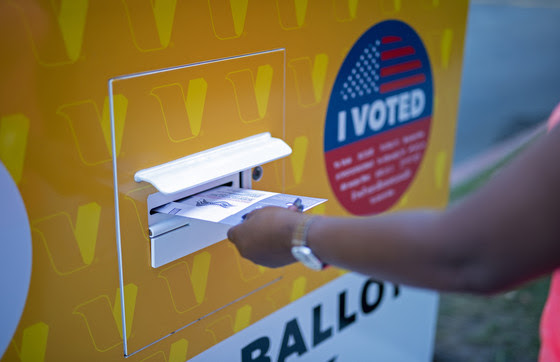 You don't need to wait until Election Day (April 4) to make your voice heard in the City of Los Angeles Council District 6 Special Primary Election.
Once you've completed your ballot, sign and date the Return Envelope and use one of these easy return options:
Return by mail: No postage is required.
Ballot Drop Box: There are 14 convenient Ballot Drop Box locations in your community.
Tracking your ballot – when it is mailed, received, and counted – has never been easier. Sign up to Where's My Ballot? to receive automatic notifications on the status of your ballot.
At Your Service
Upcoming Webinars for Landlords & Tenants
DCBA will host a series of webinars that will explain which protections from the COVID-19 Tenant Protections Resolution expire after March 31st, 2023, and the impacts of that expiration on landlords and tenants.
On Thursday, March 23 at 10 a.m., DCBA will host the first in a series of webinars for landlords. We can help you understand your rights and responsibilities.
An additional webinar is currently scheduled for Thursday, April 13. Visit our website at dcba.lacounty.gov/webinarsforlandlords to learn more and register for upcoming webinars.
On Thursday, March 30 at 10 a.m., DCBA will host an online workshop for tenants to discuss changes to tenant protections, the Rent Stabilization Ordinance in Unincorporated Los Angeles County, and other available resources for tenants.
Economic Opportunity Grants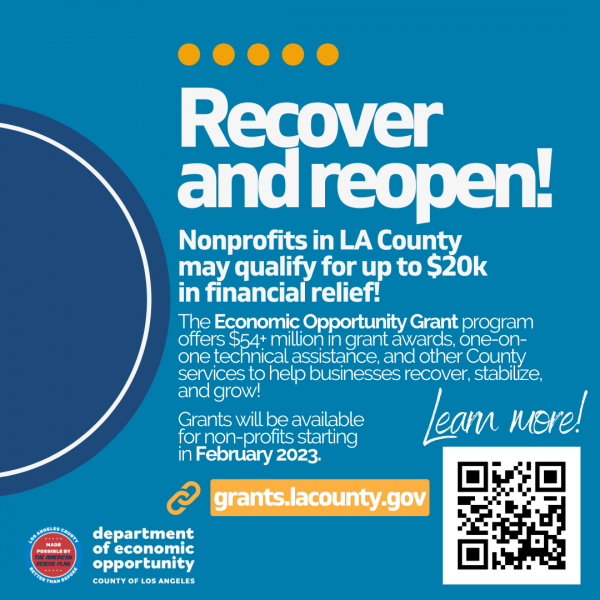 LA County's Economic Opportunity Grant program will award more than $54 million in grants to small & micro businesses, and non-profits impacted by the pandemic.
Grants ranging between $20,000 or $25,000 per grant will be available for non-profits starting in February. Interested businesses can visit grants.lacounty.gov to learn more or access multi-lingual support.
Out and About
Parks After Dark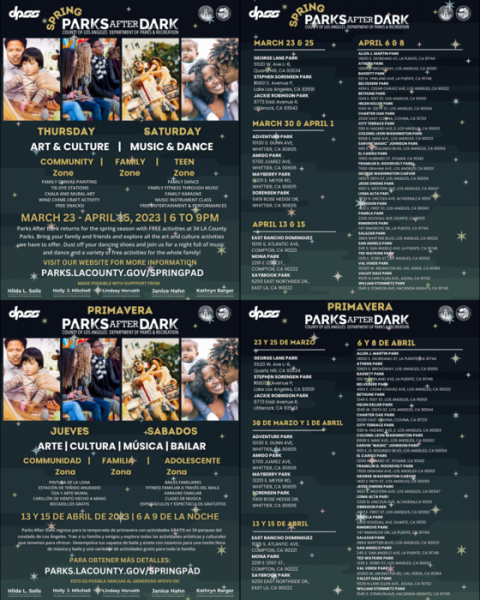 It's Park Time, L.A. County! Parks After Dark (PAD) returns this March with fun, free and safe recreational experiences that brings, teens, families, and communities together at 34 LA County Parks for two evenings during Spring Break. Parks After Dark is an award-winning program designed to bring communities together by activating park spaces with hands-on activities and entertainment that transforms local parks into safe havens.
The Spring edition of Parks after Dark kicks-off March 23 and runs through April 15 on Thursday and Saturday nights from 6 to 9 pm for two evenings of fun. Come experience an array of workshops and activities such as music, canvas painting, culinary art, family dances, arts, and crafts, and so much more. The Department of Parks and Recreation is dedicated to bringing the "World to You" through cultural performances sponsored by the Los Angeles Music Center. Enjoy snacks, refreshments, and entertainment in our community zone.
For more information on an LA County Parks After Dark location near you, visit Parks After Dark Spring 2023 – Parks & Recreation (lacounty.gov)
Free Yoga Classes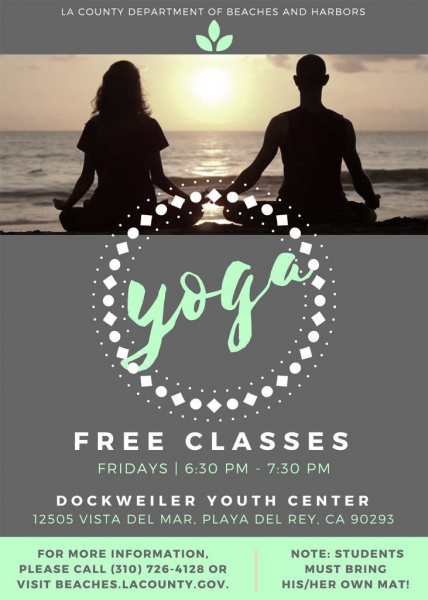 LA County Beaches and Harbor is offering FREE yoga classes on Fridays at the Dockweiler Youth Center.
Fridays | 6:30-7:30PM
Dockweiler Youth Center
12505 Vista Del Mar, Playa Del Rey, CA 90293
Note: Students must bring their own mats.
Visit beaches.lacounty.gov for more information.
Photo Finish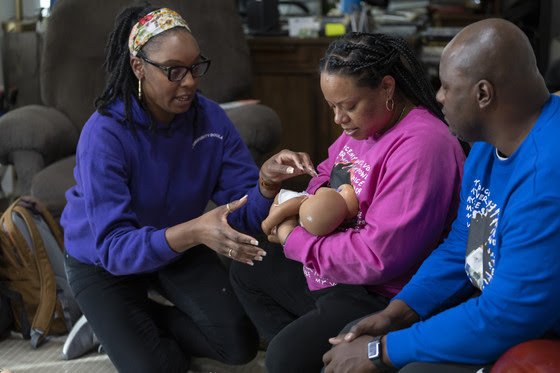 LA County African American Infant and Maternal Mortality Prevention Initiative.
Click here to access more photos of LA County in action.