Aaron Salazar, severely injured gay university student, slowly recovering
Amtrak no longer responding to California incident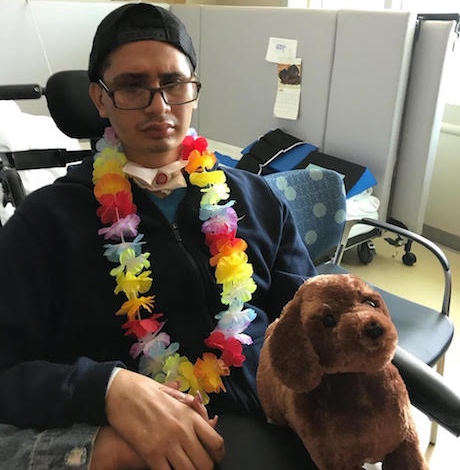 Aaron Salazar, the 22-year old gay Portland State University student who was found critically injured and near death on the railroad tracks just outside of Truckee, California last May 15, was well enough to be moved to the Craig Rehabilitation Hospital in Englewood, Colorado. Salazar had been a passenger on Amtrak's California Zephyr Train traveling from Denver to Sacramento on a return trip to his university in Portland, Oregon. 
Sonia Trujillo, Salazar's cousin and spokesperson for the family, told the Los Angeles Blade Monday, Aug. 13, that the decision to move him was two-fold: to have him closer to family members and because Craig Hospital is globally recognized for specializing in spinal cord injury and traumatic brain Injury rehabilitation.
On Tuesday, another cousin, Austin Sailas, reported the following on Facebook: "I am posting this special update as it is almost three months since Aaron was found and an amazing development has happened…Aaron has once again began to speak. I just spoke to him through Facetime on his mom's phone, and he recognized me and said hello! We are very excited to share this with our GoFundMe page family. When asked about the train, he sadly cannot remember, which…the doctor said is normal due to a mix of both the injury, and his brain protecting him from the traumatic event, although with time, and therapy he might be able to remember things on his own." 
The investigation into the circumstances surrounding Salazar's severe injuries has stalled, according to Trujillo. She said that Amtrak investigators and Amtrak's Police Chief Neil Trugman have ceased directly communicating with the family. Now all communications are being handled by Amtrack's corporate attorneys. Trujillo added that Amtrak investigators continue to maintain that Salazar intended to harm himself.
Amtrak's last public statement in May said that the corporation was "deeply saddened by the significant injuries to one of our customers. The Amtrak Police Department reached out to more than 300 customers, crew, and friends in support of this investigation. The individuals who noted interactions with Salazar shared that he had expressed to them a number of life concerns and challenges."
The statement also noted: "We are unable to comment on Mr. Salazar's medical condition, but note that a fall from a moving train would cause significant injury. There is no evidence of a physical altercation occurring while Salazar was traveling on Amtrak."
A spokesperson for Amtrack declined to comment on allegations that the investigation was currently stalled. Instead the spokesperson referred to an earlier statement, also from May; "We have been in contact with Mr. Salazar's parents and provided them updates on the investigation. Out of respect for the family, we are declining to share any additional details of interviews with customers, crew, and friends and encourage everyone to avoid speculation."
The family is extremely frustrated by the lack of initiative from the Amtrak police, Trujillo told the LA BLADE and is petitioning to have the Federal Bureau of Investigation take over the investigation. She maintains that the injuries sustained by the young student were the direct result of a horrific beating.
The congressional delegations of both Oregon, where Salazar is a student, and Hawai'i where he resides with his mother, sent official inquiry letters to Amtrak asking for further details after Salazar's story became public. As of Monday, Aug. 13, they have not received an answer, Congressional sources told the LA Blade.
As Salazar continues to recover in Englewood, the family posted a "thank you" on the "Justice for Aaron" Facebook page linked to the GoFundMe page that the family hopes will help defray the medical expenses they are incurring.
"We would like to take the time to thank everyone in the City of Reno/Truckee, California area. Although this tragedy shook our family to its roots, your people's love, support, and solidarity has proven that love will always trump hate. The largest small city also has the largest heart. Thank you everyone, we will make sure to keep in touch with the many new friends, and family we met here. Although Aaron has a long road of therapy as he continues to heal, we pray you all will continue to follow our updates, and continue to spread the positive energy, and love as it is definitely working. We love you all, The Salazar Family"
Reporting by the staff of the Los Angeles Blade and wire service reports.
Critics attack LA DA over complicated case involving Trans woman
The crime would sit unsolved until 2019 when her DNA was entered into a database after she was arrested in Idaho on suspicion of battery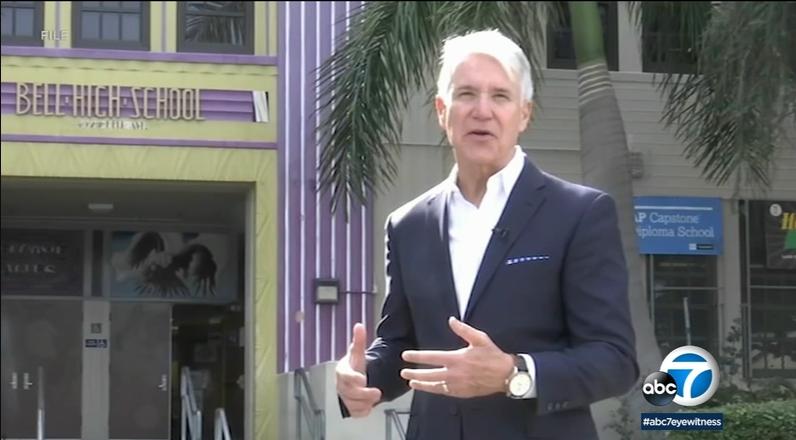 LOS ANGELES – Los Angeles County District Attorney George Gascón is facing sharp criticism over his policy to never prosecute children as adults after a 26-year-old Trans woman pleaded guilty to sexually assaulting a 10-year-old girl when she was 17. But, according to Gascón, the nature of the case is complicated.
Hannah Tubbs was weeks shy of her 18th birthday when she walked into a Denny's bathroom in Palmdale, grabbed a 10-year-old girl by the throat and sexually assaulted her, according to prosecutors.
The crime would sit unsolved until 2019 when her DNA was entered into a database after she was arrested in Idaho on suspicion of battery, reported the Los Angeles Times. Prosecutors filed charges in 2020, shortly after Gascón took office.
According to the paper, Tubbs, who pleaded guilty, might be sentenced to a short stay in juvenile hall or probation later this month.
"I would ask the public to reach out to Mr. Gascon and express their concerns and their outrage on a matter such as this involving a sexual predator."

Lt. Richard Ruiz of the LA County Sheriff's Department's Special Victims Bureau
Critics of Gascón are expressing their frustration with the district attorney, saying Tubbs' case highlights the problems with a blanket ban on not trying juveniles as adults.
"It's useless to catch criminals like [Tubbs] if we don't follow through and seek justice for victims such as the 10-year-old girl [she] sexually assaulted. She bears the burden of a lifetime of trauma," L.A. County Supervisor Kathryn Barger, whose district includes Palmdale, told the Times. "[She] will be offered therapeutic interventions under the auspices of 'restorative justice'… and possibly granted only probation or parole. Where is the justice for [her] young victim and her family?"
Some critics are using the case as ammunition to fuel another recall effort of Gascón. The earlier attempt to recall the district attorney didn't make it to a vote as proponents couldn't collect enough signatures.
However, Gascón has said that the case is complicated due to the years between the crime and Tubbs' capture, as well as her criminal record and the impact on the victim.
Tubbs has also been arrested for battery, drug possession and probation violations in Idaho and Washington, according to the paper.
The victim, who did not want to testify on trial, has since moved from California and is still in therapy, said an impact statement read in court last month.
Gascón has also raised concerns about Tubbs' becoming a victim herself if she was held in an adult facility because of her trans identity. A probation report recommended she be sentenced to home confinement, according to Gascón.
An email reviewed by the Times said Tubbs is diagnosed with multiple mental illnesses and might also qualify as "developmentally disabled." These factors lead to legal questions about whether she can even be found responsible for the crime.
In addition, at 26, Tubbs is too old to be legally held in a county juvenile detention facility, leading to more questions over Tubbs' sentencing.
West Hollywood will engage community in MLK Jr. Day of Service
Martin Luther King Jr. holiday on Monday, January 17, 2022, is the 27th anniversary of the Day of Service that celebrates his life & legacy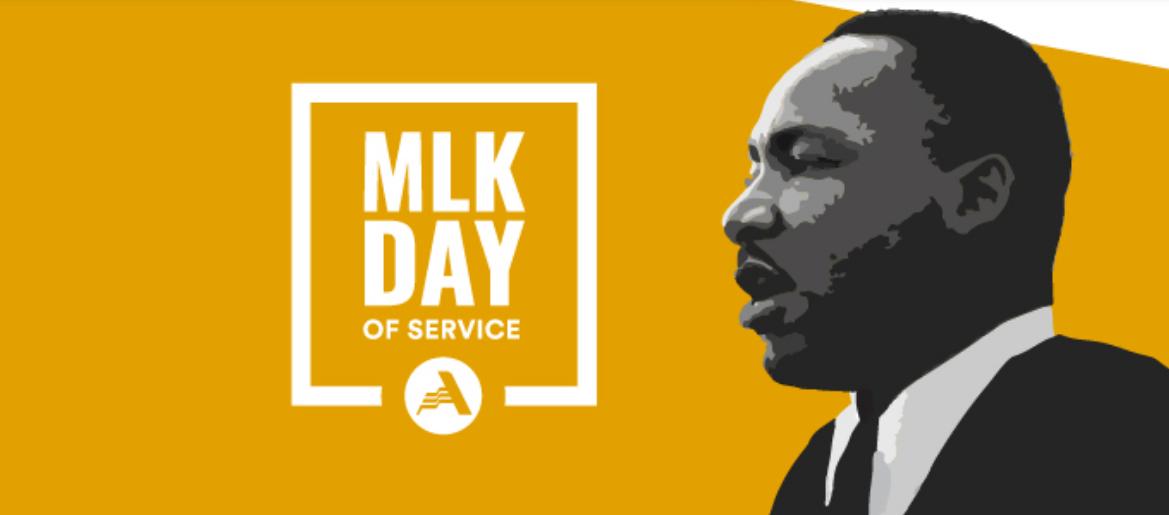 WEST HOLLYWOOD – In January 2022, the City of West Hollywood will continue its tradition of joining hundreds of communities across the country in a National Day of Service to commemorate the Martin Luther King Jr. Day federal holiday by providing an opportunity for community members to make an impact locally with a donation drive for people who are experiencing homelessness.
The City of West Hollywood, in partnership with West Hollywood Elementary and Friends of West Hollywood Elementary (FOWHE), will be collecting monetary and gift card donations to support new socks, blankets, and sleeping bags for the City's Homeless Initiative, which partners closely with nonprofit service providers, the West Hollywood Sheriff's Station, and Los Angeles County agencies to provide a wide variety of services aimed at reducing homelessness and supporting community members who are experiencing homelessness.
This year's City of West Hollywood Martin Luther King Jr. Day of Service activity reflects the desires of students from West Hollywood Elementary to help those most in-need in the community.
Due to COVID-19 health and safety protocols, this year's City of West Hollywood Martin Luther King Jr. Day of Service will take place as a two-week virtual donation drive instead of an in-person Day of Service event.
It will run from Saturday, January 15, 2022 to Monday, January 31, 2022. Donations can be made online at https://secure.qgiv.com/for/homeless or donations of physical gift cards or of personal checks made out to 'City of West Hollywood' may be mailed to:
West Hollywood Homeless Initiative/MLK Day of Service
West Hollywood City Hall
8300 Santa Monica Boulevard
West Hollywood, CA 90069
The City is, additionally, encouraging donations to the Los Angeles LGBT Center's Youth Center, which has posted a "CARE 4 Youth Essentials" wish list on Amazon at lalgbtcenter.org/care4youth.
The City of West Hollywood would have hosted its tenth-annual clothing drive for the Los Angeles LGBT Center's Youth Center on Highland in January 2022, but due to COVID-19 health and safety protocols, this year the City is instead encouraging virtual donations of needed supplies that will be distributed to lesbian, gay, bisexual, and transgender (LGBT) youth who are experiencing homelessness.
For more information about the Los Angeles LGBT Center's Youth Center, please visit www.lalgbtcenter.org/social-service-and-housing/youth.
The City of West Hollywood encourages community members who seek to make a difference to volunteer in response to the urgent call and unprecedented need for volunteers during these uncertain times.
To find out more about local volunteer opportunities with the City of West Hollywood's community partners, please visit www.weho.org/volunteer.
For addition information about virtual and in-person volunteer opportunities to address critical needs, please visit California Volunteers at www.californiavolunteers.ca.gov/get-involved/covid-19 or call (888) 567-SERV; visit Volunteer Match at www.volunteermatch.org; or visit LA Works at www.laworks.com or call (323) 224-6510.
The City's West Hollywood Homeless Initiative seeks to address homelessness with a multi-disciplinary, multi-agency, collaborative response. For more information about the West Hollywood Homeless Initiative, including ways to help and resources for those in need, please visit www.weho.org/homeless or call (323) 848-6590.
The Martin Luther King Jr. holiday on Monday, January 17, 2022, is the 27th anniversary of the Day of Service that celebrates the Civil Rights leader's life and legacy. The Martin Luther King Jr. Day federal holiday was designated as a National Day of Service by Congress in 1994. Each year, the City of West Hollywood participates in this call to action.
For more information about MLK Day of Service activities and recognitions across the nation, please visit www.nationalservice.gov/serve-your-community/mlk-day-service. 
For more information about the City of West Hollywood's 2022 Martin Luther King Jr. Day of Service please contact Larissa Fooks, the City of West Hollywood's Community Events Coordinator, at (323) 848-6413 or at [email protected].
For people who are Deaf or hard of hearing, please call TTY (323) 848-6496.
British tourists robbed at gunpoint in WeHo area caught on video
"I've never even seen a gun before, let alone have one at my head," he added. "I honestly thought I was going to lose my life at one point"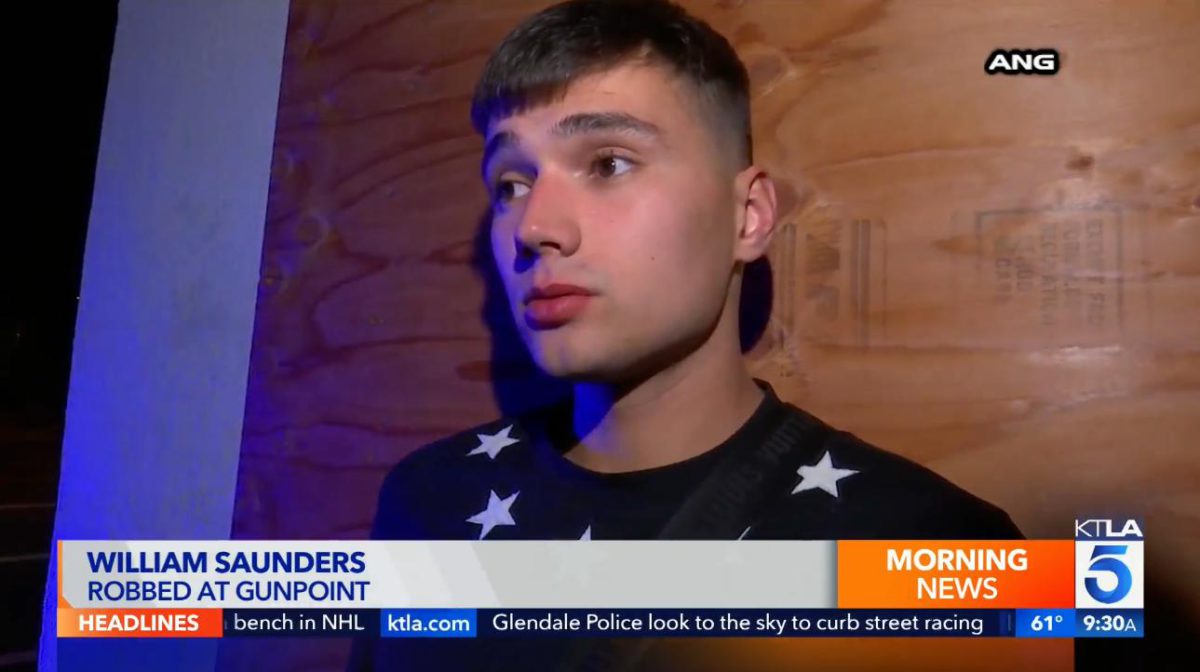 WEST HOLLYWOOD – Two young British men who had been visiting a nightclub in the area of 961 N. La Cienega Blvd. were accosted by robbers as they left the club to catch an Uber.
Cellphone video by a witness caught the robbers struggling with one of the victims KTLA reported.
William Saunders, who identified himself as one of the victims in the robbery, said that he and his friend had just left a nightclub and were hailing an Uber ride when they were approached by the robbers.
"Guys with their hoods pulled tight, could hardly see their faces, jumped out at us, grabbed us," Saunders said. "One of them had a small handgun on him, pointed it to my head, told me to give him my watch, my bag and my phone."
Saunders said he threw his watch to the floor, pushed the robber and ran into a restaurant, where he learned that there was video of the assailants wrestling with his friend, ripping his bag off him and taking his watch.
Deputies from the West Hollywood substation patrolling the area responded immediately. In a statement, the Los Angeles County Sheriff's Department said that the victims were accosted by two suspects wearing hoodies and that a firearm was displayed. The suspects were able to get away with what one of the victims described as a bag that contained expensive watches, their passports and an unknown amount of cash, the Sheriff's Department confirmed.
"We're visiting from England," Saunders told KTLA. "Only one night in L.A. and it has ended like this."
"I've never even seen a gun before, let alone have one at my head," he added. "I honestly thought I was going to lose my life at one point."