Man accuses gay married couple of molesting kids on Amtrak train
"Family!? That's not a family! You're rapists. You steal black & Asian kids These guys aren't natural. Homosexuals are an abomination"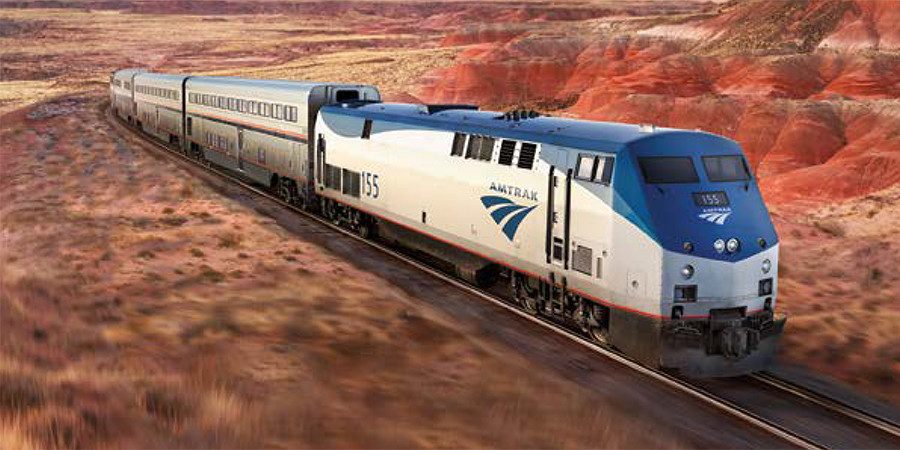 LOS ANGELES – A gay married couple accompanied by their two minor children traveling from Los Angeles to Oakland this past Tuesday, on Amtrak's Coast Starlight for a Spring Break get-a-way, found themselves under attack by a stranger who accused them of being rapists and paedophiles.
Twitter user @Robbiepierce (Robbie Pierce) in a thread Tuesday documented the incident:
"Well that didn't take long. We decided to take a trip on Amtrak with the kids for spring break. 9 hours into a pleasant ride, a man was suddenly standing next to me, shouting across me at my 6yo son, "Remember what I told you. They stole you. They're pedophiles."
According to Pierce, the man had followed the couple's son into the bathroom:
"I asked my son if he'd seen the man before. He said the man had confronted him when we let him go to the bathroom alone, which he'd been so proud to do @ 1st but too afraid to do again after. Yet *we're* the groomers. I'm livid & ashamed that I didn't notice something was up."
Pierce described what happened next:
"I stood between the stranger and my son, whose life has already been so hard, who carries traumas larger than his whole small, fierce frame. I was immovable. "Get away from my family."
In response the attacking homophobe yelled:
"Family!? That's not a family! You're rapists. You steal black & Asian kids." My son and my 5yo daughter were both now openly crying, petrified. He yelled right at them, unmoved: "These guys aren't natural. Homosexuals are an abomination. They steal and rape kids."
"It was suddenly no longer an absurd, abstract attack in an online comments section or a distant legislative session," Pierce noted adding; "These horrors were being screamed @ my sweet bewildered son, who's worked so hard to process his grief & control his feelings, who only wants love & safety."
"I grabbed the kids and moved them to another car while my ferocious husband went into papa bear mode and shouted the man away from us. Eventually the conductor arrived and the man lost his focus on us," Pierce wrote.
"The kids cried for almost an hour. We got cookies & processed their emotions while the train waited at a stop for the police. They wanted to be away from windows so they wouldn't see him again. They wanted to practice screaming loud enough for help to come. I want to scream too," he said.
An official with Amtrak speaking on background confirmed the incident in a Wednesday phone call with the Blade. Amtrak employees eventually stepped in and the man was removed from the train in San Jose with the help of local sheriff's deputies.
Authorities said the man was not arrested and he has not been identified.
Amtrak sent a statement to that reads:
"Amtrak strongly condemns this reprehensible act of hate. To ensure our customers feel valued and respected when riding our trains, we are conducting a full investigation on this incident. This includes potentially banning the customer from future Amtrak ridership."

Amtrak/National Railroad Passenger Corporation
Pierce issued this tweet saying: "They're asleep now. They asked if we'll see that man again & I said probably not him, but men just like him. But we'll be stronger each time. And most people aren't like that guy. I hope this was true. Please help us protect our families, friends. We feel so outnumbered & tired."
Pierce also noted, "We all know where that comes from. So thanks to Fox & Murdoch, JK Rowling & Marjorie Taylor Green, to the senators & priests & everyone else who harms kids & thinks it's politically expedient to project onto gentle families like mine to stir up their lucrative culture war."
Anti-LGBTQ+ animus in the nation's culture wars has escalated over the past several months as over 300 plus anti-LGBTQ+ legislative bills have been introduced in over 31 states which has also seen six states that have signed anti-LGBTQ bills into law.
The worst rhetoric having been amplified by passage of Florida's so-called 'Don't Say Gay' bill which was signed into law by Florida Republican Governor Ron DeSantis. His press spokesperson, Christina Pushaw, tweeted her belief that people who oppose the so-called 'Don't Say Gay' legislation sent to the state Senate are "groomers" or those who would not denounce "groomers" — references to pedophilia and people who help "groom" children for pedophiles.
DeSantis himself has also referred to grooming and transgenderism in disparaging anti-LGBTQ+ public remarks.
In a text message to the Blade, Brandon J. Wolf, Press Secretary for Equality Florida said; "Remember, it was Governor Ron DeSantis' team that injected this "groomer" messaging into the public in a massive way to justify his Don't Say Gay classroom censorship and book banning legislation. He has stoked hatred, division, and violence."
Early Wednesday, Pierce offered his take on the episode:
To be clear, as much as we need people standing up for us in such moments of confrontation, we need allies to shut down this rhetoric everywhere it rears its ugly head anywhere, especially when we're not there. Don't vote for them or support their art or avoid confrontation.

— Robbie 🌮🦝 (@Robbiepierce) April 13, 2022
Marjorie Taylor Greene tweets homophobic attack on Sen. Wiener
"Greene is a toxic person & embodies why the MAGA movement is dangerous, a threat to our democracy & to the personal safety of LGBTQ people"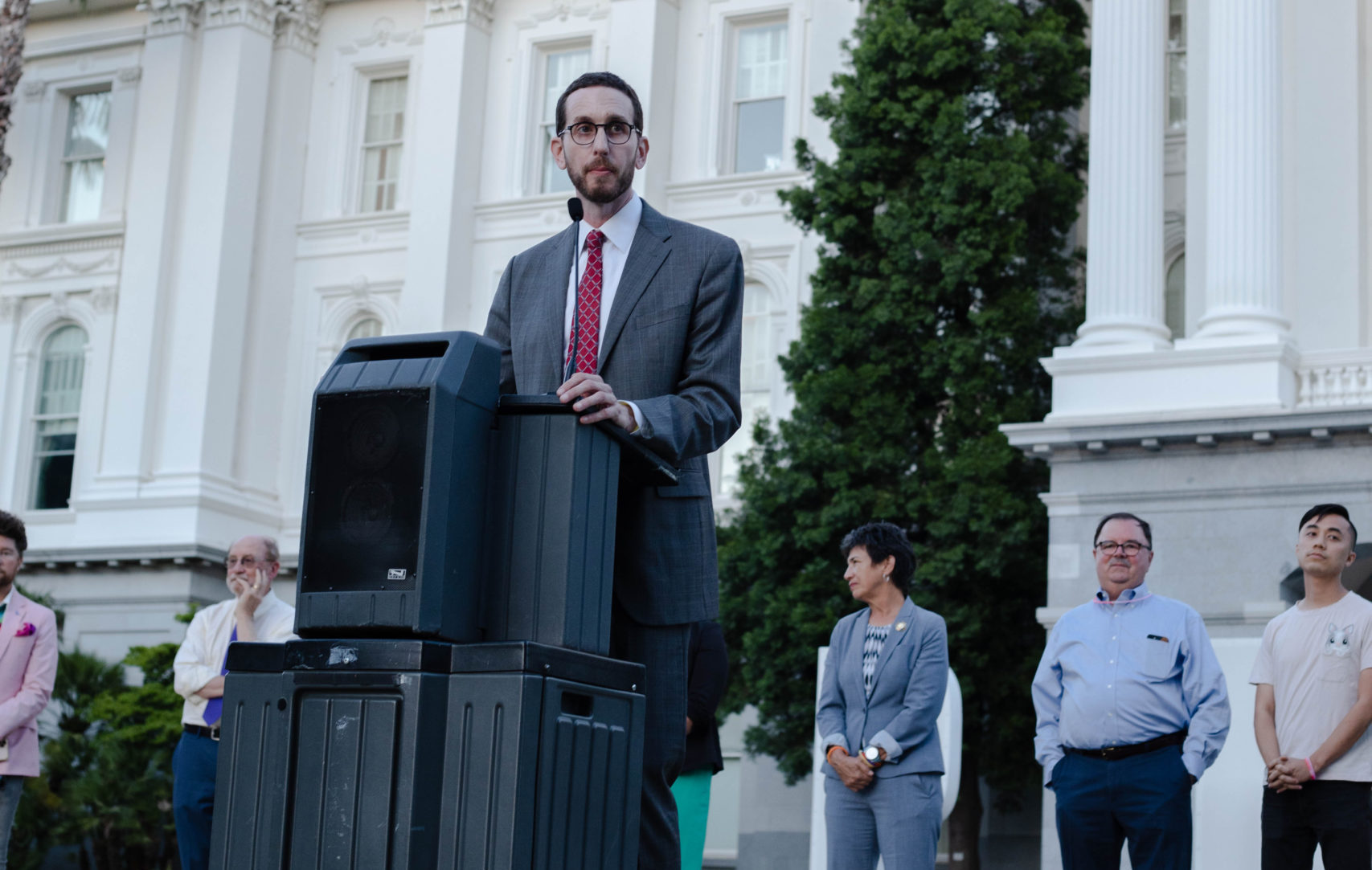 LOS ANGELES – Far-right Republican U.S. Rep. Marjorie Taylor Greene attacked Calif. State Sen. Scott Wiener, (D-San Francisco) on Tuesday after Wiener made a point of calling out use of the word "groomer," as the abusive reaction and fallout from right-wing sources regarding the mass-shooting at Club Q in Colorado Springs, continues to ratchet up against the LGBTQ+ community.
"The word "groomer" is categorically an anti-LGBTQ hate word. It's super homophobic/transphobic. It plays into the slander that LGBTQ people are pedophiles. It's no different than calling someone a fagg*t. If you call someone groomer, you're inciting violence against LGBTQ people," Wiener stated in his tweet.
Quoting Wiener's tweet the far-right MAGA Georgia congresswoman called the Senator a "communist" questioning Wiener's loyalty and service to both the State of California and the U.S. she then went on to accuse Wiener of being a "groomer" implying that the Senator was a predator of minors for sexual purposes:
"Pass my Protect Children's Innocence Act to stop communist groomers like this from using state government power to take children away from their parents to allow a for-profit medical industry to chop off these confused children's genitals before they are even old enough to vote."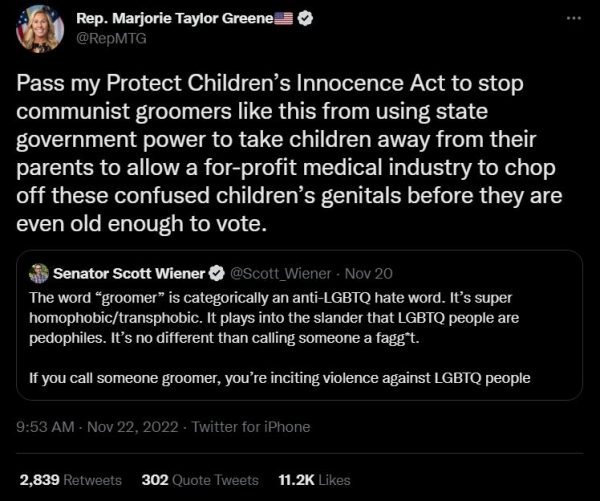 In an emailed statement, Senator Wiener responded to the homophobic attack by the Georgia Republican:
"The same day Elon Musk reinstated QAnon extremist Marjorie Taylor Greene, she launched a vile homophobic attack on me because of my vocal advocacy in response to the Club Q slaughter. When Greene has attacked me in the past, threats against me have typically increased. She is a toxic person and embodies why the MAGA movement is so dangerous. Green is a threat to our democracy and to the personal safety of LGBTQ people."
The term 'groomer' is considered highly offensive as it broadly brushstroke paints LGBTQ+ people as child molesters.
The definition according to the Urban online dictionary:
1 (the crime definition): An adult that builds a sense of trust with a minor to exploit and/or abuse them, typically (but not always) in a sexual manner. This is a crime, and it also causes harm to the minor.
2 (in US politics): What republican politicians and supporters refer to LGBTQIA+ people and their allies as, to manipulate their audience to pass anti-LGBTQIA+ legislation. This is targeting and harming LGBTQIA+ people and the people using the word in this manner typically are (or have connections with those who are) actual groomers.
National Public Radio, (NPR) reported this past May the Movement Advancement Project's executive director, Ineke Mushovic, pointed out:
"What the far right often does is they engage people's reptilian brains, the fight-or-flight instinct," says Mushovic. "And so it behooves far-right conservatives to put people in a state of fear, because then they're reactive. They don't support change."
The "grooming" narrative, Mushovic added, "taps into this primal sense of fear and this kind of parental protective instinct. But we know it's a completely false narrative."
The "grooming" narrative has been actively promoted by conservative activist Christopher Rufo, and Daily Wire pundit and transphobe Matt Walsh who have both attacked gender affirming care in their assaults on the LGBTQ+ community.
It took three days after the mass shooting at Club Q for the Daily Wire's Matt Walsh to blame the victims for the massacre. pic.twitter.com/08kitTdpMt

— Ari Drennen (@AriDrennen) November 22, 2022
Green's H.R.8731 – Protect Children's Innocence Act, was introduced this past August 19 and has forty-nine Republican members listed as co-sponsors. The language as introduced stated targets primarily Trans youth healthcare and targets colleges and universities from "offering instruction in gender affirming care:"
This bill places restrictions on the provision of gender affirming care. Gender affirming care includes performing surgery, administering medication, or performing other procedures for the purpose of changing the body of an individual to correspond to a sex that differs from the individual's biological sex.
Specifically, the bill makes it a felony to perform any gender affirming care on a minor and it permits a minor on whom such care is performed to bring a civil action against each individual who provided the care.
Additionally, the bill prohibits the use of federal funds for gender affirming care or for health insurance that covers such care. Such care may not be provided in a federal health care facility or by a federal employee. The bill also prohibits qualified health plans from including coverage for gender affirming care. Further, plans that include coverage for such care are not eligible for federal subsidies. […]